If you love a warm airy acoustic tone that works well whether plugged or unplugged, a semi-hollow guitar is the way to go. That's not to say you can't add some distortion. Originally designed for jazz music, they've become popular for a range of genres including rock, metal, pop, blues, country, any genre that uses guitars really. You can get really creative with your sound since these guitars resonate so well.
They look really cool too. Beautifully shaped, most will have f holes like violins, cellos, and double bass. These are the sound holes. If you want volume, it's best to plug in semi-hollow guitars since their slimmer bodies and small sound holes limit their volume acoustically. Still, for a warm, clean sound, you can't go wrong.
How to Choose a Semi-Hollow Guitar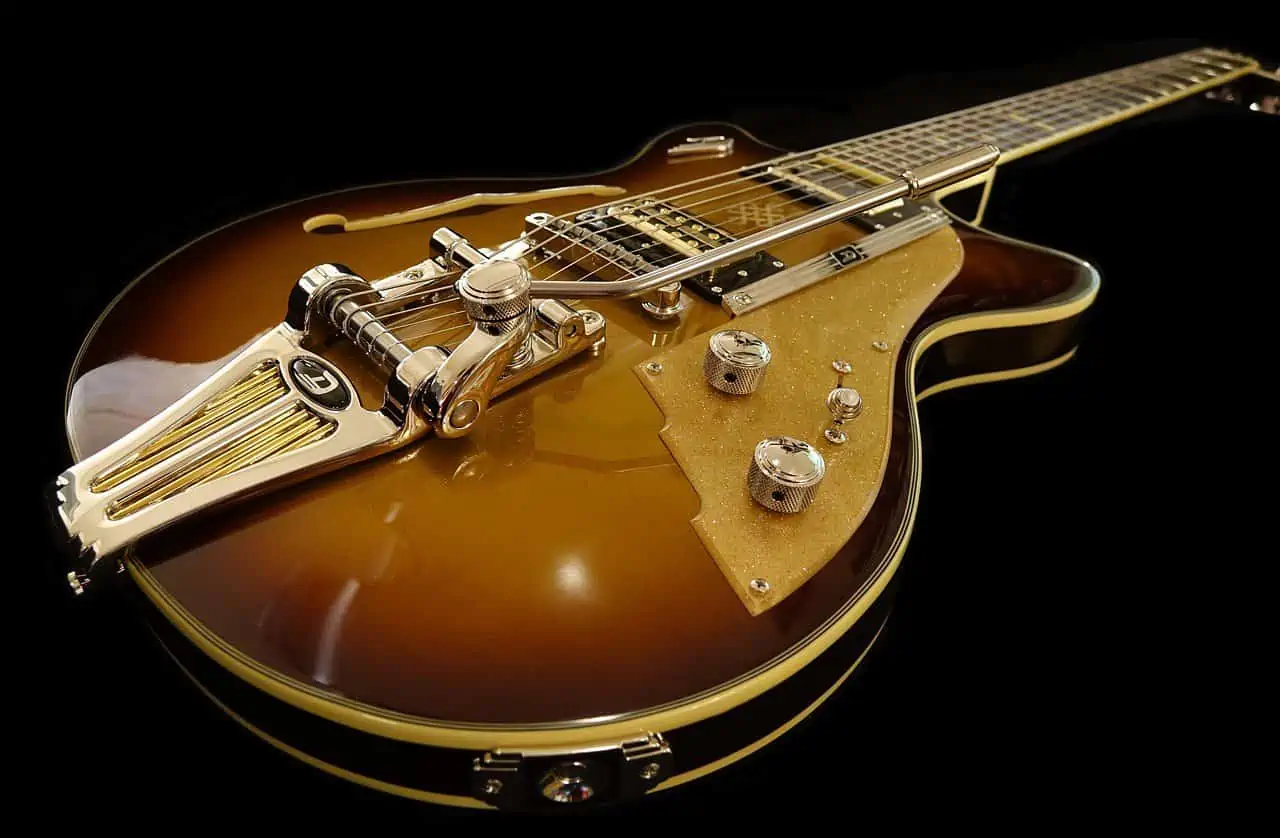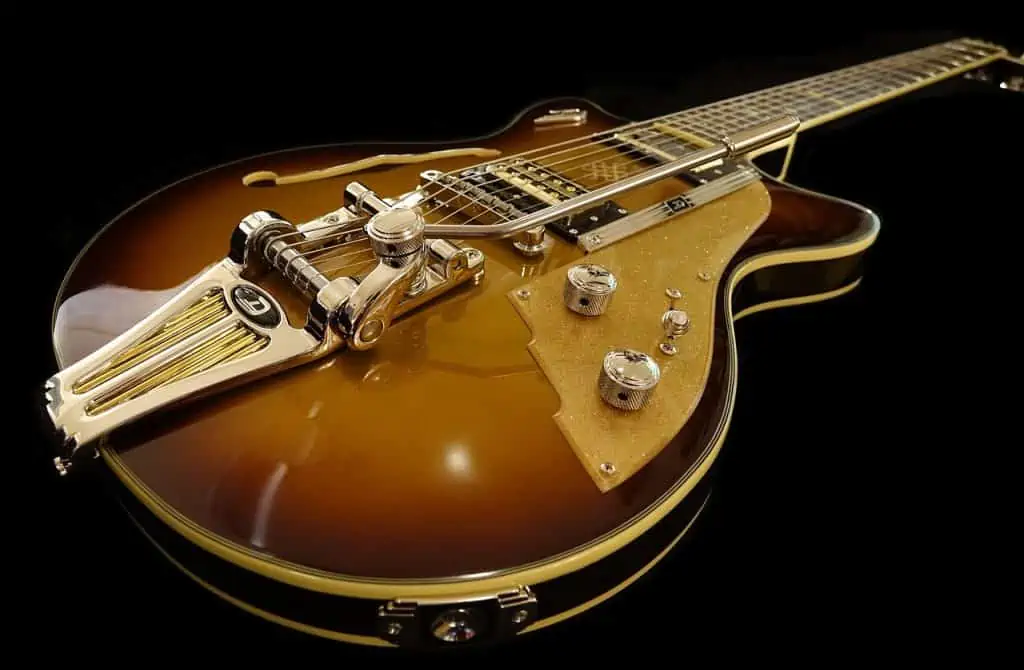 Just like other guitars, semi-hollow guitars comes with differences that affect their sound and playability. Here are a few things to look for:
Single coil, P90, or Humbucker Pickups
If you prefer bright sounding tones and don't often play with distortion, single coil pickups are best for you. This is because they tend to have a brighter sound and at high gain, they hum. Typically, the gain needs to be cranked to get distortion. But no one wants to deal with annoying humming. So while you can play harder music with single coil pickups, they are far better suited to genres that favor clean guitar.
P90 pickups look similar to single coil pickups with one row of magnets. But they differ in that they have a more balanced tone and less humming, even when the gain is turned up high. They can be quite versatile.
Humbucker pickups are those with the double row of magnets. They have a more mellow turn but handle high gain superbly. For this reason, they're great for genres that use a lot of distortion, but work well for genres that use clean guitar too.
Many guitars come with a combination of humbucker and single coil or P90 pickups. But you may find some guitars that have just one type.
Tremolo or Fixed Bridge
Tremolo bridges allow for tremolo bars, a.k.a. Whammy bars a.k.a vibrato bars to be used. Basically, these allow you to mechanically produce vibrato. Fixed bridges don't accommodate whammy bars. So you will need to produce vibrato manually by bending the strings back and forth rapidly.
Type of Wood
The question rages on whether wood affects tone, particularly in electric guitars, because it certainly can in acoustic guitars. But semi-hollow body guitars can be played acoustically, albeit more quietly. If nothing else, it's going to influence the weight of your guitar.
Woods like mahogany, rosewood, and maple are denser and heavier. They tend to have a warmer, richer sound. Woods like cedar, alder, basswood, and poplar are lighter and less dense. These woods tend to have a brighter sound and make for lighter guitars.
Of course, many other things, like the pickups, amp, and even the way you play have an impact on the sound of the guitar. So, going by wood type isn't the only piece of the puzzle.
Aesthetics
Get a guitar that makes you smile every time you see it. They come in a variety of colors and shapes, and even the hardware tends to differ from brand to brand. You may find some very unique guitars out there, but also guitars that are a dime a dozen but really do it for you.
The Best Semi-Hollow Guitars
These guitars cover a wide range of prices and specs. There is something for everyone. Without further ado, here are some of the best semi-hollow guitars in no particular order:
Guild Guitars Starfire I Semi-Hollow Electric Guitar
Depending on which color you choose, you get a guitar with a body constructed either from maple or mahogany. The guitars all have two humbucker pickups each. There is a push-pull coil splitting feature that allows for single coil pickup tones. You can control the tone and volume for each pickup. The emerald green and Pelham blue guitars have a whammy bar and tremolo bridge while the other colors have a fixed bridge.
These guitars have a U-shape neck for comfortable playing, but this is generally a thicker neck shape, so it may be better for people with bigger hands. Depending on your preference, some colors offer the choice of either a single cutaway or double cutaway body. Either way, you'll have easy access to the higher frets. All the hardware is Guild Guitars' own.
You can choose from vintage burst, emerald green, cherry red, Pelham blue, seafoam green, snowcrest white, and vintage walnut. But be sure to check out the particular specs of your chosen color to make sure it has what you want.
Most people love the sound of this guitar describing it as clean and professional quality. They are happy with the playability and the fact they can switch from humbucker pickups to single coil pickups. There were a few complaints, likely they received defective guitars, as they concern the craftsmanship. Overall, not a bad guitar to get if you enjoy versatility and they look great.
Guild guitars come with a limited lifetime warranty when purchased through an authorized dealer.
Squier By Fender Classic Vibe 70s Telecaster Thinline Electric Guitar
If you're into guitars with a vintage look, this one is for you. Everything from the headstock, tuning machines, saddle, and the glossy finish is reminiscent of the 70s. This is one of the few semi-hollow body guitars in the Squier range.
Constructed from poplar and maple, this guitar features a C-shape neck which is suitable for people with smaller and larger hands. It has two humbucker pickups and a pickup selector. There is a set of volume and tone control knobs. The cutaway design ensures that you have easy access to the higher frets. The saddles are fully adjustable to allow for getting the intonation just right.
Most people enjoy the look of the guitar and the sound. Although, many point out that it doesn't sound vintage, it just looks vintage. Most of the complaints are about needing to set the guitar up, in particular, the nut as it causes the strings to be high off the fretboard. But even high-end guitars often need to be set up.
Fender offers a 2-year limited warranty on its Squier guitars.
Guild Guitars Starfire Jet 90 Semi-Hollow Electric Guitar
Another offering from Guild Guitars, the Jet 90 from the Starfire series is slightly different than the Starfire I, but every bit as awesome. This guitar has P90 pickups ensuring versatility. Instead of a pickup selector, the Jet 90 has a dial which allows six combinations of the pickups so you can really adjust your sound. There are also the usual tone and volume control knobs.
All three colors, satin white, satine gold, and satin black come with whammy bars. All the hardware is Guild Guitars' own. The neck is a thinner U shape for comfortable playing. This guitar is constructed from maple and mahogany with a rosewood fretboard. All Guild guitars come with a limited lifetime warranty.
Most people enjoy this guitar saying the sound has good depth and clarity. They also love the look of the guitar. There were some complaints about defective guitars however that couldn't be set up and one of the more common issues seems to be with the input jack being too short.
Ibanez AS53 Semi-Hollow Electric Guitar
Constructed from Sapele and mahogany, this guitar is suitable for a variety of genres. It has two Infinity-R humbucker pickups and pickup selector. The pickups are designed to reduce feedback. It also has a tone and volume knob. The cutaway shape allows for easy access to the higher frets. To make changing strings easier, this guitar is fitted with a Quik Change III tailpiece. The Art-St bridge keeps the guitar in tune for longer.
Choose from transparent black flat, transparent red, or brown. Ibanez offers a 1-year warranty on its guitars. Most people enjoy the warm, crisp sound of this guitar. While the guitar needs some setup such as filing the frets and adjusting the action, it plays well. That said, a few people said this will only do as a beginner guitar.
Fender Jim Adkins Signature Series JA-90 Telecaster Thinline
If you're into Jimmy Eat World, this Jim Adkins Signature telecaster is for you. Designed in conjunction with the frontman as an ode to his TC-90 telecaster, this guitar has a similar look to his guitar and that pop rock punk tone from the mid-2000s. The guitar is constructed from ash and alder wood. It comes with two Seymour Duncan SP90 pickups and three-way pickup selector switch. There is a tone and volume control knob for each pickup.
The C-shape neck is suitable for most guitarists and the fretboard is laurel. The guitar comes in white, natural, and red transparent. Most people are happy with the sound of this guitar. The sound is described as meaty, clear, and full. Many enjoy the playability too. The only complaints have been that the guitar needs some setup. But this is the case with most guitars. Fender offers a 2-year warranty.
Gretsch G2655T Streamliner Center Block Jr.
This glossy guitar is constructed from maple and nato with a laurel fretboard. It has two Broad'Tron humbucker pickups and a three-way pickup selector. You get a master tone and master volume knob along with two volume knobs that control the pickups. This guitar is designed to be able to play at high gain with little to no feedback. It also has a whammy bar.
The neck is a slim U shape for comfortable playing, although it can take some getting used to for those with smaller hands. This guitar will give you vintage sound or beefy modern rock tones depending on your settings. Choose between brownstone maple, fairlane blue, imperial stain, or walnut stain. It's built for versatility. Most people love the sound and versatility of this guitar. I couldn't find any downsides to this guitar.
You can purchase it from Sweetwater.
Gibson ES-335 Satin
The Gibson ES-335 was the world's first semi-hollow body guitar. You can't go wrong with this forerunner. It's constructed from poplar and maple. It has two T-type humbucker pickups, a three-way pickup selector, two tone knobs and two volume knobs. This guitar, which hearkens back to the 1950's still has that same warm tone loved by jazz guitarists. But it also works well for rock and blues as it handles gain well.
The neck has a C-shape profile for comfortable playing with a rosewood fretboard. It's easy to reach the higher frets thanks to the double cutaway body shape. Choose from satin cherry, satin vintage burst, or satin vintage natural. Most people enjoy the sound and playability of this guitar. It does well for both solos and chords. Gibson offers a 1-year warranty.
You can purchase it from Sweetwater.
D'Angelico Premier Mini DC XT Electric Guitar
Mini doesn't refer to the overall size of the guitar, it has a scale length of 25", it's the body of the guitar that has been reduced in size. Despite this, it still delivers more than decent sound. This guitar is constructed from maple and the fretboard is ovangkol. There are two Seymour Duncan humbucker pickups and a three-way pickup selector. Each pickup has a volume and tone knob. This guitar is built for versatility and plays well across genres.
The neck has a c-shape profile, which combined with the smaller body, works well for smaller players. Choose between black flake, vintage sunburst, champagne, fiesta red, ocean turquoise, and blonde. Most people love the sound of the guitar, and how light it is in comparison with bigger semi-hollows. The guitar is well-made and looks good. D'Angelico offers a lifetime limited warranty.
You can purchase it here at Sweetwater.
Godin A6 Ultra
If the f-hole design of most semi-hollow guitars isn't your thing, here you go. In fact, in terms of versatility, this is a whole different ball game. It has two outputs, one acoustic which is thanks to the transducer under the saddle, and an electric output, which is thanks to the humbucker pickup at the neck. You have quite a bit of control over the tone, being able even to blend the tone for an electric acoustic hybrid. This is all done with the sliding switches and little knobs at the top of the body. These are EQs and volume controls.
This guitar enables you to play and record acoustic sound and electric sound at the same time as long as you have two amps. While your "acoustic" and "electric" will be playing the same thing, it's still a cool feature if you don't mind that. It will certainly make the sound fuller if you're the only guitarist in your band. It's constructed from cedar, maple, and mahogany. This guitar is definitely one of the more unique offerings on the market.
Most people enjoy being able to tweak their sound and love the sound of the guitar. It plays well electrically and acoustically. The only complaints seem to be about the tuning machines which in some cases were a bit tight, and in some cases broke. But these may have been defective guitars.
You can purchase it here at Sweetwater.
Danelectro 60th Anniversary DC '59 NOS+ Electric Guitar
For its 60th anniversary, an ode to its older version, here is the DC'59 NOS+. There are no sound holes in sight on this spruce, hardboard, and maple semi-hollow guitar. It looks great, very unique. You get two NOS+ lipstick single coil pickups with a three-way pickup selector, two stacked tone knobs, and two stacked volume knobs. While single coil guitars generally have a brighter tone, the result here is a vintage tone with good mids that does well for garage rock, blues, and genres that like a clear, warm, clean tone.
The neck has a comfortable C-shape profile with a pau ferro fretboard. Choose from deep blue metalflake, red metalflake, silver metalflake, or orange metalflake. Most people are happy with the tone of the guitar as well as the way it looks. Its well-made and versatile. Danelectro guitars come with a 1-year warranty.
Purchase it here at Sweetwater.
Epiphone Uptown Kat ES Electric Guitar
Epiphone Kat guitars have come a long way. This maple, poplar, and mahogany semi-hollow guitar features two mini humbuckers from Epiphone. If you want a guitar with humbuckers, or in this case mini humbuckers with a slightly brighter tone, here you go. It also has a three-way pickup selector and two volume knobs, and two tone knobs.
The f-holes are quite big to facilitate acoustic playing, although it still won't be as loud as a regular hollow body acoustic. The neck has a slim taper C shape profile with an ebony fretboard. Another more unique feature is that the hardware is gold-toned. Choose from sapphire blue metallic, ruby red metallic, emerald green metallic or topaz gold metallic.
Most people are happy with the way the guitar sounds and enjoy the brighter tone of these mini humbucker pickups. There were a few complaints about the finish being slightly flawed which could be due to shipping or a rare subpar job in the factory. Epiphone offers a 1-year warranty.
You can purchase it from Sweetwater.
Rickenbacker 360 Thinline
A guitar with a classic look and another alternative to the ubiquitous f-hole design. It's also the second guitar on this list that allows for stereo output. You get a standard mono output and a stereo output which combines the two pickups as a separate channel. All you need is two amps to cash in on this dual function, great if you're the only guitarist in a band or want to beef up your sound.
This guitar is constructed from maple and has two hi-gain single coil pickups. You get a three-way pickup selector as well as two volume knobs and two tone knobs (for treble and bass) as well as a blend knob to really customize your sound. The neck has a U-shape profile, so it may be harder for those with small hands to play. Choose between fireglo, jetglo, and mapleglo. Rickenbacker offers a 5-year warranty.
Most people are very happy with the workmanship and jangly tone of this guitar as well as the many options soundwise. This guitar's predecessors have been the favorite of many famous musicians, so you know you're getting quality.
You can purchase it from Sweetwater.
Conclusion
Semi-hollow guitars have that sound that's been popular with musicians across multiple genres. Now you have a list of options to get that awesome sound yourself. There are differences in the guitars, but there is sure to be one that suits your particular taste and budget.
Have fun exploring sound with your new guitar, whether it's vintage, modern, or unique to you and happy jamming.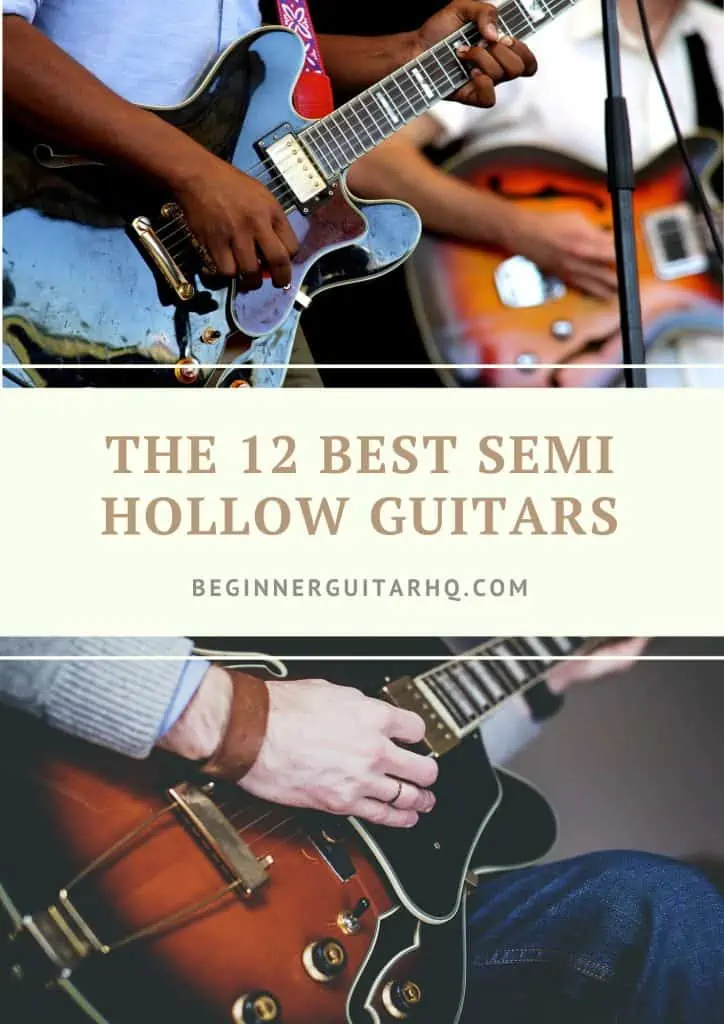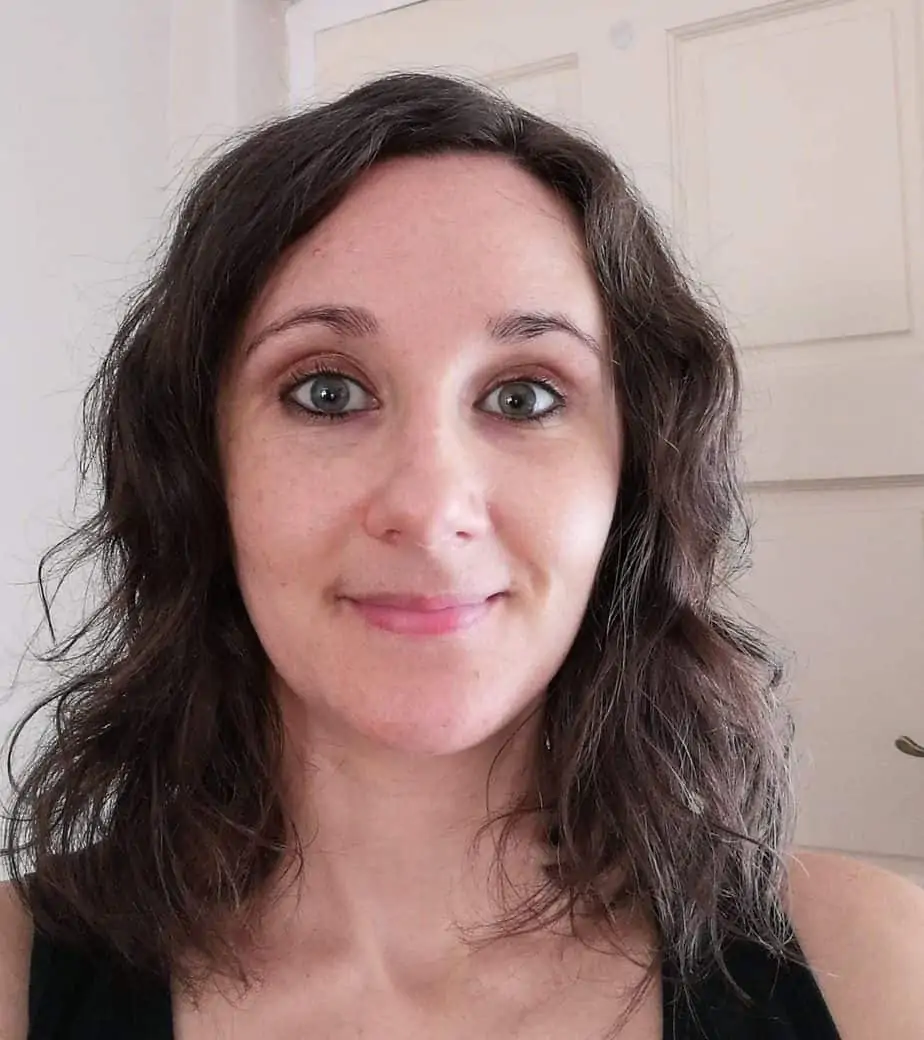 Cheanné Lombard lives in the home of one of the new Seven World Wonders, Cape Town, South Africa. She can't go a day without listening to or making music.
Her love of music started when her grandparents gave her a guitar. It was a smaller version of the full-sized guitars fit for her little hands. Later came a keyboard and a few years after that, a beautiful dreadnought guitar and a violin too. While she is self-taught when it comes to the guitar, she had piano lessons as a child and is now taking violin lessons as an adult.
She has been playing guitar for over 15 years and enjoys a good jam session with her husband, also an avid guitarist. In fact, the way he played those jazzy, bluesy numbers that kindled the fire in her punk rock heart. Now she explores a variety of genres and plays in the church worship group too and with whoever else is up for a jam session.