Buying a new guitar is always exciting, whether it's your first or another one you're adding to your collection. But it can be especially confusing if you don't know which type of guitar to get. Or maybe you're just curious about the difference. Dreadnoughts are very popular, you see them everywhere. But then so are concert guitars.
Which is better? What's the difference between them, other than the obvious? This article takes a look at all that so that you can make a well-informed choice or have your curiosity satisfied. Concert vs dreadnought, here we go.
Concert vs Dreadnought: What is the Difference?
Size and Shape
These are the two obvious differences. Concert guitars are smaller and tend to have a narrower middle. They're also often thinner. Dreadnoughts are bigger with broader and often thicker bodies. Both types of guitars can have cutaway bodies.
Tone
Because of the size difference, there is a difference in the tone. Dreadnought have more lower end tones as bassier frequencies can resonate better in the bigger body. Dreadnoughts are also louder. Both types of guitars come with 6 strings or with 12 strings which will impact the sound differently.
What is a Grand Concert Guitar?
A grand concert guitar is the bigger version of a concert guitar. They are louder because of this, but still not as loud as dreadnoughts. They're still better for fingerstyle playing just like their smaller counterparts, so really, you're just looking at a size difference and volume difference.
Concert vs Dreadnought: Which is Better?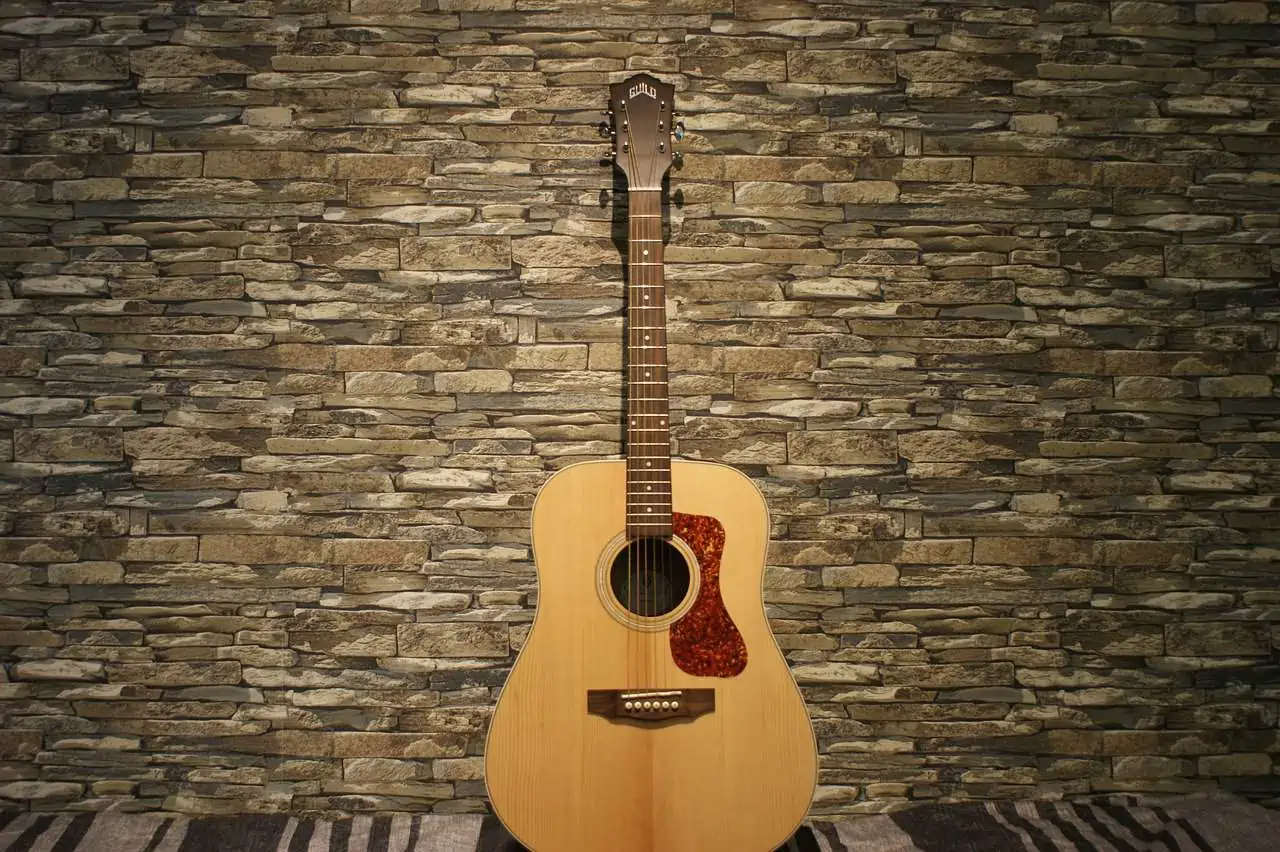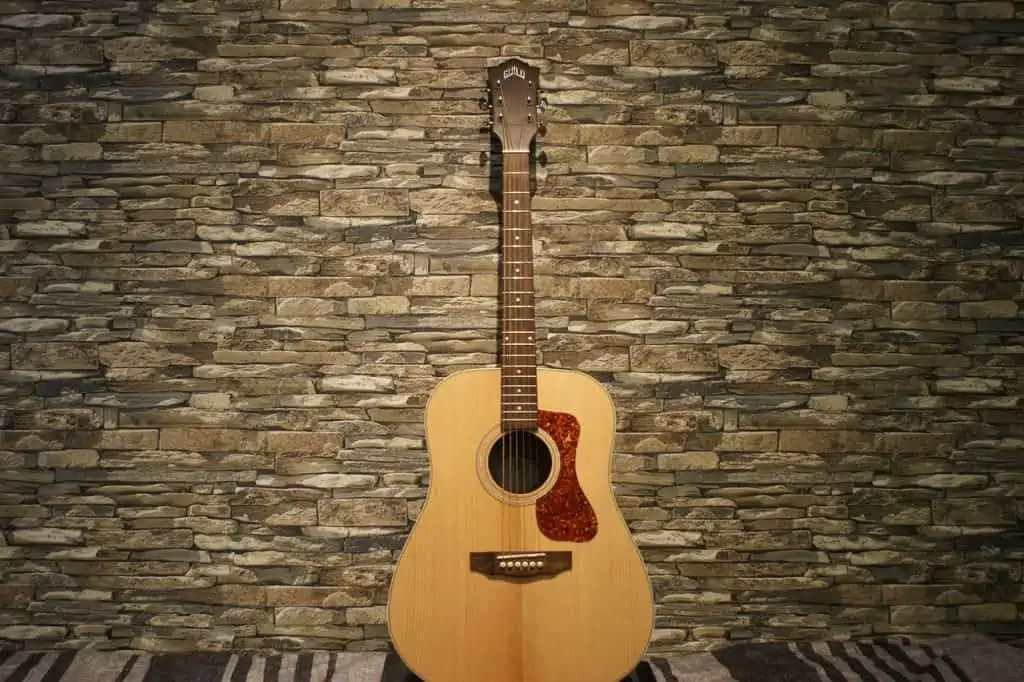 The answer to this is that it depends on what you want and what you need. Here is what each is better suited to.
Strumming vs Fingerpicking
Dreadnoughts are better for strumming. Concert guitars are better for fingerpicking. It's not that you can't do either on each guitar. But generally, concert guitars have lower action which makes fingerpicking easier. Sure, you can lower the action on a dreadnought and buy a lighter gauge strings which makes it easier to press down the strings for clear notes and do vibrato and bends. Just be aware that if you like to strum with passion, lighter gauge strings might not withstand the onslaught as well as heavy gauge strings.
A concert guitar is designed for fingerpicking. These guitars have good complexity in their tone which is well-suited to picking chords and playing fingerstyle. They also don't have any boominess that can obscure higher-pitched tones. You can strum a concert guitar, and it will sound good, just in a different way. But you aren't going to have that full beautiful resonance that dreadnoughts are known for. You're going to get a wider range of frequencies on a dreadnought which works well for strumming.
Band vs Solo
Dreadnoughts project volume very well. With a pick and some enthusiastic strumming, a dreadnought can be fairly loud, enough so that if you're living in a flat, you might bother your neighbors. Not saying you wouldn't have to mic it up or plug in your semi-acoustic if you're playing a bigger gig and/or with a drummer, but for smaller venues and without loud instruments, a dreadnought does okay.
A concert guitar doesn't project as well so playing with other instruments, especially drums or louder guitars, can drown it out. Then again, you can mic it up or plug in your semi-acoustic and pump up the volume for sure. But generally, you're going to find a concert guitar better for solo playing.
Your Size
Take it from a small gal who owns a dreadnought, it's a lot of guitar for a smaller person. I don't struggle to play it standing up using a guitar strap. But it can be a bit uncomfortable playing it sitting down for long periods of time. My right shoulder has to lift to get my strumming arm over the body of my dreadnought.
Petite people and those of you who are still growing may find it easier and more comfortable playing a concert guitar. That's not to say you can't play either one whether you're big or small. Where there is a will there is a way. You just need to get more creative or only play in certain settings. Unless you are very small or big, in which case it's best to pick a guitar that accommodates your size.
Just think about the settings where you'll be playing and for how long you will be playing. Playing ergonomically will keep you playing for a long time to come rather than having to stop early because of your body being contorted to accommodate your guitar. Injuries from incorrect form do occur when playing music.
Your Preference
As I said before, it's all down to preference. In the wise words of Marie Kondo, what sparks joy for you? Do you love the look of a dreadnought, or do you prefer a concert guitar? Do you like having a fuller more resonant tone? Do you prefer the sweet tones of a concert guitar? Does going loud when you want to, or simply being heard better in group settings feel right? Or is playing quieter, but still beautifully feel more your style. After all, perhaps quiet venues are more your thing.
Guitar Recommendations
If you're in the market for a guitar, here are some suggestions:
Concert Guitars
Fender CC-60S Concert Acoustic Guitar
Fender is a popular name in the world of guitars and generally you can expect pretty good quality from them. This guitar is from their Classic series and is aimed at beginner to intermediate players. It has a spruce top and the rest of the body and neck is mahogany. The scale length (the distance between the nut and the saddle, so basically, string length) is 25.3 inches.
The sound is described as crisp and clear and most people are very satisfied with it. The guitar feels nice to play, and while you might want to get better quality strings, it sounds pretty good straight out of the box. You can get this guitar in natural and sunburst. It comes with a limited 2-year warranty.
Fender FA-235E Concert Acoustic Electric Guitar
This guitar is a great option if you want to play gigs. The convenience of being able to plug it in, plus use the onboard tuner, is awesome. Part of the Fender Alternative series, this guitar is designed to withstand a bit of humidity and to reduce the risk of feedback. The body is constructed from maple and mahogany. The neck is nato wood with a laurel fingerboard. The piezoelectric pickup is a Fishman pickup. Scale length is 25.3 inches.
The sound has been described as beautiful and people agree that this guitar resonates well. They also noted that the fretboard was smooth and felt good to play. There have been a few complaints about defective guitars with tuning machine issues. Overall, it sounds good played both unplugged and plugged. You can buy this guitar in moonlight burst, sunburst, lilac burst, and natural. You get a 2-year warranty.
Yamaha FS800 Concert Acoustic Guitar
Yamaha is another popular name in the music world. This FS800 concert guitar is aimed at beginners. It's constructed from spruce, nato and oukume. The fretboard is walnut. The scale length is 25 inches. It has a more unique look with a tortoise shell pick guard.
The sound has been described as bright and surprisingly loud for a concert guitar. It holds up really well to gentler playing styles, but then concert guitars in general aren't meant for aggressive playing. It does need some setup (adjusting the action, getting new strings, etc) to become really nice to play and sound great. But you may find you like it straight out of the box just fine.
Breedlove ECO Pursuit Exotic S Concert CE 12-string Acoustic-electric Guitar
The cutaway shape makes reaching those higher frets a lot easier. You can enjoy greater resonance with the 12 strings and it will make it sound even better for those times you feel like strumming. The scale length is 25.5 inches. The body is made out of myrtlewood. The neck is African mahogany and the fretboard is ovangkol.
Electronics-wise, you get a Fishman Presys I which comes with a volume control knob and tuner as most semi-acoustics do, but you also get controls for phase and contour which will help you shape your sound. Most people find this guitar has good resonance and sustain and that it plays smoothly. You get a 2-year warranty.
Yamaha FS830 Concert Acoustic Guitar
This is a guitar with a little more style. You get the usual Yamaha quality in build and sound, but with the addition of a tortoise shell pickguard and with beautiful patterns around the sound hole. The body is constructed from spruce and rosewood. The neck is nato with a rosewood fretboard. Scalloped X bracing gives this guitar a richer sound. The scale length is 25 inches.
The sound has been described as clear and sweet. Most people like this instrument and feel that it's high quality in both build and sound. People with bigger hands may struggle to play this guitar as it has a thin neck. You can buy this guitar in natural, tobacco sunburst dusk sun red.
Dreadnought Guitars
Fender CD-60S Dreadnought Acoustic Guitar
If you want a simple dreadnought guitar from a good name, check out this Fender acoustic dreadnought. The scale length is 25.3 and the fretboard is mahogany. The scale length is suitable for people with shorter arms, although you may still need to get creative getting your arm over the body when seated. The body is Sitka spruce and mahogany.
The sound has been described as crisp and clear. Most people are happy with the playability and the sound. There are a few complaints, but all of them are about damage during shipping. This guitar comes in black and natural. It has a 2-year warranty.
Takamine G Series GD30CE-12 Dreadnought 12-String Acoustic-Electric Guitar
If you want a 12-string, semi-acoustic dreadnought with a cutaway shape, here you go. Plus, Takamine is the favorite of many great musicians. 12-string dreadnoughts generally sound great, the resonance, the polyphonic tones, they're awesome.
The cutaway is going to give you easy access to the higher frets. This guitar is made out of spruce and mahogany with a rosewood fretboard. Quatersawn X bracing makes it very resilient. The preamp gives you a three band EQ and gain control to tweak your sound as necessary. You also get an integrated tuner.
The sound is described as full and balanced. Most people loved the guitar both for its craftsmanship and tone. They also stated that it has good playability, like that of a 6-string with good action, no fret buzz. There are a few complaints, but they are mostly about defects and damage due to incorrect shipping. This guitar comes in black or natural.
Yamaha GigMaker Standard Acoustic Guitar Combo Deal
If you need accessories along with the guitar, here is a deal from a big name in the industry. Along with this Yamaha dreadnought, you get a guitar bag, tuner, strap, and picks. The body is made out of spruce and meranti and the neck is nato with a rosewood fretboard.
Overall, people loved the sound of this guitar and its durability. There were a few complaints, some about damage during shipping, but also a few about defects like fret buzz and poor intonation. You can get this guitar in tobacco sunburst or in natural.
Ibanez AW54OPN Artwood Dreadnought Guitar
Ibanez is another popular name in the industry. If you're into wood, here you go. The open pore natural finish leaves this guitar looking true to the wood that it's constructed from. The body and neck are made from mahogany with a rosewood fretboard. The scale is 25.5 inches.
The sound has been described as sounding good at low or high volumes with a good full tone. Most people enjoy this guitar for its sound, build quality, and how long it stays in tune. There are a few complaints, but these are about defective guitars and guitars that arrived damaged due to shipping. I believe Ibanez offers a lifetime warranty on its instruments.
Jasmine S34C NEX Acoustic Guitar
Jasmine is a brand under Takamine, so you know you're going to get good quality sound. It's aimed at beginner and intermediate players. This dreadnought is quite shapely, with a narrower middle. It's also cutaway for easy access to the higher frets. It's constructed from sapele and spruce with quartersawn X bracing. The fretboard is rosewood. The scale length is 25.5 inches.
The sound has been described as lively, resonant, and responsive, especially when playing certain styles of music. Most people like the sound and build. There were a few complaints about sharp frets and other defects.
Conclusion
Both types of guitar are magnificent in their own right. Each has something that's awesome about them. If you're into buying multiple guitars, I'd say get both. Having a guitar to suit your mood and what you feel like playing that day is great. The recommendations should put you on the right track if you're looking to buy, but there are many more good options at various price points.
As you saw, you can still achieve versatility with each of these guitars with a few tweaks or compromises (and really, when I say compromise, I don't mean it's a lesser choice). So if you only go for either a dreadnought or a concert, you can still jam to your heart's content. Use it to explore your creativity and what sounds good to you.
Happy jamming!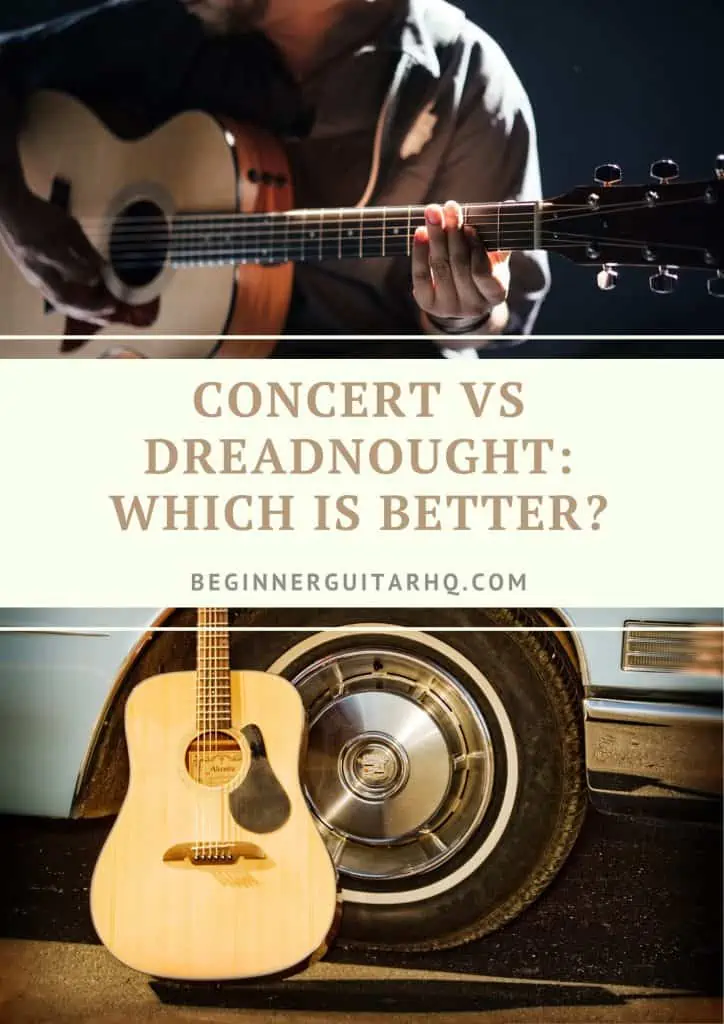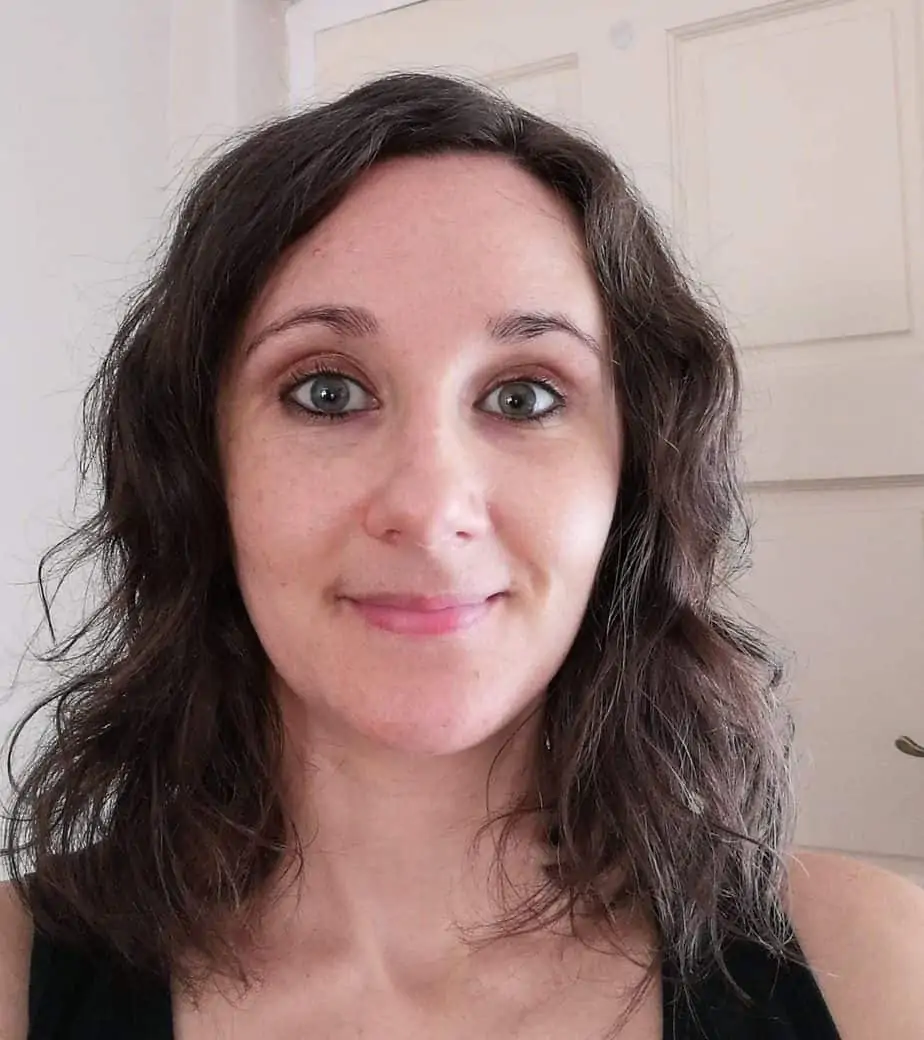 Cheanné Lombard lives in the home of one of the new Seven World Wonders, Cape Town, South Africa. She can't go a day without listening to or making music.
Her love of music started when her grandparents gave her a guitar. It was a smaller version of the full-sized guitars fit for her little hands. Later came a keyboard and a few years after that, a beautiful dreadnought guitar and a violin too. While she is self-taught when it comes to the guitar, she had piano lessons as a child and is now taking violin lessons as an adult.
She has been playing guitar for over 15 years and enjoys a good jam session with her husband, also an avid guitarist. In fact, the way he played those jazzy, bluesy numbers that kindled the fire in her punk rock heart. Now she explores a variety of genres and plays in the church worship group too and with whoever else is up for a jam session.