The ChromaCast CC-SAMPLE-12PK is our pick for the best guitar pick, and it is a set of 12 in one pack, containing assorted gauges and colors, all made of celluloid.
Our step-up pick is the Fender Premium Sampler and is also made with celluloid, but contains 24 in one pack, all with assorted colors.
The budget pick is the D'Addario Assorted Pearl and comes in a set of 10, all with different colors and has a medium thickness, made of celluloid as well.
A Little Background
Guitar picks are kinds of guitar accessories that help you strum or pluck without having to use your fingers all the time. They are lifesavers for beginners who cannot endure too much pain with the steel string. Hence, they are mainly used for steel string acoustic guitars.
The material of the pick can matter in your performance. Materials can vary depending on how the manufacturer made them. In this case, it should not damage the string when you pluck them. The pick should not be too sharp but just right with its durability, so that it will be able to give you a good set of tunes.
Different guitars call for different accessories. For instance, picks are only mainly used for strings made of steel, since nylon is so soft that you can easily pluck it by hand and not get calluses too easily. Tremolo bars and pickups also exist on electric guitars, but not on acoustic and classical guitars, unless they are acoustic-electric hybrids.
How we Picked
In choosing the best guitar pick for your needs, here's what you need to remember:
Material of the pick: the material can refer to the composition of the accessory that can have an effect to your performance and sound. Alternatively, you should look for materials that are not too sharp so as not to give your strings a hard time staying durable.
Number of picks in one pack: most will have at least 3 in one pack for you to have backup extras when you want to replace your first one. Some can have as much as 5 or more, but it depends on your preferences.
Color: the color can vary depending on your preferences. Most sets come in a multiple color scheme while others have only one color.
Durability: The material should not be too brittle as well to avoid cracking during sweaty moments.
Price: picks are relatively cheap, but if you go for a pricier one then there is a chance that it might be sturdier than others due to a possibility of being made out of tougher materials.
Our Pick
As our top pick, the ChromaCast CC-SAMPLE-12PK has assorted colors and thicknesses, as well as a quality shape being made out of celluloid. It comes in assorted gauges and has many colors, such as blue, red, black, yellow, green, purple and even celluloid shiny ones. The rounded tip makes it easier to play with and the wide body also makes it easy to hold.
Flaws but Not Dealbrakers
The only con but not a deal breaker with the ChromaCast CC-SAMPLE-12PK is that since it is an assorted pack, you might get what you exactly want, but it can be close enough.
Step-up Pick
The Fender Premium Sampler is our step-up pick, containing 24 in one pack and all made of celluloid with varying colors and thicknesses. If you want something with a round tone that is warm for vintage purposes, this is a great choice for you. You can mix and match them depending on your gig needs.
Budget Pick
The D'Addario Assorted Pearl is our budget pick, containing 10 in one pack, all with medium gauges. It is made with celluloid and has a warm tone as well. It has an eco-friendly packaging and has a standard shape that most instrument players will find familiar. It is at medium gauge or 70 mm so it is great for most strumming.
Best Guitar Pick with a Semi-Round Design
The Jim Dunlop 24514130003 has a semi-round design and has a 1.3 mm thickness with a good grip on the logo. It comes as a 3-pack item but you can also choose from different packages, as well as a smooth version of the design.
Best Guitar Pick that can be Personalized
You can make a custom message or name with the BlueSkyCreations Custom Message so you can give it as a gift to someone or for yourself, and it is durable being made of stainless steel. If you want to give someone a great gift and also to have a good sound out of your strings then you can count on this kind of personalized plucking device.
Best Guitar Pick made from ABS
The Alice 100pcs is made with ABS material and it comes as a set of 100 pieces in just one box. It is great for beginners and comes in a variety of thicknesses. It also comes in a case so it is well-organized, great for either selling or for using on your own.
Best Guitar Pick with an Assorted Pack
The Dunlop PVP101 is another assorted pack and contains mostly light and medium thicknesses or gauges. It comes with 12 picks in each pack. If you just want something with random picks oer pack then this is the one for you, as it is very cheap and can also make a great gift for someone.
Best Guitar Pick for Girls
The NewEights Celluloid has a cute design for girls and the pattern looks cute for a gift to someone who plays guitar. It comes in a 12-piece pack. The designs are very intricate and they are also designed so you can use them for scrapbooking if they get used a lot after many gigs.
Best Guitar Pick made from Tortex
Sale
The Dunlop 412P.88 is made of tortex, which is an alternative to tortoise shells. It has a gauge of 0.88 mm and it comes as a pack of 12 as an item. Being an eco-friendly product, it is great for both strumming and picking techniques and it has good durability against most wear.
Best Guitar Pick made from Felt
The Honbay 9pcs is made from felt material so it is great for soft strumming. It comes with a thickness of 3 mm and is great for various instruments as well. It is a pack of 9 with 3 colors for each pack. If you want something unconventional for a material then this is a great choice.
The Competition
Others were substandard in quality and may break easily. They could also ruin your performance and the quality of your strings and guitar overall.
Other Frequently Asked Questions
Q: What factors can affect the quality of a stringed musical instrument plucking tool?
A: The stringed musical instrument plucking tool can vary in design, in looks an in material. Here are the different aspects that can make a  stringed musical instrument plucking tool different from another:
Choice of materials – some of them will be made of nylon, metal or even organic materials like coconut husks.
 Thickness of the plucking tool – the thickness can play a role with the kind of sound and power that you produce.
Shape of the plucking tool – this refers to the kind of shape that your stringed musical instrument plucking tool bears, and has an impact to the kind of sound you will make.
Texture – the texture of the stringed musical instrument plucking tool can also have an impact to your performance. Textures can also add more tone and depth.
Your style of music – there is no general best plucking tool out there, but there is a best plucking tool for every kind of musician out there depending on their style of music.
Q: What are the different kinds of materials that are used for a stringed musical instrument plucking tool?
A: The stringed musical instrument plucking tool has many kinds of materials to choose from, and they have the following properties:
Type of material
Tonal quality
Description
Tortoise shell
The tonal quality of this kind of material is more on the vintage side of things, as it produces a warm tone.
It is made from, you guessed it, tortoise shells. The problem with them is that they are no longer available due to animal rights stuff, so you will rarely find them nowadays.
Celluloid
This one is common and produces the right amount of smoothness for most acoustic needs. It has an attack that is bright and crisp with sufficient amount of balance.
Celluloid is very common and is most likely found on your local music store. They have been one of the longest running types of materials for a stringed musical instrument plucking tool.
Tortex
This is a variant of the tortoise shell and has a good attack as well. The feel is well rounded for the tone and it is great for most acoustic stringed musical instruments.
This one has a good grip and is a replacement for the tortoise shell type of material. It also has a better grip due to the surface material being gritty.
Ultex
They are usually lighter to carry but has a good range of tones compared to other types of plucking accessories. They are great for attack and for added variety on your tone.
Also known as plytherimide or ultem, this is the kind of plucking tool that is made with most flame resistant plastics that are durable in design.
Delrin
This one has a sound of brightness, but not as ultimately bright as celluloid, but it has good sound, nonetheless.
The delrin type is made with polyoxymethylene or acetal resin. It is made with great stability and low friction so it is great for replacing other plucking tool types, though not as great as them.
Nylon
It is great for producing bright sounds due to the thin and crisp design that is made with them.
Everyone's favorite, this one has a thin and textured design so it is great for adding some brightness to your music.
Stone
Because of the good density, stone is sometimes used for added resonance and tone.
Stone is pricey because they are made with unique stones like jade, turquoise, agate and variscite, which can be rare enough to be tagged with a high price all in all.
Metal
Expect a crisp attack with this kind of stringed musical instrument plucking tool. It is also not very good with harmonics that are on the upper range.
You can get all sorts of metal types for this kind of plucking tool, such as brass, copper, bronze and stainless steel. There are different categories:

a. Copper – for a soft tone

b. Stainless steel – durability

c. Bronze – jazz and thick sounds

d. Brass – warmth and softness

Wood
It has a natural feel as well as a tone that is vintage and warm.
Wood can be made from various species, and they can all vary in tone. Examples of wood materials that can be used are:

a. mahogany

b. cocobolo

c. African blackwood

d. zebrawood

e. maple

f. cherry

g. walnut

h. rosewood

Felt
This one is great for lower range sounds but not as good as others for high frequencies.
They are made with cotton and wool and have a softer attack. They are not very common as a plucking tool material, however.
Bones
Ebony and ivory, as the song goes, "live together in perfect harmony", by which a harmonic chirp that doesn't sound metallic is produced by its materials.
Usually made from prehistoric bones, such as ivory and ebony, the calcium in these bones can make significant stringed musical instrument sounds, although animal rights advocates might not like them.
Miscellaneous
Other types of plucking accessories can produce different sounds, depending on the material used.
Unpopular choices for plucking tool materials include:

a. Kevlar

b. leather

c. fiberglass

d. carbon fiber

e. glass
Q: What are the different shapes of a stringed musical instrument plucking tool?
A: There can be many different kinds of shapes for a stringed musical instrument plucking tool, each having their own properties, such as the following:
| | |
| --- | --- |
| Teardrop | Has an elongated shape, with a rounded tip and also a slightly more rounded top side. |
| Jazz | Ideal for making leads, the jazz type is kind of an inverted triangle, but the top part has a slight curve upwards. It has a pointy bottom part |
| Standard | Standard types are similar to jazz and triangle types, but have a more rounded side on each of the top, with a slightly pointed bottom part. |
| Equilateral triangle | This one has a more defined equilateral triangle shape, which can make it uncomfortable for most players, but will have a good amount of sharpness and brightness. |
| Teardrop II | This is a variant of the teardrop shape, which is smaller and has a straight top with rounded corners and a slightly rounded tip on the end. |
| Triangle | This one is shaped like an inverted triangle but less sharper and less defined than the equilateral triangle. It is shaped more like the standard shape, albeit bigger and a little sharper. |
| Shark fin | The shark fin type has a slightly curved design that looks like the fin of a shark, and is known to have more dynamics. It is ideal for some advanced players. |
Q: Aside from standard plucking accessories, what else kinds of unusual plucking accessories can be found around the world?
A: There are many kinds of uniquely shaped plucking accessories that you can find around the world, such as the following:
Raptor – this one has a triangle shape but one side has a slight inner curve while the top has a slight curve as well. It is usually thicker in material and is great for a thick sound while maintaining a good grip to your plucking tool while you play.
ToneTek – this one has a shape similar to an upwards arrow or the tip of an iron, but slightly curved and polished. This kind of shape is best used for heavy metal and similar genres, since it is very thick and made for powerful playing.
Awe-In-One – these come in a variety of collections and all look pretty good, albeit bearing a similar triangle shape, but with added crease on the middle so you can hold on to your grip in a much better way than ever before.
Porky's Plucking tool – this is a uniquely shaped plucking tool that has a thumb holder that enables you to grip onto it. Not to mention, it looks like a funny face with a tongue sticking out when you do want to use it.
Hornby Tiger Grip – this one may look usual with its main shape but what catches the eye of people and players is the fact that it has a string over it so that you can easily get a better grip on it.
Swiss plucking accessories – nothing beats design like this one! Basically, you take a bunch of plucking accessories and put holes in them – just don't give them to kids to avoid mistaking them for cheese! The holes are more than just for adding grip, but also for adding vibration and tone change. Not to mention, they look crazy awesome!
Dallas Moly – this type of stringed musical instrument plucking tool is a combination of molybdenum (a kind of element) and nylon. It is pretty bad with its sound, but hey, it's actually a rare type of stringed musical instrument plucking tool that was invented by a person named Dallas Slusser. It has two nodes on each side, which makes it unique.
DuoPlec – this uniquely looking plucking tool is actually a set of two in one. Each plucking tool is made of a softer and a thicker one. The firm one or thick one is intended for lead parts, while you can use the thinner or softer one for strumming and the like – double gain!
Triplet – presumably made in Italy, this kind of plucking tool looks like one of those rubber suction things, but is shaped like a plucking tool. It has a semi clear design and can come in a variety of colors.
Gibson Tripik – this is a better upgrade to the DuoPlec, in which you get 3 plucking accessories in just one plucking tool. Each of the spikes are made with 3 tip types: heavy, medium and thin. This is pretty useful for when you want to change the kind of plucking tool you want to use for the different parts of the song.
Herdim Triple Sided Nylon – made in Germany, this one has a similar shape to the standard plucking tool, but the sides of the triangle are slightly curved sharply, and there are some pleat-like curves on the top for added grip and thickness.
CMT Triple Play – it looks like a regular plucking tool, but it is actually made out of graphite. The thickness can vary from 0.44 mm up to 0.96 mm, and unfortunately was out of the market in no time.
Caron multi plucking tool – looking like a set of tweezers, this kind of plucking tool is characterized by two layers of plucking accessories in one design. The result is a full tone but the downside is the added heaviness for the player.
Stash plucking accessories – these have a clear and plastic like feel with the design. The durability is unknown but they are indeed rare in the market today.
Dual stringed musical instrument plucking tool – much like the tweezers design, this one also incorporates 2 plucking accessories at the same time, although the difference is that they are closer together in design, so they can potentially emulate a 12-string stringed musical instrument on a regular 6-string one.
Strum Rose – made by Jim Dunlop, they are great for strumming and have a set of 6 plucking tool ends in one tool, which also makes them great for a 12-string emulation.
StarPik – this one is shaped like a 4-corner star and looks like 4 plucking accessories put together like a shuriken style invention for the stringed musical instrument. Like other multi-plucking tool systems, this one has varying thicknesses for different styles of playing.
McPherson – shaped like a soft and abstract like triangle, it has a triangular hole in the middle. They also come in a variety of colors.
Butterfly – these types of plucking accessories have a little raised top middle part for a better grip. They come in either colored or colorless types.
Sik Pik – this one is made with a slightly twisted end, so it can be a little tricky depending on how you hold your plucking tool in a typical playing fashion.
Stylus – this one has a conical tip and a more diamond like shape due to its unique design. For speed players, this is the one to go with.
Lone star – it is what it is – a plucking tool that is in the shape of a star. The labels of the varying thicknesses are printed on each side of the star.
Buckcherry – this is a series of uniquely shaped plucking accessories, namely the razorblade, milk bone and afro comb. If you are into unique stuff then this is a must-have!
Characters – unique characters that have gotten their own stringed musical instrument plucking accessories include Mickey Mouse, PaRappa the Rapper, Tenacious D and Jason from Friday the 13th. Oh, and don't forget those generic skull head designs as well.
Pointless – not exactly "pointless" in a sense, but more on a literal meaning. They look like small plates and has a raised grip ring in the middle. Polymer that has been engineered with crystalline (acetal) is what makes these plucking accessories, with thicknesses from 0.58, 0.72 and 1 mm. A variety of the pointless plucking accessories would be the Django Button.
Sun Plucking toolz – they have a jagged edge around and are also rounded like the pointless plucking accessories. If you want super sharp treble sounds then this is the kind of unique plucking tool for you.
Plectr'o – think of a donut, then convert it to a plucking tool. Presto – you've got Plectr'o! There are a total of 5 gauges for this kind of plucking tool.
Plucking tool guy – yet another brand of oddly satisfying plucking accessories, these can vary in design, such as a tooth, a football, a bat, a v-shaped one and a strawberry-shaped one.
ZZ top – this one simply has the ZZ top logo on top, which acts as the grip of the whole plucking tool. Other than that, the plucking tool looks relatively normal in design.
Le Pik – another one from Jim Dunlop, this is made with fibylon, a kind of composite nylon. It has a similar shape to a regular plucking tool but has a more boomerang shape to it.
Heart – many kinds of plucking accessories come out as a heart shape, which can be a great gift to a special someone who plays stringed musical instrument on your anniversary (or monthsary for that matter).
Blue Magic – looks like a garden spade, until you find out there's a reason for the stem – to hold the plucking tool firmly between your fingers so you don't lose it while playing.
Snake – oddly, there's something that is made to look like snakes with a ribbon-style design, which is great for all your performance needs. There's a use for the snake though – it wraps around your fingers so that it doesn't fall off.
Texas – yes, there are plucking accessories made to look like the entire state of Texas. Made by Griplucking tool, these are a sure-fire way to captivate country music players.
Sure Grip – these are regular plucking accessories but with a molded rubber grip on each of the top, so there's almost no way you are losing that grip on your plucking tool, hence the name.
Q: Which genre is the best for which kind of stringed musical instrument plucking tool?
A: Much like with choosing a stringed musical instrument, many kinds of stringed musical instrument plucking accessories ultimately go well with a certain genre of music, such as the following:
| | |
| --- | --- |
| Genre of music | Ideal plucking accessories |
| Death metal | Jazz type |
| Black metal | Nylon or anything with a pointy tip |
| Thrash and power metal | Stiff point for speed and an edges that is tapered |
| Djent | Lots of attack, such as medium gauge plucking accessories |
| Doom metal | One with good harmonics, such as plucking accessories with lighter and wider designs |
| Punk | Anything you want, anything is possible |
Q: What are the different gauges of a stringed musical instrument plucking tool?
A: Gauge refers to the thickness of the stringed musical instrument plucking tool. Here are the most common gauges and their thickness value or rating:
| | | | | | |
| --- | --- | --- | --- | --- | --- |
| Thickness | 2 mm + | 1.5 mm to 2 mm | 1.2 mm to 1.5 mm | 0.8 mm to 1.2 mm | 0.8 mm – |
| Rating | Super heavy gauge | Extra heavy gauge | Heavy gauge | Regular gauge | Light gauge |
Additionally, here are notes for the different ratings:
Super heavy – depending on the bevel edge, it can be harder to play for beginners, so it roughly depends on your skill.
Heavy and extra heavy – these ones are great for lead stringed musical instruments and other lead solo instruments.
Regular – these ones are the best to go around with if you are not sure of the quality. Different manufacturers call them differently. For instance, high ranking companies call them thin gauge, while your usual stringed musical instrument company might call them heavy gauge.
Light – they can break easily but they are the best for strumming when taken care of properly.
Q: Why should you use a plucking tool?
A: The plucking tool is a kind of instrument tool that is used to play a stringed musical instrument's strings instead of your fingers. Here are the different benefits:
It won't hurt your fingers at all.
The speed of your play through will be better.
You add some power for each pluck or strum.
A better tremolo speed can be brought out.
Playing an arpeggio will be a breeze.
Q: Is there an advantage to using an acoustic stringed musical instrument? How about downsides?
A: There are good sides and bad sides to an acoustic stringed musical instrument, such as the following:
Advantages
Natural sound
Acoustic stringed musical instruments give off a rustic and warm, natural sound.
Portable
It is portable and can be used anywhere, even on camp.
Versatility
It is also very versatile when it comes down to playability, since you can transfer to electric much easier than others.
Cheap
This kind of stringed musical instrument is relatively cheaper than the electric ones.
Disadvantages
Less effects
You don't get a lot of effects as compared to having an electric stringed musical instrument.
String pain
Most beginners are turned off by the pain of the string.
Not for rock
It is not ideal for rock and metal genres.
Bulky body
The body is too bulky to perform with on live audiences.
Q: Do all stringed musical instrument players get to be rock stars on TV?
A: Unfortunately, not all musicians are "big time" rock stars. Some of them just like to play music as a hobby, not as a main source of income. Some of them ultimately fail and go back to their day or night jobs. Some of them have gone through many auditions and failed, so they gave up on their dream.
The stigma with this whole "rock star" thing is due to the fact that mass media brainwashed people to think that being a rock star will "get the girls" or "make you a star overnight", when indeed, there are many factors to consider if you want to actually be a "rock star":
You need to practice years of training to get your skills right. Being a rock star doesn't happen overnight – even your favorite rock and metal bands took many years of training before they can become "rock legends".
If your choice of songs aren't popular, you have a slim chance of being on TV. Mainstream is all about easy lyrics, not runes and rituals that your favorite black metal band might be singing about. The sad reality is that mass media is all about "falling in love" and "relationships" and less about trivial things like how a seedling grows into a plant.
Unless you have a connection with a publishing company, you're going to be stuck in the attic. The sad reality is that even if you are a viral sensation online, if no publishing company will back you up then you can't easily be on TV, unless you are extremely poor and you have this rags to riches story that will captivate people. If you're an average Joe (or Jane) then fame is pretty far behind.
If you don't play in live shows, even locally, you won't get much experience. Part of what makes a good "rock star" is not just skill, but also being present and creating a good scene around your locality. In this way, you can gradually climb up to the national level, which, mind you, also takes years. Some artists take 10 years or more before they get mainstreamed.
You have to be a "friendly" person if you want to be famous. It's not just about building a good image, it is also about being less of an air head and being more of an approachable idol. Some stringed musical instrument players are "know-it-alls" and think they are God's gift to the music world.
Even if you do have the heart and the passion, it's nothing if other stringed musical instrument players are better than you. Technique is always an important skill that you should master, and it takes years and years of practice to be able to do that.
So many people are playing stringed musical instrument already – it's going to be hard to innovate yourself. So many people have done their things. Maroon 5 has already made a slight switch to EDM, and so did Coldplay. Oh, and let's not forget about Celldweller. It's hard to think of a "new thing" with stringed musical instruments because there are just so many stringed musical instrument players around the world today – it's like competing against a million fast food chains.
Even with today's internet technology, even getting famous online is a big chore. While it is super convenient to just record yourself and post it online, there are many things you need to consider. First, YouTube doesn't always allow covers because of copyright issues. Second, it just so happened that the song you wanted to cover was already done by someone else, with a better style than you. Finally, there's nothing special about you or your video (see #7).
You'll eventually find that you'll make more money with your day job than with music. Making money should be only a second option or privilege when it comes down to making music. Not everyone is paying to hear your songs, so you should make your music at a right price.
When you do get to be a "rock star", you need to be more self-conscious to avoid controversy. You have to keep in mind that the fame can come with a price. This is why you need to be cautious with the things you post as well as the things that you say or do in public. Being a celebrity is hard!
Unless you're well-off, purchasing gear can mean some $$$ if your job isn't cutting it. Make sure that you are not sacrificing things like your daily lunch for a gear, because that is seriously unhealthy! Sure, it is okay to sacrifice a little, but not too much.
You can't just "copy" styles off people – you need to make your own. Are you thinking about being the next Avril Lavigne? You might get bashed off that, but on the other hand, you might also get noticed (see below).
On the contrary, even if you make your own style, people won't notice you because they're attached to a certain mainstream artist or style. The problem with society is the word "standards". If you don't sound anything like their favorite musician, you're nothing. But if you also sound like their favorite musician, you'll sound like a copy cat. It's far more complicated than you think!
Bands disband because of many reasons: schedule, work, family, a love triangle (or hexagon) and maybe even a bottle of vodka. Think about this first before you form a group, and make sure you have good communication all the time.
In the end, you'll learn that music is an art – not necessarily a "profession". People just get paid because their music is loved by others. The best way to explain it to people who think of the "rock star" stigma is that you simply "love to play stringed musical instrument" for whatever reason you have. Whether the reason is to forget your ex, to write stories in audible form or to just accomplish something with your life, reasons vary per person.
Q: How do I get a stringed musical instrument plucking tool out of a sound hole?
A: The sound hole is a deep and dark place to lose your items. Here are the steps on how to get a plucking tool off a sound hole:
First, don't panic. Try to carefully turn the stringed musical instrument upside down so that you can make the plucking tool fall off gently and not too harshly, so that your eyes will be able to catch it.
Next, shake the stringed musical instrument so that it will shake the plucking tool off and have it fall off the sound hole itself.
Last, look on the floor and find your stringed musical instrument plucking tool if it falls off with a sound.
Q: Which stringed musical instrument plucking tool gauge is best for which genre?
A: We've all been there – we know a certain genre but don't know what kind of thickness or gauge for the plucking tool to choose. Here's a brief guideline:
Jazz – consider a thicker plucking tool so that it will have a warmer tone that is not too bright.
Heavy metal and death metal – consider a plucking tool that is at least 1.5 mm or thicker for the best sounds.
Pop, rock and country – consider a thinner or medium gauge plucking tool so that it can be easily strummed.
Q: How can  mistakes help you as a stringed musical instrument player?
A: Stringed musical instrument players, like all instrument players, can make mistakes. Here's how mistakes will help you:
Passion is much more important than technique.
You can just brush off a mistake with stage presence and determination.
Mistakes are proof that you are learning.
Making mistakes makes you open to a world of possibilities.
Everyone makes mistakes – we're humans, we're not perfect!
Q: Should you start learning a stringed musical instrument using a plucking tool or not?
A: It depends on the preferences of the player, but ultimately will have the following pros and cons:
Using a plucking tool first – this will mean that it is a lot easier for beginners, but can be hard to shift to finger plucking styles such as for steel and nylon.
Using finger picking first – this will mean that it is a lot harder for beginners, but can be easier to shift from one stringed musical instrument to another.
Q: What are some of the most important stringed musical instrument etiquette for shopping in stores?
A: Ultimately, most people are just rude when shopping for stringed musical instrument and stringed musical instrument parts. Here's what you need to avoid doing:
Don't assume employees know nothing about music.
Practicing while on amps should be on a medium level.
Consider getting private rooms for practices and tests.
Turn down your amp first before you plug it to avoid accidents.
Don't be in a hurry when choosing gear – be as selective as you like.
The store is not a gig – don't turn it into one.
Return things in order as you leave.
Don't be afraid to check out electronics over analog.
Q: How can a stringed musical instrument plucking tool be expensive?
A: While it is true that most stringed musical instrument plucking accessories are cheap, some are just downright expensive, because of:
the size of the plucking tool
the material and finish
the texture or feel
the aesthetic design
the shape and ergonomics
Q: What's the difference between rhythm and lead?
A: Both lead and rhythm are important parts of the band, and they have different roles.
Rhythm players need to provide a backing rhythm to the song, and are more on the strumming rather than on the plucking.
Lead players need to provide a good melody to complement the rhythm of the song, and are more on the plucking than on the strumming.
Q: What happens when stringed musical instrument plucking accessories cannot be used anymore?
A: If your stringed musical instrument plucking tool is no longer working well, is broken or forever lost, there's a chance that it can:
– get recycled into a new plucking tool
– end up in a computer keyboard
– end up in a beginner's stringed musical instrument fret
Q: Why are there so many different stringed musical instrument player types?
A: This is because stringed musical instruments are played by people, hence different personalities can also affect the way that they play the instrument. For instance, some are perfectionists and play by the notes, while others are only good on playing by the ear. It depends on your musical upbringing and your environment.
Q: How do you keep your plucking tool from getting lost?
A: If you find that you're always losing your plucking tool due to some odd reason, here's what you can do:
Get something with brighter colors so they can be seen easily in the dark.
Don't overspend on plucking accessories – get one with a cheaper price but still durable.
Tie it to a string using a drilled hole so you won't lose it.
Q: When does a stringed musical instrument player get "annoying"?
A: There are two kinds of "annoying stringed musical instrument players" in the world: the one who's bad at playing and the one who's good at everything. Here's an explanation:
The bad player: they have lack of tempo, forget to tune their stringed musical instruments, and basically act like a rockstar.
The genius: they basically "know everything" and try to correct whatever standard you have.
Wrapping It Up
Overall, we think that the ChromaCast CC-SAMPLE-12PK is our pick for the best guitar pick set that comes in a 12-pack with strong celluloid and amazing colors and gauges.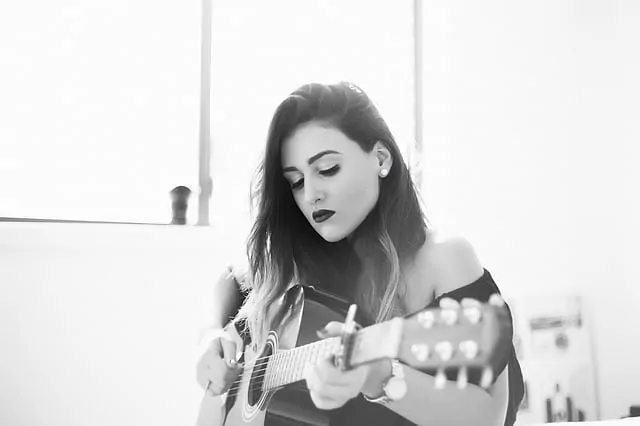 Jen is a guitarist and singer-songwriter who spends much of her time on the road and has lived in 13 cities across 4 continents. She picked up her first guitar at the age of 6 and learned to play by ear shortly after. She received her formal music education at the Berklee College of Music, and currently plays for a few bands in her free time. She has an uncanny ability to improvise creative melodies and harmonies. Her early influences include blues, jazz and rock.