Guitars are beautiful. No one can deny that guitars on display are essentially, practical art. What's more, is that if your guitar is out where you can see it, it makes you want to play it more than when it's sitting in its case or bag. It serves a dual purpose.
There are a few different types of stands, particularly in how the guitar hangs, and whether you want to put multiple guitars on stands. This article contains only floor stands. While guitars look great on the wall, I should know, we have our guitars up on the wall, not everyone is at liberty to do that. If you are in the market for a guitar wall mount, that is another decent option to consider. Let's get into guitar stands for this article.
Types of Guitar Stands
There are a few different kinds of stands. You may find any of them will suit you, or you may find that a certain type suits you. They vary in terms of how portable they are, how they support the guitar, and whether they are suitable for home, studio, and stage. Even within the different types, you will find that certain stands are fully adjustable to fit various guitars and some aren't. So always check out the specs for the specific stand that you're interested in to make sure your guitar will fit well and be fully supported wherever you intend to use it.
Tubular Guitar Stands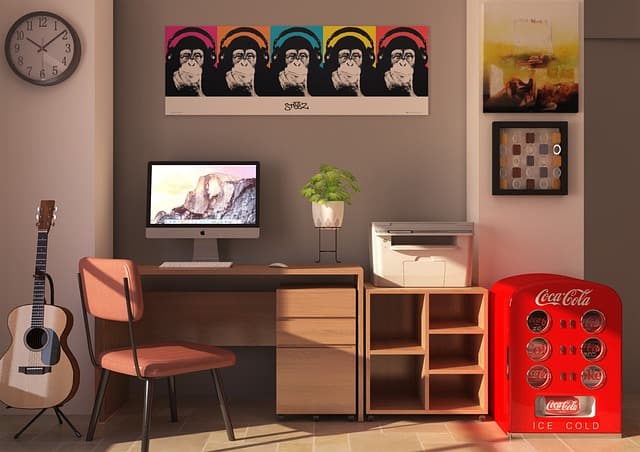 These stands tend to look like they're made out of tubes, hence the name. Your guitar rests on the bottom and the neck is supported with the headstock ideally sitting top of the yoke. Some stands come with an open yoke for the neck to rest in and some have a latch that provides a lock. From personal experience, I would recommend a yoke with a latch.
Tube stands are generally the most affordable stands. They do the job just fine. We've had these before we got our double stand and they held our acoustic guitars and my husband's electric. Some of them allow you to fold the feet like a tripod and remove the yoke that the body of your guitar rests on, and even the yoke that holds the neck. This makes them more portable than their other counterparts that are stuck in that shape, although it can be a schlep to transport your stand regularly.
Hanging Guitar Stand
Similarly, you can get these type of stands that simply hang your guitar. This may sound unstable, but they are built quite solidly and in a way that distributes the weight so that it doesn't topple over once you hang your guitar. Essentially, there is a support for the guitar's body to rest against, but it doesn't actually rest on anything, except for the headstock.
The mechanism is usually a lock mechanism so that the guitar can't tip out. You can find those with manual latches similar to those on tube stands, but far more commonly, you'll come across those with an automated locking mechanism.
While it can seem scary to put your faith in the automatic lock, it works very well. You simply put your guitar into the yoke and the weight of the headstock resting against the yoke triggers the latches to close. As long as your guitar is hanging, the locks will stay closed. To remove your guitar, you simply lift it and then bring it forward out of the now open yoke.
Bigger, Better, More Portable Guitar Stands
So for a lack of a better name, the bigger better guitar stands are made for musicians on the move and who need a more robust stand. These stands are similar to the tube stands, but usually come with a tripod at the bottom which can fold for transport. The stand can be made smaller too.
You can just look at the construction and see better quality support structures. These will work well if you travel to gigs and/or the studio fairly often and just want a robust stand to display your guitar.
A-Frame Stands
These just give your guitar's body a place to rest. There is no support for the neck and no place for the headstock to hang. While this may sound like a terrible option, they're actually pretty sturdy. In some cases, they're more sturdy than some of the tubular guitar stands. It all depends on the quality.
They're designed to sit nicely on the floor at an angle to distribute the weight of the guitar well. As with a floor stands, just don't go pushing the neck of the guitar. If you bump your guitar slightly while moving past, you're almost guaranteed to find your guitar still resting securely in the stand as long as the impact isn't hard.
Multiple Guitar Stand
These are similar to the full guitar stands mentioned above, but they have place to hold multiple guitars, usually either two or three guitars. We most recently had one that held our acousric guitars, a simple tube stand design with a yoke on either side. It worked well.
Get one with latches on the yoke if at all possible. I had left my strap on, and as I lifted my guitar it hooked one arm and tipped the stand and down went my husband's guitar. I managed to grab the stand, but not the guitar. If it had latches, the guitar would never have made its acquaintance with the floor.
Guitar Racks
If you have multiple guitars, a rack is a good option, especially for a studio environment. The size of the rack determines how many guitars you can put on it. In terms of actually displaying your guitars, the racks in most cases won't work too well. Usually these racks are designed to have your guitars sit in them sideways. But still, who doesn't get excited when they see a bunch of guitars on a rack.
Caution – Is Foam or Rubber Okay for Your Guitar?
If you have a guitar with a nitrocellulose lacquer finish, which some older guitars do, although some modern guitars may have it too, do not pick a stand that uses foam or rubber. It melts the finish resulting in what we call nitro burn or stand rash. It looks ugly and makes it uncomfortable to play when it happens to the neck.
All other guitars will be fine with foam and rubber which is what most guitar stands use. Certain brands like Hercules have options for nitro finish guitars.
The Best Guitar Stand to Display Your Guitar
This is by no means an exhaustive list, but you should find a great stand to suit your preference and budget in this list.
Amazon Basics A-Frame Guitar Stand
If you would prefer an A-frame guitar stand at an affordable price, this is a good option. It has three width settings to accommodate different guitar sizes. Your guitar will rest on soft foam and the rubber grips at the bottom will help to prevent slipping. The metal construction is durable and will withstand regular transportation. Speaking of transportation, this stand folds flat.
Most people find this guitar stand well-made, very sturdy, and easy to store. There are mentions that this stand works well for acoustics, but not the thin bodies of electric guitars. Another issue that comes up is that it's not the best stand for guitars with asymmetrical bottoms as they sit skew as the arms aren't adjustable.
Hercules GS414B + Acoustic Guitar Stand Plus
Hercules is one of the most trusted names when it comes to guitar stands. This one is specifically designed for acoustic guitars although it can hold electric guitars too. If you prefer an automatic locking mechanism, here you go. The AGS (Auto Grip System) yoke holds guitar necks of between 40mm and 52mm (1.57in – 2.05in) which caters to a variety of guitars. It also has N.I.N.A (Narrow Instrument Neck Adjustment) to accommodate thin-necked instruments too. It can take up to 15kg (33lb).
The height is adjustable too with a locking pin to keep it in place once adjusted. The foot pads help to keep the stand from slipping. Because the guitars just hang, it doesn't matter what shape the body is. Most people feel this is a sturdy, durable stand. But there were a few complaints that the rubber and plastic parts become sticky after a while and that the first parts to break are the plastic parts.
Another plus to mention is that Hercules stands may be safe for nitrocellulose lacquer finishes.Hercules has a lifetime warranty on their guitar stands.
Hercules Multiple Guitar Stand (GS523B)
If you want a good rack, here you go. This rack comes with three yokes for three guitars, although another three yokes can be added to take six guitars. It won't display your guitars as well because the sides of your guitars will show, but for easy reach and cool factor, it does the job. There is foam covering all the contact points to protect your guitars.
It can take acoustic and electric guitars. The maximum weight capacity is 80kg (176lb). It folds up for transportation, and although it's high, it will be skinny when folded to slip into narrow spaces. Most people are happy with this rack and feel their guitars are safe on it. There were some complaints, possibly about defective units, stating that the rack is wobbly despite being sturdy. There was also a complaint about the foam leaking chemicals onto the guitars.
Hercules Multiple Guitar Stand (GS422BPlus)
If you want a high quality double guitar stand, this is a good option. This stand features the automatic locks and takes various shapes of guitar since they just hang. There is foam to safely cradle the necks of the guitars. You can adjust the height of the stand too. The yokes accommodate 40mm and 52mm (1.57in – 2.05in). The angle of the backrests can be adjusted for a better support for your guitars and for portability. In fact all parts of the guitar stand can be adjusted for travel.
Most people are happy with this stand for its sturdiness and the fact that it doesn't take up much space. It works well even with heavier instruments like bass guitars. However, some people found that it becomes quite unstable with only one guitar on it, so be careful when removing one of your guitars or walking around the stand when only one guitar is on it. There were also a few complaints about the longevity, or rather, lack of it with the plastic parts.
Hercules Multiple Guitar Stand (GS432BPlus)
This is like the stand above, but it holds three guitars. It has the auto locking mechanisms and soft foam to cradle the neck and support the bodies of the guitars. It's fully adjustable for your guitars and for portability. The weight capacity is up to 2.98 kg (6.6Ib).
Most people find this stand saves space and is very stable. There were a few complaints that the plastic parts don't last very long. The height adjustment and yokes in some units also had issues.
Gator Frameworks Adjustable Triple Guitar Stand
If you're on a budget but need a stand that holds three guitars, this is a good option. There is a manual locking mechanism for extra security. The stand is constructed from durable steel and has rubber to protect your guitars at all the contact points. It also has removable red trim around the feet to make the stand more visible in low light venues. You can adjust the height of the stand to accommodate different guitars.
Most people feel that this stand works well, even when there is only one guitar in it. But there were a few people who found that the bottom cradle turns upside down when not in use which can be annoying. There were also a few complaints about stability, although these may be defects.
Gleam Guitar Stand
If you're looking for a single guitar stand with a manual lock around the neck, here you go. The stand is height adjustable, and has soft sponge on all the contact points to protect your guitar's finish. It can be a little tedious to transport since to make it smaller, you would need to disassemble it. But for lighter guitars and for stationary use, this stand will work.
Most people feel this guitar stand works fine. There were a few complaints about it not being able to take heavier guitars without toppling over and that it's not suitable for use on stage.
Sale
ChromaCast Folding A-Frame Guitar Stand
Another budget-friendly A-Frame guitar stand, this stand has soft foam arms and a rubber back rest to protect your guitar. The rubber feet help to prevent slipping and the metal construction is durable. There is a lock to keep the stand at the required width to support your guitar. It folds flat for portability. It works well for acoustic and electric guitars.
Most people find this stand stable and durable. There were some complaints about the rubber being sticky and that stickiness rubbing onto the back of the guitars resting in the stand. To avoid this issue, put some guitar finish-friendly material over the rubber.
Cahaya Wooden X-Frame Guitar Stand
If you're into wood and want an interesting looking guitar stand, this wooden x-frame stand is a good option. This stand is made from plywood to make it both durable and sturdy. The contact points are covered in PU to protect the finish of your guitar. It's easy to assemble and disassemble for transporting purposes by sliding one piece into the other.
Most people find this stand works well and looks great, particularly for bigger guitars. Smaller guitars tend to slip forward and in some cases, slip over the little protrusions that are meant to prevent this. There were some other complaints about the glue looking ugly and the leather coming off.
Cahaya Guitar Stand
This stand is a tubular stand that is fully foldable for easy transportation. It has a manual neck lock for security and it rotates to support even asymmetrical headstocks. The height is adjustable up to 37 inches to accommodate different types of guitars and even banjos. There is thick sponge covering the uneven arms that are designed to support both thick and thin bodied guitars.
Most people feel that this stand works very well and is sturdy and reliable. However, there were a few complaints about the adjustment knobs breaking after a while and that the stand sits too vertical and too high causing instability for some guitars.
Sale
Snigjat Wooden A-Frame Guitar Stand
Another one for those who love wood and prefer an A-frame stand. This stand has irregular arms that are adjustable from 7 inches to 9 inches to support different body sizes. The hinge is adjustable and locks to set the width for stability and to fit your guitar. The thick soft foam that covers the contact points protect your guitar's finish. It folds flat for travel. To get it into position may take a little longer than some stands, but with regular practice, it should go quite quickly.
Most people feel this stand is solid and sturdy. It takes up very little space and is easy to assemble and fold for travel. There were a few complaints about the feet not being long enough to keep bigger and/or heavier guitars absolutely stable when initially put into the stand.
String Swing Guitar Rack
This guitar rack holds six electric guitars or three acoustic guitars. You can obviously store a combination of the two, but acoustic guitars do take up a lot of space, so if you have more than one, you may struggle to store more than one electric guitar too.
The wooden construction will suit those who enjoy the look of wood. You can choose between oak and walnut. All the contact points have high density rubber to protect the finish of your guitars. The foam does have a vinyl cover which may be safe for nitrocellulose guitars. The rack folds for transportation. To assemble it, you will require a screwdriver which can be a bit annoying, but at least you know it's solid.
Most people find this rack stable and feel it looks good. It also takes up minimal space for a rack. There were a few complaints about how many guitars the rack can actually take (again the issue with acoustic guitars taking up a lot of space). There were also a few complaints about the assembly, such as the included screws not being long enough and causing the rack to wobble. In those cases, people went and bought longer screws at a hardware store.
Conclusion
Displaying your guitar at home, taking it to the studio, or putting it out on stage has never been easier. There are so many options to suit various types of guitars and your preferences. It's not always that the expensive is the best, so if you're on a budget, you will find a stand that will fully support and keep your guitar safe.
Just remember that even some of the best stands will topple over if bumped into hard enough. It's best to keep your stand out of the walkway. On stage, this is easier said than done if you're an enthusiastic guitarist that moves all over the stage. For displaying your guitar on stage, choose a good brand that is known to be sturdy and do your best to keep it out of the way.
Enjoy displaying your guitar and may it help you to pick it up and play it regularly.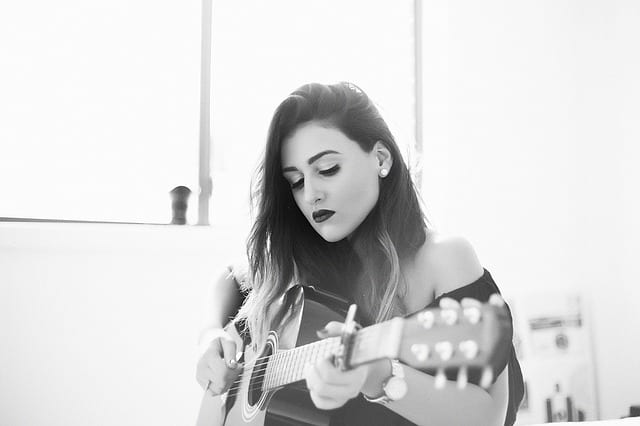 Jen is a guitarist and singer-songwriter who spends much of her time on the road and has lived in 13 cities across 4 continents. She picked up her first guitar at the age of 6 and learned to play by ear shortly after. She received her formal music education at the Berklee College of Music, and currently plays for a few bands in her free time. She has an uncanny ability to improvise creative melodies and harmonies. Her early influences include blues, jazz and rock.