If you like to travel with your guitar a hard case is a good thing to have. It provides a lot more peace of mind if your guitar has to get stored in the cargo section of the plane or if you're packing your vehicle full of stuff for a camping trip.
If you've moved as many times as we have, it's also a safer way to transport your guitar to your new home. Even if you don't trust the movers (we never do), you can pack it in your car or trailer and put a bag or box on top without any issues.
I will always recommend that at home, you don't store your guitar in a case due to the whole out of sight out of mind thing. But, if you can't use a guitar wall mount and can't trust little hands or scratchy paws around a floor stand, a hard case is an effective way to keep your instrument safe.
Let's look at the best inexpensive hard cases for guitars.
Which Type of Hard Case Should You Go For?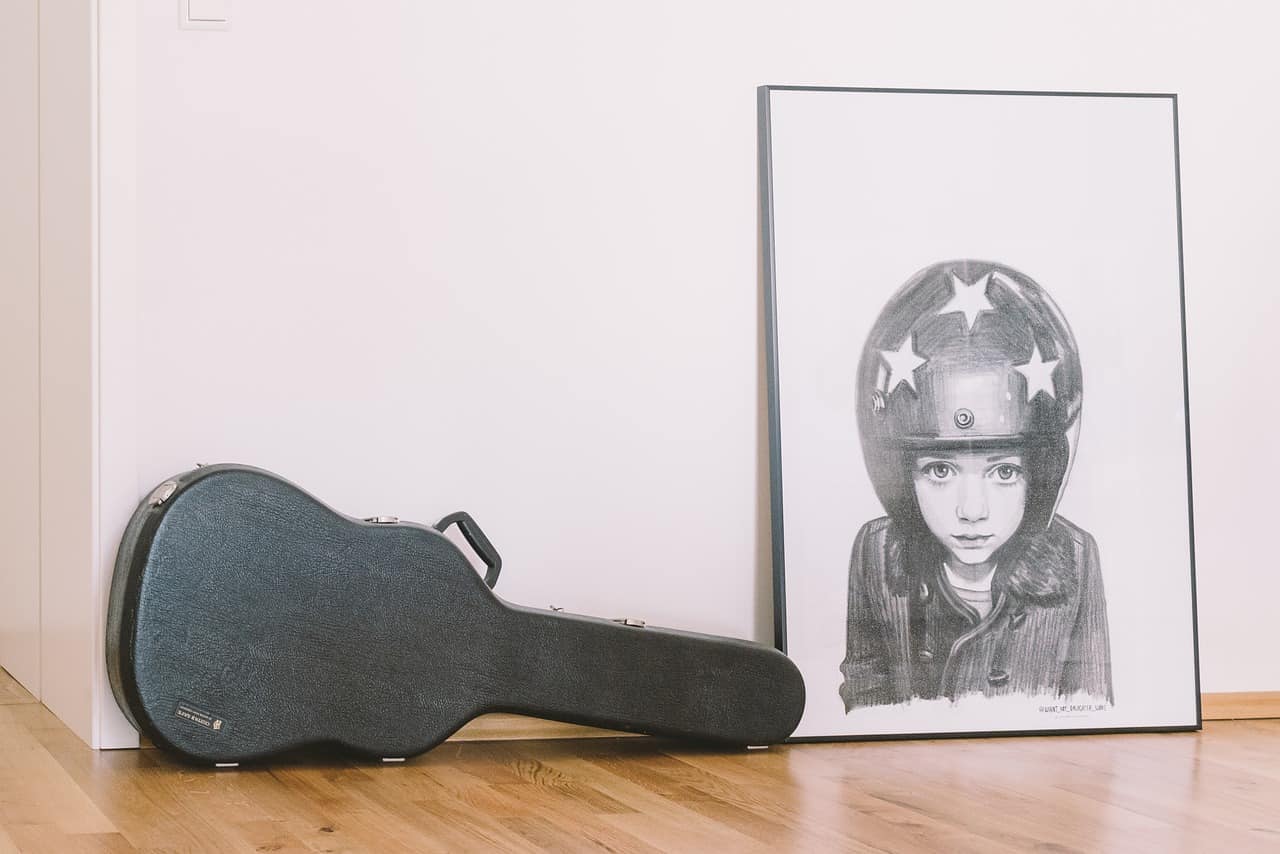 Yes, there is a difference between electric and acoustic hard cases and of course, you need to make sure you get the right size for your particular type of guitar. A case for a parlor guitar isn't going to fit a dreadnought for example. Always check the measurements of your guitar against the dimensions of the case.
But it's more than that. Cases, for both types of guitars, are made out of various materials that provide different benefits and cause the prices to vary.
Wood
Wood is a popular choice for those on a budget as it's one of the more affordable options. There's no need to go for the most expensive woods to protect your guitar. You will want to make sure that the wood has been treated properly and take precautions around moisture and extreme temperatures.
For many people, these issues wouldn't pose a problem, but if you do live in or travel to areas that are very humid, hot, cold, or damp, a wood case may not be for you.
Pros:
Offer good protection if constructed well
Affordable options
Cons:
Heavy
Not all are waterproof (as in the wood may swell)
May not handle extreme temperatures well
Fiberglass
Fiberglass is waterproof, heat-resistant, and if made well, provides excellent protection for your guitar. It's also lighter than wood. The downside is that they can be more expensive. But for good protection, which you need if you're constantly touring or like to go camping regularly, it will be a solid investment.
Pros:
Waterproof
Heat-resistant
Lightweight
Cons:
More expensive than wood
Very cheap options may be poor quality
Plastic
The plastic I'm referring to here is ABS or moulded plastic. You'll get many of the same benefits as with fiberglass. Naturally, the type of plastic used can affect how much protection you get and how well it stands up to heat, cold, and impact.
But reputable manufacturers will use the correct plastic that is durable, can handle extreme temperatures and the rigors of being tossed around in the back of a van on tour. It's when the price is too good to be true that you need to worry.
Pros:
Waterproof
Heat-resistant
Lightweight
Cons:
More expensive than wood
Very cheap options may be poor quality.
Carbon Fiber
Carbon fiber cases are generally more expensive. It's a material used in high-end cases and often comes with fancier extras. While these are nice to have, they aren't strictly necessary. What's nice about carbon fiber is that it's also lighter than any of the other materials I mentioned.
Pros:
Very lightweight
Heat-resistant
Waterproof
Cons:
Generally more expensive than all the other options
The Best Inexpensive Hard Cases
Flight Cases
Depending on where you're based or where you're flying to, and the airline, only specific cases are approved for flight. In the US, you're looking at cases that feature Transport Security Agency locks (TSA) and an Air Transport Association of America (ATA) certification.
There is a lot of pressure during flight, there are vibrations, weight restrictions, and a certain way things need to be packed in the cargo hold. They may also get dropped through the normal processes during packing and unpacking. Most of us have seen videos of cargo being handled roughly. I shudder just thinking about my precious guitar being manhandled like that. But it is what it is, and fragile stickers don't count for much.
Your case needs to be able to survive these conditions at least 100 times, which is how it gets the ATA certification.
The TSA locks also provide an easy way for security agents in the airport to unlock the case and then secure it again. Any airport with stringent security checks is likely to look in the case and will do what it takes to get into your case to check it. Best to help that process go smoothly so you still have a viable case at the end of it.
The Best Inexpensive Hard Cases for Guitars
Now that you know what to look for, here are some recommendations:
Gator Flight Cases
These cases come in a variety of sizes and shapes. You can choose from cases for bass, hollow guitars, dreadnoughts, classical guitars, Les Paul guitars, and electric guitars.
Constructed from ATA Roto-Molded Polyethylene (military grade), your guitar is guaranteed to stay safe in flight. The TSA locks provide easy access to officers and good security and are impact divergent. You get two keys with the case. The inside provides plush cushioning for your guitar made from EPS Foam complete with neck support and an accessory storage compartment. Another plus is the molded handle for comfort.
Most people are happy with these cases. They say that their cases look like they've gone through hell, but their guitars are still pristine. There are some complaints about a lack of padding, guitars moving around in the case, and the dimensions being off. If you experience these issues, you should definitely ask for a replacement.
Pros:
Constructed from ATA Roto-Molded Polyethylene
The EPS foam nest and plush lining cushion and protect your guitar
TSA locks
Two keys
Cons:
Some complaints about sizing, alignment, padding and insecure fits
SKB Electric Guitar Rectangular Hardshell Case
This ABS molded plastic case provides storage and protection for various solid body electric guitars. It has no trouble holding Telecasters or Les Pauls and the like. Be sure to check the dimensions to see if your guitar will fit. The plush EPS molded lining and cushioning cradles the guitar and prevents it from getting dings and scratches. The compartment that holds accessories is generous unlike many other hard cases.
Most people are very happy with the case, especially given the price. The worst complaints are about the smell. Some people seem to have received stinky cases. Some people found that their guitars didn't fit securely, these are likely smaller guitars.
Pros:
Constructed from ABS molded plastic
Plush EPS molded interior
Cradle for the neck
Generous storage for accessories
Lightweight
Cons:
Some people received smelly cases
Yamaha AG1-HC Hard Case Dreadnought Acoustic Guitar Case
If you're looking for a sturdy case to transport your dreadnought in, here you go. It's specified for dreadnought and jumbo size guitars. This case is made out of vinyl and has a plush inner lining to protect your guitar. Aesthetically, if you're into gold, you'll like the latches and hinges. There is a bit of storage space for accessories as well. The neck of the guitar will be securely cradled.
Most people are enjoying their case and feel that it's well-made. There have been cases where people received the wrong case, so look out for that. Some people also found that the case was correct, but smaller than the dimensions state. This, however, could be a fault at the manufacturer with labelling. Also, there were a few complaints about the smell.
Pros:
Constructed from Vinyl
Water-resistant
Provides padding
Cradles the neck
Storage space for accessories
Cons:
Some people received a case that was too small for standard dreadnought guitars
There were a few complaints about the smell
Gator Hard-Shell Wood Cases
Gator is a popular name when it comes to affordable hard cases, so you'll see it on here a couple of times. This series of cases accommodates large and small acoustic guitars. You can choose from a ¾ guitar case, a dreadnought case for 6 and 12 stringed guitars, a classical guitar case or a Triple O acoustic case.
Each case is constructed from plywood covered in black Tolex PVC. You get three chrome plated latches, one of which can lock. The plush padding protects from impact and scratches. The accessory box doubles as a neck cradle. As with wooden cases in general, it's a heavier than the other types of cases, but will serve you decently during transportation and for storage.
Most people find the case sturdy, rugged, and say their guitars fit well. There are a few complaints about latches coming loose and the outer layer peeling, but these are very much in the minority. Some people received the wrong case, but that isn't Gator's fault.
Pros:
Constructed from plywood
Comes in various sizes
Good cushioning
Cradles the neck
Accessory compartment
Cons:
It's a little on the heavy side
There was a complaint about a latch coming loose
There was an issue with the PVC layer peeling in one case
Fender Classic Series Cases
This one is a little pricier than some of the other options on this list, but still in the lower priced range for a decent case. If you have a Fender and like to keep all your accessories in the family, this is one of their more affordable options. It's a 3-ply wood case with a soft crushed acrylic interior. All the hardware is triple chrome-plated. The case is secure when closed thanks to the spring locking mechanism.
Even the handle is rugged being steel covered in vinyl. If you prefer a case that isn't black, you can choose the tweed option. You'll find a case in the range suitable for Stratocasters and Telecasters, Jazz Masters and Jaguars, Mustangs and Duo Sonics, and P/J basses. The accessory compartment is quite generous too, perfect for taking things you need from gig to gig.
Most people say the case works very well. The foam in the interior is memory foam, and initially at least, you need to push the guitar into place. This does detune it since the tuning pegs, this can be annoying. But it does ensure a secure fit. It's also on the heavier side.
Pros:
Made from 3-ply wood
Soft acrylic interior that acts like memory foam
Secure fit
The case closes securely thanks to the briefcase-like latches
Comes in two different colors, black and tweed
Rugged handle
Cons:
Heavy
It takes effort to make your guitar fit in the memory foam
At least in the beginning, your guitar will be detuned every time due to the tight fit
Gator Hard-Shell Wood Case for Electric Guitars
These cases are part of their economy line. You can choose from 335 Semi Hollow, Bass, Electric, Extreme, Jaguar/Jazz Master, Les Paul, PRS/Wide Body Electric, and Thunderbird Bass cases. Be sure to check the measurements.
Each case is constructed from 3-ply Laun wood and covered in Tolex PVC. The soft plush interior protects from dents and scratches. The accessory compartment is fairly generous too. Each case has one latch that can be locked for extra security.
Most people are happy enough with the case for storage and light transportation. However, there are complaints that this particular series of cases aren't of the same quality as other Gator cases. If you're on a tighter budget and need something immediately, this case will do the job for a while.
Pros:
It's made from 3-ply Luan wood
Soft plush interior
One of the latches can lock
Comes in various sizes
Cons:
The quality doesn't compare well to other Gator Products
SKB FS-6 Shaped Electric Hardshell Case With TSA Locks
This is another option to consider if you want a case that can handle air travel. The case, although not ATA certified, has TSA locks and is small enough that many airlines will allow you to take it onboard with you thanks to the molded shape. This case will fit Fender Strats, Telecasters, and similar.
The interior is EPS molded foam cushioning to provide impact and scratch protection. The accessory compartment is a good size, although it is a bit on the shallow side, and the handle is covered in rubber for a more comfortable carry.
While most people find this case works just fine, there have been some alignment issues with some of the cases. There is also a complaint about the TSA locks being weak and one about the handle coming off.
Pros:
The molded shape makes it take up less space
TSA locks for air travel
EPS molded cushioning
Decent sized accessory compartment
Cons:
Some cases have alignment issues
There were complaints about weak TSA locks and a broken handle
Gator Deluxe ABS Molded Cases for Acoustic Guitars
These impact-resistant ABS plastic molded cases come in a variety of sizes. You can choose from the 12-string Dreadnought case, APX Guitar case, Classical case, Dreadnought case, Jumbo Acoustic case, and the Taylor GS Mini Acoustic case.
The aluminum valances provide strength to the case and the handle is designed to carry a lot of weight. The plush EPS foam interior keeps the guitar stable and protects it from scratches and dents. The accessory compartment is on the smaller side but still big enough to fit the essentials. One latch on the case is able to lock. It's lightweight and as long as you pick a case with the right dimensions, the fit is snug.
Most people agree that these cases are well-built and of good quality. Some people have even used it for air travel. But there are some complaints about the case arriving damaged despite the shipping packaging being in good condition.
Pros:
Constructed from ABS molded plastic
Lightweight
Waterproof
Impact-resistant
One latch is a locking latch
EPS foam cushioning provides a secure fit
Accessory compartment
Cons:
Some complaints about the case arrived damaged despite no evidence of rough treatment
Gator Deluxe ABS Molded Case for Electric Guitars
The Gator Deluxe series also caters to electric guitars. You can choose between a 335 Semi-Hollow case, Bass case, Bass LED case (comes with interior LED lights), Electric case, Electric LED case (comes with interior LED lights), Extra Long Electric case, Les Paul case, and the SG case.
These cases have the same features as the cases for the acoustic guitars: impact-resistant ABS molded plastic, reinforcing aluminum valances, three latches (one of which locks), EPS foam lining, and accessory compartment.
Most people feel this case is solid and protects their guitars well. But there are complaints as with the acoustic version of the cases arriving damaged, along with a few about flimsy latches.
Pros:
Constructed from ABS molded plastic
Lightweight
Waterproof
Impact-resistant
One latch is a locking latch
EPS foam cushioning provides a secure fit
Accessory compartment
Cons:
Some complaints about the case arrived damaged despite no evidence of rough treatment
A few complaints about flimsy latches
Conclusion
There you have it, a few recommendations you can check out to get a hard case that suits your budget. A guitar bag is a nifty thing to have. This is what I use for my guitar. I was lucky that when I've taken it across the country on a plane, they let me take it onboard. But I don't ever trust it with movers, I am very careful about how I pack it in the car, etc.
My husband with his steel hard case has no such qualms. That thing is robust. The peace of mind is worth the extra you pay for a hard case, especially if you gig on a regular basis or like taking your guitar along to different places.
You can't beat a hard case for protection. So yes, if you are on a budget, it's worth it to save up and get one of these more affordable cases. You don't need a top of the range case or something that's only the price it is because of the brand name.
I reiterate, check the dimensions on the case of your choice to make sure your guitar will fit. While some cases mention specific guitars, your guitar might very well fit in one of those cases. With electric guitars, you also need to be certain that the shape of the lining is correct for your guitar. You don't want your guitar shifting around in there or anything pressing too hard on the more fragile parts of the guitar.
With all that sorted, you can't go wrong.
Happy case shopping!
Cheanné Lombard lives in the home of one of the new Seven World Wonders, Cape Town, South Africa. She can't go a day without listening to or making music.
Her love of music started when her grandparents gave her a guitar. It was a smaller version of the full-sized guitars fit for her little hands. Later came a keyboard and a few years after that, a beautiful dreadnought guitar and a violin too. While she is self-taught when it comes to the guitar, she had piano lessons as a child and is now taking violin lessons as an adult.
She has been playing guitar for over 15 years and enjoys a good jam session with her husband, also an avid guitarist. In fact, the way he played those jazzy, bluesy numbers that kindled the fire in her punk rock heart. Now she explores a variety of genres and plays in the church worship group too and with whoever else is up for a jam session.