While dreadnoughts and orchestra acoustic guitars might be more popular nowadays, parlor guitars have produced some of the most famous acoustic guitar tones ever. They're extremely popular among 12 bar blues, country, and folk artists — and their small size makes them great picks for musicians who want a guitar for recording, songwriting, and taking out and about.
If you're looking for one of the best acoustic guitars, it can be difficult to parse through all of the different options on the market. Almost every acoustic guitar manufacturer makes a parlor model, and parlors use a wide variety of different body shapes and tonewoods that contribute to the final sound.
To help you make the most informed purchase and find the perfect model for you, we've compiled a list of the best parlor guitars on the market. These instruments are durable, portable, and sound great. Our picks also span the range from extremely affordable to super premium, so no matter what your budget is, you're sure to find the right guitar for you here.
If you want a great 12-string guitar,it might be difficult to find in a parlor. Check out our article on this feature in depth for more information.
Let's get into it and break the models down! We'll discuss each one in depth, while highlighting a few of the features that separate them from the competition. We'll also include a buyers' guide to help you understand what to look for when you want to purchase a parlor guitar.
Art and Lutherie Roadhouse Parlor Guitar
Canadian manufacturers Art and Lutherie have been making a name for themselves with their blend of value and sustainability. However, that doesn't mean that they don't sound or look great as well! If you want a parlor guitar that nails the tone and style of a Depression-era instrument, than the Roadhouse will be the best choice for you.
The back and sides of this guitar are all made from wild Canadian cherry, laminated in three layers for durability and superior tone over other laminates. Cherry is a local and sustainable tonewood for Art and Lutherie, and it helps keep the cost of the guitar down compared to importing tonewoods from across the globe.
But thankfully for players, cherry wood sounds fantastic as well! It's strong through the midrange, and it doesn't take away from your sound in the bass and treble ranges. This is a perfect match for parlor guitars, which naturally tend to sound louder and more powerful in the midrange.
You can pick between solid cedar and solid red spruce for the top wood, which are both classic acoustic guitar top woods. Cedar is a bit warmer and smoother, while spruce offers a punchier sound with better string separation. No matter which wood you pick, the top is pressure-tested before use, so that it can withstand the stress of strings and a truss rod with ease.
The Roadhouse features a 24.84" scale, and a 1.72" nut width with a silver leaf maple neck and a rosewood fretboard and bridge combo. The scale length is a bit longer than some other parlors, which gives this axe a snappier, stronger feel with more overtones in the sound.
On the other hand, the nut is a bit narrower than standard, which keeps the Roadhouse comfortable for players with all hand sizes. The neck is still wide enough to fret complex chord voicings and move from string to string without hitting multiple notes. However, that slightly thinner shape makes it much easier to wrap your fingers around the fretboard.
If you're looking for a guitar for small hands, make sure to check out our in-depth guide.
When you play the Roadhouse, the first thing you'll notice is the pop. This guitar has a lot of punch, and a brash, in-your-face voicing. It's perfect at giving you that unmistakable sound of a vintage parlor guitar, with a lot of midrange and a boxy, raw tone. However, it softens up nicely when you fingerpick, and it rewards dynamic touch in a way that some other parlors don't.
The cherry on top of this guitar are the finishes: antique white, jet black, wine red, bourbon sunburst, and special editions in natural and in faded navy. They're unique and distinctive, without feeling tacky. If you want your guitar to stand out but also look timeless, these Roadhouse finishes are perfect options.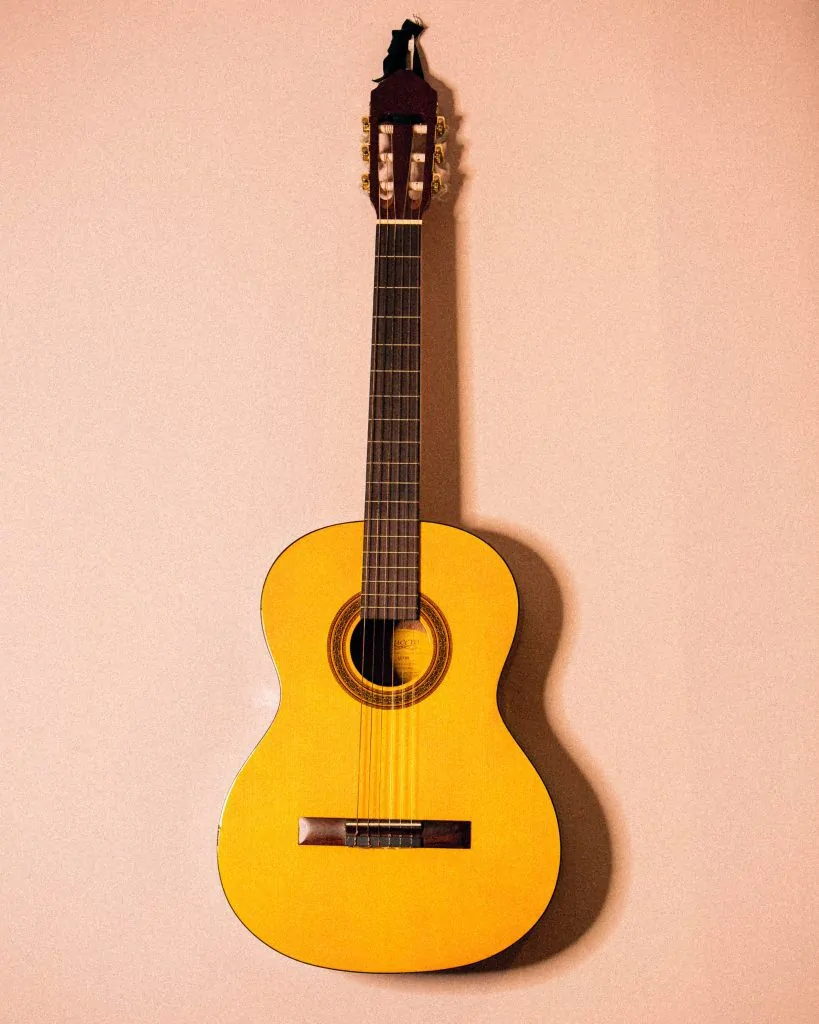 For a parlor-sized guitar, you may prefer a nylon-string classical axe
Gretsch Jim Dandy Parlor Guitar
For a budget parlor guitar that still has loads of character, you can't do better than the Grestch Jim Dandy. This little model might be affordable, but it's one of the best guitars for blues and slide acoustic guitar.
The Jim Dandy is made from basswood throughout the body and nato for the neck, which gives it a woody, midrange-focused tone. It's clear and strong, with surprising projection for a guitar of its size.
While it's not going to sound like a dreadnought, and it won't provide the clarity and string separation of an orchestra model, it still sounds great for what it is. You also get a 24" scale with 18 frets. The neck joins the body at the 12th fret, just like the vintage parlor guitars of the pre-war era.
The shorter scale is long enough to not require a serious adjustment in your playing style, but it also gives you a much lighter, smoother feel with lower string tension.
The body of the Jim Dandy is also modeled after some of the smallest parlor guitars ever produced in the prewar era. This tightens the frequency response around the midrange, and makes the guitar sound a bit more "growly" and "snappy" than some other parlor guitars. If you want lo-fi, garage sound for blues turnarounds, this body shape will be the best choice available.
Pick up the Jim Dandy, and you'll hear exactly what that midrange boost sounds like. The guitar is punchy and boxy, with a ton of bluesy character for playing blues on guitar. The neck is pretty comfortable, if a bit small for long playing sessions. Players with larger hands may find themselves cramping after a while — or at the very least, wishing they were playing a big guitar!
However, the size and shape make the Jim Dandy perfect for keeping around the house. It's extremely affordable, and parlor guitars like this size make great tools for writing songs and recording impromptu licks, lines, and tunes. Whether you just want a parlor guitar to keep around the house or you're in love with the sound, this is the perfect affordable option.
Taylor GS Mini
Unlike some of the other parlor guitars on this list, the Taylor GS Mini fits a "travel guitar" mold rather than a parlor guitar body shape. However, this model provides a fantastic blend of quality construction, value, and unique tone — so we felt it was worth a spot on our list.
If you want a guitar that you can use in your house or on the road without sacrificing a big, full-bodied tone, then the GS Mini fits the bill. This guitar offers broader shoulders and a wider lower bout, which makes it resemble a dreadnought or a jumbo guitar, just scaled down.
Along with the smaller body, the scale itself is shortened to 23.5 inches, and the body is just 17⅝" long in total. These measurements make it easier to hold the GS Mini in your lap, but they also affect the feel of the strings. With a shorter scale, there's lower string tension and a smoother, "slinkier" feel that a lot of players love.
The top itself is made from solid Sitka spruce, with layered sapele for the back and sides. Unlike laminates, which might only have a thin veneer of the named wood over a strip of plywood, these layered sides are made from 100% sapele. Combined with the clear and bright projection of spruce, these sides give you a focused, smooth attack similar to mahogany.
Compared to other parlor guitars, the GS Mini offers better response in both the treble and bass ranges, with a bit more even response between the midrange and the rest of the neck. There's plenty of clarity and articulation at the top of the scale, but there's also surprising bass response at the bottom — particularly for a guitar with such a small and comfortable body!
Of course, it's not quite the same as a dreadnought or even a concert model, but the GS Mini still offers great resonance and balance for a guitar this size. It sounds smooth and controlled with fingerpicking, and it responds well to heavier attack with strumming.
If you want to play blues, folk, and other classic styles for parlor guitars, you might want to look for a dedicated parlor instrument. But if you just want a smaller, more comfortable guitar that you can use to play whatever you want, it will be hard to beat the comfort, sound, and value of a GS Mini.

Classical guitars often have a neck and slotted headstock similar to a parlor guitar.
Seagull Coastline Grand
Like Art and Lutherie, Seagull is another brand owned by Canadian luthier Godin, and manufactured entirely in Canada. The Seagull brand (particularly the Seagull S6 lineup) focuses on versatile, handsome acoustics that punch well above their price range in terms of tone and value — and the Coastline Grand parlor is no exception.
If you want an affordable parlor guitar that can cover a lot of bases while still sounding great, the Coastline Grand is one model you need to check out. This parlor takes some cues from traditional guitars, with a variety of thoughtful, unique touches to set it apart.
The top of the Coastline Grand is made from solid pressure-tested cedar, which provides a bit more warmth and touch than other top materials like spruce. It's a common material for top son classical guitars, and using it here gives the Coastline Grand a unique voice compared to other parlor guitars.
Like the Roadhouse, the back and sides are made from laminated wild cherry, with a silver leaf maple neck and rosewood fingerboard. The nut width is 1.72", which is a bit thinner and more "traditional" than some modern parlors with a nut width of 1.75". Players who want a slim, comfortable neck that's easy to get around will love this shape.
One unique feature of Seagull guitars is their compound curved top. This curve is very minor, and the guitar feels like a standard flat top — but the concave arch reduces the need for bracing and makes the top stronger on its own. This translates to better resonance and more volume from your axe; it's a great way to get a bigger, bolder sound out of a small parlor body!
You hear that increased resonance as soon as you pick up the Coastline Grand. For a parlor guitar, it's got a loud, broad sound that carries plenty of definition across its scale. The trebles are particularly outstanding on the Coastline Grand: they're clear and glassy, but they don't ever get too brittle or sharp thanks to the smoothness of the cedar top.
Finally, the Coastline Grand features Seagull's trademark slim headstock. While this shape might look a bit odd, it serves an important purpose: with a tapered shape, it keeps the strings closer together and makes them travel straighter from the nut to the tuning pegs. This minimizes tension on the strings — no matter which string gauge you pick — and improves tuning stability overall.
Seagull guitars are some of the most popular instruments for players on a budget, because they offer boutique tones and Canadian-built craftsmanship at a price that everybody can afford. The Coastline Grand embodies these values perfectly, with a lot of flair and character as well. If you want a workhorse parlor with a boutique sound, keep this model in your mind.

Eastman's E10P offers great performance for a steel-string parlor.
Eastman E10P
In the past decade, Eastman Guitars has emerged as a brand that's delivering impressive quality and tone at a price point that other brands can't match. By building their guitars with professional luthiers in a Beijing factory, Eastman guitars receive lots of individual attention, but don't carry the price tag that luthier-built guitars usually do.
Their E10P parlor guitar is no exception. This is a small, narrow-shoulder parlor guitar reminiscent of the golden age of parlor axes. It's got plenty of touches from the 1930s and 1940s, but it's also updated a bit to fit better with modern sounds and playing styles. You can learn plenty of easy songs, easy licks, and easy riffs on this thing if you're just getting started.
The top of the E10P is Solid Adirondack spruce, which is strong and lightweight for great clarity and acoustic projection. You also get solid mahogany for the back, sides, and neck. Mahogany works great in a parlor guitar because it emphasizes midrange punch and carries a balanced, dry profile without as many overtones. This emphasises the bluesy bark of a parlor body shape.
The E10P also offers scalloped X interior bracing, which allows the top to vibrate well without making the guitar weak or flimsy. The ebony fretboard is another high-end touch, with plenty of snap and a quick, fast-playing feel. You can even run it with cables and the best acoustic guitar pedals at the show.
The vintage vibe continues with the slotted headstock (a rare feature on steel-string guitars these days) and 1.75" nut width. This is a bit wider than most modern parlor guitars, and it translates to the feel of the E10P. The full 25.5" scale, meanwhile, gives you the response and string feel of an orchestra or dreadnought guitar with a parlor frame.
Unlike some other parlors that are cramped and make it difficult to play chords, the extra string spacing lets you easily fret notes across all six strings. Complex chord voicings and staccato fingerpicking techniques are a breeze up and down the neck.
If you pick up the E10P, you'll notice how balanced and clear it is across the entire range. While it still offers the trademark mid boost that parlor guitar fans love, this guitar offers a lot more bass response and better treble definition than many other competitors. It's great for playing blues and folk, but can also handle singer-songwriter and even jazz work if you want!
Compared to other parlor guitars, this axe is also notable for its loud, booming projection. If you want a parlor guitar that's made with premium solid tonewoods and can hang with larger acoustic guitars, the E10P is a good choice for you.
PRS SE Parlor P20
PRS electric guitars are some of the most influential models of the past 35 years — and their newer acoustic lineup is carrying on that tradition. They just debuted a new SE Parlor P20 model, and it's a great instrument that maintains some traditional parlor sound and style while also being more of a "crossover" guitar than a lot of other parlors that you'll find on the market.
The P20 uses solid mahogany for the top, with layered mahogany for the back, sides, and neck. This all-mahogany construction offers the guitar a different voice from most other parlors, and gives it a drier, balanced sound that's great for playing at home or in the studio.
The body shape is also a bit larger and wider than some other parlors. This broadens the guitar's response across the entire spectrum, and makes the P20 a standout guitar for recording. If you want a parlor guitar that you can write music on but won't sound lopsided or out of place in the studio, a P20 is the perfect option for your needs.
The neck is PRS' classic "wide fat" shape, with a 20-fret ebony fingerboard and a 24.72" total scale length. Compared to smaller parlors which only offer 15 or 17 frets, the extra range gives you plenty of room to maneuver high on the neck. For an added touch of flair, PRS have also included their famous bird fretboard inlays along the length of the fretboard.
If you listen to the SE Parlor P20, you'll notice how surprising its range is. It manages to capture the extra midrange bark of a classic parlor guitar, but somehow it doesn't feel like a one-trick pony or a guitar that's limited to just a couple of styles.
Part of that is due to PRS' hybrid X/classical bracing, which allows for greater resonance and sustain without increasing the size of the body. While it might fly under the radar, it's a great feature that players in all styles will put to great use.
Fender CP60S
Rounding out our list, we've got the Fender CP60S. This budget model is great for students and smaller players who want a decent affordable option from a classic manufacturer like Fender. If you don't like the Grestch Jim Dandy, this is a great alternative.
The CP60S uses a classic combination of tonewoods. You get solid spruce for the top, with laminate mahogany for the back, sides, and neck and a walnut fingerboard. Fender boasts that the neck is their special "easy to play" shape, with heavy rolled edges for smoother and more comfortable runs up and down the fretboard.
The guitar also takes a classic parlor shape, without a super large body or very narrow bouts. This gives it a vintage parlor tone that's familiar without being stale.
Listening to the CP60S, you'll hear a lot of projection for a guitar of its size. It's similar in this regard to the Fender CD60CE, a similar budget electroacoustic dreadnought model. With a skillful player, it also yields a surprising amount of depth and body for fingerstyle playing and melodic passages.
One downside to this guitar is that it can sound a bit hollow, particularly when strummed hard. Some of that has to do with the construction, while the laminate back and sides also play a role.
Of course, the sound is still very good for the price. It's just a tad brighter and airier than many other parlors — and while this isn't a bad thing per se, it does change the strengths and great sounds that you can get out of this instrument. It's definitely something to keep in mind before you buy!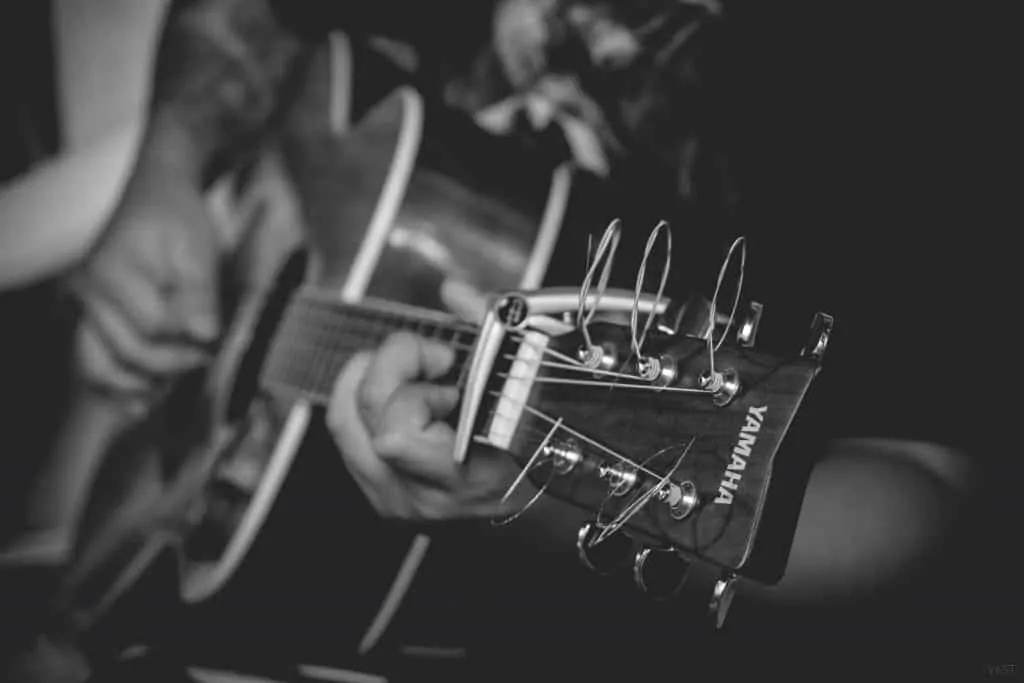 Yamaha is another great manufacturer for classic parlor guitars. 
Shopping for a Parlor Guitar
If you've never purchased a parlor guitar before, it might be tough to know what to look for. Unlike orchestra and dreadnought models, which are pretty standard shapes across manufacturers, "parlor" guitars come with all different body shapes and scale lengths. This guide will help you cut through the jargon to find the perfect model for your skills and goals.
Body Shape and Scale
The body shape and scale length are some of the most important aspects of any parlor guitar. They will play a foundational role in determining the sound and playability of your guitar — so it's important to pick the right size and scale at the start!
Parlor bodies generally feature small upper and lower bouts, with a shape that's more symmetrical than orchestra models and jumbo guitars. In fact, some parlor guitars have been called "peanut guitars" because of their symmetrical peanut body shape. However, there's no standardized size for parlors — so each manufacturer's models will have slight variations.
Tone is subjective, but there are a few things you can look for to give you a better idea of a guitar's sound. In general, parlors with wider body shapes will provide more bass and treble response, with a particular focus on bass projection. Smaller parlor bodies will focus on the midrange more, and will retain some treble but tighten the bass significantly.
If you want a more versatile guitar that you can use to play pretty much any music you want, a wider body will do the trick. However, smaller parlor guitars have a vintage charm and unique "boxy" midrange sound that many players love. It's particularly popular in Delta blues, folk, and country music guitar. If you love these genres, a small-body parlor is the perfect acoustic axe for you!
Scale length works in a similar way. It's all up to you to determine which scale length you prefer, but different sizes will come with different advantages and drawbacks. Make sure to take them into consideration before you make a final decision!
Longer scale lengths are closer to the scales of big-body guitars like dreadnoughts and orchestra models. These tend to be somewhere between 24.75" (the standard for Gibson guitars and some other manufacturers) and 25.5" (the default scale length for Martin).
Longer scales give you a snappier feel, with a bit more resistance to your pick and a brighter, quicker response when you pluck a string. The longer scale also introduces more overtones into the sound, which are great for adding harmonic complexity to your recordings. If you love to strum or play loud, a longer scale will help you get more headroom out of your guitar.
Shorter scale lengths, on the other hand, sound smoother and warmer with fewer harmonics. In terms of feel, they're loose and a bit easier to fret notes. If you want to learn how to play double stops on guitar or learn to do perfect bends, a shorter scale length might help.
This makes them a great choice for players with old or small hands, but they're also a much better fit for players who use a lighter touch. Fingerpickers, in particular, benefit from the lower string tension.
Tonewoods & Sound
Tonewoods are another important part of any acoustic guitar, and parlors are no exception. Luthiers use a wide variety of tonewoods to build their parlor guitars, so it's important to know which ones to look for as you search!
Sitka spruce is a very common model in all acoustic guitars, and parlors as well. Builders like to use spruce as a top wood, because it's very lightweight yet strong and offers a good combination of clarity and punch. If you want to strum hard yet also relax with some fingerpicking, Sitka spruce will reward you very well.
Cedar is another popular top wood for parlor guitars behind spruce. Cedar focuses on the midrange more, with a smoother attack and slightly less volume on tap. This makes it great for parlor guitars, which already emphasize the midrange naturally and provide smaller, quieter body shapes. Also, a cedar top is a great way to make your parlor guitar stand out!
Most parlor guitars use drier, brighter woods like mahogany, sapele, and cherry for the back and sides. Ths tonewoods are all similar to one another, because they provide a clear and focused sound with good balance across all the aspects of the scale. You might see a bit of extra midrange emphasis, which also aligns well with the sound of a parlor body style.
However, there are a couple of parlor guitars that might use rosewood, ovangkol, or other similar tonewoods. These tonewoods provide a smoother, darker sound, with more emphasis on the bass and low mid frequencies than on the upper mids and trebles.
No matter what kind of tonewoods you get, you should look for solid wood in both the top and body. Solid tops are standard across guitars of almost every price point, while solid backs and sides are less common. Solid pieces of wood are the best for acoustic resonance and vibration, which can improve the volume, dynamic range, and tonal spectrum of your sound.
If you're on a budget, look for backs and sides made with layered (sometimes called "three-layer laminate") wood. These will provide better resonance and livelier sounds than a standard laminate guitar, because they're made with fewer pieces of wood.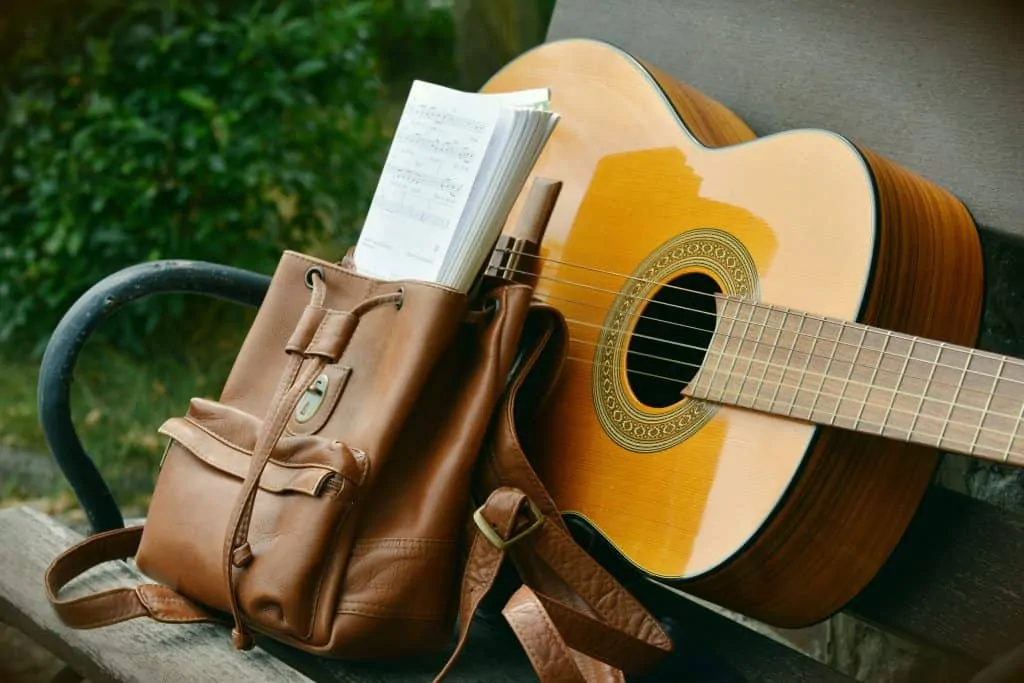 Many times, good accessories can make or break the guitar as a whole!
Hardware & Accessories
Even though acoustic guitars have much less hardware than their electric counterparts, it's still important to find the best quality that you can! Hardware like tuning pegs and bridge pins can play a key role in your tuning, intonation, and acoustic resonance.
Tuners are probably the most important piece of hardware on a parlor guitar — and the most expensive to replace! Look for tuners with a higher gear ratio, because these give you more precise control over your pitch as you tune the guitar. Gear ratios of 10:1 and 16:1 offer you plenty of touch, but some tuners go up to 40:1!
You'll also want to check out a good nut and bridge. On acoustic guitars, these are usually made of bone or a synthetic bone replica (Tusq is a great example). Either material works well, although you'll want to ensure the nut is filed properly to decrease intonation issues and ensure a clean, resonant sound without any buzz or rattle.
Finally, you should also consider any pickups that might come with your parlor guitar. Though most parlor guitars don't include built-in electronics, you can find some electro-acoustic models from brands like Art and Luthiere. If you want to take the plunge, you can also save up for a third-party pickup and place it in the soundhole of your acoustic.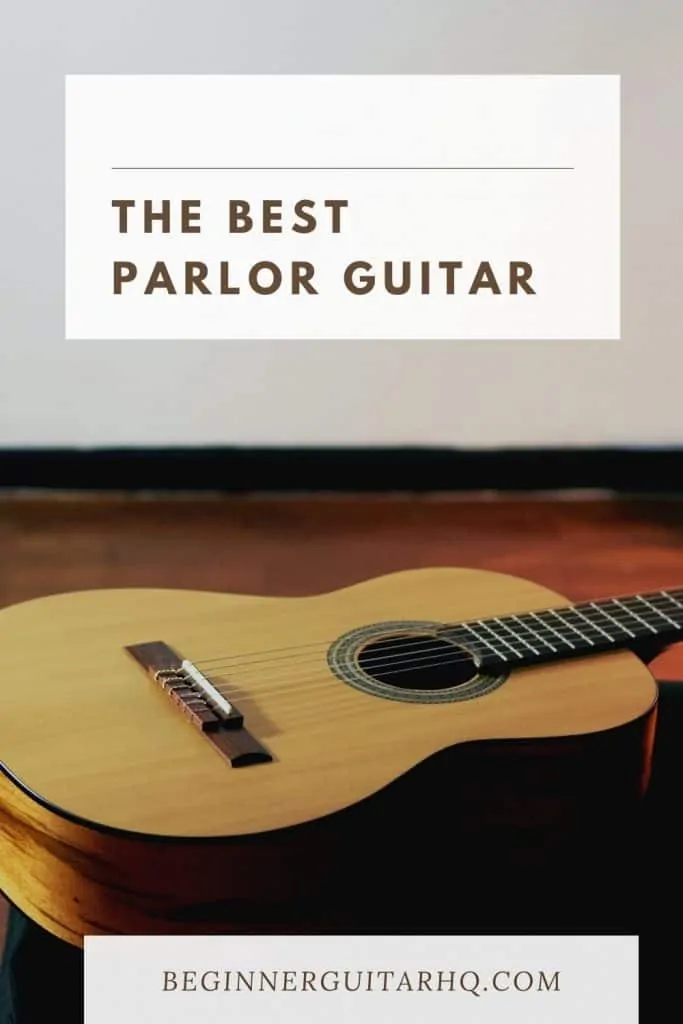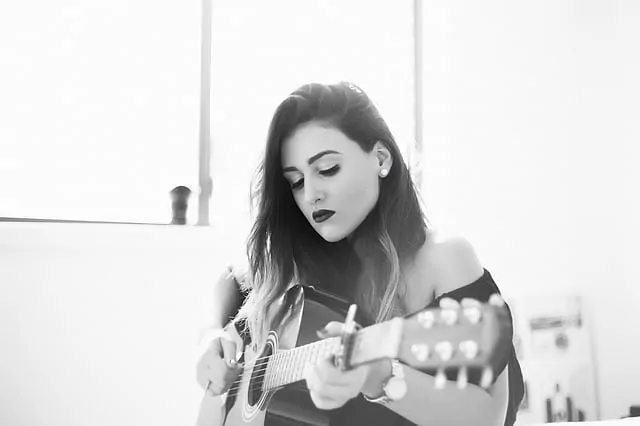 Jen is a guitarist and singer-songwriter who spends much of her time on the road and has lived in 13 cities across 4 continents. She picked up her first guitar at the age of 6 and learned to play by ear shortly after. She received her formal music education at the Berklee College of Music, and currently plays for a few bands in her free time. She has an uncanny ability to improvise creative melodies and harmonies. Her early influences include blues, jazz and rock.