For a new player, it can be quite daunting to find a guitar that really gives you everything you need. In this guide we will look at what guitars will be a good match for the up and coming blues player.
Blues guitar players are often looked up to for their fantastic tone and their playing abilities. The tone of a blues guitar hero is often quite simple. You won't find many effects here or crazy stacks of amps. What you often find is a small combo amp cranked loud with a guitar plugged straight in.
They say tone is all in the fingers, and blues is certainly a genre of music that requires a specific touch.
Epiphone Dot
Many of the blues greats were often spotted with a Gibson ES-335 around their neck. BB King being probably the most famous. A Gibson ES-335 will set you back a few thousand dollars, but Epiphone has more budget friendly variation on this legendary shape available.
The Epiphone DOT comes with a pair of Alnico humbuckers and a three-way selector switch. This semi-hollow, maple bodied guitar will certainly be able to help you sing the blues. DOT's are incredibly versatile guitars and can do anything that gets thrown at them.
Squier FSR Bullet Telecaster
The Telecaster has been the weapon of choice for many guitar heroes through the ages. In the blues world, the most famous Tele player is Albert Collins. If you want to capture that sharp, bright attack of Albert's records but without breaking the bank, this Bullet Telecaster from Squier will get you close.
The bridge pickup on a Telecaster is bright and aggressive and will have all the pick attack you need. For those more mellow moments you can flip to the neck pickup and enjoy the warm twang of the Telecasters lipstick style pickup.
Gretsch G5232T Electromatic Double Jet
While Gretsch might be a brand you associate more with country than blues, this Electromatic Double Jet would be a fantastic addition to any budding blues players arsenal. Gretsch's Black Top BroadTron pickups are their lower price bracket take on their high end FilterTron pickups and they deliver a wide range of wonderful tones.
The BroadTron is technically a humbucker but tonally it has the snap of a Telecaster with the low end punch of a Les Paul. It's a very versatile set of pickups. Coupled with the B50 Bigsby Vibrato, this guitar will be singing the blues with ease as you dip the bar to make those notes wobble.
The guitars thin U shape neck would be a very comfortable fit for even the smallest of hands while still retaining enough mass to feel solid in the hands of the gigging pro.
Squier Bullet Strat
Could a blues guitar list really exist without the coveted Strat. The Fender Stratocaster has been the mainstay of legends like Jimi Hendrix, Eric Clapton and Buddy Guy and it has brought us so much joy as we hear it's screaming bluesy voice in the hands of the greats.
Fast forward to the 80's and Stevie Ray Vaughan took the Strat sound to a new level with his Texas Blues slam. Even modern blues disciples such as John Mayer or Kenny Wayne Shepherd choose the Strat as their weapon of choice.
Squire have built a solid, no-frills Strat at a pleasing price point which gives you the traditional setup of three single coil pickups with a 5 way selector switch to get those "in between pickup" bell like tones that make any amp sing.
The Bullet version might not have a tremolo like it's more expensive counterparts, but the hardtail brings the advantage of increased sustain and better tuning stability when breaking a string.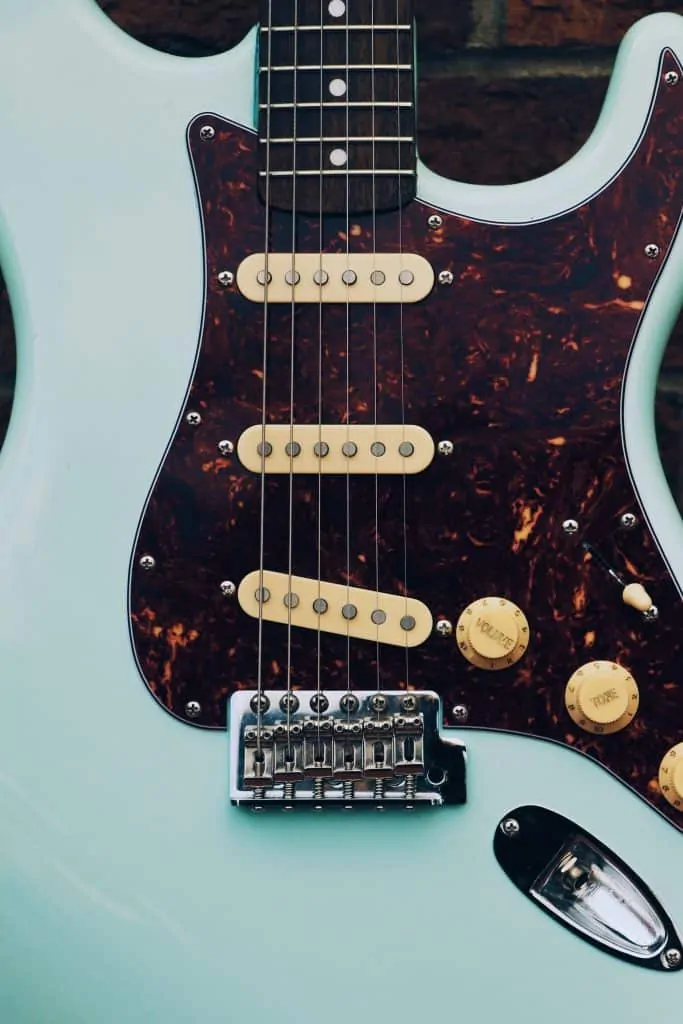 Many guitarists have played single coil loaded guitars. Blues greats like Buddy Guy and Eric Clapton to modern day blues heroes like Kenny Wayne Shepherd and John Mayer. The Stratocaster with its three single coil pickups has a bright chime that no other guitar can replicate and it's 5 way switch allows it to wear many tonal hats.
Epiphone Les Paul
The Les Paul is a guitar that everyone from Eric Clapton to Gary Moore to Peter Green have been prominent users of during some of their most explosive blues performances. The Les Paul is a simple guitar. 2 humbuckers on a thick slab of mahogany. The guitar is heavy and resonant and sustains for days.
Epiphone produce their line of licenced Les Paul's which look, play and feel just as good as the real deal. For the price point, you can't argue. This is a solid guitar made by a brand with a solid reputation. It doesn't matter if you buy this to play in your bedroom or to take on tour, it will not let you down.
The Alnico Classic humbuckers are a modern recreation of their famous PAF pickups from the 50s that give you all the humbucker grunt you could need with the added chime of the old pickups.
Squier Classic Vibe 70s Stratocaster
If you want to spend a little extra on a Stratocaster style guitar, Squier's Classic Vibe series is hard to beat for the money. This Strat has the large 70s style headstock and also has a vintage style tremolo (That was missing from the Bullet). This allows you to add all that Jeff Beck esque whammy bends into your lead licks with ease.
The Classic Vibe has a slim C shape neck with tall, narrow frets. Perfect for those big bends and lots of vibrato. The neck also has a tinted gloss so this guitar will look like it's been out on the road for 40 years before you take it out of the box. It comes with bags of vibe and mojo and it's just calling out for some tasty blues licks.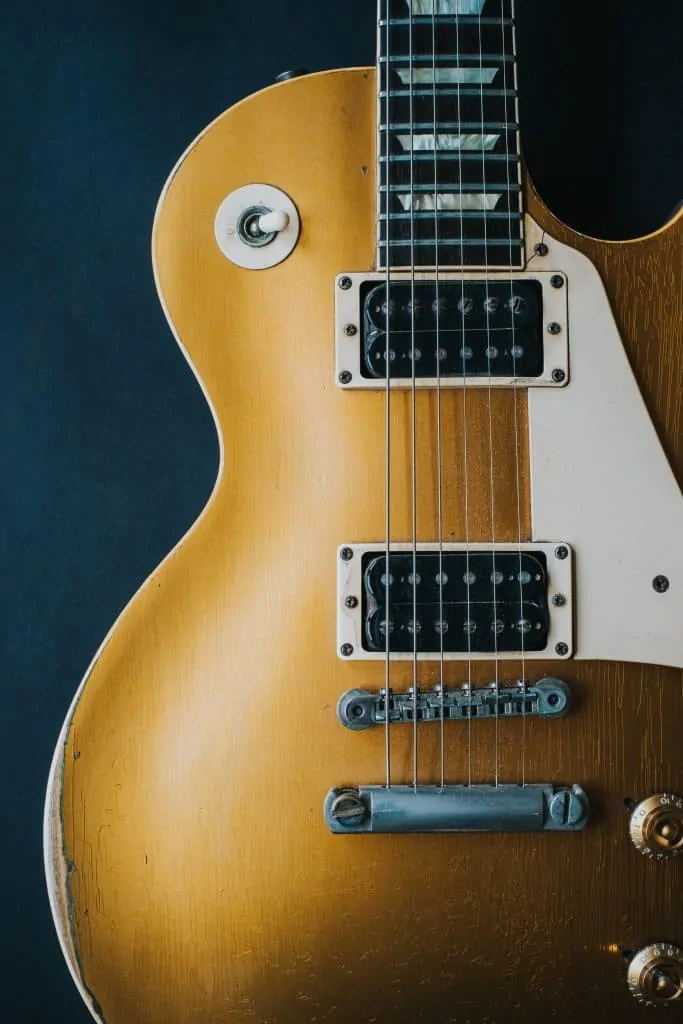 Les Paul style guitars are also great for blues, especially if you want to get into the more blues rock territory. Everyone from Peter Green to Gary Moore used a Les Paul Style guitar. Any twin humbucker guitar will get you in the same ballpark. The pair of humbuckers will add extra low end and provide a rich and creamy tone with lots of sustain.
Squier Contemporary Telecaster
Telecasters with Humbuckers aren't often seen, unless you're talking about Keith Richards wielding his '52 Tele "Micawber" with a Gibson PAF in the neck position. Squire's Contemporary Telecaster is a guitar with all the vibe of a good, vintage Tele but with a pair of humbuckers to take the tone to that next level.
Players of this guitar get a slim C shaped neck with a very flat radius fretboard and jumbo frets meaning you can get the action very low and bend the strings super wide. While the guitar has massive vintage mojo, it bears some very modern markings too such as the matched headstock paint and the chrome hardware and pickup covers that make it shine.
Yamaha Pacifica PAC112
Yamaha have also made a great guitar that sits at a good price point which would serve the upcoming blues player in many ways. The PAC112 is the lowest entry in their massive Pacifica range of guitars and takes its inspiration from the Stratocaster with it's double cutaway body and top mounted scratch plate controls but with a few modern tweaks.
The PAC112 has a humbucker at the bridge and two single coils giving you the best of both worlds between a humbucker loaded guitar for those edgier songs or the chime of single coils for those sweet, clean blues licks. The five way switch allows you to get very Strat-like with the in between positions before hitting the bridge pickup to make those high notes scream.
The slim neck with it's very flat radius fretboard will feel comfortable and contemporary in the hand and the vintage style tremolo will give you all those note dips and warbles that you could ever want.
Summary
When buying a guitar for blues, any of the guitars listed here will be fantastic starting points. Blues is a genre of music that is very much based around vintage vibe so you definitely want a guitar that captures those beautiful vintage tones. Many companies offer vintage styled guitars with low output pickups and bags of mojo.
Find one that feels comfortable and make those notes sing.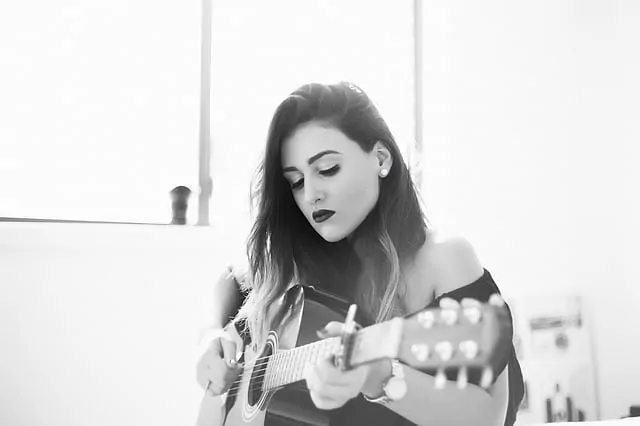 Jen is a guitarist and singer-songwriter who spends much of her time on the road and has lived in 13 cities across 4 continents. She picked up her first guitar at the age of 6 and learned to play by ear shortly after. She received her formal music education at the Berklee College of Music, and currently plays for a few bands in her free time. She has an uncanny ability to improvise creative melodies and harmonies. Her early influences include blues, jazz and rock.