Chances are, if you're reading this lesson then you're a fan of the blues, and you may be familiar with the term "12 Bar Blues". The 12 Bar Blues is the backbone of all blues music. This is a 12 bar chord progression that dates back to some of the earliest blues tracks. 
All the guitar heroes through the ages have leaned on this 12 bar pattern to create their biggest hits. You can hear the 12 bar blues on tracks from blues legends like Buddy Guy and Muddy Waters to Eric Clapton, BB King, Stevie Ray Vaughan and beyond. Even the modern day guitar heroes like John Mayer and Kenny Wayne Shepherd are regular users of this pattern to create their art.
In its simplest form, blues can be played with just 3 chords. To work out how to play a 12 bar blues, we first need to understand the use of the Major Scale. The Major Scale is a musical scale from which we can build many theory based ideas. For this lesson, we will be looking at a 12 bar  blues in the key of A. We will be using the A Major Scale to give us the chords we need.
A Major Scale
In music, there are intervals. An interval is a numeric category that describes the distance between 2 notes. In the case of the Major Scale we are using it to identify chords. If we write out the names of the notes and apply the numbers 1 to 7 across them, we get the following:
| | | | | | | |
| --- | --- | --- | --- | --- | --- | --- |
| I | II | III | IV | V | VI | VII |
| A | B | C# | D | E | F# | G# |
Don't worry if you don't fully understand intervals at this stage but do keep in mind that the language of intervals is a very useful tool for all musicians. It allows you to communicate in quick patterns which you can then apply to a series of notes. It also allows you to build chords, for instance an A Major Chord is made up solely of the I, III and V notes of the A Major Scale, A, C# and E. Check this yourself by looking at the finger position of an A Major Chord and reviewing the notes against a diagram of the fretboard. 
Here is how the A Major Scale looks like as a guitar tab:

A Major Scale as Guitar Tab. This is the first octave of the scale. The scale extends all over the guitar but for the purpose of this lesson, we only need the first octave.
Rather than using the intervals in this lesson to work out chords, what we're actually looking for is a chord progression. We will be using the chords A, D and E as follows: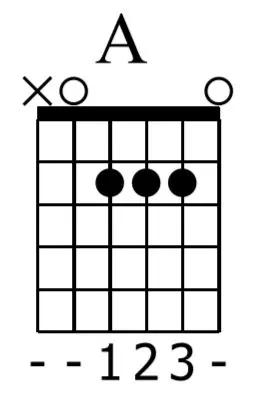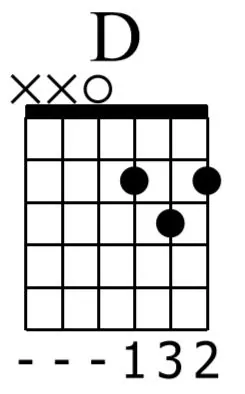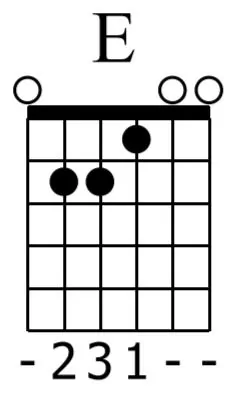 If you have not already become familiar with these chords, you should check out these lessons on how to play the A Chord, D Chord and E Chord.
If you're not already familiar with some songs that might be made up of a 12 bar blues pattern, check out this video. 
This shows 6 songs that all use a 12 bar blues style pattern and they are all of varying difficulty. You will learn how the basis theory of this pattern is created and this will get you started on the road to creating your own variations of these patterns and also understanding some of the more complex ones.
The 12 Bar Blues has a familiar sound to most people, even if they've never actually learned it before. Chances are you've heard this pattern in many different songs in your lifetime. This pattern is known as a I IV V (1, 4, 5). If we check that against our intervals of the scale that gives us an A (I), D (IV) and E (V) chord:
Now that we have our three chords, we need to talk about the structure of a 12 bar blues. Over the 12 bars we apply specific chords over specific bar numbers. Here is an overview:
| | | | |
| --- | --- | --- | --- |
| 1 | 2 | 3 | 4 |
| I | I | I | I |
| 5 | 6 | 7 | 8 |
| IV | IV | I | I |
| 9 | 10 | 11 | 12 |
| V | IV | I | I |
This means, every bar that contains a I chord will be filled by an A. The bars that show IV will be filled iwth a D and the bars that show V will be filled with an E chord:
| | | | |
| --- | --- | --- | --- |
| 1 | 2 | 3 | 4 |
| A | A | A | A |
| 5 | 6 | 7 | 8 |
| D | D | A | A |
| 10 | 10 | 11 | 12 |
| E | D | A | A |
This gives us our 12 bar blues in the key of A. In a typical blues scenario this pattern would get repeated for the entire song. Blues is a very raw and simplistic genre to learn but the understanding runs deeper. 
This theory idea will get you started on the road to understanding blues, but it's how you play these progressions that counts, there are many ways to apply this musically which we will cover in a later lesson. 
For now, to get yourself familiar, start off playing these chords as part of a 12 bar system. You can keep it simple by just playing one strum on each beat or  you can get creative with rhythms, the 12 bar pattern in this lesson is based around a 4/4 Time Signature, this means there are 4 beats in the bar. 
Here is the structure mapped out as a rhythm chart, this shows the 4 strums per bar and how many bars to stay on each chord before changing to the next.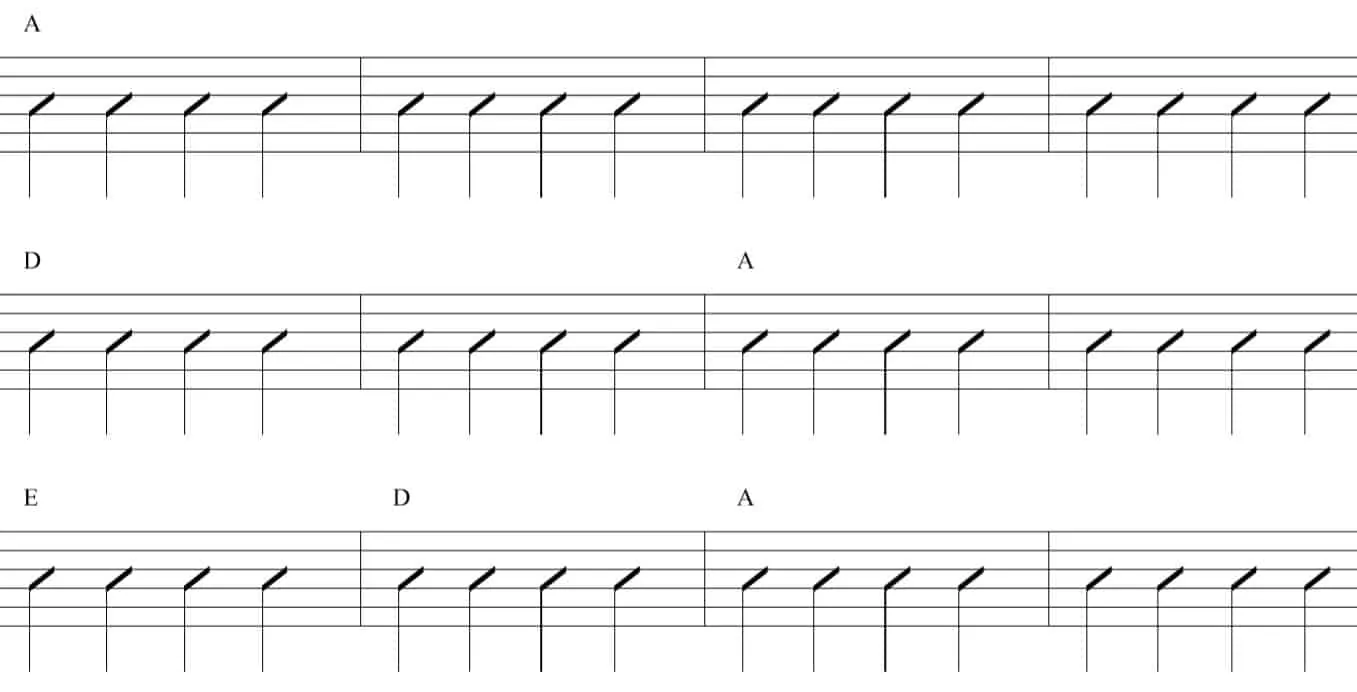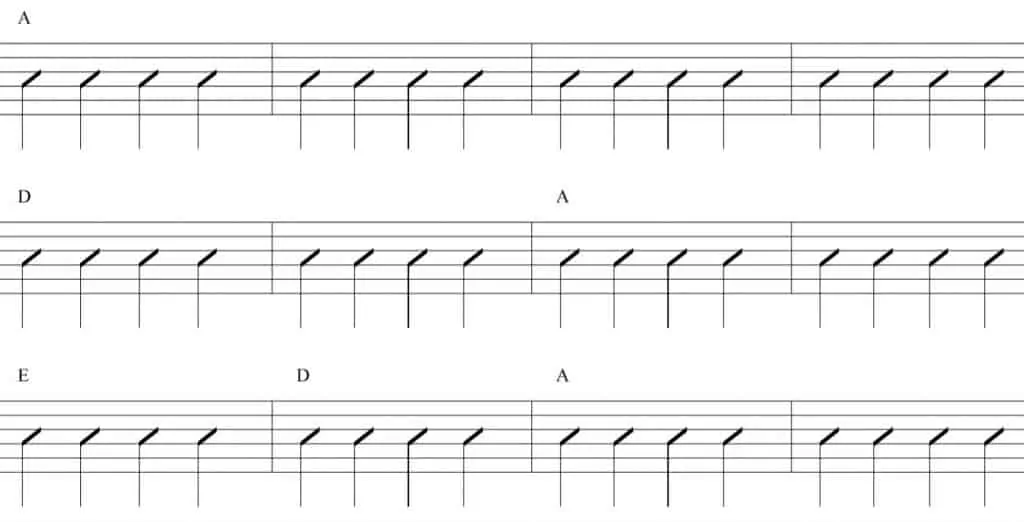 12 Bar Blues Rhythm Chart showing you which chords fit into which bar. The rhythm slashes indicate each strum. We are in 4/4 time here so there are 4 strums per bar.
Try It Yourself in Different Keys
Now that you've learnt the progression in the Key of A, you can start to branch out. If you know any other notes on the fretboard, you can apply your Major Scale shape to a new root note (For example, the 8th fret being C), and then work out your I, IV and V chords in that key. Then you can play the progression in a totally new key. Test your own guitar knowledge by trying to figure out your 12 bar patterns in various keys all around the neck.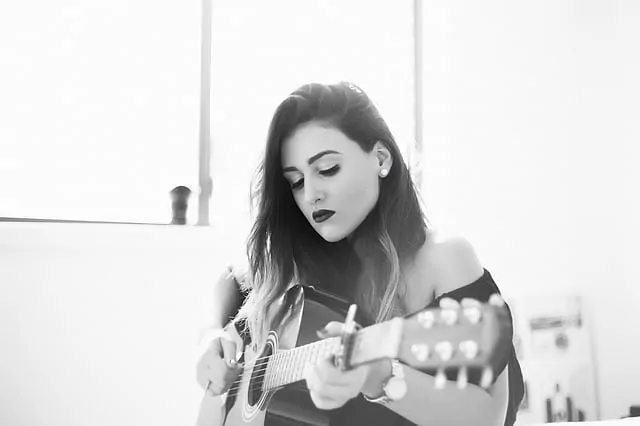 Jen is a guitarist and singer-songwriter who spends much of her time on the road and has lived in 13 cities across 4 continents. She picked up her first guitar at the age of 6 and learned to play by ear shortly after. She received her formal music education at the Berklee College of Music, and currently plays for a few bands in her free time. She has an uncanny ability to improvise creative melodies and harmonies. Her early influences include blues, jazz and rock.