Gone are the days when you needed to go into a studio and pay expensive rates to record your music. Technology has become affordable and accessible enough that you can do that from the comfort of your own home. With a bit of practice and a good ear, you can produce high quality recordings to use as a demo, or to release on Spotify and other streaming platforms. Let's not forget the option of creating your own music for a podcast or YouTube channel, or collaborating with other musicians remotely.
But if you're totally new to this, it can be a bit daunting. Thankfully, it's not nearly as complicated as you might think, or as expensive. After this article, you'll know how to connect a guitar to a computer and exactly what you need to do it.
How Not to Connect a Guitar to a Computer
Okay, so first things first. Technically, you don't need anything other than your guitar cable and a mini jack adapter to connect your guitar to your computer. While this by far is the cheapest way, and even easiest way, this isn't a good option.
This is because the computers aren't designed to process high quality audio. At least not through the built-in ports that come standard on most computers. You will experience latency, which is when you play a note and there is a delay in when you hear it through the speakers or headphones. The quality of the sound is also going to be poor. It just won't sound how you want it to.
Plus, it can damage your computer and even your guitar. Don't risk it.
What You Need to Connect Electric and Acoustic Electric Guitars
Audio Interface
An audio interface is a box that has inputs for either XLR cables, ¼ jacks, or a combination. These are the mic inputs and line or instrument inputs. They will also have at least a gain dial and USB outputs to connect to your PC. Of course, the more you are willing to pay, the more features there will be, such as multiple inputs, phantom power, attenuators, effects, and even software bundles.
Audio interfaces handle high quality audio input with little to no latency. The better the quality, the lower the incidence of latency.
Here are some recommendations:
UA Volt 2 USB Audio Interface
At under $200 at the time of writing, this audio interface gives you a lot of value. You get two mic/instrument combo inputs, gain controls for each channel, and phantom power for guitars with active pickups and condenser microphones. If you want a vintage sound, just push the vintage button. For zero latency, use the direct monitor. Have a midi controller? Connect it via the midi inputs. Plus, you get software including Ableton Live and a few VSTs.
M-Audio M-Track Solo USB Audio interface
If you're on a tighter budget, this audio interface is a decent option. You get one mic/line in combo channel, and one line/instrument channel with phantom power. The preamp works for active pickup guitars and condenser microphones, so no worries if you have a condenser mic and were concerned about the lack of phantom power for the XLR input. The M-Track Solo also comes with MPC beats for recording. Of course, you can also use a different music program to record.
Focusrite Scarlett Solo 3rd Gen USB Audio Interface
You'll find Focusrite Scarlett audio interfaces in many a home studio. You get an XLR input, a ¼" input, phantom power, direct monitoring, and Air mode (for clearer vocals). The preamp will amplify your signal for better recordings. Included is Easy Start, which is Focusrite's software for recording. You will also gain access to Ableton Live, and a 3-month subscription to Pro Tools. A few other plugins are also included, either for permanent ownership, or a 3-month description depending on the plugin.
An Amp or Multi-Effects Pedal With a USB Output
Some amps have USB outputs. If your amp has one, you can bypass with audio interface. This doesn't help you with if you want to record vocals, so buying an audio interface is beneficial if you record other instruments and vocals too.
Here are a few amps that have USB outputs:
Boss Katana-50 MkII 1 x 12-inch 50-watt Combo Amp
The Boss Katana-50 MKII is a 50 watt amp suitable for gigs in small venues (with less rowdy crowds), and practice. It has 60 effects, 4 tone slots, and 5 amp voicings, so you can get creative to your heart's content. The USB output goes to your PC, but there is an output to connect your phone or tablet too.
Fender Mustang LT40S Guitar Amplifier
Here's another little amp that's louder than a mini amp, but still suitable for practice. The versatility is decent. You get 20 amp modes, 25 effect models, and 30 presets. It comes with the free Fender TONE LT Desktop app available for download. In addition to the USB jack, there is also a headphone jack.
Boss Katana-100 MkII 1×12 inch 100-watt Combo Amp
If you want an affordable amp that's loud enough to do bigger gigs with and space is no issue in your home studio, here you go. It's the same as the Boss Katana-50, just with double the power.
Get the Boss Katana-100 at Sweetwater.
Here are a few multi-effects pedals with USB outputs:
LEKATO Multi-Effects Guitar Pedal
If you're on a budget, this effects pedal covers the basics. That said, it supports compatible third-party IR files, so you can have up to 8 different presets at a time. Built-in, you get 9 different amp modes, various distorted and clean modes, modulator, delay, reverb, and it can be used as a tuner. Record to your PC via USB. It's also wireless if you like to connect to your phone without cables.
Line 6 POD Go Guitar Multi-Effects Pedal
Line 6 is often chosen by the pros, so you know you're getting quality. Choose between the wired or wireless model. It has over 270 different amp models, HX (headroom extension), and effects models. It also supports third party IR files. You can also connect a foot switch or pedal for stereo expression and loop functions. Use it as an audio interface via USB.
Valeton Multi-Effects Pedal
This is a versatile effects pedal that works well on acoustic guitars, electric guitars, and bass guitars. It has over 100 amp simulators, 100 stompbox effects pedals simulators, 256 presets, support for up to 20 IR files at a time, and 100 drum rhythms. Use it as an audio interface via USB.
Digital Audio Workstation
A digital audio workstation or DAW is essential for recording. Basically, it's a digital studio. You have so much control over your recording, and you do your mixing and mastering in the DAW. While not every plugin will work on every DAW, you do get many that are compatible with multiple DAWs and there are plenty available for the popular DAWs, so you won't be limited by what VSTs are available for your particular software.
You do need to make sure, when you choose a DAW, that your computer can handle it. Most modern computers will do fine, but some need a little more juice.
Here are a few recommendations:
Pro Tools
Pro Tools is the industry standard. Despite that, you can use Pro Tools at any budget. This is because you get Pro Tools Intro, which is free. You get 36 plugins, 8 MIDI tracks, 8 instrument tracks, 8 audio tracks, and 4 simultaneous inputs. The paid subscriptions start at $9.99 per month or $99 per year, and the amount of tracks, simultaneous inputs, auxiliary tracks, and plugins (100+ at this first paid tier), go up. The paid versions will allow you to make commercial music.
Get Protools here.
Reaper
Reaper is great for a few different reasons. Firstly, it allows for a lot of versatility, even at its first tier. In fact, whether you use the trial version, the $60 discounted license, or the $225 full license, it's all the same. The only limit how many tracks you can have is your computer. Secondly, it's affordable.
The commercial license ($225) is for if you earn over $20 000 yearly from what you create using Reaper. Plus, their licenses are a once-off cost. Another benefit is that it's pretty easy on your computer, so even if your specs aren't great, there is a good chance you can run Reaper.
Get Reaper here.
Audacity
If you want a very simple, free DAW, are a fan of open source software, and just want to learn but for some reason can't or don't want to use the free version of Pro Tools, try Audactiy. You can use a number of tracks and for basic recording, it does just fine. The caveat is that if you want to use VSTs, a lot of them won't work on Audacity. It really is super basic and not really meant for high quality recording.
Get Audacity here.
What You Need to Connect an Acoustic Guitar
You're still going to need the above hardware and software, but doing the actual connecting to the audio interface requires additional equipment. There are two ways to do this.
Use a Microphone
This is the standard way to do it in a recording studio. You'll find that often, professional recording is done by miking up the amp of an electric guitar, and that even acoustic-electric guitars are miked up rather than recording by plugging the guitars into the mixer or audio interface. This is because microphones reproduce the sound more authentically. A microphone designed for instrument recording and a stand along with an XLR cable is what you need here.
Here are a few recommendations:
Shure SM57 Dynamic Instrument Microphone
This is the industry standard for recording guitars and even miking up drums and bass. If you want to use it for vocals, it will work well for that too. With an SPL (sound pressure level) of 160, this mic will give you clear audio, even if you're really going at it. This isn't really an issue for an acoustic, but if you also have an electric guitar and love it loud, this mic will handle it. The frequency response is 45Hz to 15KHz which will cover the range of your guitar just fine. It's also not overly sensitive, so overall, it's a quiet mic for clear recordings.
GLS Audio Instrument Microphone ES-57
If you're on a very tight budget, this mic is a decent option. The frequency response is 50Hz to 15KHz, more than adequate to cover your guitar. The SPL is 155 will be suitable even for an amp. As a dynamic mic, you'll have no issue using it at gigs too. It's not very sensitive, so it won't pick up too much external noise. The sound is clear and with a bit of a boost in the mids and highs. At this price point, you have nothing to lose.
AKG Perception 170 Professional Instrumental Microphone
Another big name in the industry, AKG produced this affordable mic. It's a condenser mic, which is generally preferred for recording in studio. It's designed for use with acoustic instruments, like guitars. The SPL is 155, so you can use it to mic an amp too. With a frequency response of 20Hz to 20KHz, your guitar will be recorded beautifully.
Use a Pickup
There are different pickups that you can use, depending on your preferences. Under-saddle piezo pickups will need to be installed, which gives you the same convenience as a semi-acoustic guitar. The same goes for bridge plate transducer pickups (these only work on steel strings). There are also soundhole pickups that you can attach and detach easily. I used a soundhole pickup for years before using my husband's semi-acoustic.
While there is a fair bit of rubbish out there, there are also pickups that work incredibly well. They come in a range of prices, from under $20 to over $300. Not all those that are cheaper are bad, but generally, the higher the price, the better the pickup.
Here are some recommendations:
K&K Pure Mini Acoustic Guitar Pickup
While the word mini is in the name, this passive pickup works even on bigger guitars. The K&K Pure Mini is designed for use with steel string guitars only (check out the Pure Classic for nylon strings). You mount the pads within the body of the guitar using superglue. The end will need to have a hole drilled, or you can use the hole for your strap button, but do not hang your strap from this pickup. You may prefer to have a professional install this pickup.
The Pure Mini is renowned for its fuller, warmer, and more authentic tone. There are no external controls on this model, but the Pure Preamp model does.
Fishman Matrix Infinity VT Acoustic Pickup
This under-saddle pickup comes from a popular guitar pickup brand. The design is simple and comes with controls for volume and tone that can be positioned within the soundhole or just outside. While this active pickup isn't truly meant for nylon strings, it does work on them well enough. Just be aware that there are two different sized Matrix Infinity pickups, wide and narrow. It reproduces the tone of acoustic guitars pretty well.
Seymour Duncan Woody HC Hum-Canceling Soundhole Pickup
Seymour Duncan is also a big name when it comes to pickups. This humbucker pickup works silently while amplifying your guitar. It's easy to mount, no screws or clamps, you just wedge it into place. The padding ensures that your guitar won't be damaged. If you can deal with the wire hanging out of your guitar and down the body, and you want to be able to remove it and pop it on whenever, this pickup is a good option.
How to Connect Your Guitar to a Computer
Once you have the right equipment and software, you can get down to the business of connecting your guitar to your computer.
Here are the steps (from the perspective of you doing this for the first time:
Connect your audio interface or amp to the computer via USB and install the software needed for it to connect to your computer.
Plug your guitar into the ¼" jack in your audio interface or amp.
If your amp or audio interface software prompts you to select the input, or if you find you need to do this to get it working, select the line or instrument input, whichever your guitar is plugged into.
Set the gain as high as you can without the signal clipping. Usually your audio interface will give you some kind of warning, and the newer amps may too, if the gain is too high.
Connect your speakers or headphones to the amp or audio interface. Once the DAW processes the signal, you'll be able to hear it.
Open your DAW and depending on how yours works, you may need to select the inputs and outputs you're using. Sometimes you need to set the buffer size too which you do by playing your guitar and tweaking the buffer size until the audio sounds good.
Set the input levels within the DAW. Leave enough headroom for mixing, and absolutely avoid clipping. This is at approximately -18dBm, you don't want it to peak above -12dBm. Generally, the DAW will turn the level meters red when you're clipping. Avoid yellow or orange as this indicates you're going into your headroom. Green is good.
When you record, make sure you're recording at 24 bit. This will also help to preserve headroom.
Leaving Headroom
Headroom is basically how much signal the system can handle before distorting. You don't want to go over 0dB. Leave at least 6dB space in the negative section. This is so that you can master your recording. If you cross over into clipping territory when you master your recording, you're still going to have poor audio quality. During mastering, the levels are adjusted so that there are dynamics. So I reiterate, do not go over 0dB.
This might sound confusing. After all, audible sound is measured above 0dB. The human speaking voice is approximately 60dB. What we hear is sound waves. Within the DAW and your audio interface, the signal is digital. Your speakers and headphones turn the electrical or digital signal into sound waves for you to hear.
You will hear perfectly well with your headphones or speakers. You can turn the volume up on them enough for you to hear properly.
Conclusion
Recording music is fun and has the potential for so many things. Whether you just want to accurately track your progress or make music to release, or collaborate remotely, you can get it done fairly easily. While the cost isn't $0, you don't have to break the bank either. The equipment I mentioned is available in various price ranges. You also saw the free and affordable software options.
With practice, you'll be setting up your guitar to record in no time, and then all that's left is for you to make awesome music.
Happy jamming!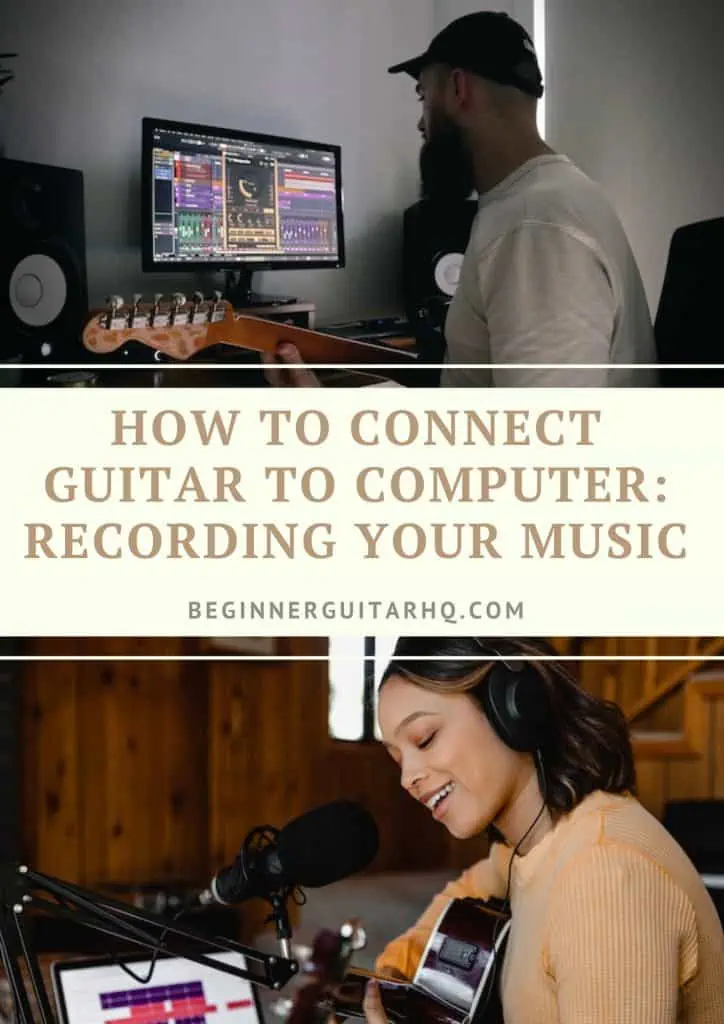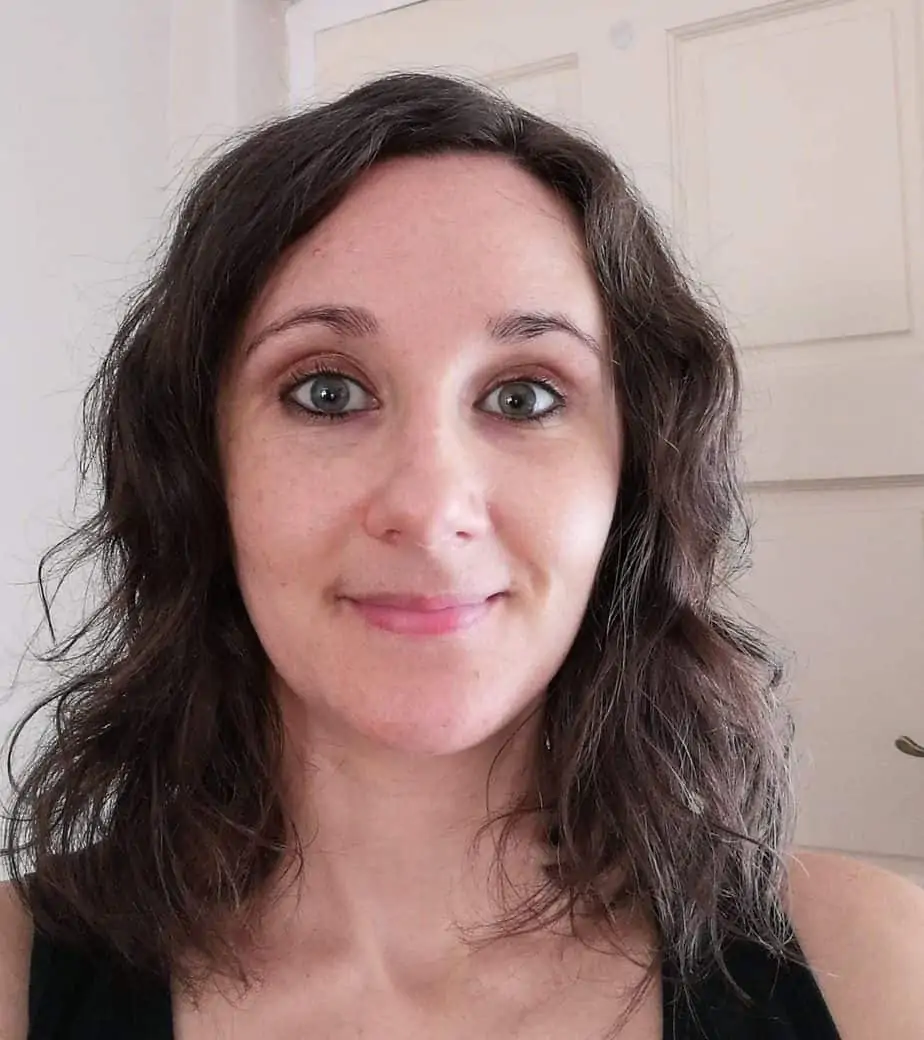 Cheanné Lombard lives in the home of one of the new Seven World Wonders, Cape Town, South Africa. She can't go a day without listening to or making music.
Her love of music started when her grandparents gave her a guitar. It was a smaller version of the full-sized guitars fit for her little hands. Later came a keyboard and a few years after that, a beautiful dreadnought guitar and a violin too. While she is self-taught when it comes to the guitar, she had piano lessons as a child and is now taking violin lessons as an adult.
She has been playing guitar for over 15 years and enjoys a good jam session with her husband, also an avid guitarist. In fact, the way he played those jazzy, bluesy numbers that kindled the fire in her punk rock heart. Now she explores a variety of genres and plays in the church worship group too and with whoever else is up for a jam session.