Putting together a home studio is no small feat.
There's a lot of gear to choose; from studio monitors to microphones to acoustic treatment, right down the engineer's chair.
In the modern production studio, one of the most important pieces of the puzzle is the MIDI controller.
These handy little devices open up a world of opportunity when it comes to programming drum beats, producing electronic music, and even plugging in a little bit of piano to accompany a live multi-track recording.
If you're feeling more than a little bit overwhelmed by the sheer number of controllers on the market, don't worry.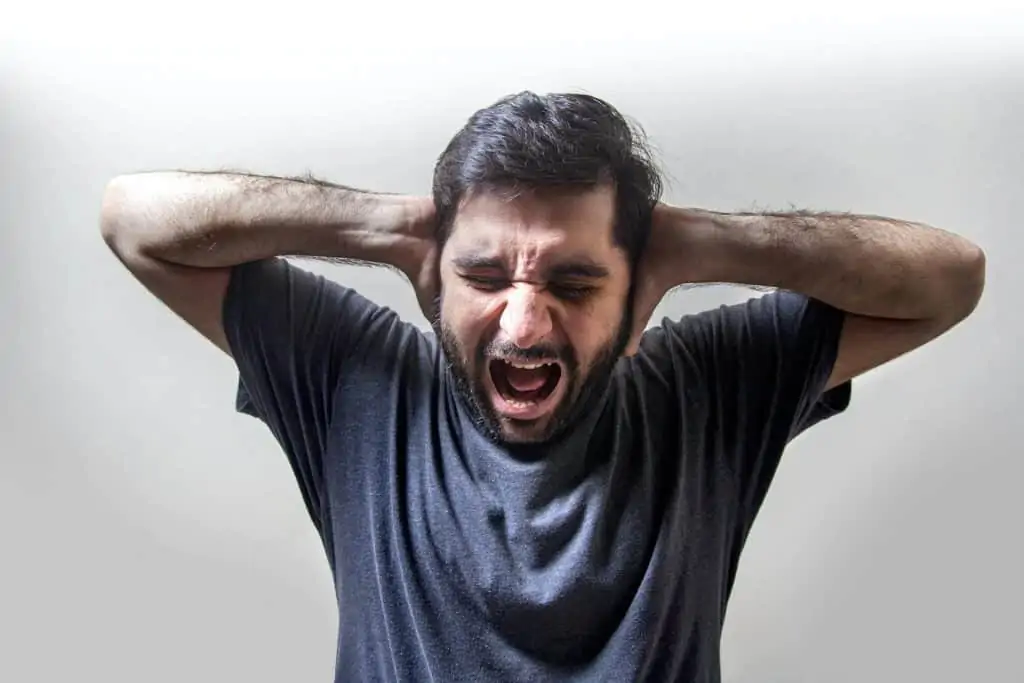 We've got ten of the best MIDI controllers on the market reviewed and recommended right here, and we'll even give you a little rundown on how to choose the right controller for your needs so you don't go splashing any cash on anything that isn't going to suit your needs.
Sound good?
Thought so. Let's get started.
What is a MIDI controller?
Before we dig straight in to the top 10 MIDI controllers on the market, I want to make sure everyone here is on the same page.
If you're a seasoned music producer with a strong understanding of MIDI devices and their workings, then feel free to skip ahead.
But for anyone who's new to the game, or is in need of a quick refresher, let's take a quick look at what MIDI is all about.
To start with, MIDI is an acronym that stands for Musical Instrument Digital Interface.
Cool, not too nerdy so far, right?
But what does that actually mean in practice?
Okay, imagine you're playing piano. I mean, like, a real life piano.
There are really two main things going on there.
The first is that you're taking a piece of performance information (i.e. the notes and note lengths required to perform a given piece) from your brain (whether in your memory, or through sight reading) through your fingers and onto the keys themselves.
Let's call that the performance data module.
The second thing that happens is that the keys on a piano respond to that performance data, and through various mechanisms, hit a bunch of strings inside the piano body to bring about the sound we all know and love as the piano.
Let's call that the sound module.
With me so far? Good.
Essentially how MIDI works is by separating those two pieces of information.
The MIDI controller, then, takes care of the first part of that.
You play some form of performance information into the controller, and it stores that information in your computer as performance data.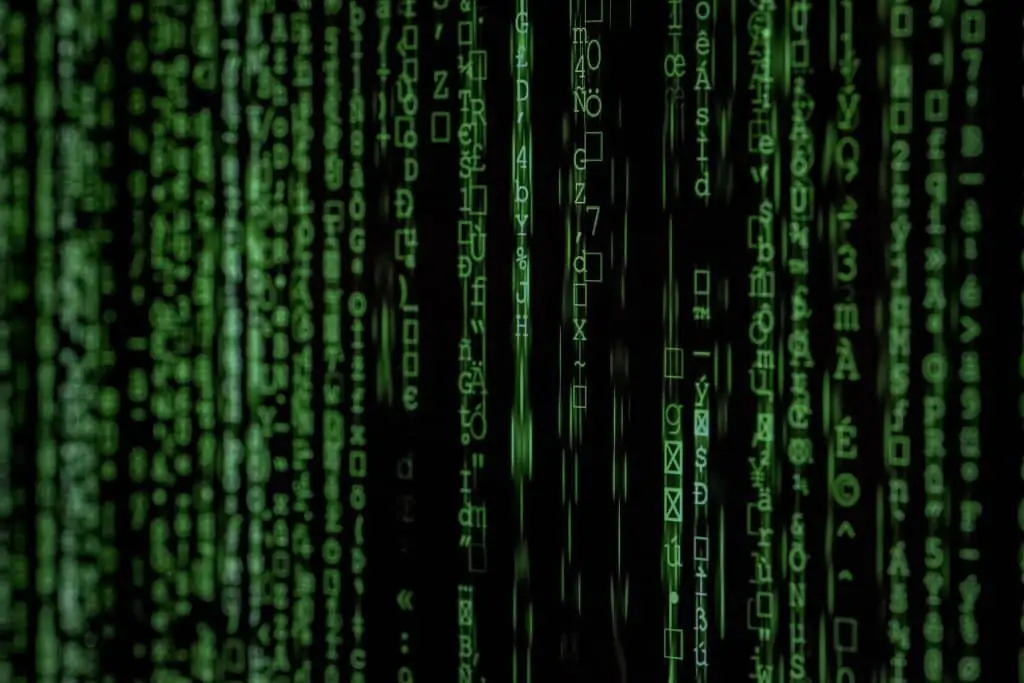 But it doesn't actually produce any sound. Just the performance data.
It's then your computer (or external sound module, if you're playing in outboard gear world) that turns the performance data into sounds by running it through some form of sound module.
That's why you can play the same piece using a piano sound in Ableton, and then very easily switch over the sound to say, a bass guitar, without having to reprogramme the piece.
To summarize, MIDI controllers allow you to record performance data, which you can later manipulate, and run through virtually any sound engine to produce a variety of tones, timbres, and instruments.
What kinds of MIDI controllers are there?
There are a few different kinds of MIDI controllers, though.
By and large, the main kind of MIDI controller that music producers use is the MIDI keyboard.
Most of the controllers we're going to look at here are keyboard-style MIDI units.
Then, you've got pad-style controllers, which have grown in popularity in recent years with the rise in production tools like Ableton Live, and music production giants like Madeon really embracing this technology.
Those are the two main kinds of MIDI controllers, but if you can imagine any kind of instrument, you can bet there's a MIDI controller that emulates it.
For example, electronic drum kits from the likes of Yamaha and Roland typically have MIDI outputs, and you can also find MIDI controllers that emulate wind instruments like saxophone or clarinet
Best Akai MIDI Controller: Akai MPK Mini Mk3
It would be hard to create a list of the best MIDI controllers without having at least one entry from Akai.
Scratch that, it would be impossible.
Since the release of the original MPC, Akai have been a big part of the electronic music production game.
So, what makes the Akai MPK Mini Mk3 so great?
First of all, it's tiny, but you probably gathered that from the name. But I mean, really small, in a good way, in that's it's hella portable.
You can easily fit this guy in your backpack and hit the road.
It's a 25-key controller, but each key has a secondary control option, as do 7 of the 8 rotary controllers that can be custom-programmed to manipulate basically any feature of your DAW.
You also get a master control, an arpeggiator, and 8 touch-sensitive pads which are great for tapping in simple drum beats.
For such an affordable controller, these pads feel really nice.
The MPK Mini runs on USB bus power, which is the keyboard's only input/output, other than a sustain control input.
That means it's compatible with your computer, but won't plug directly into, say, an external MIDI sound module.
For us laptop producers though, that's not an issue, so I'd highly recommend this MIDI controller if you need something that you can throw in a backpack with your MacBook and head over to a mate's place to write some tunes.
Best Novation MIDI Controller: Novation 49 SL MkIII
I'm a long-time Novation fan, ever since I played one of their MiniNova synths way back when.
Fast forward just a few years (I keep telling myself), and they've released this beast of a MIDI controller: the Novation 49 SL MkIII.
What's good about this keyboard?
Well:
It's got synth-style semi-weighted keys
It can control both software and hardware
It has an eight-track pattern-based sequencer built right in
The keys have RGB LED feedback
It has more buttons, knobs, and faders than I even know what to do with
It has awesome integrations with Logic Pro X and Reason
It offers transport controls
It has a super smooth mod wheel which just feels great to work with
The 5 LCD screens are super responsive and have great definition
Overall, this is a seriously capable MIDI keyboard.
Sale
Sure, it's not the cheapest or the most portable, but if you're looking for a true centerpiece of your home studio for electronic music production, then this is your guy, 100%.
Best Native Instruments MIDI Controller: Native Instruments Komplete Kontrol S49
I'm not gonna lie, I'm a huge Native Instruments fan.
I love all of their plugins and software offerings, from Kontakt to Massive to their compression plugins, it's all bloody fantastic.
They've been pumping out some epic hardware too, with the Maschine being one of the biggest things to come out in the last decade or so.
Until they released the Komplete Kontrol.
The S series of these MIDI controllers is their flagship range, and the S49 is, well, the 49-key version.
Why is the Native Instruments Komplete Kontrol S49 so good?
It's got gorgeous semi-weighted keys, an RGB LED-lit keybed, two mod wheels, and a touch-sensitive modulation strip (which is super nice), and overall it just feels like a really solid unit, from the 9 rotary encoders to the soft-touch buttons.
Perhaps the centerpiece of this music production studio centerpiece, though, is the two high-resolution displays that you'll see front and center.
These displays really come to life when using the S49 with Native Instruments plugins and instruments, with which this controller integrates perfectly.
Of course, you get a selection of that tasty NI software when you buy the keyboard, though I'd highly recommend splashing out on the Komplete software range if you're really serious about music production.
Best Korg MIDI Controller: Korg MicroKey 2 Air 25
Korg's Micro range is, funnily enough, pretty damn huge, both in terms of the number of available units, and the value for money that these small packages deliver.
The Korg MicroKey 2 Air 25 is perhaps the quintessential Korg Micro device, offering just 25 keys and an absolutely tiny form factor.
I'm serious, it's not much wider than a laptop in length, and almost as thin.
That means it doesn't really pack a whole lot of functionality in, offering octave up/down buttons, an arpeggiator button, a sustain button, and a single multi-function rotary control.
Something cool about the Korg MicroKey 2 Air 25, though, is that it's one of the few MIDI controllers that can operate over Bluetooth.
That means you can connect easily to your laptop or iMac, or take this baby on the road and connect wirelessly to your mobile or tablet.
For power, the MicroKey runs on two AA batteries, which are reported to last about a month (pretty impressive), though you can still run the MIDI controller on USB bus power by plugging it in the old-fashioned way.
Best Arturia MIDI Controller: Arturia Keystep Pro
In my opinion, Arturia makes some of the most visually appealing gear out there.
I know, I know, that's not really the point, but I'm kind of all about aesthetics, and to be frank, there are some pretty ugly MIDI controllers out there.
The Arturia Keystep Pro is not one of them.
It's slim, it looks great in arctic white, and it has really intuitive rotary controllers.
It doesn't have traditional mod wheels, opting for controls strips instead. I like this idea in theory more than I do in practice, to be honest, but it means a smaller profile and allow the Arturia Keystep Pro to fit inside my backpack, so fair call.
This MIDI controller has a 24-part drum sequencer integrated into the body, with 16 individual steps.
So, you can program in a little drum beat, then play a few synth parts and basslines over the top.
Basically, you can put together an entire loop or song on this guy, without having to grab the mouse and mess with your DAW.
What's more, it has 4x CV, Gate, Mod outputs and 8 drum gate outputs, meaning it can integrate seamlessly with outboard synths and drum machines from the likes of Moog and Roland.
Basically, it's the music producer's dream.
Best M-Audio MIDI Controller: M-Audio Keystation 49 MK3
I was never really a huge fan of M-Audio gear, to be honest.
If I'm frank, I kind of felt like a lot of their gear was pretty cheap and cheerful.
Then, I played a friends Keystation, and that impression changed altogether.
That would have been the MK1 or MK2, I can't say for sure, but I do know that the MK3 takes what they offered to a whole other level.
Sure, this isn't the classiest keyboard around, nor is it the most well-endowed in terms of extra features, but it does offer pretty damn good value for money.
Value that I can't look past, and that's why it's here.
Here's what good about the M-Audio Keystation 49 MK3:
It's got 49 keys, which all have a secondary function
The modulation and pitch change wheels are quite nice, and have some quite well-defined finger dips, great for those of us with less than delicate and dainty fingers
Dedicated octave shift and volume controls
Built-in transport controls
It comes with a selection of software including ProTools First, Ableton Live Lite, Eleven Lite, Velvet, Hybrid 3, Loom, Vacuum Pro, Eighty Eight Ensemble, and XPand 2
Best Alesis MIDI Controller: Alesis V61
I was recently with a friend who's old Alesis controller died, and we went to our local music store.
Suffice to say, I was blown away by the V61, which, for the price, is a pretty admirable controller.
It boasts 61 keys (obviously), as well as 4 control knobs and eight pads that make it simple to plug in a few drum beats and pull a whole arrangement together.
Other than that, to be fair, it's a pretty straightforward device.
But that's what I really like about the V61.
It's all muss and no fuss; it just gets in and gets the job done nicely.
If you need a simple, capable MIDI controller, then the Alesis V61 is the one for – no splashing out on fancy buttons and knobs you don't really need.
Best MIDI Controller for iOS: IK Multimedia iRig Keys 2 Mini
Gone are the days where you need a full on studio setup to produce epic music.
Today, many music producers are crafting beats and plugging basslines into their mobile devices. Whether you're making tunes on an iPad or an iPhone, you're going to want a decent iOS-compatible MIDI controller.
And by far, the best of the bunch is the IK Multimedia iRig Keys 2 Mini.
These guys have been making dope gear for iOS music producers for a while now, with devices like the iRig and iKlip helping us mobile producers out to no end.
The IK Multimedia iRig Keys 2 Mini is a compact little controller, with 25 mini keys and two mod wheels taking up most of the width of the device.
Atop the keys, you've got 6 programmable buttons, 1 infinite rotary controller, and 5 other knobs which controller master and track volumes.
It even has a headphone output built in, which is a pretty unique function.
This makes it super compatible with the latest iPhones, which don;t have their own headphone outputs.
Best Innovative MIDI Controller: ROLI Seaboard Block
At this point, you might be thinking:
"Hey, all of these controllers kind of look the same, right?"
Well, yes. Until you see what ROLI has to offer.
This innovative company has a number of standard-breaking controllers, and the Seaboard block is the most simplified version of them.
Rather than having static white and black keys, the ROLI Seaboard Block appears as a rolling wave of rubbery material, which feels fun and interesting to the touch.
It plays more or less like a regular piano keyboard, but it offers much more in the way of touch sensitivity.
It has five different degrees of control, including:
Strike
Glide
Slide
Press
Lift
Each of these touch gestures offers a different sound profile, and allows you to control a bunch of different kinds of instruments in a way you've never even thought of before.
It comes with some included software (ROLI Studio and Tracktion Waveform 8), and is compatible with almost all devices, such as:
At this stage, however, it isn't compatible with Android devices, sorry!
Best Non-Keyboard MIDI Controller: PreSonus ATOM 16-pad Performance Controller
For those of you looking for something a little less keyboardy, we have the PreSonus ATOM 16-pad Performance Controller, a pad-only MIDI controller designed for drum programmers and live loop triggering enthusiasts.
It's got 16 pads (which you probably gathered based on the name), which can be used to plug in drum beats or for various other reasons, such as changing the tempo or velocity, or duplicating and deleting tracks and regions.
You've also got four rotary encoders at the top for mixing or controlling almost any aspect of the plugins you're using, and a bunch of auxiliary buttons which function as
Transport controls
Instrument controls
DAW navigation
Song and event controls
Grab the PreSonus ATOM 16-pad Performance Controller and a simple MIDI keyboard like the Korg MicroKey 2 Air 25, and you've got yourself a complete music production studio in two compact USB MIDI devices.
MIDI controller buyers' guide
Though we've brought together the 10 best MIDI controllers and reviewed them right here, you might still be a little lost in terms of making a decision.
Even if not, it's important that you make an educated decision, so we've included a quick MIDI controller buyers' guide so you know what you're looking at.
Number of keys
MIDI controllers come in a few different configurations, in terms of the number of keys they offer.
The most common types are:
As you can see, they go up in groups of 12. That's because there are 12 notes in an octave. So, 25-key MIDI controllers give you 2 octaves (plus one), and so on…
The number of keys you need depends on your size and playing preferences.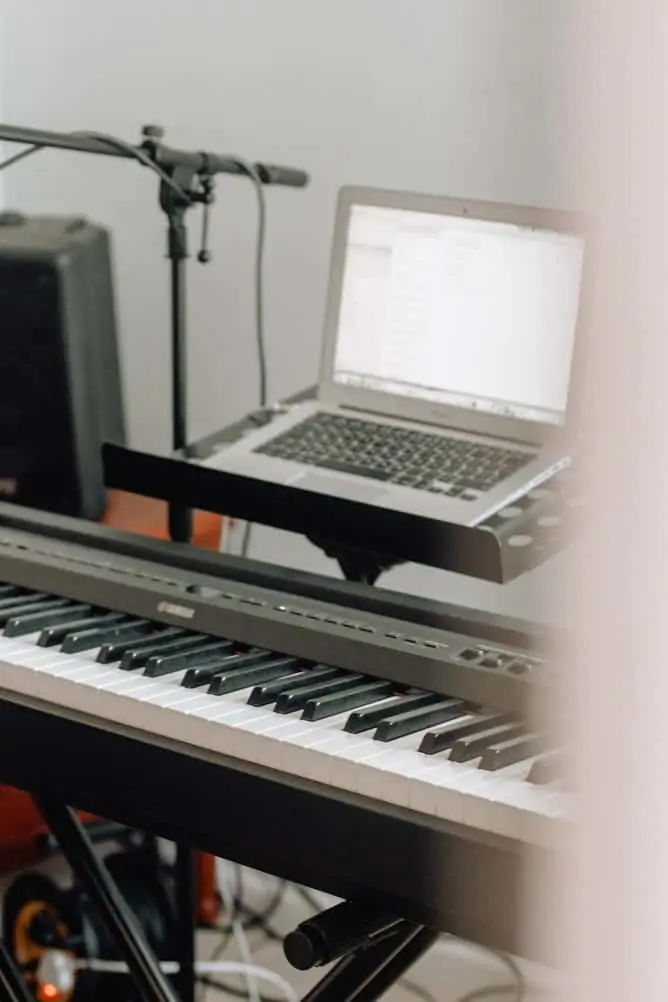 Obviously, more keys mean a bigger controller.
However, if you're used to p[alying a full piano, you might struggle to use something like a 25-key controller, as you can't span a huge rage at once.
On the other hand, if you're just looking for a quick way to program in drum beats and synth melodies, and you don't expect to be playing anything requiring too much range, then smaller might be better (and cheaper!)
Pads
Some MIDI controllers (like many of the ones we've reviewed here) have rubber pads on them, which allow you to tap away drum beats.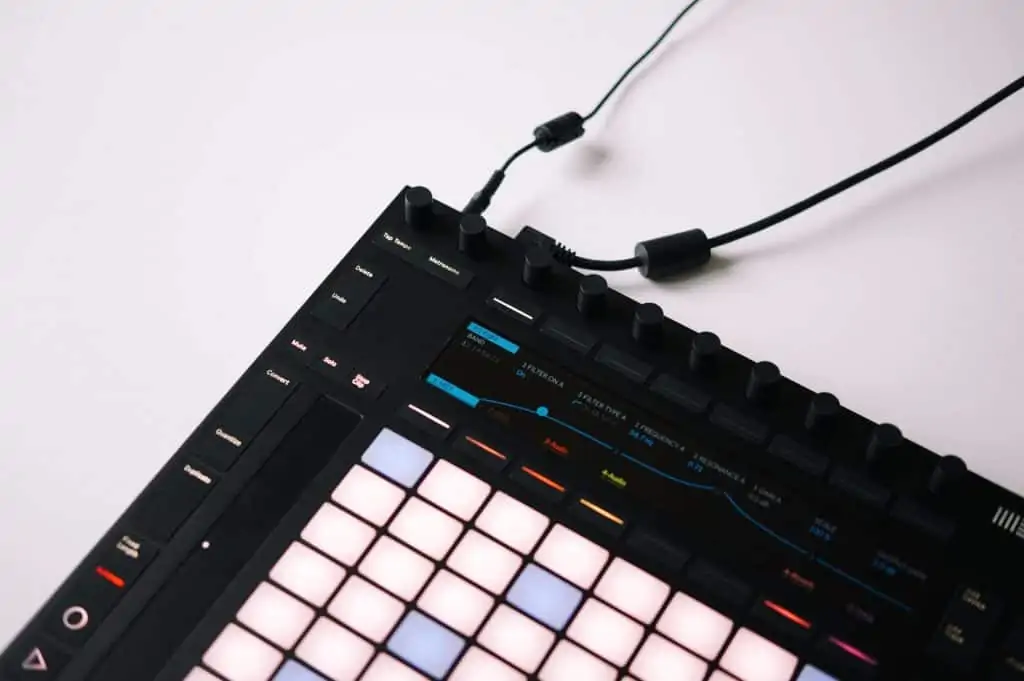 There are even some MIDI controllers that are designed entirely around these pads and don't have any traditional keys at all.
Whether you need them or not really depends on what you plan on programming.
If you're only ever going to play piano or keyboard-style instruments, then pads might be a bit redundant.
However, if you're going to be programming some drum beats in, then pads can be incredibly helpful, and way more tactile.
Other buttons
MIDI controllers that connect to your computer via USB (like, most of them), can control more than just performance data.
Often, controllers include a number of other buttons, such as transport controls, transposition (octave up/down) buttons, modulation wheels, and other features that allow you to control your DAW in unique ways.
A lot of the time, especially on more budget-friendly or limited controllers, these buttons are left completely blank, allowing you to jump into the MIDI controls section of your DAW and customize what the buttons control.
More expensive or elegant controllers can do this too, though they tend to offer a bit more native integration.
DAW integration
Some controllers work flawlessly with certain DAWs right out of the box.
Others, however, take a bit more work to get the two systems playing together nicely.
This applies more to additional functions such as transport controls, as your typical MIDI functionality (like the notes on the keyboard) are universal.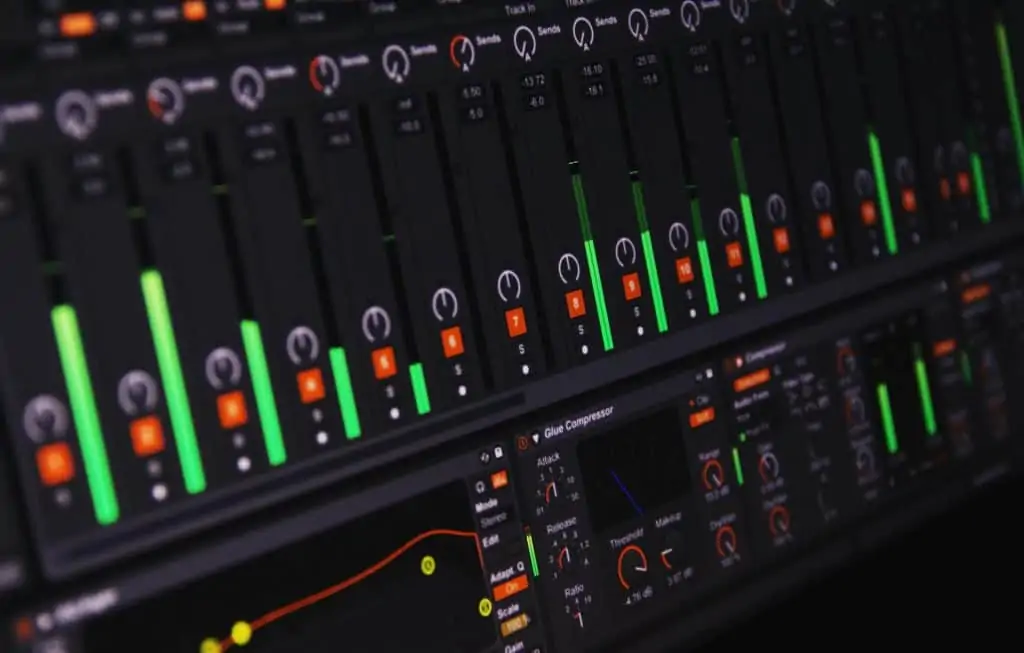 If you need a controller with specific DAW integration functionality (say you're using Ableton), and you're not a fan of getting too deep into your DAW preferences, then you'll want to check if the MIDI controller you're looking at getting plays nicely with whatever music production software you're using.
MIDI ports vs USB
Most MIDI controllers offer USB outputs, but not all of them have MIDI ports.
This is a little bit confusing, especially for beginners.
Here's what you need to know:
MIDI originally developed as a protocol that was only transmittable over a specific 5-pin input/output connector.
This was before USB was a massive thing, and before computers took over sound module duties.
So, MIDI controllers needed to integrate with outboard MIDI gear, and it wasn't happening over USB.
Now that most music producers are using computers to take care of the actual sound side of things, a number of cost-effective MIDI controllers have emerged without traditional MIDI ports.
That's fine for most of us, but if you're looking to integrate your controller with other outboard gear, then you'll need something with a MIDI out port.
Key size & type
Something that might come as a surprise to you, if you're new to MIDI controllers, is that not all keys on these devices are the same.
Basically, you've standard sized keys, and mini keys.
Mini keys are obviously smaller, meaning the keyboard itself can be more compact, but for some they can be a little harder to play as you need to be more precis.
Standard keys are the same size as the ones you'd find on a regular piano.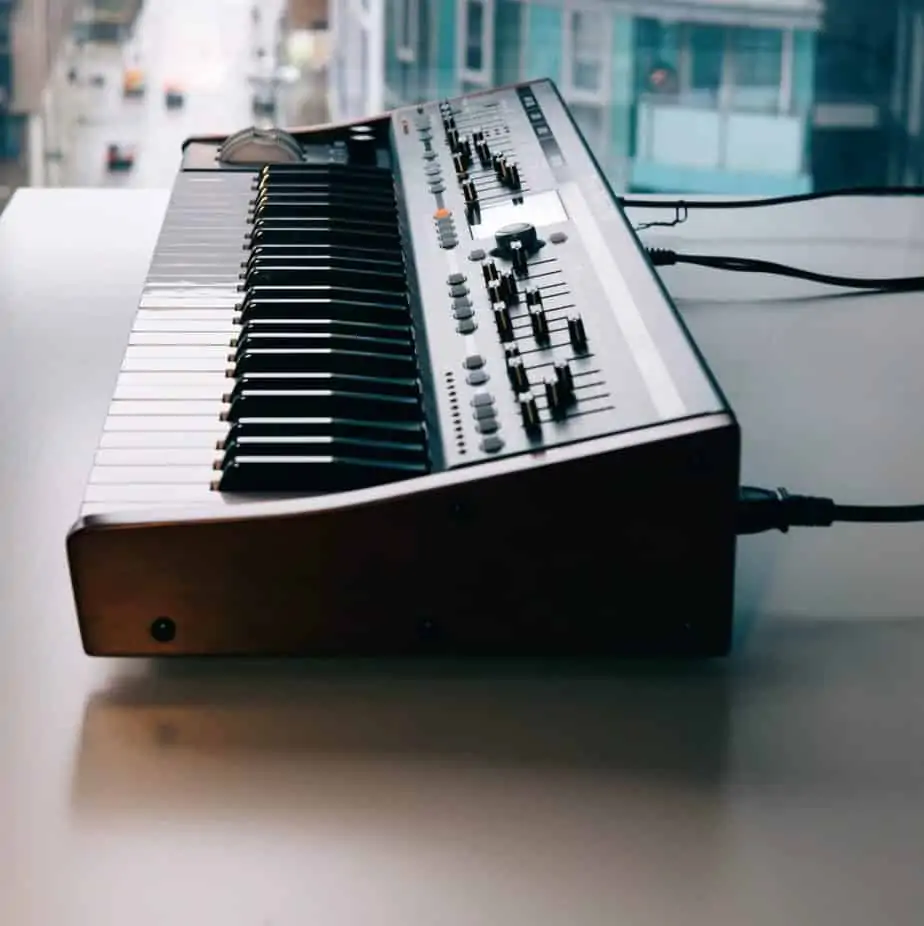 There are a few other considerations when it comes to keys, too:
Some keys have Aftertouch, which allows you to press down harder after you've already played a key and trigger some kind of modulation
The action: Weighted, semi-weighted, and synth (not weighed and very light to the touch)
Velocity sensitive: most MIDI controllers will be velocity sensitive, which is a good thing, as you can programme in different velocities depending on how hard you play.
Conclusion
Well, there you have it, the 10 best MIDI controllers available to buy, and a few reasons why you might love them.
Here's the thing, though:
It's pretty hard to make a bad choice these days, when it comes to a MIDI controller.
That's because even the cheapest, most basic of units performs pretty admirable, so it really comes down to the features you need, and the sophistication you require in your home studio.
So, get to it! Pick your poison, and get creating!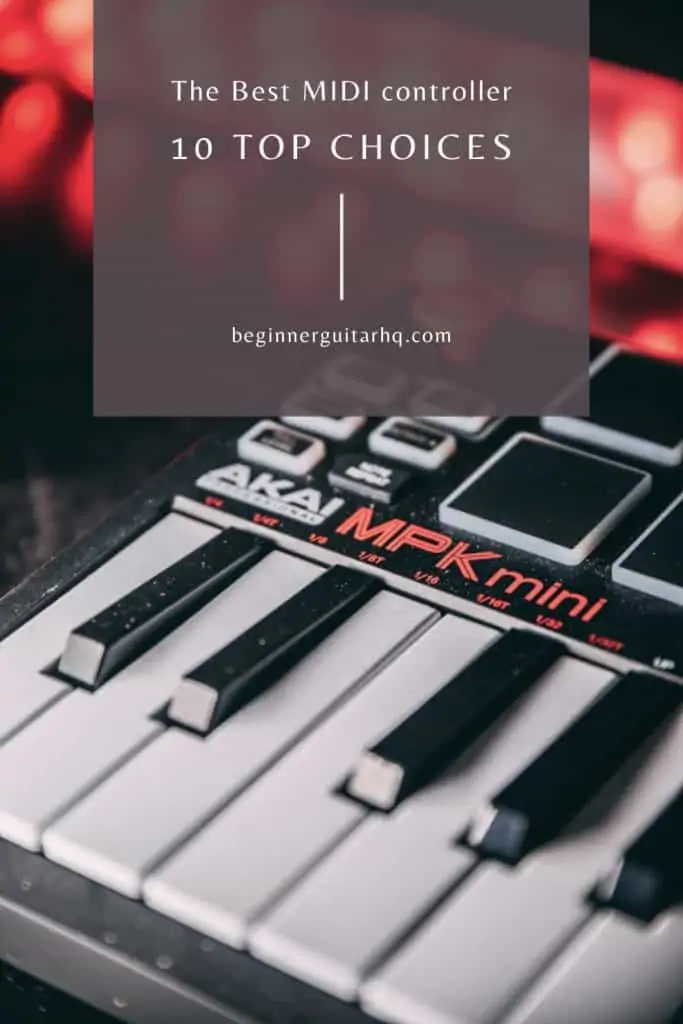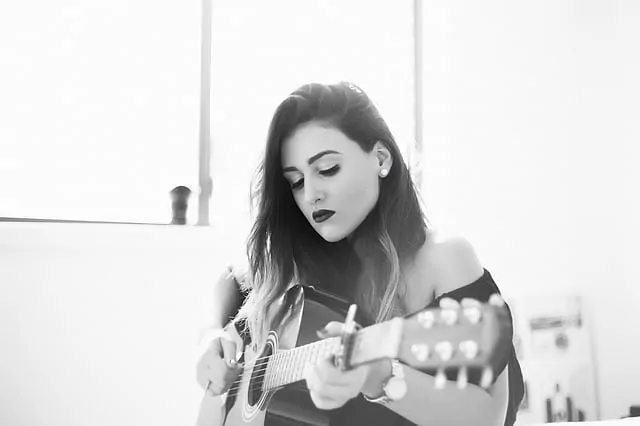 Jen is a guitarist and singer-songwriter who spends much of her time on the road and has lived in 13 cities across 4 continents. She picked up her first guitar at the age of 6 and learned to play by ear shortly after. She received her formal music education at the Berklee College of Music, and currently plays for a few bands in her free time. She has an uncanny ability to improvise creative melodies and harmonies. Her early influences include blues, jazz and rock.