Musicians have always needed to infuse various sounds in their compositions. With the limited number of traditional musical instruments available, some of the creative sounds needed cannot be obtained even with metal pedals, which is why many musicians rely on the creativity that technology offers in synthesizers.
Getting a synthesizer opens up another universe of original sounds that can bring unique qualities to songs and musical arrangements, often leaving the listener impressed.
In this piece, I give you 10 of the best synthesizers that can make a lot of difference to your sound quality without using VST plug-ins while allowing you to maneuvre and shape your sounds to fit your purpose.
Without wasting any more of your time, let's check them out!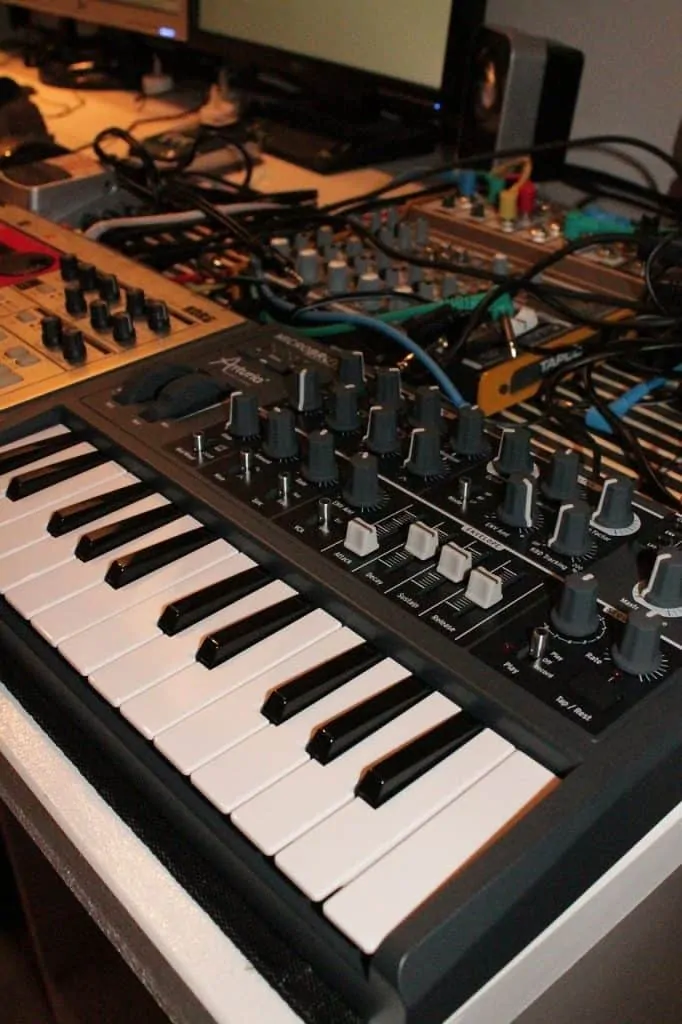 Compact and portable synthesizers give you the opportunity to play anywhere at any time. 
Arturia MicroFreak Hybrid Synthesizer
The Arturia MicroFreak Hybrid Synthesizer is a blend of the most unusual combination of features that gives you another dimension of joy while you play it. While being one of the most affordable synthesizers in the market today, it is also complete with classy functions like its keyboard set with 25 keys, which gives a wide range of timbre qualities.
However, what catches your attention initially is its compact yet brilliant body design, which in no way hinders the effectiveness and the awesomeness of this synthesizer.  It also features an oscillator with a 12-mode digital interface, while its functions display beautifully on its OLED digital display for an intuitive experience.
Its polyphonic capacity is enriched with 4-paraphonic voices and a digital synth engine, making it a well-thought-out synth design. It is not limited in connectivity options either, with connection for CV/Pressure/Gate 3.5mm output, a MIDI I/O (in or out), a headphone output, and a mono audio output quarter-inch in size.
Are you looking for inspiration? The Arturia MicroFreak synthesizer gives you some of the most brilliant ideas as you turn its dials. With its various wave-folding and wave-shaping modes as well as other digital oscillator modes designed to generate numerous tones and harmonics, this synthesizer gives you just what you need to create the right feel.
Though the manufacturer – Arturia, is a well-known vintage synth producer, this new hybrid synth proves a high level of thoughtfulness. It has functions like note bending, touch-sensitive keys, arpeggio button, sustain, and decay, with other filters that allow for a wide range of possibilities in performance and musicianship.
Don't be fooled by its small body. The Arturia MicroFreak is one digital synthesizer that has offered far and above what many in its class can hope to provide, and what's more, is that it is reasonably-priced and thus affordable.
Pros
Reasonably-priced
Quality Synth sounds
Programming is fun
Numerous sound possibilities
Innovative oscillator modes
Cons 
It has no 24dB/oct filter mode
Sequencer takes some time to learn
A compact, portable, fun-packed hybrid synthesizer with touch sensing keys, a generous sequencer and arpeggiator  
Korg Minilogue XD
When manufacturers firstly develop products, they all come out as big, huge objects before technological advancement allows for a smaller and sometimes even better version of the same product. Such is the case of the Minilogue XD synthesizer from Korg, which has a bigger predecessor in Korg's Prologue 8.
The main features that have made its big predecessor, one of the best synthesizers, are the same features that are in the Minilogue XD synthesizer. Such features as user OSC/effect import, stereo effects, multi-engine, and filter-driver are not present in the ordinary Minilogue version (without the XD).
Its sturdy and well-built body has a combination of metal and wooden materials in the right places to give it some rugged integrity. At the same time, it also handles forms of abuse or accidental bumps pretty well.
The Minilogue XD has 3-octave keys that are backlighted and made of robust plastics, as well as a joystick that performs note bending with 29 other assignable functions. The Multi-effect engine also promises a massive number of sonic range possibilities even though it has polyphony with four-note.
Its wave oscillator is Korg's proprietary oscillator, but it still makes space available for user-defined OSCs and effect both 15 and 8 places, respectively.  Another impressive feature is the two VCOs, which gives it a spicy feel with a three-way mixer for both levels of VCOs and also the Multi-effect engine.
Besides all these fabulous offerings, there is a parametric sequencer with 16-step buttons and a metronome to track your steps as you move through the sequence. All these elements are well incorporated with the built-in arpeggiator while syncing it with beats in all 13 modes.
We are not forgetting the myriads of effect available to ginger the muse out of you while enjoying an excellent music production session.
In all, the Korg Minilogue XD is the ordinary Minilogue but on steroids as it remains compact yet rich with loads of features meant for the bigger synthesizers.
Pros
Sturdy design
Great synth sounds
Nice effects
Compact and light
Affordable
Cons 
The sequencer has no 'hold' function
Smaller keys might pose difficulty for players with big fingers
Has a single filter pole
The Minilogue XD is a portable analogue synthesizer progressing over the years to boost your creativity in musical production 
Behringer Neutron Synthesizer
This synthesizer from Behringer is a bold statement of both quality and style, as it has some of the top features and utilities a synthesizer can have. The first attraction is its bold red front panel landscaped with control knobs that reminds you of the vintage looks of the Moog synth.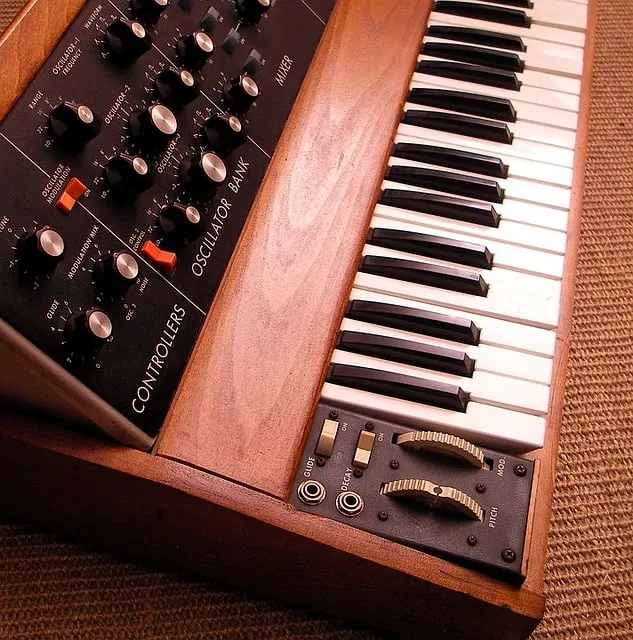 The Minimoog is a mini version of the Moog which the Neutron seem to take after with most of its control on the front panel 
Its option for connectivity is mostly on the back panel, which comprises a USB MIDI connection, quarter-inch audio line-in or out for jack heads, and one for headphone connections.
For oscillation, the Behringer Neutron has a double oscillator that is alike in features like the octave ranges, which are three, as well as an ability to produce wave shapes of five different types. There is also room for an external addition to the available oscillator options to make the oscillator mix well-rounded.
The filter modes for this fun-packed synthesizer are fantastic with primary and secondary filter modes that enable the production of lovely tones that are also in tune across the keyboard.
Above all, the Behringer Neutron has its bi-polar LFO producing various wave shapes, tone controls for overdrive, numerous sound effects, including chorus and flanging. It has two signal attenuators, and patchbays with several patch points that ensure a user fully utilizes the possibilities that abound in this synthesizer.
All these features make the Behringer Neutron one of the best synthesizers around today.
Pros 
Ergonomic
Bold and aesthetically-pleasing design
Fascinating possibilities with its patchbay
Affordable
Accurate reproduction of classic vintage sounds
Cons 
A patch cable is absent
The filter section is easily saturated
The Semi-modular synthesizer with exciting patching potentials – Behringer Neutron
Korg Volca FM
Korg, as a company, is a household name when it comes to the manufacture of quality musical instruments. They've equally produced some of the top range synthesizers and are not ready to take a back seat in this category, which has seen them manufacture another top-class synthesizer called the Volca FM.
The FM, in its name sure makes a strong reference to its powerful Frequency modulation capabilities. And while it has other exciting features, it seems the combination of both its uniqueness and its FM-powered creativity hits the ball closer to home for a lot of synth players.
A digital FM engine powers the sounds in contrast to its analogue inspirer, the Yamaha DX7. However, it still manages to reproduce the vintage sounds that are well recognized by classic-loving synthesizer players.
You are immediately aware of the plastic-framed body of the Volca FM on sight, but on touching it, you get a feel of its compact, multi-touch keys creating quality tones from its inbuilt speakers. Its control knobs and multi-functional twin sliders for six-octave transposition and velocity of the notes, all ensure that it's easy to manipulate.
Though it has a limited polyphony of 3 voices that can be understandable considering its compactness, its quality is still topnotch.
The sequencer present in this synthesizer is a replica of the one in the DX7 with similarities, including a motion sequence automation and active step sequencer editor. It is also equipped with effects such as chorus and sound decay, while things like arpeggiators help tweak sounds further to deliver the expected sound. The automation levels of this synthesizer make things pretty easy to manage with functions like velocity, arpeggiator speed, transpose, and modulator easily accessed with automation.
Connectivity options for the Korg Volca include MIDI in, sync in and out for orchestrating with external patches. The power source comes with dual options of AC connection as well as from DC source, making it a truly portable creative box of fun.
All of these options and functions make the Korg Volca one of the best synthesizers you can hope to get from a music shop.
Pros 
Excellent with its motion sequence
Very affordable
Nice Frequency Modulation sounds
Versatile for different scenarios
It is portable
Cons 
Few numbers of voices
User manual could be more informational
Does not include MIDI out
The Volca FM synthesizer is a compact digital synthesizer with very versatile and flexible features
Waldorf Quantum Synthesizer 
Sometimes, you wonder what manufacturers have in mind during design for sound production. For Waldorf Quantum synthesizer, you are sure they have the future in mind. With features that are not the norm for many synthesizers available in the market, the Waldorf Quantum is trailing a new path.
Firstly, the sturdy, well-built hardware is immediately evident as the chassis has weighty and durable materials like steel. This is true for even some controls made from this tough metal, giving it a contemporary stylistic design that can trump even the most fascinating designs in the synthesizer world.
The hybrid engine is a combination of an analogue engine with two low-passing filters and a digital engine that comfortably doles out eight polyphonic voices at a go without losing its quality sounds. Its key-bed has a five-octave range featuring a combo of touch-sensitive and after-touch sixty-one keys.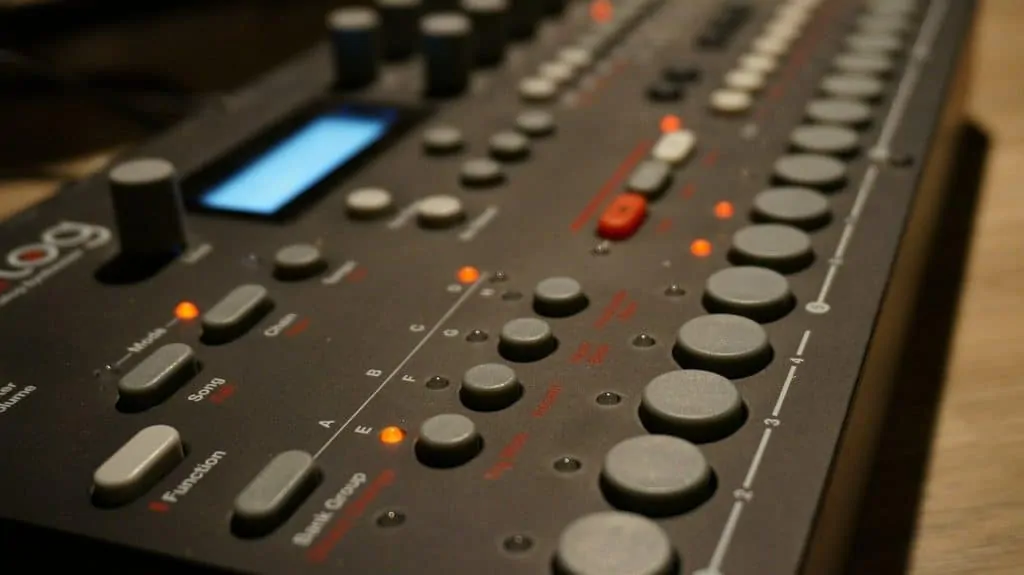 Analogue synths are famous for their classic sounds and the Waldorf Quantum beautifully combines this with a digital engine
Notwithstanding, it still has a sequencer with sixty-four steps as well as separate sections for its five major effects and sound generators, including classic waveforms, resonators, wavetable, and granular sampler that generates the different sonic qualities.
Other features include a touch screen and control wheels for easy monitoring and navigation between functions. It does not forget the mode buttons that add to the intuitiveness of this multifaceted machine.
But that's not all!
The Waldorf Quantum synthesizer also features six LFOs and three digital oscillators, six envelopes, and seven-mode arpeggiator, as well as an onboard 4GB memory to host its 10,000 patch locations.
Considering its many connectivity options, you'll have to agree that Waldorf Quantum has a lot to offer. Connectivity options include MIDI USB, MIDI I/O/T (in/out/through), two 6.3mm Auxiliary out, two 6.3mm main out, two 6.3mm lines in, sustain pedal connections, 6.3mm headphone out, and USB to host SD card connection. To top it off, the power source is an integrated power.
With all these offerings and quality that is all the more felt in its 17.8kg weight, the Waldorf Quantum is no doubt one of the best synthesizers around today. Your possibilities are almost infinite and can only be unachieved if your imagination lets you down.
Pros
Rugged and powerful ability to withstand abuse or misuse
Very versatile
Abundant modulation routing
Aesthetically pleasing with a beautiful contemporary design
Varied connection options
Cons 
A bit pricey but worth it
Analogue filter lacks a multimode
The Waldorf Quantum synthesizer is a redefinition of what hybrid means for a synthesizer of the future
Roland Boutique D-05
Roland's linear-digital synth is a compact and improved version of the Roland D-50 that hit the synth scene some thirty-some years back. The Roland Boutique D-05 is not just packed with various improvements to make even the most sceptical synth player tempted to try it, but it is also affordable.
Noticeable is its small but well-built frame that houses all the mechanisms for creativity. These mechanisms include the linear arithmetic synth engine, patches on two-tone levels (upper and lower), 16 polyphonic vocal power, and function like the chase function, which is also found in its ancestral D-50 version.
What's more?
It offers a handsome amount of digital effect like a chorus effect with a retro feel, reverb effect, as well as an EQ that establishes a balanced sonic quality. The display screen though small has been designed to maximize the information it displays per function, giving you the assurance that you're not missing anything that the big screen may offer.
Other added functions, as hinted earlier, includes the arpeggiator, which gives the D-05 an edge in terms of creative sound texture. It also has a 64-step sequencer, which, together with the arpeggiator, offers a fantastic platform for musical inspiration. These added functions are not available even in the big D-50 though they both share similar touch-strip used to accommodate the various pitch bends.
Besides the power connection which utilizes a USB port, other connectivity options are mostly familiar options of 3.5mm jack for audio input and output as well as for headphone output. Roland has built one of the most reliable engineering pieces in the Boutique D-05, with many components worthy of note, as we have seen.
Pros 
Portable
Affordable
Great classic sounds
Awesome polyphonic capabilities
Cons 
The user manual could be better
The USB power and 3.5mm socket are not suitable for stage performances
This is a very significant enhancement of a flagship synthesizer making it even more impressive with its features
Dave Smith Prophet X
Do you sometimes wish you had both an analogue and digital synth in one chassis? The Prophet X was specifically created to fulfil this wish, combining the classic vintage sounds of the analogue and the eclectic polyphonies of a digital synthesizer in its hybrid engine.
Imagine what you could achieve with a 32 polyphonic synthesizer with multi-effects and a metal-encasing body that is well-built to withstand some of the bumpiest rides. The Prophet X comes with a keyboard comprising 61 weighted keys that have after-touch sensitivity incorporated into them, and a dual split OLED screen to take care of the navigation side of things.
Its sequencer has 64 steps that make it possible to create some sound variations that testify of its range of possibilities. The effects included with this machine include phaser, chorus, flanger, reverb, distortion, delay, and HPF with a rotary speaker added.
You'd have to agree that the Prophet X is big on carrying every extension along as it has a connectivity solution for many external devices. Starting with the MIDI connections which have both in and out ports, to others including connections for dual stereo output (A and B), pedal effects port (for sequencer trigger, volume and sustain), dual USB connections with A and B types, as well as headphone output connection.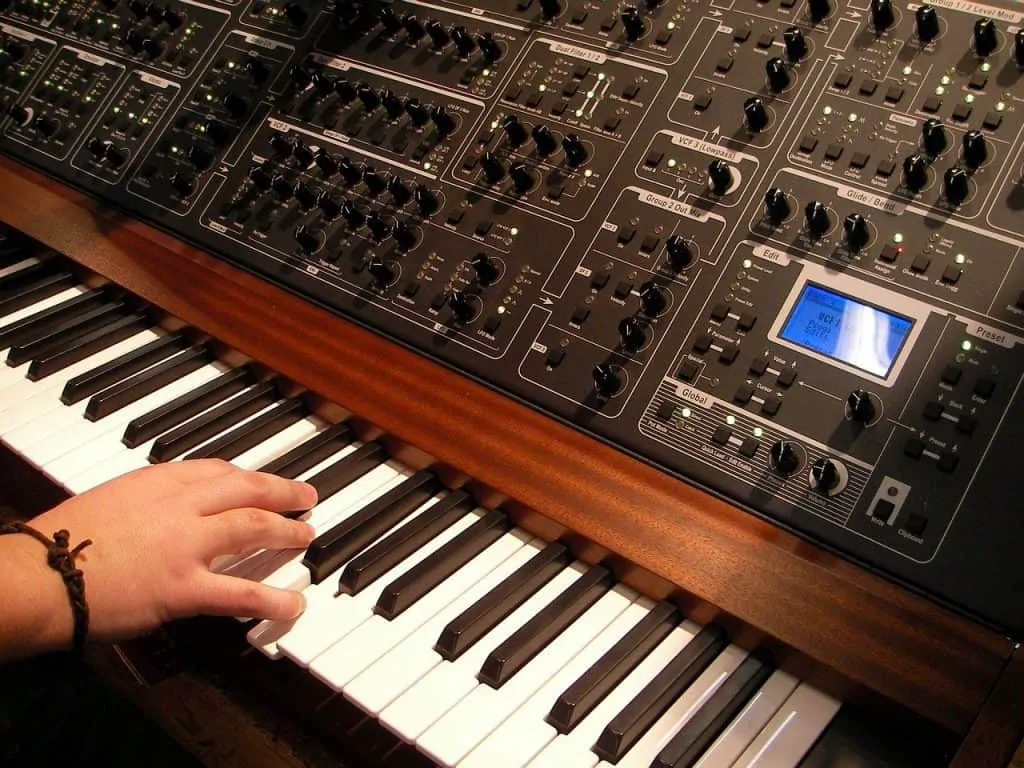 A multi-effects synthesizer can be the difference between a well produced music and a slouch 
Remarkable also is the size of the sample content included, as well as the user sample storage given. The Prophet X boasts of 150GB sample size inbuilt with an additional 50GB of user sample storage space provided, which makes this synthesizer amazing.
By and large, you get huge returns on your investment with the pure technological genius crafted into the Prophet X synthesizer, with sounds that can almost replace your DAW software sounds, making it one of the most versatile even in the hybrid synth category.
Pros
Sturdy and well-built
User-friendly interface
Several modulation routing options
Great sample storage space provided
Cons
Quite pricey but worth it
This bi-timbral analogue synthesizer gives you a taste of reality and fantasy all in one package
Novation Circuit Mono Station
With a body and dimensions aptly designated for a small and compact device, the Novation Circuit Mono Station has so many functions to surprise almost any synth player pleasantly. However, it doesn't look like it is capable of handling anything beyond basic functions.
On the surface are the easily noticeable 32 keypads that brightly light up with their RGB velocity-sensitive lights all set up within a grid that responds to the sequencer's promptings. You'll also notice control knobs for various functions, including volume, modulation, LFO controls, distortion, filters, and oscillators, as well as envelope slider, controls for sustain, attack, decay, and release all above the keypads.
Digging a bit deeper into its functions, you'll discover an analogue synth engine combined with a sequencer capable of sound production at deeper levels and with digital flexibility that you might not have expected.
It owns two analogue oscillators for its various sound waves creation. These are digitally controlled along with a sub-oscillator to control pitch and noise generation for its OSC 1. In addition to this is a filter with a multimode switch, an overdrive control along with cutoff rotaries, and resonance for better sound accessibility by the filter.
The Circuit Mono Station has a paraphonic sound, which is another of its unique features. It means that its oscillators play their sounds individually even though they share the same path within the sequencer. However, the presence of its filter overdrive ensures that you never lack exciting sounds with tonal modifications and variants of pretty and dynamic sounds.
This synthesizer is capable of connecting numerous external devices through its many connection options, including MIDI in/out/through, USB out for MIDI, audio in and out, analogue clock in and out, headphone out, as well as gate and auxiliary CV output. A power adapter nonetheless powers it.
Frankly, the features of the Circuit Mono Station powered by the duo of analogue synth engine and sequencer sets it apart amid best synthesizers.
Pros
Reasonably-priced
Great sounds
A good number of connection options
Lovely form factor
Portable
Well- combined  synth engine and sequencer
Cons
No display screen for easy navigation of functions
The Mono Station brings a range of powerful features embodied in a great form
Arturia MiniBrute 2
The Arturia brand has stepped up its previous monosynth with an even powerful version making the earlier productions even stranger with the newly included features. With some subtractions and additions to the first MiniBrute, the Arturia MiniBrute 2 becomes a great piece of engineering and a creative sound machine.
With its two-octave keyboard, this semi-modular synthesizer packs a daring synth engine coupled with a patchbay that uses mini-jacks to perform some fascinating sound tricks. This comprehensive patchbay makes it even more flexible than its predecessors. At the same time, the oscillator mixer is still responsible for blending the waves (square, triangle, and saw) generated by the primary oscillator. There is the modifier control to shape the waves further to fit with a bit more workability.
Another noticeable upgrade is in the oscillator, which is now independent as opposed to the previous version, which featured a sub-oscillator. The filter section has also seen some advancement in terms of increased modulation options, which is far more tweak-able than its forerunner.  It then tops the icing on the cake with the included ADSR generator and an AD envelope, which has both default functions and a patchable control.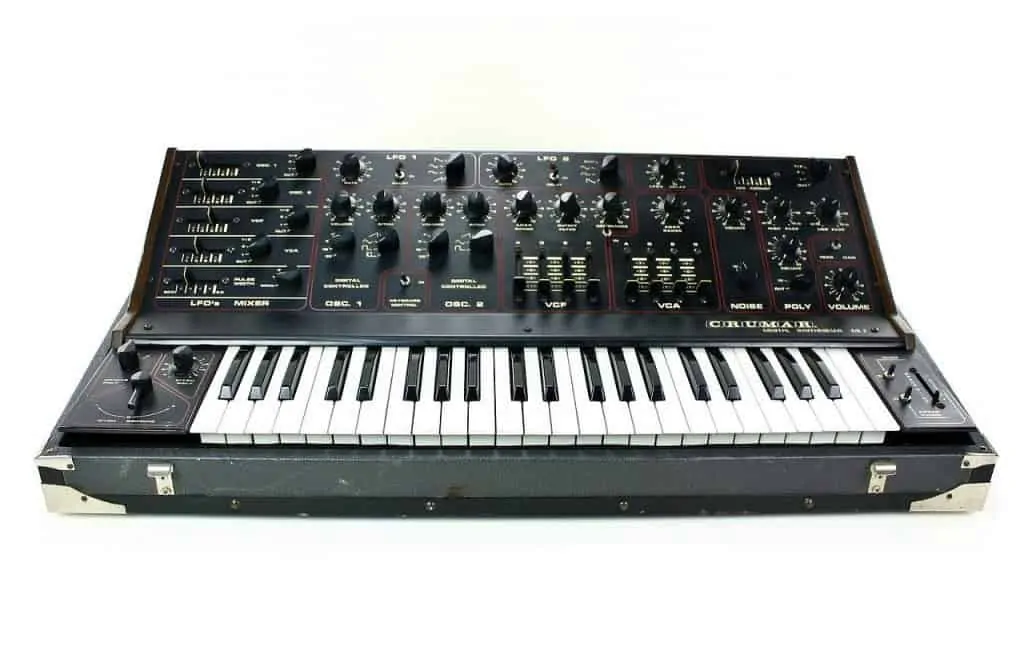 Vintage Synthesizers are increasingly being improved to create a totally unique synthesizer
But there's more.
The MiniBrute 2 possesses an arpeggiator and a 64-step sequencer, both of which support its various pattern generators. On top of this are other useful controls like tap tempo, gate length for the sequencer, and swing controls. Its connectivity options include MIDI in/out/through, the analogue clock I/O, headphone out, audio line O/I, auxiliary CV output, with an adapter for the power source.
Pros 
Reasonably-priced
Fantastic sound quality
well-thought-out design
Exciting possibilities with 48 patches
Affordable
Very flexible
Cons 
One octave is too small for an arpeggiator
ADSR have very short maximum times
The Ecosystem of the MiniBrute 2 brings fresh possibilities to synthesizer sounds 
Elektron Digitone 
Sale
The Elektron Digitone is a frequency modulation (FM) synthesizer with an eight-voice polyphony and no keyboard, making it a truly groove box that is also functional. It has an external MIDI sequencer with four MIDI tracks as well as four synth tracks.
It also features multi-effects, including reverb, delay, overdrive, and chorus, which add different colours and twists to sound qualities. These effects make it possible to connect external sounds like drum machines to get an output on the Digitone stereo, which eventually comes out as a quality mono sound.
Also notable among the Digitone features are the dual outputting eight algorithms with an X and Y outputs for each algorithm with an added crossfading mixer. Even better is the presence of a harmonic control which works like another synthesis engine.
The connectivity options of the Elektron Digitone are also pretty decent, including USB connections, two quarter-inch audio outs, two quarter-inch audio in, headphone out, and MIDI connections within, out and through options. The connection for power is with the use of a provided adapter.
This is no inferior synth especially among other FM synthesizers and has rightfully earned its place in the ranks of best synthesizers.
Pros 
Great sound quality
FM sounds that are easy to control
Dual filter for voice
Versatile as both MIDI sequencer and FM sound unit
Nice combination of sequencer and synth engine
Cons 
The higher learning curve to use the sequencer
A limited number of synth voices
Let the Elektron Digitone do all the talking with its sound pool of 32 factory patterns
Final Take 
Every synthesizer considered in this review has more than enough functions to justify it featuring in the list of the ten best synthesizers. However, each synthesizer has its strong points be it portability, many connection options, or a combination of synth engine and sequencer. What your preference will be is dependent on what you hope to achieve with your synthesizer, I can only promise that you'll find (in this list) a synthesizer to choose that will adequately take care of your needs.
The question is, what is stopping you from making that choice today?
Cheers!!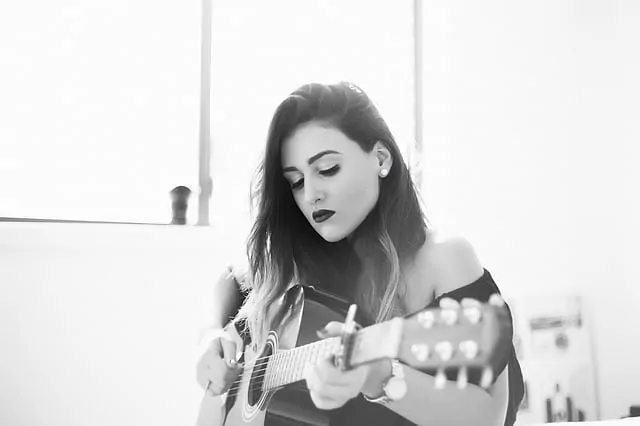 Jen is a guitarist and singer-songwriter who spends much of her time on the road and has lived in 13 cities across 4 continents. She picked up her first guitar at the age of 6 and learned to play by ear shortly after. She received her formal music education at the Berklee College of Music, and currently plays for a few bands in her free time. She has an uncanny ability to improvise creative melodies and harmonies. Her early influences include blues, jazz and rock.