Once you have your basic home studio setup ready to go, the big decision is in the DAW that you choose. DAW stands for Digital Audio Workstation which is a piece of music making software that is central to all your studio needs. All home studios and professional studios are built around a DAW.
The music making software that you choose is central to how you work. There are many options available at a huge range of price points. Each software package offers its own range of benefits and features and there are pros and cons to each one. The hard part is finding the one that suits you.
What does a DAW do?
A DAW is a piece of music making software that is loaded onto the studio computer or laptop and it acts as a central repository for all of the audio files. When audio signals are recorded via your audio interface, they are converted to digital information. The DAW then decodes that digital information from the interface and replays it back to the user as audio.
Once the audio has been recorded into the DAW it can then be edited and arranged. Editing and arranging in a DAW involves cutting and copying audio, manipulating the sound with plugins and generally making the entire puzzle of your track fit together.
DAWs allow the user an endless supply of editing options when compared against the older analogue methods of physically cutting and moving tape.
Specs for Using a DAW
Most modern computers and laptops come fairly high spec out of the box, but when buying a computer for audio production just remember that it will need a bit of extra power to run to its full potential.
When working with audio, your computer's processor will be reading multiple tracks of audio at the same time, along with any edits or plug ins you've added to each track. I'd recommend a multi core processor for audio use with the minimum being a quad core of some description. You should also aim to have 8GB RAM, especially if you're going to be using it more intensively to produce music for release.
Many high end audio PC's will over-spec for headroom when working with large projects so that the machine is never stressed.
Every DAW will list the full specs on their website and while many will operate on lower spec setups, the minimum specifications set out will allow you the best performance.
Top 10 DAWs to Consider
Let's take a look at 10 great options across a range of price points. There are many options available beyond these listed here. Each DAW will have its own unique features and limitations. There is no perfect answer to the right DAW, but many offer trial versions so if you are new to production it will be a worthwhile investment of your time to trial a few to see what suits your workflow.
Ableton Live
Ableton Live is a music making software package designed specifically for anyone who works with a lot of MIDI and virtual instruments. If you're a DJ, remixer, pop artist or someone who loves electronic music, Ableton Live is looking out for you.
Ableton Live is also one of the most intuitive software packages for live use and has a range of hardware such as sample pads, to trigger live effects and loops.
With three tiers available, Intro, Standard and Suite, there is something that works for all budgets. 
Intro is the budget friendly version coming in at $88, Standard at $412 and Suite at almost $800. The price differences are determined by the available features. Intro only allows for 16 tracks whereas Suite is unlimited. This means, if you do only need to work with a small number of tracks you could happily work with Intro.

Ableton Live is a fantastic DAW for electronic music producers and anyone who wants to take their studio work onto the stage. Many top DJ's use Ableton to compile setlists and with it's range of hardware add ons it can become a live tool as well as a studio tool.
You also get a range of sounds, samples, effects and software instruments bundled in from Intros 1500 sounds at 5GB to Suites 5000 sounds at 70GB. This could be the all in one package you need to make your electronic music today.
Reaper
Reaper claim to offer "Audio Production Without Limits". Quite a bold claim but does their modestly priced DAW back that claim up? 
Users have access to unlimited multitrack recording. The only limit to the number of tracks is what your computer can physically handle. You also get the full complement of MIDI recording, audio editing, processing and mastering. Reaper also supports plugins of all formats and can be extended and modified. Users can even write custom scripts and create their own skins to make Reaper look like their favourite DAW.
One of Reapers best features is the low impact of their software. It runs on even the most modest machine and while large scale audio processing will still  require a good computer, the software itself runs very quietly and smoothly in the background making it perfect for someone with a lower spec machine.
Reaper comes bundled with hundreds of their own range of studio quality effects plugins and processors so out of the box you've got a workstation that you can perform almost any task with. 
Reaper offers only 2 pricing tiers which both offer the same range of features. $60 for a Discounted Licence and $225 for a Commercial Licence. They operate on an honesty policy. If you download their software now, you will receive a full version right away to evaluate for 60 days, although after 60 days, no restrictions are applied other than a pop up when you open the program to remind you to purchase a licence.
If you use Reaper for personal use, educational use or you do use it for business but your gross revenue does not exceed $20,000, you are able to use the discounted licence. If you use it for business in a large studio or you earn more than $20,000 in gross revenue using this software, the full price commercial licence applies. Either way, it's too cheap not to buy it.
Get Reaper here.
Pro Tools
Pro Tools is considered the industry standard for music making software. You will find Pro Tools in many high end studios around the world and many modern masterpieces that adorn our radios everyday were probably recorded and edited in a Pro Tools setup.
The included bundles are great. By purchasing a copy of Pro Tools you receive a full functional DAW that comes with it's own plug in set so you can mix and master your music. It also has powerful recording for audio and MIDI along with a built in score editor for composers.
Pro Tools is bundled in 3 tiers, Pro Tools First, Pro Tools and Pro Tools Ultimate. First allows the user to work with up to 16 audio tracks and 16 midi tracks which is perfect for anyone recording demos at home or just getting into the world of music production. The Full version of Protools and the Ultimate version allows up to 128 and 384 tracks respectively with 1024 available MIDI tracks.
Most high end DAW packages are pricey but Pro Tools allow their industry standard software to be available for any budget with their monthly subscription model. Pro Tools First is free, the full version retails at $29.99 a month and the Ultimate package for $79.99.
The further up the subscription model you go, the more features available. While $79.99 a month sounds like a lot, this could be the perfect option for someone working professionally with audio. 
Get Pro Tools here.
Garageband
Free is good right? Apple designed Garageband as an entry level music making software package which allows users to make music from any iOS device. The only drawback here is that this is solely an iOS software so Windows users, skip this block.
Garageband is portable and can be installed on your iPhone, iPad or your Mac laptop or desktop. It's jam packed with digital instrument libraries, guitar amp models, effects, drum samples and it's so easy to use.
The built in virtual session drummer allows you to easily and quickly build up drum tracks that were created by top session players in the industry. Each drummer has their own kit and playing style and there are a range of genres and drummers to choose from. You can use these to create a range of grooves and loops to suit your track as well as a library of pre recorded loops that can be customised to your own need.
You'll also find over 100 EDM/Hip-Hop/Pop style synths which are tweakable using the build in Transform Pad Smart Control which allows you to warp the sound with one button click.
Using the built in plugin package you can manipulate your songs to get them release ready from demo to mastered track in one free package. You can even save your project on iCloud and access it from your portable devices anywhere, anytime. You might find yourself miles from home and the desire to tweak your track, open up Garageband on your phone and get to work!
Get Garageband here.
Cubase
Cubase is a powerful piece of music making software. It is a very highly respected and known piece of software for any studio to be using. It's flexible, powerful and intuitive as well as coming packed with a range of it's own virtual instruments, effects and sound libraries.

Cubase has a really intuitive mixer window which lays out all the projects audio tracks in the view of a mixing desk. This allows the user to manipulate volume easily and access the plugins and effects on each track by the top part of each channel.
Much like Pro Tools, they offer a 3 tier pricing system with Cubase Elements being the affordable version right up to Cubase Pro, which allows users to work with unlimited tracks vs the 64 available in Elements.
Cubase offers a huge range of plug ins and effects ready for anyone to start mixing the music they create. Even the Elements version offers a huge range from Octavers and Delays  to Compressors and Reverbs. You have everything you need right out of the box to record and produce music.
One of the best features of Cubase is it's mixer window. Each track is assigned to a channel strip which has been redesigned for the current version to extend the functionality for users. The metering in the channel strip allows you to see just what your track is doing and you can tweak plugin parameters from one window meaning you work faster and smarter.
If you want to add drums to your track but don't have a real drummer on hand or the money for a high end drum VST instrument, fear not. You also get Groove Agent SE 5 with your installation which is a library of drum kits, hits and loops that can be MIDI assigned to your track, giving you realistic drums without leaving the house.
Logic Pro
If you use Garageband, the logical upgrade would be to Logic Pro. Logic Pro is an Apple branded DAW which is only available on Macs. It's based around a similar interface to Garageband but with all the functionality of a professional piece of music making software. 
Logic Pro is quickly becoming the go to DAW for many producers both at bedroom and professional level for it's intuitive workflow, powerful processing and huge range of bundled extras.
You can purchase Logic from the Apple store for a very modest $250 price tag. This get's you a professional DAW that comes with a wide range of virtual instruments including synths, string and brass section emulation, vintage synths, drum kit libraries and a sampler.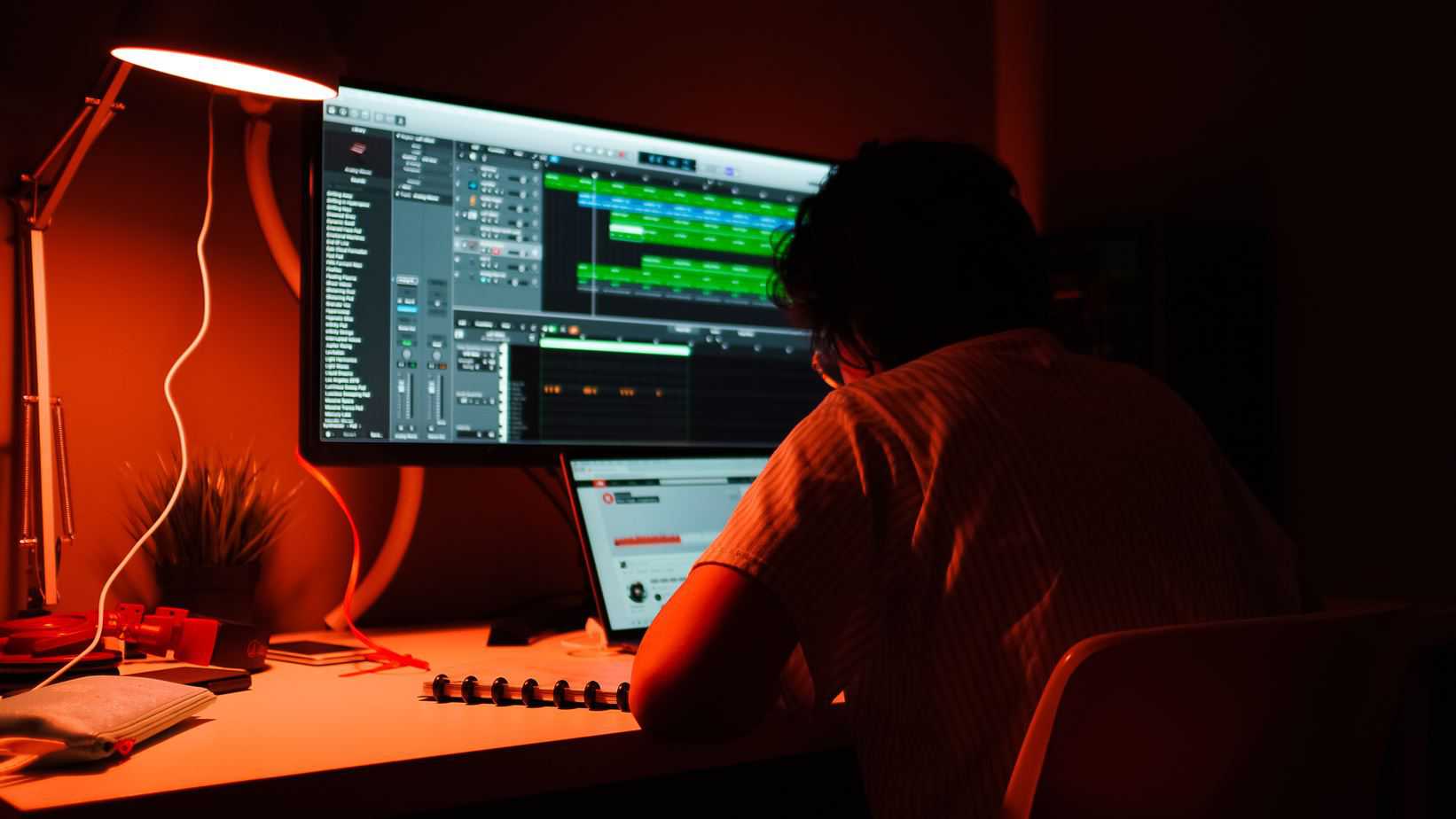 Logic Pro is a MAC only piece of music making software but it's currently used in many top studios all around the world. It is a natural progression from Garageband for anyone who starts producing there.
Once you're recorded all your parts you can then tweak their sounds with the plug in collection including reverbs, classic emulation of vintage EQ and Compressor strips (Such as API, Neve and SSL), guitar and bass amp designers featuring a wide range of classic amp models and a pedalboard builder with over 35 effects pedals included. Whatever you record, you can edit and manipulate to your heart's content.
To accompany the wide instrument selection, you also have access to 63GB of real instrument samples from Vintage and Modern synths, keyboards, pianos and more.
Get Logic Pro here.
Studio One
Presonus' Studio One is designed for simplicity. It was never intended to be as complex as some of the other high end DAWs. It was designed to be creating in the recording process. Perfect for anyone who is more focused on the recording side, the colourful, intuitive design will allow you to bring your songs to life in no time.
You get an unlimited track count, easy to use editing tools and a selection of virtual instruments for assisting your compositions. The whole idea is to make it as easy to use as possible so you can focus on the writing.
Studio One allows you to arrange songs with the click of a button. Label your sections and move them around as you need. This makes it simple to move an entire section of tracks to another part of your song. It can even suggest chord progressions for you to make the songwriting process a breeze.
Presonus made the decision to include a range of mastering tools and visual aids so that you can mix and master your song in one simple setup. You can take the song from it's first demo idea to the release ready finished product without ever leaving the project file.
Reason
Reason is the synth lovers dream. This DAW looks just like a modular synth and features a huge range of inbuilt synths from a buzzing sawtooth to a mono bass synth, this covers every synth angle imaginable. 
You also get a variety of drum synths including a 16 pad drum designer and an emulation of classic 80's 808 style drum machines. Reason has so many instruments bundled with it that it would be impossible to cover them all in detail here. 
For the more analogue inclined producer you also have a range of standard plugins including guitar and bass amp simulations, reverb units, compressors and a Retro Transformer that will make your music sound like VHS, Vinyl, Tape and many other vintage recording formats.
The effects are models of various coveted studio pieces such as the Channel EQ modeled on an SSL desk EQ or the Echo modeled after the classic Roland Space Echo unit.
If you already have a DAW, Reason can integrate perfectly to your other systems with it's Reason Rack Plugin, this allows you to use Reasons inbuilt synths as virtual rack units in any DAW you choose. While this all digital, the rack view gives the software a distinctly analogue feel to it as you use it.
It's also great with regular audio processing. While the interface is certainly geared towards synth based users and electronic music producers, Reason is perfectly suited to work with bands and regular analogue recording chains as a fully functional DAW. They even offer an iOS app to work on your projects on the go when you can't be at your studio computer.
FL Studio
Anyone who has been producing music for a while will recognise FL Studio, but perhaps under it's older name of Fruity Loops. Fruity Loops used to be a great MIDI looper system where users could build drum and synth loops before bouncing them into their favourite DAW. Fast forward 20 years and FL Studio is now a fully fledged DAW ready to take on any project you can throw at it.
FL Studio claims to be everything you need to compose, arrange, record, edit, mix and master in one complete package and is used by some of the worlds most creative artists. They list some big names in the EDM world as users such as Porter Robinson, Afrojack and Deadmau5.
With a few tiers available, there is something that works for every type of user and every budget from Fruity edition, a limited setup for basic loops and melodies, right up to their All Plugins Bundle, the complete version of FL Studio with everything thrown in. Users can also purchase the Producer tier which is every software feature available minus the extra plugin packs which can be purchased separately.
If you purchase a copy of FL Studio, you also get lifetime updates for free. That means you only pay for one licence for whatever level software you choose and every subsequent update comes free of charge. Pretty cool huh?
FL Studio is very powerful as an editing tool and has a large range of plugins, effects and virtual instruments at your disposal. The inbuilt mixer view is intuitive and fast to use and allows you to mix, master and make your loops and tracks ready to be released.
Sale
Audacity
Audacity is a piece of music making software that really divides opinion across the internet. It's free, and it's very limited to what it can do. Does that mean it's not worth considering? Let's look at what it can do.
It's a fantastic way to record simple audio demos. If you have a guitar and vocal part you want to throw down to keep a record, it's perfect. It has no option to use any VST Instruments so all your digital synths and drum machines are useless here, but it does support VST plugins so you can use your favourite plugins to manipulate the tracks you record. 
Audacity is easy to use and requires no knowledge of recording to get to grips with. It's simplicity is sometimes it's best feature because anyone can get started with recording regardless of how little they know on the topic. 
It's not designed for high quality mixing, or in depth editing but the interface does allow you to record tracks, chop them up a little, apply plugins to manipulate the sounds and export to a range of formats.
Audacity cannot accept incoming MIDI messages, but it can playback imported MIDI files as well as allow for simple MIDI editing. The MIDI engine is basic but it was not the intention of the developers to make it a MIDI focused setup. Audacity is developed by volunteers and is an open source piece of software which is funded by donations. If you want something barebones and simple to learn on, look no further.
Get Audacity here.
Summary
There are many more DAW's available beyond those listed here. Many offer trial versions which can serve as very useful insights into that software package for anyone who is new to producing music. I would suggest trying out as many as you can to find what suits you best before you make a financial commitment. Check out which DAW's suit which music styles and working methods the best and enjoy the process!
Remember when looking at DAW's that no one DAW does everything. Many top producers will work with multiple DAWs to remove limitations in their workflow and while this can sometimes be a burden, your goal of the perfect track waiting at the end will make that journey worthwhile.