Our selection of top 10 stage performance mics
We're listing the best budget and pro-choices mics for live vocals and instruments. 
Here we will discuss two mic categories:
Singing and backing vocal mics;
Electric guitar cabinet mic, bass guitar cabinet mic, drum kit mic, etc.
Albeit some mics are very versatile and multipurpose, we suggest always researching the best applications of each and testing it before putting it live.
So, today, we're looking for the best microphones for your live shows. And we're dividing our list into two sections: voice mics & instrument mics. I'm also labeling each item with a special title for you to know what it's best for.  
Additionally, I'm covering the basics of live sound mics on this article. I'm sharing a quick section on what to look for on-stage mics. I recommend you read it before going forward.  Afterward, I share with you the key aspects to consider on a microphone for vocalists, because I'm assuming this is what most people are looking for.
Before we get started with our list, I'm going to do a quick review of how a live sound system setup works. Feel free to skip it if you're just looking for the mics.
I already covered the best home studio microphones (for recording purposes). There's a section on that article regarding what to look for in mics. Go ahead and check it out if you want some additional information. I covered mic categories, pickup patterns, frequency range, and more.
Lastly, I'll share with you my selection of the 10 best mics for stage performances. I divided the list into two sections: mics for singers and mics for live sound setups. By live sound setup, I mean enhancing the sound of acoustic guitars, acoustic basses, acoustic pianos, electric guitar cabinets, electric bass cabinets, drum kits, and everything in between.
How budget are we talking about?
We're adding entry-level prices on our list which however belong to top-notch items. These are from Shure and other legendary brands. If your budget is tight or if you're looking to buy additional stuff for your live sound setup (or your life), I'm giving you the best options regarding value for money. 
Next, we're adding mid-price-points, mostly by brands like Neumann and Sennheiser. These are mics belong to high-end categories or, at least, you can understand it like that. Keep in mind pricier not always means better, however, bigger price tags can bring you mics with more specific features and characteristics. 
And, lastly, we're sharing a couple of pricey items selling for triple-zero ciphers. Even if you can't afford it, it's good for you to know the reference. Who knows? As your musician's career grows, so can your musical gear and your backstage.
Keep in mind some mics are better for electric guitar amps, others for drums, others for bass cabinets, others for singers, and so on. Be sure to read the item's description to know if your money is going exactly where you need it to go.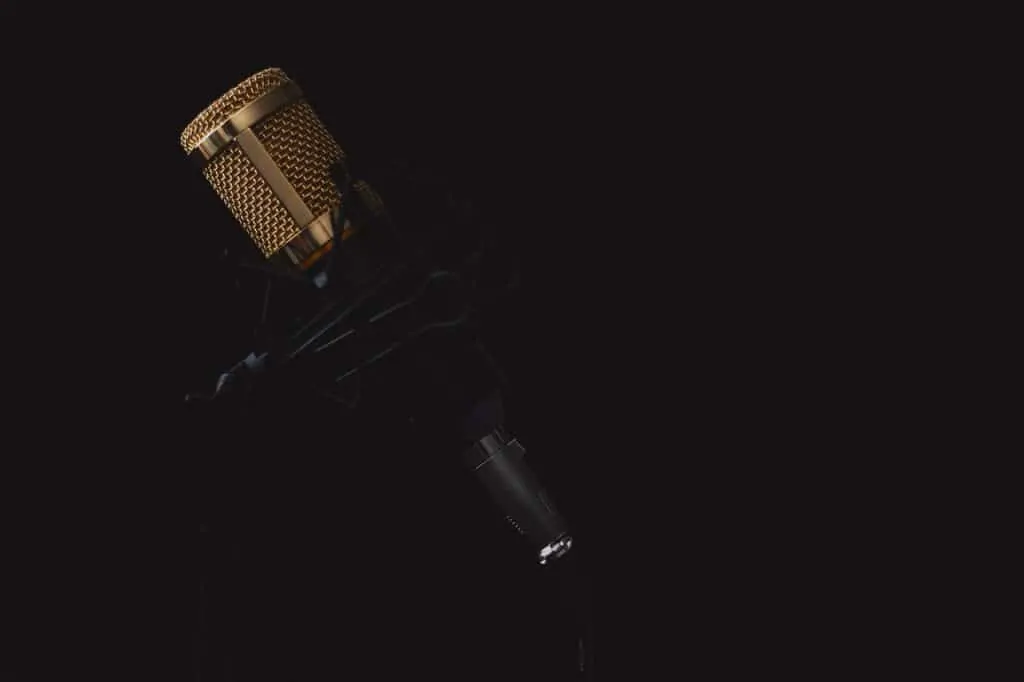 Some of the best stage mics are actually very affordable. 
Live sound quick review
Now, plugging your mics for a live presentation is not as easy as it sounds. If you're looking for more information as to how you can set up sound for a live venue, check my prior Best PA systems guide. 
Basically, a PA system is a live sound enclosure consisting of speakers, microphones, a mixer (audio controller), cables, and stands. 
Here's a summary on how it works:

PA System Chart
In essence, you would plug your instruments to the amplifiers as you always do. Then, a set of mics takes the amps' signal, as well as the singer and the drums, into a mixer. The mixer balances the signal and sends it to the speakers.
A PA system is usually a single enclosure (a bundle) shipping with a mixer, a speaker, and a mic. However, if you go ahead and pick each element by yourself (like for example the stage mics), you'll end up with a much better sound on your live performance. 
Sometimes, there's no audio controller, whereas the speakers carry onboard mixer features. It's a good choice for simpler, smaller venues.
So you see, the mics are in the middle of the enclosure. They work as the intermediary between the instruments and the speakers. 
It's a complex scenario not worth covering on this article, and it's always best leaving your PA to a sound professional. However, if you're interested, I can refer you to this guide by Sweetwater and this article by BHPhotovideo.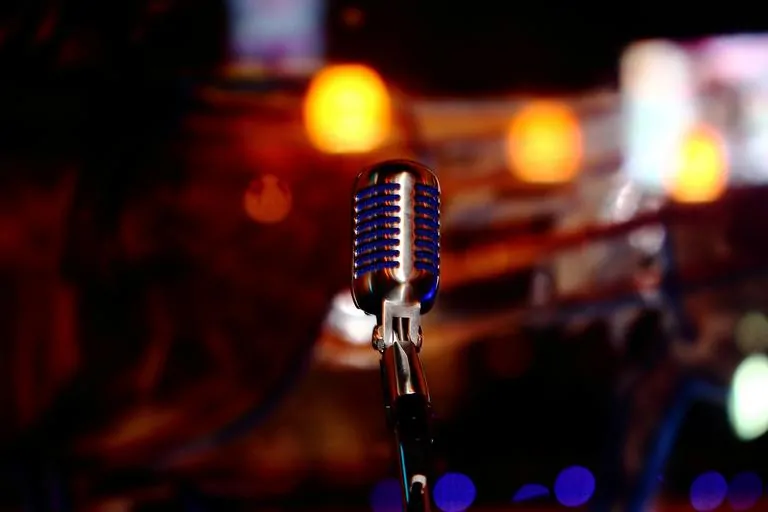 Mics serve to amplify the singer's voice, the drums, and the instrument's cabinets.
What to look for in stage mics
Most musical gear is built to recreate the best live experience possible. The mics must help an artist's music feel real and coherent, and that is no easy task. 
The mic is your best asset, as well as the weakest link in the PA system chain. Because the singer carries the flow and the personality of the song, people will look at the frontman's the most, and the singer has nothing else but the mic to tweak and amplify his voice. 
Here's what you need to know to pick the best mic for a vocalist, as well as for your band's instruments:

Microphone type
There are two kinds of mics, dynamic, and condenser. Each one affects your voice in different ways.
Dynamic mics usually produce stronger sound signals, and thus the sound is more robust whereas condenser mics offer a softer, more delicate sound. That's the reason why dynamics are preferred on stage. More so, they are usually more affordable. 
On the other hand, condenser mics have a faster response, higher detail and faster attacks. You can get that with high-end dynamics though.
Pickup pattern
The pickup or polar pattern is usually described in a graph. It tells you in which direction the mic absorbs the sound. 
Vocalists need to minimize sound absorbing from the rear and both sites. The pickup pattern should be at the front. Thus, you must go for unidirectional mics like cardioid, super-cardioid, or hyper-cardioid. 
As for mics amplifying cabinet,s they need to have some sound acceptance on the sides, so you can go for cardioid mics. 
On a side note, cardioid mics are not suited for the backing vocalists. As back vocalists stand close together, they would need super cardioid mics so their respective mics don't interfere with each other.
Application
Mics have different purposes. Their primary application might be for live singing, while others might serve best for electric guitar cabinets.
Good vocal mics, though, are very versatile. While they are good for singers, they are usually good for acoustic guitars and acoustic pianos. 
Drum snares and kicks; as well as bass guitar cabinets need particular mics to sound great. 
On the other hand, if you have a deep voice, you would need to look for mics that enhance sub-bass frequencies.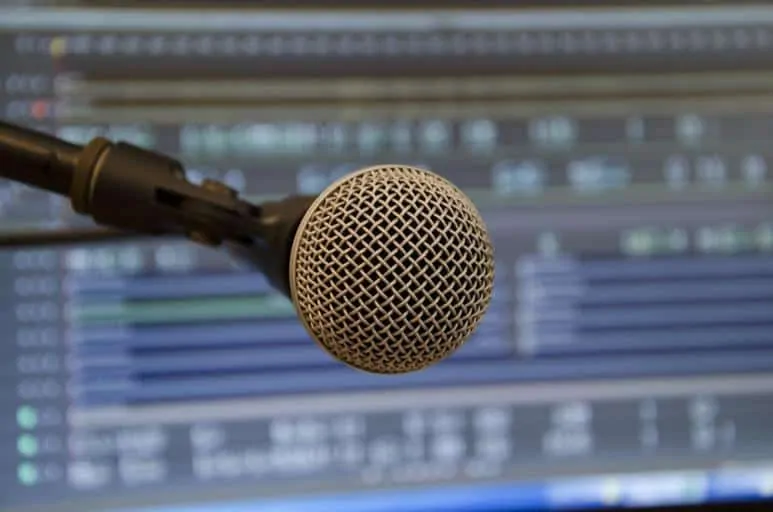 Different mic characteristics will give mics different applications. Use them wisely.
Sound signature
Mics have different frequency response characteristics, which means they might put emphasis on some frequencies rather than others.
A good mic ideally says it has a "flat audio response" which doesn't color your voice or your instruments. Instead, it tries to preserve the natural sound.
If you're a vocalist, you can look for a microphone with a sound signature that complements your voice, so you would need to try some of them out before buying. 
For example, if your voice is high-pitched, it's best not to use mics that favor high tones because you might sound sibilant or harsh.
On the other hand, if you have a deep voice, you would need to look for mics that enhance sub-bass frequencies.
SPL
SPL or maximum sound pressure level tells you how loud a mic can go before losing audio quality. As it goes beyond its SPL limit, you will start to hear distortion.
Basically, SPL is an indicator as to which instruments it can amplify according to how loud are these instruments. 
Dynamic mics rarely ship with SPL specifications, so it's more of a thing to consider in condenser mics.
Impedance
It's the resistance of the mic-to-current circuit. The general rule of thumb os choosing a mic with the same or lower impedance than the audio equipment you plug it to. 
Low-impedance mics have under 600 Ohms, ad their audio is generally better. High impedance mics are 10,000 Ohms and above. They are cheaper but the audio quality depreciates fast with as the signal travels the cable. 
Proximity effect
Directional mics (like cardioid mics) have a particular characteristic you should be on the lookout. As they get close to the source, they will make lower frequencies sound deeper. It gives voices a warm tone.
Male singers exploit this trait to make their voices stronger. On the other hand, you should look for the perfect spot for an instrument cabinet. 

A singer would want cardioid and super-cardioid pickup patterns.
Power button
Many dynamic mics have the power button onboard, which singers can accidentally press on-stage. It's best to avoid power buttons on live performances, although it's handy on karaoke nights and other kinds of light performances.
Power source
While condenser mics need and extra phantom power source (which should be present on your audio controller), dynamic mics are powered with their standard cable. You don't need anything else.
Key aspects on a singer's microphone
I considered the following factors to pick the 6 best live vocal microphones. 
Budget
As budget might be your first concern, we also considered budget as our top priority. We picked affordable to high-end prices. Our selection is based on value for money, and there's something for everyone and for every range. 
Durability
Mics wear off fast on live performances and especially on live vocals. They also wear off going from one gig to another. So the mics we picked are very sturdy according to user feedback and personal experiences. 
Response & sound signature
Response refers to how fast it transfers the singer's voice into the speakers, and it's closely related to the mic's sound signature. Some of our picks can give you a warm tone that's been favored for many vocalists over time. 
Bundles
The best vocal mics have extra accessories and features. For example, some of them sell with a pop filter, which is by itself a great addition. Others sell with carrying cases, mic mounts, cables, etc. Some mics are shipping with a complete bundle that adds a lot of value and gives you everything to plug the mic into a speaker or an audio controller and start singing. 
Every extra item shipping with the mic can improve the audio quality of the mic. 

Using a mic without on & off switch minimizes opportunities to make a mistake on-stage.
Top 6 microphones for vocalists
Here is my selection of the best 6 microphones for live vocals you can buy right now.
Best overall: Sennheiser e936 
The Sennheiser e935 is the best vocal mic for its price range. This model has been around for decades and refuses to go away.
It's a dynamic cardioid mic made for vocalists, as well as acoustic guitars, acoustic pianos, drums (except the kick), and electric guitars cabinets.
What I like about this option is how it complements all types of voices. More so, its versatility makes it a great addition for any stage.
Many people upgrade from the Shure SM58 to this option, which although is widely used, its features and quality are limited by its budget. The Sennheiser offers better detail while also eliminating all of the muddiness that may creep into the Shure's signal.
Sound and features
The 3936 model has a flat audio response so it keeps the natural sounds of what it picks up. 
Its frequency response goes is 40-18,000Hz. It gives your performances higher sensitivity and better accuracy. More so, it captures more details from the vocalists, which is a feature that sets this mic apart from others. 
Its construction is reinforced with metal and rugged, which makes it very durable. This mic can carry a beating and even a few drops.
It ships with a shock-resistance capsule that minimizes noise. Plus, the package includes a humbucking coil that reduces interference. 
It has a 350 Ohm impedance (low impedance), and it connects with an XLR3 connector to your audio controller or speaker. 
Overall, it offers a bright, clear sound that fits all voices and makes them stand above the rest of the band. Better yet, it never delivers a sibilant sound, not even on high-pitched female vocals. 
Lastly, this mic also has a feedback rejection technology, so fingers won't find annoying ambient sounds on their vocals.
Most versatile: Shure SM58-LC 
The Shure SM58 is dynamic vocal mic is a standard item on every stage and has been so for years. 
It's the most covered, popular, hyped, better valuated, and well-known live vocal mic in the world. 
At its price range, its probably the most versatile and friendly liv audio equipment. By itself, its a complete workhouse and deserves a place on every top mics list. 
Vocalists will find this is a mic designed for professional live singing, but also for sound reinforcement and studio recording.
However, its system is tailored for vocal response, so it has become a standard for singing and speech. 
Sound and features
It's a sturdy microphone with subtle curves that fail to reflect how much it can stand. Its capsule is protected by a steel mesh that survives drops and mishandles. You can replace the mesh if you damage it. More so, it has a built-in filter to minimize plosives and other hindrances.
Its onboard spherical filter minimizes wind and breath pop noise. Plus, the cardioid pickup pattern isolates the singer and minimizes background noise.
The SM58 offers a frequency range from 50 to 15,000Hz. Additionally, it has a tailored frequency rise at around 4,000Hz for smooth vocals. It features a clean, natural sound with rich mid and high frequencies. More so, it responds very well to equalization.
However, it does have some noticeable peak in high frequencies, and it doesn't flatten deep-low voices as its lower-end definition is not the best.  These are the drawbacks coming with its entry-level price. That being said, the Shure SM58 is the top budget choice and represents are very versatile and powerful mic, almost a necessity for every stage performer. 
Best for female singers: Neumann KMS 105 MT
The KMS 105 MT is a condenser super-cardioid mic that has been around more than a decade. It helps singers sound better thanks to its great acoustics and vocal resolutions. 
It also supports even the loudest singers, so it's suitable for rock bands. Its transparent audio feature also does justice to jazz, blues, indie rock, rock & roll, and similar genres like no dynamic mic can.
The KMS series mixes condenser sound with sturdy bodies suitable for the stage. Whereas most live mics are dynamic, the KMS series is designed as "studio sound for the stage."
Neumann is known as the worldwide mic-manufacturer leader, both for the stage and the studio. Their mics are loved for artists, producers, and engineers because of their unique sonic character and particular technological features.
Sound and features
As its a condenser mic, it enjoys greater detail and wider frequency response. It gives the mic a high definition sound for both live and studio vocals.
Equally, it serves brass instruments, which include acoustic guitars, acoustic pianos, piano cabinets, electric guitar cabinets, and bass guitar cabinets. In fact, the mic's SPL can handle up to 150dB, which is enough even for snare drums.
Its frequency range is 20Hz-20kHz, while its impedance is 50 ohms. It delivers a smooth, natural sound with a lot of precision and vocal intelligibility. 
Furthermore, it has high degrees of isolation from ambient noise, as it rejects noise from 180 degrees at the back of the mic. 
It also has vocal filters that ensure high levels of feedback protection while preventing the microphone from being overloaded when you plug it into a sound system. 
Overall, the KMS 104 condenser super-cardioid mic is specially designed for female rock and pop singers. Its audio is clean, natural and has no coloration. Plus, it has a high gain without any feedback.
This mic can ship with a stand mount and a nylon travel back.
Best-looking: Shure Super Deluxe 55
I made a special selection based on the looks as, for many bands, their instruments are part of their appeal and their message. 
The Shure Super Deluxe 55 is a vocal microphone featuring a retro-inspired signature chrome-plated die-cast casing. 
It's a super-cardioid dynamic mic tailored to give natural sounds for singing and speech. More so, its Elvis-Presley design and features makes it a great choice for rock genres.
Sound signature
It has a very consistent sound signature and keeps the natural voice of instruments and singers. Plus, it has a smooth 6-7 kHz boost for vocal presence, so it can give rock singers a much melodious tone plus some extra clarity.
It also offers high-gains before feedback, so it can easily handle rock and metal singers.
It also gives a lot of clarity and airiness to the voices, so it's a definite improvement over the SM58-LC. 
It needs a pop filter, though, as this mic puts a lot of emphasis on the P's (plosives).  
On the upside, this mic ships with a swivel mount which allows you to move it 80 degrees backward and 40 degrees backward.
Overall, the Super Deluxe 55 is a dramatic and affordable over the entry-level Shure mics for singers. It gives plenty of audio quality with an undistinguishable vintage design.
Best entry-level: Samson R21 
This is your to-go option if you're a beginner, if you're just starting, or if you're on a tight budget. The Samson R21 is an Amazon's Choice and it's the best live-singing mic for under $$$. 
The R21 is a cardioid dynamic mic with several features that enhance vocal applications. This is a handheld excelling in performance vs. value. 
Samson Technologies was founded in 1980. They began making wireless mics and has become an industry leader in audio, bass amplification, and wireless microphones. They aim for the consumer market.
Sound and features
It's a sensitive mic that can withstand high sound pressure levels while still minimizing noise. 
Furthermore, it has high levels of accuracy and gain before feedback. It features a heavy gauge mesh plus an anti-dent ring for improved protection. More so, it has gold-plated XLR pins to assure the connection.
This mic is both lightweight and compact, so its made for the road. You can mount the R21 on any mic stand, or you can hold it with your hands as you sing.
The audio quality is clear and very good for its price. Plus, even though it's a cheap microphone, the construction quality is very sturdy and can resist the test of time, use, and live performances.
Even better, the bundle includes 3 R21 mics, 3 mic clips, and a foam-lined carrying case. You can't go any better for its price, so this is definitely the best budget stage mic in the market right now.
Best high-end: Earthworks SR40V
Professional songwriter and singer James Taylor, 5-time Grammy winner, uses Earthworks SR40V mics in his concerts since 2011, when the company introduced the mic into the market. Many other bands and musicians prefer this mic over others.
And there's something else no say about it: it ships with a 15-year warranty. 
Sound and features
It's a condenser hyper-cardioid mic with a 30hz to 40kHz frequency response. 
One of the reasons it's so loved by talented singers and audio engineers is its flat frequency, which preserves the natural voice across the complete vocal range. It means you wouldn't need any EQ to get the desired effect.
Its impedance is 65 Ohms and a maximum SPL of 139 dB, which also makes it a very good choice for drums, guitars, and pianos.
However, its main application is live and recorded vocals. It's a mic that produces studio-quality sound on-stage. Furthermore, it has great feedback rejection and handles background noise very well. 
This might be the best vocal mic you will ever use. If you're a talented singer looking for high-quality sound and PA systems, this is your top choice. 
Top 4 microphones for PA systems
Here is my selection of the best 4 microphones for live sound setups. It means you can use these mics to enhance the sound of drum kits, instrument cabinets, or acoustic instruments. Most of these mics are pretty versatile.
Best for acoustic instruments: Shure SM81-LC
This is a cardioid condenser mic designed for enhancing instruments: it means it will both excel at recording instruments or at the stage. It has the quality of top-tier Shue mics, and it's one of the best mics you can find in the market right now.
The SM81 has been around for decades. While Shure keeps launching it again every couple of years at the same price range, they keep making it better and better.
Sound and features
Its design and frequency response, plus its polar pattern, can give you great quality in the studio and on the stage. Overall, it offers you more control, quality, and depths on your sound, although it needs some EQ to deliver the best sound.
The frequency response is from 0 HZ to 20 kHz. What's great about this Shure mic is how you can select the low-frequency response and switch between 3 options: flat, 6, or 8dB.
Overall, it offers a clean, neutral, distortion-free sound that suits acoustic instruments, which include guitars, basses, pianos, and acoustic percussions. 
Best mic for drums: Audix D6 Dynamic
Drum mics are made to record the loud, fast and overwhelming frequencies of a drum kit. On the stage, they take the most hits and the most noise. More so, choosing the wrong set of mics can quickly ruin the drum's sand thus ruin the show completely. 
Our choice is the Audix D6 dynamic mic, which ships in a stylish black design helping look more professional.
Audix ensures the quality of all of their products as they test everything beforehand. The D6 is no exception. Furthermore, we're talking about a high-quality mic with a budget price tag. 
Sound and features
This mic can handle the high sound pressure levels of a drum kit without distorting the sound. Such a feature is not very common on budget drum mics.
Its diaphragm has a fast response that ensures high-quality sound. Furthermore, you can place this mic almost everywhere near the drum kit's pieces and it will deliver the same sound quality. In particular, it significantly improves the drum's kick.
Because of its features and characteristics, this mic is also great from bass cabinets. More so, it can be used for kick drum, floor toms, large toms, snares, hi-hats, riders, and acoustic percussion.
Its main characteristic, which sets it apart as a drum and bass mic, is how it handles extremely high SPL levels without any distortion. More so, it has superb clarity on low-end frequencies with plenty of attack and clarity. Its frequency response if 30 Hz -15 kHz, while the SPLs can exceed 144 dB. 
Lastly, it features a low impedance plus a balanced output, which means the sound quality will remain at its 100 percent even with long cable runs.
You can use the D6 on the stage, on the studio, or on broadcast applications. 
Best mic for bass guitar cabinet: Shure BETA 52A
Another one by Shure and this one made the list for a good reason: it's the definite bass and drum kick mic from one of the leaders of the industry.
This is a super-cardioid dynamic mic shipping with a mounting base, a stand adapter, an XLR cable, and a carrying case. 
Sound and features
This particular mic is designed for kick drum usage and bass guitar cabinets. It gives you the deep bass undertones you're looking for, either on the stage or the studio. 
It has a frequency response designed for bass instruments. Shure made it so it provides superb attack, fast response, and "punch." More so, it's able to deliver studio-quality sound on your venues, even at extremely high sound pressure levels.
There's something special on this mic: it features a modified super-cardioid pickup pattern. This feature captures high gain before feedback and enjoys an excellent rejection of unwanted background sound. 
Lastly, it's a durable mic: it has a hardened steel mesh grille protecting the Beta 52A from the wear derived from touring and playing live.
Best mic for guitar amp: AKG Pro Audio C414 XLS
Getting your mic for a guitar amp is an exciting but difficult journey. It doesn't matter if you're a beginner or an advanced player: there's a large pool of options, most of which will not do you any favors.
The thing is companies don't exactly make mics for guitar amps. Luckily, I have a top pick for you, plus a couple of extra recommendations, so you don't go to all that trouble.
Our choice is the AKG Pro Audio C414 multipattern condenser mic. AKG is a well-known brand in the industry, and they have plenty of experience with mics and headphones, so they know how to provide the best audio experiences in all of their products.
Beware though, this is an expensive mic, so, if you're looking for something more affordable, take a look at the options below.
Sound and features
What I love about the C414 XLS is that it works like a white canvas. It doesn't change the sound of your guitar, it doesn't alter your tracks, and it doesn't deliver any distortion. Furthermore, it doesn't need EQ to faithfully deliver the real sound of things.
It also offers 9 different pickup patterns you can switch from. It gives you the ability to select the ideal pattern for each scenario. It's a feature that makes the mic stand out and turns it into a versatile microphone. Furthermore, it has three different bass-cut filters you can select to eliminate noises and proximity effects.
It also has three noise attenuation levels: -6 /-12/-18dB. It gives you some freedom when recording the guitar. More so, it's able to handle high-output sources as it's SPL goes up to 158dB.  I must also add its frequency range is 20 to 2,000 Hz.
Lastly, it offers a unique sound signature which enables solo instruments and lead vocalist to stand from the rest of the band on the mix.
Other alternatives for your guitar cabinet include:
Final considerations
Thank you for reading this guide. I hope I helped you make an informed desition. As I always say, it's best to try out the musical gear before you buy it. However, as it may be harder to try out mics, maybe you can check the ones you like on YouTube or read through the Amazon comments and other forums.
Either way, you can trust me: I picked the absolute best choices.