Guitar practice sessions might not be as simple as you might think.
The thing is, you have to consider the noise allowance of people around you among other things. Of course, you need a guitar amp to practice, but choosing the best guitar amp that affords you the use of your headphones is critical. This will ensure that you practice in peace while respecting the peace of others around you.
On the other hand, if you are a touring guitarist and want that luxury of traveling light and still be able to practice on the move, then considering one of the best guitar headphone Amps around should be the thing for you.
These amps are small in size, and very portable. Even if you're backstage before your scheduled performance, or with your studio headphones trying to get inspiration for recording a solo, a guitar headphone Amp will help you accomplish a lot with your practice times.
In this piece, I have chosen the best guitar headphone amps that are available in the market based on their ease of use among other criteria for your peculiar practice situations.
So, if you're ready, let's dive in!
What are Guitar Headphone Amps? 
Guitar headphone amps are small amplifiers with a feature for using headphones to listen to yourself. This makes it very comfortable to play without disturbing either your roommates, family members, or even your landlady.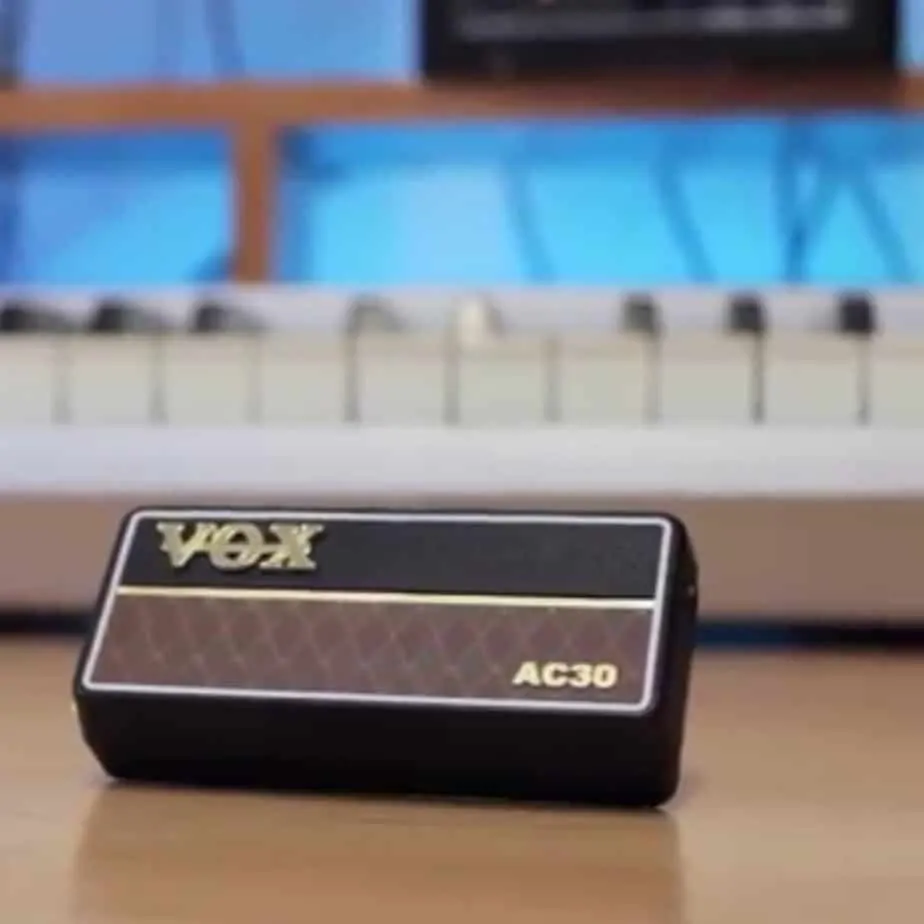 The VOX AC 30 is one of the most sought after guitar headphone amp due to its ability to reproduce the sound of the bigger guitar amps through the headphone 
Guitar headphone amps usually come as bug types or compact box types. They are mostly battery-powered (AAA batteries), and most have auxiliary inlet where you can plug in your music device to play your backing track while you rehearse.
There are also amplifier emulation units which can serve the same purposes as a guitar headphone amp – and we have one in this article. However, they are more suited for sound tweaking and recording rather than to develop a guitar practice routine, and most are not as portable or nearly as affordable.
Bug Type Amps 
Bug guitar headphone amps typically are the size of a matchbox that can be wrapped in the palms of your hand. They also do not need external cables when connecting to the guitar as they come with a male jack head inbuilt.
You just plug it in and play!
Most bug type guitar headphone amps also use AAA batteries as power source rather than external adapters. These increases their portability and ease of use as there are less parts to carry about.
Compact Box Type Amps 
These are performance amplifier look-alikes with a miniature body. Unlike the bug types, these usually need external jack guitar cables for connecting to the guitar.
Some can also use external adapters while others are battery-powered.
Although compact box amps have headphone inlets, they differ from the bug types in that they have external speakers that can project your guitar sounds to a small audience. This makes them a bit versatile as they often can be used for small performance or studio recordings by placing recording microphones to their speakers.
Bug types can as well be converted to a mini box amp via a cabinet connection
Choosing Guitar Headphone Amps
Choosing the best guitar headphone amp requires a careful consideration of vital criteria that ensures you get the most out of the amp.
The most important criteria are spotlighted below
Dimension and Portability  
The dimension and size of the guitar headphone amplifier defines how portable it is. Though most headphone amps are easily transported between locations, some are more portable than others.
Guitar headphone amps with bug forms are easily carried around than their compact box counterparts. Where you can easily pocket the bug type amps, the compact box cannot be pocketed and will need to be grabbed with both hands sometimes to carry them around.
Input Power Source  
The source of power used for guitar headphone amps is another point to note when making your choice. If you're looking for increased portability with less baggage attached, then a battery-powered one should be sourced.
If you're not so concerned about portability but prefer a longer-lasting power source, then you may decide to go for one with an external AC adapter. This will allow you to connect to an AC power source without the hassle of changing batteries when they are out of juice.
An in-between option will be a rechargeable battery that uses AC power to charge the batteries. This affords you the freedom to play without being tied to external power adapters, and charge the batteries when not playing.
Output Power  
The power output rating of your amplifier is a factor that defines the quality of output sound. A 3Watt amp and a 15Watt amp will have different sound output with the 15Watt producing more sound power. So if you require more sound power then you should go for a higher wattage guitar headphone amplifier.
With this said, the quality of your speakers, which is your headphone, in this case, is also an important factor. A low-quality headphone will not allow you to get the full extent of sound quality even if the guitar amp is great.
The quality of your headphone is directly proportional to the quality of sound that you get from your guitar headphone amplifier 
Versatility 
Maybe you just finally got those major chord inversions down for your songs, and want to immediately play it for your roommate, or your producer, guitar headphone amplifier with external speakers will do you a lot of good.
That's one advantage the compact box headphone amps have over the bug types.
Inbuilt Features and Effects  
The number of options available to you in terms of inbuilt features and effects will vary from one headphone amp to another.
Some will have more features to control the sound than others. Controls can include tone, gain, volume, as well as effects like reverb, chorus, distortion, and delay.
Finding the best guitar headphone amp will hence, depend on the features or effects that you consider essential to you.
External Connectivity and Features   
Most guitar headphone amps are primarily designed for personal playing as that is what a lot of guitarists seek when buying headphone amps.
However, your preference will also depend on if you prefer guitar headphone amps that give you multiple connection options to other devices like your Computer or even an effect pedal.
Ease of Use  
This is probably the first thing to consider when shopping for a guitar headphone amplifier.
Having an awesome user experience with guitar headphone amps starts with how easy it is to use them. If it has a lot of functions and settings requiring you to consult a user manual almost every time, then it may not be worth it.
Most guitar headphone amps with fewer functions and settings help you quickly get down to the real thing – which is playing your guitar, rather than fussing over buttons and user manuals.
VOX AMPLUG 2 
The VOX brand is a household name when it comes to amps and guitar headphone amps, seeing that they've amassed over 6 decades of experience in the trade.
Their range of guitar headphone amps is among the most sought after, since they target specific needs with each piece. This is so that you don't waste time with unnecessary functions.
You simply plug-in and play your heart out.
VOX have 7 models of guitar headphone amps tailored to suit specific types of amp tone settings and styles, and having more than one of these as spare guitar parts  wouldn't be a bad idea. However, all their guitar headphone amps have common features which are standard.
These features include a power button with auto-off ability for saving your batteries, dials for volume, tone, and gain controls, as well as FX buttons for changing between 3 effects (chorus, delay, and reverb).
But that's not all!
Except for the AC 30, these guitar headphone amps have three channels (indicated by green, amber, and red lights) for varying effects intensities. You can access these channels by repeatedly pressing the ON button to toggle between the options.
There is an outlet for headphones as well as an auxiliary inlet which lets you connect a phone, tab, iPod, or other music devices and play along a backing track. The power comes from 2 pieces of AAA batteries which can last between 11 and 17 hours depending on if you play with FX on or off.
This is a lot of offering considering that it weighs just 1.41 ounces or 40 grams (without batteries), and may be considered money well spent.
Let's now consider the individual models with their specific amp presets and designs.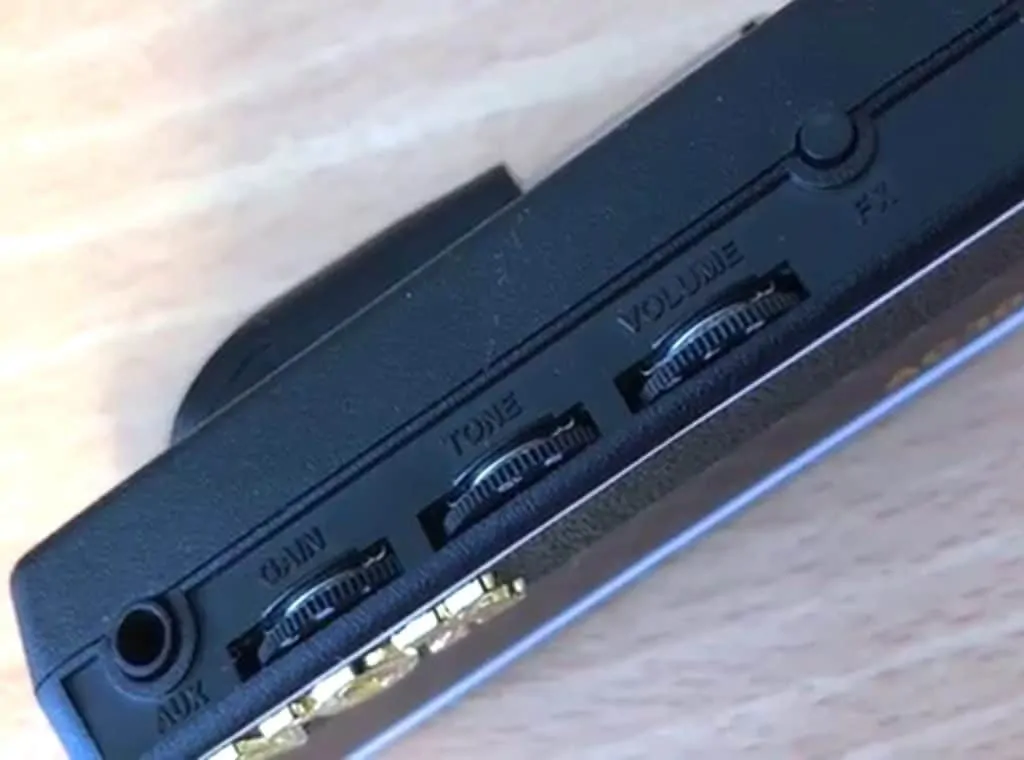 With standard dial controls for Gain, Tone, and Volume as well as an FX button for the effects, and an Auxiliary port for connecting your favorite mp3 player. The VOX AMPLUG 2 seem set for you
VOX AMPLUG 2 AC 30   
The VOX AC 30 guitar headphone amp is designed to reproduce the sharp-cutting and distinct sound of its iconic 30 Watts PA system for guitars – the VOX AC30.
The AC30 guitar headphone amp delivers powerful guitar sounds to your headphones while offering you 3 effects of delay, chorus, and reverb.
Unlike other VOX AMPLUG 2 models, the AC30 gives two levels of tremolo effect rather than varying intensities of the other 3 effects.
This tremolo effect is another reason the AC30 guitar headphone amp is considered unique among other VOX's guitar headphone amps.
VOX AMPLUG 2 Clean   
Sale
This is for the guitarist whose style of music requires a clean guitar tone.
However clean you want your guitar to sound, this guitar headphone amp has three varying degrees of cleanness for you to choose from. With amp preset tones that include Pure Clean, Twin Clean, as well as Boutique OD. These are in addition to the reverb, chorus, and delay effects at 3 different intensities each.
This small-sized guitar headphone amp is packed with loads of promises for your playing pleasure.
VOX AMPLUG 2 Classic Rock   
You also have the option for a Classic Rock guitar amp setting.
Along with the standard features and effect functionalities, the Classic Rock model also has a mid-range boost while filling your headphones with a replica of the UK-made 100W amp classic crunchy tones.
VOX AMPLUG 2 Metal
This Metal model will give you an amp preset that enhances the metallic tone of your guitar.
With a mid-cut mode available for this model only, the headphone amp is designed to deliver extreme high-gain Metal tones which typifies a US-made amplifier.
This combination of Metal genre-specific settings, coupled with the standard features of all VOX's guitar headphone amps, allows you to play metal riffs on guitar with a punchy effect.
The cutting levels of gain enriches the guitar tone for the metallic sound we love so much 
VOX AMPLUG 2 Blues   
For that amp preset that brings out the best of your blues scale tones and feel, thiss has been specifically designed for the Blues guitarist in mind.
It comes with an original, crunchy blues guitar sound found on a crank-toned amp, accompanied by other standard features and effects (chorus, delay, and reverb) which gives it its unique voice.
VOX AMPLUG 2 Lead
If you practice a lot of solos and improvisations, while playing single notes more than harmonies, then this may serve you well.
It comes with preset amp tones that give you a blazing, high gain lead sound which enhances your solos. The uniqueness of its tone with the added permutations of effects adds a ring to every note played.
VOX AMPLUG 2 Bass   
VOX also has a headphone amp with preset tones for the lower sounding notes of the bass guitar.
This brings low frequencies to life, along with some unique features specific to this headphone amp including 3 modes of high, mid, and low gain input.
It also has 9 rhythm patterns for different styles like Shuffle, Rock, Jazz, Skip, Funk, Samba, Pop, Special, as well as click sound to give you a fun-filled rehearsal.
Having 6 headphone amps compared side by side gives one a taste of the individuality and uniqueness of each amp offerings  
Pros and Cons  
Here are things that make this tick, as well as others that can be improved that you need to consider when purchasing any of the models.
Pros
Very portable
Nice sounds and effects combination
Power output is good for its size
Very easy to plug in and use
Auto power off ensures longer-lasting batteries
Rotatable (180 degrees) inbuilt jack
Relatively affordable
Cons
Has few functions
Cheap body material that can easily break if mishandled
Inbuilt rotatable jack is irreparable once broken
Danelectro HoneyTone N-10 
This box type headphone amp, is a replica of a vintage performance amp. It ranks very high on the ease of use and portability scale.
With its 1 wattage power output, the Danelectro HoneyTone N-10 packs decent functionalities coupled with its versatility on both practice and performance basis, for something that is the size of a chocolate box.
With just three knobs to play with, there is really no learning curve to using this headphone amp. A knob controls the power on and off as well as the volume while another controls the gain. The third knob is for the tone control which can be worked alongside the other knobs to give up to 16 different tone settings.
With a dual power source in a 9v battery and an option to connect to AC power source using the adapter, you really are getting the best of both worlds.
There is a headphone port as well as a port for inserting guitar cables for connection, with a belt-clip to hold it as you practice your favorite tunes.
The fact is, you can mic this mini amp and still get a respectable sound while you perform for a small audience. This is perhaps the best offering from the Danelectro HoneyTone N-10 guitar headphone amp.
Pros and Cons  
The good things and the not so fun features of the Danelectro HoneyTone N-10 headphone amps are highlighted below
Pros
Affordable
Versatile – both for headphone and external sounds
Easy to use with just 3 knob controls
Portable with a belt clip
Dual power sources
Cons
Limited effects and sound combinations
Many external cables and connection
Slightly bigger than bug type headphone amps
The Danelectro HoneyTone N-10 hits guitar sound peaks that is unexpected for a small 2 inch speaker guitar headphone amp
Line 6 Pocket POD 
For the guitarist who is keen on practicing with a variety of tone presets for sound tweaking as well as recording, the Line 6 Pocket POD may come in handy for you.
This made the list of best guitar headphone amp based on its portability as well as its effective use of headphones for playing electric guitar.
This amp emulation unit has more than 30 amp emulations, 16 cab emulations and 16 effect modules, as well as over 300 amp tone presets. Don't be deceived by the small size, or its game console shape, this will give you more tone options than a regular guitar headphone amp.
It doesn't just allow you to connect your guitar and headphones and then start playing with your favorite tone setting – even though you can do just that. It has an option for connecting to a PC, downloading a proprietary Vyzex software, and allows you to bypass the hassle of the settings on the LCD screen as well as download your favorite custom tones.
There are four knobs to control the volume of effects, channels, delay, and drive, as well as two other buttons to save your presets and sync effects, and for tuner mode. All these tone manipulations are seen real-time on the LCD screen.
There is also the option to plug in your mp3 player to jam along with your backing tracks, as well as connecting it to a performance amp as an audio interface of some sort, or a recording system. Care must be taken to switch off the cab emulator if you wish to connect to a performance amp for a better, cleaner sound production.
The line 6 POD can be powered by both batteries (4 AAAs) as well as with AC power sources using adapter.
Pros and Cons    
Pros
Portable
Plenty of connection options
Dual power source options
Plenty of tone options
Ability to connect to PC
Recording options
Cons
Not so easy to use with many settings to understand
External chords can limit guitar playing freedom
Not so durable and can easily be broken
This shows all the abilities and powers embedded in this amp emulator and some demonstrations of its effects. 
Final Take 
In all, we've been able to go through the best guitar headphone amps together and to peruse the functions for the suitable one for you. Even if you move around with your travel guitar, or you're a sit-at-home guitarist, these guitar headphone amps are essential to have.
One thing that cannot be repeated enough is the quality of headphones used with these guitar headphone amps as this will greatly affect the overall quality of the sound.
Another equally important thing to note is the gain controls which needs to be monitored closely as too much gain can distort your guitar sound more than you anticipate for some brands.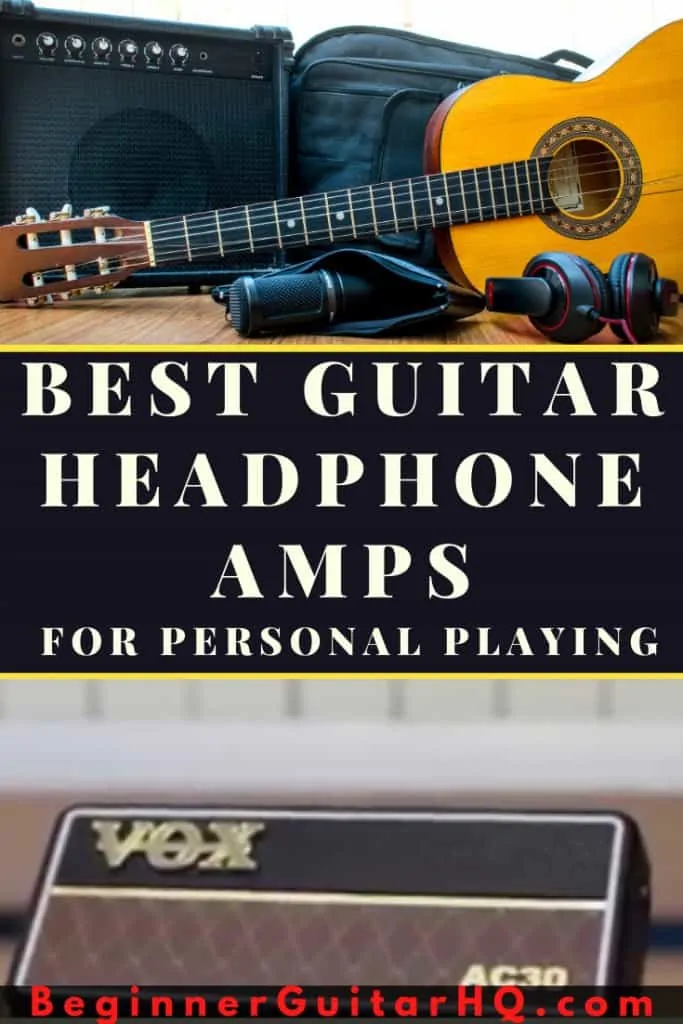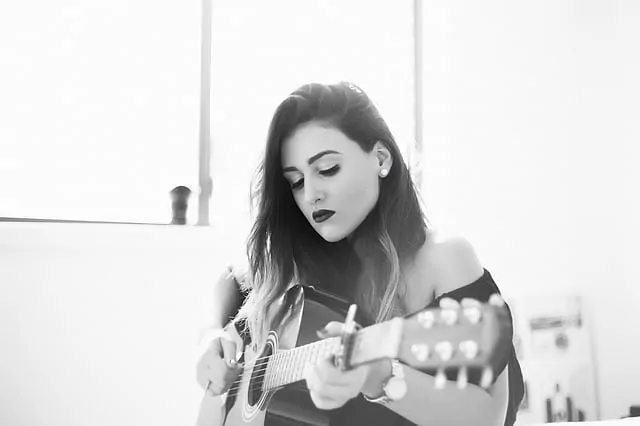 Jen is a guitarist and singer-songwriter who spends much of her time on the road and has lived in 13 cities across 4 continents. She picked up her first guitar at the age of 6 and learned to play by ear shortly after. She received her formal music education at the Berklee College of Music, and currently plays for a few bands in her free time. She has an uncanny ability to improvise creative melodies and harmonies. Her early influences include blues, jazz and rock.