Vox, the reputed British amplifier company, has more to offer aside from expensive tubular solutions. In this particular bracket, we found the Vox Pathfinder 10, a solid-state guitar amplifier.
Right out of the bat, we find it packs a lot of bang for the buck. Coming from one of the top amplifier manufacturers, this is something you should expect.
However, the Vox Pathfinder 10 is nothing more than a practice/home guitar amplifier. Naturally, it's a 10-watt amplifier with a simple layout, so needless to say, we're keeping the review short and right to the point.

Vox amplifiers cater to professional players mostly. Their affordable options are commonly small amplifiers not suitable outside of home use.
Recently, we reviewed the Vox AC4, a small 4-watt tubular amplifier that might be the best-sounding practice amplifier you can buy.
Vox Pathfinder 10 V9106 Guitar Amplifier Overview
The Pathfinder 10 combo guitar amp boasts a British rock tone with its custom 6.5' speaker. It has two channels, Clean and Overdrive, plus a switch to quickly go from clean tones to chimney sounds.
With Vox's signature distortion, you get the creamy, distinctive Vox warm sound. You can also travel from crunchy blues tones to high-gain outputs.
Overall, it's a super affordable guitar amplifier that offers a distinctive Vox look and sound. And because it's a solid-state amplifier, it doesn't need any maintenance.
It's also fairly easy to use, which is also a great reason to consider the Pathfinder 10 as a go-to guitar amplifier for beginners and people on a budget.
Build Quality
The classic look of the Vox Pathfinder 10 includes the basket-weave grille, the leather material in front of the speaker, and the colored diamond grille cloth. Also, it has the brand's chicken head knobs.
There're other small details, like white and gold bindings on the side that captures the legendary Vox looks.
It has the size and the weight of a launch box because it's a small practice amp. That means you could carry it around from one place to another without too much hassle.
Overall, the amplifier looks just like a Vox amp should look, only a bit smaller. There's nothing that jumps out as "cheap," even though the amp has plenty of PBS materials (cheap plastic).
A guitar amplifier this small and light can sit at the top of your desk easily. That's an important factor.
I/O section
There's not much going on in the input/output section. Here we find a simple offering with an XLR input for your guitar, plus a headphone out / line out for silent practice.
Notably, though, the output jack provides a filtered signal that cancels the noise and emulates the amplifier's speaker on your headphone.
You can also use the output as a direct recording option. That means you can plug an XLR-to-XLR cable into your audio interface or console and record with your computer.
Sound Quality
Even if the looks suggest a quality sound, the resulting tone might not be to your liking. At a sub-$100 price and 10-watts of solid-state power, there's not much to hope…
You would be wrong to think that, though. While most small digital amps sound boxy and tiny, the Pathfinder 10 sounds quite nice, gritty, and rocker. Its 6.5'' custom speaker drives enough power to go from fair clarity to British distortion, and it handles the power without introducing unwanted noises.
Better yet, the Pathfinder 10 is capable of managing your effect pedals easily. You can plug distortion, overdrive, fuzz, delay, chorus, reverb, or anything you want, and it will use those effects with consistency, clarity, and plenty of personalities.
Channels and layout
The Vox Pathfinder 10 comes with two channels, Clean and Drive, which you can swap with a button.
Then, the layout is fairly simple. It has a Gain knob, a Volume Knob, and a 2-band EQ (Trebble and Bass). There's nothing else to it.
Naturally, the clean channel is what you would use to drive your distortion pedals. Otherwise, you can rely on the amplifier's distortion to use your modulation effects.
That said, you can play with a pristine clean tone, or you can end up with a supersaturated sound by simply dialing up the gain knob on the clean channel. Playing on clean with a full gain sounds like the drive channel with a slight gain.
Such is the concept of the amp, and the ease-of-use it presents becomes pretty attractive for beginners and musicians on a budget.
Lastly, the Bass and Treble knobs are flexible and effective. They can cut down a bright guitar, tame a low-end instrument, and dial anything in between.
The demo below showcases a musician playing the Vox Pathfinder through a PA system. With the right condenser mic, it can handle its own. I would say is enough for light gigging and garage rehearsals.
However, the quality of the drive channel is not as good as the clean. Whereas the clean sounds like quality, the drive can get mushy and muddy a bit too fast.
Downsides & alternatives
The Pathfinder 10 is a straightforward option. It offers the best price possible for the price point while skipping key features other practice amps deliver.
Other practice amplifiers are feature-rich, but also a bit pricier. In all honesty, you can't find anything better at this price point. But, if you want options like a direct USB recording output, let's climb the price ladder a bit.
First, you could check the Yamaha THR5-10, a 5-watt modeling amplifier. This super small model includes five classic amp voices driven by Yamaha's proprietary VCM technology. More importantly, it includes a direct USB recording option, presets, the ability to edit and save presets, and a true hi-fi stereo.
A similar alternative is the Fender Mustang, with a price right in-between the Yamaha and the Vox models. It's a wooden combo amplifier with 25 watts of power, a custom 8'' Fender speaker, onboard presets stereo headphones out, and a USB direct output.
It lacks the same sound quality, though, as the Mustang line of amplifiers tends to sound overly artificial.
Lastly, you can check the Fender Frontman 10G, which is the cheapest branded guitar amplifier you could get. There's nothing much to say about it except for it is cheap, it sounds okay, it will last a while:
In Summary
The Vox Pathfinder 10 is clearly an impressive amplifier. The price alone is hard to believe, even more coming from such a huge brand.
A quick test of the amp tells you it's not a toy. It might be carriable, small, light, but it's definitely not cheap sounding. It sounds very good, with flexibility that goes from squeaky cleans to medium output British -gritty- distortions.
The downsides are clear, though: the projection is short, the features are limited, and the lack of a direct USB recording option, like other practice amplifiers out there.
The lack of an output to plug an extra speaker is also apparent, although such a feature is a huge ask for practice amplifiers.
Final Say
Under the $100 category, the Vox Pathfinder 10 is the best guitar amplifier you can find. It punches well above its price tag in terms of sound and looks.
So, if you like the sound of chimney British amplifiers, this is the amplifier for you…if you're also looking for a desktop/desk/bedroom amplifier.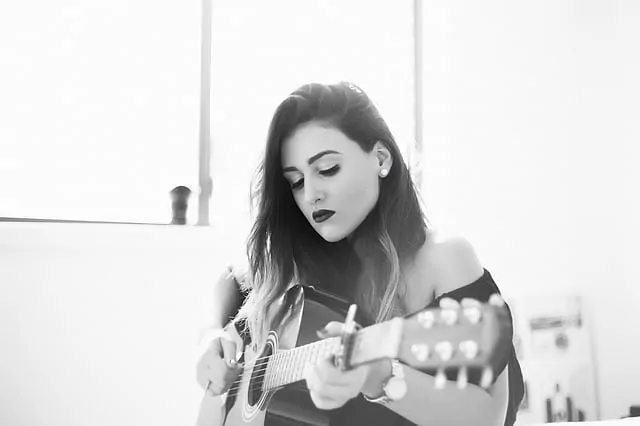 Jen is a guitarist and singer-songwriter who spends much of her time on the road and has lived in 13 cities across 4 continents. She picked up her first guitar at the age of 6 and learned to play by ear shortly after. She received her formal music education at the Berklee College of Music, and currently plays for a few bands in her free time. She has an uncanny ability to improvise creative melodies and harmonies. Her early influences include blues, jazz and rock.