Digital technologies have allowed some major improvements regarding what solid-state guitar amplifiers can provide. The old adage saying "tube amps are always better" might no longer be true.
More so, tube amps are commonly twice or 3 times the cost of a solid-state amp, so you wouldn't find a true budget alternative on this particular bracket. And if you're looking for the versatility of sound, a tubular box is not the best choice, it's the worst.
So, whereas tubular amps are the professional choice and sell for professional budgets, digital technologies allow for cheaper designs suited for beginner, amateur, and enthusiast musicians.
Fender has integrated solid-state technologies across its entire product line. One of their most popular solid-state amps is the compact Mustang I V.2, which is a top choice on the practice amp market.
Let's give some spotlight to this friendly amp and see if this could be good for you…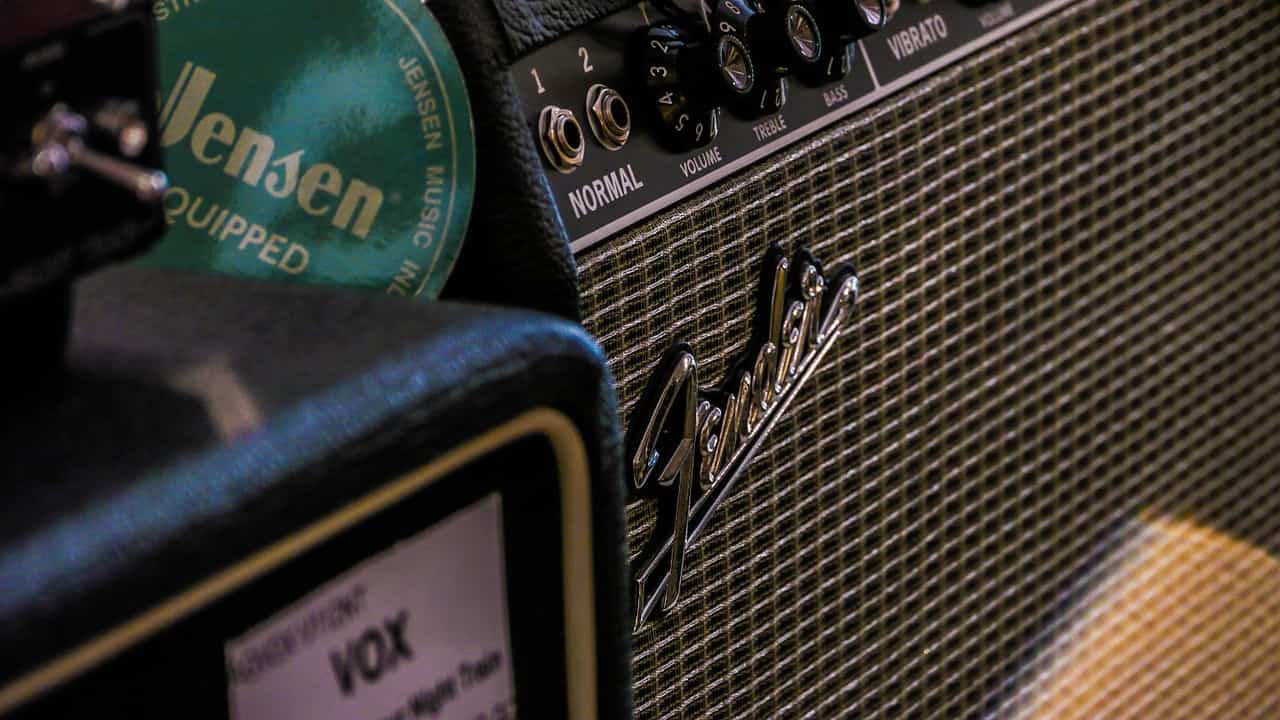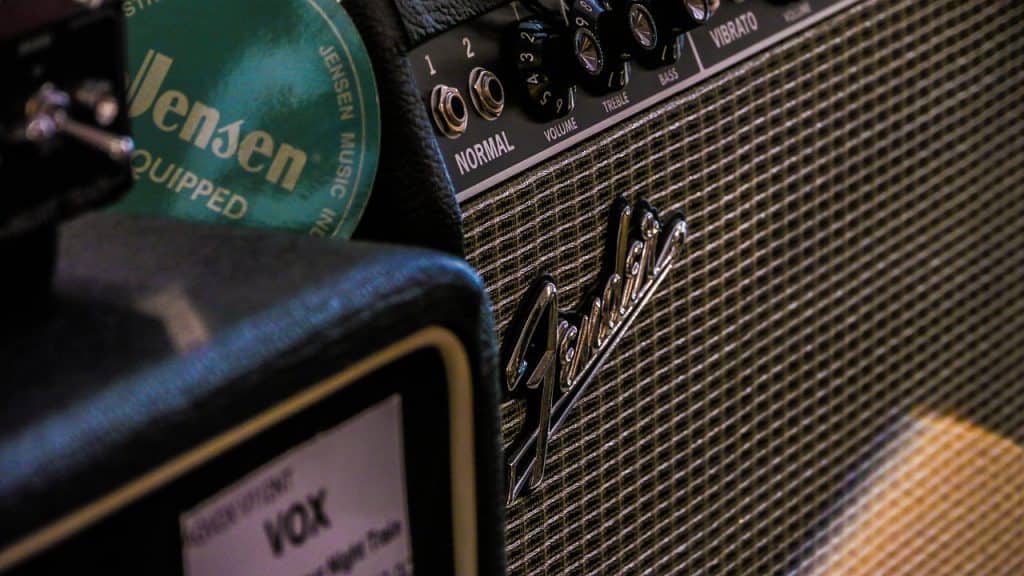 Fender, Pevey, and Orange are some of the most reputed creators of practice and budget-friendly amps.
The Fender Mustang solid-state modeling guitar amp series
The "1" in the "Fender Mustang 1" name stands for "I", the Roman number. It means it's the smallest amp of the Mustang series (without counting the Mustang Mini).
In particular, the I version is a 20-watt combo amp with an 8'' custom Fender speaker.
There's a Mustang II, which is a 40-watt amp with a 12'' speaker. The series goes up to the Mustang V, which is a 150-watt head with a 4×12'' speaker cabinet.
This review is highlighting the Fender Mustang I V.2. The features stay the same across the whole lineup all the same. The only thing that changes is the size and output.
Lastly, the "V.2" indicates the series has had an upgrade, so you now have more amp choices because there are now 5 additional alternatives. The V2 models carry additional tonal shifting options mostly.
Keep in mind the Mustang series is a line of modeling amps. Because modeling amps are usually complex and pack plenty of features, we're going to do an in-depth review of the Mustang I V2 so you fully understand what this device does and how it works.
Before we go on, though, go ahead and check this section regarding what to look for on solid-state amps.
Overview
The Fender Mustang I V2 is a compact 20-watt amp well enough to practice at home. And even though it sells for friendly prices, it packs modeling technology that gives the amp the ability to imitate vintage and classic Fender amps.
Because this is a small and practical amp suited for home practice, the Mustang I V2 is a budget-friendly loud-box.
This amp is packed with tons of presets, amp voices, and effects. The knobs are intuitive and straightforward, and the overall performance is top-quality.
Furthermore, it can connect to your PC/Mac/Laptop. This is an uncommon feature on this price range, and it makes it a very handy and useful amp for first-time guitar players.
Lastly, we can't disregard how good this can look anywhere you put it because of its traditional Fender logo and complete silver grille cloth.
Fender Mustang I V.2 solid-state modeling amp features
No one will mistake the Mustang I V2 for a stage-ready combo amp. This is but a practice amp, compact and light and featuring 20-watts of power.
It weighs just 17lbs and houses an 8'' Special Design speaker that tries to carry on Fender's signature sound with a couple of modern twists. It ships in 14.5'' X 15.5'' X 7.6'' convenient package.
What this means is the Mustang is very portable and has the perfect size for your room, garage, or living room.
And yet, it offers so much more than your regular practice amp because, as I said, it packs the same features as the bigger and meaner Mustang V amp, which is considered one of the best solid-state amps you can buy right now.
That's why the tonal range of the Mustang 1 V2 rivals expensive and bigger amps in the market. The name of the game is "modeling amp," and technology that brings so much value to this compact loud-box.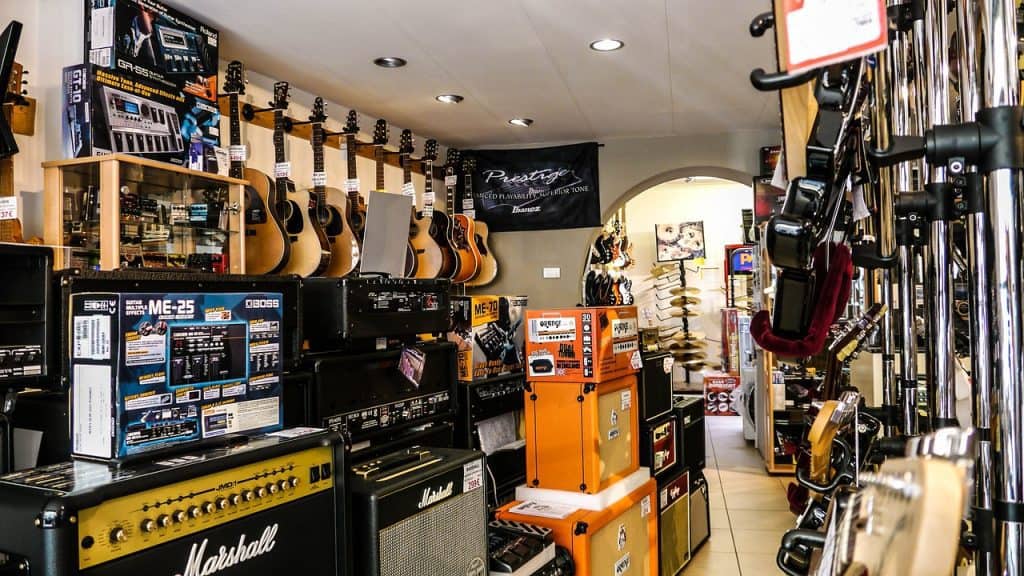 Modeling amps carry presets to imitate sounds of classical guitar amps, which mostly includes vintage tube amps. 
Its modeling circuit brings you 8 factory presets and 17 amp models including a '57 Deluxe or a Fender-unique Metal-2000. The amp voices cover from classic analog amps to the most modern and fire-breathing sounds you can imagine.
The presets give you enough range to play any genre you need to play. Plus, you can store 36 additional user presets you can create yourself.
On top of that, you have a 2-band EQ section and a wide array of quality onboard effects. You'll find chorus, tremolo, reverb, phasing, flanger, delay, and more.
The Mustang also brings a useful chromatic tuner, which is something a great companion for your practice sessions as you wouldn't need to play around external devices to keep your intonation in check.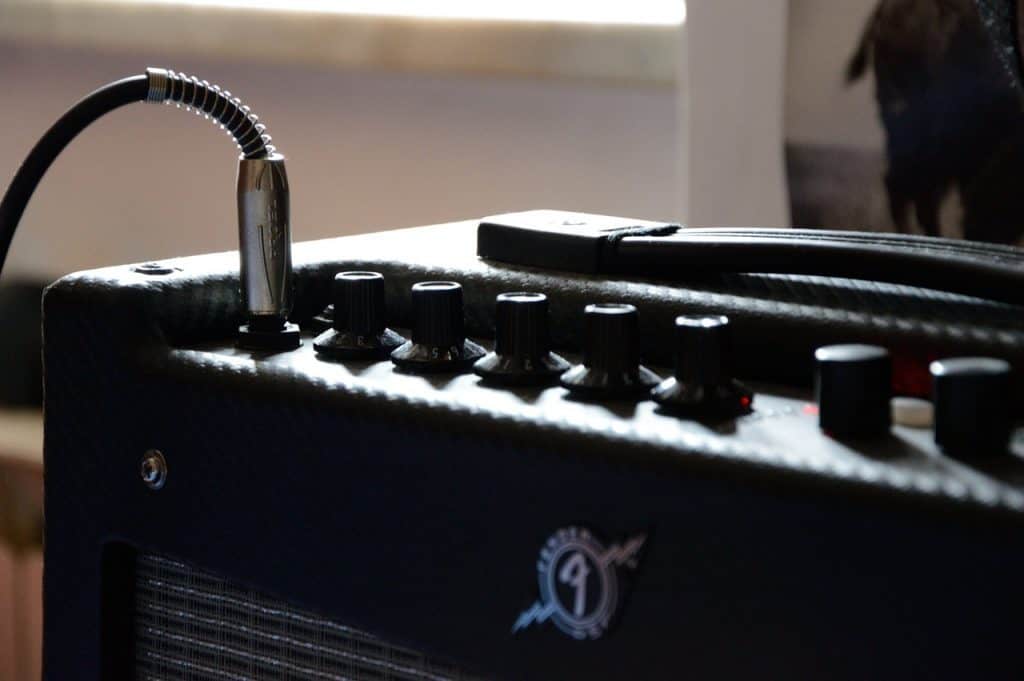 The Fender Mustang I is probably the most popular small amp available in the market.
Presets
Instead of channels, the Mustang I V2 has presets, and I have to highlight presets of the Mustang series because they are functional, versatile, and fun.
The amp allows users to save 24 presets directly into the amp. For example, there are 12 factory presets written into the FUSE software. It means you can plug the amp to the computer and save up to 36 presets.
It's far more than most beginners will ever need, so the amp is far more than a beginner's amp. Right off the bat, it has so many more possibilities than other amps at the same price range with its 36 available tones you can load at any time.
USB connectivity
Even though USB connectivity seems like the common thing to do, this is an extremely rare feature out there, although it shares the feature with the Boss Katana modeling amp series.
The USB port allows you to plug the amp into a PC or a Mac. It allows you to tweak the amp so much better with the included software.
The existence of the port also tells us the Mustang I is designed as a practice and experimenting amp. It means you can get more out of it by using its full features.
Last but not least, you can plug a recording device like an audio interface to the USB port to record the best moments of your performance and practice sessions.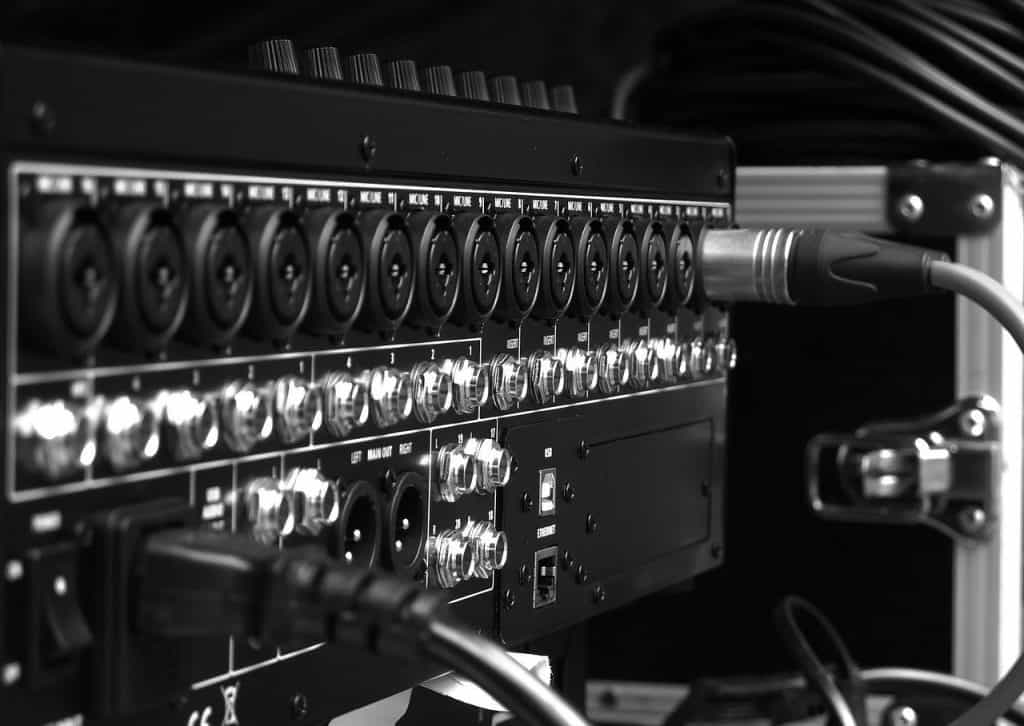 The Boss Katana is another great modeling amp shipping with a USB port.
Fender FUSE editing software
The Fender FUSE software is a great reason to connect the amp to your PC or MAC. This is a user interface that allows you to change amp voices, settings, and tones; as well as saving and loading settings. And there's a bit more to it…
This software allows you to edit and store presets, as well as downloading new presets online from other Mustang users.
The program is pretty simple and makes the job of sound customization an easy task.
I find a particular issue with modeling technologies, though. Most modeling amps have buttons, screens, and menus you have to navigate to get the results you desire. Whilst the Mustang doesn't have this kind of hassle on the amp itself, the software might be a bit of a nuisance to use at first.
Either way, here's a tutorial video on Fender FUSE.
Aside from the Fender FUSE Software, the amp ships with Ableton Live Lite 8 Fender Edition, which is a studio-level recording software (DAW) with AmpliTube Fender LE edition VST. Amplitube is an amazing plugin that imitates guitar sounds, amps, effects, and even mic positions without the need for the actual physical hardware.
Effects & amp voices
The Mustang I V2 brings forward 17 modeled amps going back and forth American and British style amps. The '65 Twin Reverb is the fan-favorite amp voice.
As with most solid-state modeling amps, you'll probably play around 5 amps at most, whilst the rest will be forgotten. However, most players will find a couple of voices they like in the Mustang.
Apart from the 17 amps, there are 44 effects divided into 4 categories:
Modulation (like chorus, flanger, phaser, tremolo, pitch shifter, and more).
Delay (there're a few delay types like ping-pong, stereo, reverse, and tape).
Reverb (large hall, ambient hall, spring, small hall,…).
Keep in mind you can only access the stompbox effects via the FUSE software. That means if you don't connect the amp to the computer, you'll only be able to modify the presets with the other three categories.
Furthermore, you can further tweak each effect to achieve the sounds you want. So, for example, if you choose an overdrive, you can adjust the level, gain, high, mid, and low.
So, because the effects are a bit complex, the best thing you can do is plug the amp into your PC to create and modify your effects and store them in presets. Then, you won't have to tweak anything else as you could simply load up particular sounds with the flick of a button.
Keep in mind the presets and amp voices exist because the channels don't. That means there's not a "clean channel." Instead, you would have to find and amp voice that delivers a clean sound, like the Fender Twins.
Inputs
Rounding up the features is the USB connectivity of this amp. It allows you to plug the amp to a computer and modify the presets with the included Fender FUSE software. You could also download new presets or create new ones. Furthermore, there's also a headphone jack plus an aux input.
You can plug an MP3 player or a mobile device to the auxiliary input and play alongside a backing track. Or you can use the 3mm headphone jack for quiet sessions.

The Fender Mustang I V2 has a single channel. There's no "distortion/clean" channel to swap.
Controls
Controls of the Mustang are intuitive and easy. It has no menus, no screens, and no complex issues to scroll through.
Instead, it features a single knob for gain, volume, treble, and bass. It also has a master volume knob.
Then, you can change the amp models with the rotary switch. The switch doesn't click, but it lights up an individual LED for each modeling category.
Not having extensive menus is an issue I like because it makes the whole experience simpler. However, the process of creating the presets on your own might be a complex task.
So, while you can swap the different models on the go, you'd need to edit the presets with the Fender Fuse software to further add effects.
Another thing to note is that changing the original presets might not be the best idea. Tweaking the knobs can have a huge difference in the factory presets because they were programmed outside of the amp. That means there's a distinction between the original programming of the amp and how each knob truly works.
The good news is the factory presets are actually pretty good, so you'll be better off creating new ones.
Optional footswitch
The last feature we must discuss is the ability to connect an optional 1-Button Footswitch. You can use this FootSwitch to swap between two chosen presets.
While it's handy, the limited advantage is a disservice to the device's price tag. Investing in a footswitch on a practicing amp is not particularly ideal.
Sale
However, if you're going for the Mustang II, IV or V, that means you're going for a gig-ready amp, and an additional footswitch will give you plenty of extra versatility as you play live and change presets in-between songs.
Besides, the Mustang III, IV, and V also allow users to plug in an expression pedal to enhance the control of effects like pitch shifting and wah.
Fender Mustang I V2 sound & performance
The Fender Mustang I V2 solid-state modeling amp packs a punch despite its practical size.
Its 20 watts of digital power gives you plenty of output to play for around 30 people. It can also give you enough voltage to rehearse with your band in your garage or home studio.
However, the Mustang I V2 shines at low and medium outputs and starts to get muddy at higher outputs, like most solid-state amps out there. If you want a quality sound on louder volumes, you should go for the bigger Mustang amps.
The quality of the effects and amp models is evident. The cleaner sounds are defined, rich and warm; and the metal tones pack plenty of gain with just enough definition.
Sound
The sound quality is well above its price point. When you've heard enough affordable amps, you'll notice how the sounds are mostly cheap and muddy.
But the quality of this 20-watt Mustang amp is a nice surprise. The effects are also of very high quality, decent enough to belong on a DigiTech multi-effects pedal or individual budget stompboxes.
Finding quality effects on this amp was also quite surprising as most of its competitors on the same price range have poor sounding effects that feel too digital and destroy the original signal of your guitar. Mustang's effects are very usable.
As for the modeled amps, you'll find great tones on the Fender voices. You can dial-in Fender's signature tones from its 8'' speakers and their different vintage amp-voice alternatives.
But modern voices do sound cheap, like for example the "Metal 2000."
It means the sound is not as versatile as it could be. It can be great for classic rock, blues, jazz, indie, soul, R&B, and similar styles. However, in classic Fender fashion, it won't suit you well in high-gain situations and genres like hard rock or metal.
Keep in mind the tone is about personal taste, and as yours might be different than mine, I invite you to see the following demo video:
Built quality
Construction-wise, this amp is neither too heavy nor too light. It can survive a few falls nonetheless as it's a well-made device.
The Mustang I is less likely to suffer damage for its small and light. So, overall, there won't be any issues with the amp or the software.
Why should you get a Mustang I V2?
Electric guitar beginners and kids will find an awesome, fun, and budget-friendly device, and I highly recommend this baby as your first amp for guitar.
Out of all of the practice amps I've seen, this is my favorite. Not only does it offers a great variety of choices, but it does so in an easy manner.
Although it requires a PC to get the most out of it (and hence knowing a thing or two about editing software), beginners can still dial great tones by simply selecting a preset or an amp voice.
Either way, the Mustang I V2 allows guitar beginners and students to start out with a great tone. More importantly, this amp allows people to learn about different effects and tonal shaping, which is something even pro players can appreciate.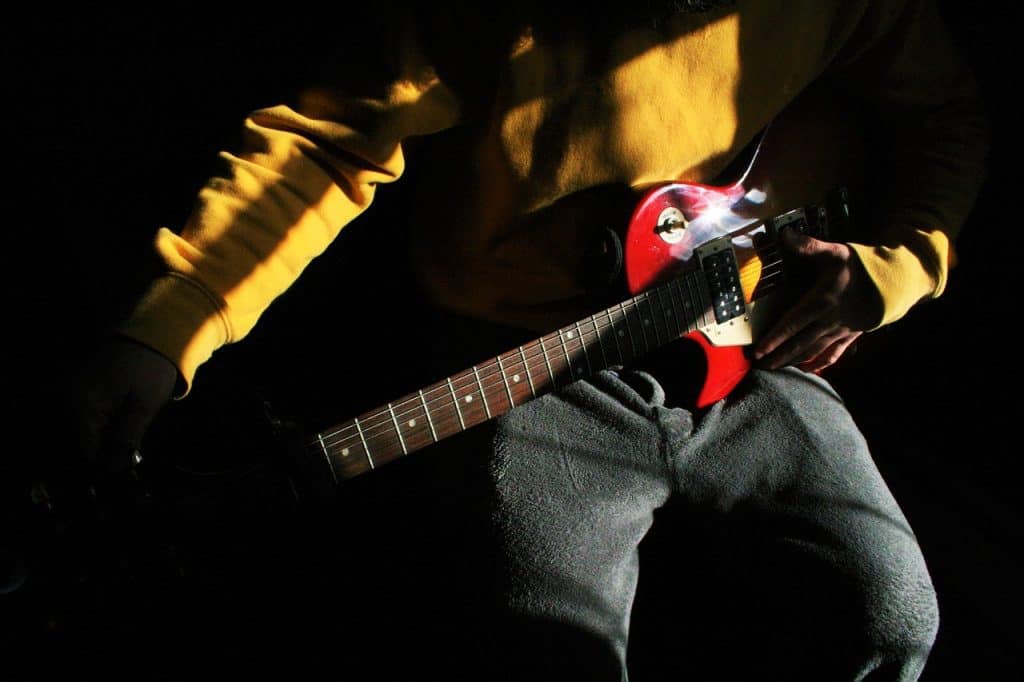 If you're planning to use the FUSE software and already have some experience editing music, this is a great option for you.
User reviews
Users claim the amp does a great job at what it intends to do. However, they insist the amp needs some tweaking via the FUSE software.

Some users might find the lack of a clean channel inconvenient.
Getting the most out of the Fender Mustang I V2
As you've seen, this amp requires a bit of experimentation and effort from your part to get most of it.
In order to get the best possible results, you truly need to use the FUSE software. Learn how to use it to tweak your sound will also help you learn how each effect works and how each effect changes your guitar tone.
Here's a general guide for beginners:
Play around the 17 amp voices and pick the 3 you like the most. Stick with them;
Create new presets without effects;
Tweak the amp settings to your heart's content;
Create presets with a single effect to learn how it changes your tone;
Keep only the effects you like. Sometimes less is more;
Save presets with two or more effects;
Jam-along.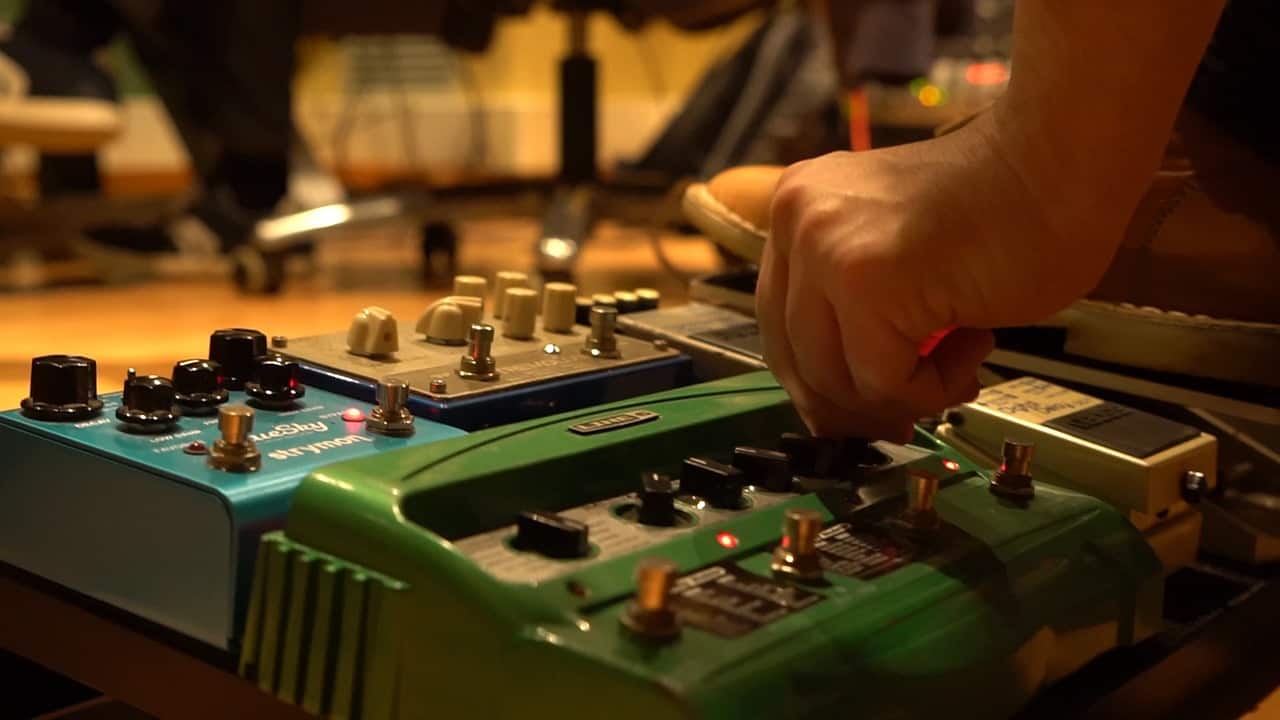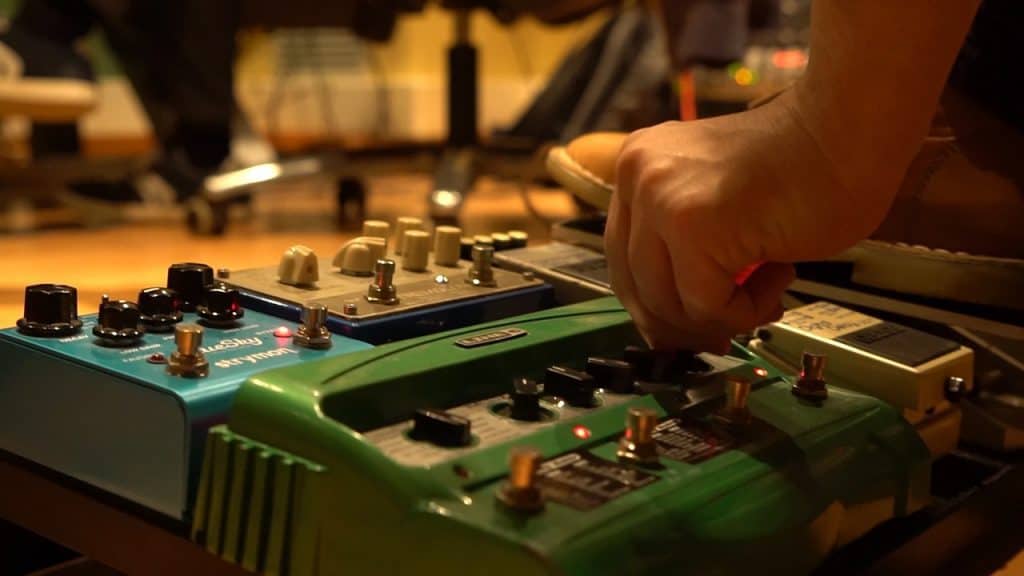 Popular guitar pedal effects include chorus, delay, reverb, overdrive, distortion, and fuzz.
Downside & alternatives
If you don't plan on using the Fender FUSE software or wouldn't know how to do it, this amp is not a great choice. You won't have many effects to play with and, in all honesty, you might not like the original presets and voices.
Some customers might find the complexity of modeling amps a hassle. If this is you, then maybe you're looking for another kind of ease-to-use and budget-friendly Fender amp.
If this is the case, then maybe you should go with the reliable Fender Champion.
Alternatively, you can go for the coveted Boss Katana. The Katana is very similar to the mustang as it's also a solid-state modeling amp offering its own editing software.
However, its value per price might be more appealing to you as you can get a gig-ready 50-watt Katana amp for less than twice the price of the Fender Mustang I V2.
I have to add there's a growing number of modeling solid-state amps for home practice. Whilst there are more, I could only recommend the Peavey Vypyr VIP series, a similar alternative that might offer tones you like better.
I must add this is not an amp for metal, hard rock, or other high-gain genres. If you're looking for a mean & loud box, take a look at the best guitar amps for metal here.
In summary
The Fender Mustang I V2 is a small 20-watt amp that's great for beginners to practice at home. Beginners could also find joy in taking this amp to their guitar practice. The friendly price-tag of this amp is also a great feature for beginners.
Additionally, this amp can perform well if you use it to practice with the rest of the band at your garage, living room, home studio, or similar. As long as the other musicians keep their outputs in checks, it's going to be okay.
The Mustang also offers incredible Fender tones like the Fender Twins and its great for intermediate musicians driven to the world of digital recording. Additionally, players looking for the type of sounds Fender commonly delivers will find the Mustang an attractive option.
Overall, the modeling technology and the ability to connect the amp to a PC makes this a handy amp for first-time guitar players and for intermediate guitar players looking to learn about digital recordings and effects.
Finally, with its great range of amp voices, effects, and presets, the only time you'll really outgrow this amp is when you need something louder to play live. So, if that's the case, you can go for the louder Mustang IV V2, which offers good balance between portability and power.