Marshall has been spoiling professional, beginner, and intermediate musicians for decades. The UK-based musical gear manufacturer is a top-tier audio device brand. Despite that, they know how to create superb affordable choices, and the Marshall Code 50 is a perfect example of what I said.
The Marshall Code lineup came up in 2016, so it's one of the newer models in Marshall's catalog. Bear in mind the audio device industry doesn't create yearly models like a smartphone company. Instead, both musicians and companies hone vintage designs as treasures, and thus brands rely on perfecting original formulas.
See, many music companies brag about being the first to create the first whatever. Marshall, however, doesn't do innovation. They just do things better than most, which is why most people think of Marshall when they go for an amplifier.
For example, Marshall was not the first British guitar amplifier company. It was Selmer, albeit Vox also came before Marshall. Still, it sits as one of the most popular brands in the industry.
Now, digital modeling amps have been rising for the last two decades. They represent significant technological advances, and some of these models can rival the best tubular amplifiers. Needless to say, tubular amps are quite expensive.
Marshall was late to the party, as the CODE series is their first take on modeling amps. They created a product line with several features, ease of use, and proprietary tech to enter the market.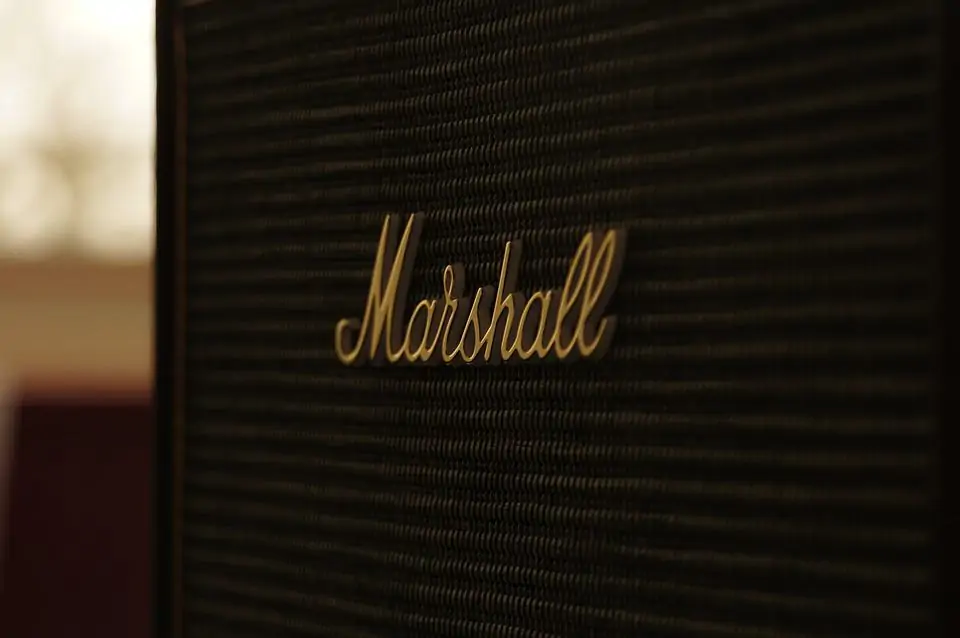 Marshall creates both tubular and solid-state amplifiers.
Marshall Code modeling amplifier series overview
The Marshall Code is an affordable modeling amplifier series. It combines Marshall's standard solid-state power amplifier with top-of-the-line software to deliver a wide array of tonal choices.
Moreover, it ships with a partner app, a perfect companion for home studios.
The cheapest model of the series is the Marshall Code 25 combo modeling amp. It has 25-watts of power, coming through a single 10'' speaker.
We're covering the Marshall Code 50, otherwise known as CODE50. It's also a combo modeling amplifier boasting 50-watts of power via its single 12'' speaker.
There's a proprietary tech across all CODE amps as well. Marshall created custom preamps, power amps, and artificial speaker cabinets alongside Softube.
Softube is an industry-leading VST creator. One of their highest creations is Amp Tube, a software that imitates Marshall amplifiers for your guitar records. It works with most DAWs.
The result of Marshall's collaboration with Softube is the MST (Marshall-Softube) modeling. It's a highly accurate tech and circuitry that delivers professional-quality FXs and sounds.
The MST circuitry
Let's start with the technical issues:
The CODE 50 has 14 MST Preamps, 4 MST Power Amps, and 8 MST Speaker Cabinets. All of the sounds, of course, come through its 12'' custom Marshall Prime speaker, so don't get confused by the "MST speaker" term.
Let me explain. The complete MST system imitates how tubular amplifiers work. These have a preamp, where a couple or a single vacuum tube catches the guitar signal and modifies it.
Then, there's a power-amp section, where other vacuum tubes amplify the signal so it can go through the speaker.
Lastly, of course, comes the speaker, which is the piece that turns a signal into something we can hear.
MST Speaker Cabinets refers to tonal speaker signatures the amp can create, thus the "modeling" surname of the item. These refer to eras, musical periods you might want to imitate. In other words, the MST Speaker circuitry imitates the typical sounds of prior and iconic Marshall cabinet speakers. These are the options:
1960,
1960V,
1960AX,
1960HW,
1936,
1936V,
1912,
1974X.
Then, there's the matter of the MST Preamps. These imitate tones of prior and iconic Marshall tubular amps. You may recognize some of the options available:
JTM45,
2245,
1962 Bluesbreaker,
1959SLP Plexi,
JCM800 2203,
JCM2555 Silver Jubilee,
JCM2000 DSL 100,
JVM410H.
Amongst all of these options, you'll find popular choices like American clean, British overdrive, or acoustic simulators.
To complete the system comes 4 MST Power Amps. These imitate the sound of particular vacuum tubes. If you know a thing or two about the vintage amp technology, you may recognize the available options:
You can mix and match the three MSTs as you like because you can control them individually.
Here's a video demo:
CODE series Features
Aside from the speaker size and wattage, Code 50 and Code 25 are almost the same. However, something sets apart the bigger model: it has extra Present and Edit control knobs. You can access these functions via the Preset knob on the smaller model.
Both models have four MST power amps, 14 MST preamps, and 8 MST speaker models (as said above). On top of that, both models have 25 effects, and you can use 5 effects simultaneously.
The effects include:
Compressor,
Classic distortions,
Auto-wah,
Pitch shifter,
Chorus,
Phaser,
Flanger,
Tremolo,
Delays (with tap tempo),
Reverbs
Likewise, the amplifier allows players to store and recall 100 presets.
Here's the Marshall Code 25:
Sale
Output options
Speaking of which, you can also control the amplifier through the Getaway App. You should download it for Android or iOS and then connect to the amplifier via BlueTooth.
You can also connect the CODE to your computer via USB. That way, you could use it as an interface to record music on your DAW. Alternatively, it can stream audio from your computer.
Similarly, the amplifier packs an auxiliary audio output. You can plug your smartphone in for playback music, or you could plug headphones for silent practice.
At the front, you'll find an extra mini USB jack. You can use it to play music as well or for downloading upgrades into the amplifier.
There's also an extra MP# mini jack output, an XLR headphone output, and a single ¼'' instrument output.
Lastly, it has an output for a foot controller. It's not included, but you could assign 30 presets to the foot controller if you do get one.
The one Marshall recommends is the PEDL-9100:
Controls
The front panel controls are Volume, Gain, Master, and a 3-band EQ (bass, middle, treble).
On top of the knobs, there are four buttons: PreFX, Amp (MST preamp), Modulation, Delay, Reverb, Power Amp (MST power amp), Cab (MST speaker), and EXIT/Store.
You can save presets via the Exit/Store button. You can also turn the amp into edit mode or recall another preset by scrolling through options. It's a bit tough, though, so you'd better do it through the BlueTooth app.
In Particular, you can hold down Modulation and Delay to engage the tap tempo. Also, you can hold down Reverb and Power buttons to turn on the amp's BlueTooth, so you can connect it to your smartphone.
Here's a video tutorial on how to use the Marshall Code 50:
Marshall CODE 50 construction
A crucial factor in Marshall amps is the construction quality.
So, for materials, it has an 11-ply Baltic birch wood, as all Marshall cabinets do. Contrary to most Marshall amps, though, the Marshall CODE has thinner materials to improve the sound.
The size is not particularly big for a 50-watts amp. The measures are 17.8'' X 10.7'' X 17''. Then, it weighs 27 pounds, which is heavy for the size.
Within the cabinet, you'll find a custom Marshall Prime speaker, a 12'' model. It's capable of producing much bigger sounds than most speakers or amplifiers of its size.
The frontal face of the amp has a black grille with a white Marshall logo at the upper edge. At the top of the amp, you'll find a set of knobs and buttons to control the sound.
On the knobs panel, there's also an orange-lit LED screen that displays current options, effects, and presets.
Rounding up the construction comes the classic matte finish with a gold-colored control panel.
So, overall, the cabinet has a classic look but brings the consistent Marshall quality and durability.

Most Marshall amplifiers have the control panel at the front.
Performance
The success of a modeling amp depends on its factory presets. Most buyers, particularly intermediate and beginner buyers, would buy a modeling amp depending on how it sounds right out of the box.
Even for a professional musician, tweaking the sound of an amplifier with so many options can be exhausting.
That said, the CODE 50 sounds very good, realistic, and generally warm. Not all of the effects are gig-worthy, though, which we expect at this price point.
Still, the MST circuitry does a great job imitating vintage tones and sounds. You can go straight towards a rehearsal, recording, or show with minimal tweaking effort.
For example, the EL34 is the guns-blazing kind of sound. Then, the Plexi is a classic subtle overdrive. Or you could pick the Super Lead, a legendary distortion common on the late '60s and '70s rock and early metal bands.
We're also quite impressed by the JCM800 voice. The JCM is one of the most iconic heads/cabinet amp series in history. Many legendary rock bands, like Metallica, Rage Against the Machine, or the Smashing Pumpkins use one of these. So, the JCM800 voice is one of the best options in the CODE.
However, Marshall didn't make the effects with the same passion or tech as the modeling voices. They are just…there, good enough to experiment and play around, but generally not as good as individual pedal effects.
Another good thing about the Code 50 is its output. It's loud, gig-worthy, and has plenty of clean headroom (as long as you dial down its effects). Alongside a full band, it can easily keep up with the rest of the band.
Nevertheless, you kind of need the PEDL-910009 foot controller for playing live. Otherwise, you'd have to face the many amp controls in-between songs.
Rest assured, the Marshall Code 50 (and the Code 25) will deliver stellar performances. It's a great sound, almost just as good as a true modeling amp. Naturally, it lacks the dynamics a true valve tube model offers, which means your ability to go in and out overdrive by the strength of your strumming.
That said, this is as close as you can get if you don't have the –plenty of– money to pay for the original.
So, if you're a Marshall fan, the Code 50 is a must-have amplifier. It comes with the best the "Father of the Loud" created about 5 decades ago with the first 100-watts tubular amplifier (the Plexi).
How should you use the amplifier?
The first thing you'd do is choose the amp voice you want (MST preamp). Then, select the MST cabinet, and finally, the MST power amp.
Afterward, you can start applying effects, but keep them subtle. Any of the 24 effects are available to mix and match at any time.
Despite what I said, I recommend the chorus, the wah, the reverb, the phasers, and the flangers in Code 50. I would leave the delay for controlled situations like studios and rehearsals, as it can mess up your sound quickly.
With said order, both Code 50 and Code 25 become easy to use and program. Still, the Marshall Gateway app makes it way easier.

The Marshall Code 50 and Marshall Code 25 came out in March 2016.
In summary
Why do I love the Marshall Code 50?
Most digital amplifiers want to appeal to everybody by doing everything. Here's this effect, here's that voice, here's a Fender vintage, but also a Vox overdrive. It's too much.
The Marshall Code focuses on a single thing: genuine Marshall tones. So, right out of the box, it has a collection of modern and classic Marshall tones that can satisfy most guitar players.
It has desirable Marshall crunches, one of the most gorgeous cleans in the industry, and everything in-between. Also, the EQ nails Marshall's treble brightens, midrange growl, and bass thumps.
There's enough onboard to create perfect sounds, even if the FXs are not of the greatest quality.
Also, the amp compares favorably with other modeling combo amps by Blackstar, Line 6, or Boss.
And with a total of 100 preset slots, you'll never run out of space to maneuver.
Now, if you're looking to jam at home instead of playing live, the Marshall Code 25 is the better option.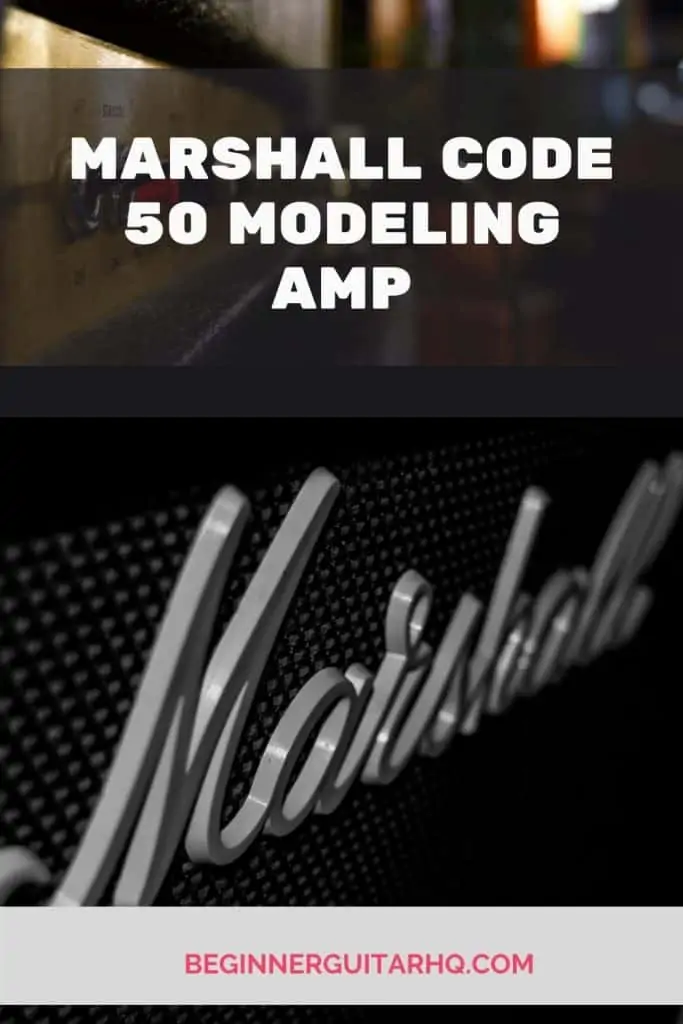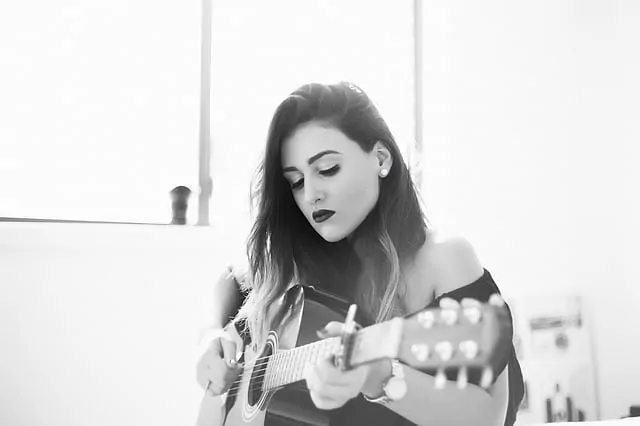 Jen is a guitarist and singer-songwriter who spends much of her time on the road and has lived in 13 cities across 4 continents. She picked up her first guitar at the age of 6 and learned to play by ear shortly after. She received her formal music education at the Berklee College of Music, and currently plays for a few bands in her free time. She has an uncanny ability to improvise creative melodies and harmonies. Her early influences include blues, jazz and rock.