We're reviewing the Orange Crush 35rt guitar amplifier. We expect a big, bag, loud combo amplifier for rock and metal genres from the British amplifier manufacturer.
For example, Orange's Terror series of mini tube amplifier heads deserve a place at the top of any metal amplifier chart.
Recently, the company has expanded its offer to welcome affordable options for intermediate and beginner musicians. Again, the example of their increased offer is the Crush PiX Series of combo amplifiers. These are best-seller practice amps.
Now, we have the Orange Crush 35RT, a top-rated solid-state combo amplifier. It's an affordable, rock-oriented, and versatile solution for musicians of all budgets.
It's part of the Crush Series of guitar amplifiers. The series ditches digital effects and uses a simple layout instead. Moreover, the lineup features a stellar performance on its dual-channel operation.
It sounds easy because it is. The Crush 35RT is a straightforward model.
Overall, the Crush 356 RT is a top-value combo amplifier in the middle of the price bracket.
Orange Crush 35RT overview
The Orange Crush 35RT has 35watts of solid-state power.
It works on two channels, overdrive and clean. Notably, the dirty channel is highly responsive and features a massive amount of output.
You can use an additional footswitch to swap between the channels. You'd need to buy it separately, though.
For controls, it features a 3-band EQ (low, mid, and highs), a volume knob, a gain knob, a dirt knob, and a built-in reverb knob. It's enough to deliver wide-ranging tones. Its layout makes the Crush 35RT capable of covering old-school rock tones as much as modern metal genres.
On top of this, the amplifier features Orange's CabSim circuit. It's an electronic circuit that emulates the power of a 4 x 12'' cabinet. So, even though the Crush 35RT has a 1×10'' Orange speaker (Voice of the World speaker), it sounds much more powerful.
There's also a headphone output, which allows you to plug in your headphones for silent practice.
Lastly, this Orange amplifier offers a built-in tuner.
Overall, it's a solid offer from a reputable manufacturer.
Orange Crush RT guitar amplifier review
Over the years, Orange has improved and refined its solid-state Crush series of practice amplifiers.
The result of their efforts created the Crush 35RT. It debuted in 2015 as the first solid-state severe amplifier they created with a mid-level price tag.
There was a time where solid-state amps couldn't hold a candle to tubular amplifiers. However, digital circuits have significantly improved. Moreover, offshore manufacturing keeps costs down.
As a result, you can now get a cheap digital amplifier that can sound just as good, or nearly as good, as a tubular amp.
It doesn't have the dynamics of a valve tube amp, but it delivers plenty of output as an alternative.
That said, the Crush 35RT has a distinct Orange sound. It's British, gritty, and has that exceptional mid-scooped sound.
It also features the same aesthetics. The cabinet is orange and has a white wrap over the rear panel as the chassis.
The internal electronics are tidy, neat, and contain high-quality 3D printed circuit boards. This gave Orange the ability to create their cabSim circuit that artificially creates a bigger sound than possible.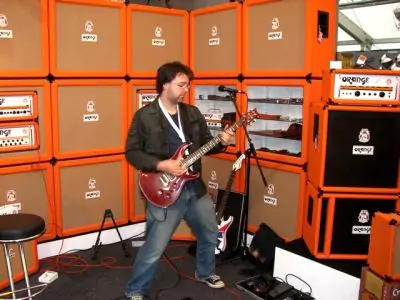 Orange has become one of the biggest amplifier manufacturers in Europe.
Control layout and construction
The Crush 35RT has a two-channel configuration. You can swap between these channels with a simple toggle switch.
Next, it has individual volume knobs for each channel. That means a dirty knob and a clean knob. Both channels also share a gain knob. Then, there's a shared 3-band EQ knob layout and a 3.5mm auxiliary input jack.
There's also a headphone socket nearby that serves as a speaker emulator for your headphones.
Additionally, the XLR output also serves as a recording line/out. This means you can record the sound coming out from the amplifier on your DAW with your recording laptop or PC.
Notably, the output enables the amp's CabSim circuit, so you'll record a high output sound with extra articulation and definition.
Next comes the built-in reverb. RT models have digital reverbs as part of the offer. For control, there's a single-level control next to a built-in chromatic tuner.
As for the back of the cabinet, it has an effects loop I/O section, a jack socket for the footswitch, and the A/C power jack.
Overall, the Orange Crush 35RT is solid, rugged, and reliable.
Sound and performance
If the looks and the layout don't convince, then maybe you can hear how it sounds. Testing the Orange Crush 35RT reveals the reputed sound that has created the brand's heritage.
There's nothing to ask from the amp's priciest brothers: the Crush 35RT sounds like a big, fat valve tube amplifier.
First, let's discuss its overdrive. It sounds like pristine British rock. Moving the gain knob to the middle position travels from the early '60s sounds to the '70s generation.
Turn it past the 12 o'clock position, and you'll jump towards Britpop all the way to Oasis-like sounds.
Turn it to the max, and you'll get the modern wall of distortion you hear from bands like Stone Sour and Nightrage. That means the sound becomes more American.
So, on lower volumes, the dirty channel produces buzzy and fuzzy distortions. However, turn it all the way, and it blooms into an aggressive and high-gain distortion.
Then comes the digital reverb effect. It's warm and quite effective at adding ambiance and texture. It's definitely usable. Likewise, its built-in tuner is a blessing. It's swift, accurate, and impressive.
On top of all of these things comes the CabSim circuit. You can turn it on with a button to get a fantastic amount of quality. It's so good you can use the amp on small and medium gigs with a PA system, or you can put a good mic to record it on your home studio.
Overall, the 35RT sounds great, either with modern or vintage tones. You can use it with your band or in the studio, and it won't let you down. It won't match the complexity of valve amps, but the lack of vacuum tubes makes it consistent, reliable, and affordable.
In Summary
The Orange 35RT might be small, but it's incredibly loud. Both the clean and dirty channels feature an impressive headroom. Also, both feature just the right amount of dirt to make it genuinely British.
With everything it offers, the 35RT is a special offer and a top-value solid-state amplifier.
If you're looking for a good amplifier you can afford, then I'm happy to tell you the Orange Crush 35RT is so much more. An amplifier that could really feel like an improvement would be a 3X times pricier valve tube amp.
Overall, this is the amplifier for the rock player. If you're a rock amateur, intermediate, enthusiast, or professional player, you might not need anything else but. In particular, budget players will find incredible value within this amp.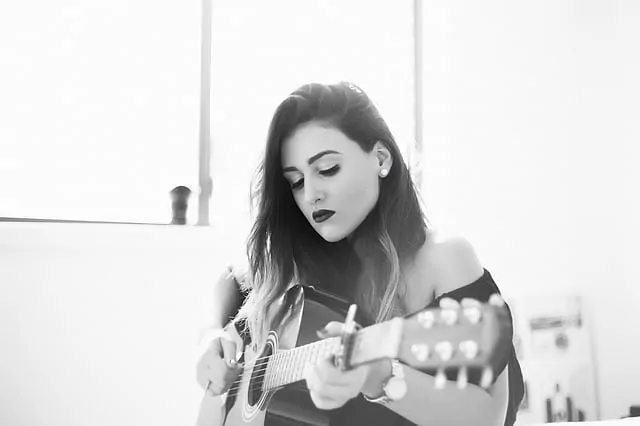 Jen is a guitarist and singer-songwriter who spends much of her time on the road and has lived in 13 cities across 4 continents. She picked up her first guitar at the age of 6 and learned to play by ear shortly after. She received her formal music education at the Berklee College of Music, and currently plays for a few bands in her free time. She has an uncanny ability to improvise creative melodies and harmonies. Her early influences include blues, jazz and rock.