In this post we review various devices that could be of great help for your home studio: OneOdio DJ Headsets and Studio Headsets. 
Keep in mind that both DJ and Studio headsets are interchangeable, albeit they do pack specific features for the specific labors they intend to do.
OneOdio builds affordable headsets for professional DJs, music producers, sound mixers, and similar. They also build friendly headphones for regular users such as gamers. Their models are massively popular because of their sound quality and how comfortable they feel.
More so, OneOdio headsets feature connections you'd find compatible with everything and anything. This is not an Apple-kind-of-brand: you'd need no extra adapters to use them.
So, if you're looking for top affordable headsets, you're in for a treat. I'd even say OneOdio gear is heavily underpriced. And that's good for us.

If you're mastering or mixing videos or music, you definitely need to use headphones. Earbuds or wireless earbuds won't give you the same level of quality as, simply put, there's no noise isolation.
As the title suggests of this article suggests, you're going to find this guide extremely useful if you're a DJ,  music producer, sound engineer, or similar. 
Guitar and bass guitar players can also use headsets with their amps for silent practice. And the sound you would get from quality items would just make you fall in love with your instrument all over again.
If you're a content producer (a video-editor, for example), OneOdio headsets are also going to help you create much better sound mixes.
Headsets are not just for music, though. A decent pair of headphones has plenty of uses nowadays. For example, it gives life to the music, podcast, videos, gaming, shows, and movies you like. Overall, headsets are the only way to cut yourself from the outside world and put all of your attention into the audio.
OneOdio headsets are okay for music producers, DJs, businesses, gamers, musicians, video producers, and more.
Let's dive in and check some of the best OneOdio DJ Headsets or Studio Headsets right away. Keep in mind the three articles I'm listing below belong in any top headphones list.
OneOdio Studio Pro Headphones Review
Because of the features of this device, OneOdio sells it with a different name: "OneOdio Adapter-Free Over-Ear Headphones for Studio Monitoring." Henceforth, these are professional over-ear headphones suited for the studio, and they come with super sound quality and noise isolation.
OneOne over-ear headphones provide superior and clear sound quality over most of its competition. Its highlight is how powerful and comfortable the bass feels. Moreover, you'll find the price tag of the OneOdio Studio Pro Headphones quite attractive.
Let's see…
Comfort
Comfort-wise, the Studio Pro headphones offer soft earpads you can wear for long periods of time.
Both the head strap and the earmuffs have thick paddings. Likewise, both pads are covered with breathable protein leather, which makes it a top-item in both noise isolation and comfort.
These protein earmuffs are made in Germany, and they are designed to disperse pressure and heat. Combine this with the soft leather headband and you'll get comfort, isolation, and a heat-free device.
I must add you can flex these headphones to adjust it to the size of your head. More so, the cups rotate left, right, up, and down. Speaking of which, I have to mention the Studio Pro model carries a feature common in all OneOdio headphones: the earbuds are able to swivel 90 degrees.
Lastly, the Studio Pro Headphones are lightweight and foldable,  so you can carry them around without too much hassle.
Sound
The Over-Ear headphones offer heavily-detailed sound with its large 50mm Japanese diaphragm. This driver has a sound quality that could satisfy the pickiest sound purists out there.
It also delivers superior hi-fi quality. That means the audio coming through its 50mm large-aperture speakers is a high-definition stereo sound.
Another feature improving the sound quality is its ultra-thick earpads, for they reflect the acoustics back to your ears to create a 3D sound with less interference from outside sources. 
As a result, the overall sound is noise-free, powerful, clear, and heavy on detail. More so, it never loses the composure, not even at the highest volume.
The tone it delivers is big on the mids and highs, crips, and balanced. It's ideal for music mixers, mixer panels, home studio monitoring, radio, video production, podcast production, electronics news, and virtually any application where you're in need of high-quality sound mixing.
Connections
As for connections, the OneOdio Over-Ear model has a 3.5mm jack plus a 6.3mm audio jack. That means this is an adapter-free device. 
Furthermore, we've got dual-duty gold-plated cables here. That means they are pretty durable. 
The cables also have a jack-lock system that keeps the cables tight in the cable port, no matter how much movement there is. This is a great addition as I've found most pricy headphones are flimsy on the cable jacks.
Lastly, the OneOdio Studio Pro headphones work with iPad, iPod, Android, iPhone, Windows, Mac, and many other audio devices with their 6.5mm or 3.5mm cables. Oh, by the way, the 6.5mm cable is the one you need to plug this into a guitar amplifier or into a bass amplifier.
These cables are detachable, which is something I love for two reasons. First off, these are durable cables you can take around with you, like, for example, to plug your smartphone into your car's sound system. Secondly, you can even plug multiple headphones into this device.
Durability
Lastly, a professional device needs to be durable as well. That's the case with the Studio Pro headsets as they come in a black matte sturdy plastic and chrome finish trims. It's durable enough to hold its ground on the studio and travel around with you for recreation and work.
I have to finish by saying these headphones feel like rubber on your ears. And I know that because I own them. And I love them.
Bye the way, they are perfectly okay OneOdio headsets for DJs, just as long as they don't overstress the item with bumps and aggressive movements.
If you're not into cables, the wireless Studio Pro version connects via BlueTooth to a smartphone or a computer. They feature a similar sound but with deeper bass.
Furthermore, they carry a single audio cable you can use to charge the device. Its 500mAh delivers about 30 hours of playtime. 
Check it out:
OneOdio DJ Headphones Review
Because of its features, the brand sells this item with the following name: "OneOdio Adapter-Free Closed Back Over-Ear DJ Stereo Monitor Headphones." I bet you can already imagine what the use of these puppies is. 
These are headphones excellent for home studio, professional listening, and intermediate professional DJ settings. 
I wouldn't recommend the OneOdio DJ Headphones for fully-fledged DJs. Why? Because, even though it packs various protective features, professional DJ headsets are subject to a lot of physical punishment, which is why the prices of these items have so many zeroes. 
However, the sound quality and the durability is outstanding for the price point. There's no way to feel any notable difference between this budget headset and pricy "studio-grade" Bose or Sennheiser models.
So, all in all, these Over-Ear DJ headsets are perfectly okay for intermediate DJs as well.
And because of the price and its features, these headphones are absolute bestsellers in Amazon
Comfort
The OneOdio DJ Headsets are made to stay comfortable. 
First of all, they have high-quality padded cushions for the ears that were designed to isolate outside sound while providing maximum comfort to the user.
Next, it has an adjustable and stretchable headband. It allows you to find the angle you fit in and allows you to move the bang your head following the music. The headband is also self-adjustable, which means its pressure won't fatigue you after hours of work.
More so, the earbuds are able to swirl around 90 degrees, which allows you to hear the music from a single ear anytime. That's a feature specifically great for DJs, as a jockey would be able to hear the party and hear his mix at the same time.
Now, although this headset doesn't have an active noise-cancellation feature, its thick cushions do keep most of the outside noises and sound away.

Most OneOdio headphones like the OneOdio Studio DJ Headphones are foldable.
Sound
The sound is clear and has plenty of bass. That's because of its 50mm drivers combined with neodymium magnets designed in Japan.
Something that shines through these headphones is the vocals. That's because the high tones are particularly crisp, much like the Sennheiser e395 stage mic works on the frequency chart. By the way, if you're looking for studio microphones, please check here.
Its low-frequency sound is very dynamic and makes your music come alive. This is a big difference with most monitor headphones and monitor speakers providing a flat and lifeless mix, for the OneOdio DJ Headset gives you a rich, full, and clean musical experience. 
That's why they are also ideal for personal listening and quiet musical practice, but not so much for sound mixing and mastering.
Lastly, it has the same kind of 3D hi-fi stereo sound as the Studio Pro model. 
Connections
Regarding connections, it has the same 3.5mm cable and 6.5mm instrument cable. They are both gold-plated, just like the studio pro version, and it can connect to smartphones, computers, and other devices through those cables. 
Both cables are detachable, just like the studio PRO, so you can carry them around for other applications.
Durability
The OneOdio Studio DJ Headphones are made of a black matte durable plastic with glossy finish trims. Moreover, they look really stylish with its CD grain texture.
As I said before, they can stand up for the DJ booth, but just don't overextend yourself in this department.
Sale
There's another OneOdio DJ Headset I can recommend for you. The OneOdio Fusion A71 is a combination of sorts between the two models we already discussed.
Sale
OneOdio Gaming Headphones Review
Now, we've got an item gamers will love. These are budget gaming headsets packing the same levels of sound and noise cancelation you've already seen plus a boom mic you can use to talk with your friends in Call of Duty. 
Its sound quality comes from the same 50mm Japanese drives made of magnetic neodymium. That makes these drivers perfect for gaming as well as watching movies or listening to music. 
The sound is precise and specifically designed for gaming, which means the sound is stereo and has a lot of reach within the game. For example, it allows you to hear your enemies sneaking up to you. It also gives you all of those background noises, OSTs, and sound FXs you've never heard before. 
The detachable noise-canceling mic allows you to use this headset for gaming, business, podcasts, streaming, calls, and similar. It picks your voice and delivers a clean sound for others to hear you clearly. Moreover, you can adjust the mic by 360 degrees.
Comfort-wise, the build is pretty similar to the items before, with thick-padded earbuds for lasting comfort. They come with a stainless steel slider to increase durability.
The rest of the features are the same, which includes the two audio cables. They are also foldable, the buds swivel 90 degrees, they are lightweight, and they are comfortable. 
That means you could use this for gaming just as much as you could use this to record and create music with your DAW.
If you want something even better featuring a better-crafted mic, OneOdio offers an upgraded gaming headset that's also quite popular. The following option can also connect to almost any device via Bluetooth.
As you'd expect from what you've read so far, it carries an audio cable to charge its 500 mAh battery.
In summary
The market is full of affordable headsets aimed for professionals and regular users, but, to be honest, there're not many brands I would recommend as much as I vouch for OneOdio.
Not for nothing, this is such a popular brand, so we can see hundreds of positive comments on any of their items selling online.
Most people wouldn't even tell a difference in sound and comfort between OneOdio DJ Headsets and OneOdio Studio Headsets and studio-grade devices selling for triple-zero prices.
So, if you're in need of professional headsets and superb sound for your work or your recreation, these are a great choice for you.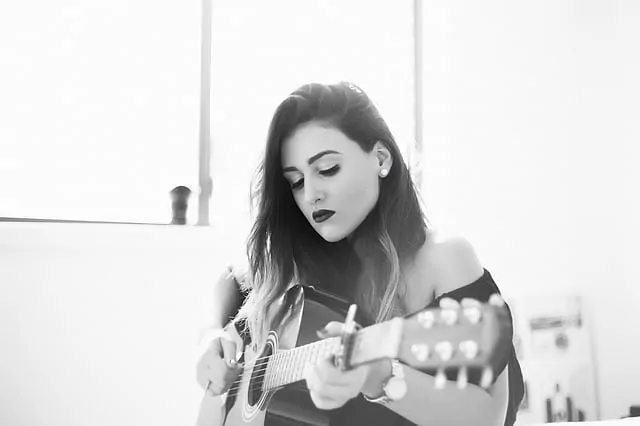 Jen is a guitarist and singer-songwriter who spends much of her time on the road and has lived in 13 cities across 4 continents. She picked up her first guitar at the age of 6 and learned to play by ear shortly after. She received her formal music education at the Berklee College of Music, and currently plays for a few bands in her free time. She has an uncanny ability to improvise creative melodies and harmonies. Her early influences include blues, jazz and rock.