Washburn Guitars is an American string-instrument manufacturer established back in 1883 in Chicago, Illinois. 
They have a so-so reputation, to be honest, mostly because they have suffered various ownership changes and major rebrands.
A couple of years ago, Washburn merged with US Music Corp, another instrument corporation known for owning DigiTech pedals, Warwick basses, Randall amps, and Oscar Schmidt guitars. 
However…there's no way to mass produce a semi-hollow guitar as their design is too complex. Maybe that's why the Oscar Schmidt Delta is built in the USA with a manufacturing process that mixes careful handcraft and automation.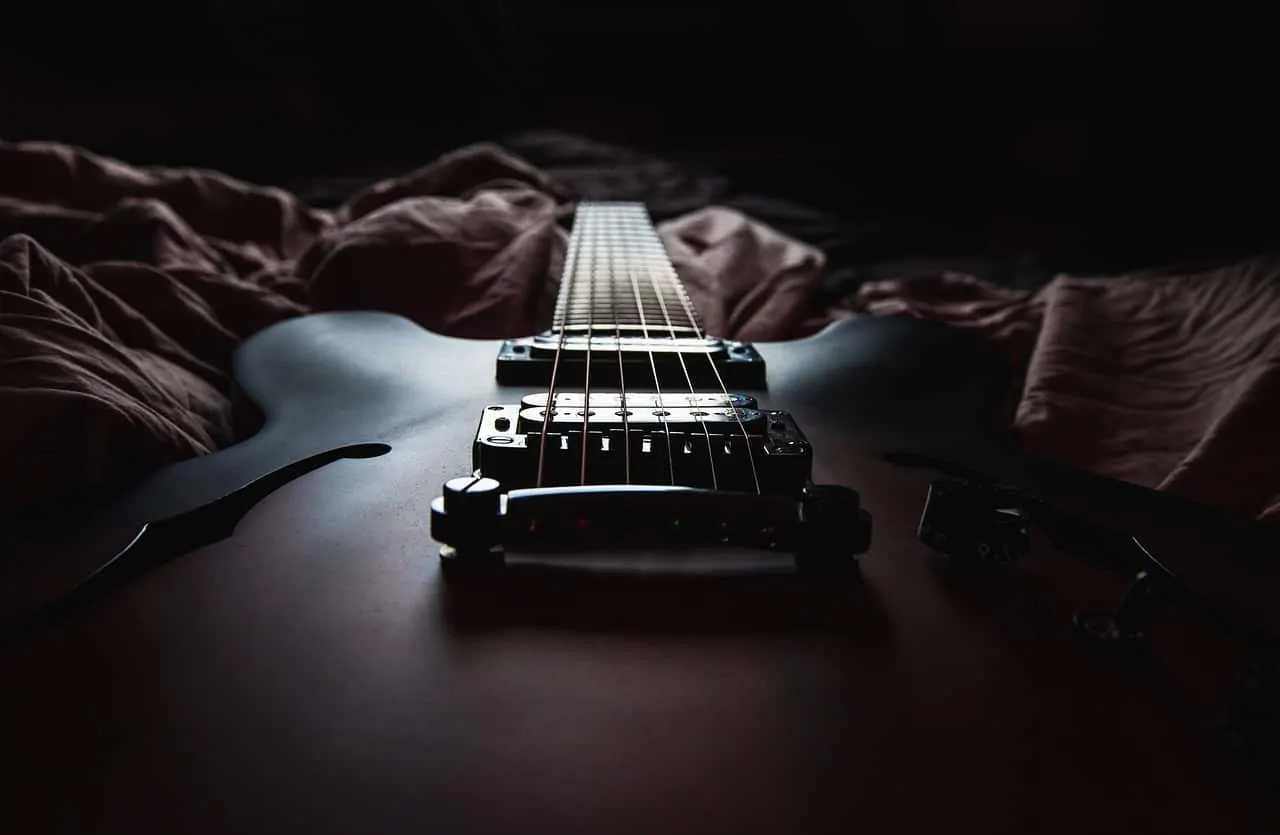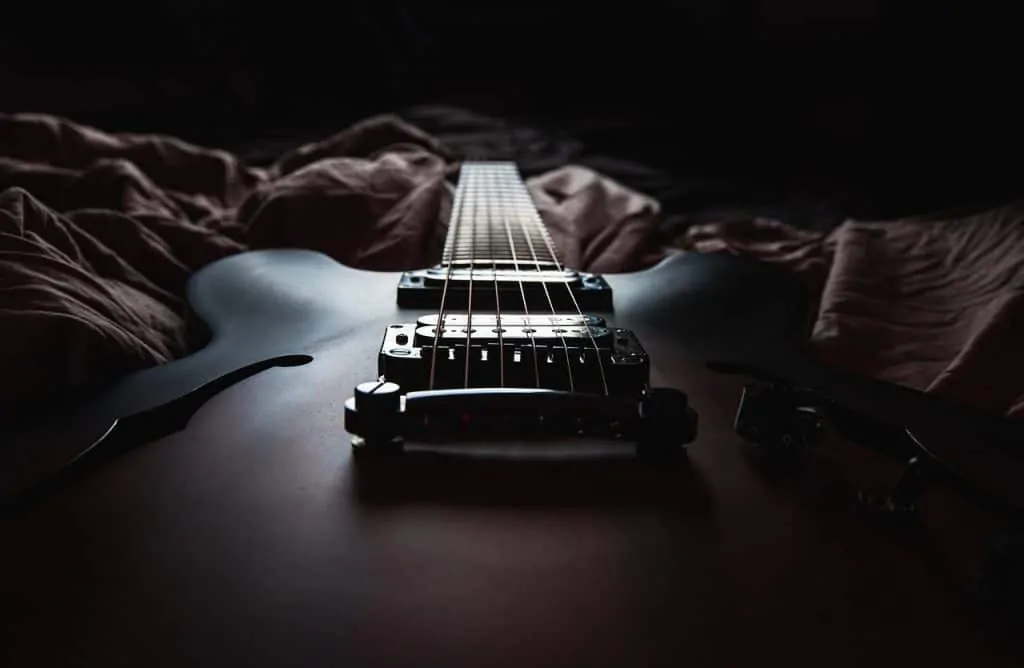 We need to review the Oscar Schmidt Delta king very closely, though, as this is a guitar that consistently reaches top 10 best semi-hollow guitars lists. However, it also receives a lot of negative comments on online stores.
Let's take this with a grain of salt…taking a first look at this guitar I realized there's something special about it. Are those humbuckers on a semi-hollow guitar? Are those four control knobs on a semi-hollow guitar? Oh boy, maybe this guitar is an underated gem.
Personally, I think it looks special. It looks like country-rock America. Maybe we need to recheck Oscar Schmidt's history…
About the Oscar Schmidt brand
Oscar Schmidt was an American luthier who incorporated his own brand in 1911. By the 20s, the company already had factories in both Europe and America, and they made all kinds of stringed instruments like harps, banjos, ukeleles, guitars, autoharps, banjos or zithers.
What you need to know, though, is what this name represents: a bluegrass tone for the hardworking musician with just a pinch of nostalgia for budget vintage consumers.
What do you think, then, an Oscar Schmidt semi-hollow guitar would sound like?


Washburn acquired the Oscar Schmidt brand when the company was passing through some financial problems. 
About hollow and semi-hollow guitars
Paul McCartney, George Benson, Keith Richards, and B.B. King have something in common: they've all played with hollow or semi-hollow guitars to create their legendary music.
80 years after Gibson first invented the hollow-body guitar with an archtop body, they keep growing in popularity within modern music. 
Why? Simply because single-coil pickups have become so good and so advanced they practically eliminate the only drawbacks these guitars had, which was a lot of hum and feedback.
That said, they still keep their advantages, which are now better than ever: more sustain, more acoustics, more resonance, and more depth. They remedy the aggressive and rock-fueled modern solid-body guitar because they are designed to play softer genres like classic rock, reggae, jazz, or indie.
But perhaps the traditional feel of these instruments is enough to catch your attention. If you're a tradition seeker, then the Washburn Oscar Schmidt Delta King guitar will cater to your eyes.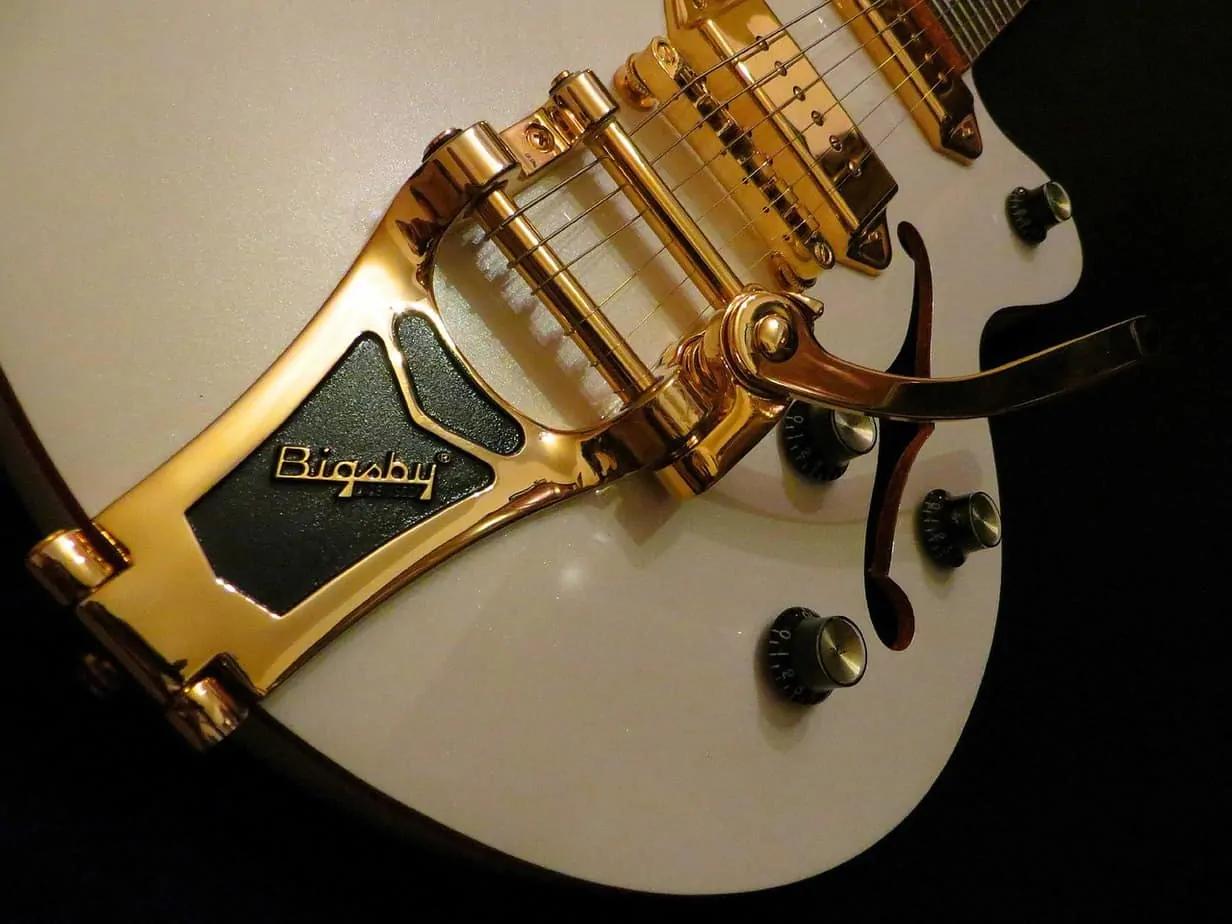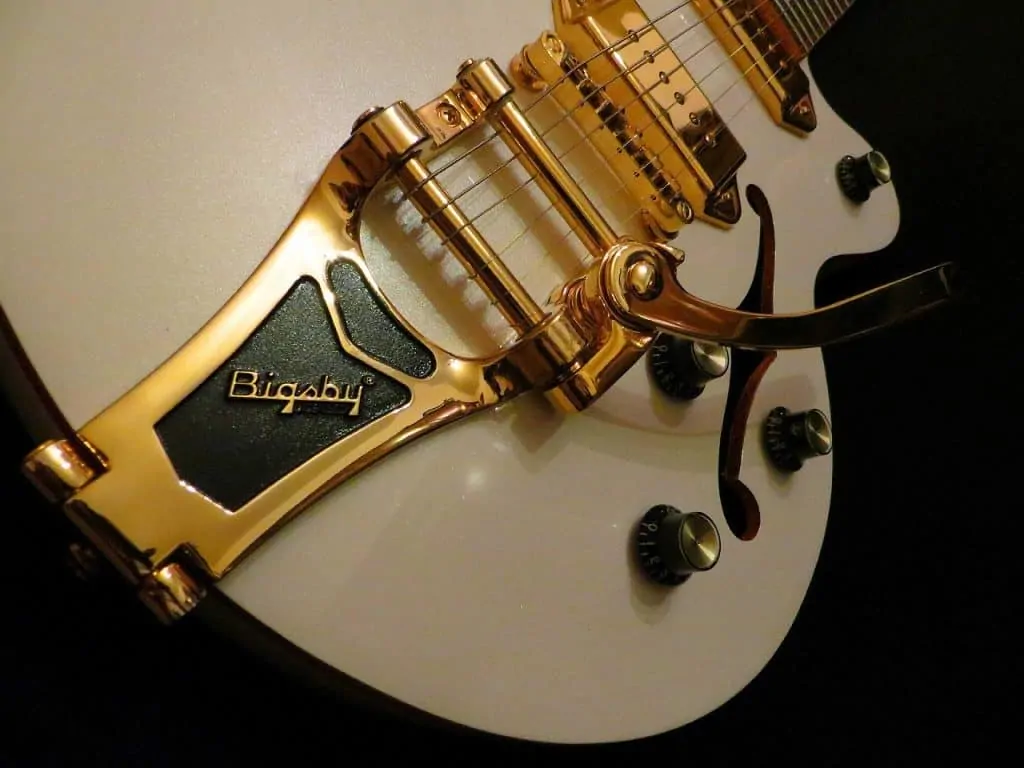 A hollow or semi-hollow guitar has a portion of their bodies hollow. You can identify them because of their f-shaped sound holes.
So, when it comes to old-school guitars, few can beat the sound of these babies. That's why they were once the guitar of choice for jazz, blues, country, and bluegrass musicians.
Semi-hollow and hollow guitars defined the sound of blues. The tone coming from their f-shaped holes booms in volume, dynamic, warmth, grit, and crunch.
This has changed as solid-body guitars advance. Modern electronics and pickups are able to imitate or create almost any sound they want. But, still, there's nothing like the original thing.
And the Washburn OE30CH is quite an original thing.
Washburn OE30CH Semi-Hollow Guitar Review
The Delta King OE30CH semi-hollow guitar is a perfect example of what the Washburn company can achieve: an affordable guitar with a simple built but amazing sound.
Keep in mind Oscar Schmidt instruments follow the same rules as before: super craftsmanship, affordable prices, and high-quality components.
If you're looking to tap into old-school electric guitars, the Oscar Schmidt OE30CH Semi-Hollow guitar is a great place to start.
Overview
What we've got here is a semi-hollow electric guitar made of maple. It packs two custom Washburn humbucker pickups and rocks Tune-O-Matic bridge. 
Those are some special specs that are sure to yield great results. And even when this guitar follows a traditional path design-wise, it's clear it differs from tradition regarding its components.
Personally, I'm always impressed with semi-hollow guitars packing humbucker pickups. It is an odd mix between hard-rock modern no-noise sounds and the sustain-enhancer semi-hollow bodies. The results are always amazing.
And do you want to know the best thing about humbucker pickups? They are easy to replace, and modern alternatives are so, so good!
After checking the primary components of the Delta King, I was left wondering…how come this is not a hugely popular guitar?
We need to take a closer look…
Built Quality
There's no such thing as a mass-produced hollow or semi-hollow guitar.
Like all things vintage and old, semi-hollow guitars take a lot more craftsmanship and time than solid-body guitars. That's why affordable strings of this kind are quite rare. 
Keep in mind that semi-hollow guitars rely on their natural acoustics much more than solid-body guitars. The pickups are there to increase the natural sound of the guitar rather than creating something out of nothing, like a solid-body alternative. That's why the built quality of a semi-hollow is very important, so much more important than their modern counterparts.
Body & Design
That said, the OE30CH features the standard double-cutaway archtop body shape we've seen on so many guitars of this category.
The body is made of maple, an odd choice for guitars, but I understand the choice. See, maple is a heavy tonewood, but it's also sturdy and offers a richer and brighter sound than mahogany or agathis, common woods at this price range. And because this is a semi-hollow guitar, then the weight problem is no longer there.
Furthermore, maple is known to have an increased bite and longer sustain.
The body is crafted with plenty of precision and care, so it makes for a strong and reliable piece.
Overall, the built quality of the body is superb, which is something you'll notice as soon as you try this guitar.
Neck
The neck is also made of maple. It's very sturdy, smooth, and strong. A solid maple single-piece neck produces even more bit and grit, but it also adds balance to the tone.
This is a bolt-on neck, which is a decision that lowers the cost. Set-necks and through-necks require an additional luthier to design the neck into the body, whilst a bolt-on neck comes from a factory line. 
It has a rosewood fretboard with 22 frets and position dot inlays. Rosewood magnifies the musical properties of the neck tonewood, which is why this is such a popular choice for the fretboard. More so, rosewood is naturally oily, soft, and smooth, so it feels great on your hands.
Likewise, the neck's finish is flawless. There are no sharp edges, no flaws, no roughness. It's just smooth and beautifully crafted.
Finish
The Delta King guitar ships in two different colors, which are either Black or Cherry Red. Both options come with a nice black or white finish underneath the neck and around the whole body.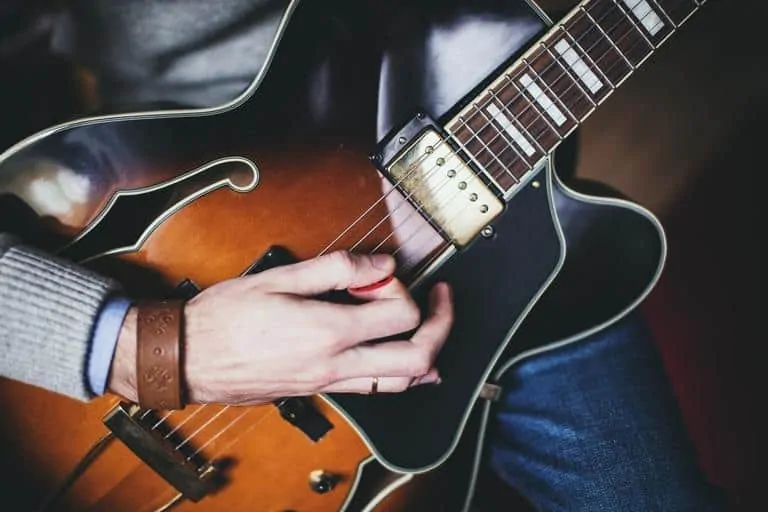 Tonewoods and sound
I'm highlighting the use of maple for the body because I believe it was a superb choice.
Maple adds a bright tone that's not sharp or overpowering. Such a feat gives you more headroom to play around with your volume knobs, your guitar amps, and your guitar pedals.
When semi-hollow bodied guitars use maple, the sustain is extended whilst the brightness is warmed up.
Now, a semi-hollow guitar is different to a hollow guitar because there's a single piece of solid wood running down the middle. This piece adds weight to the guitar, which in turn creates a dynamic sound.
Semi-hollow guitars also have two chambers where the sound reverberates, as opposed to the single chamber a hollow-body guitar has.
As you can imagine, the single-piece of wood is made of maple. Add that to the mix and you get a tone with a lot of character and just a hint of aggression.
That's how important the built quality of semi-hollow guitars is, which is something many manufactures conveniently forget.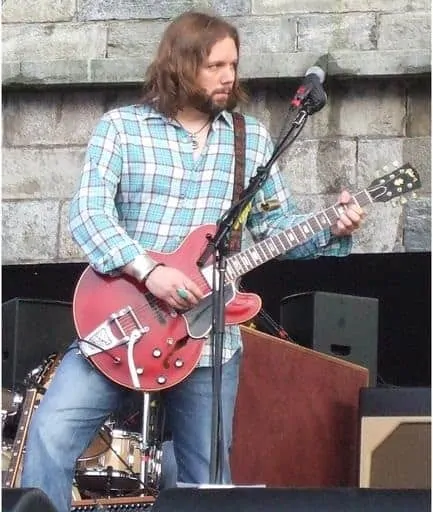 Sound Quality
In essence, the sound of the Delta King is aggressive, bright, and carries a certain bite.
The pickup configuration breaks from tradition as well. Instead of single-coils or P90s, Washburn decided to add a couple of punchy humbucker tapers.
Let's see…
Electronics
For Oscar Schmidt decided to install a pair of humbuckers into this "traditional" guitar, there're pretty significant changes regarding how it sounds.
There's one custom Washburn humbucker pickup at the bridge, and there's another custom Washburn humbucker pickup at the neck. This HH configuration carries as much versatility as a solid-body guitar but retains the "flavor" of semi-hollow guitars. 
It also has surprising tonal shaping options: each pickup has independent controls for tone and volume. 
Plus, there's the standard 3-way switch to blend the two pickups. This toggle lets you reach a mellow sound with the neck position, or an aggressive sound with the bridge pickup.
All of this gives you an easier guitar to use than traditionally-built semi-hollow guitars filled with hum, noises, and other unwanted sounds difficult to tame.
Sound
Everything I've said so far already gave you an idea as to what kind of tone the Delta King produces.
Right out of the box, it sounds more aggressive than your common semi-hollow. But, at the same time, it retains the signature character of this type of guitar, which is a thing booming in sustain, warmth, and depth.
Furthermore, because of the maple body, this guitar offers increased sustain and dynamic. The sound, then, feels alive.
If a guitar could breathe, it would sound something like this:
<iframe width="560″ height="315″ src="https://www.youtube.com/embed/il1h0xDK82k" frameborder="0″ allow="accelerometer; autoplay; encrypted-media; gyroscope; picture-in-picture" allowfullscreen></iframe>
Feel Quality
You can expect this guitar feels flawless. And that's mostly because of its top-notch hardware.
Hardware
Washburn went with a classic-looking hardware for the Delta King. We're talking about modern alternatives nonetheless.
Instead of using a complicated vintage tailpiece bridge, Oscar Schmidt installed a Tune-O-Matic bridge. It's a decision that greatly simplifies things for the user and the manufacturer: these are easier to install and they increase intonation by tenfold.
This in an upgrade they got from Gibson. Consider Tune-O-Matic bridges are the standard choice for all Gibson Les Paul guitars and you'll understand just how much quality these bridges can give. 
Unsurprisingly, then, the Delta King's bridge adds better stability and string tension. It also allows players to adjust the action of the strings easily.
The tuners, though, is where Washburn saved some resources. They are decent, but they don't have the same level of quality as the rest of the guitar. Still, they can hold tuning on most regular conditions, albeit "regular conditions" don't include live performances. Such a shame!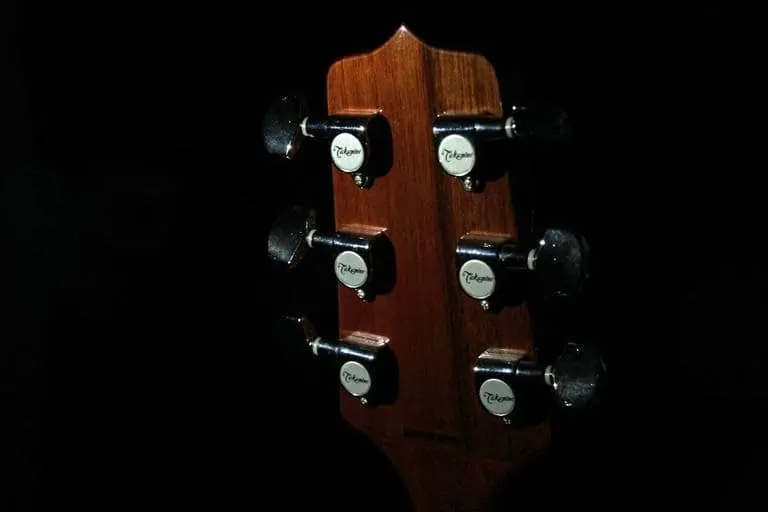 The better the tuners, the better the guitar can hold the tune during aggressive playing or during long practice sessions, rehearsals, or shows.
Playability
The Delta King feels smooth, light, and balanced. Its double-cutaway body offers the playing experience intermediate and advanced professional players are looking for.
However, despite its genius design and stellar sound, it doesn't feel as comfortable as higher-end instruments, which is why I'm not recommending this ax as a first-time guitar. 
Nevertheless, it's quite rare to find a budget semi-hollow guitar that doesn't have a rough neck or stiff string tension. Instead, the Delta King stands out over its affordable competition for its smooth neck and lower string tension.
Downside & Alternative
Honestly, this guitar has no drawbacks. As it is, it can become your main gigging guitar. It sounds great, it looks great, and it feels great. 
Even though it's not as popular as other models of its kind, I highly recommend this for intermediate and advanced players looking for an affordable semi-hollow ax that sounds professional.
Sometimes, though, this guitar seems to ship with a deal-breaking flaw on the neck. It may arrive with a badly-positioned neck, so you need to check this guitar very carefully if you order it online.
That said, the only thing I would do to improve this guitar is to change the tuners. And we need to go for something that looks classy and offers the most quality. So, with those two requirements in hand, I chose P-Tenor units.
Now, you could also improve the sound with a new set of humbucker pickups, but that's not something I recommend for this guitar. Why? Because Washburn made these humbuckers to specifically fit the construction and characteristics of this guitar.
Swapping the pickups could potentially give you an odd sound. Either way, feel free to check this Gibson pickups guide to search for another humbucker. 
In particular, I believe a couple of P90s would mix this guitar really well. I choose the Seymour Duncan Phat Cat humbucker-sized P90s.
The Phat Cat pickups are great for country, jazz, rockabilly, classic rock, blues, hard rock, and heavy rock. They can even play heavy metal music. 
They come with a metal cover for noise, hum, and feedback shielding. Lastly, Phat Cats work great with maple, rosewood, or ebony fingerboards.
If you want further alternatives, I must guide you to our prior top 10 hollow and semi-hollow guitars list. 
I'm very fond of a guitar we already review on that article, the Fender Deluxe Stratocaster Thinline, which is also semi-hollow guitar with a modern sound suited for soft rock:
Washburn Oscar Schmidt Delta King Guitar Specs
Design: double-cutaway semi-hollow body
Tonewoods: maple body, maple neck, rosewood fingerboard
Scale: 25.5'' (long-scale)
Fingerboard: 22 medium jumbo frets
Radius: 
Pickup configuration: Custom Washburn Bridge Humbucker & Custom Washburn Neck Pickup
Controls: 2 individual volume knobs, 2 individual tone knobs & 3-way selector switch
Tuners: Standard die-cast tuners 
Bridge: Tune-O-Matic bridge
In Summary
Whilst this is not a popular guitar, the Oscar Schmidt OE30CH combines the best features of solid body guitars with the style and tonal characteristics semi-hollow guitars have to offer. The result is a bluesy sound with some roughter elements in the mix.
And it does so in a flawless manner. Everything about this guitar is well above its price point. Disregarding the just-okay tuners, I'm surprised this guitar sells for low. 
Overall, the Delta King is a special semi-hollow guitar. Its mixture of maple tonewoods, humbucker pickups, and f-holes gives you a unique sound that mixes sustain, brightness, richness, and depth with just a hint of aggressiveness and bite.
If you've got some money saved to get a new guitar or a first guitar, opt for a semi-hollow alternative right away. They might be hard to use at first, but they can take your sound to the highest professional standards you can imagine.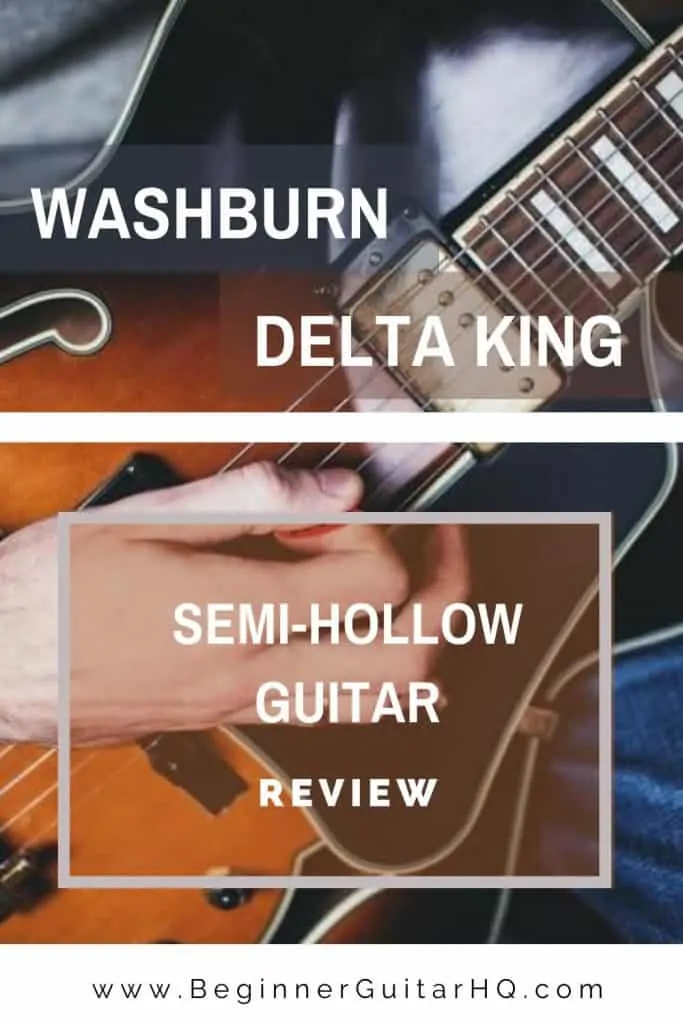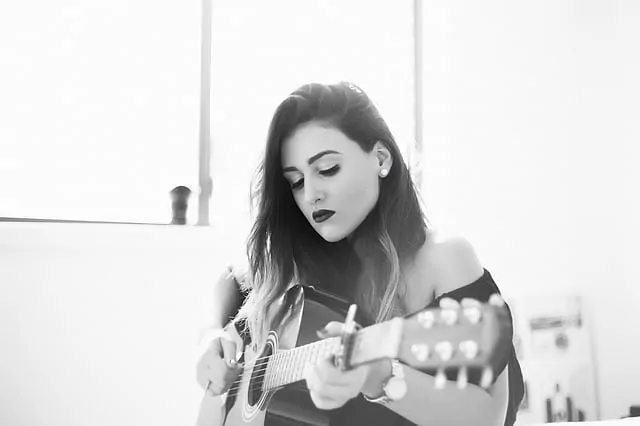 Jen is a guitarist and singer-songwriter who spends much of her time on the road and has lived in 13 cities across 4 continents. She picked up her first guitar at the age of 6 and learned to play by ear shortly after. She received her formal music education at the Berklee College of Music, and currently plays for a few bands in her free time. She has an uncanny ability to improvise creative melodies and harmonies. Her early influences include blues, jazz and rock.