The Epiphone SG Special is the mid-level buster. Coming from Gibson's subsidiary, we already know the basic formula of the electric guitar. It's an affordable and yet valuable alternative to the coveted Gibson SG guitar, one of the best, if not the best, guitar for rock genres.
I would say this is an entry-level guitar as it's one of the cheapest full-size solid body guitars have to offer. However, in terms of quality and price, we're reaching the mid-level department.
There're guitars you can buy by saving a couple of McDonald's, but they aren't worth much. Dirt-cheap guitars aren't durable and don't sound good. However, the Epiphone SG Special electric guitar is nothing like this.
I've established the price goes above what you'd expect from a super cheap guitar. But its features, sound, and construction quality justify the gap.
You do need to know the price of the guitar used to be $200. Because of how popular it is, and after a few upgrades in the electronics and finish department, Epipiphone added about $100 more to the price.
Epiphone SG Special VE Electric Guitar Review
We're looking at one of the most popular guitars series in history. The SG Special lineup is the favorite choice of legendary guitar players such as Steve Vai, Van Halen, and AC/DC's Angus Young.
That said, the Epiphone SG Special doesn't feature the most excellent quality ever. On the contrary, it has the standard hardware Epiphone entry-level guitars have, which is still pretty good.
On the other side, it features Gibson's SG design with quality tonewoods and careful construction. See, the SG features a neck design that's smooth and unique, which allows for fast shredding and plñaying.
This same advantage is present here, something that beginners will appreciate and make playing easier.
Overall, the Epiphone SG Special is a guitar you'd want to pick if you want to grow as a player. It might not be the best choice if you're an experienced player, as there're more specific budget guitars out there to suit particular musical needs.
Still, there's a reason why the SG is one of the most common guitars on professional stages and recording studios. Now, if you're a beginner, you get to start with perhaps the best guitar design in history. And I say that with a passionate smile on my face as I started playing guitar and bass with similar instruments.
And there're few negative things to say about the guitar, other than its current inflated price. Still, by the time you read the article, the extra fee might already be gone.
If it's not, then I believe the Epiphone SG Special is still a quality investment. However, its current price makes it compete with other top-value choices from Yamaha, Schecter, and Squier. We'll get to see these options later on.
Overview
The SG Special is an attractive guitar selling with the classic wine-red or black Gibson paint jobs. On top of its aesthetics, it packs a fair amount of Epiphone features to make it stand above its competitors.
Here's what the guitar brings forward. We'll take a look at these elements across the review:
Sleek and attractive finish
Maple or mahogany bolt-on neck
22 medium jumbo frets with white dot markers
SlimTaper D-shape neck profile
Rosewood fingerboard
Mahogany, alder, or poplar body
Open-coil humbucker pickups
LockTone Tune-O-Matic bridge
Stopbar tailpiece
KillPot control knob
Single master and volume knobs
3-way pickup switch
Standard truss rod
Such an amount of features is uncommon on beginner-level guitars. All of these delivers an easy-to-play guitar for rock and heavy metal.
So, overall, the Epiphone SG Special helps beginner players discover rock playing style for a friendly price tag.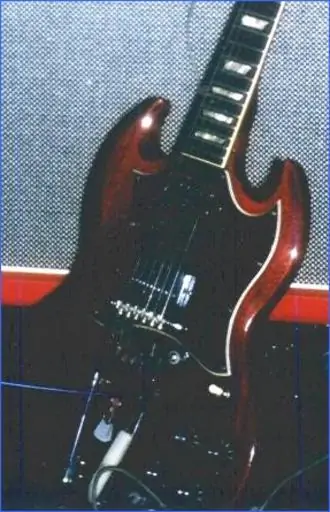 The SG guitars debuted in 1961 with either humbuckers or P-90 pickups.
Built quality
The Epiphone SG Special is an affordable guitar with a surprising build quality. Well, "surprise" is not the right word for an Epiphone guitar. The way to describe it would be "solid."
First off, the body features the same material top-tier Gibson guitars have. That's either mahogany or alder. However, some of these guitars are shipping with a poplar body, which is more low-end tonewood due to softer tones and lack of durability.
Then, the guitar has a bolt-on maple or mahogany neck with a 24.75'' scale. It hoasts a rosewood fingerboard plus Gibson's classic SlimTaper D-shape profile.
A SlimTaper D-shape means the neck is slightly asymmetrical, slim, and rounded as a D. These elements make for an easier guitar to play.
Back on the body, the guitar has a dual cutaway design. That means it has curves on the upper and lower bouts to offer access to the higher frets.
On the other side of the guitar, it has a "Clipped Ear" style headstock. The headstock features a 60's era Epiphone logo edition. Plus, it often has the year edition logo on the back of the piece.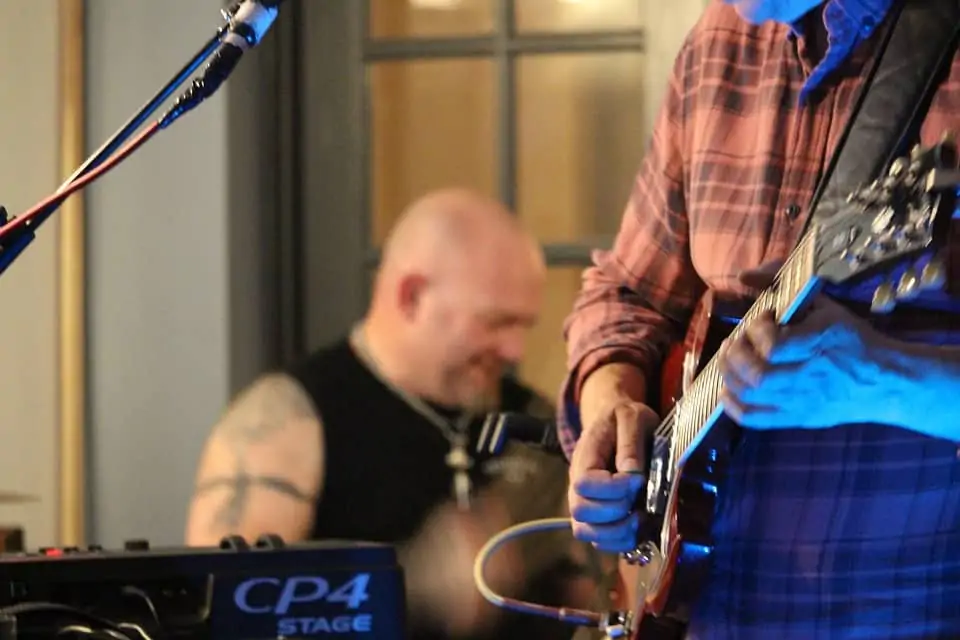 SG guitars feature similar sounds with various degrees of quality. The sound is gritty, aggressive, and rock-oriented.
Disclosure about versions
Now, there are many versions of the Epiphone SG guitar. It's a series that lasted for years and years, so Epiphone has made some minor tweaks over the year.
For example, the 2017 iteration features a poplar body with mahogany veneer plus a black pickguard. I'm highlighting this version because it's widely available on both onñline and physical retailers.
After the 2017 version, it seems Epiphone started building the SG Special P-90 guitar instead. The price goes even further as it has better pickups. However, the sound is vintage-oriented, and so it no longer is an attractive beginner guitar.
Sound quality
The Epiphone SG Special sounds as you'd expect. It's a classic rock guitar featuring a classic rock sound.
It has a tone knob that offers enough versatility to go from blues and rock n' roll to hard rock genres. However, it may not have enough definition to play high-output heavy metal, so don't push it beyond its comfort zone.
Still, the guitar sounds sweet. Chords, solos, and notes have decent clarity, distinction, and harmony.
Electronics
The guitar packs a couple of open-coil ceramic humbucker pickups. An open-coil humbucker means its nickel silver uncovers its magnets. The result is a sound that feels more open and organic.
These are noiseless pickups with medium output. The sound they produce is edgy, gritty, and growly, everything you need for rock genres.
Also, the ceramic material enhances low-end sounds while delivering a smooth mid-range sound. At the same time, the treble is pronounced and yet never more present than the mids or the lows.
As for electronics, it has a volume knob, a tone knob, and a 3-way selector switch. The selector toggle sets which pickups are on and off at any particular time.
In particular, the VE version packs a 650R humbucker at the neck, the "Rythm" position of the selector switch. Then, there's a 700T humbucker at the "Lead" position, the bridge, which features a stronger or "hotter" sound.
If you leave the toggle at the middle, both humbucker will be playing at the same time.
Additionally, it has a KillPot switch on the volume knob. If you tab the knob, you will momentarily cut the signal and thus create a "stutter" sound effect. It also works to turn off feedback immediately if there's something wrong with the pedals.
Feel Quality
Compared to Gibson Les Paul guitars, SG models are easier to play. These guitars are lighter and feature a slimmer body and a slimmer neck.
Also, Les Paul guitars have an arched maple top, making the Les Paul guitars bulkier and harder to play.
There's also the presence of two cutaways in the body to give you full access to the frets. And because the neck is light, smooth, and slim, playing the guitar can eventually get easy.
Few guitars are as accessible and yet as professional to play as the SG guitar. It has everything a beginner player would like without sacrificing anything a professional guitar would ask for.
Hardware
The construction quality completes its full circle with Epiphone's solid hardware.
First, it packs the brand's reputed LockTone Tune-O-Matic bridge plus a stopbar tailpiece. This delivers more than decent intonation. Plus, it enhances sustain and vibration.
Nearby, there's a non-rotating output jack. This is an excellent choice as you know the output will last forever.
On the other side, there's a set of die-cast 14:1 machine heads that deliver accurate and fast tuning. However, a 14:1 gear ratio is pretty weak, so it bends the intonation can go out of shape quickly.
Fortunately, the bridge can do the job and keep intonation for about 30 minutes in rock playing sessions. It could be better.
All of the hardware comes in chrome for a cosmetic contrast with the rest of the guitar.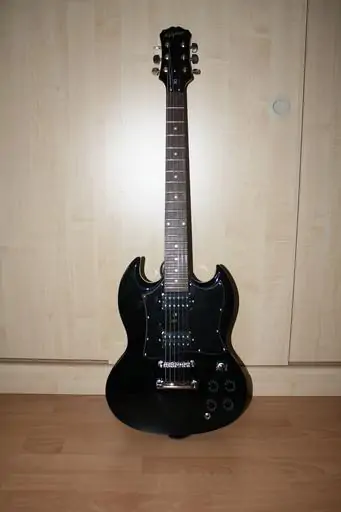 Non-quality tuning pegs can easily ruin live presentations and rehearsals.
Downside & Alternatives
The Epiphone SG Special is indeed versatile, lightweight, and rock-fueled. It's above decent and behaves almost like a mid-tier guitar.
We can make it better, though, and I guess you saw where there's potential to improve.
First of all, we can improve the tuning pegs. We want a set of locking tuners if we aim to play live. I'm picking a top-value set with an 18:1 ratio (you can check the article I just linked for info about tuning pegs).
The second thing we can change is the humbuckers. Epiphone humbuckers are fantastic for the price. However, if you need to play stronger genres, or if you're looking for extra definition, you'll want something better.
As this is an affordable guitar, we don't want to overspend on the humbucker change. We're looking for something that drastically improves the sound quality for as little money as possible.
Our choice is the Seymour Duncan Hot Rodded set. It's a significant upgrade that provides gorgeous cleans, extreme definition, vintage output (gritty and raw), and infinite tolerance to high distortion.
Otherwise, you can check our list of the best humbuckers to choose one yourself.
Lastly, we could change the strings as well. You may use the original strings for 6 months either way. When the time comes to change the strings, go for a reliable D'Addario set:
Variety
We've already recommended a couple of affordable Epiphone guitars on the site. I'd do well to remind you.
First, we have the Epíphone LP Special II. It's a cheap, great-sounding guitar with decent hardware.
I can't point you towards the Amazon listing because the guitar hasn't been available for a while, though.
There's also the Epiphone Les Paul Standard. It's a high-quality guitar that sounds almost like the real thing. It's not available either. Keep it in your mind's eye nevertheless.
For now, I can link you towards a top-value Epiphone guitar, the Epiphone Les Paul Studio LT.
This baby has the Les Paul body with the classic carved top, a couple of zebra-coil ceramic high-output humbuckers, and superb construction quality.
It's definitely heavier than the SG guitar and also a bit pricier. However, it delivers a better sound plus a neck that feels just as good, if not better.
Alternatives
As I said, there're other guitars from reputed brands you could check at this price range.
First off, there's the Schecter Omen 6. It's a solid, affordable guitar for metal genres.
However, the price is still beyond the Epiphone SG guitar, so we need to keep looking.
A fair competitor would the Ibanez GRX6.
The guitar features Ibanez's Infinity pickups on a humbucker/single-coil/humbucker configuration. On top of that, it has solid hardware, a poplar body and neck, and a powerful sound.
This GRX6 model has the reputation of being the best beginner or cheap metal guitar. Whereas it improves the hardware compared to the SG model, it lacks the same quality construction materials.
Still, it manages to deliver greater flexibility and output plus a fantastic look.
Epiphone SG Special VE specs
Design: SG body with dual cutaway
Body tonewood: mahogany
Neck: SlimTaper D-shaped neck
Neck joint: bolt-on
Neck tonewood: mahogany
Scale: 24.75''
Fingerboard tonewood: rosewood
Fingerboard radius: 12''
Pickups: 700T bridgehumbucker & 650R neck humbucker
Controls: single volume knob, single tone knob, KillPot switch, and 3-wat selector switch
Tuners: open-gear 14:1 tuners
Bridge: LockTone Tune-O-Matic bridge plus stopbar tailpiece.
In summary
Should you buy the Epiphone SG Special?
For the money it's worth right now, the Epiphone SG is still a top-value guitar. It offers a timeless aesthetic, a classic rock sound, and a friendly but professional feel.
It lacks professional performance, so this is not the guitar you'd want to use for your first vital gigs or recordings.
Still, with its fast neck, easy tuning, and straightforward sound, you'll have a great time as you grow as a guitar player.
Final Say
Epiphone hardly misses the mark, and so the Epiphone SG Special VE is yet another top-value and affordable rock guitar the brand produces.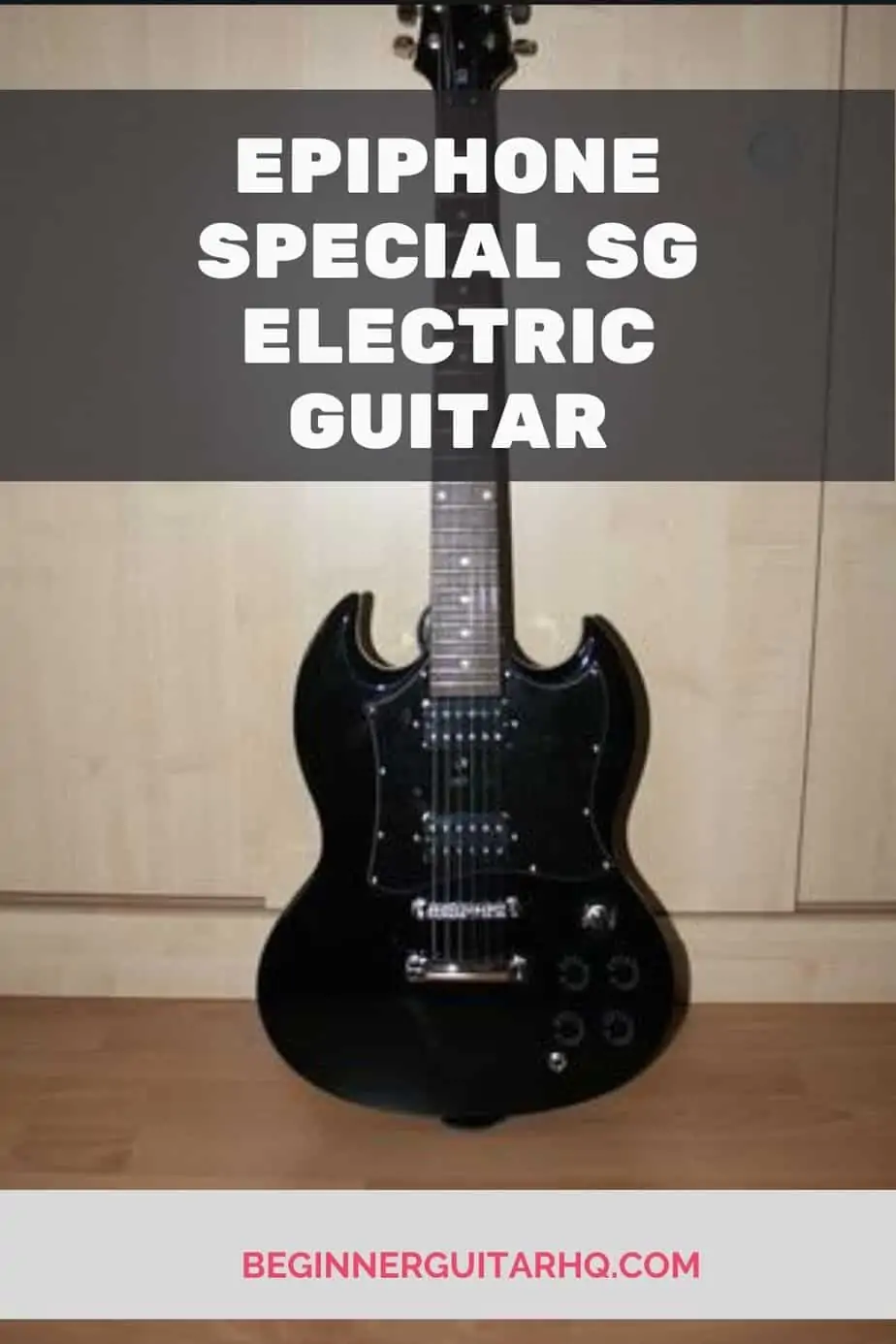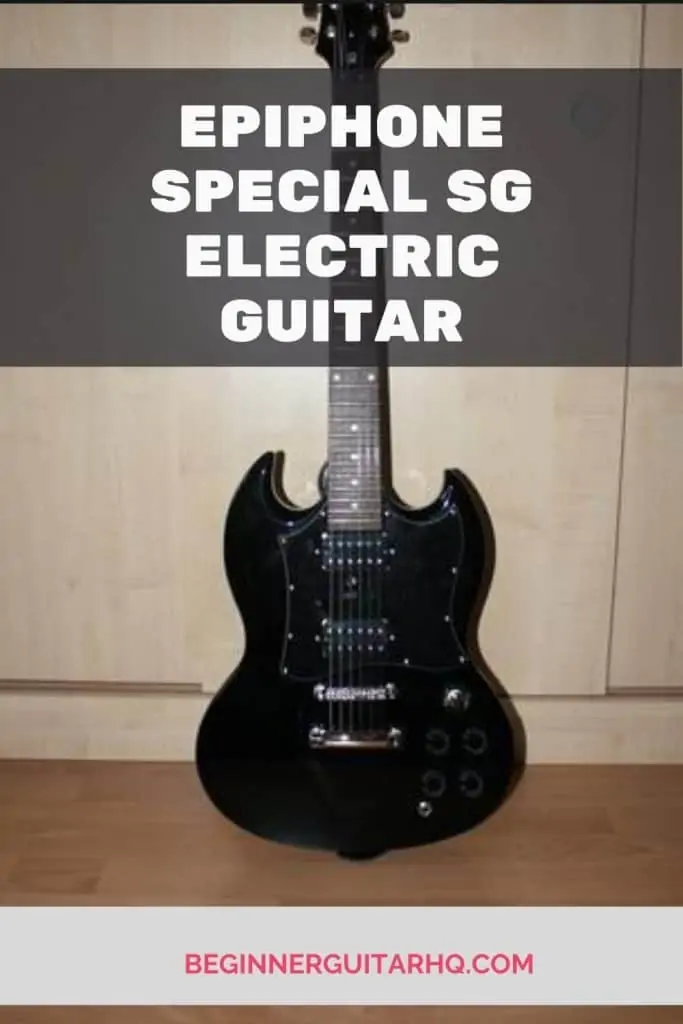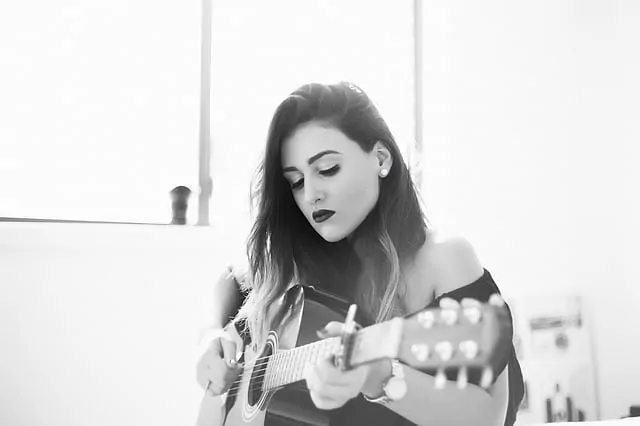 Jen is a guitarist and singer-songwriter who spends much of her time on the road and has lived in 13 cities across 4 continents. She picked up her first guitar at the age of 6 and learned to play by ear shortly after. She received her formal music education at the Berklee College of Music, and currently plays for a few bands in her free time. She has an uncanny ability to improvise creative melodies and harmonies. Her early influences include blues, jazz and rock.