Humbuckers are perhaps the most heard and most used guitar pickup of all time, and there's good reason for this. The best humbuckers pickups give players a whole set of tones that simply are not accessible through other pickup combinations, whether it is the thick warmth of a vintage style humbucker or the high output punchy of an active humbucker. The ability to push more tone through the amp, all the while eliminating the hum that one would experience with a single coil style pickup is invaluable.
In this article I will touch on 10 of what I believe to be the best humbucker pickups on the market today. Whether you're doing some modifications or building a guitar from the ground up, these are definitely some pickups you will want to consider.

Classic pickups mean classic tone, most Gibson aftermarket pickups are made to mimic old classic Les Paul tones, like this one.
Gibson Classic '57 Humbucker
For the first entry into our list, I felt it was best to highlight the style of the best humbucker pickups that started it all – the classic Gibson '57 Humbucker.
While Gibson did not invent the humbucker or the electric guitar for that matter, they are in my opinion the brand that made them the most popular, and the brand most synonymous with the "humbucker sound." The tones of the '57 Classic are just that, classic. When heard, they will call to mind the oldest style of the best humbucker pickups, representing the best of the dark, rich and warm tone that is perfect for smooth guitar playing, but also handles high gain and distortion like only a vintage humbucker could. For players looking to get back to the basics, definitely check one of the best humbucker pickups out.
Fender Wide Range Humbucker
The next entry in the list of best humbucker pickups come from another classic brand. The wide range humbucker was designed for Fender in the 70s to help compete with other companies pumping out humbucker equipped guitars, and to change Fenders public image away from just a "single coil company."
The wide range humbuckers name matches its tone perfectly, which is a classic thick humbucker sound that possesses a good amount of bite, especially for a humbucker. This makes it one of the best humbucker pickups to be used in tandem with a single coil, either in the bridge or vice versa. The Wide Range humbucker is perfect for players looking for a vintage sounding humbucker with a little more bite.
EMG 81/85 Set
EMGs are perhaps the most recognizable and most classic example of an Active Humbucker. That is; a humbucker that requires additional power (typically a 9v battery) but has a much higher output, making it one of the best humbucker pickups for hard rock, metal and high gain music in general.
EMGs are one of the oldest active pickups around, and the 81/85 set is synonymous with thrash metal. As such players can expect a high output, high gain tone that handles distortion the best. Allowing for high gain riffs that still maintain there contour and their tone at all volumes.
EMG James Hetfield Signature Set
EMGs would not be the pickup brand they are without their affiliation with their most famous users, Metallica. Which is why James Hetfield released his own signature set with EMG; the "Het Set" one of the best signature humbucker pickups set out today.
The Het Set is based around the classic 81/85 set seen earlier in the list, but with a unique voicing tailored to Hetfield's exact specifications. The Het Set offers a punchier low end when distorted, with more clarity and dynamics all around, making it one of the best humbucker pickups and one of the quintessential rhythm guitarists pickup.
Fishman Fluence Modern
The next entry is the most recent and some would say most influential pickup of the past couple of years. Fishman Fluence pickups are the latest evolution in active pickups, and what many believe to be the new best humbucker pickup. They are known for their clarity above all else, with the ability to be voiced in a variety of ways, from shimmering cleans to crushing distorted tones.
The Fishman Fluence Modern set is the flagship of this new addition to the pickup world, with a growing list of endorsees, any player who is interested in staying on the cutting edge of new guitar tones should look no further than one of the most innovative and best humbucker pickup sets out today.
Fishman Fluence Tosin Abasi Set
It would be unfair to mention Fishman Fluence pickups without mentioning their most influential and noteworthy endorsee, Tosin Abasi. The lead guitarist in Animals As Leaders, Tosin has ushered in a new era of guitar based melody with his creative style, and his pickups are no exception. His signature set improves on the already ground breaking base, with an increased attention to clean tones.
The focus on clean tones is a special feature, especially when it comes in the 7th and 8th string sets, making it one of the best humbucker pickups Where most multi scale pickups are focused solely on high out and gain tones, the Abasi Set focuses on the often forgotten clean tones.
Seymour Duncan P-Rail
This entry into the list is the most versatile, and that is because it is not 100% a humbucker. Yes, I know, this is a humbucker list, but hear me out. The Seymour Duncan P-Rail is one of the most versatile and best humbucker pickups in world, simply because it allows the player the ability to use 3 separate pickup configurations
The Seymour Duncan P-Rail gives players access to tones from a humbucker, a single coil and a P-90, all built into the pickup and available to switch to and from with the flick of a switch. For the player looking for that humbucker punch, but not wanting to miss out on the single coil shimmer and P90 simmer need look no further.
DiMarzio Super Distortion
The next pickup in the list is a throwback to the older days of high gain. DiMarzio has been a name synonymous with hard rock for decades, with an endorsee catalogue spanning generations, DiMarzio Super Distortion is one of the best humbucker pickups for players looking for a more classic old school high gain crunch.
The Super Distortion Set has a very high output and most significantly, a very high mid range presence, giving it both a classic crunchy as well as a searing tone perfect for lead guitar. That coupled with its standard size and easy install make it the perfect high gain pickup
Seymour Duncan Invader

Humbuckers are often used best in tandem with other pickups, single coils and humbuckers make a well balanced, and easy to emote with, tone.

Seymour Duncan is a name synonymous with high gain gear, and this pickup set in particular is one of the best examples of an all out shredder pickup. Used by such artists as Tom DeLonge, the Invaders intense look matches it tone perfectly, offering some of the heaviest passive tone imaginable. This pickup is one of the best humbucker pickups for players looking to capture that classic pop punk sound.
With its overwound coils the Invader set is one of the more intense pickups on this list, the pickup pushes hard on an amp, even in cleaner tones. The crunch of this pickup is almost effortless, with the both the neck and bridge giving off nothing short of insane heavy tone, making this one of the best humbucker pickups for raucous and wild tones.
Seymour Duncan Pearly Gates
For the final entry of this list, I felt it best to end with another one of the best and most classic humbucker pickups, albeit a more modern take. The Seymour Duncan Pearl Gates were designed by guitarist Billy F. Gibbons of ZZ Top, modelled after an original 1959 Les Paul pickup.
The pickups are hot, but not too hot out of the gate, instead allowing the player to achieve equally crunchy and clean tones depending on their own preference. Out of the best humbucker pickups on this list, the Pearly Gates a particularly treble focused tone, this pickup shrieks and soars at the players leisure.
Conclusion

Humbuckers have been around for a long time, making them the ideal pickup for capturing that vintage tone
That completes our list, 10 of the more significant and best sounding humbucker pickups available on the market today. Like my choices? Disagree? Have a few of your own? Let me know in the comments below!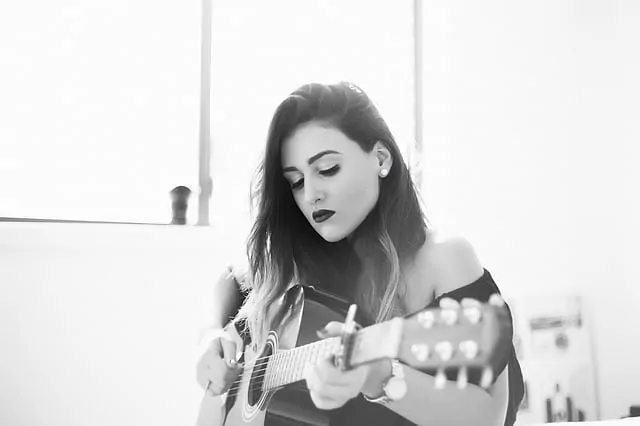 Jen is a guitarist and singer-songwriter who spends much of her time on the road and has lived in 13 cities across 4 continents. She picked up her first guitar at the age of 6 and learned to play by ear shortly after. She received her formal music education at the Berklee College of Music, and currently plays for a few bands in her free time. She has an uncanny ability to improvise creative melodies and harmonies. Her early influences include blues, jazz and rock.