Everything about Jackson guitars is aggressive. The tone is as dark as their colors, and the price is good enough for regular musicians.
The JS22 Dinky is the electric guitar that made Jackson popular for the common musician.
Even though the company's influence has slowly faded over the years, their guitars evenly compete against top competitors nonetheless.
The "Dinky" is Jackson's entry-level model, but it offers a different take on beginner electric guitars. Furthermore, it leaves plenty of space for improvement, tinkering, and pickup upgrades down the road.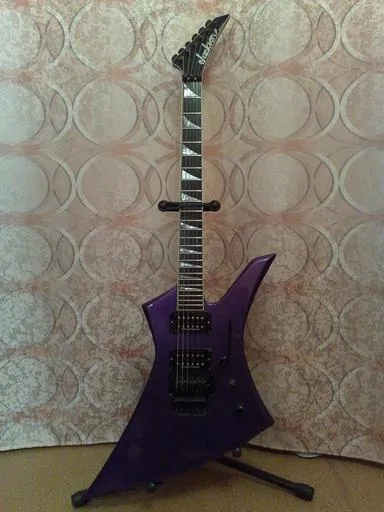 Jackson guitars are made for heavy metal
Jackson JS22 review
However a latecomer, Jackson has proved its worth, and they did it is a fast manner.
About 5 years after their launch, they had already become the most popular choice for metal guitar players.
Back in the '90s, the company began exploring the budget industry. One of their affordable guitar lineups is the JS series.
Today, we're exploring the JS22 Dinky, which is a popular medium-entry metal guitar that feels and sounds almost professional in all but price.
Let's make something clear. This is a guitar made for rock and heavy metal, and this is an affordable guitar. If you know what you're looking for, then this might be good for you.
However, if you're not a rock & metal superfan, the sound of this dual-humbucker guitar can quickly bore you.
Let's go on.
Overview
The JS series is made to be swift, affordable, and available guitar for the hard-working musician.
They still retain the classic Jackson sound, which is obscure and biting. That means the most important factor of the JS series is its Jackson High Output Humbucking Pickups.
Some people find nothing too special with the sound, while others cannot get enough. Because this is a guitar made for rock & metal, it's also aimed for specific players and specific ears. You would have to hear it yourself to make your decision.

Jackson guitars are known for their metal sound. If you're looking for a metal amp take a look at this guide.
Body & Design
Jackson guitars feature a Strat-like body for its double-cutaway design with a few additional mods. For instance, whilst Stratocasters look elegant and friendly, Jackson guitars look angry and pointy.
Jackson calls their particular Strat-like body design "Okoume." The JS22 Dinky upholds that policy.
The Dinky features a basswood body with a bolt-on maple U-shaped neck and a rosewood fretboard. Whilst basswood is an ultra-cheap wood and it's not a super-hot choice, many guitars work well with this tonewood.
It has Jackson's trademark Shark Teeth fret dots and white binding, which gives this guitar an unholy aggressive look.
The Dinky is a 25.5'' guitar, so this is a long-scale instrument.  Its length gives the guitar a lot more clarity and low-frequency response. However, it's not too generous in the mids.
Furthermore, the size of its body allows for 24 jumbo frets, which makes this a guitar for adult players instead of kids.
Lastly, it has a polyurethane finish on its body which gives it a premium fit and look.

The Dinky is an entry-level guitar with regular construction material and hardware.
In terms of design, I must add there's a JS22 Dinky guitar shipping out with 7 strings instead of 6.  This guitar is longer as it has a 26.2'' scale body.
The extra string is the lower one of the guitar.
Hardware
Let's review the hardware of the JS22 Dinky electric guitar.
It has a tremolo bridge, which is somehow surprising on affordable guitars. However, Squier has been doing this for ages, and Ibanez has also joined the trend.
Jackson followed suit with a functional whammy bar on all JS guitars. The bridge is no Floyd Rose, though. It's just okay and average.
On the body, we also find the Jackson HT6 String-Through-Body Hardtail bridge. Although it looks weak, it holds up tune pretty well. However, using the tremolo too much might de-tune the guitar.
The hardware is painted flat back, from the knobs to the die-cast tuners on the headstock.
As for knobs, we got a single volume and a single tone knob, alongside the standard 3-way selector switch. It's a simple and effective setup that offers a smooth and comfortable experience.

The Jackson brand is known for their heavy metal tones and designs.
Playability 
The rosewood fretboard has a compound radius, which is an uncommon feature on affordable guitar. That means the radius changes the higher you go on the fret, which gives you better access to all of the frets.
The radius starts at 12'' and closes at 16''. The bound fretboard has 24 jumbo frets. Jumbo frets have plenty of spacing between the frets and the strings.
The result is an aggressive guitar fitted for metal riffs, solos, bendings, slides, and similar; but not so generous on chords and rythm guitar sections. However, if you're already an experienced player, that wouldn't represent an issue for you.
Its maple fretboard and neck offers the player super-fast action. It means you can slide up and down the fretboard without too much hassle.
Additionally, it also helps you transition from lead playing to rhythm guitar in a seamless matter.
Its shape and weight are comfortable, even on playing for several hours. However, some people might find its "pointy-edges" too hard on the legs.
Overall, its design is optimized for player performance, and how it feels is truly impressive for its price range.

The JS series offers the classic tones and looks of Jackson guitars without spending too much money.
Pickups, electronics & sound
The electronics are simple and straightforward. It has a standard HH configuration (dual humbucker) wired to a single tone and a single volume knob.
There's also the  3-way pickup switch. It works like this:
Left position: only the bridge pickup sounds.
Middle position: both pickups are on.
Right position: only the neck pickup sounds.
The tapers are Jackson's own design. These are high output humbuckers that however offer a pretty low definition. So, although you'll get all of the output you'd want to play mean & heavy music, experienced players will take notice of the lack of clarity on high-gain situations.
In particular, these high-output humbuckers on the bridge and neck positions use ceramic magnets.
These puppies are great in budget instruments and produce better metal sounds than its similarly-priced competitors. It's a pickup system designed for metal players, so what it lacks in versatility it has in exploring the beauty of the number of the beast.
Here's a video showcasing its tone:
In all honesty, the sound is a bit muddy. However, it can be just good enough for metal.
More so, if you plug a decent metal distortion on this guitar, you'll get a great distorted tone from the Dinky.
Still, it has a lot more clarity than your stereotypical cheap guitar. Searching for pristine metal guitars on the same and lower price range is a hopeless endeavor.
There is some definition and clarity, and there are some beautiful and mellow cleans. However, you might have some trouble dialing a decent tone on your guitar amp.
Having said that, the tonal properties of the Dinky are very balanced compared to its competitors.
Overall, this guitar sounds a bit muddy but it sounds aggressive, mean, and loud as well. Besides, It doesn't sound cheap, plus the basswood gives the guitar strong mid-range tones.
Furthermore, because of the bolt-on neck, this guitar has enhanced dynamic response and a little twang.
It all means you can truly improve the sound of this guitar whilst keeping it as clean as possible. You should let pedals handle the distortion of this baby. Or, better yet, try it with a guitar amp made for metal and see how it reacts.
Overall, the sound is balanced for rock-solid metal

The JS22 Dinky is an affordable heavy metal guitar.
User reviews
Let's take a look at what the customer says at different online stores, which are mostly positive and claim on the sound qualities of the guitar:
"From the design, craftsmanship, to the playability and sound, it's a Jackson. And, speaking of the price, the JS22 Dinky is the cheapest way to have an ultimate shredding machine.
Also, it's a perfect companion for those who are still learning the craft of metal rock and shredding machines."
"This is an awesome guitar for the price. It stays in tune, the neck is very fast and slim. I prefer a maple fretboard over a rosewood so that is why I went with this model. The 3-way switch works as well as the tone and volume knobs.
It does its job and I think it's a great beginner's guitar. I just started playing after not playing for over a decade. If you have extra money, get a good amp and this guitar will pair well and you will not be disappointed"
"Omg, I've played cheap squires and Epiphones costing twice what this guitar cost and the difference is unbelievable. It's like the difference between an 80's mustang and a new Ferrari. This just feels like a precision instrument in comparison to anything else I've ever played. It needed absolutely nothing out of the box"
"Everything about this guitar was acceptable for the price. However, the design of the body dug into my forearm after about an hour of practice. Look closely at the pictures. It's a straight edge. Maybe I'm just used to Ibanez that has an angled body style for your arm and I got spoiled?? If you hold the bottom of the guitar further away from your body you may be fine with it.
The other issue I had was the pickups. If you're half-way serious about your tone, you'll probably want to replace them in the future. They didn't sound so great.
Overall, this guitar is a solid build and reasonable quality and materials."
"I haven't so much as held an electric guitar in around 8 years, within 3 minutes of unpacking I was tuned and playing around in a whole new world with the crunchy 7th string. I'm curious what she came strung with (I ordered strings as I didn't think she'd ship with them), there's a tiny bit of rattle to the low if you're outside of standard but as long as you aren't relentlessly beating on it it's plenty controllable. Beautiful deal all around, I haven't been this happy with an instrument purchase since I dropped 1400 on a PRS 16 years ago"
I choose both positive and negative comments, however, it's quite hard finding a negative one.
As you see, customers are usually happy with the sound of the JS22, whereas asking for more could only be achieved by paying more.
Because I find the tone of a Jackson guitar unique and different from most brands, I commend you to watch another YouTube demo so see if this is the metal sound you're looking for:
Jackson JS 22 Dinky Specs
Tonewoods: basswood body, maple neck, and rosewood fret.
Neck: U-shaped neck.
Scale: long-scale electric guitar (25.5'')
Fingerboard: 24  jumbo frets
Radius: 12''-16'' compound neck radius
Pickup configuration: Dual Jackson Humbuckers (HH)
Controls: Volume knob, tone knob & 3-way selector switch
Tuners: standard die-cast tuners
Bridge: Jackson HT6 String-Through-Body Hardtail bridge
Output: ¼'' mono, metal jack plate.

There's nothing particularly special about the JS22 specs. However, each of the components does its job perfectly well, and the humbuckers offer plenty of output and fair versatility. 
Drawbacks & alternative
As you've seen, this is a guitar with limited versatility, and although it has a great clean sound, no one is going to buy this guitar to play Eric Clapton.
Additionally, the tremolo bridge can cause intonation issues if you overuse it.
Metal and rock fans will find no reason to ditch this guitar, though, because it's specially designed to cater to the needs of these musicians. It can survive heavy distortions, soloing, the thickest metal riffs, and bending.
If you're into different music styles though but still want to enjoy a true metal sound, then maybe you could try an ESP guitar like the ESP LTD EC.
This is a more expensive guitar that's a great metal shredder. But, unlike the Dinky, it's a versatile guitar for other softer genres. And it has a beautiful clean tone. I personally prefer the ESP cleans to Gibson and Fender clean.
This is a more expensive guitar, but it's my idea for you to invest a bit more to get an advanced guitar.
Variety 
The JS series has various electric guitars, but the JS22 is the most popular one.
There are two models, though, I should list on this article as I think they might catch your attention.
First of all, the eye-catching natural-wood color JS32. I'm choosing this model because of its amazing color. However, keep in mind the specs are about the same as the JS22 except for its tonewoods.
The result is a better sounding guitar that's a bit more sturdy and balanced than the JS22.
Lastly, I must also commend the JS King as a great mid-level guitar offering close-to-professional-sound.
More so, it features the classic "Flying V" body design, plus a greatly enhanced bridge that improves intonation, playability, and feel.
In summary
The Jackson JS22 Dinky is a guitar made for metal. Whilst it might lose clarity and definition in high-gain situations, it still features a more balanced sound than its similarly-priced competitors.
Plus, it has as much output as you can muster. Besides, although basswood is not the best material, it's a great tonewood to this guitar as it gives a nice bottom-end sound.
Its dual-humbucking pickup situation can produce great quality sounds and interesting tones on the metal and rock spectrum, although there's not much else they can do.
It might take time for beginners to get the hang of it. However, I wouldn't recommend anyone to learn guitar by playing metal songs.
Either way, if you're really passionate about metal and rock, the JS22 Dinky has a lot to offer to both beginner and professional players.
What's more, you'll be surprised by its beautiful and mellow cleans and feel inclined to experiment with other pedals like overdrive or chorus.
I must also add the action is smooth, and it has decent-quality hardware that holds the tune very well.
It will keep you entertained and it can cover you well enough as you play live or as you record in the studio. More so, the sound is so balanced you'll learn how to set it up better and better as you grow, so this guitar is sure to progress alongside your skill level.
Overall, this guitar offers great value for the money. And if you're game for heavy metal and a reasonably priced guitar with fair-enough versatility, then this is a great choice for you.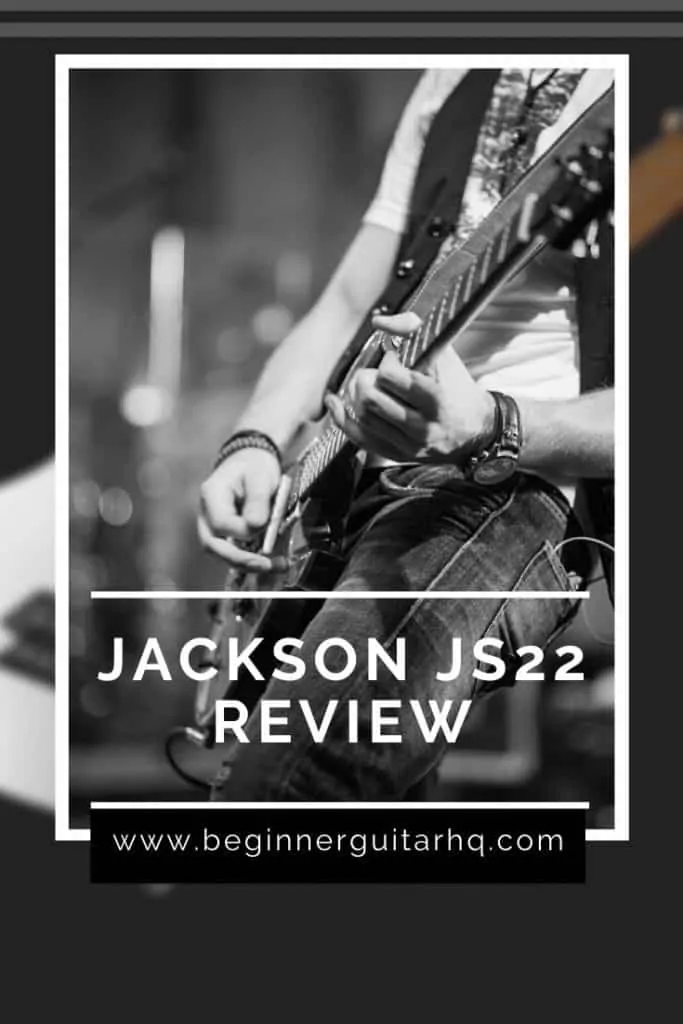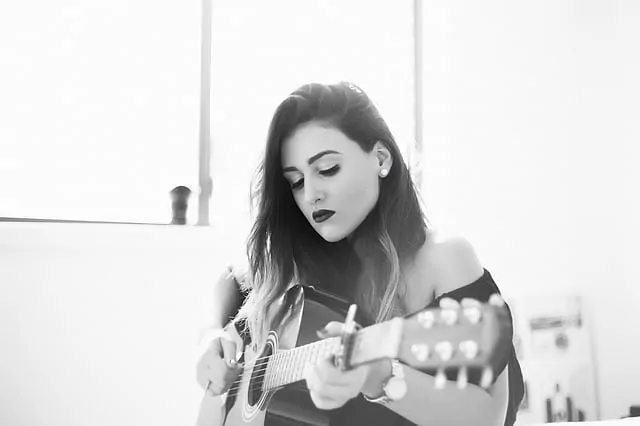 Jen is a guitarist and singer-songwriter who spends much of her time on the road and has lived in 13 cities across 4 continents. She picked up her first guitar at the age of 6 and learned to play by ear shortly after. She received her formal music education at the Berklee College of Music, and currently plays for a few bands in her free time. She has an uncanny ability to improvise creative melodies and harmonies. Her early influences include blues, jazz and rock.