Kramer Guitars is the lesser-known Gibson subsidiary. They create electric guitar and basses, and although their name doesn't harness the greatest popularity, the Kramer Baretta Special has a well-deserved cult following.
They began their operations in the 1970s and made themselves different by using aluminum or wooden necks on their guitars and basses. Moreover, Kramer made their instruments for heavy metal and hard rock musicians.
The Gibson Guitar company bought Kramer in the '80s. Soon after, the name Kramer Baretta became famous as one of the world's greatest rock guitar players, Eddie Van Halen, who kept returning to the model for his videoclips and concerts.
Sadly, the Kramer Baretta Special is not the iconic model Eddie Van Halen used to play. We're instead looking at a budget and IndonesianMostmade reissue of the New Jersey custom-shop model.
It's a far cry from a premium guitar, but it also doesn't cost much. The Kramer Baretta Special appeals to shredders on a budget, so don't expect a high-tier performance coming out of this particular metal guitar.
We identified Eddie Van Halen as one of the precursors of the modern rock guitar. We also listed the best guitars for the genre, most of which are premium offerings.
Speaking of which, there's another list highlighting the best expensive guitars you can buy right now.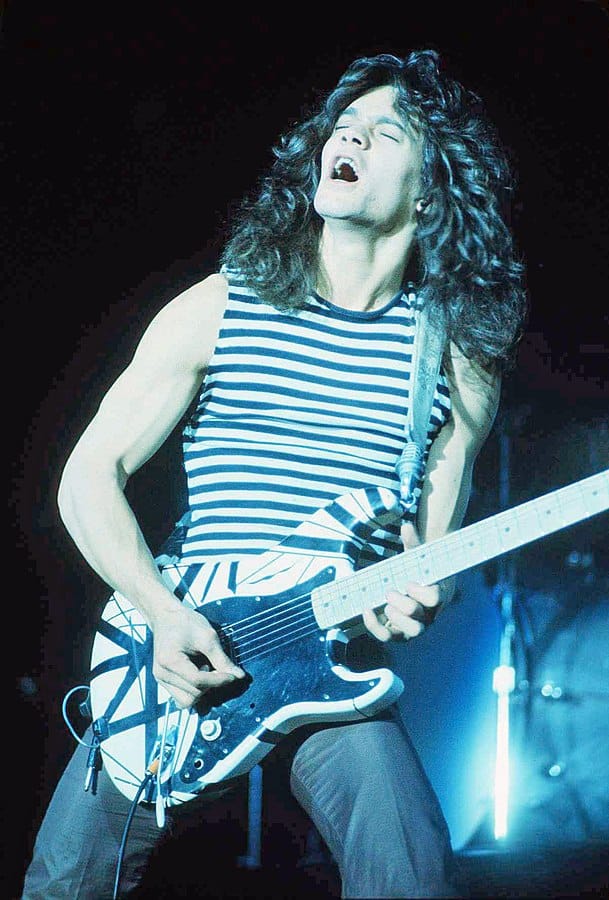 "Eddie Van Halen at the New Haven Coliseum" by Carl Lender / CC BY 2.0 Eddie Van Halen modified Stratocaster, with special paint jobs and hot humbuckers.
Kramer Baretta Special Electric Guitar Review
The Kramer Baretta Special became famous in 1984, but Gibson stopped the production of the guitar many years ago.
However, they still recognize the great influence the guitar had in the rock industry. If you intend to find a true and premium Eddie Van Halen guitar, you might try either the EVH Gear brand or the Charvel Pro (a Fender-owned guitar maker).
For now, though, we're talking towards beginners and intermediate or experienced players looking for a budget shredder. That means the new Kramer Baretta Special packs a fast neck, hot output humbuckers, and a Stratocaster body.
That means this is a SuperStrat guitar. Check for extra info on the types of electric guitars if that term is confusing for you.
I need to add Kramer Baretta guitars, which surged back in 2011. There's a lack of proper marketing, information, and availability of Kramer guitars. That means their models are hard to find, hard to buy, and hard to understand.
Most online listings (and, during the pandemic, everything is online) don't even properly list a Kramer guitar as, in fact, a Kramer. You would need to recognize them, which is not too difficult as most guitars coming from the brand pack a SuperStrat body, a single color on the body with no extra fancy features, and a single pickup at the bridge.
Also, it doesn't help that the brand shares its name with an iconic and eccentric '90s sitcom character.
So, remember, you're looking for this:
Not this:
Overview
Consider the Kramer Baretta as a rock icon for beginners, at an affordable price. It comes from the Kramer Original Collection, a beginner-friendly series of electric guitars selling from budget to mid-level prices.
In particular, the Baretta special features an Alnico V "zebra-coil" humbuckers, a single volume control, a mahogany body, a granadillo fingerboard, and a maple neck.
Built quality
The Baretta Looks like a barebones Stratocaster guitar. It's a minimalist style, nothing shiny or eye-catching.
Its Stratocaster body features a single bridge humbucker and a double-cutaway construction.
For tonewoods, it has mahogany on the body, which is a great tonewood for the price range. Mahogany is light, durable, and gorgeous-looking. At the same time, it offers a rich sound and fair projection.
On the neck, we find a 25.5'' scale length on its maple neck and granadillo fingerboard. The board has a glossy finish to make it smooth and easy on the fingers. It also has 22 medium-jumbo frets plus simple white fret dot markers.
This is a bolt-on neck with a slim 12'' radius, which is the proper measure for solos and fast riff playing.
The guitar comes on Black and Vintage Black colored, both featuring a "hockey stick" headstock with the Kramer logo.

Stratocaster and modified Strats pack two or three pickups, which may be single-coils, humbuckers, or a combination. Rarely, though, you'd see a single pickup on a Strat body.
Sound quality
The simple style of the guitar correlates to the sound, but that's not to say it's not good. It's simply raw, straightforward, exactly what you'd expect out of an EVH-inspired guitar.
The single-pickup configuration does a great job. It provides high-output rock tones, perfect for '80s metal, hard rock, and classic rock.
It's also great for use with extra distortion pedals, fuzzes, overdrives, and similar.
That said, it's still capable of pulling nice clean tones, with natural warmth and resonance thanks to the mahogany. Through a good tubular amplifier, for example, you can crank up the clean channel and see the guitar shine as it gains power.
Overall, the Kramer Baretta Special has awesome metal sounds, with a hot output capable of giving presence to your solos, taps, slides, and similar.
Don't expect much else from what it can but, for its limited range, it's the most awesome, face-melting sound you can get on a budget. And it does rival much pricier guitars.
<iframe width="853″ height="480″ src="https://www.youtube.com/embed/CUYIDz-dYfc" title="YouTube video player" frameborder="0″ allow="accelerometer; autoplay; clipboard-write; encrypted-media; gyroscope; picture-in-picture" allowfullscreen></iframe>
Electronics
Moving onto the electronics, we repeat the guitar has a signal humbucker. I describe it as a "zebra" pickup as it has a white & black color palette.
This is a custom Baretta Alnico V humbucker at the bridge. It's a no-nonsense solution, capable of looking good with its two tones and angled position, as well as delivering high output, warm, and harmonic rock tones.
Lastly, you have a master volume knob for control. That's it, so the Kramer Baretta Special doesn't boast versatility. It is what it is.
<iframe width="853″ height="480″ src="https://www.youtube.com/embed/8tvOLs0P6bo" title="YouTube video player" frameborder="0″ allow="accelerometer; autoplay; clipboard-write; encrypted-media; gyroscope; picture-in-picture" allowfullscreen></iframe>
Feel Quality
The simple design offers the experience you'd expect. It has a fast neck, a light body, low-action strings, and medium-jumbo frets.
However, the hardware is not very solid, and so the guitar's performance doesn't stay on point.
Hardware
The hardware is fairly simple as well, but it's not at the same level of performance as the rest of the construction.
This Kramer guitar has a vintage-style tremolo bridge plus a whammy bar, which is similar to what Eddie Van Halen used to have. Some would say a whammy is essential for '80s metal playing.
However, there's no locking nut, so huge dive bombs are going to destroy your tuning. You could either change the nut or be gentle with the strings. Don't expect much because without a proper nut, the whammy is at a gimmick level.
On the headstock, there's a set of 14:1 die-cast tuners with a six-in-line configuration (which means the six tuning pegs are at the same side of the guitar). These give a decent tuning, but not a stage-ready performance.
Being the Kramer Baretta Special such an affordable guitar, there had to be some cheapened features. And, unfortunately, Karmer saved the money by using sub-par hardware.

Sub-par tunning pegs won't ensure your guitar stays on tune as you play songs live or record songs at the studio.
Downside & Alternatives
It became harshly clear that the Kramer Baretta Special lacks a proper setup. It could do better, and you can do better if you intend to play live or record at the studio.
Improving the hardware is up to you, though. You could take its awesome metal sound to the stage with better hardware, thus saving you the money a mid-level or professional guitar would cost.
Let's start with a locking nut, as you need one to use the whammy bar. As you need a 42mm nut, I recommend a Musicly set.
Next up, we should think of improving the tuning pegs as well. I'm also recommending a Musicly set, a 26:1 gear ratio, which gives you near-endless tuning stability.
It doesn't cost much, but it delivers a remarkable improvement.
Now, I would leave the bridge as is. But if you're the kind of person who doesn't do "okay," then here's the solution I recommend if you strive for the best.
I would also not change the pickup, as it's a custom taper with great performance. Still, some options come to mind if you want to experiment. A DiMarzio bobbin, for example, will always be a great fit here.
For example, the DiMarzio Utopia by Steve Vai is as eccentric as you could get. It's also the definitive '80s rock-sounding pickup.
Otherwise, you could use the DiMarzio DP103, a Gibson-sounding pickup that copies Larry DiMarzio's 1956 Les Paul guitar with the brand's proprietary electronics. It's a 50's pickup, thought so you'd be changing the sound signature of the guitar.
And for the ultimate hard rock and metal humbucker, there's of course the Seymour Duncan Zebra. Bear in mind the Kramer custom pickup imitates the Zebra, so the Seymour Duncan will only sound better, higher, and more expressive
Sale
Lastly, the Seymour Duncan Invader is one of the most powerful and modern-sounding pickups in the market. It has three large ceramic magnets, hot coils, and twelve black oxide screws for astonishing power, brightness, and resonance.
For more options, you can check our guide on the best metal pickups you can find.
Variety
Currently, most Kramer guitars are unavailable online, which is something I detailed above. Searching listings, I could only find a couple of Kramer guitars I could recommend but, then again, the lack of information about these guitars is astonishing.
That said, I can only recommend the Kramer Pacer Classic, which is nothing but an upgrade over the4 special model. It packs two of the same custom humbuckers, a Floyd Rose, upgraded tuners, bridge and nut, and the same construction quality.
Alternatives
If you're looking for alternatives from other brands, there's not much to find at the same price range.
There's a couple of worthwhile models I can recommend, though. First, I can name the Jackson Dinky JS22, a super-fast guitar made for beginners. It doesn't pack the best sound, though, not in the slightest.
A better option would be the Ibanez GRX20. This is also a SuperStrat packing a couple of humbuckers and a pretty decent metal sound.
Sale
Lastly, I can recommend the mid-level Schecter Omen 6, a top-value metal guitar offering advanced electronics and quality construction.
Final Say
In the end, both experienced and beginner shredders can find value in the Kramer Baretta Special. It's an affordable guitar pumping Van Halen's blood within its wooden core.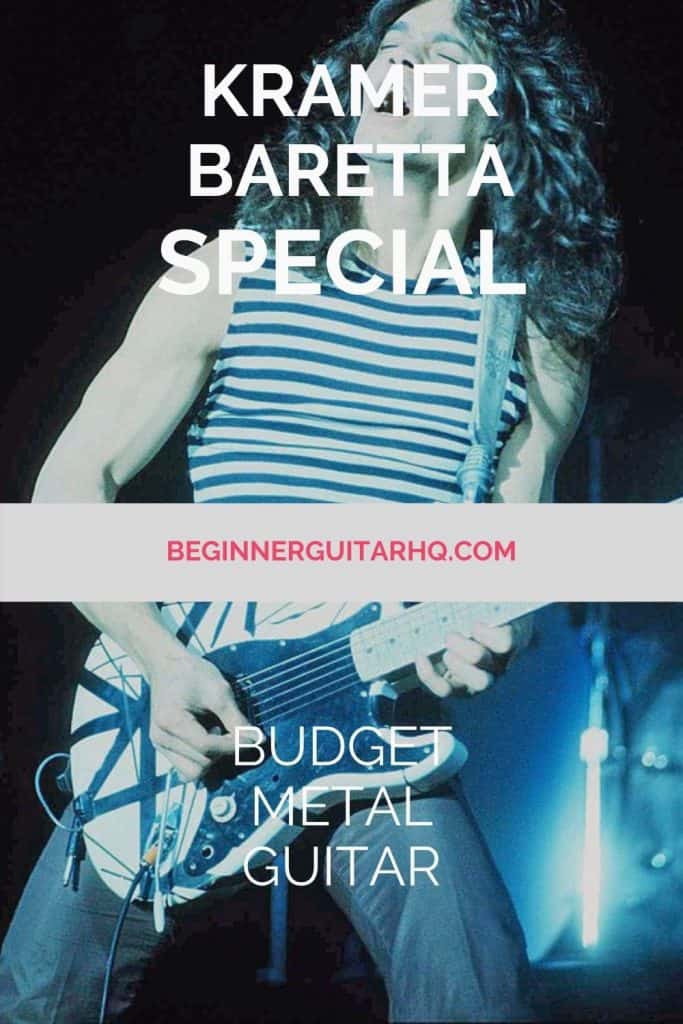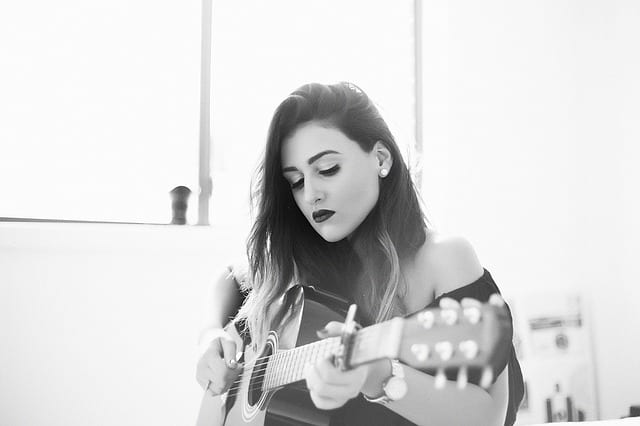 Jen is a guitarist and singer-songwriter who spends much of her time on the road and has lived in 13 cities across 4 continents. She picked up her first guitar at the age of 6 and learned to play by ear shortly after. She received her formal music education at the Berklee College of Music, and currently plays for a few bands in her free time. She has an uncanny ability to improvise creative melodies and harmonies. Her early influences include blues, jazz and rock.