Today's article is reviewing the Ibanez V70ce, a budget-level acoustic-guitar by one of the best-value guitar brands in the world.
The Japanese instrument maker has a stellar reputation for highly advanced electronics and forward-thinking ideas. They introduce their proprietary tech on most of their models, from low-tier guitars to their shiniest Prestige line.
Their impact goes far beyond the world of guitars, as they are also very present in the pedal effects and bass industry. In particular, they have made a dent in the affordable electric guitar segment with both the GRX and the S series (S for SuperStrat).
On the other side of the spectrum, you also have the JEM series, which Steve Vai designed, the RG series, and the Prestige flagship guitars and basses.
Within all of those models, they introduced both the SuperStrat (Stratocaster body packing humbuckers and faster necks), as well as P/J bass guitars (bass guitars mixing elements of the two popular Fender basses).
On the acoustic and acoustic-electric guitar segment, though, they are not as present. There's strong competition at the lower brackets from Yamaha, Fender, or Epiphone. And going towards the expensive side of the balance, heavy competitors like Seagull, Takamine, and Taylor come to meet.
With that said, let's see what the Ibanez V70ce Acoustic-Electric guitar has to offer. I'm convinced it's a perfectly okay guitar, but nothing too special. It's certainly not the outlandish design you'd expect from Ibanez, but there's not anything wrong with it.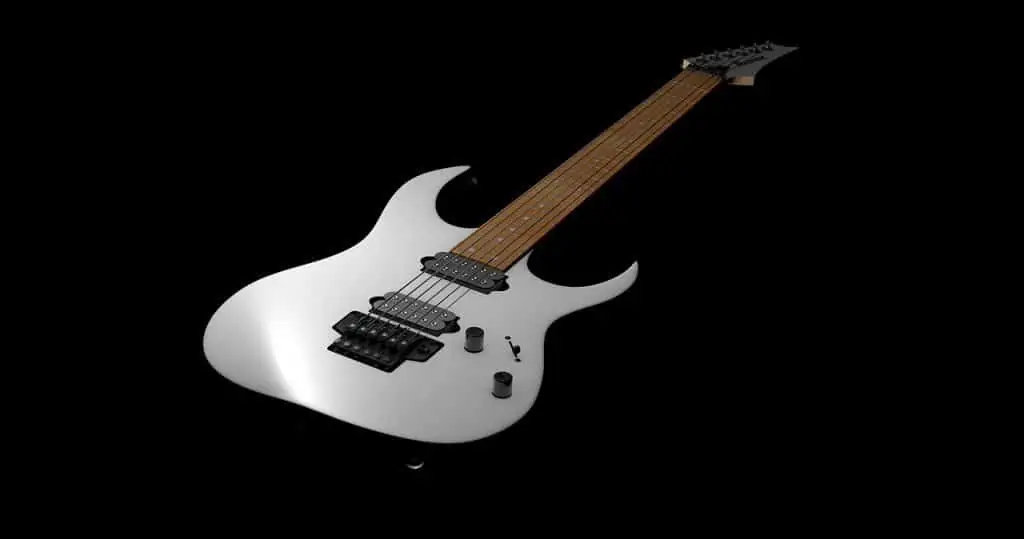 The SuperStrat guitars come from Eddie Van Halen's original ideas of what a rock guitar should look, feel, and sound like. He played on a modified and cheap copy Stratocaster.
Ibanez V70ce electro-acoustic guitar review
Ibanez is well known for offering excellent instruments at every price bracket. From virtuosos like Steve Vai and Joe Satriani to kids and beginners, everyone can find value in Ibanez.
The V70ce acoustic-electric guitar is part of an extended line of instruments following a standard dreadnought body and packing an Ibanez proprietary preamp system.
There's a goal behind the Ibanez V70ce, which is offering a super-friendly guitar. Hence, it has a fast neck, low-action light strings, a light body, and a straightforward preamp section.
So, if you're looking for an acoustic-electric guitar that's affordable for practice, jamming, and modest performances, the V70ce model is something you could consider.
Overview
We're looking at an acoustic-electric guitar with a rock tone. Coming from Ibanez, that's not a surprise, though, as the company has been producing rock-fueled instruments for decades.
The Ibanez V7Oce then comes for rock enthusiasts, amateurs, and experienced players looking for something that delivers plenty of bang for a budget.
There's a reason why the V7Oce is so popular, and we're here to see why it's one of the best-sellers of its kind.
Built quality
The Ibanez V70ce features a standard full-size dreadnought body. It's an appealing shape for both beginners and experienced players as it's the standard design of acoustic guitars.
On the body, the guitar has a single-cutaway on the lower bout. It's there to provide extra access to the treble frets.
Now, this is a laminated guitar instead of a solid wood instrument. That's kind of expected at this price range, although it would have been great to see solid materials instead.
For tonewoods, it has a select spruce at the top with mahogany on the back and sides. That's a great combination in itself, and it comes in two color choices ("blue burst" or black with glossy finishes).
Another aesthetic detail is the black glossy finish in both colors, as well as a multi-ring rosette decoration. Lastly, there's also a plastic binding with ivory color. The plastic binding is at the edges of the body, protecting the guitar from scratches and stains.
The guitar comes with a mahogany neck, a standard 1 11/11'' nut, a rosewood fretboard, and 20 medium jumbo frets.
For a sub $200 guitar, the Ibanez V7Oce presents itself as a mass-produced instrument with some nice refinement. There're no signs of a cheap or sub-par guitar, and it feels well made without breaking any standards.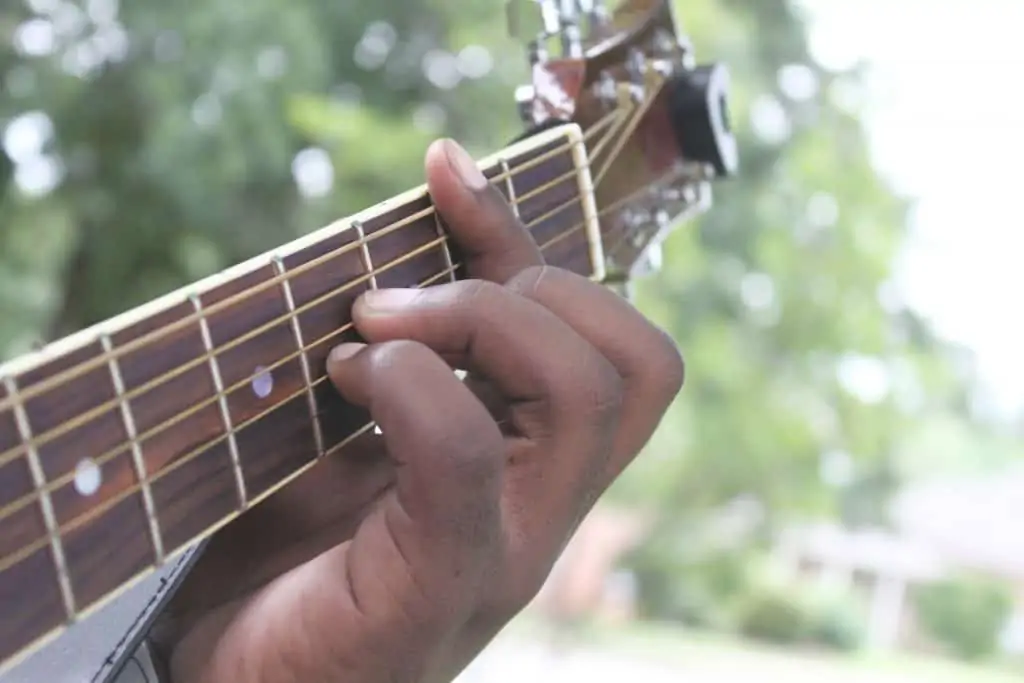 Acoustic and acoustic-electric guitars feature flat necks. A flat neck enables easy chord playing, but it does make soloing a bit harder.
Sound quality
The Ibanez V70ce shines for its bright and shiny sound. For such a cheap guitar, it exceeded at the treble with a clear, gorgeous, and overall nice sound.
The low-end is not very strong as it's instead rather subtle. The bass sounds are smooth, just enough to add some depth to the sound.
It also has fair projection and resonance coming from the soundhole. When you plug the guitar into your acoustic amplifier, you may get a fairly balanced tone with plenty of brightness and fair projection.
<iframe width="853″ height="480″ src="https://www.youtube.com/embed/TK0vXhhOWjk" title="YouTube video player" frameborder="0″ allow="accelerometer; autoplay; clipboard-write; encrypted-media; gyroscope; picture-in-picture" allowfullscreen></iframe>
Electronics
Because this is an electro-acoustic guitar, it packs active electronics. In particular, the Ibanez V70ce packs the Ibanez AEQ200 preamp and undersaddle pickup system.
It's a simple setup that offers three sliders: master volume, bass, and treble. With these simple controls, you may find limited options to modify your sound while playing live, which is why I said this is only good enough for modest performances. You may want to use extra acoustic guitar pedals for larger scenarios.
The pickup system performs very well overall. More importantly, it retains the natural clarity and signature tone of the guitar, which is why it sounds similar both plugged and unplugged. What you get by plugging the guitar is extra output, naturally, plus the ability to modify the dynamics of the guitar.
<iframe width="853″ height="480″ src="https://www.youtube.com/embed/m9ybNgdFzfk" title="YouTube video player" frameborder="0″ allow="accelerometer; autoplay; clipboard-write; encrypted-media; gyroscope; picture-in-picture" allowfullscreen></iframe>
Feel Quality
The Ibanez V70ce feels easy on the finger. The neck is sharp-free and smooth. Then, the body is light and balanced.
Lastly, it has low-action strings and standard-sized frets. All of that makes for the typical experience you'd expect from a dreadnought guitar, which is friendly for both adult beginners and experienced players.
Hardware
The guitars pack standard die-cast tuners with extra grease inside for a lifelong operation. By the way, the tuning pegs sit on the Ibanez-branded headstock, which is a nice aesthetic addition.
At the other end of the scale, it has a rosewood bridge with a compensated saddle that improves easy playability. Both the saddle and the nut are made of plastic.
Nearby, you'll find a black pickguard protecting the body of the guitar.
Overall, the hardware is solid and responsive. There are no complaints here.
Downside & Alternatives
Typically, I list the downsides of any particular item I review, and then I list items you could buy to improve the said product. For example, if I were to say the tuning pegs are not up to the task, I could recommend another set.
However, the Ibanez V70ce is perfectly okay. For its price, everything is solid. More importantly, the price helps retain the intonation of a sound I find gorgeous.
In this case, I would simply refer you to other options, as you might be more interested in other sounds. For example, acoustic-electric guitars sound dark, warm, or twangy instead of bright.
The first guitar I can recommend at this price range is the Fender CD60CE. It's a solid choice, offering a balanced tone, a quality construction, and a stage-ready amplified sound.
A better alternative would be the Yamaha NTX700, which is a bit pricier. The extra fee brings tons of upgrades nonetheless, like a proprietary bracing pattern, highly advanced electronics, and a professional sound at a mid-level price.
Other than that, you may find some buzz fret on the guitar. If that's the case, consider asking a luthier's help.
Ibanez V70ce specs
Design:

dreadnought body

Body tonewood

: laminated spruce with laminated mahogany on the back and sides
Fingerboard tonewood

: rosewood
Pickup system:

Ibanez AEQ200

Controls:

treble, bass, and volume trebles

Tuners:

Ibanez custom die-cast tuners

Bridge:

rosewood bridge and compensated saddle
In summary
Why do I like the Ibanez V70ce acoustic guitar?
If you're looking for a budget electro-acoustic guitar, there's nothing wrong with the V70ce model. It's neither a premium item nor the best you can get for the budget. It may even ship with some buzz noises here and there.
Nevertheless, the guitar has good looks, decent construction, and a pleasant sound. Plug this guitar into your amp, and you'll get plenty of clarity and brightness.
Final Say
For small gigs, fun jammings, and modest home studio records, the Ibanez V70ce is something I can recommend, easily.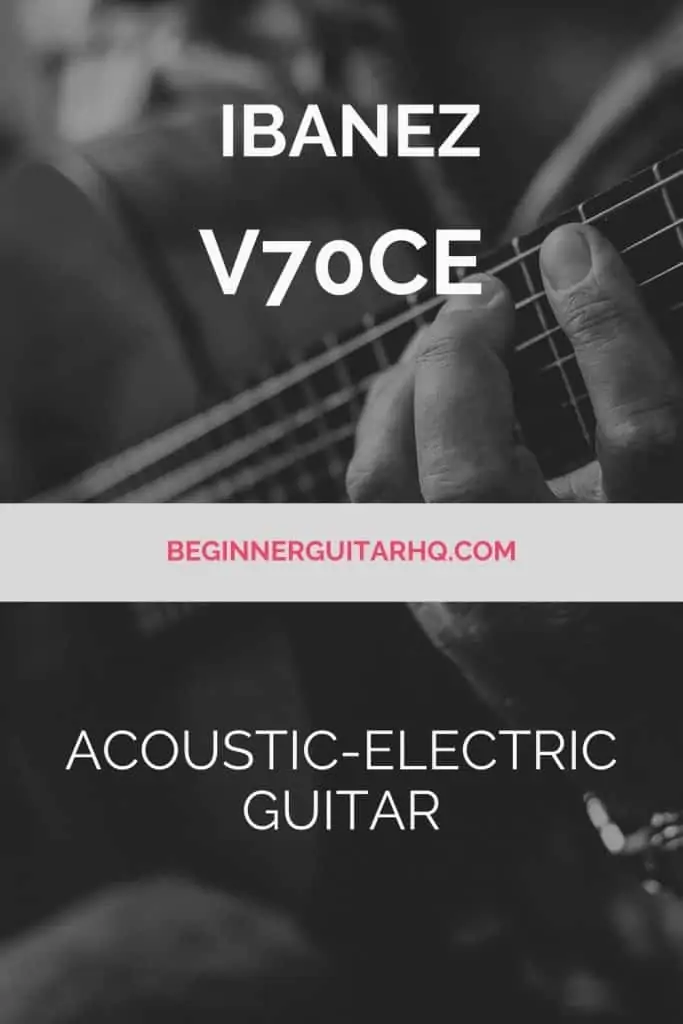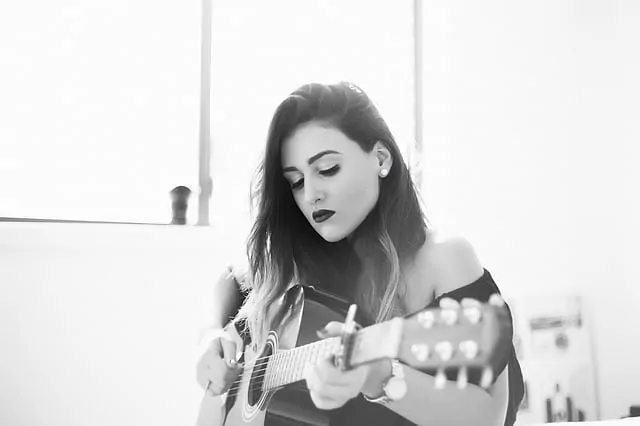 Jen is a guitarist and singer-songwriter who spends much of her time on the road and has lived in 13 cities across 4 continents. She picked up her first guitar at the age of 6 and learned to play by ear shortly after. She received her formal music education at the Berklee College of Music, and currently plays for a few bands in her free time. She has an uncanny ability to improvise creative melodies and harmonies. Her early influences include blues, jazz and rock.