Yamaha is a Japanese super corporation. They are widely known all over the world because of their musical instruments. Most of their guitars and bass guitars are suited for advanced musicians and players looking for the most professional features they can find.
Many elite bass and guitar players have taken the Yamaha name high into their stages. Yamaha Artists only include virtuosos in jazz, experimental, classical, and contemporary music genres. 
Popular Yamaha artists include Elton John, Paul McCartney, Alicia Keys, Norah Jones, James Blunt, Sheryl Crow, Justin Timberlake, U2, and Stevie Wonder.
I believe Yamaha is a top brand for mid-level and top-graded instruments. It's also one of the best brands building entry-level options, in particular budget bass guitars and keyboards. If you have a Yamaha bass, guitar, piano, or keyboard in your hands, you know you're holding a quality item made with special care.
I also believe the Yamaha NTX700 is a 5 out of 5 stars mid-level electro-acoustic guitar. It has a flawless built, a nice finish, and superb playability. Now, add some quality electronics into the mix and you've found a thing of legends.
The Japanese company is praised all over the music industry, not just by us at Beginner Guitar HQ. That's because they consistently implement technological upgrades to their amplifiers, pickups, and overall designs. Their sound solutions are modern, advanced, and like nothing you've ever seen.
That's exactly what the Yamaha NTX700 packs: advanced tech and unseen features.
Keep in mind we're not even listing this guitar as a beginner's instrument, not even because this is the cheapest model of the Yamaha NX Guitar Series. We commend this is a fully-featured professional guitar selling for an honest price. 
My friend, the NX guitar Series is one of the best electroacoustic household names in today's music industry.

Yamaha is beloved for their stage pianos and professional keyboards.
We are just trying to guide you towards the best instruments you can buy right now to start or continue your musical journey. We have listed various entry-level brands like Squier, Ibanez, Jackson, Dean, and Yamaha before if you are not ready for the investment the NTX700 represents.
Either way, you can read this review to keep this guitar at your mind's eye and come back, someday, with your hard-earned money.
If you're in a rush, though, we've also listed the top 10 budget acoustic-electric guitars before.
Yamaha NTX700 Review
Classical guitars have been dropped by pop and rock musicians in this era of all-digital devoid-of-life music. Yamaha is trying to change the situation with the NTX700 electro acoustic guitar.
Nylon strings were introduced after World War 2. Classical guitars first became popular in jazz, country, and pop, mostly. Latin settings (like Brazilian's Bossa Nova) also needed these kinds of instruments to create their World Cup-ready music.
Along the way, digital programs became "better" (as in cheaper) to "record" acoustic guitars into any song. Notably, many  Latin Pop musicians use digital acoustic guitars and ukuleles in their tracks.
So, things have changed. In order to keep with such a pace and lead musicians into the classical guitar branch, companies like Yamaha have created classical guitars that feel like a steel-string ax. That means the transition from electric to classic could be seamless.
What we've got here, then, is a nylon-string electro-acoustic guitar that sounds like a top-notch professional either through the amp or unplugged. Likewise, this is a nylon-stringed instrument that feels like a premium electric guitar.
Overview
Yamaha's NX series debuted back in 2009 with two different designs.
There's the NCS lineup, which has a wider classical neck and a flat fingerboard. And there are the NTX guitars with a narrower neck and a curved fingerboard.
The Chinese-made NTX700 is the cheapest alternative of the NX series. It ships with a flawless construction made of solid quality wood nonetheless. And what it lacks in elegance and details, it adds on quality and performance.
Don't get fooled by its "mid-level" category. All NX guitars (from this humble start all the way up to the higher-end Japanese versions) pack the same pickup, the same preamp, and the same electronics. What's different is the tonewoods, the hardware, and the finish.
The important thing is the ART-2 acoustic pickup sitting under the bridge, a configuration that's designed to offer the most natural, dynamic, and well-expressed electro-acoustic sound Yamaha can muster.
Rest assured, then. This guitar packs some outstanding quality.

Yamaha's NX Series guitar offers the feel of authentic classical guitars with the most modern upgrades available for nylon-strings.
For everything it offers, I believe the price of this guitar is fair, even when the price goes beyond what most mid-level acoustic guitars cost.
Built quality
This is a jumbo guitar with flawless construction. Jumbo guitars are bigger and heavier than their dreadnought counterparts, and they are known for their pronounced curves. Furthermore, they feature a rounder but lower-output sound.
It has a single-cutaway design that adds increased access to the 14th fret and above, which is something it took from modern electric guitars. 
On the downside, jumbo guitars are heavier than dreadnoughts and curvier, so not everyone could play it comfortably, especially not children or amateurs.
In particular, the tonewood of choice is a combination of Spruce and nato for the back and sides. The neck is also made of nato, and the fingerboard is made of rosewood. 
These are all tried-and-tested solid materials. More than that, the finish is flawless and smooth, and there's a fair share of nice details all over the guitar.
For example, the rosette has a beautiful artsy ring around its oval shape. There's also a black binding all around the top, and an overall pretty finish. Lastly, there's a sweet amber-tone finish beneath the body.
Neck
The neck is thinner and lighter than average steel-string guitars. This is a feature that caters to electric guitar experienced players. Add the two strap buttons and the side dot markers into the mix and you've got uncommon features for an acoustic guitar that delivers a closer-to-steel experience.
Lastly, the neck joint is at the 14th fret. The joint is solid and durable and it's able to keep the neck straight and balanced.
The rosette is the decoration around the soundhole.
Sound quality
I would define the sound of this guitar with four words: volume, projection, power, and clarity. That's what it offers both plugged and unplugged. 
And it all starts in its electronic's section.
Electronics
Because jumbo guitars have an extended lower end, they require quality electronics to clean a potentially muddy tone. No matter what kind of acoustic pedal you insert into a signal chain, if the sound gets muddy and unclear from the get-go, there's nothing you can do.
There's an amazing add-on electronic-wise to address this issue, which is Yamaha's own ART-2 pickup system. This is a configuration that consists of one pickup sitting under the bridge packing a very special tech.
A.R.T. stands for Acoustic Resonance Transducer. These pickups are able to control how the temperature, humidity, and atmospheric pressure affect the wood in order to recreate the best possible scenario in which the system creates the amplified sound.
Likewise, A.R.T. pickups control the dynamic range of the highs and lows in order to give a better resonance and plenty of headroom for your acoustic guitar amp and your extra acoustic guitar pedals.
The result is a natural sound full of expression, roundness, and clarity. All NX Series guitars have the same ART  configuration that's able to keep a high-fidelity sound that's as crispy as clean. 
As for controls on the preamp section, it has a 3-band EQ, the master volume knob, and a tuner. 
Overall, the electronics are able to reproduce a fairly authentic tone
<iframe width="560″ height="315″ src="https://www.youtube.com/embed/52_I38SORV4″ frameborder="0″ allow="autoplay; encrypted-media" allowfullscreen></iframe>
Sound
With that said, the sound is versatile enough to travel most musical genres. Its pickup is powerful enough to add the nylon-string sound into any contemporary music mix
The overall sound is warm, well-articulated, and very balanced. Likewise, its natural resonance is loud enough for your living room and your practice sessions.
I'd say the sound is balanced across the frequency range. The lows are fat, the trebles are bright, and the mids are wide. The kicker is how the whole frequency range is blended properly, which gives you a lot of depth and clarity. 
Although there are some jumbo guitars out there with a more refined sound, the Yamaha NTX700 delivers the kind of professional and round sound you would expect from this body shape.
Yamaha also got it right with its natural acoustics. Unplugged, this guitar is quite subdued, which gives players more headroom and more clarity.
Lastly, if you play this guitar in your home studio with your DAW, you'll see how much the natural sound of this guitar loves modern effects and sounds just as you'd expect a triple-zero acoustic guitar to sound.
We're happily impressed by the quality of this acoustic-electric guitar. That said, I must guide you towards our prior guide on how to record your acoustic guitar. Likewise, there's a list of best mics to record nylon strings.
<iframe width="560″ height="315″ src="https://www.youtube.com/embed/CasSkwjnKto" frameborder="0″ allow="autoplay; encrypted-media" allowfullscreen></iframe>
Feel quality 
Let's continue our Yamaha NTX700 review by discussing how it feels on your hands. Just like its built and its sound, the brand got it right.
Hardware
There's nothing too special going on in terms of hardware.
First off, Yamaha added a rosewood bridge with a compensated saddle. Both the saddle and the nut are made of synthetic bone, which is a quality material that falls just below the high-grade Tusq. However, these two pieces still get the job done.
The tuners, which are sensitive components in entry-level and mid-level guitars, are die-cast machines that do a great job of keeping the instrument in tune.
These pieces are okay, but just nothing out of the ordinary. Keep in mind the NTX700 also packs a built-in tuner, so intonation is not too much trouble.

The nut is the little piece at the beginning of the fingerboard. It keeps the strings tight in order to preserve harmony and natural sounds.
Playability
I haven't said the word "playability" too much during this review like I do, repeatedly, on my other guitar and bass reviews.
That's because most instruments opt for increased playability whilst decreasing either the built quality, the finish, the pickups, the electronics, or the hardware. 
The Yamaha NTX700, though, doesn't take playability as its priority, which is why it's not important to mention it over everything else.
However, I'm not saying there's something wrong here. Not at all.
See, the NTX700 has a single-cutaway design that adds the same levels of playability as quality Fender Stratocaster guitars.
But because this is a solid-wood acoustic guitar wearing nylon-strings and rocking a flat fingerboard, it still feels like a classical acoustic guitar: lightweight, simple to play, and fun to bang around with.
That means it's just a perfect mix between electric and classical feel.
Downside & alternatives
Unsurprisingly, I can't find many downsides with this guitar. As it is and right out of the box, it can become your main gigging guitar and your favorite instrument.
What you need to do, though, is to play this guitar with a good acoustic amp in order to juice its maximum potential. Try some acoustic pedals as well and you'll see just how much magic the Yamaha NTX700 brings.
Now, if you truly want to take this guitar into the Olympus, why don't you try swapping the bridge for something as special as its pickups? For example, the Timiy Guitar Bridge is a top-quality hardware piece.
Likewise, we could change the tuners for a better set. If you want the best of the best regarding acoustic guitar tuning pegs, then you should check the Yibuy Vintage units.
Taking the path of these two upgrades gives you an A1 guitar. However, you should only do that if you're a quality seeker. If you're an intermediate player, you might not need this..
Variety
There's great variety in the NX series guitars. 
Its strongest candidate is the NX2000R, built on super-premium Hokkaido Spruce Top, Ebony, African Mahogany, and Solid Indian Rosewood. 
Furthermore, this model packs top-notch hardware plus a better-crafted finish. Everything else, though, is just the same. In all honesty, the more you pay for NX guitars, the less value you get in return.
I advise you to just go for the NX700 version or the NX700C. The "C" alternative comes with Cedar Top on the body, so it ships with another color.
Yamaha NTX700 Specs
Tin single-cutaway Jumbo body
Solid Spruce Top
Nato neck & Rosewood fingerboard
ART-2 Pickup System
In summary
Why do I like the Yamaha NTX700? 
I think everything I say makes it very clear why this guitar is so valuable.
You might think the price is quite expensive for a mid-level guitar, but the features it packs are truly worth it. 
The ART-2 Pickup System is very special, unique, and advanced. It reproduces a beautiful classical sound with plenty of output, clarity, and depth. Likewise, the playability is superb as it feels like a Fender Stratocaster. 
This Yamaha NTX700 is a sure way to certify your electroacoustic guitar for many years. Buy this, and there's no need to look further regarding nylon-strings.
Oh, and not to forget! This guitar looks like a true classical piece. That's a great thing in my book.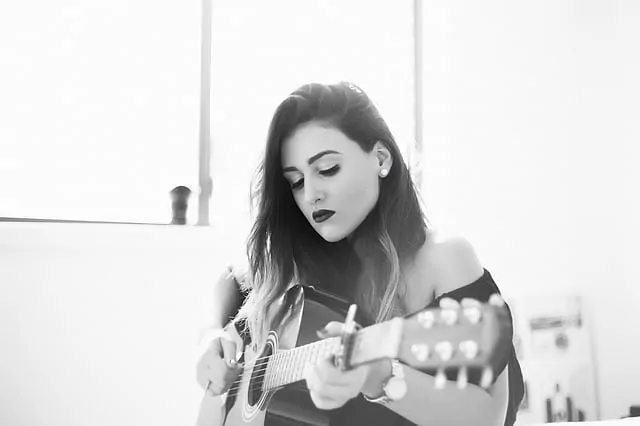 Jen is a guitarist and singer-songwriter who spends much of her time on the road and has lived in 13 cities across 4 continents. She picked up her first guitar at the age of 6 and learned to play by ear shortly after. She received her formal music education at the Berklee College of Music, and currently plays for a few bands in her free time. She has an uncanny ability to improvise creative melodies and harmonies. Her early influences include blues, jazz and rock.