Dean Guitars dukes it out against the likes of Squier, Epiphone, Peavey, Ibanez, and Washburn in the entry-level instruments branch. But there's something truly special about what they sell: their guitars and basses are not Fender copies, they are original designs packing Dean's DMG pickups.
Its lineup of products includes acoustic guitars, solid-body electric guitars, ukuleles, resonators, banjos, mandolins, amplifiers, and bass guitars. We recently reviewed the best Dean bass models you can buy right now and found out how they continuously build sleek-looking models with modern sounds.
Now, we're going to review one of their popular offerings, the Dean Vendetta XM electric guitar. This is a great-looking ax with incredible resonance and a modern dual humbucker configuration.
With that said, let's check out if the Dean Vendetta XM is either a yes or a no. That's because there's something important to note: Dean's best guitars are made in Tampa, Florida (USA)….but they outsource most of their budget guitars far to Asia.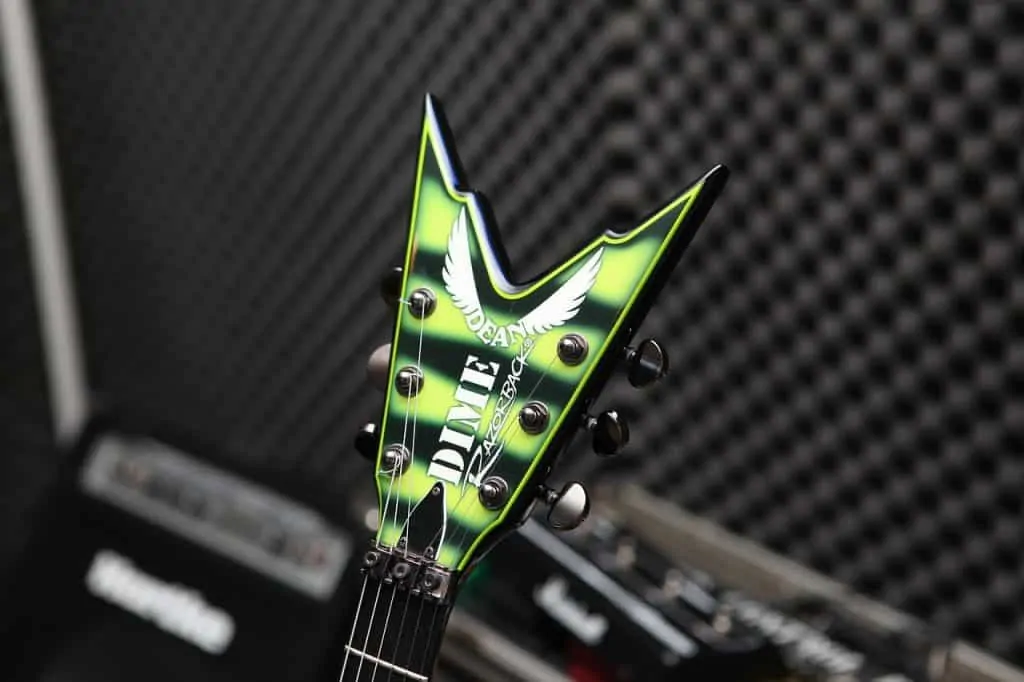 The Vendetta XM is made in Dean's Asian factories. 
Because this is a beginner's guitar, I'm writing this guide in a way anyone can understand. If you have any doubts, please let me know in the comments below and I'll be sure to answer.
Dean Vendetta XM guitar Review
Dean Guitars was established in 1977 and became popular in America when Pantera's guitar player Dimebag Darrel chose this brand to bang around the stage.
The Dean Vendetta XM is a guitar aimed for players with a thin-as-hair budget. It's mainly built for metal, rock, and punk genres.
With four different models to choose from, the Vendetta series features string-through-body bridges, the Dean V Ferrule body pattern, dual humbuckers, solid-wood bodies, bolt-on maple necks, and a 25.5'' long scale body. The Vendetta's highlight is its lightweight attractive body, its slim neck profile, and its easy playability.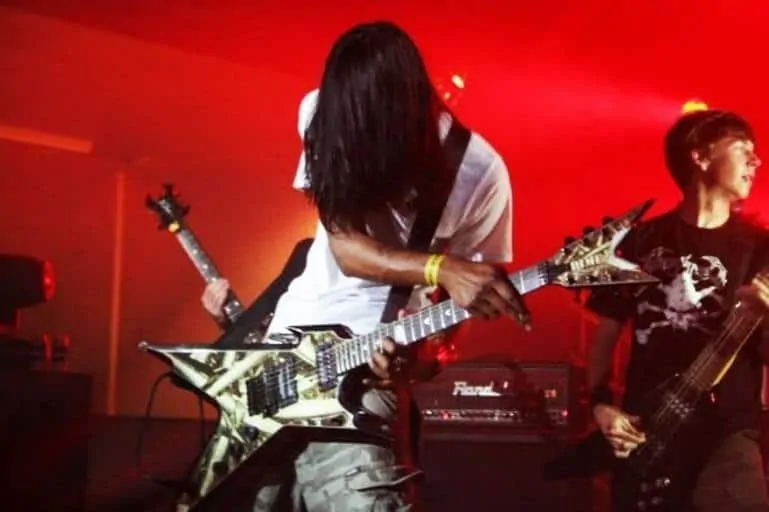 Dean has been created rock guitars for over 40 years.
What we've got is an affordable electric guitar aimed for beginners and sold as a first-timer instrument. It's the kind of guitar metal and rock enthusiasts would go for, and it packs enough features to become a powerhouse guitar for intermediate players on a budget.
My quick opinion is the Vendetta XM is a very good beginner's guitar that's suited for people not going into a guitar hero path.
However, this is an Asian made guitar. That means we need to check the quality of this baby very closely.
Regarding craftsmanship, the Vendetta XM is not quite comparable to well-made budget instruments from Japan, South Korea, or the USA.  It's not even comparable to USA-made Dean guitars.
Overview
The Dean Vendetta XM is an inexpensive guitar to start out a musical journey. And it's also a guitar you can upgrade for a moderately low cost.
Low-cost guitars tend to fall in one of these categories:
Cheap and built-to-play right out of the box;
Inexpensive, good specs, but poor execution;
Inexpensive but beyond the value of its price point.
This Dean Vendetta XM falls into the second category, albeit it has a so-so execution. As with all entry-level guitars, there are some aspects where money was saved. In this case, the build quality, the finish, and the craftsmanship are not great. But not the worse either.3
However, the features, in particular the hardware and electronics, are indeed wonderful for the price.
Then, the issues about this guitar can be solved with the right setup and upgrades. More so, most intermediate and professional players won't mind its finish flaws and consider this guitar as a modding option.
Overall, the Vendetta XM has a quality bridge, decent humbucker pickups, and a rare Paulownia body. This combination makes for an OK metal, rock & punk dirt-cheap electric guitar.
Built quality
The Dean Vendetta XM has a similar shape to the Fender Stratocaster guitar. That said, the built quality of this guitar is its weakest point. If you can overlook that, though, please go on, because there are some pretty interesting features to enjoy further down below.
Body & Design
The body is a slightly modified Stratocaster body, which is a comfy no-risk choice. And because of its tonewood, this guitar is very lightweight and comfortable to the shoulder.
Instead of going for a mahogany body like the rest of the Vendetta series, Dean used Paulownia. This is a rare Asian wood that offers some odd tonal properties different from basswood and agathis, which are standard for entry-level guitars. For starters, it adds some chime plus a tight-low end.
Paulownia is a fast-growing wood in Japan and East Asia. It's the lightest wood available for solid-body guitars, only compared to swamp ash.
This of extreme importance: the Vendetta XM is extremely comfortable for beginners but it trades off some richness and sustain. But a beginner wouldn't even notice about this.
However, there's some debate going on about the difference tonewoods make on the sound of the electric guitar. Whilst it certainly does on acoustic, it's not very clear once you amplify your instrument.
I believe it does make some difference  once you pair it with the pickups. Average pickups and cheap woods would make for average sounds. But quality pickups and electronics eventually cancel the influence of the rest of the construction.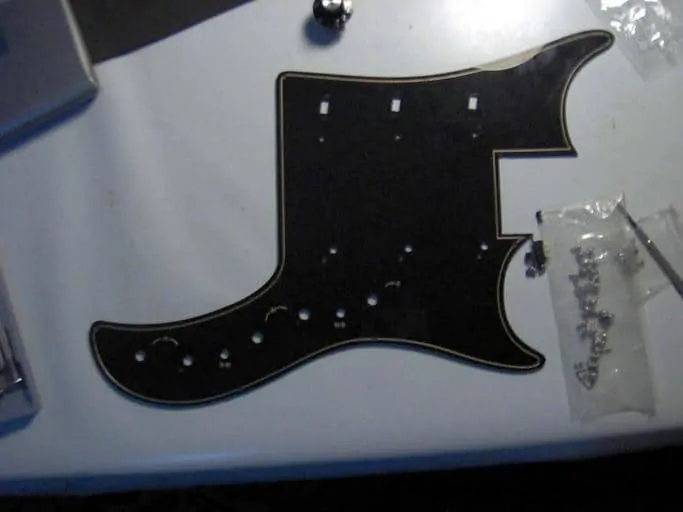 People that opted for less expensive woods may not find too much trouble about the "sound" of the tonewoods.
Now, I have to say the looks and the finish of the body are superb. It even tricks experienced eyes to think this is made of expensive woods and polished with an expensive gloss.
Neck & headstock
Its neck is made of maple, so it feels a bit heavier than the body, but it doesn't represent a problem. Another thing to note is this neck features an arrow-straight design to make it more comfortable for beginners.
This is a C-shaped bolt-on neck that's well below the average inexpensive neck. It looks like a wider Epiphone neck in its design, but it does not pack the same level of quality.
Even though maple generally feels great and smooth, there's something odd about the rosewood fingerboard this neck houses.
First off, the factory-applied "fingerboard black" finish and it can taint your hands black as you play it.
More so, it has sharp edges, flaws, and an overall rough feel. That's because the finish is not polished and sanded well enough.
Lastly, there's something different about its headstock that has a cool twist. It's shorter than a Strat headstock and shorter than most guitars. So, it might be a hassle to find a guitar bag where the Vendetta XM fits…but it looks cool and different.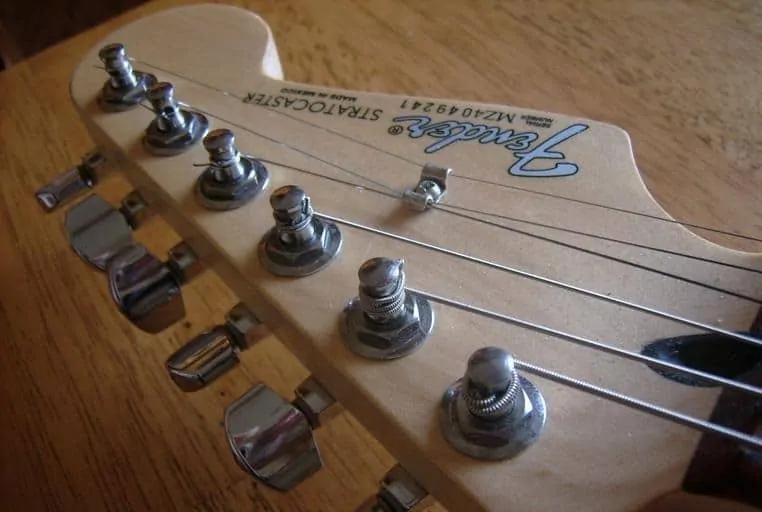 The Dean Vendetta XM has a slightly shorter headstock than standard Strat designs.
Size & Frets
The Dean Vendetta XM is a long-scale 25.5'' guitar. But because of its lightweight Paulownia body, it feels very comfortable for small players and children.
Additionally, it features 24 medium jumbo frets with dot inlays. The extra 2 frets over the Strat come in handy when you're about to play high-pitched screaming solos for metal.
Finish
The finish quality is contradictory. The satin finish on the body is flawless: it's consistent, smooth, and attractive.
Unfortunately, the finish on the neck needs plenty of extra work: it's rough, unfinished, and generally not nice. Even the serial number's imprint is poorly-made.
As for available colors, it only ships on a widely aggressive black color.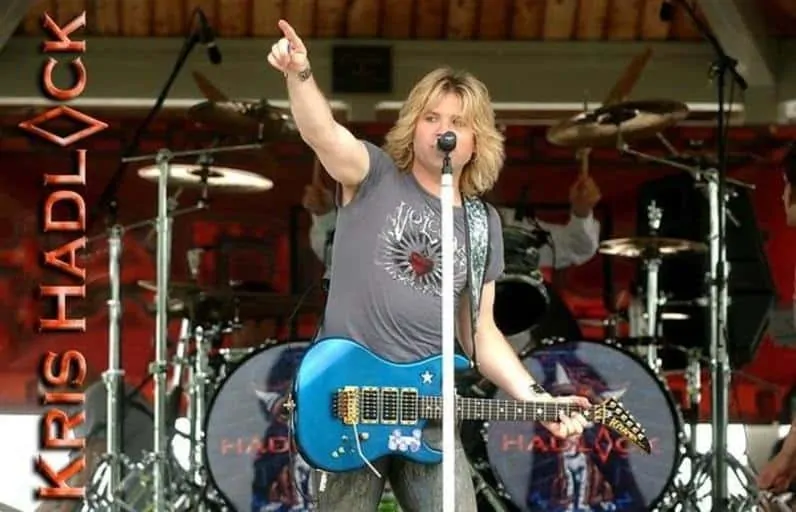 Dean guitars are made for metal. That's why they feature easier playability and humbucker configurations.
Sound quality
Sound-wise, there's indeed potential and fun to be had. It has a good dual-humbucker situation that goes beyond its beginner price.
As per low-cost humbuckers, these won't sound like Gibson '57s or a coupe of Seymour Duncan hot pickups as they lack some clarity and articulation. But they do sound like mid-level pickups made for metal.
Another good thing is we've got an impressive electronic system that makes it pretty easy to replace the stock set for the sound you desire.
Electronics
A pair of two balanced humbuckers is a safe bet for a beginner's metal guitar. These are Dean's own designs featuring a standard rock & metal performance. That means the tone is neutral and balanced across the frequency board.
Additionally, it allows this guitar to mix really well with metal amps. It's even able to tear through any mix with the right metal distortion effect.
The wirings and electronics are well above their price points. See, most instruments at this price range will sound muddy and noisy after a few years of use. The Vendetta XM doesn't follow this rule as the electronics are surprisingly well done.
In fact, I'd say it has the same levels of craftsmanship as premium instruments, even when the components are not as premium as the soldering and the circuits.
Now, the tonal shaping options are not surprising. It's just a standard layout that has a single tone knob, a single volume knob, and a 3-way selector switch.
The toggle swaps as follows:
1st position: neck humbucker;
2nd position: both humbuckers;
3rd position: bridge humbucker.

If you're looking for some extra info about pickups and understand what a humbucker is and how is it different to a single-coil, check this DiMarzio pickups guide.
Sound
The combination of tonewoods, hardware, electronics, and pickups produces an interesting metal sound.
I personally believe it has a fantastic metal gain. It can sound as good as guitars selling for trice the price.
Its tone offers plenty of sustain and punch in the upper end. The sound also eats through distortion pedals and distortion channels, and produces a satisfying tone with enough clarity when you plug it through a decent amp.
On the downside, the clean tone is pretty lackluster, which is something typical at this price point. That's because the sound is a bit muddy and not well-articulated.
Overall, the sound is decent and the quality goes better than the average beginner's instrument, but the only purpose is to play with distortion. That makes this guitar good to play power chords, note-to-note metal riffs, solos, and similar.
As you see, it's made to be played by beginners and through distortion. And what the Vendetta XM delivers is a classic heavy rock or heavy metal tone.
Feel quality
The subpar craftsmanship of this guitar does nothing to decrease its strongest suit. The playability is very good for beginners and pro players alike, and the hardware it offers increases the ease-of-use.
Furthermore, it's hardware turns this guitar into a gig-ready instrument.
Hardware
The bridge of the Dean Vendetta XM is another highlight. It has a Tune-o-Matic bridge with string-thru-body design. I can't stress how good a Tune-O-Matic bridge, I can only say these are the standard choice on all Gibson electric guitars.
What's best, this bridge is curved, and the curve even matches the fingerboard's radius (12''). That's a high construction standard.
A string-thru-body design means the strings go beyond the bridge and into the body. It adds solid performance, increases sustain and adds some ring that shines through distortion pedals like fuzz and overdrive.
The headstock packs a set of Dean die-cast sealed-tuners. These are actually pretty good pieces that retain the intonation for long times. These tuners are smooth, better than the price could offer, and look like nicer Fender tuners. Strong bending will pull the tuning off, but that's something to from every cheap guitar.
I have to add the Vendetta XM comes with nice lightweight D'Addario strings. That's a nice surprise, as most budget guitars have unbranded strings installed at the factory.

Best guitar strings brands include Ernie Ball, D'Addario, and Fender.
Lastly, I have to add this guitar has plenty of resonance, even when playing unplugged.
Playability
It's clear the Vendetta XM is a very playable instrument right out of the box.
It's comfortable to play either sitting or standing. It's also very light and balanced, and it has a fast neck that improves performance.
The size of the frets features a good balance for either children and adults. And the rosewood fingerboard, even when it has sharp edges and a flawed finish, is comfortable and smooth in almost every aspect.
Another aspect I have to add is its flat 12'' neck radius, which is a standard choice for Les Paul guitars. It makes playing chords and riffs just as easy.
There's nothing bad to say about the playability of this guitar. It was built to be easy to play, even for beginners and children. And it succeeded.
Drawbacks & alternative
There's some quality in the Vendetta XM, like the playability, the hardware, the electronic's soldering, and the rocker sound. There's some cheapness as well, like the craftsmanship, the finish, and the electronic components. Can you enjoy its highlights while forgetting the bad?
Now, the stock pickups are quite good and have plenty of gain and headroom for distortion. They can get a bit mushy played through some amplifiers, though. So, the only thing I would do for this guitar is to swap these pieces, for the hardware and playability are already pretty good.
I choose the Seymour Duncan Pearly Gates set as the perfect upgrade. These feature a warmer sound, a rich tone, and plenty of sustain. It also delivers a superb clean that mixes well with any kind of guitar pedal you choose.
They are also pricey, but the cost is still below the cost of this guitar. Believe me, though, they are worth it.
Otherwise, the cheaper Hot Rodded set is lauded as the most versatile humbucker pieces:
This is an extremely comfortable to play guitar, but there was a price to be paid. In this case, it was the sub-par craftsmanship, sharp edges, and rough fretboard. Lucky for you, you can solve this issue easily with sandpaper to sand down the frets:
There's something else we can do to improve the feel of the neck, and that's changing the nut. For the Vendetta XM, I choose:
You might be looking for the true budget USA Dean experience. In that case, go for the Dean EVO XM guitar:
If you go up the price ladder towards mid-level, then I'd recommend you check the amazing Dean Custom Zone shipping in "Nuclear Green" color:
Other than that, I can guide you towards our prior selection of best beginner guitars.
Dean Vendetta XM Electric Guitar specs
Design: double-cutaway modified Strat body
Tonewoods: Paulownia body with a natural finish, maple neck & rosewood fingerboard with satin black finish
Neck: slim C-shape bolt-on neck
Scale: long-scale bass guitar (25.5'');
Fingerboard: 22 medium jumbo frets
Radius: 12'' fingerboard radius
Pickup configuration: Custom Dean dual humbuckers (bridge and middle positions)
Controls: Volume Knob & Tone Knob
Tuners: Dean die-cast tuning pegs
Bridge: Tune-O-Matic string-through-body bridge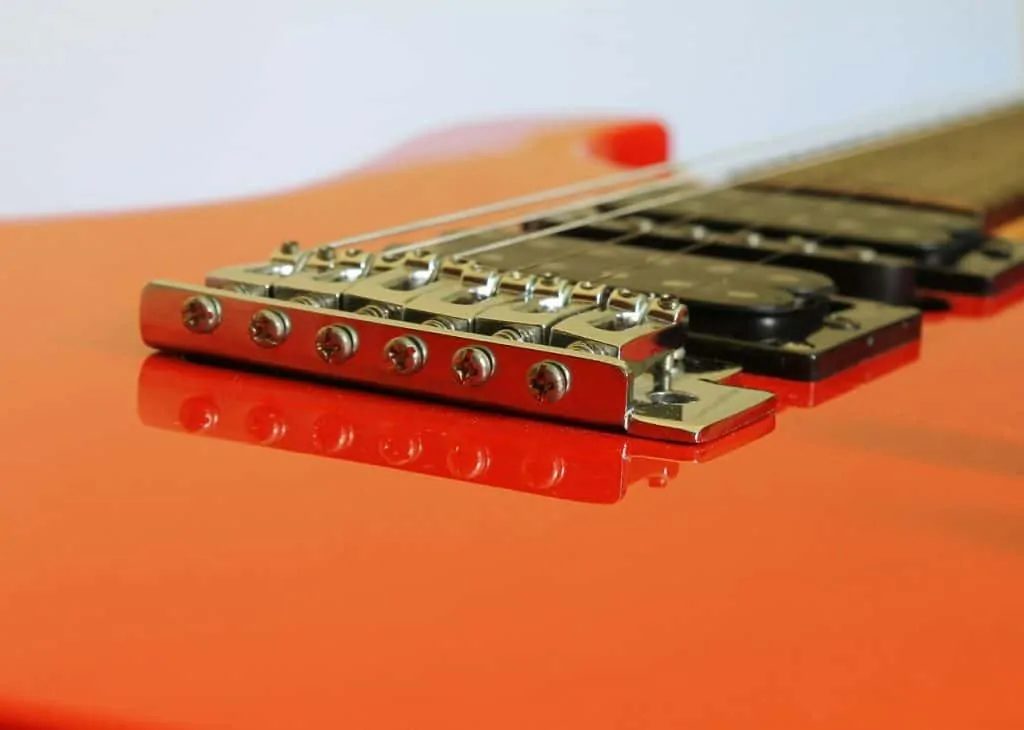 A Tune-O-Matic bridge was introduced by Gibson in 1953 and its the standard on all Gibson Les Paul guitars.
In summary
Should you go for a Dean Vendetta XM guitar?
After a careful review, I can easily disregard the fingerboard flaws because it's something you can address at any time.
That said, the Dean Vendetta XM is decent a so-so beginner's guitar that shines on the hardware section and playability wise.
The sound it's also outstanding: it sounds like metal through any combo amps or with any decent distortion pedals.
More so, its design is particularly good for small players, even when this is a full-sized guitar. It's also good for children if you're looking for your kids' first fully-sized guitar.
I only wish Dean paid more attention to detail, even when this is a factory mass-produced cheap guitar. It could have been better. It could even be a bit pricier if the finish was good.
That said, I do recommend this guitar for beginner players looking for an easy to play metal guitar. It's also a good choice for budget players looking for a good instrument they can take to their gigs.
Lastly, it's a great instrument for upgrades: if you pay the mods I suggest (or similar mods) you'll end up with so much value you'll wonder why do other people pay more for original Fender or Gibson guitars.
Keep in mind nearly every inexpensive instrument you touch needs some setup adjustments. The Vendetta XM, though, comes with an unusual excellent electronic soldering plus surprising tuners and bridge.
The thing gets even better when it ships with a bundle:
Overall, the main reason the Vendetta XM shines in its price range is due to Dean's unorthodox approach to a beginner's model. We love the fact it comes with a rare tonewood, a couple of potent custom-made humbuckers, and a Tune-O-Matic bridge. Those are some quality features indeed.
Final answer? This guitar is an outstanding yes YES. Even with its flaws.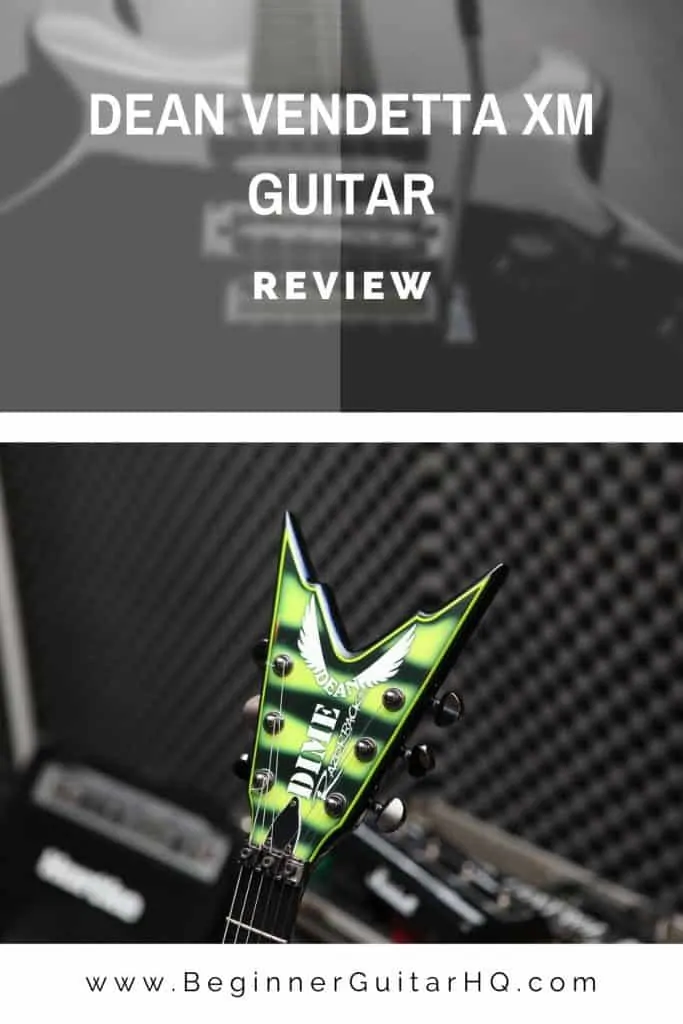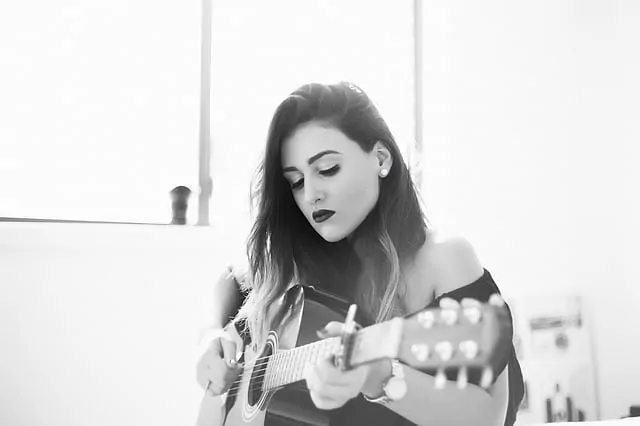 Jen is a guitarist and singer-songwriter who spends much of her time on the road and has lived in 13 cities across 4 continents. She picked up her first guitar at the age of 6 and learned to play by ear shortly after. She received her formal music education at the Berklee College of Music, and currently plays for a few bands in her free time. She has an uncanny ability to improvise creative melodies and harmonies. Her early influences include blues, jazz and rock.