When we think of budget guitars, Squier always comes to mind. Squier by Fender is one of the kings of entry-level guitars, as they build instruments with the excellent Fender bodies and fits them with quality electronics and pickups.
With great values in design, sound, and body, you can go wrong with the Squier Bullet Stratocaster if you're looking for an entry-level guitar.
In fact, I consider this as the quintessential guitar for beginners. People highly regard this instrument for its tone, ease of use, lightweight, and versatility.
Let's take a look at the qualities of this ax and see why this is such a good guitar for amateur guitar players and kids.
Keep in mind Squier by Fender has 7 different lineups, one of which is the Vintage Modified series. Now, we're also reviewing the whole Squier Bullet series.
Squier Bullet Stratocaster Review
Fender Squier built the Bullet Stratocaster with beginners in mind. Hence, this is an affordable, versatile, light, simple, and stylish instrument.
The Bullet Strat carries the classic looks of the American Stratocaster guitars, which are one of the most popular guitars of all time, right there with the legendary Gibson Les Paul series.
Highlights of this piece include a thin lightweight body, a C-shaped neck profile that's easy to play, three single-coil pickups, a 5-way switch, and a bridge tremolo.
Let's break it down…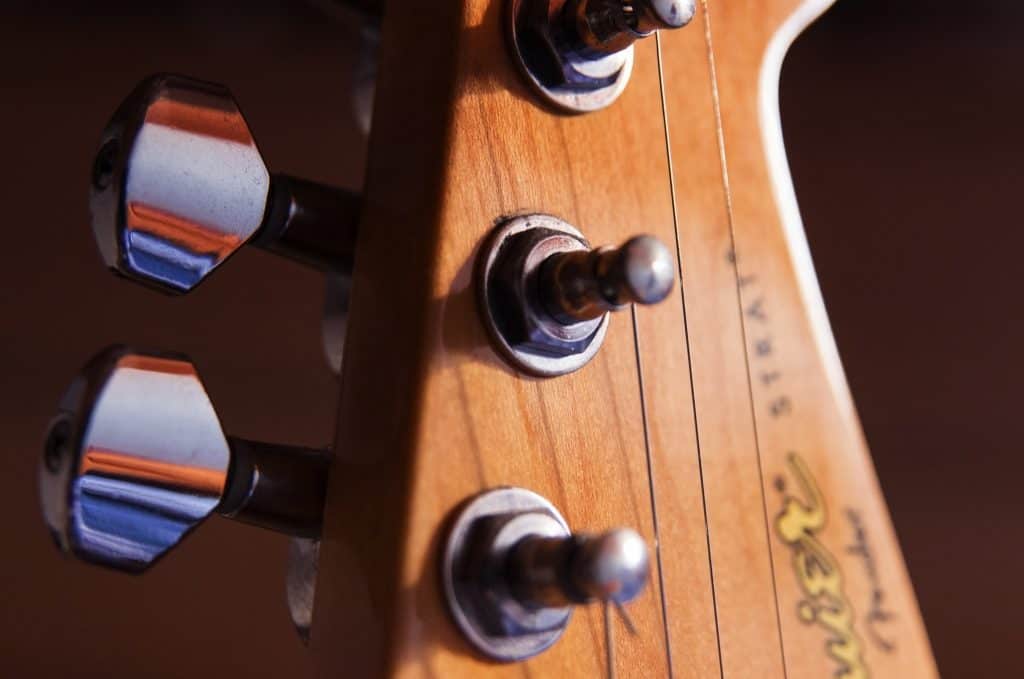 The Squier Bullet Strat is a guitar 100% designed by Fender with three single-coil Strat pickups, a thin lightweight body, a 6-saddle tremolo bridge, and a satin neck finish.
Body and neck
Fender created this guitar when they realized there was a need for budget-friendly Stratocasters for beginners.
That means it features the exact same design as the classic Stratocaster, although Squier cuts some corners on building materials, tonewoods, and finishes.
Even so, as technology and circuitry has advanced so much in recent years, quality dips on the Squier guitars have become more and more unnoticeable.  So, right now, tonewoods and other building materials are not nearly as important for your tone as the pickups and circuitry.
So, the Bullet Strat is the same American Stratocaster, but with different tonewoods and some corners cut on the pickups.
It's made of basswood and has a C-shaped neck design. I admit it doesn't look very refined, however, it still meets the requirements to look attractive.
Beginner guitarists usually can't tell the difference between tonewood tones, and neither can most people. And still, they can carry a great looking guitar to the stage.
Quality hardware
This guitar comes with a synced tremolo bridge, which is synonymous to durable, quality bridges you can really have fun with. Also, this is not very common for affordable guitars.
You may think bridges are complete (and this is a quite sensitive bridge), you'll soon find how easy it is to use. Here, let me give you a video example of how to use a tremolo bridge:
Next, the Bullet Strat comes with a die-cast tuner inspired by Fender Stratocaster's original tuners. They take some time to tune, which means you might need some help if you're a beginner. But they can hold the tune very well and stay strong for days.
Both the tuners and the tremolo bridge comes in chrome and performs very well, so the hardware is definitely a plus.
Tone, pickups, and quality
The tone and quality of the Bullet Strat are just fair enough. It can carry you for beginner setups all the way to your first recording sessions and gigs with no problem but don't expect professional sound coming out of it unless you pair it with superb guitar pedals and guitar amps.
What you'll love, though, is how comfortable it feels when you play it, and while it doesn't have the cleanest tone or the highest range, it works really well.
For the price range, I commend this as a well-rounded guitar offering great value for the money. It's quite rare to find guitars with similar prices that feature such great tones and qualities as the Squier alternatives.
On the downside, the pickups are definitely not the best. It has a tree Standard Single-Coil Strat Pickups (middle, neck, and bridge) made of ceramic. Whereas the sound is nice and round, these single coils are sensitive to buzz noises while you play, which might irritate some players.
By the way if you want to know some more about pickups, in specific pickups materials, check this section.
What's good about the pickup configuration is the 5-way switch, which allows you to select each pickup individually, or two of them sounding at the same time. The switch gives you plenty of versatility and works very smoothly.

Single-coil pickups have a softer, warmer, and classier sound than humbuckers. However, they have problems with buzz noises, interferences, and hums.
As you flip the switch, you select which pickups are turned on and off like this:
Position 1 (the lower): bridge pickup;
Position 2: bridge and middle pickups;
Position 3: middle pickup;
Position 4: middle and neck pickups;
Position 5: neck pickup.
The sound of the pickups is very responsive and provides plenty of definitions for your chords and clean tones; plus a crisp, rich tone during distortion.
However, because it has three single-coils, I wouldn't recommend this guitar for genres requiring much distortion like heavy metal. Instead, you can couple this guitar with a budget overdrive pedal and see amazing results.
As for control knobs, it has two Tone knobs (for the middle and neck pickups) plus a master volume knob.
Overall, the tone is good and the guitar has a surprising amount of features. As for the buzz, you may find ways to handle this issue.
Here's a video showcasing the tone of the guitar:
If you're planning to gift this guitar to your kids and worry about the control, don't worry. Kids can simply leave the switch right in the middle and play around the other two knobs until they understand how this simple sound customization works.
Why is the Squier Bullet Strat a great guitar for beginners and children?
The price is not the only thing making the Squier Bullet Strat such a good choice for beginners. Aside from its dirt-cheap cost, this is a user-friendly guitar all across the board. Even the most amateur players can get a hold of the instrument.
Friendly features include a lightweight body that's easy to carry even for children, so this can be your son or daughter's first electric guitar.
It's lightweight and comfortable because, as a medium-scale guitar, it's small and manageable. Also, it has a C-shaped neck, small frets, and light strings. Amateur players will find a lot of playability in this beginner's Stratocaster.
So, in essence, this is the perfect Stratocaster guitar for beginners, and it's an ideal choice for people and children learning how to play guitar. It's also great for jamming sessions and small gigs. I also commend this as a good choice to begin your musical journey.
I highly recommend this for children mostly because it looks and feels like a Stracosater, and kids somehow interested in music have probably seen Stratocaster guitars plenty of times in music videos and TV concerts. Because they will recognize it, and because its stylish looks, it's an instantly attractive guitar for children that can also feel very comfortable on small hands.

Stratocaster guitars have existed since the mid-'50s. Fender debuted these instruments right after the Telecaster model.
Additional info
Tonewoods: basswood for the body, maple for the neck, rosewood for the fretboard;
Neck: C-shaped neck;
Scale: medium-scale guitar (25'5'');
Fingerboard: 21 medium-jumbo frets, 9.5'' fretboard radius;
Pickup configuration: SSS;
Controls: Master Volume, Tone 1 (neck pickup), and Tone 2 (middle pickup); plus a 5-way switch.
Strings: Fender USA 250L Nickel Plated Steel.
In summary…
The main thing guiding you to buy this guitar could very well be how affordable it is. As you've seen, the Squier Bullet Stratocaster gives you a great bargain for its playability, appearance, and sound.
While it has some limitations regarding buzz noises and tone, it's going to be really difficult to beat the price of this guitar, unless it's for my personal favorite, the Squier Vintage Modified Jaguar (however this guitar still sells for a higher price and its harder to play).
I can say the Bullet Strat has a great value that won't require you to spend your savings. And you will get great, easy playing experiences with some nice extras (like the tremolo bridge) to begin your musical journey.
Furthermore, you can use this as a backup model you can modify or upgrade with, for example, new pickups. For instance, if you install a couple of Gibson humbuckers on the Bullet Strat, you'll get rid of the buzz noises and obtain a much powerful guitar with nearly professional sound.
Here's an interesting tip: many professionals have invested in the Squier Bullet series so they can smash it in public for a ripping show. So that means it has a good enough tone to play live and, if you have the money and the guts, it's cheap enough to destroy on the stage and impress the fans.
In summary, I can say the Squier Bullet Stratocaster was built with a single purpose: to be a beginner's guitar. Its shortlist of limitations won't be even important for a beginner guitar player, much less for children.
Instead, people looking for a first guitar will find a reliable alternative they can grow with the Bullet Stratocaster.
I'm sharing an Amazon bundle that ships with a travel bag, a guitar lesson DVD, a set of guitar picks, and a tuner that can help you tune the strings on your own for the first time.
Pros and cons of the Squier Bullet Stratocaster
Let's break down the pros and cons of this guitar to help see if this is a good option for you…
Pros of the Squier bullet strat
The price is definitely hard to beat for everything it offers;
It has a nice tremolo bridge;
It's a great starter electric guitar;
The bundle includes almost anything you need to start playing;
It has a good tone quality and fair-enough versatility;
It stays in tune for long periods if you don't let it fall;
It's lightweight and small;
It's very comfortable to play;
The body won't produce any issues or tension on your shoulders when you play for long periods of time;
It features the classic and timeless Stratocaster design.
Cons of the Squier bullet strat
The switches are a bit stale and might feel cheap;
The finish and color are definitely not the best. The neck, for example, has an imperfect finish;
There are some complaints about the continuing buzz. These noises also depend on your guitar amp, and you can get rid of the noises by changing a single pickup
A good pickup can costs as much as this guitar, so that would defeat the purpose of a budget guitar.
It might be hard to tune the Bullet Strat for the first time, especially if you're a beginner guitar player.
A single strung of the tremolo might put the entire guitar out of tune. However, as beginners won't be really using this, the tremolo won't be much of a concern.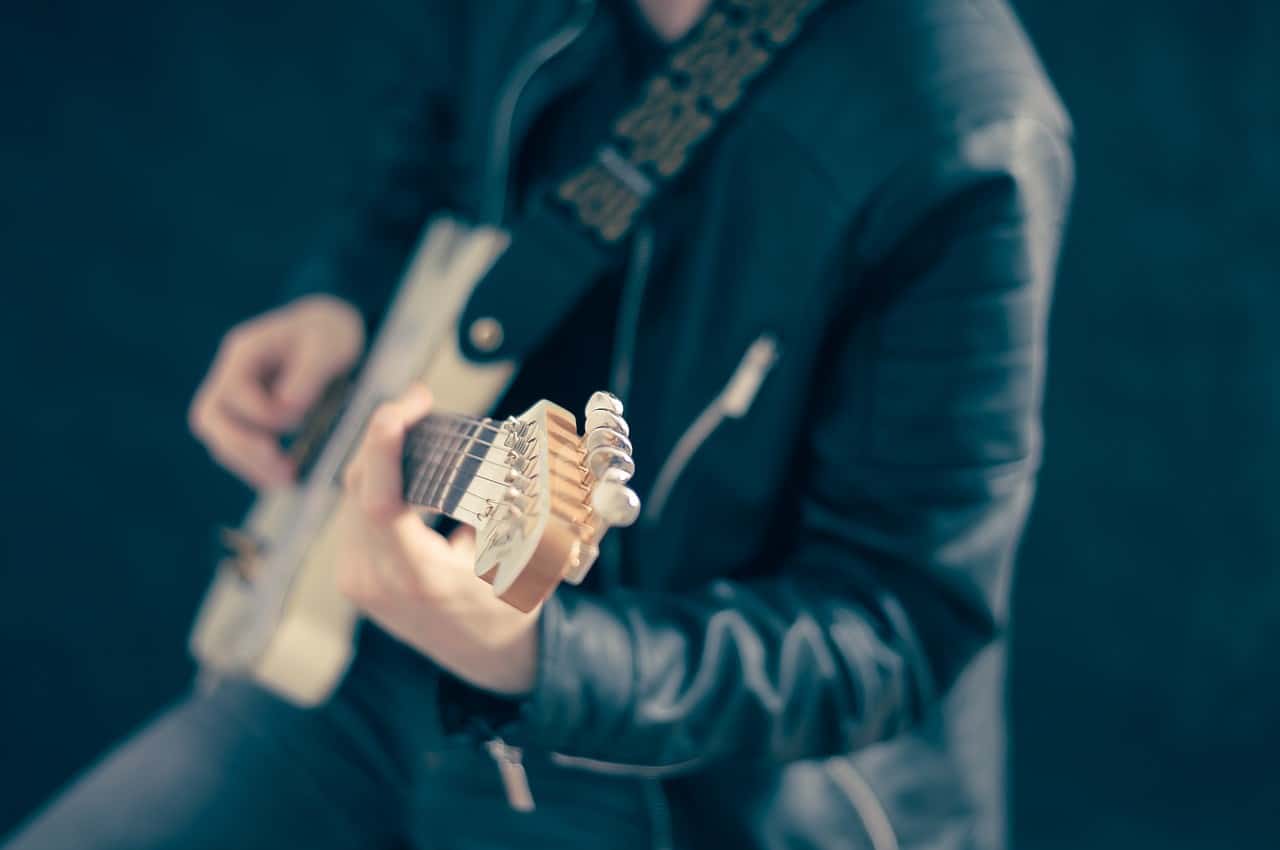 If you're an experienced guitar player on a budget, you might want to check our prior top 10 best budget electric guitars.
Variants of the Squier Bullet Stratocaster
There's an additional Stratocaster you may find on the market:
Squier Bullet Stratocaster HT HSS
The Squier Bullet Stratocaster HT HSS is also an affordable and versatile instrument of the Bullet series, as the Bullet series is designed for amateur guitar players on a budget.
It has exactly the same features as the Bullet Stratocaster but for the pickup configuration. As its name suggests, instead of having three single-coil pickups, it has a humbucker bridge pickup plus single-coil neck and middle pickups.
This HSS configuration can give you a little bit more versatility and a bit more power necessary for grittier genres.
More so, because this has a combination of single-coil and dual-pickups, I find this guitar to be more fun than the standard Bullet Strat. Also, it makes it best for rockers or beginner musicians looking to play rock genres.
Overall, the sound is fatter and warmer. The HSS pickup also gives this guitar a more balanced sound.
Lastly, it has another variant compared to the Bullet Start. This is a short-scale guitar (24''), it has 1'' length in size than the Start. It's not a lot shorter so it stills feels like a full-size guitar. Still, that 1'' difference delivers less tension on the strings so its easier to play chords and bends.
In summary, this is a better guitar for kids than the Bullet Stratocaster. It's probably the best guitar for kids at this price range.
I invite you to read the comment section if you're not convinced!
The Squier Bullet Series review: are these guitars any good?
The Squier Bullet is the cheapest series across the Squier and Fender brands. It's a very common lineup for students and kids as it's designed to be someone's first guitar.
Additionally, Bullet guitars are commonly sold alongside starter kits at incredibly low prices. These represent a good choice for parents thinking about buying their child's first electric guitar.
Good advice is to buy the best quality guitar you can afford. But is this true for someone who doesn't need the best sound possible money can buy?
Even so, I also commend this guitar for parents not knowing if their children will stick with this guitar or not. See, it's rather easy to find good budget amps for electric guitars that can stick with your or your child for years to come; however, your child could ditch your guitar -any guitar- in a matter of months if they find something they dislike, like for example the color or the weight.
keep in mind you have to account for a strap, guitar picks, a set of cables, and a guitar amp to really kick off the electric guitar. And a cheap Bullet Strat is a smaller risk than a higher priced instrument.
Also, children won't notice any difference between the sound of quality guitars and the sound of budget guitars. What's important to them is how it looks, how easy they are to play, and how much the guitar weighs on their shoulders. And the Fender-designed Bullet guitars hit all of these boxes.

Squier's Bullet series is the cheapest lineup of both Fender and Squier.
The Bullet series offers 3 guitars at the moment.
Bullet Stratocaster
Bullet Stratocaster HT HSS
Bullet Mustang HH
As you can see, the other alternative is the Bullet Mustang HH, which, as you might expect, is a beginner's rendition of the not so popular Fender Mustang guitar with a dual humbucker configuration.
The only thing I must say is, just like the Bullet Strat, the whole Squier Bullet series is built for beginner guitar players. These are simple, affordable, lightweight guitars with a good, overall warm tone, surprising versatility, and the timeless Fender guitars' looks.
A similar alternative by Squier is the Affinity series, which is built on better quality parts than Bullet instruments but still sells at reasonable prices.
In summary…
What I'm trying to say is that an 8-year-old kid taking guitar lessons won't care if the pickups are made of ceramic or Alnico. And if you didn't understand that, you probably don't care either, and that's perfectly okay.
Kids just want something that looks cool and works. And the Bullet series can do so much more than this.
Beginner and amateur guitar players are very much like this: more than searching for the best guitar they can afford, they want something that feels easy and light on their hands. It's a plus if the instrument also sounds good and something that can grow as you grow. Something you can even improve as you go along your musical journey.
In conclusion, if you're on a tight budget and are interested in guitar, the Squier Bullet series is something you'd want to check. However, if you have some guitar experience and want to play an affordable Stratocaster guitar, then you should expend the extra money on a Squier Affinity guitar.
About Fender Squier
Fender acquired the Squier brand in 1965. By 1982, Fender rebranded Squier as started using the subsidiary as a way to produce low-cost guitars and basses following the same Fender designs.
In the past, there was a definite distinction between Fender instruments and Squier instruments. However, advances in technology have made the distinction between budget and pro guitars blurry.
So, Squier is a Fender owned subsidiary producing affordable instruments that provide a lot of value for the buck. Personally, I find their guitars better alternatives than their basses simply because it's hard to keep fat low-end frequencies on budget basses.
However, the lines are also blurred in this category. See, there are Fender guitars that are cheap, some even cheaper than a Squier guitar; and there are some premium Squier guitars that are more expensive than a Fender.
For instance, the Squier Contemporary series takes Stratocaster design to other levels with new tweaks and twists, like Floyd bridges, dual humbucker configurations, or bigger bodies. The result is pricy instruments.

When people compare Fender and Squier guitars they usually say Fender sounds better because is pricier. However, people are usually unaware a Squier guitar can have a fatter price tag than a Fender.
More so, it's quite common today to find budget Squier guitars that perform just as good as a Fender selling for three times its price. If not better.
The major difference between Squier and Fender is that Fender is made in Mexico or the US, while Squier is made in Asia. And there are different levels of quality control and standards on these locations.
The second major difference between Fender and Squier is the tonewoods.
The main tonewood of Squier instruments is basswood, which is a cheap wood. This material keeps warm tones on the low-end frequency. It's also light, a feature that's always searched in beginner guitars and basses.
On the downside, basswood is not very sturdy, which means it can scratch, bend, and break if you're not careful. Some sound purists say it might affect negatively the clarity of mid and high-end tones, but I believe tonewoods don't actually alter the tone as much as we think.
In the end, I could say Squier guitars and basses are "licensed copy" of Fender instruments. They are cheaper and, if you look right, you can find some that perform just like a Fender guitar.
Remember: the name on the headstock is a piece of marketing, so, instead of evaluating a guitar for its price, make your own opinion considering how it feels and sounds when you play it.