Squier by Fender currently has 7 different lineups. My favorite one is the Vintage Modified series of guitars and basses because it's a perfect mix between the '60s and '70s looks and feels plus the advantages of modern electronics, pickups, and circuits.
In summary, I would say the Vintage Modified household by Squier features sleek-looking budget instruments with a nice enough sound quality you can take to the stage and the recording studio.
More so, they feature custom-made pickups that can help these affordable strings sand in the mix, even alongside drums and other more professional instruments.
I'm highlighting the guitars because I believe they are more worthwhile than the basses. However, I'm also reviewing the best bass of the series. You should go ahead and check the Vintage Squier Modified Jaguar bass review I did recently; however, I didn't qualify this bass as the best of this lineup.
Squier Vintage Modified guitars are affordable and cool; whereas Squier Vintage Modified basses are versatile and elegant.
Currently, Squier is producing and selling 14 different models of the Vintage Modified series. These models include 8 different guitars and 6 different basses:
Baritone Jazzmaster electric guitar
Stratocaster electric guitar
Stratocaster HSS electric guitar
Telecaster Custom electric guitar (which also has a deluxe version)
Jaguar electric guitar
Surf Stratocaster electric guitar
Mustang electric guitar
Squier 51
Jazz Bass
Precision Bass PJ
Precision Bass V
Jaguar Bass Special SS
Jaguar Bass V Special
Bass VI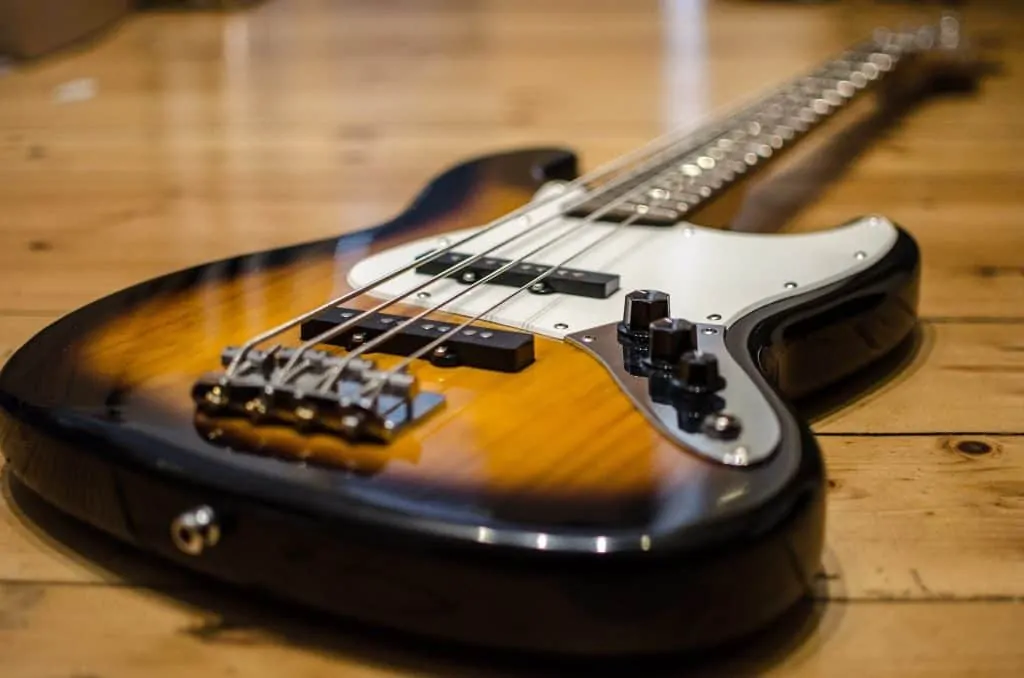 The Squier Vintage Modified series mixes classical designs with modern rock sounds.
Slowly but surely, the Squier brand is building a world reputation for selling high-quality affordable instruments. The reintroduction of their vintage models through the Vintage Modified series is something amazing that happened recently.
I'm going to do a minor review of the series as a whole, and then I'm going to review the best models of the lineup. My selection represents some of the best entry-level and mid-level budget instruments you can buy right now.
I already reviewed the Squier Vintage Modified Jaguar Bass models, go can go check that right now for superb affordable basses with plenty of versatility, powerful pickups, and decent enough constructions.
<iframe width="560″ height="315″ src="https://www.youtube.com/embed/NmUA4RhEq9k" frameborder="0″ allow="accelerometer; autoplay; encrypted-media; gyroscope; picture-in-picture" allowfullscreen></iframe>
Vintage Modified Series tone
The series spawns throughout all of Squier's available models, so I wouldn't say there's an overall tone defining the series other than having hot-output pickups that imitate the early rocker sound. Musicians often describe the resulting tone as "modern rock."
A hot pickup means a generally higher output-pickup that can drive your amp "harder" and deliver and dirtier, more modern sound. Keep in mind this is also relative. For instance, if you see a Telecaster with "Hot" pickups, it can give you a more rocker sound than a traditional Telecaster, but it will still have a lower output than a general-purpose rock guitar like a Gibson Les Paul with a dual humbuckers pickup configuration.
If you want to know more about pickups, you can check this section of the DiMarzio pickups guide. For now, you must know the following:
Single coil pickups are generally softer and feature a more classical sound than humbucker (dual-coil) pickups.
Dual-coil pickups are stronger, feature a less noise and interference, and deliver a modern sound.
Players have modified guitars and bass for years. What people love to do, especially, is putting hotter pickups on their instruments, or personalizing them with pickguards or distinctive paint jobs.
In essence, modified means adding new, creative and modern twists to a familiar design, and that's exactly what the Squier0s Vintage Modified series does: they import the hot-chop sound to the feel and value of classical instrument designs.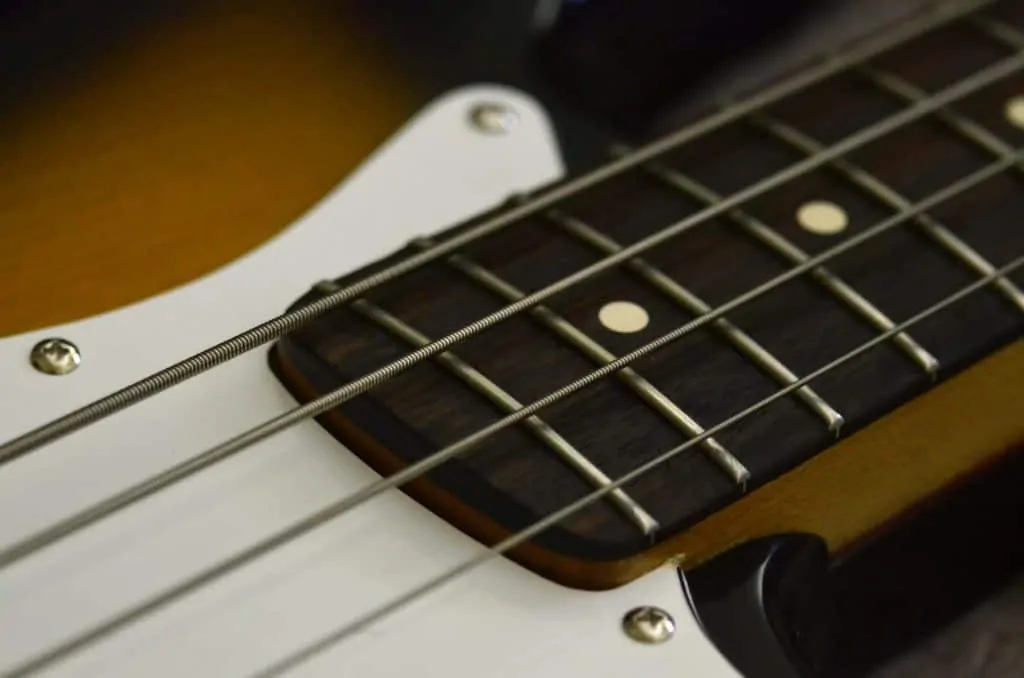 Are you into vintage finishes and glosses on your guitars and basses?
A heads-up: I've always felt Squier basses lack some power compared to Fender basses. See, building a bass is a more complex issue than building a guitar as there's a delicate balance between power and clarity on low-end frequencies.
By that, I mean most budget basses have fiddly 4th and 5th strings, so when you dial the amp up, you'll either lose sound quality or won't notice a true difference in power.
Squier basses are no exception, but they still represent great affordable choices. Here're our selections of best budget bass guitars and best beginner basses if you're interested.
Vintage Modified Series control
As for controls, you would find the same controls you'd find on the Fender versions of the same guitars. This means the Telecaster has the most straightforward control layout, whereas the Jaguar guitar features the most advanced layout (you can read more about the Jaguar series controls here).
One thing in common most of these guitars have is a 3-wat switch. This switch allows you to swap or blend the guitar pickups in the following way:
Bridge pickup only in the first position.
Both pickups in the middle position.
Neck pickup on the third position.
The Jaguar lineup is very special. They are the most versatile guitars Fender has, and that's saying a lot. At the same time, the Squier alternatives feature the same amount of controls, which include a passive-active switch, a three-way pickup selector, and more. In my opinion, the Squier Jaguar is as good as the Fender Jaguar.
If you want to know more about these controls, you can check this section with a control-tutorial of the Jaguar bass and guitars.
However, the Squier Vintage Modified Jaguar basses feature a simpler control than their Fender alternatives, although they are still the most versatile Squier basses.
<iframe width="560″ height="315″ src="https://www.youtube.com/embed/Eij3W8gu2ds" frameborder="0″ allow="accelerometer; autoplay; encrypted-media; gyroscope; picture-in-picture" allowfullscreen></iframe>
Vintage Modified Series quality
I understand if you're unsure about getting Squier instruments because they carry a negative reputation. More so, you might think their low prices are the equivalent of quality…how can these guitars costing 4x times less than a Fender guitar be any good?
Well, over the past years, Squier has truly improved the quality of their gear so much that they've slowly but surely become kings of the entry and mid-level instrument market.
And there's nothing wrong with the instruments at this level. Yes, manufacturers cut some corners, but technologies have advanced so much that what's more important right now to deliver a good tone is the electronics circuits and the pickups, and Squier instruments carry almost as good circuits and electronics as their Fender equivalents.
As for construction, Squier cuts corners on tonewoods, finishes, paint, and other features that won't determine the final tone of the guitar so much (although it's a bit different with basses, as I said before).
That means we're living great times to buy budget guitars, so we can become best friends with Squier.
Lastly and regarding design (which is important because the design determines how comfortable your instrument feels on your hands), they have the exact same blueprints Fender, which has dominated the music industry alongside Gibson for over 60 years.
So, do you want to look and sound like you have a Telecaster guitar but can't afford it? Well, go for the Squier version, and that can easily carry you from a beginner musician to your first small gigs and recording sessions.
A final word of advice: the instrument doesn't make the musician. You can rise with anything as long as you play it well and find your own style. At least that's what Tom Morello says (former Audioslave and Rage Against the Machine guitar player).
I talked about the overall quality of Squier instruments, and you can take that as evidence of the Vintage Modified series (which also exists for Fender Mexico).

As Squier increases the quality of its instruments, buying budget guitars and basses from the brand becomes better and better.
Best Squier Vintage Modified models 2020 reviews
Here're the top 6 Squier by Fender Vintage Modified guitars and basses you can buy right now. Be sure to check the demo videos I left on each item. If possible, try it before you buy it.
If you need further help understanding what to look for on a guitar or about the components of a guitar (tonewoods, pickups, neck shape, etc.), check this electric guitar's buyer's guide.
Keep in mind most of these instruments are built of basswood because its easy and cheap wood to grow.
Basswood has good qualities for instruments, one of which being it gives warmer tones on the lower end of the frequency. More so, it's a light material, which is great for practicing guitars. Its drawback is it lacks sturdiness, so it can scratch, dent and even break if you're not careful. Even so, you should be nice and careful with any instrument.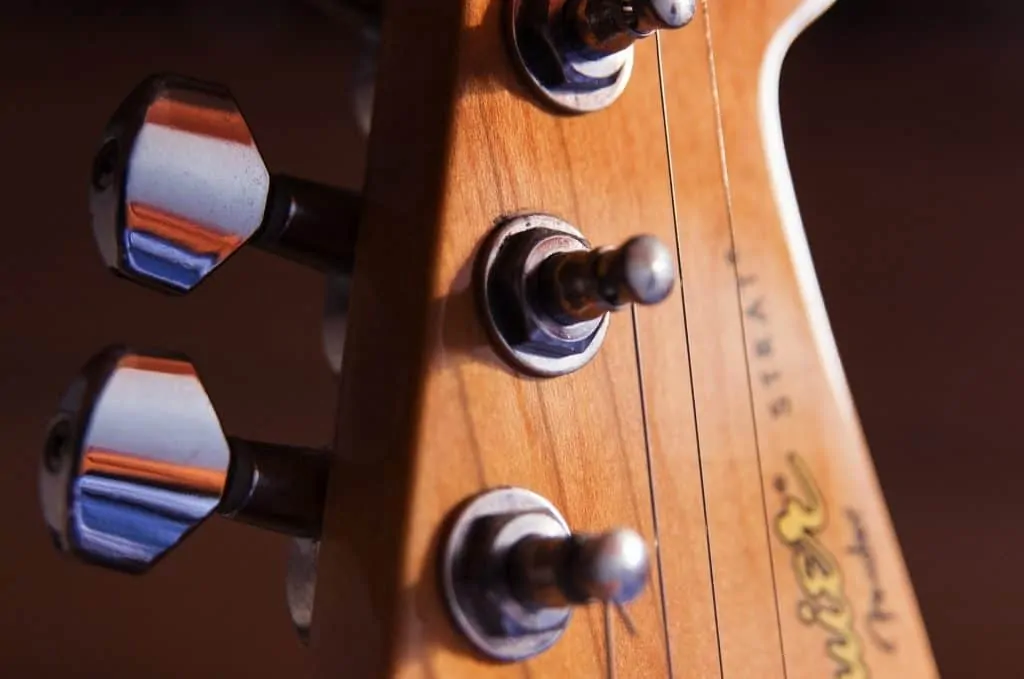 The Vintage Modified is the most interesting series in both Fender and Squier's shelves.
I'm leaving out the vintage modified basses as I already reviewed the best models of the series, which are the jaguar basses. So, this is only an electric guitar list.
Best for beginners: Squier '51 electric guitar
The Squier 51 makes you sit up and pay attention. Listen, this is a fairly unknown guitar, but it should list every chart of great guitars for beginners, as well as every list of affordable guitars available right now.
The Squier Vintage Modified 51 electric guitar promises a super vintage look with modern playability and superb versatility. More so, it sells for prices so low that it can make you wonder how well it delivers.
This retro guitar delivers modern rocker sounds with an updated pickup configuration with the aesthetic of a guitar you would want to keep on your personal collection.
It excels in body and design and has hardware and electronics that are really appealing for beginner guitar players.
<iframe width="560″ height="315″ src="https://www.youtube.com/embed/188_1rRv0ZE" frameborder="0″ allow="accelerometer; autoplay; encrypted-media; gyroscope; picture-in-picture" allowfullscreen></iframe>
Body and design
The Squier '51 is a 2000 model exclusive Squier model that's heavily influenced by Fender classic guitars from the '50s.
First of all, it features a well-contoured body, similar to an old Stratocaster, all with its deep double-cutaway. It offers superb access to its highest frets.
Then, you have the same familiar slim headstock of Telecaster design alongside the large pickguard of the P-Bass.
It has a sleek style and vintage looks and feels comfortable and light on your hands.
The tonewood is basswood, and it comes in two two-tone Sunburst finishes. You can also find it in the classy Candy Apple Red or Vintage Blond.
Lastly, it has a bold-on C-shaped maple neck with satin-finish and 21 medium-jumbo frets.
Pickups and controls
The '51 has a six-saddle hardtail bridge, which means it has no whammy bar but ensures a more stable tunning. A feature like this is aimed at beginners. Furthermore, the guitar has die-cast tuners on the Tele headstock to sustain tuning for long times.
It has two modest pickups: a custom Squier "hot" humbucker at the bridge plus a standard Stratocaster single-coil pickup at the neck position.
It's a versatile combination you wouldn't find on a standard Telecaster guitar. Plus, the controls give you further ability to tweak the sound. You get a master volume control knob, which can also turn your bridge humbucker into a single-coil with a push/pull option. And you have a three-way switch to select which pickups are working (the neck, the bridge, or both).
It's a straightforward, easy configuration that suits people getting into electric guitars for the first time.
<iframe width="560″ height="315″ src="https://www.youtube.com/embed/2eEtCcwlpw4″ frameborder="0″ allow="accelerometer; autoplay; encrypted-media; gyroscope; picture-in-picture" allowfullscreen></iframe>
Tone
The sound is warm and twangy. The single-coil pickup is great for a rhythm guitar, similar to what you would hear on classic rock genres coming out a tube amp. Alternative rock and soft progressive rock genres will also work great with this pickup.
However, the bridge humbucker is sub-par compared to the single-coil as it's raw and noisy, so it doesn't really have much headroom. Still, it gives good output and sounds good with a distortion pedal or through an amp distortion. The sound is meaty, thick and aggressive, so it fits punk, hard rock, and even metal.
Additional info
Body: basswood Stratocaster body shape
Neck: C-shaped maple neck
Fret: 21medium jumbo frets on a maple fingerboard
Pickup configuration: SH
Controls: master volume knob with push-pull bridge pickup coil-selector; pickup three-way switch.
The '51 Squier is a complete package for beginners: it's good looking, versatile, affordable, and very easy to play. It doesn't require too much experience to grab it, tweak it, and play it.
Best overall: Squier Vintage Modified Telecaster Deluxe
This guitar is unique as it's the only Telecaster in Fender's shelves packing all-new Fender-designed Wide Range humbucking pickups. Wide Range humbucking dual-coils deliver a full tone and offer vintage-style authenticity.
I choose this as the best guitar of the Vintage Modified series because it features the best tone, the best comfort, and the same prices. More so, it comes packaged in a beautiful Telecaster body.
Body and design
This is a solid-body guitar with a Telecaster body made of basswood.
Another great feature is a modern C-shaped maple neck with a vintage-tint gloss. It delivers both comfort and style.  The C-shaped profile is ideal for people who want to play with the thumb on the backside of the neck.
Additionally, we have a 9.5'' radius fingerboard with 21 medium jumbo frets plus black dot position inlays.
The bridge evokes the '50s and '60s Fender Telecaster styles. The guitar features a vintage-style strings-through-body bridge, and it has three brass saddles that offer authentic tone and design.
Lastly, we have vintage-style chrome tuners, which are also able to keep the tuning for long times.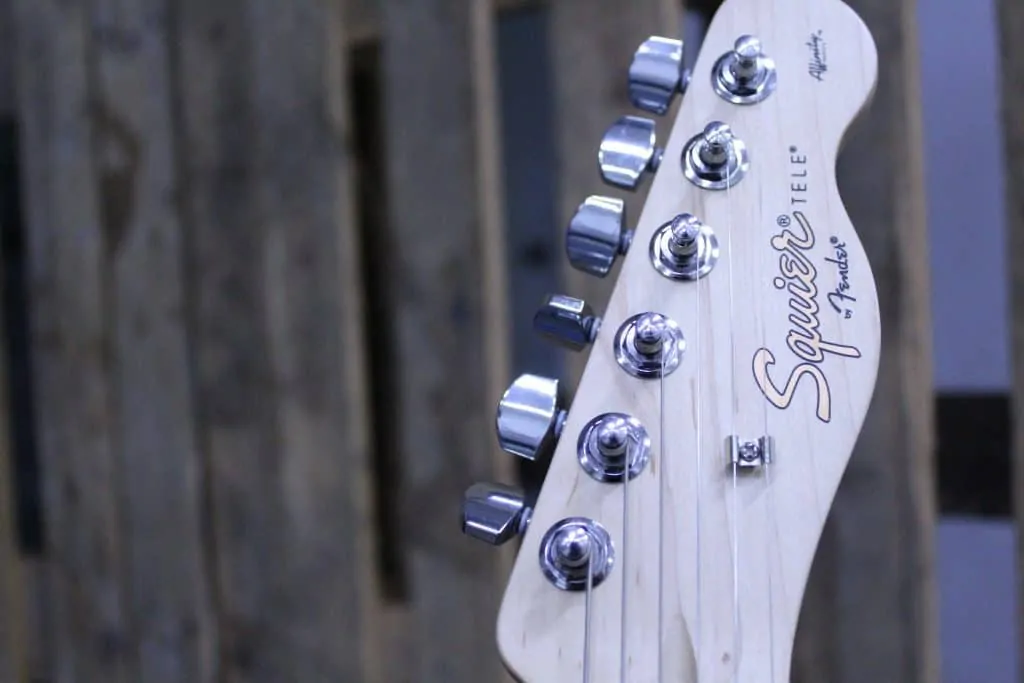 The Telecaster was Fender's first guitar and one of the very first electric guitars ever invented.
Pickups and control
The Vintage Modified Telecaster a Duncan Designed single-coil (TE-101B). This model is suited for fiery genres like rock & roll, blues, hard rock, and even metal.
On the neck, we wind a Fender Wide Range humbucker, which has a fat sound, a detailed tone that's smooth and warm and offers a lot of cut.
For controls, we have a three-way pickup switch, plus four black skirted amp knobs. The knobs we have are individual tone and control for the pickups, which gives you an amazing tonal range that requires some experience to tweak.
Tone.
The highlight of this guitar is the bridge pickup, which is pretty good. It gives a sharp and raspy distortion that's common on Fender Telecaster guitars.
When you put it through overdrive or reverb (which are some of the most common guitar pedals), it sounds almost as a top-quality pickup.
The neck pickup is a large humbucker that sounds very well on distortion, overdrive, reverb, and chorus; but has some trouble when you play the guitar on clean.
Additional info
Body: basswood Telecaster body shape
Neck: C-shaped maple neck
Fret: 21 medium jumbo frets on a maple fingerboard
Pickup configuration: SH
Controls: two volume knobs, two tone knobs, 3-way pickup switch.
I'm sharing the Deluxe version of this guitar. The only difference is the color and finish of the instrument.
Overall, this is a guitar with a great tone and a great body. It fits beginners and intermediates alike. However, I've always thought Stratocaster guitars are a bit above Telecasters, so let's go on to the next model…
You can also go for a bundle version that sells with picks, a cable, and a clip-on a tuner:
Best mid-level: Squier Vintage Modified Stratocaster
The Vintage Modified Stratocaster is a great example of why this series is so good.
It features the ever-present Stratocaster shape, a guitar that has dominated the world for so long. Many musicians believe having a Stratocaster guitar is mandatory at this point.
I don't think it's mandatory, but I do highly recommend having a Stratocaster guitar on your repertoire. Even better if it's your first guitar. So I bring you this budget alternative that features the beautiful Strat design, a solid sound, a vintage look, and a very comfortable feel.
The guitar might appeal to you because of its sound, feel, and value. Plus, it has Seymour Duncan-designed single-coil pickups.

Stratocaster guitars represent the most popular guitar model out there.
Body and design
First of all, the model available right now it's a semi-hollow body because Squier updated the model recently. When they added a semi-hollow interior, they made this guitar even better than what it was.
The design is made of '70s Stratocaster guitars. The body is built out of basswood, which makes for a light, portable instrument that gives generally warm tones.
We have a bolt-on neck that's made of maple, which is the traditional wood for the necks. The neck also sports a vintage-tinted gloss finish that gives that much desired aged look. I must also add the neck is rather sturdy and resists the permanent damages that usually come with shipped budget guitars.
Lastly, we have a large headstock, which is a design coming out of the late '60s ready to give you a classical look.
Pickups and controls
Regarding the sound, we have a major upgrade compared to the Squier '51. The Squier Vintage Modified Stratocaster has two Duncan Designed SC-101 Single-Coil pickups. These pieces are built to deliver exceptional string balance. Furthermore, these are calibrated specifically to the bridge, middle, and neck positions.
The pickups include a reverse-wound/reverse-polarity middle pickup that gives reduced hum when you combine it with the neck or bridge pickups. The sound of the pickups if warm with a noticeable "quack" on the mids. However, these pickups do let in a bit of string buzz. There's another issue as well:
For controls, it has a master volume plus two tone knobs. It also has a 3-way pickup configuration lever. It allows you to modify the sound, but the homogeneity of the pickups makes it hard at first to get exciting tones.
Next, the guitar ships with a 6 saddle vintage synchronized tremolo bridge. In guitar terms, that means a very good bridge: it gives a nice action and its a fun, smooth tremolo to use.
Another great feature is the nut of the guitar, which is made out of synthetic bone. That's a great step above pure plastic because it's able to produce cleaner sounds.
Lastly, the tunning machine is also built following vintage designs, but it has a hard tie keeping the guitar in tune for long periods of time. That's why you should always play this guitar with a guitar tuner, and also why I don't recommend this for beginners. Otherwise, you can replace the tuning pegs to resolve this issue.
Tones
The guitar features a clean, warm, and vintage sound with a little buzz you can mitigate with the right fretting (intermediate guitar players could already avoid this issue).
The single coils are warm and twangy, great for modern soft rock genres, rock&roll, and alternative rock. I would even say it sounds like a Rolling Stones song.
A great plus is a switch, which allows you to combine the sounds, although it requires some tweaking around to truly get its potential.
<iframe width="560″ height="315″ src="https://www.youtube.com/embed/VPVzXRV1aDw" frameborder="0″ allow="accelerometer; autoplay; encrypted-media; gyroscope; picture-in-picture" allowfullscreen></iframe>
Additional info
Body: basswood Stratocaster body shape
Neck: C-shaped maple neck
Fret: 21medium jumbo frets on a maple fingerboard
Pickup configuration: SS
Controls: master volume knob, master tone knob, 3-way pickup switch.
The Squier Vintage Modified Stratocaster is a mid-level priced guitar for intermediate players or beginners who want something food to work with. It's easy to customize the guitar as most of its parts are easily replaceable. More so, as the basis of the guitar is so good, it delivers a longer lifetime and can follow you from intermediate towards the advanced world if you replace the pickups.
Most versatile: Squier Vintage Modified Jaguar
The Squier Vintage Modified Jaguar is not only the most versatile Squier electric guitar, but it's also the best guitar for advanced players on a budget or simply looking for a backup instrument that sounds almost as good as a Fender.
This Jaguar guitar truly is an old, classy design combined with modern and complex electronics. It's inspired by Fender's old school designs, specifically Kurt Cobain's '65 Jaguar with Dimarzio pickups, and it's here for contemporary players on a budget.
Its modern twists include new Duncan Designed single-coil pickups plus the modern 9.5'' fingerboard radius.

The Jaguar guitars is one of the most versatile guitars in the market. It's beloved by heavy metal, progressive rock, and alternative rock musicians.
Body and design
This Jaguar electric guitar has a four-piece basswood body. Basswood provides longer sustain for this guitar.
We have a bolt-on maple C-shaped neck and a rosewood fingerboard with 22 jumbo frets.
It's a short-scale guitar. With its 24'', it's shorter than other Fender classic models like the Telecaster and the Stratocaster, as well as the Jazzmaster and the Mustang.
It has a trapezium-shaped hardtail bridge that looks like a Danelectro unit. Then, on the front of the bridge plate, we can see two screws that lower or raise the lower action.
We also have a vintage-style bridge plus a non-locked floating vibrato with a vintage tremolo arm.
Finally, the neck on this model has a vintage-tinted gloss finish that gives the guitar a very appealing look.
Pickups and controls
The guitar packs two Seymour Duncan single-coil pickups. However, the controls are where this guitar stands tall.
First of all, you get a master tone and volume knob. On the right, instead of getting a 3-way switch, you get three pickup buttons to individually turn on and off the neck and bridge pickups.
On the upper side, it has an amazing add-on, which is the same as a Fender Jaguar guitar. It has an active/passive circuit selector. If you select the active switch, then you'll have a boost on the general output of your guitar and you'll be able to use the active treble / active bass controls.
Whereas if you leave the guitar with its passive pickup circuit, you'll be left with a softer, more mellow tone.
All in all, it gives plenty of versatility, much more than any other guitar at that price range.
If you're unsure, here's a video tutorial about those controls:
<iframe width="560″ height="315″ src="https://www.youtube.com/embed/c90Htzq7E5k" frameborder="0″ allow="accelerometer; autoplay; encrypted-media; gyroscope; picture-in-picture" allowfullscreen></iframe>
Tone
With all of its options, this guitar has a lot of potential. Its overal sound is raw, crunchy and acid, great for modern rock, hard rock, and alternative rock genres.
Its versatility can dial the sound all the way from blues towards R&B, soul, and metal. This guitar can play almost anything you can imagine and sound as good as a Fender. In my eyes, there's nothing wrong with it.
VIDEO
Additional info
Body: basswood Jaguar body shape
Neck: C-shaped maple neck
Fret: 22 medium jumbo frets on a maple fingerboard
Pickup configuration: SS
Controls: pickup on/off switches and tone circuit switch / dual-circuit design ("lead"/"rhythm") with tone and volume knobs for each.
I also reviewed the Squier Jaguar Bass series, which I find to be versatile, powerful, and affordable. Check it out.
Best bass: Squier Vintage Modified Jazz bass
The original Fender Jazz bass debuted in 1960 as the second electric bass guitar from the company. It has two pole pieces per string in its single-coil pickup design, so it emphasizes the midrange and upper-mid frequencies for a cutting tone that allows bassists to stand in a mix.
At a budget price, it might be hard to find a bass that stands in the mix or can be heard at a live performance. Often times, their power is degraded besides other instruments or when you put it through a lot of gain.
That's why we choose the Squier Vintage Modified Jazz Bass as the best of the series. It will stand on its own, as the Jazz bass always has.
<iframe width="560″ height="315″ src="https://www.youtube.com/embed/jwiu2dporvI" frameborder="0″ allow="accelerometer; autoplay; encrypted-media; gyroscope; picture-in-picture" allowfullscreen></iframe>
This model has a slightly thinner C-shaped neck than most Fender and Squier basses. It's a particularly interesting feature as it provides a faster, smoother and more comfortable fret-hand feel.
Plus, the neck of this Jazz bass has a vintage-tinted gloss that gives the instrument a very appealing aged look.
The sound is carried by two custom Fender single-coil pickups. These pickups deliver a mix of the vintage sound with a twist of modern rock.
Additional info
Body: basswood Jazz bass body shape.
Neck: C-shaped maple neck
Fret: 20 medium jumbo frets on a rosewood fingerboard.
Pickup configuration: SS
Controls: master tone plus individual volume knobs for each pickup.
Almost every aspect of this bass is positive, from its quality to its built to its sound. It's very close to the actual Fender Jazz bass, however, it does have problems when you drop he 6th string to the D. Even so, this kind of low notes is not the strong suite of Jazz basses.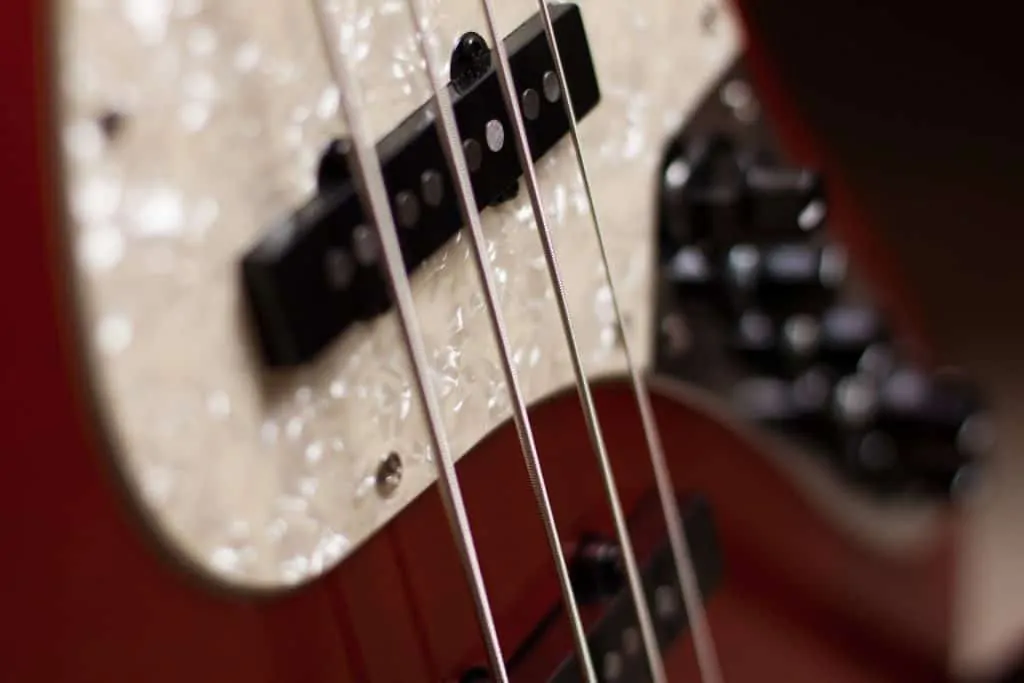 It's wrong to think the Jazz bass is for playing "Jazz." Instead, it's a bass that features a crystal clear high tones, punchy mid-tones, and soft low tones.
If you're into the bright tones of bass players like Geddy Lee, Jaco Pastorius, Sting, and Rick Danko, and if you're on a budget, this is a great choice for you. In fact, this is one of the best budget basses available to buy right now.
If you have any comments, leave them below. By the way, what's your favorite Squier instrument?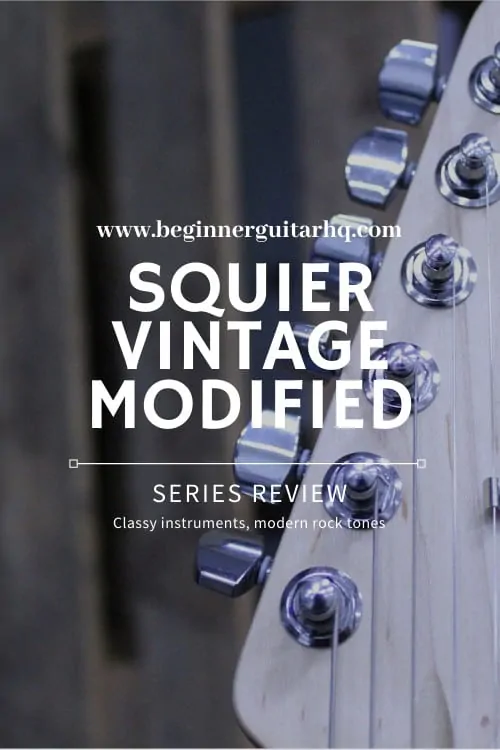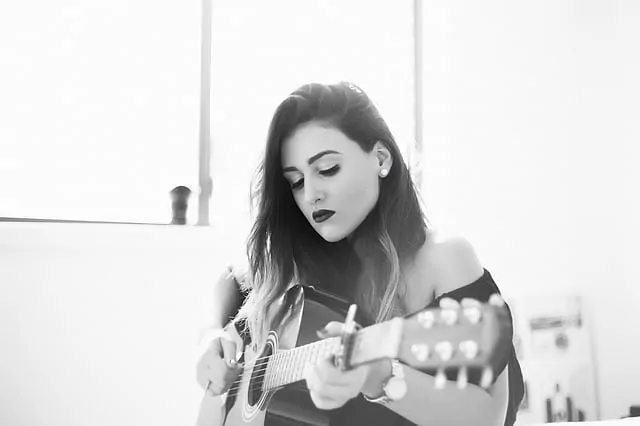 Jen is a guitarist and singer-songwriter who spends much of her time on the road and has lived in 13 cities across 4 continents. She picked up her first guitar at the age of 6 and learned to play by ear shortly after. She received her formal music education at the Berklee College of Music, and currently plays for a few bands in her free time. She has an uncanny ability to improvise creative melodies and harmonies. Her early influences include blues, jazz and rock.