Looking for the best metal guitars? There are a lot of genres you'll encounter during your time as a beginner guitarist. Jazz, blues, rock, folk, country, the list is endless. For the loudest, most aggressive of the bunch, you'll want a good guitar for metal playing. Whether to create thick walls of sound for crunching death metal chords or treble shred-machines, we've got you covered.
In this important guide, I'll talk you through the 20 best guitars for playing metal.
If you're looking to get yourself a guitar for metal, then look no further.
First Things First
Metal is a broad term. There are a lot of subgenres with a lot of nuances, so you can't really find one guitar destined to play them all. You could start off with a classic, common guitar that will sort you out for that 70s metal tone, then move towards something more shred-friendly if you'll want to have a go at something more modern, but if you're looking to a heavy, progressive metal style then you might want to look at a 7 or 8 string instrument.
However, you aren't going to want to choose your instrument based on one specific genre, because there is no way you'll only play in one style for the rest of your life. You need to take many factors into account.
These include:
Tone: The general tone of your guitar is an important part of crafting the genre-specific playing you desire, but this can also be created with pedals and effects. You want to find a guitar that sounds great as soon as you take it out of the box.
Feel: If you don't like playing it, or you aren't comfortable playing it, then you aren't going to enjoy it or get the best from it. Plus, a bad feel might end up making you play worse.
Weight: Ask yourself when you'll be playing. If you only sit down and play in your bedroom, it doesn't matter too much. However, if you're playing a 2-hour gig, you'll want to avoid something weighing you down.
Look: Sure, you certainly don't want how your guitar looks to impact your decision and stop you from getting the best sound. Having said that, metal is a showman's genre, so it is important to an extent.
Features: If you need a whammy bar, then get a guitar with a whammy bar. If you need a 7th string, get a 7 string guitar.
You also might want to learn how to actually play metal before you get yourself a guitar that fits the genre.
Ibanez Series Iron Label
If there is one guitar brand most associated to the metal genre, it is Ibanez. Every one of their instruments looks like it's getting ready to tear through a solo at any given second. This one is no exception, with sharp edges and a glossy pseudo-wood finish making it beautiful as well as aggressive.
This mahogany body creates a warm resonance, which creates an impressively dark tone when crunching through tough, low and slow metal riffs, and a responsive sound for shredded solos. With the classic neck attached to that body, you know you're in for a treat of speed. You can rush your fingers all over the neck like it's nothing, and learning sweep picking will be a breeze (a very difficult breeze, admittedly) with the low action and responsive feel.
You're treated to EMG 81/60 pickups, which give you huge power and are pretty much industry standard for playing extreme metal. The bridge is more customisable, allowing you the choice between the Ibanez Edge Zero II or the Gibraltar Standard Hardtail. In terms of controls, you get volume and pickup selector, as well as a kill switch that can allow you to switch the signal off entirely. This means you can: cut the sound with no volume, stop any volume/feedback overloads and create a unique sound à la Tom Morello during a solo.
Jackson JS32 Rhoads
Randy Rhoads was known for his exceptional ability to shred and provide unparalleled riffage to the music of Ozzy Osbourne. He passed away much too young, but his legacy lives on in the various signature guitars that followed his death.
Jackson may be overshadowed by Ibanez in the metal world, but their position is still held with high regard. This particular instrument has the classic look of Rhoads' guitar: sharp, angry and futuristic. It might be borderline impossible to play while sitting down, but you can't smash through these speedy solos while sitting down anyway.
The pickups are bright and snappy, and can handle as much distortion as you need. With the sort of stuff you'll be playing on this monster, this good news (trust us). While the lack of wood might take out some of the warmth from clean playing, the squealing feedback and crunching distorted sounds you can achieve totally make up for it.
On top of all of that, it is incredibly cheap for such a showman's instrument. Whether you're in an Ozzy tribute band or just want to zip your way through neo-classical shred sessions at home, then this is certainly worth a look.
See Rhoads' incredible soloing in this video.
ESP LTD EC-Black Metal
Black metal is certainly a controversial genre. Known for many church burnings, murders and suicides in the 80s and 90s, it doesn't exactly have a reputation for beauty. The ESP LTD EC-Black Metal, then, really messes the status quo. Sure, its matte black finish makes sure to keep an element of evil in the instrument, but on the whole, it's just stunning. Doing away with the sharp aggressive edges of a flying V, it just looks like someone found a Gibson Les Paul deep in the depths of hell.
Tonally, this instrument is specifically built to do justice to the intentionally lo-fi, screamingly aggressive sound of black metal. It only has one pickup control, but if you really are just sticking to black metal, then it's all you really need. While it can handle other genres, it might be best left to the less defined playing of a black metal track than the need for crisp clarity that might befall a death metal tune.
Schecter Hellraiser C-1
This is another instrument that just looks like it's built for metal. Lavish reds and black tones add to the Strat body and carved top, with a look not dissimilar to many of the most famous Ibanez's.
The mahogany neck and body give a warm sound that lends itself well to big, natural reverbs. The EMG pickups allow for a lot of distortion to be fed through the sound, while retaining a lot of treble that works brilliantly when playing lead. Press down on your boost pedal and shred away with a guaranteed excellent tone. The pickups really suit the metal genre well because they are naturally aggressive: their rounded sound is great for rhythm playing, but the aforementioned trebly quality allows you to switch to lead seamlessly.
The bridge is pretty customisable, where you can add the Floyd Rose tremolo arm or a Tone Pros String-Thru Tune O Matic. Both options lead to an impressive sustain, but obviously a difference in cost.
Gibson Les Paul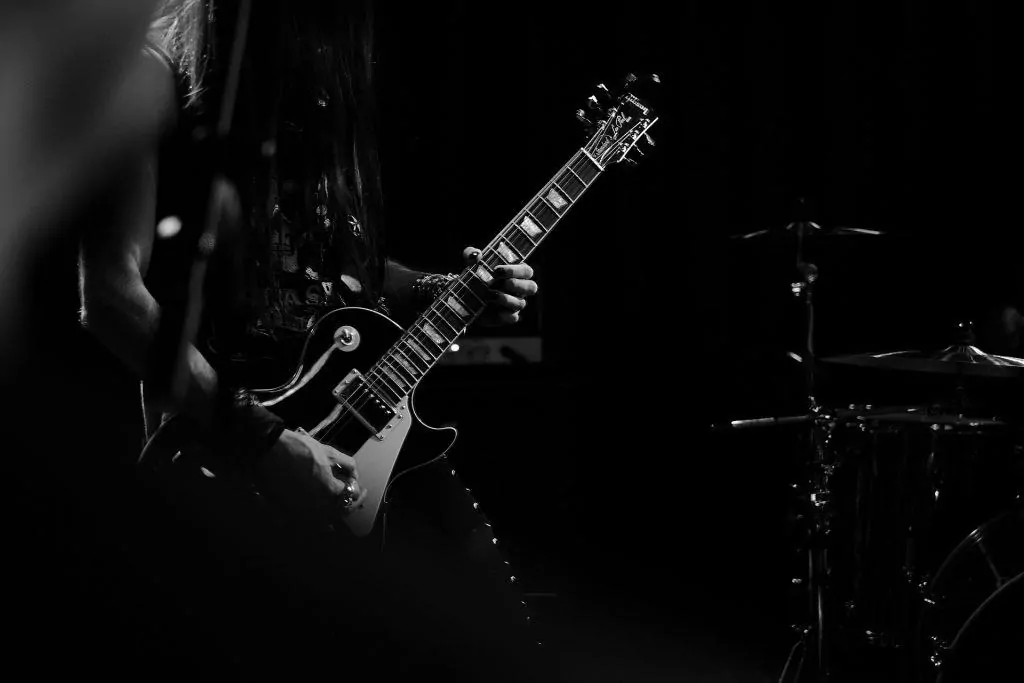 Possibly the most famous guitar ever made, the Gibson Les Paul is a favourite of everyone from Slash to Jimmy Page. Obviously, both of these world-class players exist in the classic rock scene, rather than metal, but there is no denying that this isn't the perfect instrument for some (perhaps slightly less heavy) metal.
The expressive feel of the instrument is one of its biggest draws. You can play a pretty bad solo on a Les Paul and still give off an impressive sound. Beyond that, the delicacy of its change between overdrive and clean is unbeatable. You can play some light jazz with a crisp clean setting one minute and then stomp on your pedal for a solo the next.
There are so many versions of the Les Paul that it's difficult to pinpoint one specific one, but they're all quite brilliant. Of course, you have the Slash signature, that gives that crunchy tone heard on tracks like 'Sweet Child O Mine', but there are also the more modern versions, like the 2019 Les Paul Standard, which has been updated to fix very minor issues in the body to get an even warmer sound, while the humbuckers are now covered.
The changes are very slight, so don't let them freak you out or particularly impact your decision. The main thing to consider is action. In my experiences, while their sound is stunning, the Les Paul seems to have a slightly higher action that Ibanez and the like, so if speed is what you need, then perhaps look elsewhere. If it is pure tone for playing in any of the less-heavy metal genres then this is arguably the perfect guitar.
Having said that, the likes of Tool, Mastodon and In Flames have all been known to use Les Pauls, so it certainly isn't unheard of to make this instrument work in the more ferocious genres.
Dean MAB1 Speed Of Light
You might have heard of Michael Angelo Batio. He is known as one of the fastest guitarists of all time, capable of playing a guitar with four necks that each emerge outwards from one central body. It's all pretty weird, but I can assure you that this guitar is a lot more normal.
The colourful instrument is built for speed. Low action and three EMG pickups are what combine to give you the ultimate machine for overdriven speed. And it's impressively customisable, too. There are five selections to be made on the pickup selector, so you have your choice of various combinations of pickups: EMG 85 humbucker on the neck, EMG 81 at the bridge and a EMG SA single coil in-between.
Thanks to these pickups, you're treated to a very responsive instrument. They're built for overdrive, so don't be disappointed by their clean output, but in terms of overdrive, you're getting something up there with the best. Size and clarity are the key features of this guitar.
Jackson King V
The flying V shape returns for this instrument, having been manipulated in a way not dissimilar to the Rhoads special edition we already looked at above. It might be on the higher side in terms of price than the Jackson we already took a look at, but it does deliver more in terms of tone.
It is fitted with a Floyd Rose, EMG 81/85 pickups, jumbo frets and a rosewood fretboard that allows you to roam the guitar with immense speed, versatility and total control. With many of these special edition guitars designed to be played by metal musicians, speed is one of the key features being looked for across the board.
The pickups on this guitar are, like many on this list, designed to be played in high gain situations. For extreme metal, their dexterity with different gain levels is second to none. Clean playing is a little less perfect, but if you're playing metal then your clear isn't likely to be used anywhere near as much as your overdrive anyway.
ESP James Hetfield Signature Snakebyte
James Hetfield is the lead vocalist and rhythm guitarist of the most successful metal band in history. They moved from straight up thrash metal towards globally dominating classic metal, hard rock and some moments of complex progressiveness. The whole time, Hetfield has maintained a tone we can all recognise (especially when combined with his unique love of down picking).
This instrument has been designed by ESP to reflect his tone with as much loyalty as possible. Now, it isn't versatile because its whole thing is to be as consistent with Hetfield's tone as possible, and it is incredibly expensive, but for someone regularly playing Metallica, or writing in a similar style, then it may well be the perfect choice.
The sound is high gain and cuts away the mids of the instrument just like you'd expect from that classic Metallica tone, however, it does much more than that. There is clarity across the entire fretboard, allowing you to pull off the shuddering low notes from 'Master Of Puppets' just as well as the flamboyant solo in 'One'.
It is designed to look like Hetfield's signature instrument, yet for some reason doesn't have access to his signature pickups. However, as I said above, this is perfect for someone looking to replicate that Metallica tone. Stay far, far away if you don't like Metallica, though!
Fender Stratocaster
Looking beyond the iconic Gibson Les Paul, arguably the next most well respected and versatile guitar in the history of music is the Fender Strat. Its shape became iconic and the basis for thousands of similar instruments, each not quite able to replicate the formula of the original masterpiece.
A favourite of everyone from Jimi Hendrix to Richie Blackmore to KK Downing, the instrument is just as impressive when squealing its way through metallic licks as it is when being used for emotive, clean blues and jazz.
Of course, with an instrument so broad, there are a lot of different Strats on offer. Some of the best include: The mid-priced, Player edition, which does away with the tone of the original model but provides an incredibly versatile machine that still sounds incredible and works well when aiming for a metal tone. The Squire Affinity is a Strat made by Fender's younger brother, Squire. This makes it a little less versatile and reliable, but at an incredibly low price for the quality you're getting. Finally, the American Original is the best you're going to get when aiming to replicate the classic tone of the Strat. This one is very pricey, but it really does deliver that big, beefy feel of the classic and well-loved original.
Like a few of the guitars on this list, the Strat might be better suited for more classic metal than the extreme subgenres, but it'll hold out better than most across the board.
Ibanez RG550
Returning to the Ibanez, the RG550 is mothing but heaven for a shredder. Pushing quadruple figures, it isn't for the entry-level shredder, but the seasoned pros will feel right at home. Everything about the instrument is crafted with speed in mind, from its perfect neck and fret setup, to the fiery yellow finish.
The instrument was first introduced in the late eighties (just as Steve Vai was becoming well-known for his incredibly grasp of the specific instrument) and discontinued in the mid-90s. This version was, in fact, modelled off of making Vai's signature JEM777 more marketable to the masses. Recently, it has been remade and perfected so that its feel is basically identical to that of the glory days of the original.
The V7 humbucker in the bridge is designed to give an edge to your fast, ferocious riffing, with the V8 in the neck offering a compression when you're dealing in particularly extreme gain settings. At the same time, it isn't going to give you much in way of an emotional clean solo, but that isn't why you want it, right?
Wylde Audio Odin
There is a pretty good chance that you've heard of Zakk Wylde. Ozzy Osbourne has a knack for choosing the best riff masters and shred heroes to join his solo band, and when replacing Randy Rhoades, there was no finer choice than the Black Label Society frontman.
His signature Wylde Audio Odin is one of the most perfect guitars a metalhead could ask for. It looks incredibly, with a sleek and sharp take on the Les Paul shape dominating it's aesthetic. Wylde tends to favour a design full of white and black circles, but there exist a lot of other great options.
This specific guitar has a larger neck than many might expect, which is just something Zakk Wylde opts for on his instruments. It might take a while to get used to, but it feels weighty and adds a depth and warmth to your tone that does wonders to metal playing. It also helps to keep your tuning on point, with its rigid feel stopping the intonation from slipping into less desirably realms.
Built from maple and using the EMG 81 pickup, the Odin is an incredible instrument for playing at high gain, which is probably what you'll be doing. However, if you know the music of Black Label Society, you'll know that there are many lighter moments. These are able to sing out with just as much depth as those funky riffs.
Take a look at Wyle showing off the dexterity of his playing here.
Schecter Omen-8
Remember earlier when I mentioned that occasionally, guitarists might need access to an extra string to play some particularly complex, proggy tracks. The Schechter Omen-8 takes that a little further, and provides eight strings. Now, it isn't the greatest guitar in the world. It isn't something I'd recommend to a player looking for great tone or a versatile instrument, but if you need eight strings, this is where you should look.
Meshuggah were one of the first bands to adventure into the realm of eight strings, needing to go even lower than that low B offered by the Ibanez Universe in the late 90s by chucking an F# down there on a .069 gauge string. The neck is longer than most guitars, which (in theory) will allow your tuning to stay consistent. This is actually quite convenient, because you've got two extra strings to keep an eye on.
Weirdly, it sounds pretty cool when played without being amped up, but there are a few noticeable issues with its plugged sound. Firstly, the mids are pretty poor, giving a tinny/bass tone, with very little weight at times. It also ends up being pretty hard to access to very higher frets, which (while if your focus is to crack through some thick Djenty riffs, doesn't matter much) could be pretty inconvenient for some more soaring lead lines.
Remember, I don't recommend this to the general player. There are many more guitars on this list for less money that sound and feel much better, but if you absolute crave those lower notes, then this is as good as any eight string.
Fender Jim Root Telecaster
Jim Root is the mastermind riff monster in the nine-piece masked metal band Slipknot. Considering they came from relative obscurity in the tail end of the 90s to become a Grammy winning, chart topping band in recent years, there must be some weight behind their achievements.
The telecaster is a guitar aimed at jazzmen. It has a delectable clean tone with warm mids and crisp highs designed to be felt during those fast (but not aggressive) jazz solos and come across beautifully when quick chords are being plucked from within the rhythm section.
Now, this particular iteration of the well-loved guitar doesn't reflect the immense and classic sound of the original, but it does take the formula and adapt it well enough into something perfect for metal players.
Of course, they've made a few changes to the classic model. There are EMG pickups in place of single coils and mahogany body that creates a trademark thick warmth, as well as tuners that lock into place to avoid slipping away after a period of impressive shredding. It creates a thick tone that works well with big chugging chords and some lower riffs. However, it doesn't work so well for the highest of lead playings because the lack of tone control means you can't get the high end to creep up.
The other problem is that it doesn't really sound like a Telecaster. If you like Telecasters and want a version that will help you play metal, don't go for this because there isn't a whole lot in common. If you've never played a more classic Telecaster and you just think it looks cool, then absolutely go for it.
PRS SE Mikael Akerfeldt
The PRS is about as sleek looking as a guitar can get. It is the signature instrument of Opeth frontman Mikael Akerfeldt. With the mesmerising Opeth logo embossed on the bottom, it really is one of the prettiest guitars I've ever seen.
Mikael does just about everything with his guitar, from composing to performing. If you're familiar with the work of Opeth, they blend passages of violent death metal with stunning jazz and atmospheric acoustic work. He also plays rhythm just as often as he shreds lead. As such, versatility is what he looks for above everything. If this is his perfect instrument for such versatility, then it should be the same for you too.
In a live setting, he will simply switch between a variety of pedals and play everything required of him with this amazing signature. It has the ability to replicate a hearty wooden acoustic with as much poise as the real thing, but with the touch of a button, can soar through feedback heavy lead lines and provide crunchy chords that sit in the middle of the texture.
It has a Les Paul body shape made of Mahogany, with a Humbucker bridge and neck to further push that warmth. With a tone wheel included, you can easily get that switch between trebly, cutting leads and thick warm accompaniments. There are only two pickups to switch between, which is a little disappointing, but they both sound so great that it honestly doesn't matter that much.
Jumbo frets and a great action make sure that your shredding will be as accurate as your fingerpicking, even if there has to be a very slight compromise on both in order to keep both standards so high.
Watch Opeth show off the dexterity the Custom PRS guitars afford them here.
Gibson SG Modern
The Gibson SG might be most associated with AC/DC's Angus Young. While they aren't quite a metal band, they do operate with a notably high gain level in most of their tracks, even if the solos are much more bluesy than shred-heavy.
As with all of the most famous guitars we've discussed, there are a lot of unique varieties of SG. We're looking specifically at the Modern variety, which you might notice does exactly what it says on the tin in terms of aesthetic.
The tone of the instrument does well to replicate its classic tone, but there are hints towards the thicker, warmer SG tone buried within. This has seen Gibson themselves mention the connection to the Les Paul in their own marketing. Much like the actual Les Paul, the SG isn't well suited for more extreme metal genres, but it'll do you very well in styles similar to the likes of Black Sabbath. In fact, Tony Iommi himself is often seen with a signature SG model.
It won't let you shred like a maniac, but it will certainly provide thick, low-end riffs that will crush through any texture and create the most evil tone around.
In Conclusion…
Judge wisely. Get the guitar that makes sense for you. There are a lot of guitars out there which will sound like a great metal guitar when pumped full of overdrive, but only a certain few that have the right sort of sound by default. Only a certain few that play in the way you need them to.
If you need the extra strings, then look for the extra strings. If you need versatility, then look for the guitar that best works across all of your desires. Most importantly, consider your situation. There are instruments on her worth thousands, which are incredibly high end and high quality. However, there are a few that are about 400% cheaper, but only about 10% worse. Weigh up your own budget against your own requirements.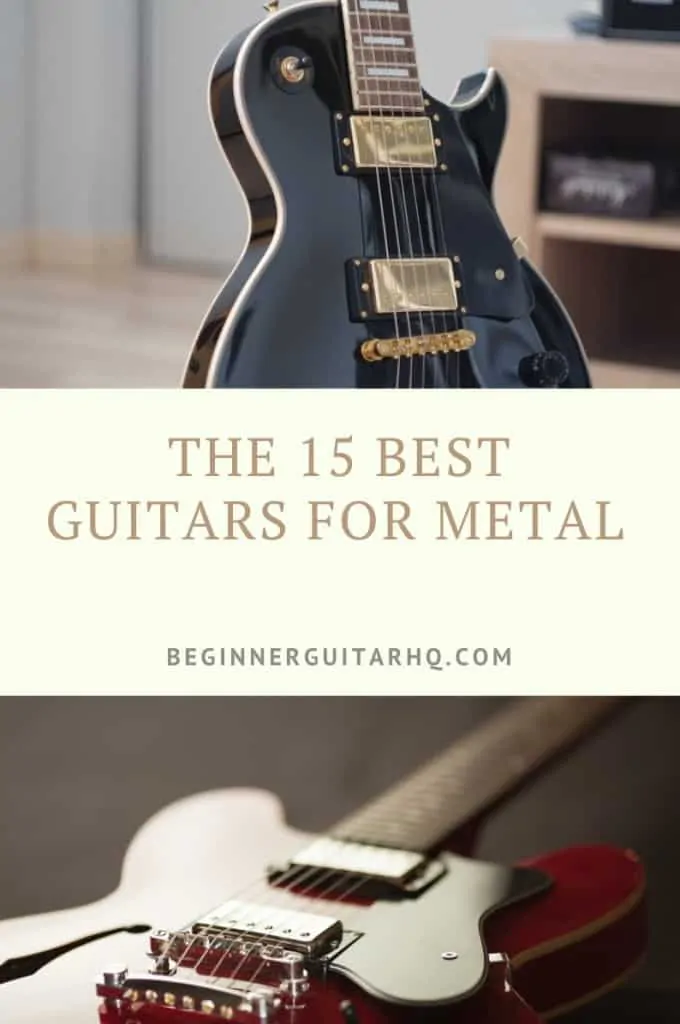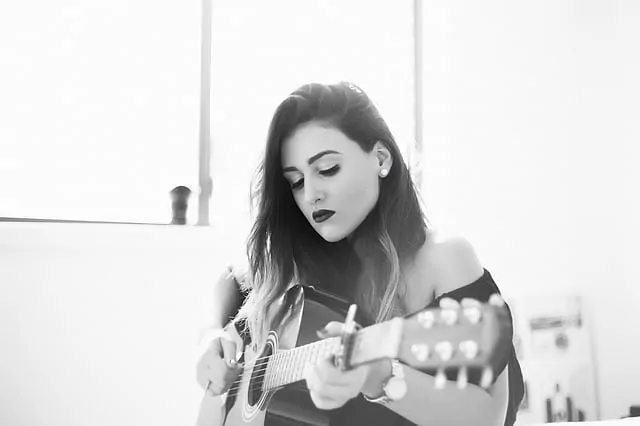 Jen is a guitarist and singer-songwriter who spends much of her time on the road and has lived in 13 cities across 4 continents. She picked up her first guitar at the age of 6 and learned to play by ear shortly after. She received her formal music education at the Berklee College of Music, and currently plays for a few bands in her free time. She has an uncanny ability to improvise creative melodies and harmonies. Her early influences include blues, jazz and rock.