At BeginnerGuitarHQ, we like to make sure that everyone learning guitar with us is able to craft the most perfect, forward-thinking and high quality sounds they can. You can become the best guitarist in the world, but without the right tone, you aren't going to get anywhere. In a live setting, there is nothing better than a high quality multi-effects pedal to get you through your set.
In this important guide, I'll talk you through 15 of the best multi-effects pedals available, for every budget.
If you're looking to get yourself a multi-effects pedal, then look no further.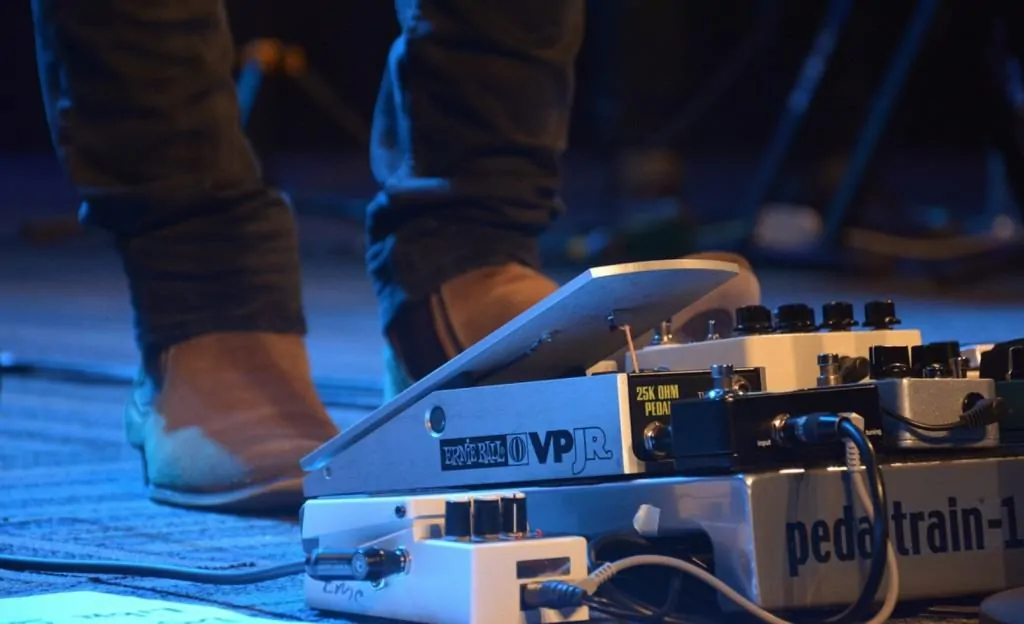 Pedal in live performance.
First Things First
What is a multi-effects pedal? Well, it's basically exactly what it says on the tin. It's a pedal that has multiple effects. Typically, that means there will be a few different settings available for you to scroll through, ranging from a few different types of overdrive, to delay, to modulation effects like flanger and phaser.
In some of the most advanced pedals, you might be able to stack these effects, using, say, a compressor at the same time as an overdrive setting. A few of them might have a pedal which will allow you to automate the amount of certain effects, such as volume or gain, while also giving you access to a wah effect.
Multi effects pedals can also give you access to a variety of sound simulations, bringing the ability to replicate the sounds of classic amps (or even other guitars) to the touch of a button at your feet.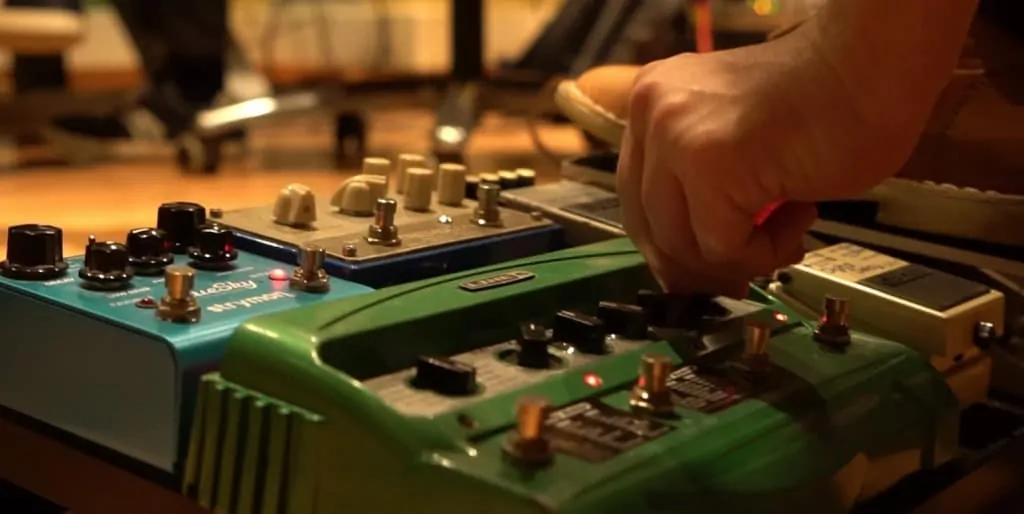 Pedal being edited.
Line 6 Helix
The one and only problem with the Line 6 Helix is its hefty price tag. It'll only work for those with a really big budget and a huge commitment to crafting their guitar tone. If you don't have the budget to creep into four-digit numbers, then maybe your best bet would be to skip past this particular entry.
Equipped with a screen to explain the functions and a whole host of buttons that will bring a world of depth to your sound, this pedal is really the ultimate in the world of multi-effects. The Helix is capable of amp modelling and providing digital effects, with 1024 pre-sets that can each be edited till your heart is content.
The amp settings might well be its most impressive function, with the pedal working just as well for a bass and an acoustic guitar as it would an electric. You can assign the pedals to whichever settings you like, meaning switching quickly between your favourites is easy.
The amp modelling effects are known for their accuracy, sounding almost uncannily like everything they're trying to replicate. This includes the Fender Deluxe, which brings that characteristic warmth to the foreground. This one is particularly impressive, because the clean, low-gain sounds of this amp are typically hard to replicate convincingly. There is still a lot on offer for those looking for a more extreme sound, with the Uberschall offering a host of high-gain sounds.
Of course, various effects are built in too, and they all do the job exactly as you'd want, but the amp simulations are the real star of the show here.
Boss GT-1000
This is another multi effects pedal that really tests the upper limits of your budget, even if not quite to the same extent as the Helix. It's much prettier and has a simpler look, even if the interface actually isn't as user friendly as you might like. For a seasoned pro who knows exactly what they're looking for its fine, but perhaps a beginner would be more comfortable with something simpler.
This is another pedal with a huge bank of amp simulation sounds and a lot of effects to choose from and edit. The screen explains to you exactly what the footswitches are currently assigned to, avoiding any of the confusion about what you may have put where.
There is a distinct clarity in this pedal, which puts it above many other similar models for recording quality. Obviously, a similar but cheaper pedal may work well for a fuzzy, energetic live sound, but when you want the crisp clarity of the studio, then the GT-1000 really does the job, providing 32-bit, 96khz sample rates and a massive amount of headroom.
In terms of the actual effects available, there are various modulation effects (phasers, flangers etc.) that can be edited, while the delay sounds and reverbs specifically explain the parameters at work in each pre-set, so you know exactly what it is you've got going on. The overdrives are crisp and clear, providing everything you could need, whether its classic rock or extreme metal.
Zoom G1ON
Here is where the big budget side of things really reduces. Jumping all the way back down to mere double figures, the Zoom G1ON is exactly what a beginner should be scoping out when they want to expand their sound.
The only real problem the pedal has is its comparatively few preset sounds, so if you're looking for variety or don't fancy getting your teeth into some editing, then maybe this pedal isn't for you.
The interface is about as user-friendly as the price, with a cursor to navigate through the effects chain you have created (up to 5 effects), it's really easy to make your own sound using their built in modulation effects, reverbs and delays.
The pedal has a few extra special features as well, which are incredible considering the price you'll end up paying. Firstly, there are a smattering of relatively responsive wah effects that you can play with if you fancy channelling your inner Jimi Hendrix. There is also a really cool pitch shifter that will give you that Tom Morello edge during a solo.
Perhaps most impressively, is that the pedal even has a 30 second looper pedal built in. It isn't of recording quality and it might not even do well on stage to be honest, but it's certainly fun to play around with when practicing.
Boss GT-1
The Boss GT-1 is the low-budget cousin of the GT-1000. It cuts the price to about 10% of its cousin, but obviously, with that comes a distinctly lessened quality and power. If you're put off by the idea of being able to get something similar but much, much better (for ten times the price) then maybe refocus your attention on the pedal above.
Anyway, this pedal combines a few great amp simulations (27 to be precise) and gives you a variety of effects and effects chains to choose from in order to craft a unique, varied sound. It even, like the Zoom above, has a cool 30-second looper built in. Again, it isn't ideal for live or studio use, but does very well in a practice environment.
The highlight of the pedal is its depressible pedal on the right hand side, which controls the effects that can be edited live. Volume, obviously, is its first port of call, but it also has control over a pretty impressive wah sound and some pitch bending effects.
It's pretty easy to get a hold of as well, with the presets being able to be scrolled through using the footswitches on the left and a variety of buttons helping you to understand exactly what it is you're editing. The great thing about it is that many of the effects don't even require editing. You can get some brilliant modulation sounds straight out of the box and the delay and reverb settings are nothing to laugh at either.
Fractal AX8
This one may look a little daunting thanks to its small pedals and wordless labelling, but it can craft you some seriously impressive, totally professional settings once you learn how to tame it. It's incredibly expensive, though, taking us soaring back up into quadruple figures, so again, if that's not your style then I'd suggest you move on.
The main draw of this pedal is its gig-ready amp simulation. There are 222 preset amp models, each one better than the last. Each one is also able to be edited down to the very smallest detail, with the host of footswitches dotted around the amp designed to give you quick and easy control over these in a live setting.
It is also designed so that the multitude of effects the pedal has access to can be easily layered over its preset amps. These effects are, on the whole, pretty brilliant, with a wide range of realistic overdrives and delays etc. being easy to get a hold of as soon as you start playing.
HeadRush Multi FX Pedalboard
Another big budget entry to the list, the HeadRush Multi FX pedalboard doesn't quite reach quadruple figures, but it comes pretty close. It might be the most visually pleasing pedal we're featuring though, with a touchscreen in the middle to allow you to visualise the actual routing of your multiple effects.
The main draws of this particular pedal are this user-friendly interface and the upgrades the software has undertaken since its appearance in various effects simulation software in ProTools. You can load in your own responses and loop with up to 20 minutes of original material.
One of the most unexpected benefits is something that is rarely discussed when looking for a multi-effects pedal. When using a reverb or delay effect, it is basically expected for the tail of that particular effect to be cut out completely as soon as you change effects, but with this advanced pedal, the tail persists between settings, which keeps a satisfying realism in your sound.
On top of this, the sounds are all great and easy to customise, even if the presets are a little lacking for the price.
Zoom MS-70CDR Multistomp
We're back down at that lovely, double digits price tag once more. Obviously, if we look at the price, we can't expect anything as technical and detailed as some of the larger, pricier multi-effects pedals. As such, this is a single stompbox that doesn't have masses of editability, and no wah/volume pedal. If you need wah or volume automation then this isn't for you.
However, if all you need is some great reverbs, delays and chorus settings then this will sort you out. Of course, these are the only three effects this pedal has available, so be wary of that.
The chorus itself is probably the weakest element of the pedal by default, but it has a lot of pre-set options that can be edited to your own desire. It won't give and amazing sound, but for the price, you can really craft the chorus sound to your liking.
Reverb and delay are another story, with both giving you a lot of options straight out of the box and masses of editable options. These can be stacked (up to six times), allowing to combines a dense, chorusing reverb with a few different delays, which should create an impressively psychedelic sound if that happens to be what you're looking for.
Mooer ME GE100
Sale
While remaining at the cheap, low price of the above pedal, the Mooer ME GE100 adds that all important volume pedal on the right hand side.
This pedal sells itself on the compactness of its design. Its small and very easily portable, if you've got a (low profile) gig on the horizon, then this pedal is perfect for crafting a cool, detailed sound for a very low price. I'd avoid using it in the studio due to its lower fidelity sound that many similar pedals, but there is no doubt that this is a great alternative to having masses of separate pedals.
It has everything you'd expect from a multi-effects pedal. This includes chorus, flanger, modulation, delay and reverb, as well as various EQ and filtering effects which can craft your sound to fit in the texture of your band, rather than specifically design an effects-heavy sound.
Like a few of the pedals on this list, the pedal has a looper (which I'd reserve for practice, rather than recording if I were you). It also has something that makes it rather unique: a drum machine. Obviously, this isn't the kind of drum machine found in the work of 90s hip-hop acts, and shouldn't appear in your studio recordings, but it's certainly a helpful addition to your practice.
Boss ME-80
Despite being from the highly trusted Boss brand, this pedal also stays pretty low in terms of budget. It isn't the most attractive pedal of all time, looking more like some sort of spaceship control panel, but it certainly gets the job done.
There isn't a screen on this pedal, which sort of makes things a little easier in a strange way. Every control has a very clear explanation of what it does and what it is set to, while the stomp pedals are clearly labelled in what their function is. It also has a depressible pedal on the right which can be used for things like pitch bend, wah and volume.
The main issue is its customizability. While it can be customised and you can create settings to be memorized, the lack of a screen is what ends up making this particular feature a little hard to get the hang of.
Most important, of course, is sound. The pedal has eight different effects types, including modulations, delays and reverbs, on top of a few amp simulations. The hefty processors mean the effects are going to be powerful and realistic, but its amp simulation isn't the best.
NUX MG-20
Staying down at the low end of multi-effects pedal pricing once more, the NUX MG-20 might not come from the most well-known or trusted brand in the world, but it does have the advantage of being a pretty great pedal for those on a budget.
This particular pedal is an upgrade on their past model, with a new metal design giving much more durability to the pedal. The screen is bigger and easy to use, though users have complained that the USB out the pedal brags of actually doesn't work.
A non-functional USB might be annoying, but it isn't the main reason you're buying a multi-effects pedal. The main reason, of course, is the sound. This one really nails it. There are a variety of amp simulators built in which, despite being built on digital software, do well to replicate the warm tone of those it is based on. On top of that, its effects are second to none. Well, not second to none, but they're great for the price.
It also has a drum machine and looping ability built in, but gives one further unique element. You can connect an MP3 directly into the pedal, allowing you to jam over something more professional and fuller than your own loops or drum machine patterns.
Again, this isn't something I'd recommend for recording, but it works really well as a practice tool or an alternative to lugging a huge pedal board to a gig.
Zoom B3N
This is the only bass effect pedal that makes it onto our list. Probably because, in general, you don't expect your bass guitar to need effects. It should provide a hefty, bassy sound that sits at the bottom of your recording, filling out the texture. Right? Well, reconsider your use of the bass guitar and have a go at layering it with psychedelic sounds.
Its main draw is the variety of amp presets, which look to recreate the sound of classic Fender, Trace Elliot and Ampeg bass amps. They do it well, considering the price and flimsy construction of the pedal. On top of that, a multitude of effects are built in for use on your bass.
People are scared to layer up bass guitars with crazy late-60s sound effects. They relegate the bass guitar to nothing more than a thudding low note machine. This pedal gives you access to a variety of modulation sounds, distortions, reverbs and delays, allowing you to go crazy with the sounds you provide your bass.
This is the perfect pedal if you're looking to leave behind the bland, boring bass of the past and work some more experimental textures into your playing. If you're brave, you could even feed your electric guitar though the pedal and see how its lower frequency responses shake up your tone.
Line 6 Pod
The Line 6 Pod is the brother of the Line 6 Helix that we looked at above. It is essentially a tiny, cheap, red version of its brother, propelling similar sounds into your guitar through a very different, rather unique method. Its pod name doesn't go wasted, though, because if anything has been more pod-like than this little red blob then I haven't seen it.
First things first, it isn't for live performers. There is no MIDI input/output and, most importantly, it doesn't actually have any footswitches. I guess this creates a question of whether this can really be described as a multi-effects pedal per-se, but we'll let it slide.
This pocket-sized effects unit is navigated more like a mobile phone than a pedal, controlling the movements with a little cursor that takes you around the easy to understand screen. In terms of its overdrive effects, there is a whole world to explore. Whether it's specific types of effects listed under sub-categories (crunch, heavy, clean etc), the sound of specific song, or even a patch designed by bands like Killswitch Engage and Ash, you'll have a lot of fun using this one.
As there isn't a pedal, you will have to pre-determine what sound you want to use before getting started and select it, then play, then stop playing to change the sound. This is a bit annoying, but worth it when you remember how cheap this pedal is and that you can wander around with it in your pocket or guitar case.
Boss MS03
Boss describe their own pedal as 'combining a world-class multi-effects engine and multi-pedal switcher in one small, dedicated unit. Now, anyone can put together a professional effects system that's incredibly compact, extremely light, and versatile enough to achieve nearly any sound imaginable'. These are bold words, but do they hold up?
Yeah, they sort of do. The pedal is thinner than you might expect, but as such, does away with any confusion. Instead, the user is treated to four simple stomp pedals (no volume control unfortunately) and a screen which is very easy to navigate and edit sounds from.
You can connect up to six effects at once, and the back of unit has enough input to connect the multi-effects unit to three other effects units. If you aren't getting a multi-effect pedal to replace a pedal board, then this one would make a welcome addition to your chain.
The overdrive is crisp and clear in almost every pre-set, while the reverb and delay effects are particularly good at creating realistic and faithful recreations of the analogue effects they're trying to reminisce with. On top of all that, there is a great looper which actually keeps quite a lot of your original tone, rather than deadening it like many loop pedals end up doing.
There are a few bonuses to owning this particular pedal as well: MIDI connectivity is arguably the most impressive of the bunch, as it allows you to apply MIDI effects to the dry signal. The sheer amount of connectivity provided in the back of the pedal is pretty impressive too, which lets you connect to amps and various other effects.
Tech 21 Fly Rig 5
This pedal is like a higher budget version of the Boss pedal above. It's still within reason for someone on a lower budget to get a hold of, but if you need a volume/wah control, then steer clear.
The thin, metallic pedal is built around five stomp pedals, completely doing away with the screen entirely and giving you control over a series of easy to understand knobs. The sounds are pretty simple, and you're limited to a relatively un-editable sound, but in terms of the sounds available, its simply brilliant.
The pedals laid out in front of you each have specific functions. The first, an overdrive that almost perfectly replicates that of a late 60s marshal, equipped with a brilliant ability to stomp on a level boost to cut through for solos. On the other side, we have a delay setting that can be triggered and controlled with a tap tempo. In the middle, the reverb is a spring reverb emulation which can be edited to your own desires.
The winning feature of the pedal might simply be its portability. In terms of travel, it works perfectly. You can slip it into a suitcase, bag or guitar case, with minimal need for setup and a universal power supply that means it'll work wherever you end up. It might not warrant a place as your only effect, but it does cover you with the most essential sounds and could work perfectly as a backup rig for even the most professional of performers.
Zoom G1XN
My own personal choice of budget pedal is the inimitably cheap Zoom G1XN. Of course, you can go to the bottom of the market in the hopes of spending almost nothing on a poorly constructed piece of plastic with no hope of sounding good. Or you can do your research, and end up with this brilliant, yet oh-so cheap pedal.
It is very easy to use, with two simple stomp pedals allowing you to scroll between 54 different effects and presets, and a volume pedal on the right hand side which allows control over a whole host of editable parameters. On the left, you can scroll easily through a bank of effects, each of which are slightly editable.
While the volume pedal can be edited to do basically whatever you need it to, it's a little harder to get the pedal to stay listening to your instructions. Sometimes switching between effects will overwrite what you've just told the volume pedal to do, which can be extremely problematic in a live setting. However, for practice, it's not really an issue, especially when you've got sounds like this in front of you. Similarly, layering effects its almost impossible due to the pedals inability to keep elements consistent between pre-sets.
These pre-sets aren't the finest available, but they're certainly the best you can get in this price bracket. On top of the multitude of amp simulations and effects you can layer onto your guitar, there is a pretty nifty drum machine that allows you access to various patterns and control their tempo.
In Conclusion…
A multi-effects pedal is a good investment, even if your budget is tiny. It'll allow you to use a lot of cool sounds without building a massive pedalboard full of separate, expensive sounds. Even if you have a big budget, they can be a good idea too, as they're easy to carry around and can give you some really high end sounds.
If you need it for recording, then go for one of the higher priced options. Similarly, for live performance, you'll need to judge your gig; if it's a big show you may need one of the higher budget options, but you can survive at a smaller gig with a lower budget pedal. Also, remember to check that each pedal has the effect you need, or if you're looking for a loop pedal or a drum machine, then check that they're available on the model you want.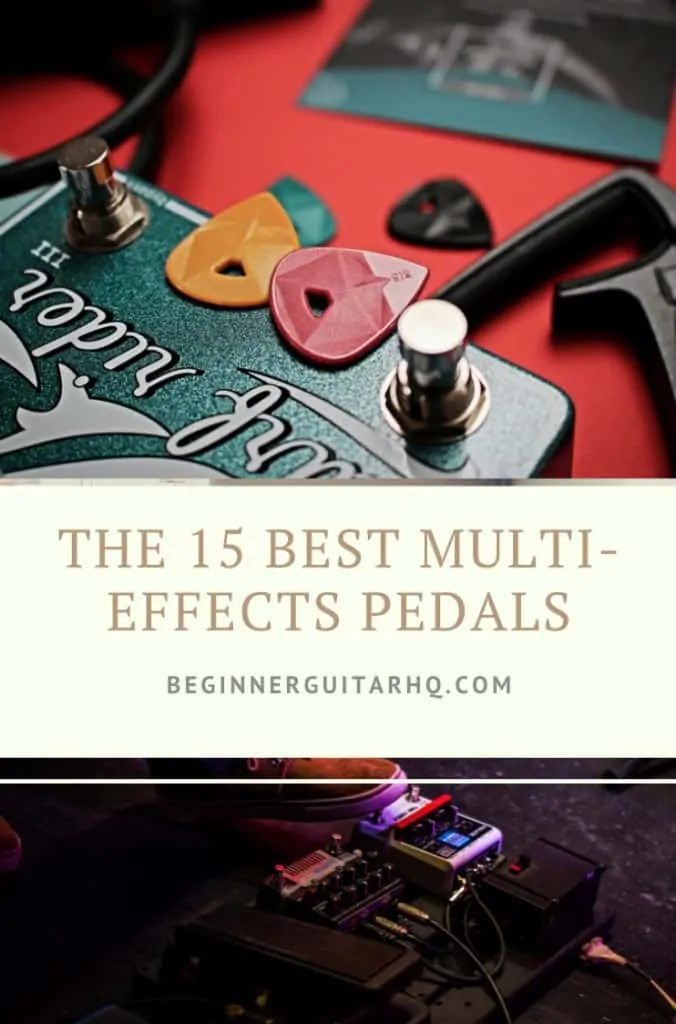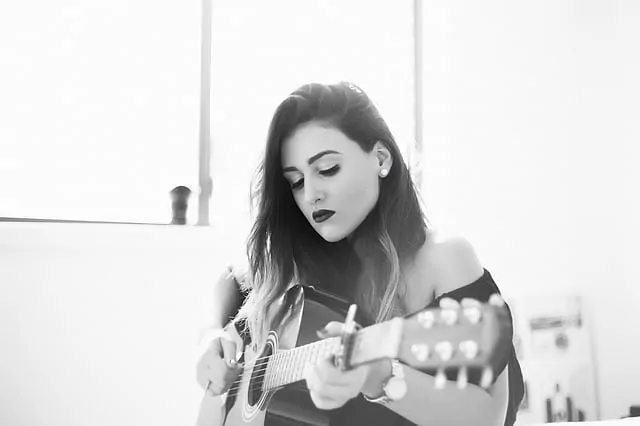 Jen is a guitarist and singer-songwriter who spends much of her time on the road and has lived in 13 cities across 4 continents. She picked up her first guitar at the age of 6 and learned to play by ear shortly after. She received her formal music education at the Berklee College of Music, and currently plays for a few bands in her free time. She has an uncanny ability to improvise creative melodies and harmonies. Her early influences include blues, jazz and rock.