Few people know that Boss is Roland's subsidiary. Given that Boss has such a reputation in the music industry, there's no wonder why people don't know they actually respond to someone else.
The Boss Ve-8 is an example of why the brand is so revered. It showcases the consistent advancement the company makes in sound engineering.
We're looking at vocal/guitar effects pedal, which is a unique brand in itself. There're not many representatives at this particular branch of multi-effect pedals.
What the VE-8 Acoustic Singer represents is an all-purpose solution for acoustic guitars and vocals alike.
Is it complicated? It is. The Boss VE-8 is a very complex stompbox. So, in order to understand, be clear that it has dedicated preamps for electro-acoustic guitars as well as microphones. Both preamps come with independent effects and inputs. Particularly, the mic options present an extended list of features you might not get to use.
The overcomplicated pedal does present itself with a series of essential elements. That includes effects like smart harmony and reverb. Going beyond, you'll find other experimental features like robotic distortions and lo-fi sounds.
Overall, though, it sounds like the Boss VE-8 is a professional performer tool.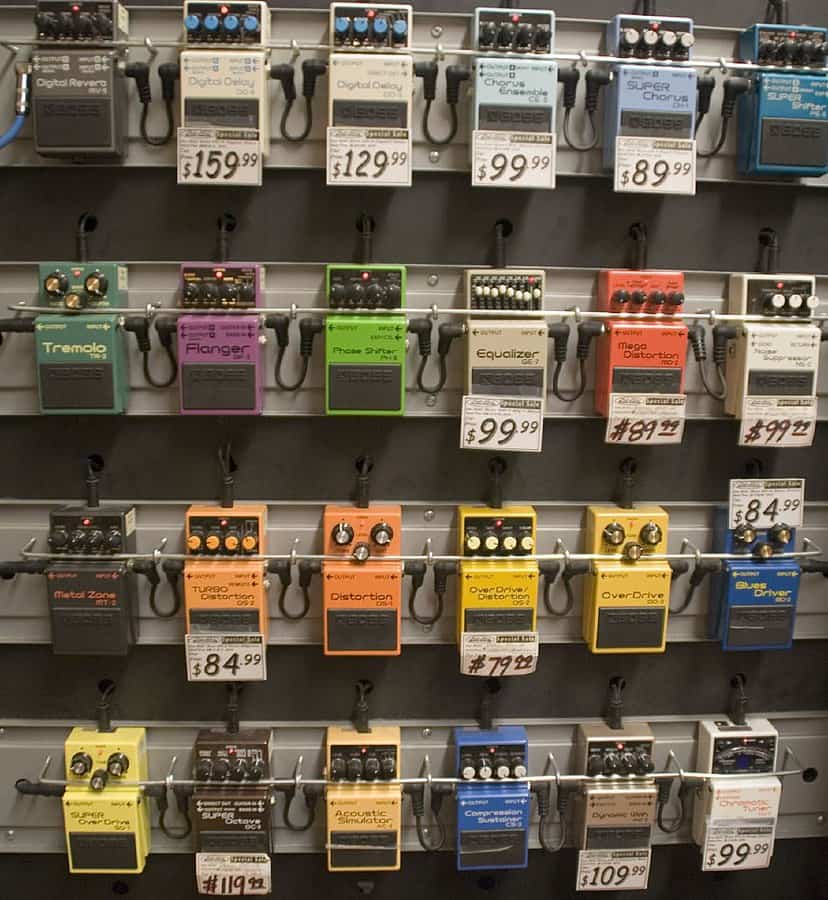 "BOSS guitar pedal" by Peter Hall / CC BY-SA 2.0 Boss pedals are reputed among the best alternatives in the market.
Roland was the first to invent the chorus effect via the JC-120 guitar amplifier ("JC" being short for "Jazz-Chorus"). Boss then replicated the wiring of the loudbox to create the first chorus pedal back in the '60s, the Boss CE-1.
Boss VE-1 Acoustic Singer Vocal Multi-Effects Pedal Review
Solo performers usually rely on a PA system to play live with their guitar and sing. A compact or portable PA system relies on a microphone for your guitar and voice, a speaker, and a mixer.
The Boss VE-8 gives an alternate solution. It allows the player to rout their effects, acoustic playing, and singing into a single unit.
There're three sections on the pedal. It has a guitar section, a voice section, and the master section. Each one boasts an array of effects and EQ options.
Particularly, the VE-8 Acoustic Singer has a versatile harmonizer on the voice section. Similarly, the rest of the options offer the most complex solution you would find in the market right now.
Overview
The Boss VE-8 is a compact and all-in-one preamp and effects stompbox for performers who sing and play with an acoustic or electro-acoustic guitar at the same time.
As a Boss pedal, it has custom Boss sound processing circuitry with intuitive controls. The result has studio-quality, ready for the studio and the stage.
Moreover, vocal processing has four types of ambient effects, as well as chromatic pitch, enhance, and tuning correction. More impressively, it has a feature that creates live vocal harmonies, as well as vocal doubling.
<iframe width="948″ height="533″ src="https://www.youtube.com/embed/srw6GmCFQcI" frameborder="0″ allow="accelerometer; autoplay; clipboard-write; encrypted-media; gyroscope; picture-in-picture" allowfullscreen></iframe>
Overall, the Acoustic Singer delivers studio-quality guitar and voice processing within a compact, portable package.
Built Quality
The Boss VE-8 is much more than a vocal harmonizer, although most of its effects revolve around harmonizing and doubling the voice.
It goes a bit further, though. In essence, the multi-effects pedal features a double-stack body that delivers the classic boss built quality. The stompbox is solid and durable, which makes it a perfect choice for gigging and trips.
It's also compact enough to use on any stage out there. It can take less space on the stage than your two feet. And, still, with a handy series of LED lights, it's easy to see as you perform.
The top panel is where you'd find all of the controls, and there's plenty. The pedal features harmonizing effects, chorus, reverbs, and a looper. The reverb is available for the guitar channel, as well as the vocal channel.
<iframe width="948″ height="533″ src="https://www.youtube.com/embed/TK4JDLE87uE" frameborder="0″ allow="accelerometer; autoplay; clipboard-write; encrypted-media; gyroscope; picture-in-picture" allowfullscreen></iframe>
I/O
The I/O section is fairly simple. The guitar channel has the standard XLR input for instruments. Then, the voice channel has the standard stage mic input with Phantom Power available. Both channels feature a stereo mode.
Other options include a Stereo XLR balanced output to feed PA speakers. These ¼'' outputs allow you to send separate signals to left & right speakers or monitors, or even acoustic amps.
Also, there's an auxiliary input to connect smartphones or other devices for backing music.
Additionally, the Boss VE-8 includes a USB port, which allows you to hook the stompbox into a computer and use it as an audio interface.
Here's a video showcasing the outputs:
<iframe width="1044″ height="587″ src="https://www.youtube.com/embed/3MzvaYxFhNE" frameborder="0″ allow="accelerometer; autoplay; clipboard-write; encrypted-media; gyroscope; picture-in-picture" allowfullscreen></iframe>
Controls
The controls are overwhelming, so you might need a few nights to get the hang of the pedal. After a while, you'll find the controls as intuitive, as most Boss solutions are.
As I said before, the interface has three sections. Plus, the top area of the pedal is where you'll find the cluster of I/O options.
Let's check the guitar area now:
The VE-8 as a guitar pedal
First off, there's the guitar section, which is the simpler part of the pedal. It relies on Reverb, Chorus, Notch, and Acoustic Resonance knobs.
You may not know what the "Acoustic Resonance" control does, and so what it does is increasing the effect of your guitar's pickups. In other words, the option bestows piezo pickups with the natural flavor of a guitar sounding through a classic PA system.
Then, the "Notch" knob identifies frequencies that cause feedback, and so it can reduce unwanted noises effectively.
Overall, it functions as a multi-effect pedal for acoustic guitar, although it lacks convenient and fast EQ options a dedicated EQ pedal would give you. However, you could modify the tone with the 3-band EQ and store it as a setting.

Acoustic-electric guitars often don't have enough versatility to play live. That means you may need extra EQ pedals to modify the sound and make your guitar audible within the acoustics of the stage.
The VE-8 as a vocal pedal
Next-up comes to the vocal section, which has two parts. On the upper part, you'll find Reverb and Enhance knobs. Particularly, the Enhance option alters your voice's color.
The lower part features the harmony section, which relies on a level knob plus a rotary switch. This switch allows you to select the type of harmony you want, which might be a higher, lower, doubling, electric, distorted, with a radio effect, or more.
For example, the Radio harmony doesn't double your voice. Instead, it delivers that vintage radio voice early metal and classic rock uses.
Here're some of the effects it includes:
Vocal Enhance

: this particular effect allows you to punch your voice to the top of the mix. It raises the presence and makes it crispy, clean, and important.

Pitch Corrector

: the chromatic pitch corrector can automatically correct the pitch of your voices as you sing live.

Doubling

: studio recordings handle doubling by recording voices on top of the voices that are already on the track. The VE-8 is able to do it live by doubling your voice as you sing.

Auto-harmony options

: on top of doubling effects, the VE-8 can add up to two voices on top of yourself. These voices can harmonize at higher or lower pitches as you. All in all, it can harmonize your voices with five different harmony options, which may even track your guitar playing and change with each chord.
Other voice effects include reverb, megaphone-sounding distortion, robotic distortions, lo-fi effects, and more.
As for the harmony switch modes, they can also transform your voice as well. It has AutoTune effect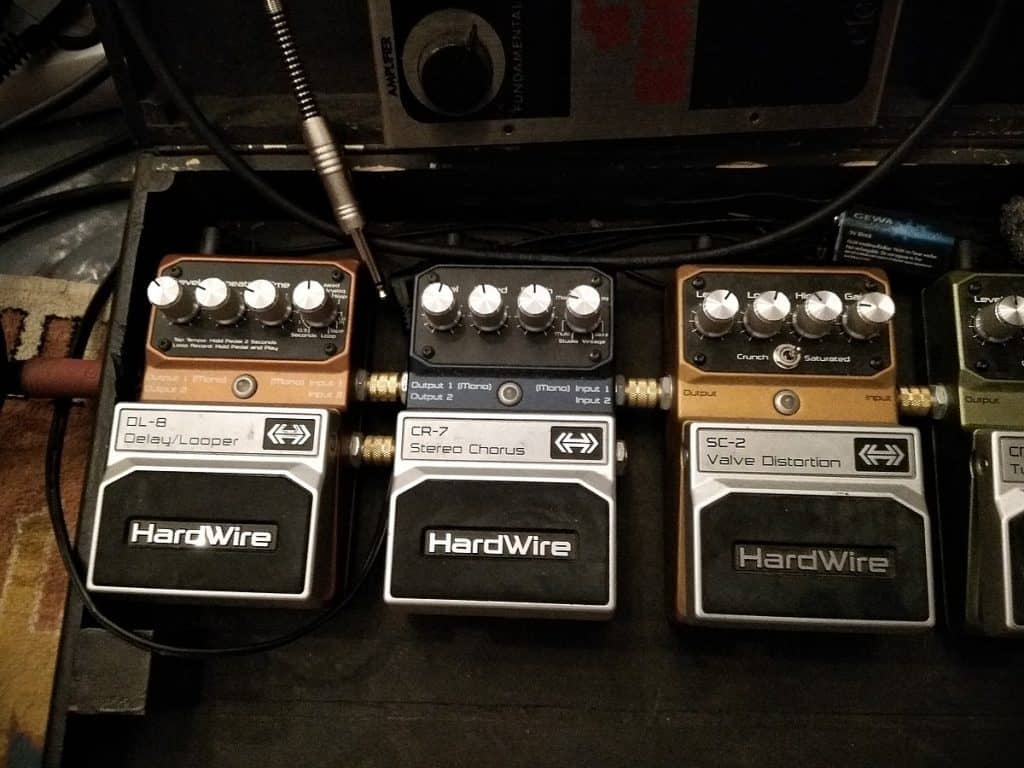 "Digitech Hardwire Pedals" by Skimel / CC BY-SA 4.0. The Boss VE-8 offers barebones looper features. If you need a professional alternative, you might want to find a dedicated looper pedal.
3-band EQ
There's a hidden feature within the pedal that delivers a 3-band EQ for both the guitar and the voice channel.
The vocal EQ has a low, high, and mid gain. The guitar EQ has the same options.
On top of that, there're low-cut filters for shaping the tones on both channels-.
Engaging the 3-band EQ requires an extra process that is not very convenient, nor fast as you play live. That means you'd need to set the tone at the beginning of your playthrough and leave it as it is for the rest of the presentation.
On rehearsals or home practice, though, you'll have some extra time to play around with the feature.
Here's a video showcasing how to engage the 3-band EQ. It's part of the pedal's manual (page 14), but the manual is overly complicated and I'll bet you wouldn't read it.
<iframe width="1044″ height="587″ src="https://www.youtube.com/embed/skgTxBm89yc" frameborder="0″ allow="accelerometer; autoplay; clipboard-write; encrypted-media; gyroscope; picture-in-picture" allowfullscreen></iframe>
Footswitches
The bottom part of the pedal is where you'll find the footswitches to activate and deactivate the effects.
There are two switches for Chorus and Harmony respectively, and those are multi-functional. That means the switches can activate different modes, like for example the built-in chromatic tuner.
For example, the chorus switch can reach delay, flanger, and tremolo effects as well. Then, the harmony can reach octaver and other oscillations and lo-fi distortions.
They are still simple switches, though. You need only to press them in your foot to engage these particular effects.
The chorus switch can also mute the guitar and engage the tuner if you press and hold. The second switch turns vocal harmonies on and off, but it can also bypass all vocal effects if you press and hold.
Presets
You may use the VE-8 in its "Stomp" mode, which means the sound is set by the position of the knobs. Otherwise, there are over 50 onboard memory slots to save your effect setups. That means you could store a particular setup for each song you're going to play, and then recall the preset by holding down the first two footswitches immediately.
You can scroll through the presets with the footswitches as well. Press and hold, and then cycle.
The pedal also includes 15 presets, which combine vocal and guitar effects you can use immediately.
Lastly, can change the presets with the pedal and then store them back to recall them at any time.
Looper
There's a third switch on the right that controls the dedicated looper. It's simply a matter of pressing to record a voice and guitar loop.
The looper can record 80 seconds of guitar and voice and then play them back as you go along. It also has the option to loop vocals and guitar independently.
Remember the looper can only repeat what you record, it can't predict or follow your scales. You should study and practice how to create layer sounds with a looper before testing one on a live scenario.
Here's a video detailing how to use a looper pedal:
<iframe width="948″ height="533″ src="https://www.youtube.com/embed/dMmHVgSwyFM" frameborder="0″ allow="accelerometer; autoplay; clipboard-write; encrypted-media; gyroscope; picture-in-picture" allowfullscreen></iframe>
Performance
First off, we must discuss the looper. It's there as a fun feature and a barebones alternative to loop live. However, looping is not an easy task, and dedicated looper pedals present a multitude of options to better control the layered sounds.
That said, if your looper needs are simple and you don't need any extra functions, you could take it to the stage. Otherwise, it's a great tool to practice at home and even do some sound testing.
Remember that the Boss VE-8 is not made to be a looper. Rather, that's a supporting feature.
As for the effects, most of the guitar options can rival a pricy pedal. Chorus, phasers, reverbs, and similar sound premium, crispy, and mesmerizing. For its mid-tier price, that's an impressive advantage.
The sound it creates is also very natural, almost analog sounding, as it's intended for acoustic guitar. The presence of 50 onboard memory slots plus 15 presets also helps a lot. You'd be able to recall specific setups on the fly, given that you have taken your sweat time to dial the effects at home.
On the vocal part, the Boss VE-8 is also a powerhouse. The quality of the voice effects speaks loudly about what the pedal has to offer.
Needless to say, there're some lo-fi options you're not going to use but, other than that, the Acoustic Singer is the Jack of All Trades for solo performers. It's strong in all of its areas, as even the basic looper does the job to perfection.
<iframe width="948″ height="533″ src="https://www.youtube.com/embed/6nhWfBE-i9s" frameborder="0″ allow="accelerometer; autoplay; clipboard-write; encrypted-media; gyroscope; picture-in-picture" allowfullscreen></iframe>
In Summary
Why do I like the Boss VE-8 Acoustic Singer pedal?
All in all, the Boss VE-8 Acoustic Singer is packed with top-tier effects for acoustic-electric guitars and singers. Built-in with modulation effects like delay or the handy "acoustic resonance" feature, it can improve the sound of your piezo-equipped guitar easily.
On the voice side, the all-in-one pedal functions with highly advanced electronics that deliver harmonics and doubling effects without fail. It can improve your performance tenfold.
Some of the extra guitar effects -like robotic distortions- are, for most guitar players, useless. Still, these are features catered for the experimental guitar player, and you might be one of those.
Final say
You need to check out the Boss VE-8 if you're a solo performer looking to do something bold on your shows. It's a gig-worthy multi-effects pedal selling for a fair price. It might be worth the price of three pedals, but it's definitely worth the investment.
For more information and dedicated videos about the pedal, please check the official page.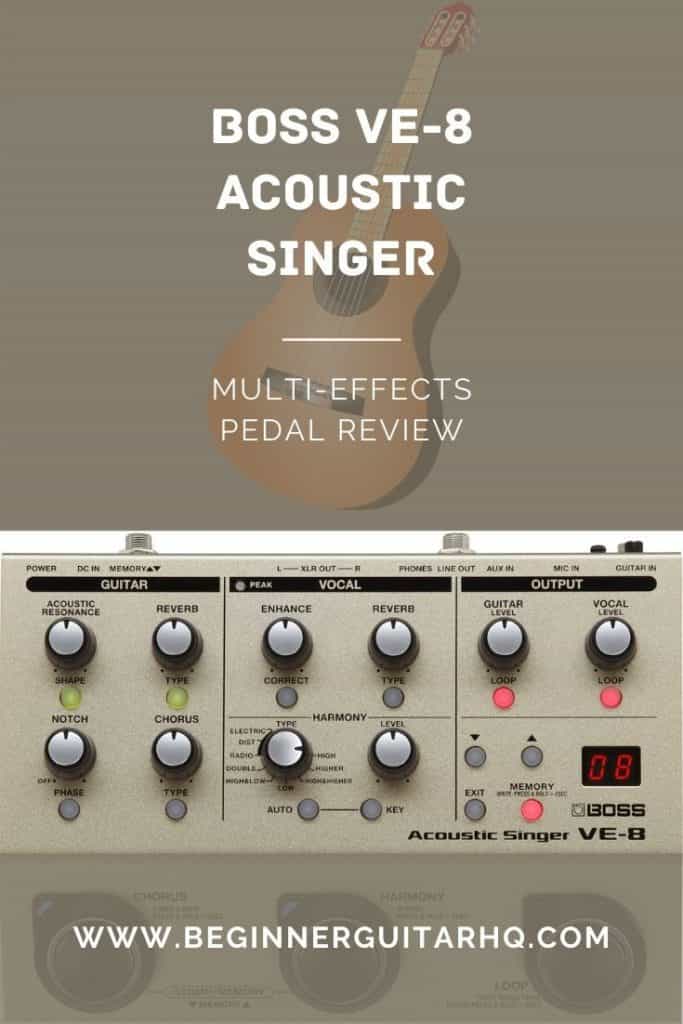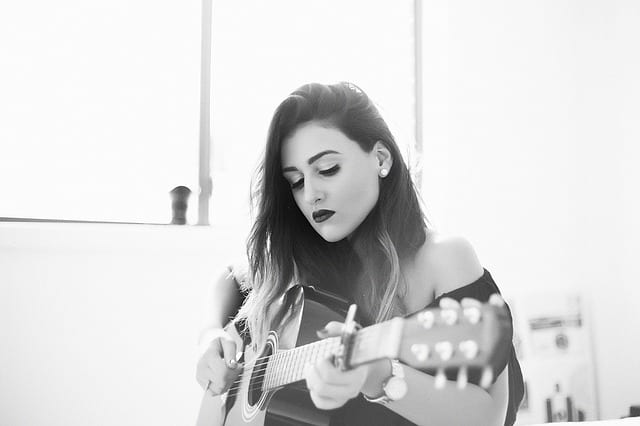 Jen is a guitarist and singer-songwriter who spends much of her time on the road and has lived in 13 cities across 4 continents. She picked up her first guitar at the age of 6 and learned to play by ear shortly after. She received her formal music education at the Berklee College of Music, and currently plays for a few bands in her free time. She has an uncanny ability to improvise creative melodies and harmonies. Her early influences include blues, jazz and rock.