We've reached the crown jewel of solid-state amplifiers. The Roland JC 120 is the definitive sound of the '80s rock era.
With maybe the best clean in the music industry, the "Jazz Chorus" guitar amp traveled across many stages. It's part of the main gear for artists James Hetfield, John Frusciante, Andy Summer, Eddie Vedder, Joe Satriani, Joe Perry, Gustavo Cerati, or Dimebag Darrel.
Its price tag -and size- tell the story by itself. The Roland JC-120 is a premium item, a professional solid-state amplifier that signifies a severe investment.
Can it be worth it for you, though?

 "Gibson ES-135 + Roland JC-120" by Jaime Olmo  / CC BY 2.0 The "JC" letters stand for "Jazz Chorus," as these are the trademark effects the amplifier brings.
We've already listed the Roland JC amplifiers in our best amp reviews. Recently, we named the smaller version, the JC 40, as one of the best combo amps you can buy right now.
Bear in mind the 40-watts model is about half the price of its bigger brother. You would lose a significant amount of power, but that wouldn't matter if you run the amp through a PA system for the biggest stages.
There's also a 30-watts version, but the price is not significantly different from the 40W model. Check the link below for the different versions of the JC series:
Roland JC-120 Jazz Chorus Solid-State Combo Guitar Amplifier Review
There've been two main stages for the Roland JC amplifiers. One of those is The Police's former guitar player Andy Summers, known for excellent clean tones and haunting chorus/delay effects. It all came from this amplifier.
The other one is Metallica. Evolving songs like Fade to Black, Sanitarium, or even Nothing Else Matters thrive from the Jazz Chorus amp's clean sound.
There're many other examples, as you may find the JC at any corner of the music industry. Not so much anymore, though, as its sound is more related to the rock era, a somehow decaying genre.
Roland created the original model in 1975 – the JC-120  Jazz Chorus, that is. The name comes from the "Chorus Ensemble" effect they created for the amplifier. A year later, Boss – a Roland subsidiary- made the first chorus pedal effect for guitar, the Boss CE1, modeled after the JC amplifier.
The JC-120 has over 45 years of continuous production, and its original design hasn't changed a bit. It's a legacy item, one of those rare vintage musical gear you can buy exactly as it was when the brands got it right the first time.
One thing has changed, though: you can now buy the mid-tier 40-watts / 30-watts version. It delivers the exact same qualities, only the enclosure is smaller and the layout is simpler.
Any size you pick is still the "King of Clean," as the brand's followers state.
Here's a small session showcasing Andy Summers playing on a 30-watts Roland JC.
<iframe width="948″ height="533″ src="https://www.youtube.com/embed/uY1vsOSM5t0″ frameborder="0″ allow="accelerometer; autoplay; clipboard-write; encrypted-media; gyroscope; picture-in-picture" allowfullscreen></iframe>
Overview
Roland is the primary solid-state amp builder, and the JC-120 Jazz Chorus is, by far, the best amplifier of its kind.
Part of its success relies on its digital circuitry. Traditionally, guitar amplifiers are tubular, a production style that, generally, delivers better and pricier results.
Roland took a different approach to the JC-120. Solid-state amplifiers were simply a counter to a valve amp; Roland wanted to create a professional model instead.
With that in mind, they created a solid-state circuit that reduces the temperatures compared to a tubular amp. That makes the amplifier immune to temperature changes.
Additionally, the Jazz Chorus features a 120-watts dual power output with two custom-created speakers. These speakers feature a broad audio spectrum that delivers smooth, mid-ranged voices. In a matter of sense, the speakers are hand-crafted for guitars -and single-coil pickups.
Then, there's a brightness switch to increase clarity, an EQ control, volume and tone knobs, and built-in effects:
Legacy "Jazz Chorus" clean tones
Dimensional Space Chorus effect
Custom-made 12" silver-cone speakers
Two channels (clean and distortion)
3-band EQ
Bright switch
Built-in spring reverb, distortion, and vibrato
Features
The essential feature of the Roland JC 120 is its custom-made speakers. They create a three-dimensional sound that pulses forward and within the amp at the same time.
It allows you to hear all of your guitar's subtle details and nuances in a way no other amplifier can.
Its pair of 12″ loudspeakers deliver an outstanding amount of 120 wattages of power. Moreover, there's a dedicated 60-watts power amp running each speaker.
Roland used silver to create its cone-shaped speakers (a cone-shaped speaker generally pushes the sound onward better). As a result, they produce top-tier quality voices with plenty of flavor and power.
That's how Roland creates an authentic stereo image. It's full of details, precision, and depth. For it has two separate power amps within its grille, each one powering a speaker, the Roland JC 120 can produce genuine stereo audio at all times.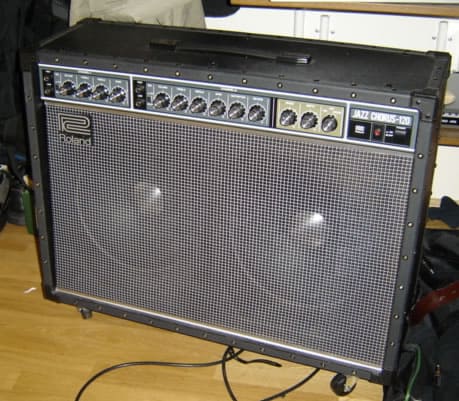 The Roland JC-120 represents over 40 years of the brand's legacy of clean sounds and chorus effects. 
Effects & channels
The Roland JC 120 Jazz Chorus made its fame for its clean channel. Still, there's a distortion channel available as well.
In particular, the JC has a proprietary Dimensional Space Chorus effect. Nowadays, chorus effects are common enough, but you need to understand Roland's introduction in 1975.
The effect operates un full stereo and provides an unrivaled tonal experience. Four decades later and there are still few that can reach similar levels of lush and immersion.
Furthermore, it features Reverb, Chorus, and Vibrato effects.
<iframe width="1044″ height="587″ src="https://www.youtube.com/embed/3nvCwStPEUM" frameborder="0″ allow="accelerometer; autoplay; clipboard-write; encrypted-media; gyroscope; picture-in-picture" allowfullscreen></iframe>
Output
At the rear panel, it has an effects loop plus a footswitch output. It comes with left and right mono outputs to create a stereo mix.
Similarly, it has left and right mono line outs to plug the amp into a speaker, an audio mixer, an interface, or similar audio devices.
Lastly, it has a footswitch connection for each of the effects (chorus/vibrato, reverb, and distortion). That means you can only engage one of these with an extra footswitch.
Design
As a premium item, the Jazz Chorus amp features heavy-duty construction to ensure many continuous operation years.
The cabinet has the traditional Roland design, with "ready-rubbed" rubbers at the front grille, plus silver dust caps around the speakers.
Also, the amp comes outlined with industrial-grade and oversized studs. There's also a high-quality caster, high-impact corners, and hard-fiber protectors on the edges.
Overall, the JC-120 is ready to survive the hardships of touring and playing live.
That said, the 120-watts model is a bulky device. It weighs about 73.8lbs – you might need a roadie to move it around. Lastly, its dimensions are approximately 14″ x 26″ x 32″ – something to consider if you're thinking of shopping for the item online.
However, the Roland JC 120 comes with wheels at the bottom. It's a handy feature to carry the heavy loudspeaker around.
Lastly, it's worth noting its closed cabinet design. That means the amp is sealed on the back, translating into powerful sounds geared towards modern metal and rock genres.

"JC-120UT" by Roland Musikvertrieb Deutschland / CC BY-SA 3.0 The Jazz Chorus model is geared towards professional settings. If you're an intermediate user, you might be better off with the JC-40 or JC-30 models. 
Controls
Regarding controls, the JC-120 features two channels, each with its own set of knobs. Those makeup for the preamp section; in the post section, you get separate controls for the effects.
In specific, the clean channel features Volume, Treble, Mid, and Bass knobs.
On top of its 3-band EQ, it has a Bright button to push your top end and deliver a twangy, jangly. It's one of the core features of the Jazz Chorus amp.
Rounding up the clean channel comes to the Hi & Low inputs to modify the outputs' strength. You can find the same inputs on the Distortion channel.
Speaking of which, the next channel comes with a volume knob, the same 3-band EQ, plus Distortion and Reverb knobs.
Following up is the effects section. It's a simple layout consisting of Speed and Depth knobs, plus a control that engages the Chorus or the Vibrato. You can leave the knob in the middle position to turn the effects off.
<iframe width="948″ height="533″ src="https://www.youtube.com/embed/ABP2vp595oI" frameborder="0″ allow="accelerometer; autoplay; clipboard-write; encrypted-media; gyroscope; picture-in-picture" allowfullscreen></iframe>
Performance & sound
Right off the bat, the clean channel is out of this planet. It's a solid-state amplifier that features a better-sounding clean than any tubular amp.
That said, the clean sound won't obviously break as you play harder, like a tube amp. Instead, it works as a blank canvas with the perfect amount of clarity, precision, and depth to create the sound you want with extra guitar pedals.
Then, when you engage the bright switch, the amp will push your guitar's presence by raising the mid-highs and highs notes.
Similarly, you can run your guitar through the Low or High inputs. The Low option puts more emphasis on the fat range; the latter enhances the treble. Both options work excellent, and it's all a matter of whether your playing rhythm or leading guitars, as well as your genre.
Naturally, the clean channel has massive amounts of headroom. The fact that there're two power amps and two speakers creating the sound goes a long way.
You could even plug metal pedals into the amp and experiment with some added distortion. However, the amplifier could sound subdued, like it's missing something.
The Roland JC-120 works better with other guitar pedal effects like flangers, modulators, fuzzes, overdrives, compressors, and such.
Its advantage becomes more apparent if you connect your pedalboard to the effects loop and create a stereo mix with all of your stompboxes. The Jazz Chorus can make your cheapest devices sound like boutique options.
And with a massive frequency display, it can also accommodate single-coils, humbuckers, and P-90s alike.
<iframe width="948″ height="533″ src="https://www.youtube.com/embed/NltDqCNy0r0″ frameborder="0″ allow="accelerometer; autoplay; clipboard-write; encrypted-media; gyroscope; picture-in-picture" allowfullscreen></iframe>
The three-dimensional Chorus is something we've already heard in hit records throughout history. SOngs like Message in a Bottle (The Police) or Nothing Else Matters (Metallica) would not sound the same without the Chorus.
That said, the vibrato is not a game-changer. The same goes for the distortion channel. Instead of being a powerful solution, it leans heavily towards surf rock sound with light-clipping and dirt.
Lastly, the volume is abundant on either channel. You can take the Jazz Chorus 120 on-stage and make your guitar reach every corner of the audience.
Overall, the Roland JC-120 offers an impressive set of audio features – and it should, as it's not an affordable item by any means.
<iframe width="980″ height="550″ src="https://www.youtube.com/embed/lYWCcUYOOH4″ frameborder="0″ allow="accelerometer; autoplay; clipboard-write; encrypted-media; gyroscope; picture-in-picture" allowfullscreen></iframe>
Drawbacks & alternative
Roland intends the amplifier to work as a specific and professional clean-audio guitar amplifier. It may run your whole effects loop to create a stereo mix of your guitar, but it may not correctly run your guitar distortions.
Naturally, a metal guitar requires specific gear. We already covered the best amplifiers for metal on another guide. If you're a professional player, you'd need to use separate amps for your meanest distortions and crazier pedals.
I'd recommend using an item like EHX Switchblade to rout your pedals properly:
That said, the JC-120 cannot create a good-sounding overdriven tone by itself -something it lacks against tubular amplifiers.
Yet, you've got plenty of options to add dirt to your tone through the JC's clean channel. For example, a Big Muff Fuzz is always a sure bet, no matter your guitar gear:
Another option is the Ibanez Tube Screamer. It's capable of adding just enough dirt without harming your tone signature whatsoever. Otherwise, you can check our guide on the best low-cost overdrive pedals for further budget options.
With all that said, the Roland JC-120 has no real drawbacks aside from its price. However, you can opt for the mid-tier version, the Roland JC-40. It has two 10″ speakers (20-watts each), stereo inputs, plus a straightforward layout.
Its single channel features the same options as the original clean channel plus Distortion and Reverb knobs.  I find it simpler to use, a great idea to get in and out distortion fast and easy.
Lastly, it has the effects section with Speed and Rate Knobs, plus a rotary switch to engage Vibrato, Reverb, or a manual mode.
There's a smaller version, the JC-30. It changes the effect section by delivering Speed and Rate knobs only, as only Chorus is available.
For a similarly sounding amplifier that doesn't cost a kidney, you can go for the Boss Katana series. I tend to recommend the Katana amplifier on most guitar amp articles, but the advice is sound.
Plus, Boss is Roland's subsidiary, meaning they can legally -and properly- replicate Roland's stereo sound and signature chorus effect.
Expect these options on the Boss Katana plus much, much more. It's a modeling amp with tons of voices and neat tech-heavy features.
It's one of the best combo guitar amps available right now.
In Summary
Why do I like the Roland JC-120 guitar amp?
We see the Roland JC 120 Jazz Chorus amplifier as a dedicated clean-channel loudspeaker with all said and done.
It's far from a jack of all trades, and it's not a versatile option. Yet, it's a unique model featuring the best clean sound in the business. That statement is also true from the smaller JC-40 and JC-30 models.
Overall, the Jazz Chorus combines stereo sound, lots of power, fantastic headroom, plenty of detail, and a three-dimensional chorus to significant effects. If you get the chance to try it yourself or hear it live, it will probably impress you.
Final Say
You should only consider getting the Roland JC-120 if you're taking your sound or musical career- seriously. It won't deliver much without extra pedals, though, as a clean sound can only go so far, no matter how good it is.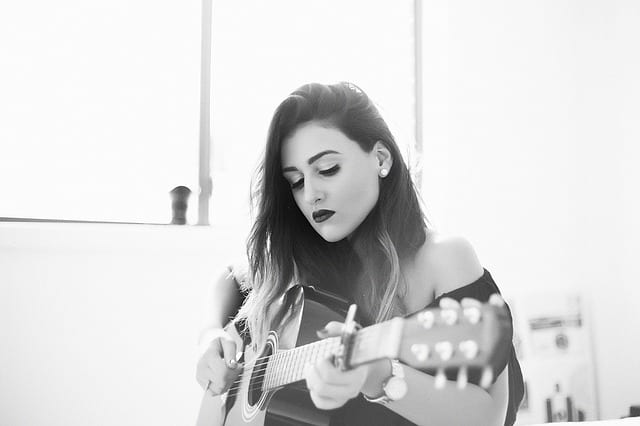 Jen is a guitarist and singer-songwriter who spends much of her time on the road and has lived in 13 cities across 4 continents. She picked up her first guitar at the age of 6 and learned to play by ear shortly after. She received her formal music education at the Berklee College of Music, and currently plays for a few bands in her free time. She has an uncanny ability to improvise creative melodies and harmonies. Her early influences include blues, jazz and rock.