How to sound like this popular Red Hot Chilli Peppers' guitar player on a budget?
Celebrating John Frusciante's return to Red Hot Chilli Peppers, we're going to learn how about the gear of the famous Red Hot Chilli Peppers Guitar Player. This is an ultimate gear guide showing you how to sound like John Frusciante equipment-wise.
We're sharing his guitars, amps, pedals, and effects in a way beginner guitar players can understand. I'll also give you some budget alternatives so you can sound like him without going bankrupt.
More so, I'll give you some extra insight into his playing. If you have comments and suggestions, please leave them below!
Keep in mind Frusciante is a unique musician known as one of the best guitar players of all time. The BBC recognized him as the best guitar player of the last 30 years in 2010 and one of the top 100 guitar players of all time.
Frusciante's style works like a modern version of classic rock guitar players like Jimmy Page, Jimm Hendrix, and Eric Clapton. More so, he's a multi-instrumentalist who also focuses on synth, keyboards and a little curious instrument called "mellotron."
In the meantime, here's an amazing jam from Frusciante (2003):
About John Frusciante and Red Hot Chilli Peppers
John Frusciante is known as Red Hot Chilli Peppers' guitar player, although he's been in and out of the band over the years. Even so, he has made a name for himself as one of the top rock guitar players of all time. He's actually listed #72 in Rolling Stone's list of the 100 greatest guitar players of all time.
And even when his solo career is not very interesting, his return to the band on December 11th, 2019, became great news for rock fans all around the world. More than that, it's great news for the rock genre overall: let's be honest, Red Hot Chilli Peppers' last album, The Getaway (2016), is not particularly interesting.
So, after 10 years adrift on his solo career, the iconic guitar player finally returns to Red Hot Chilli Peppers. The two had parted ways in 2009 when guitar player Josh Klinghoffer (who was the band's secondary guitar player during their tours by the time) replaced Frusciante on the main stage.
The RHCP now parted ways with Klinghoffer saying he's a "beautiful musician who we respect and love." "We are deeply grateful for our time with him, and the countless gifts he shared with us."
Frusciante played with the Peppers since their fourth album, 1989's Mother's Milk. Their original guitarist, Hillel Slovak, died from a heroin overdose in 1988.
Frusciante became famous recording "Blood Sugar Sex Magik" for their fifth studio record, a song that became an authentic hit. More so, the song helped shape the RHCP's style, which mixes alternative rock with funk, pop, hip hop, rap, heavy metal, and dance.
The guitar player was born in Queens, USA, in 1970. He says he already knew how to play guitar at 10 years old, and eventually dropped out of school at 15 years old to go to L.A. and focus on music.
He then saw the Red Hot Chilli Peppers live in 1988 and became a follower of the band. As he continued going to the band's gigs, he became friends with Hillel Slovak. One night after a concert, Slovak asked the boy if he would still love the Red Hot Chilli Peppers if they were as big as to play in the L.A. forum.
Frusciante said "No." He believed the band's true essence was that the crowd felt very close to the musicians, so the audience could always feel like a part of the band. He still has similar beliefs, which have made him decide to leave the band on two different occasions.

Frusciante became unhappy with the band's growing fame after the debut of the "Blood Sugar Sex Magik" album.
Around 1988, Frusciante became friends with Dead Kennedys drummer, D.H. Danger. He began improvising with him, and as Danger was friends with Flea (Red Hot Chilli Peppers bassist player), the three of them began jamming together.
Flea and Frusciante connected so much they played Flea's bassline from "Nobody Weird Like Me," a song that would debut on Mother's Milk.
Back then, Frusciante was about to audition to become a member of the Frank Zappa band. He refused the idea when he realized drugs weren't allowed whatsoever to the band members. See, Frusciante wanted the full rockstar experience.
When Slovak passed away in 1988, Red Hot Chilli Peppers' drummer, Jack Irons, left the band because he couldn't cope with the death of his friend. The rest of the members, singer Anthony Kiedis and Flea, decided to continue the band. They decided the only way to do it was finding new members.
Soon enough, Flea thought about his jamming sessions and invited Frusciante to the band. In Flea's words, Frusciante "moved and played like Slovak on the stage."
Afterward, Frusciante recorded the guitars for the band's fourth album, Mother's Milk. The next studio record, Blood Sugar Sex Magik (1991), became a huge success. It was the first Red Hot Chilli Peppers album to reach the Billboard 200, and so it sold over 7 million copies in the USA on its debut week.
Frusciante was already finding disgust, though. The increasing popularity of the band made Frusciante feel uncomfortable. He didn't want that level of popularity and didn't like the size of the band's venues.
Tensions began growing within the band. Whereas Frusciante describes himself as a passionate artist playing for love, the rest of the band was apparently going after the money.
Frusciante left Red Hot Chilli Peppers on 1992
In 1992, after the band's first world tour, Frusciante left Red Hot Chilli Peppers as soon as he returned to California from a concert in Tokyo.
It seems it wasn't a good choice. After his return home, he spent about 5 years fighting against heavy drug addiction.
In 1994, Frusciante published his first solo album, "Niandra Lades and Usually Just a T-Shirt." He recorded most of those songs during Blood Sugar Sex Magik sessions. Music critics described the album with disdain and said Frusciante was but a "shadow" of himself.
He was in bad shape, his arms full of heroin marks and his body full of infections. What's more, his house burned down, and the fire took away Frusciante's entire guitar collection. He even hurt himself trying to save it. Anthony Kiedis, still a friend, loaned him some money to buy another guitar, which was a Vintage 1962 Fender Jaguar Stratocaster.
He published his second album in 1997, "Smile From the Streets You Hold." His delicate condition became really apparent as he even coughed during parts of the record. In 1999, the album was retired from the market under Frusciante's petition. However, you can still find it on YouTube.
For example, the homonymous song is the sound of someone who had hit rock bottom with drug addiction and it's just very happy to be alive. It's part of Frusciante's evergoing sound: a dance between a vibrant vibe and a drowning sadness. Chaotic madness.
Frusciante returns to Red Hot Chilli Peppers on 1997
After 5 years of addiction, Frusciante left heroin radically and joined a rehab clinic in 1998. It took a month of professional health care, but he was able to return to society as an addiction-free man.
At the same time, Red Hot Chili Peppers fired their current guitar player, Dave Navarro, and decided to ask Frusciante back into the band. Navarro had only recorded the album "One Hot Minute," which is very remembered by rock fans.
So Frusciante came back and became part of the band's golden years with the following albums: Californication (1999), By the Way (2002), and Stadium Arcadium (2006).
Three years after Stadium Arcadium he decided to leave the band to focus on his solo career. It was then when Josh Klinghoffer replaced Frusciante as Red Hot Chilli Peppers' guitar player and recorded "I'm With You" and "The Getaway" albums.
Frusciante's solo career
During his solo career, there's nothing too special. He recorded a lot of music following his personal views of art, and thus he decided not to over-promote his material and focus solely on his creativity.
As a highpoint, he collaborated with The Mars Volta band and recorded the guitars for its debut album, "De-Loused in the Comatorium."
In summary, John Frusciante recorded the following albums with the Red Hot Chili Peppers:.
Mother's Milk (1989)
Blood Sugar Sex Magik (1991)
Californication (1999)
By the Way (2002)
Stadium Arcadium (2006)
Plus, he's recorded 12 solo albums where he has experimented a lot with his sound and musical genres. However, we'll refer only to his time with the RHCP on this article because his solo discography is too extensive, experimental, and underground.
There's an evolution of his tone during these albums which we will see in the article.
Lastly, his story is something we all dream about: boy becomes fans with a band; the boy becomes friends with the band; boy jams with the band; the boy becomes part of the band and rises to fame too quickly.

Frusciante uses mostly a Red Sunburst Fender Stratocaster.
Overview of John Frusciante's guitar style
Frusciante has evolved his style during his career. It was in Stadium Arcadium when the critics and the public started talking about his skills.
Frusciante himself says he changed his approach for the album and found inspiration in Eddie Van Halen and Jimmy Hendrix. Before that, his style was more underground, so much that one of his influences is Sid Barret, Pink Floyd's original -psychedelic- a guitar player and a founding member who later went insane and forgot he was even part of the mystical British band.
He started his career listening primely to The Velvet Underground, Neu!, and The Residents. The musician also says he learned to play guitar listening mostly to Greg Ginn, Joe Strummer, and Pat Smear. During his teenage years, he also started listening to The Smiths, Led Zeppelin, The Cure, Eddie Van Halen, and Jimmy Hendrix. The musician is especially inspired by Led Zeppelin's Jimmy Page and Red Hot Chilli Peppers' original guitarist, Hillel Slovak.
The guitar player explains he keeps evolving his music catalog as without changes he wouldn't even feel excited to play. For example. He lists various electronic music artists as parts of his influences, which includes underground artists like Peter Rehberg, Ekkehard Ehlers, and Christian Fennesz.
Frusciante's technique revolves around injecting emotivity to the melody and releasing the tension he builds during the song in a powerful, emotional outro or solo. It's more about feeling and lees about virtuosity. It's more about making people feel connected to the music and less about making people see how fast he can play.
In fact, he's even a critique of guitar players like Steve Vai or John Petrucci as he says they are not transmitting any kind of feeling with their solos. Instead, they are only showing how good they can play and what kind of complex things they can do. What's your take on this?

John Frusciante favored melody intention over virtuosity.
John Frusciante's guitar technique
John uses simple and effective rhythm guitar patterns he creates with triads. Additionally, he has a low-down, dirty tone.
He also creates memorable melodies or hooks in most of his songs. He then uses these hooks as parts of their solos. Speaking of his solos, all of Frusciante's solos are about melodic intention, which is simple enough to copy but difficult to master.
Frusciante also focuses a lot on experimenting sounds and effects with the guitar. Much like Tom Morello (Rage Against the Machine, Audioslave), Frusciante tries to break as many rules as he can.
John Frusciante's guitar style
Frusciante's style is all about giving the melody to the songs he's playing. He can do it because he has a deep knowledge of music theory and is a perfectionist musician. Although musical knowledge affects creativity and looseness of most guitar players because they are trying to be perfect, this was not the case with Frusciante.
He's a virtuous player, however, he deliberately downplays because he feels music needs to be more natural and organic. More so, he's not afraid to take chances and experiment with his sound with the use of electronic effects or tweaking his playing style.

Frusciante's current pedalboard has over 20 effect pedals.
For the purpose of the article, we will focus only on John's work with the Red Hot Chilli Peppers. His entire career is very extensive and diverse and includes participation with other artists, so I wouldn't be able to cover this in a single piece.
So, let's go and make a review of Frusciante's evolution within the RHCP.
Evolution of John Frusciante's tone and style
During Mother's Milk production, producer Michael Beinhorn guided John to play with a heavy metal tone, which was popular at the time. However, the tone was absent on the band's first three records with Slovak, so Frusciante decided to go for an acid-rock guitar tone with a lot of funk and jazz.
The result is songs with more power and punch than any song before, including hit song Higher Ground.
Blood Sugar Sex Magik took Red Hot Chilli Peppers to a mainstream audience and made Frusciante a complete, famous musician.
The guitarist evolved his acid-rock style with a funky groove and a unique tone. His style becomes immediately apparent on the single Give it Away.
Plus, the single Under the Bridge shows how Frusciante was becoming more comfortable with subtle tones and a jazzy style that made the guitar a key element of the song.
In particular, Frusciante favored freestyle on these first two albums. He liked to admit his own mistakes into the mix as he said these made the song feel more natural.
John left the band from 1993 to 1998 because he had decided the band was "too popular" for his taste. Plus, he fell into a drug abuse haze.
By the time he returned to the band in 1998 for the Californication album, he kept his earlier funk and jazz flavor. However, he now had a more refined sound without looseness. Instead, he was now a perfectionist.
More so, he had turned the sadness and depression he had lived during his drug abuse period and used it to create a mellow tone.
This is apparent in songs like Around the World, Scar Tissue, and Otherside. Overall, the studio record features a sadder tone than previous RHCP albums.
2002'S By the Way album features a pop-oriented sound. It also featured a new rap/rock lyrical style which singer Anthony Kiedis adopted from the 2000's new rock era. Frusciante develops new elements of ska and flamenco but his guitar was no longer a key element of the mix. This is apparent in songs like On Mercury and Cabron.
Lastly, Stadium Arcadium was a major progression for Frusciante. He played a leading guitar on the album but also focused on backing vocals, synths, and a trumpet.
Yet again, the album includes Frusciante's original acid-rock style plus including elements he developed during his career: funk, jazz, ska, reggae, and flamenco; and now rap and R&B as well.
Short summary and evolution of John Frusciante's gear
John Frusciante prefers vintage Fender Stratocaster guitars with single-coil pickups. These are the key element of his tone, so let's break it down.
John Frusciante's guitars
He started using odd guitars such as the Ibanez RG700 series guitar. However, as soon as Mother's Milk debuted, John switched to a Fender Stratocaster guitars exclusively. For example, Frusciante says he recorded Blood Sugar Sex Magik with a Fender Stratocaster 1958 model exclusively.
Another notable guitar of the era was the Vintage 1962 Fender Jaguar, which he used for "Under the Bridge." It was the only guitar Frusciante had when he returned to the Red Hot Chilli Peppers. Anthony Kiedis helped him buy it with a loan when his house burned down. It became Frusciante's main guitar during the following studio and stage years. You can still see him using this sunburst Fender Stratocaster on the stage.
He also had a 1955 Fender Stratocaster guitar with a maple neck and a 1960s Fender Telecaster Custom. He also has a 1955 Gretsch White Falcon, which he says is the "nicest guitar he owns." It's the guitar he used to record Californication and Otherside.
You can check a full list of Frusciante's guitars on Ground Guitar.
John Frusciante's amps
John relies on a combination of the Marshall Major 200W and the Marshall Silver Jubilee for the live stage, both of with are tube amps for electric guitars.
For the studio, he uses a Marshall Major plus a vintage Marshall Super Bass 100-watt
John Frusciante's effect pedals
Frusciante uses a wide variety of effect pedals he has been changing and improving over time. There's one brand that has kept on his pedalboard over the ears, though, Boss:
He also uses an Ibanez WH-10 Wah pedal for his effects, which he swears it's the best Wah he's ever used, although it's very expensive. For the guitar solos, he also employs a Dunlop CryBaby.
Frusciante is also a fan of reverb. For reverb effects, he uses the Electro Harmonix Holy Grail Reverb.
By the Stadium Arcadium era, Frusciante was using over 20 different guitar effect pedals, which we're not getting into detail. However, you can check the full list here. That included 6 Moog Moogerfooger units alongside wah, delay, modulation, phaser, flanger, and other effects.
Now that we know what the Red Hot Chilli Peppers' guitar player uses, learn how to sound like John Frusciante.
How to sound like John Frusciante? (budget)
We've reached the last part of the guide, which is where I tell you my main, budget recommendations to sound like the guitar player from Red Hot Chilli Peppers.
Listen, Frusciante has improved his sound a lot since he survived his bad habits And yet, Marshall tube amps and Stratocasters with vintage-voiced single-coil pickups are the signatures of RHCP sound. If you need some extra guidance into guitar pickups, please check this Beginner Guitar HQ guide.
Please note this is a beginner's guide featuring alternatives to the ultra-expensive guitars Frusciante uses. More so, it's practically impossible to achieve the exact sound of another musician as music goes through several processes of creativity and sound changes – songwriting, rehearsal, producer, recording, recording effects, sound engineer, mixing, mastering,…
Frusciante relies on vintage, deluxe Fender Stratocasters, which are expensive and rare. Luckily, there are modern versions of these old guitars.
Budget guitars to sound like John Frusciante 
For example, you can go for the Fender Classic Series '60s Stratocaster, which has 1960s specs (rosewood fretboard, maple neck, and low output pickups.
A cheaper version would be the Squier by Fender Classic Vibe Stratocaster.
Another alternative would be the Fender Vintera series, which is a reinvention of the Fender classic Stratocaster guitars made by Fender Mexico.
For strings, he uses D'Addario EXL110s strings, so go grab them on Amazon.
Budget amps to sound like John Frusciante
Vintage tube Marshall amps are also really expensive and rare, and I bet you want something more reasonable.
A smart choice for you would be a modeling solid-state amp, something like the Marshall Code 25, which is capable of modeling the sound of vintage Marshall amps without you having to ask your parents for yet another loan.
Sale
The Marshall Code 25 also has a lot of built-in effects in it, which includes reverb, delay, chorus, and distortions. In the case of playing like Frusciante, this is something that you need.
There's another option, the Marshall MG15FX Combo. If you still want to go for a tube amp for their particular warm, rich and vintage sounds, go for a Mini Silver Jubilee. It won't serve to play on stage unless you amplify it with a PA system, though.
If you can go up a bit higher with your budget, you can go for a cabinet plus ahead. For cabinet, go for the Marshall MG412BG, and the head would be a Marshall SC20H Amp Head.
Budget pedals to sound like John Frusciante
As for effects, I don't expect you to go with a Frusciante-range pedalboard that wouldn't fit your local venue. Instead, you can go for the XR Micro AMP, which is a little pedal that can boost your solos on its own.
Then, you can plug the classic Boss DS-2 Turbo Distortion to generate dirty, acid tones. This piece is a critical element and something that Frusciante has used since the beginning. Even when most of its guitar sounds "clean," the Turbo Distortion is almost always on. It gives its guitar the particular acid, dirty, funky sound that gives so much personality to Red Hot Chilli Peppers.
A cheaper version of the Boss DS-2 Turbo Distortion would be Mooer Black Secret.
The Boss CE-1 Chorus Ensemble is also a core part of Frusciante's gear. This one is regarded as one of the best chorus pedals ever made: it retains the original qualities of the guitar and fills the gaps with an organic sound.
And, lastly, go for a delay pedal like the EHX Holy Grail Reverb or the Boss DM-2. If you need some help choosing a budget delay pedal, check this delay pedal buyer's guide. Either way, a budget would be the Koogo Delay Pedal.
For amps, you can definitely go for the sound of the Marshall Silver Jubilee. However, the Silver Jubilee itself was produced only one year, so it's really rare and expensive.
In summary, If I was on a budget and wanted to play John Frusciante's sound, I would go for these two things above all:
A distortion pedal like the Mooer Black Secret
A viintage Strat like the Squier by Fender Classic Vibe Stratocaster
A vintage amp like the Marshall Code 2
I need to add Ibanez just launched the Ibanez WH10 V3 Wah Pedal, probably also celebrating Frusciante's return to the RHCP.
If you're looking for a budget Wah pedal, though, look for the Dunlop CryBaby Wah pedal.
Sale
Now, I'm going to give you the top 10 easy Red Hot Chilli Peppers songs on guitar. These are m recommendations, not guitar tabs. But it will set you on the right path if you practice:
Scar Tissue
Blood Sugar Sex Magik
Californication
By the Way
Dani California
Otherside
Mother's Milk
Under the Bridge
Cabron
Humb the Bump

Use effect pedals with moderation. The better your guitar, the more it can handle pedals; however, when the guitar is low quality, pedals will distort their sound so much you won't understand the notes or chords.
Final considerations
John Frusciante is one of the best modern guitar players, and there's nothing wrong with trying to imitate him.
Keep in mind you have to use effects with moderation, knowledge and the clear intent of what you want to do. If you're building your gear towards a variety of pedals, take some time at home to practice and learn the secrets of your pedal, your guitar, and your amp.
Lastly, the key ingredient to sound like John Frusciante are the vintage Stratocaster guitars. Otherwise, if you truly want to be like Frusciante, you need to develop your own style in a way you convey both your personality and the personality of the band with our sound and your style.
Other than that, you can also…you know…become famous very, very fast and then complain because you are too rich and successful.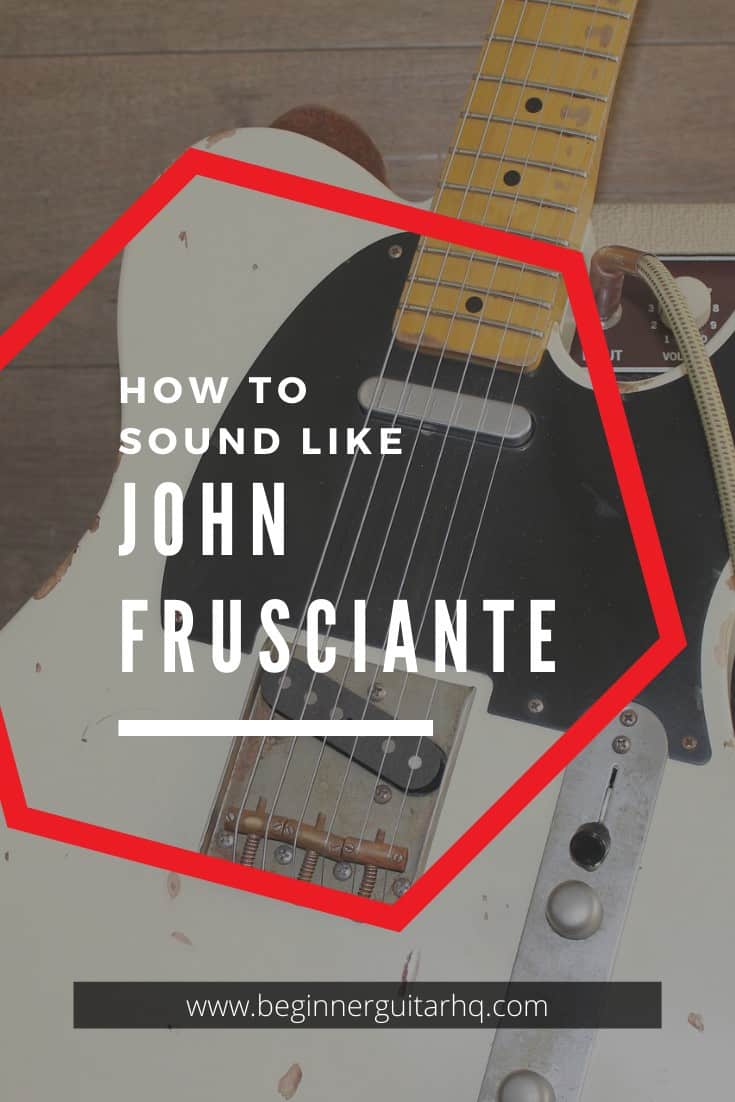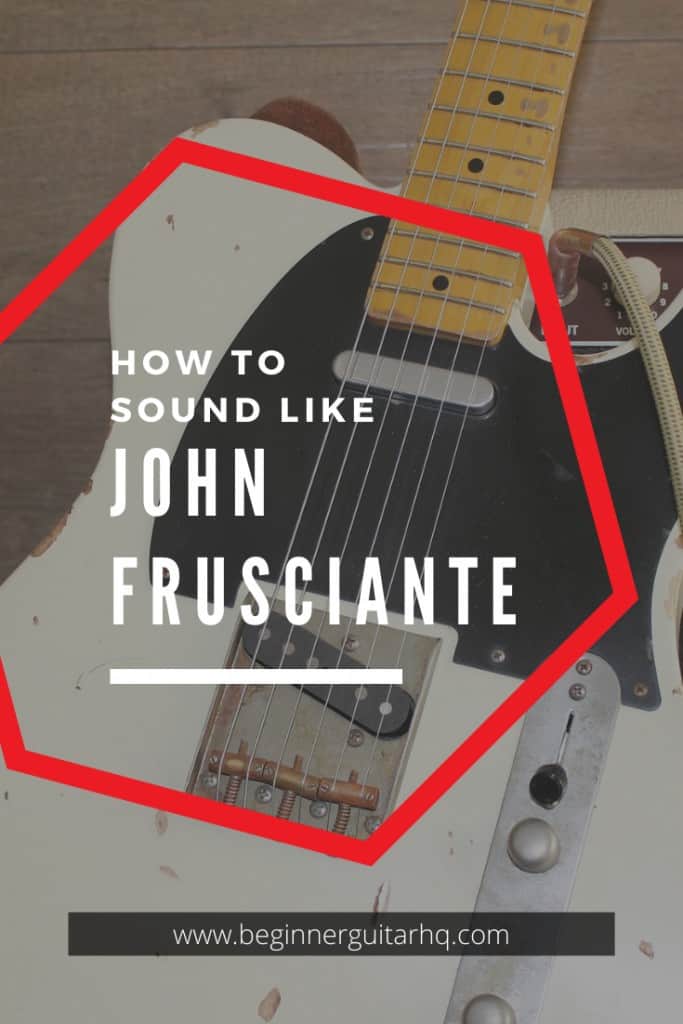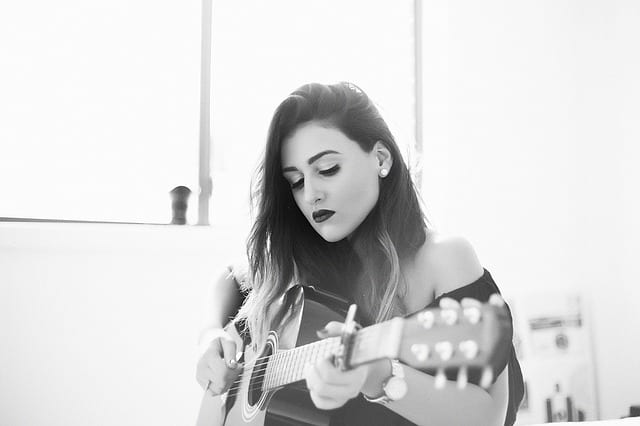 Jen is a guitarist and singer-songwriter who spends much of her time on the road and has lived in 13 cities across 4 continents. She picked up her first guitar at the age of 6 and learned to play by ear shortly after. She received her formal music education at the Berklee College of Music, and currently plays for a few bands in her free time. She has an uncanny ability to improvise creative melodies and harmonies. Her early influences include blues, jazz and rock.