So you want to sound like Jack White. You've come to the right place!
In this article, I'll show you all the gear that Jack White's guitar rig is made up of, as well as the gear that is readily available in today's market to help you sound like him.
Since the White Stripes released their first record in 1999, Jack White has pushed the limits of guitar playing while still remaining rooted in the blues. He's created music with multiple bands (White Stripes, The Raconteurs, The Dead Weather) as well as through his solo project.
With each project he has utilized different gear to attain his dynamic, rock and folk sound.
Whether it be through his business Third Man Records or his music, you'll notice that Jack White is an inventive person. This translates into his gear and how he modifies it. So, if you find a piece of gear that is similar to what I've listed below, take comfort in the knowledge that Jack White would more than likely approve of you modifying and experimenting with your instrument.
The cool thing about Jack White's guitar sound is that it is rooted in the idea that great music can come from cheap gear. I've included his high end gear as well as cost effective alternatives to help you sound just like Jack White no matter what your budget is like.
Guitars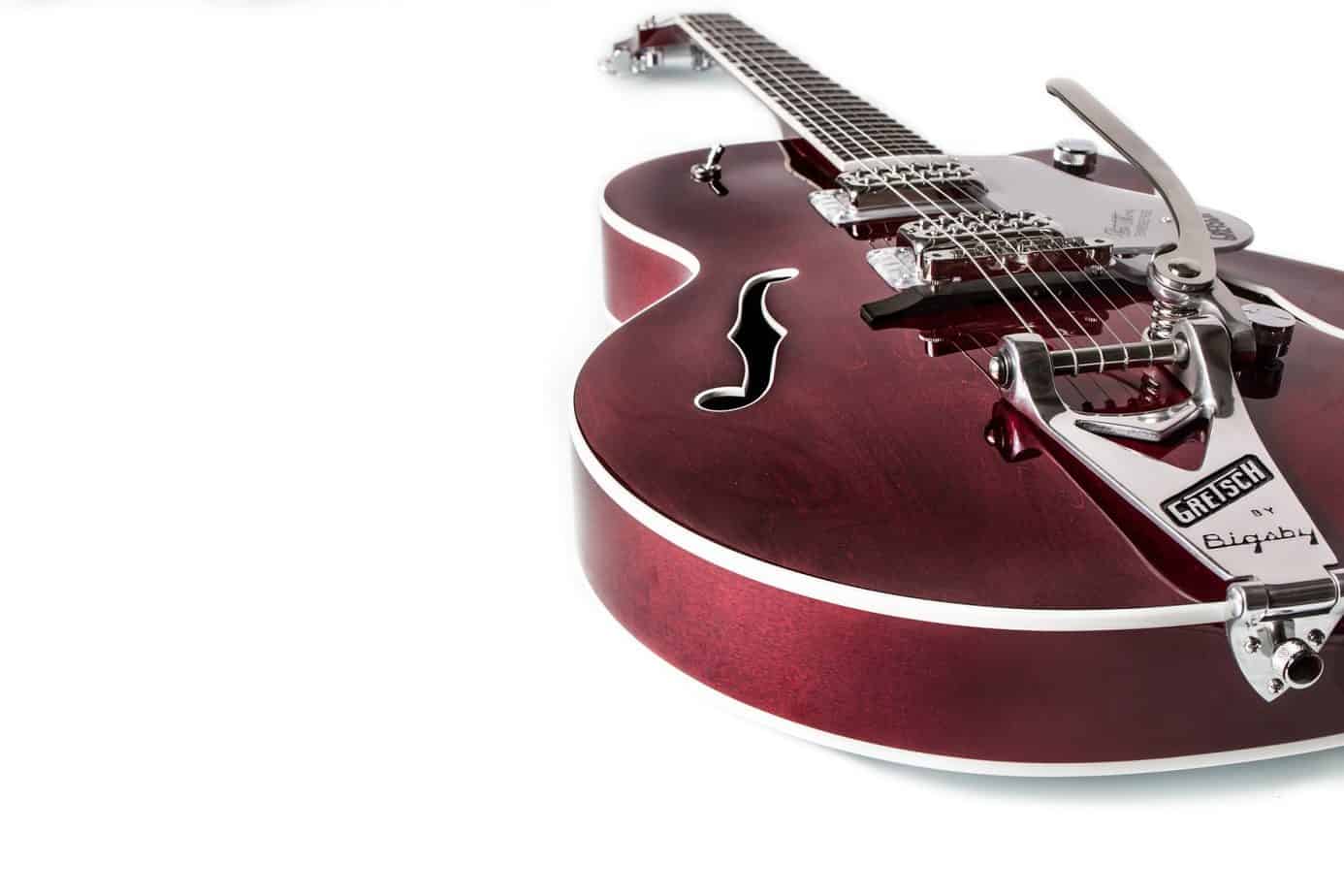 Jack White has used many guitars throughout his career including Gretsch Guitars.
Jack White has played on countless styles of guitars over the years, but there are some models that he is particularly known for. For the sake of brevity, I'm just going to focus on Jack's choice in electric guitars here.
The most important thing to remember about sounding like Jack White on the guitar is that much of his playing comes from his dynamics. Because of this, you can sound like him on even the cheapest of guitars.
I'll address Jack's most famous guitar choices in a somewhat chronological order, starting with his guitars that he used in the White Stripes, then on to the Raconteurs, and then I'll finish up with what he uses in his solo project.
1964 "JB Hutto" Res-O-Glass Airline
This cheap, hollow, plastic red guitar was Jack's main axe for the ten years he was in the White Stripes. It completely challenges the mainstream notion that great music only comes from expensive gear.
It's loaded with two humbuckers each with their own volume and tone control. Jack frequently set the volume control on the neck pickup to be quieter than the bridge, giving him two dynamically different sounds at the flip of his pickup selector switch.
Jack White doesn't take this guitar out on the road any more, most likely because this guitar was a perfect fit for the White Stripes in terms of its sound and aesthetics (with the red and white finish).. It would be inappropriate to use it in any of his other projects.
The irony is that finding this exact model of guitar on the cheap is impossible thanks to Jack making it so famous!
Don't worry. There are a number of ways to get the Airline sound. You can start by going to Best Buy and picking up whatever plastic guitar they're selling. It may not stay in tune or feel comfortable to play, but it's going to have the Jack White spirit to it.
My other recommendation, if you're looking for a versatile and well made guitar that still has the toy-like vibe of the Airline, is Music Man's St. Vincent Signature guitar. It has the option for two or three mini humbuckers, features a uniquely angular body shape, and comes in red/white finish options. Not to mention, Jack White has been seen using this model in recent years.
1950's Kay Hollowbody Archtop
While the Airline Guitar was Jack's main guitar with the White Stripes, his 1950's Kay Hollowbody Archtop was his primary slide guitar that led to the creation of "Seven Nation Army".
Jack's Kay looks worse for wear, but that doesn't keep him from taking it out on tour with him even to this day.
This 1950's Kay is a full hollow body guitar with a single pickup at the neck, giving it an almost acoustic quality to it. It doesn't resonate much, which White uses to his advantage to make it sound like a bass guitar when he pairs it with his Whammy pedal (more on that later).
Hollow body guitars like this have a distinct sound to them and can be tricky on stage due to their inherent ability to feedback.
If you're looking to emulate this sound, I would recommend looking into the Gretsch New Yorker Hollowbody guitars (another guitar brand that Mr. White uses regularly). These guitars are well made, but come in at an attainable price point and they feature a single pickup just like Jack's guitar.
Gretsch Anniversary Jr.
As Jack White transitioned from the White Stripes to the Raconteurs in 2006, he needed a guitar that would let him fit into a bigger band, as well as provide him with every opportunity to express his style of playing. Gretsch guitars were the solution.
Jack has played a number of Gretsch models over the years, from Penguins to Thunderbirds, but the most interesting Gretsch style guitar he ever played came to be known as the Triple Green Machine.
What started off as a Gretsch Anniversary Jr. was modified by Randy Parsons to include a double cutaway, a Bigsby tailpiece, a Theremin, and a retractable Green Bullet microphone among other custom specs. It includes three TV Classic pickups that sonically land between a single coil and a humbucker, providing plenty of sparkle in addition to the gain that Jack's style of playing requires.
Recreating this guitar would be quite the undertaking, but you can come pretty close to the core specs just by picking up a Gretsch Streamliner. If you're feeling adventurous, you could start adding on the specs that Jack White included in his Green Machine from there.
Fender Telecaster
Jack White's first solo record "Blunderbuss" was released in April of 2012, and with it came the age of Telecasters. Sticking to primitive gear and aesthetics fitting of his record's themes, Jack White sported a modified telecaster with a Bigsby tailpiece painted in powder blue. Outside of this, Jack's teles appear to be mostly stock.
If you're looking to recreate this style of Jack's playing, I would recommend looking into the Fender Vintera 60's Telecaster Bigsby. These guitars are a little bit more pricey, but they are high quality builds that will work almost exactly like Jack's blue Tele right out of the box.
One other Telecaster that Jack is known for playing more recently is his Three-Wheel-Motion Low-Rider Custom Telecaster. Much like the Green Machine, the Low-Rider is a self-designed tele with more add-ons that most would think to include in a single guitar. It has a B-Bender, G-Bender, and an automatic Drop D switch. It has an interrupter switch, as well as three different pickups (Humbucker neck, P-90 middle, and Single coil bridge).
It appears that Jack has embraced the Nashville sound with the B-Bender Telecaster, but it wouldn't be a Jack White guitar if it didn't have all the bells and whistles.
Amplifiers
While Jack White has used a plethora of guitars over the years, he has been significantly more dedicated in his amp selections. With a few exceptions in his live solo performances and in the studio, Jack White has predominantly stuck to two amplifier manufacturers.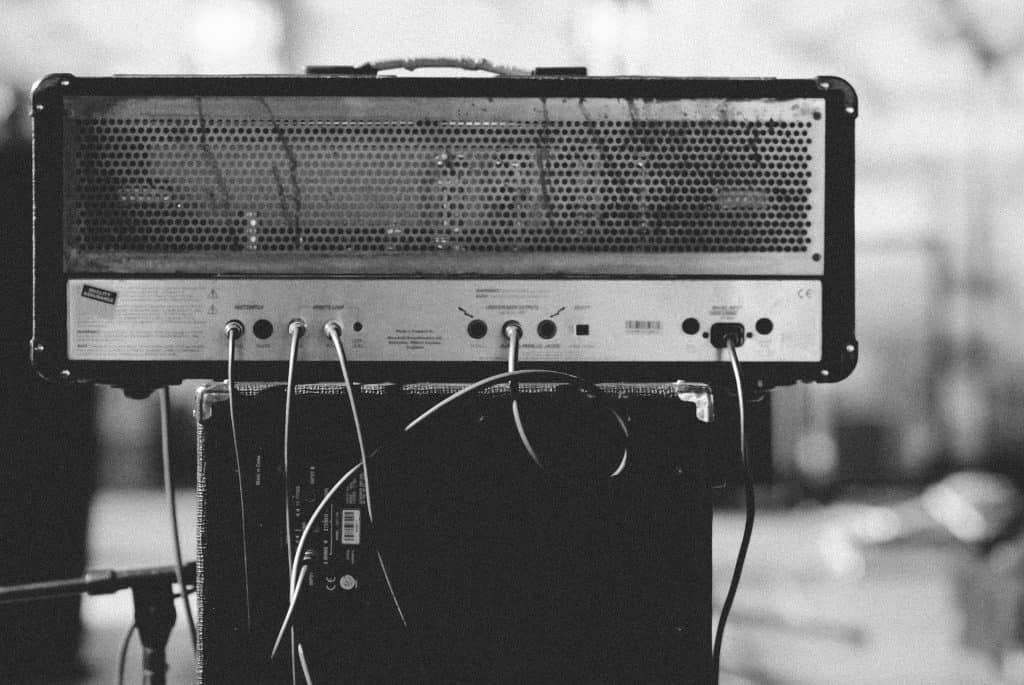 Jack White prefers vintage tube amps in the studio and on stage.
Sears Silvertone
Similar to the Airline guitar, the 100W Sears Silvertone amplifier that White used predominantly throughout his time in the White Stripes was a vintage department store find. He would pair this head with a pair of Sears 6×10 speaker cabinets with Jensen speakers loaded in. He mainly used the amp for its tube driven overdrive and didn't incorporate the built in reverb.
Though cheap when they were first on the shelves, these amps are vintage collectors' items now. Thankfully, there are a number of amp simulators and effects pedals that target this sound. I would highly recommend the JHS Twin Twelve, which aims to emulate the sound of a Sears Silvertone in front of a clean amplifier.
Fender Twin Reverb
The other amplifier that Jack White is most known for using is a Fender Twin Reverb Blackface from the 1960's. While the Silvertone amps gave Jack his unique sound in his early days, he always paired the Silvertone with a Fender Twin for the reverb sound. These days he almost exclusively uses Fender Twin Reverbs (he has a Silverface combo from the 70's too).
Fortunately, these amplifiers are still in production from Fender today and can be found in just about any guitar shop. Fender recently released their Tone Master edition of the Twin Reverb, which is a digital amp model that sounds unbelievably close to the original tube amp. These amps require less maintenance than tube amps, weigh less, and cost less than a vintage unit would.
Effects

Jack White uses a wide array of pedals and often custom colors/designs them to fit his live concert aesthetic.
Jack White has always managed to keep one foot in the past and the other pressing forward. Because he plays on bare bones instruments (unless he personally modifies a guitar), he can achieve the rest of his tones through effects pedals.
He typically does this by combining effects of old, such as those found on tube amplifiers (boosts, tremolo, and reverbs) with modern effects that push old sounds into the future. What results is a juiced up blues sound, with tons of heavy distortion and aggression combined with octave/harmonizer effects for added movement.
Jack White tends to focus on overdrive and harmonizer effects and rarely utilizes delay or modulation. He also tends to rely on his amps for reverb. This keeps his sound grounded, even when he is experimenting with distortion and feedback.
Many of his guitar boards are painted to match the color of his rig (he even had an all copper pedal board at one point with the Raconteurs), so picking out every pedal is challenging. Much like his guitars and amps, he experiments with a wide array of pedals, but there are a core few that have withstood the test of time.
In his more recent recordings, Jack White has started utilizing effects boxes created by his record company Third Man Records, who collaborate with other effects manufacturers to create unique effects that could only come from Jack's mind. As a result, his newer material has become much more experimental.
Even so, he has managed to preserve his core tone. Here are the must-have effects to sound like Jack White, no matter what era you're listening to.
Octave/Harmonizer/Pitch Shifter
Octave and Harmonizer pedals were especially pivotal to Jack's sound in the White Stripes, as he used them to fatten up his sound. They White Stripes were only a two piece band after all and he was responsible for making the band sound larger than they actually were.
The pedal of this type that he used most was the DigiTech Whammy, which allowed him to not only glide from one note to another seamlessly, but could also turn his guitar into a bass with its octave down effect. This effect is most prominently used in "Seven Nation Army". Notice how the recording appears to start off with a bass line, when in fact this is Jack White playing guitar through the whammy.
DigiTech Whammy pedals are still in production today and have been upgraded in their parts. This effect can also be achieved through any harmonizer or pitch shifter that allows for an expression pedal to be attached to it.
Another Harmonizer that was used to great extent in the White Stripes was the Electro Harmonix POG 2. This polyphonic harmonizer was used to turn Jack's guitar into a church organ, as he could strum more than one note at a time and the pedal could track/harmonize each.
The POG comes in many shapes and sizes these days and they essentially all do the same thing. Another great alternative to the POG pedals are the harmonizers from TC Electronic, such as the Brainwaves and the Sub'N'Up.
However, if you want the ultimate Jack White-esque octave effect, you may want to consider the octave pedal that the man, himself, created: the Third Man Triplegraph Digital Octave pedal.
Designed by Copper Sound Pedals in collaboration with Jack White, the Triplegraph is a steampunk inspired octave up and octave down pedal with its own effects loop, giving you the ability to blend in an effect of your choice with the octave effect.
Fuzz Pedal
The next most important effect you will need to get the Jack White guitar tone is a great fuzz pedal. He has used a number of different fuzz pedals, both silicone and germanium, but has seemed to favor the Big Muff Pi over the years. Effects buffs will know that this style of fuzz comes in a wide array of flavors (I once heard someone compare Big Muff Pi pedals to pizza. There is more than one kind!) and it appears that Jack White favors the '77 Pi version for its added aggressiveness.
I mention this so that you won't be disappointed when you go out and pick up the first Big Muff Pi pedal you see. There are different models worth checking out and I would seriously recommend the JHS Muffuletta, as it gives you six Big Muff Pi voicings.
The other kind of Fuzz that Jack White utilizes is a gated fuzz. This is a highly distorted sound that responds to your playing to create glitchy and chaotic fuzz tones. He has achieved this sound with a number of pedals, including the ZVEX Fuzz Factory, but recently has relied on the Third Man Bumble Buzz. You can really hear this effect in the guitar solo to "Lazaretto".
Boost/Preamp
This last effect is more subtle, but is a much loved effect by Jack White. He specifically uses the MXR Micro Amp and he loved the sound of this pedal so much that he had one built into the custom Gretsch guitar he used with the Raconteurs.
Sale
Jack White uses this preamp pedal in a number of different applications. He has used it as an "always on" pedal to fatten up his tone, as well as a boost for solos.
You could achieve this kind of boosted sound with just about any boost pedal, or through any pedal that has its own volume control. The key is to add some extra gain before you amplifier.
Other boost/preamp pedals worth checking out to achieve Jack White's guitar tone include the Xotic EP Booster (modeled after the preamp of an Echo Plex delay unit) and the EarthQuaker Devices Arrows V2. Both of these pedals are single knob effects like the MXR Micro Amp that Jack White uses.
Conclusion

Third Man Records custom designs pedals in collaboration with Jack White.
Jack White is one of the few remaining guitar gods of our time. I often think of him as a mix between Jimi Hendrix and Willy Wonka for the fact that he developed a completely unique sound of his own and that his inventiveness carries him forward.
The beauty of Jack White's approach to the instrument is that you don't have to buy rare or expensive guitar gear to sound like him. In fact, you might actually hurt your changes of sounding like him if you do buy expensive gear.
All you really need to get started is to trust your hands and your own curiosity, then apply it. The rest of this gear only gets you that much closer.
Don't believe me? Watch this video of Jack White as he convinces you that you don't even need to buy a guitar.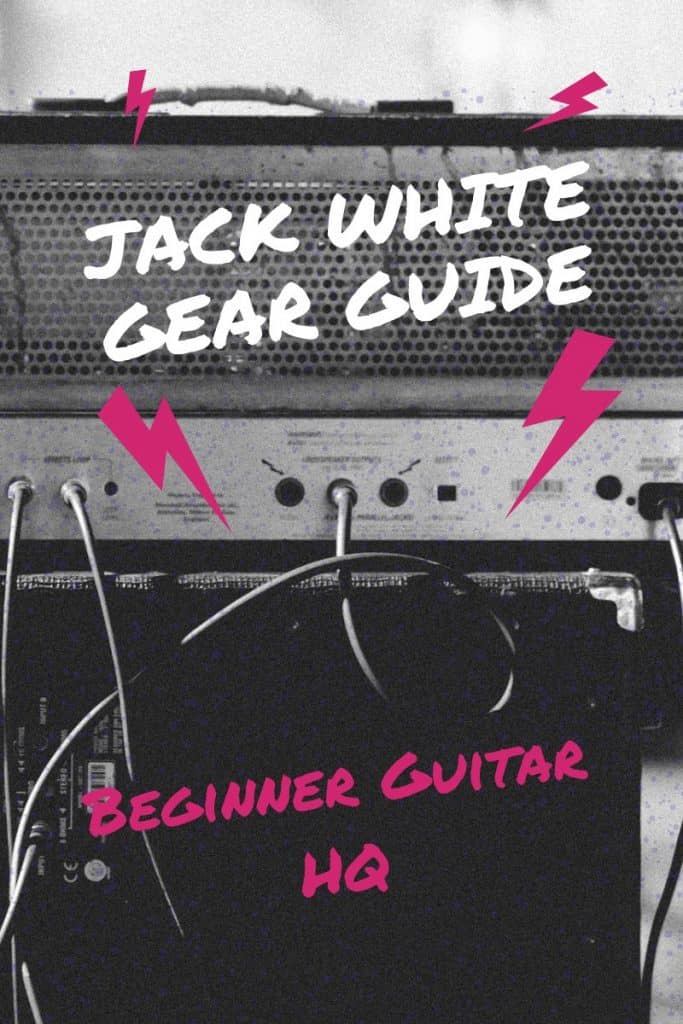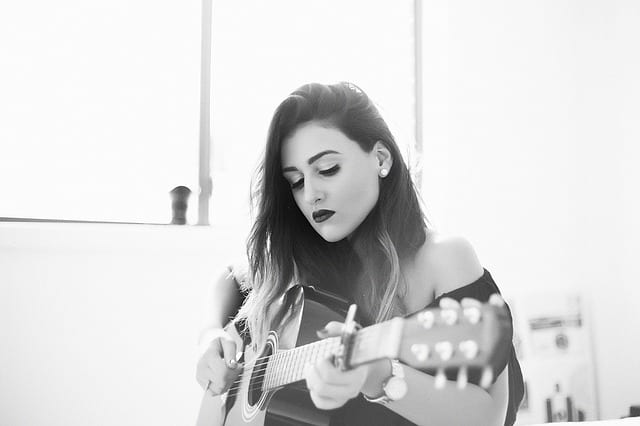 Jen is a guitarist and singer-songwriter who spends much of her time on the road and has lived in 13 cities across 4 continents. She picked up her first guitar at the age of 6 and learned to play by ear shortly after. She received her formal music education at the Berklee College of Music, and currently plays for a few bands in her free time. She has an uncanny ability to improvise creative melodies and harmonies. Her early influences include blues, jazz and rock.