If you're just starting out learning guitar, it can be frustrating when everything that sounds good seems so complex. It's always fun to learn to play your favorite songs (in fact that could be why you picked up the guitar in the first place), but it's sometimes a long hard road to be able to do that – especially if your favorite songs are by legendary guitar heroes and famous guitarists like Joe Satriani, Stevie Ray Vaughan, Jimi Hendrix, Slash, Yngwie Malmsteen — the list goes on. Some might require you to learn how to shred, how to play metal riffs, play really fast, alternate picking, string skipping, arpeggio sweep picking, pinch harmonics – it's all a little overwhelming, especially for a beginner.
However, everybody starts somewhere – and even some chart-topping mega-hits are simple and straight-forward, using only three chords. These are great if you're a beginner and haven't got the hang of barre chords yet (most of these 3 chord songs can be played with open chords, although some of the songs might still require barre chords), aren't comfortable playing lead, or even if you're not a beginner and you just want something to pick up and play at a party, Kumbaya style.
Read on to find out more about the top 5 famous 3 chord songs – for each one, I'll go a little into the history behind the song, what the song is about, and of course teach you how to play them. It might surprise you that some of these songs are 3 chord songs!
Sweet Home Alabama – Lynyrd Skynyrd
An absolutely massive hit, sure to get any bar or party moving. Everybody knows how the intro to Sweet Home Alabama goes, but it's surprising that this country classic can be counted among a list of 3 chord songs. It's true, though – this whole song can be played with just a D chord, a C chord (or a Cadd9 chord if you're looking to match the sound as much as possible) and a G chord. You can throw in a little fingerpicking to really nail the intro, or you can just strum away – as long as you get the rhythm and feel of the song right, people will know what you're playing. D, C and G are a key set of chords – that progression is used a lot in classic and hard rock; just look at Guns n Roses' Sweet Child O' Mine, Velvet Revolver's Fall To Pieces or any number of other songs and bands to find instances of it.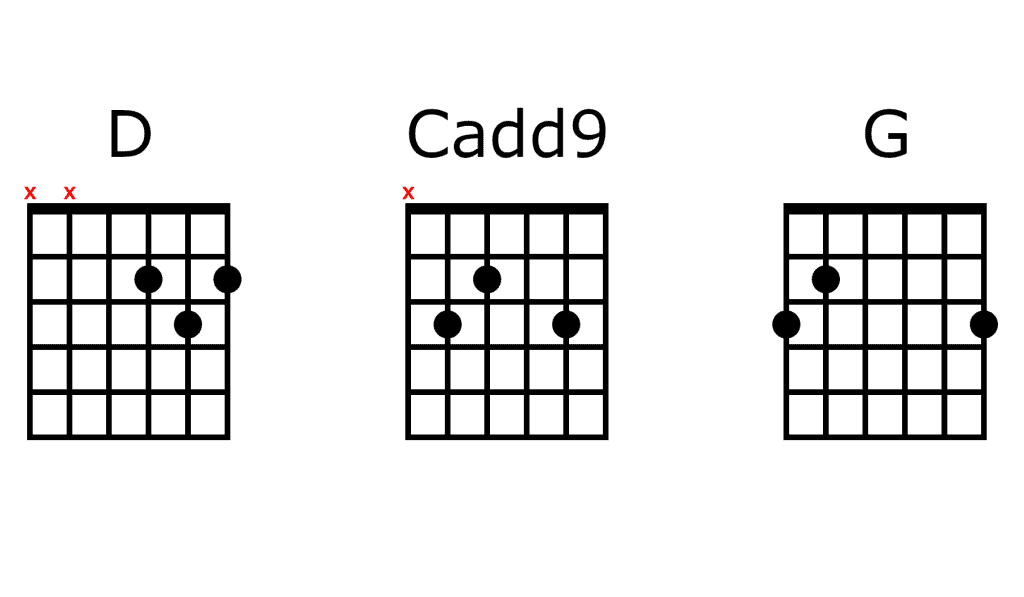 Being written in the early 70's as a sort of reply to Neil Young's "Alabama", this song famously directly references Neil Young in the second verse. The lyrics mention how he's put the state of Alabama down ("Alabama" was a particularly vicious attack on the state and its issues with racism), and how they don't need him around. Neil Young responded by saying that he was grateful for their response, and that he agrees; he went too far in some ways, and he's even been quoted as saying he "doesn't like" the words he sang. This was released on Lynyrd Skynyrd's second album, and shot straight to the top of the charts and cemented that picking intro into the minds of generations. This wasn't the first of the 3 chord songs to be a huge hit, though!
Twist and Shout – The Beatles
A decade before Sweet Home Alabama, The Beatles had a hit with Twist and Shout. There's a pretty long list of 3 chord songs from The Beatles – in fact, there's a songbook that contains them which you can buy on Amazon: 1540026604
To play Twist and Shout, you'll need to know the D, G and A chords. From there, you'll be able to play the entire song without having to learn another chord – although you could learn the picking pattern that goes over those chords if you'd like to step up the difficulty. Otherwise, just listen to the song to get a feel for the rhythm and you're good to go!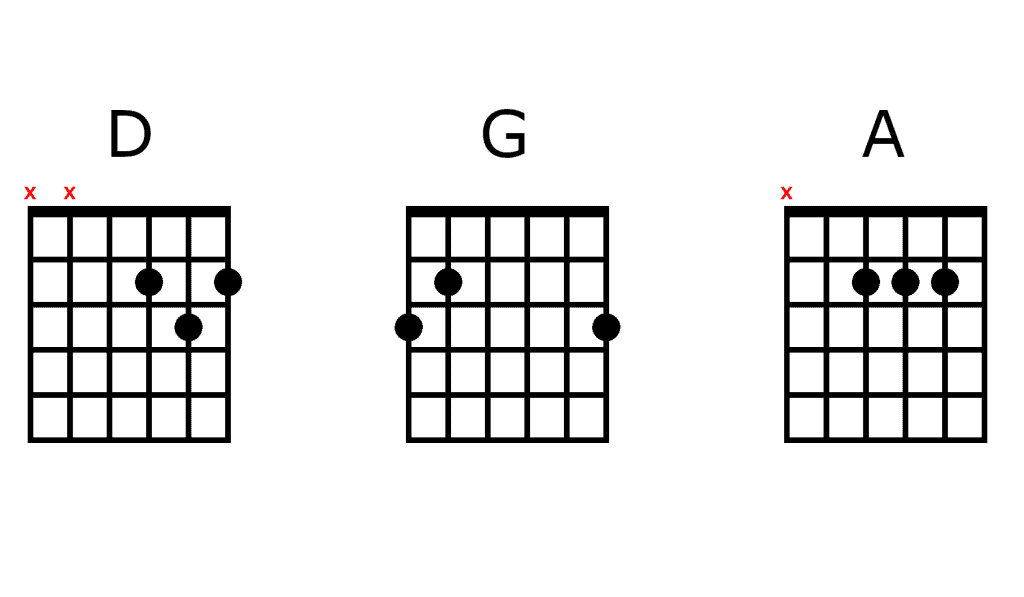 The Beatles' Twist and Shout was released in 1963 on their first album, Please Please Me. It's actually a cover of a 1961 song written by Bert Berns and Phil Medley, which was then covered by The Isley Brothers. It's been recorded and rerecorded by a variety of artists, and some of those versions have hit the charts. This song is definitely at home on the charts!
That's two 3 chord songs down, three to go!
The Tide is High – Blondie
Another one for the list of chart-topping 3 chord songs, Blondie's version of The Tide is High was released in late 1980. Everybody knows this, and it's got a real feel-good pulse to the strumming and to the rhythm that'll make it a surefire hit whenever you pick up a guitar and play this at a party.
To get this song down, you just need to learn the chords A, D and E. More importantly you need to be deliberately relaxed (I know, it's a bit of a contradiction), to be able to get a kind of "island" or reggae feel to the strumming. Once you've got the strumming down, you could add to the complexity by adding in some muted strums in between chords to give your version some percussiveness and tie it together if you don't have a drummer or anybody to play along with.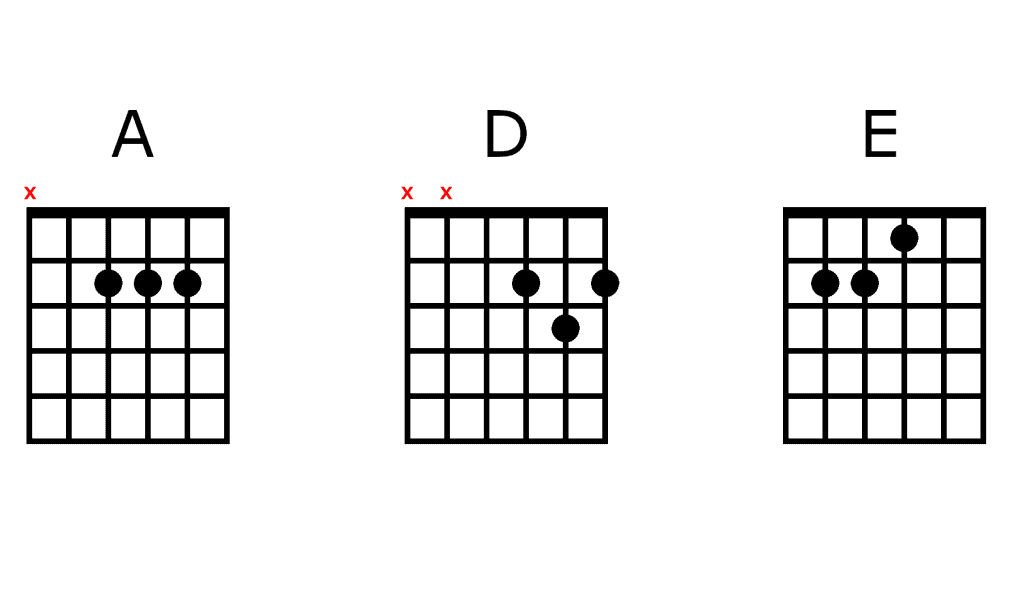 The Blondie version of this tune was released on their fifth album, Autoamerican. It was a huge worldwide hit (proving yet again that 3 chord songs are just as popular as the most complex symphonies out there), but it's not the only version of this song. In fact, this is another cover! It was originally written in the late 60s, and performed by a group called The Paragons. Since then, it's been covered a few other times – personally, I'm more familiar with the Atomic Kitten version of Tide is High, which was all over the radio in the UK in 2002.
We're into the last two top five 3 chord songs – let's go!
Get It On – T. Rex
I'm a big T. Rex fan – and this is one of his best. It's heavy, and bluesy, and dirty, and it's yet another on a list of great 3 chord songs from the 70s. I'm sure we all know this one, and it's one of the songs that sounds great whether you pick up a beaten up old acoustic at a party, or play a set on a brand new electric at a show. To play this, you'll just need to know the E, A and G chords. It's pretty straight-forward, just relying on getting the driving percussive rhythm down with your strumming hand. Here's the chart.
Get It On was written by the group's frontman, Marc Bolan in 1971. A chart-topping hit from their sixth album Electric Warrior, which is an album that influenced countless rock, grunge and metal artists for decades afterwards, it's also been called a pivotal release for the Glam Rock genre. Not bad for something that can be included on a list of 3 chord songs!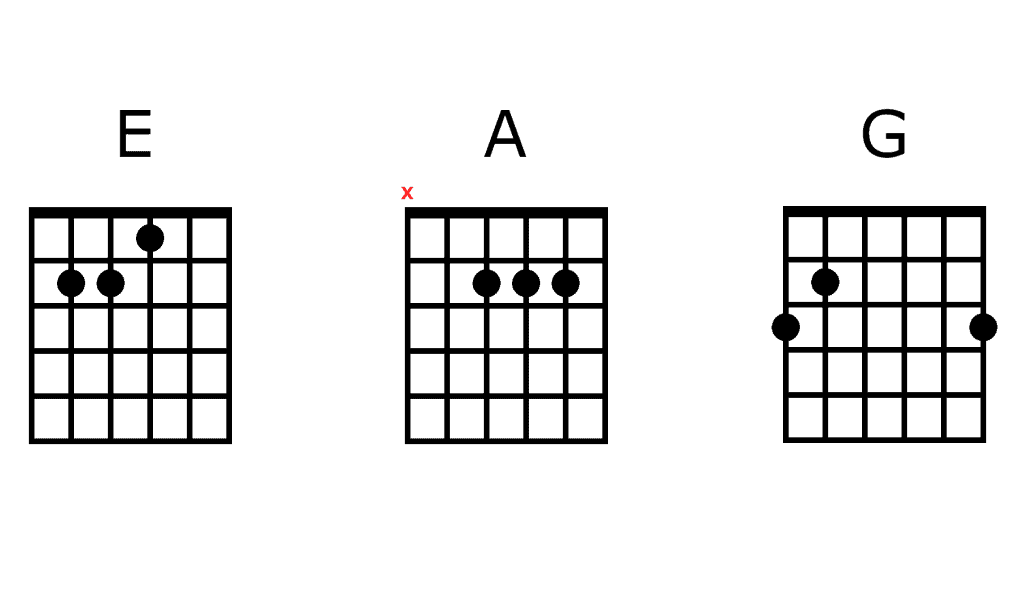 On the early Top of the Pops performance of the single, footage of which is used in music videos for it, Elton John plays the piano. In fact, the piano was actually recorded by Rick Wakeman, famous for working with Yes, Black Sabbath, Ozzy Osbourne and David Bowie – in exchange for £9 (about £100 in today's money). It also drove a wedge between band leader Marc Bolan and DJ John Peel, who publicly criticised it on the radio after he played it on-air. The pair were previously good friends, but John Peel's public criticism of the song drove the two to not talk to each other again, until Bolan's untimely death in London, six years later. This is, in my opinion, the heaviest and rawest of the 3 chord songs on this list; a genuine crowd-pleaser.
Common People
Pulp's tongue-in-cheek 1995 hit single has to be the most satirical, snappy and downright funny of the most famous 3 chord songs. The only chords you'll need to learn if you want to be able to perform this are C, G and F. With the inclusion of the barred "F" chord, this becomes the most complex of the 3 chord songs on this list – although you can play an "easy" version of the F by only barring the thinnest two strings instead (I would recommend learning to barre if you can, though). Here's the chord chart for you: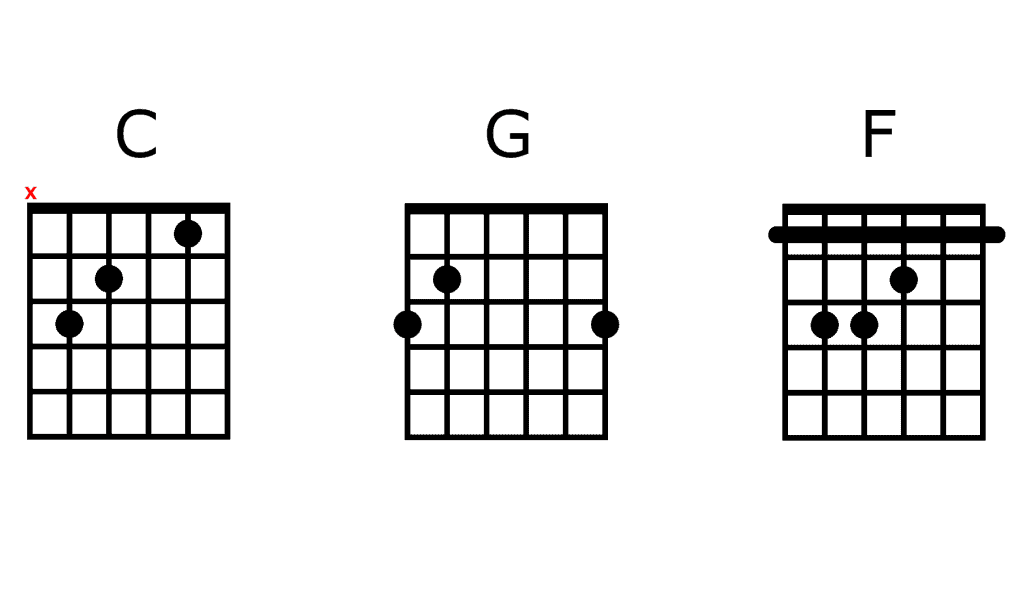 This is undoubtedly one of the defining songs of Britpop. Alongside the Blur and Oasis feud, Pulp was a big name in the Britpop scene in the nineties. Pulp is perhaps most well-known for this hit, from their 1995 album Different Class. It's since become a headlining tune for the band and the Britpop movement as a whole, setting the expectations high for 3 chord songs to follow! It's a jabbing, sharply-written and vicious takedown of posh people pretending to "slum it" and hang out with people that are poorer than them, and a lampoon of the kind of patronising "tourism" that comes with them. Hilarious, relatable and ingenious, it boosted writer Jarvis Cocker's fame and respect as an artist. The sound of this song became iconic and immediately recognisable.
Conclusion
So, that's it for this list of famous 3 chord songs. Easy to play, but still hugely influential – this isn't an exhaustive list by any means. Once you've got these down, you could graduate by adding one more chord in – that'll expand your repertoire to include so many more songs! Good luck!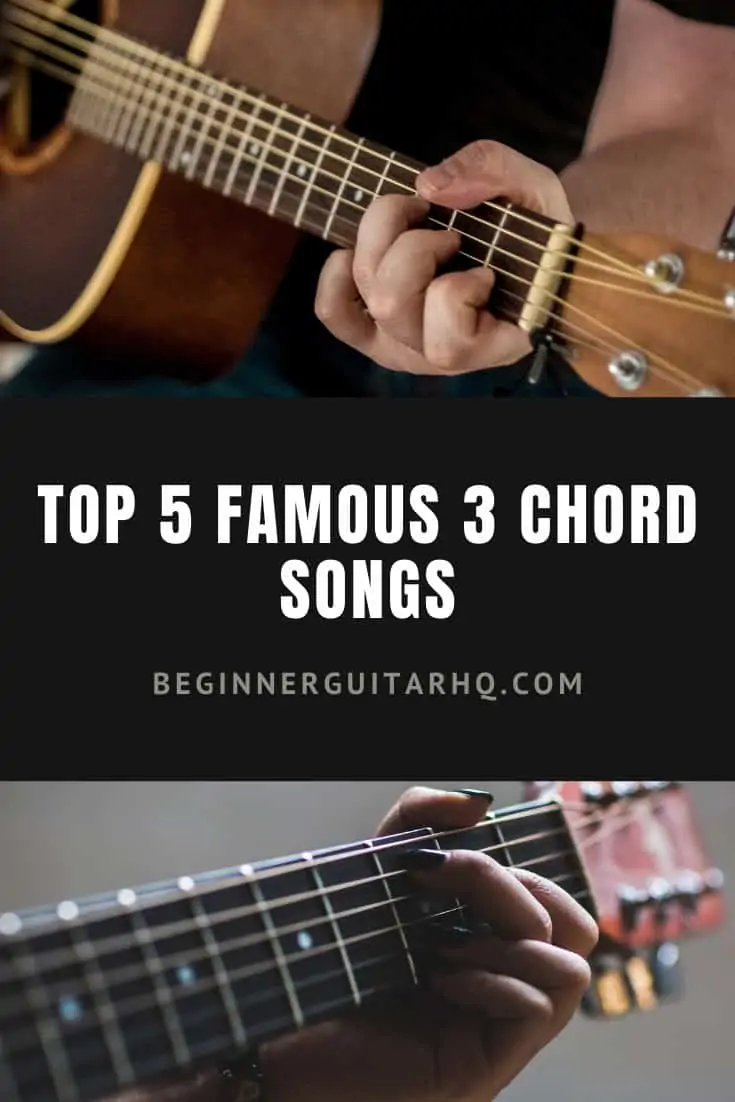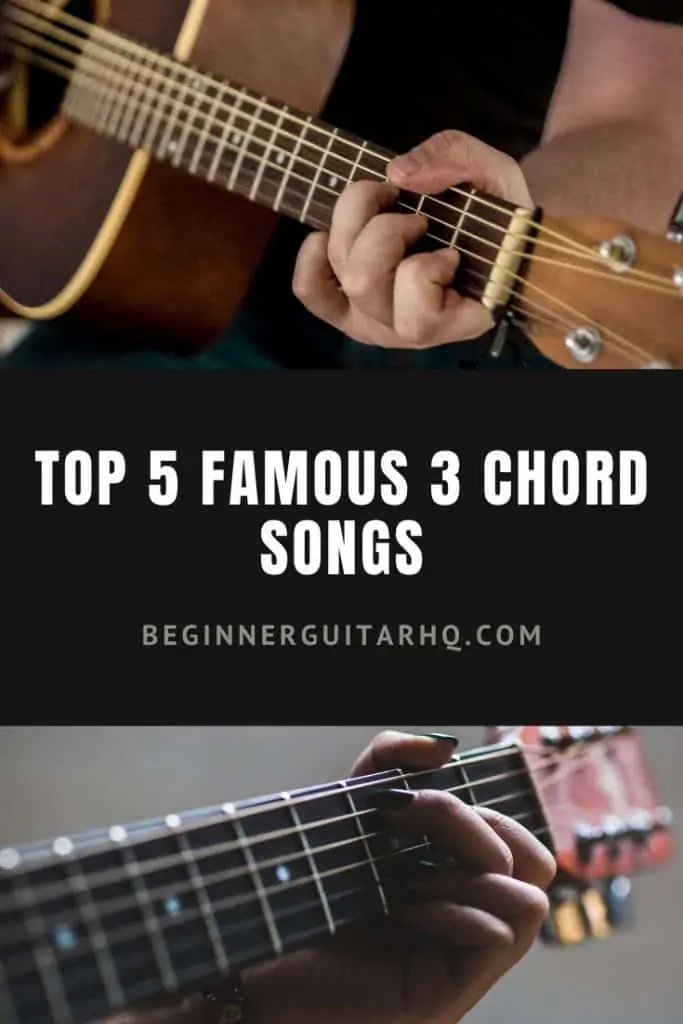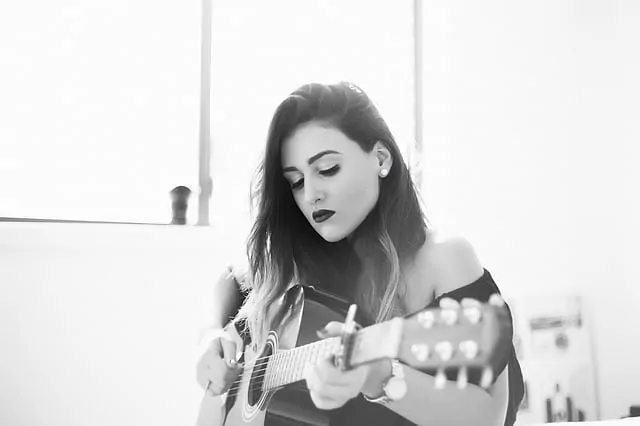 Jen is a guitarist and singer-songwriter who spends much of her time on the road and has lived in 13 cities across 4 continents. She picked up her first guitar at the age of 6 and learned to play by ear shortly after. She received her formal music education at the Berklee College of Music, and currently plays for a few bands in her free time. She has an uncanny ability to improvise creative melodies and harmonies. Her early influences include blues, jazz and rock.