California is called the sunshine state, and for good reason. The sunny paradise at the "edge of the world" is packed with gorgeous shorelines, diverse cities, music, film and television and so much culture that many deem it the quintessential state for art. California is so revered for its culture, art, and spirit, that there have been countless songs written about it.
We've assembled a list of 50 songs about California that you can play on guitar. These songs cover a wide variety of genres, written over an even wider space of time, but they all have one thing in common, they are written about the sunshine state itself; California.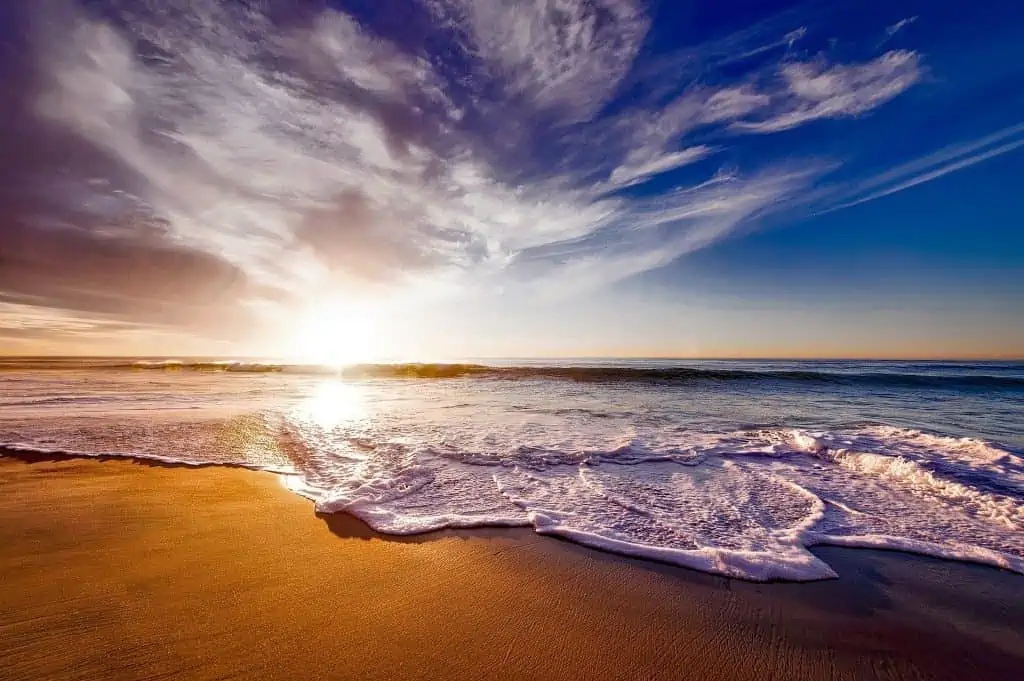 (California beaches are referenced more than once in the songs on this list, and for good reason!)
#1) California Dreamin' by The Mamas and Papas
Quite possibly one of the most recognizable songs about the state, California Dreamin' by the Mamas and Papas was recorded and released in the winter of 1965. Originally written by Barry McGuire, the version by the Mamas and Papas is by far the most popular version of the song. Written as a love letter to the state, from the perspective of someone stuck in a much colder, grayer region, California Dreamin' became an instant classic and has since become a reminder of the state and all it represented during that era. If one wants a simple, but iconic song, choosing this out of the list of the 50 best songs about California you can play on guitar would be an excellent choice.
#2) Dani California by the Red Hot Chili Peppers
It wouldn't be a list featuring songs about California without the Red Hot Chili Peppers. Released in 2006 on the album Stadium Arcadium, Dani California describes the struggles and challenges of a young Southern girl making her way into California. The titular character; "Dani" is featured on other Red Hot Chili Pepper songs, such as Californication and By The Way. The track is a groovy but straightforward rock song, courtesy of John Frusciante's guitar acrobatics.
#3) California Love by Tupac Shakur
A classic California-based song not only for hip-hop, but music in general. California Love was released in 1995 by Tupac Shakur on the album sharing the same name. Featuring an infectious hook, and lyrics that extolled the virtues of L.A., the music business, and rap, California Love is one of the grooviest songs about California to date. While one would not initially consider this a good song to play on guitar, California Love features excellent and funky rhythm guitar throughout, making it an excellent choice among the 50 best songs about California you can play on guitar.
#4) Going To California by Led Zeppelin
The first entry on the list NOT to feature native Californians, Going To California was released on Led Zeppelin's fourth studio album in 1971, and was inspired lyrically by Joni Mitchell. Singer Robert Plant claimed he was inspired by the artists own song "California" as well as by the musically rich state in general, while Jimmy Page performs his typical folk guitar innovations. This song is a much mellower, contemplative track than the others on the list, and details a softer more wistful side of the state. This folk centered track heavily features the acoustic guitar, making it an ideal installment on the list of 50 best songs about California you can play on guitar.
#5) Hotel California by The Eagles
Possibly one of the most iconic rock songs of all time, this track also is another of the most quintessential tracks about California, even if it goes about it in a unique way. Released in 1976 on an album of the same name, Hotel California tells the mysterious, almost sinister tale of a man trapped in a "Hotel California" that he sought refuge from the desert night in. The song features haunting imagery, as well as a classic guitar solo, making it a much more mysterious installment on our list of the 50 best songs about California you can play on guitar.
#6) Surfin' U.S.A. by The Beach Boys
Don't let the name fool you, this classic song by the Beach Boys is an undeniable California anthem. Featuring upbeat lyrics describing the pleasures of surfing, as well as the beauty of California's beaches, this song quickly became iconic as a representation of the growing surfing culture in the U.S.A., a culture that featured California at the center.
#7) California Sun by The Ramones
The first addition to our list from the punk genre, California Sun features The Ramones discussing the pressures of fitting into California culture, even if you are not native, all while blasting the fast power chords that the band is known for. The song has been covered many times, and is an excellent punk addition to our list of the 50 best songs about California you can play on guitar. The
#8) LA Woman by The Doors
The Doors are another classic group out of California, much of their music being representative of the state and its culture, LA Woman is no exception. Featuring steady music accompanied by Morrisons typically enigmatic lyrics, the song is a classic tale of a wandering soul, traversing up and down the coast of the state in search of something and nothing. This song is as simple as it is classic, earning its place among the 50 best songs about California you can play on guitar.
#9) Paradise City by Guns N Roses
LA is often at the center of many California-based songs, and this is no exception. One of the band's most popular tracks, the song depicts Los Angeles as it is seen by lead singer Axl Rose; a place of paradise. The upbeat song features an infectious chorus and incredible guitar work courtesy of lead guitarist Slash. While the guitar acrobatics can be difficult, this song is worth learning if you wish to learn one of the best songs on the list of the 50 best songs about California you can play on guitar.
#10) Californication by Red Hot Chili Peppers
Similar to the 2nd installment on our list, Californication is yet another song about the golden state from the Red Hot Chili Peppers. Describing the effect that Californian culture can have not just on an individual but the world at large, the song takes a slightly pessimistic, sardonic position on the state. Many believe the subject of this song is also the subject of their previous song, Dani California.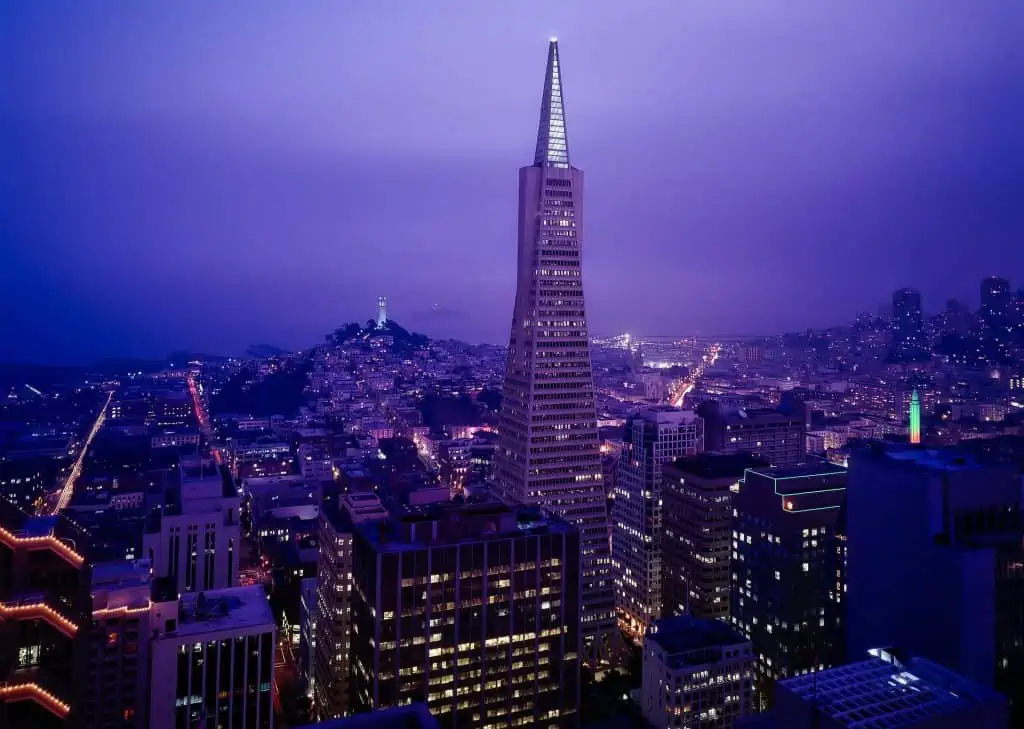 (California is a cornerstone of American culture. San Francisco, pictured above, gave birth to many musical movements, including Thrash, Jazz, and Punk Rock.)
#11) California Gurls by Katy Perry ft. Snoop Dogg
No list having anything to do with California would be complete without California Gurls. The song, written by Katy Perry and featuring Snoop Dogg was released in 2010 to massive success. Conjuring images of sunny beaches, rocking parties and the titular California girls, the track has become an iconic representation of the sunshine state and everything it has to offer.
#12) Beverly Hills by Weezer
The classic indie band released their track Beverly Hills in 2005 off the band's fifth album. Describing an outsider's journey and desire to be amongst the elite in Beverly Hills, the track conjures up images of Hollywood excess and the desire to be where the stars live. Weezer is known for their simple yet infectious guitar parts, making this track an excellent addition to the 50 best songs about California you can play on guitar.
#13) California by Joni Mitchell
Joni Mitchell is an iconic singer and songwriter, and her talent carries over in her track titled California well. Featuring the musings of someone far from their home in California, yearning to get back, the song offers a more unique view of California than most other tracks of a similar subject. Showing California as a place to return to, not one to discover. The track also features Joni Mitchell's typical fingerstyle guitar acrobatics, and as such is a great track to learn off the list of the 50 best songs about California you can play on guitar.
#14) Girls, Girls, Girls by Mötley Crüe
Los Angeles is a city known for its parties and nightlife, a nightlife glamorized no better than in Motley Crue's hit song Girls, Girls, Girls. Conjuring up images of flashy parties and gorgeous women, this song paints LA and California at large as the land of infinite opportunity and parties. As one of the only metal songs on our list, it's a great addition to our list of the 50 best songs about California you can play on guitar, especially for those who want a harder rocking edge.
#15) Low Rider by War
A song that has transcended its initial subject matter to be an iconic tune in pop culture, Low Rider was written with the LA extensive lowrider scene in mind, and has slowly become known as the "Chicano" anthem. Simple, groovy and incredibly catchy, this song is as danceable as it is hummable. Consider trying this song out if you're looking for an easy but addictive tune.
#16) R Cali by A$AP Rocky
We couldn't let 2Pac sit alone as the one rapper with a track on our list. R Cali was released in 2013, and is best known for its use in the GTA V in-game soundtrack. The track features hard hitting instrumentation and has A$AP Rocky weaving a tale of women, violence and fame throughout California. The song's hypnotic bridge features the artist mourning "I'm going back to Cali, I'm going back to Cali…" One of the harder hitting tracks on the list, this track adds a trap edge to our list of the 50 best songs about California you can play on guitar.
#17) It Never Rains In Southern California by Albert Hammond
Albert Hammond conjures up wistful images about the sunshine state, depicting a scene and a culture just as known for its trappings and it is for its excess. Released in 1972 off an album of the same name, Hammonds track is an iconic piece that is closely associated with the culture of 1970s California. The track features simple but engaging guitar work, making it an excellent addition to our list of 50 best songs about California you can play on guitar.
#18) Folsom Prison Blues by Johnny Cash
One of the only songs on the list where the singer actively does not want to be in the sunshine state, Folsom Prison Blues is a classic country song sung about the thoughts of a man trapped in the renowned California prison. Made famous from Johnny Cash's live performances at the prison, this country track is an iconic addition to our list of the 50 best songs about California you can play on guitar.
#19) Doin' Time by Sublime
Sublime embodied West Coast stoner culture for a period of time, and this song personifies that. Featuring a steady groove and an amazing sample, the track is about the life, struggles and musing of a man "Doing Time" in "The LBC." Ska is known for its fun but challenging rhythm parts, making this track a unique addition to our list of the 50 best songs about California that you can play on guitar.
#20) (Get Your Kicks On) Route 66 by Nat King Cole Trio
California became an iconic destination in about the 50s and 60s, the sunshine state contained Hollywood, the West Coast and the burgeoning American music business, and was seen as the glamorous height of American culture at the time. This track by the Nat King Cole Trio is about the famous Route 66, a highway that stretched across the United States and linked the majority of the country with California in one quick and easily accessible highway.
#21) Fake Tales Of Sanfrancisco by Arctic Monkeys
One of the few tracks written by Non-Americans, and the only track by Indie darlings Arctic Monkeys. The penned this track early on in their career about the pretension that many Californian hipsters and California transplants possess. Detailing a night in California full of show-offs, outcasts and hipsters, the track mixes its sardonic lyrics with infectious Garage Rock riffs to form a catchy, if not sarcastic, track.
#22) Compton by Kendrick Lamar
Frankly, you could include any track off of Kendrick Lamar's "good kid, m.A.A.d city" and it would be an excellent musical representation of the lifestyle that many individuals in California's iconic neighborhood Compton live. While not as straightforward rock as most of the other additions on the list, this track still presents musicians an excellent opportunity to try their hand at playing other genres, making this an important challenge amidst the other 50 best songs about California you can play on guitar.
#23) San Francisco by The Mowglis
Indie music has practically been headquartered in California for as long as it's existed, and this song by The Mowglis encourages the listener to let loose their inhibitions and let love into their lives. With San Francisco as the background, the song encapsulates the romantic side of not just the city, but the state at large.
#24) I Love LA by Starcrawler
Some songs are beautifully simplistic, and this track is just that. Starcrawlers song describes the life and musings of some who simply love LA for all that it is. Weird, wild, vampiric and wonderful. It also does not hurt that this track is a classic example of Garage Rock songwriting, and great female lead vocals, making for a quick and enjoyable track to learn among our list of the top 50 best songs about California you can play on guitar.
#25) Down Rodeo by Rage Against The Machine
Rage Against The Machine is another quintessentially Californian band, with all members originating, meeting and forming the band in the sunshine state. An obviously political song from an unabashedly political band, Down Rodeo was released on the bands 1996 album Empire of Evil and features guitarist Tom Morello typical insane guitar acrobatics, as well as Rage Against The Machines typical high gain riffs. Guitarists interested in a challenge should consider this track amidst the 50 best songs about California you can play on guitar.
25 More Songs:
In case those 25 don't interest you, here are 25 MORE songs about California that you can play guitar to choose from:
#26) Ventura Highway by America
#27) Friend of the Devil by The Grateful Dead
#28) Under the Bridge by The Red Hot Chili Peppers
#29) City of Angels by 30 Seconds To Mars
#30) Santa Monica by Everclear
#31) California by Chuck Berry
#32) Say Goodbye to Hollywood by Billy Joel
#33) West Coast by Lana Del Rey
#34) I Love L.A. by Randy Newman
#35) F**k California by The Presidents Of The United States Of America
#36) Goodbye California by The Queers
#37) Malibu by Hole
#38) California Paradise by The Runaways
#40) California by Blink-182
#41) Get Back by The Beatles
#42) California English by Vampire Weekend
#43) Los Angeles by X
#44) Lost in Hollywood by System Of A Down
#45) Back in L.A. by B.B. King
#46) Hollywood Freaks by Beck
#47) California Sun by The Rivieras
#48) Wish I Were Born In Beverly Hills by Alice Cooper
#49) Do You Know The Way To San Jose by Dionne Warwick
#50) California Kids by Weezer
Conclusion
California is one of, if not the most culturally significant states in the U.S.A. Its music, art and culture captivate us, and as the songs included in our list show, lead many artists to muse on what makes California so significant. Our list of the 50 best songs about California you can play on guitar serves as a roadmap through the different forms and faces California takes in each of the artist's lives, reflecting on what the state means not just to the individual, but to the world.
Did you like our list? Did we maybe forget one, or is there one that you feel does not belong on the list? Let us know!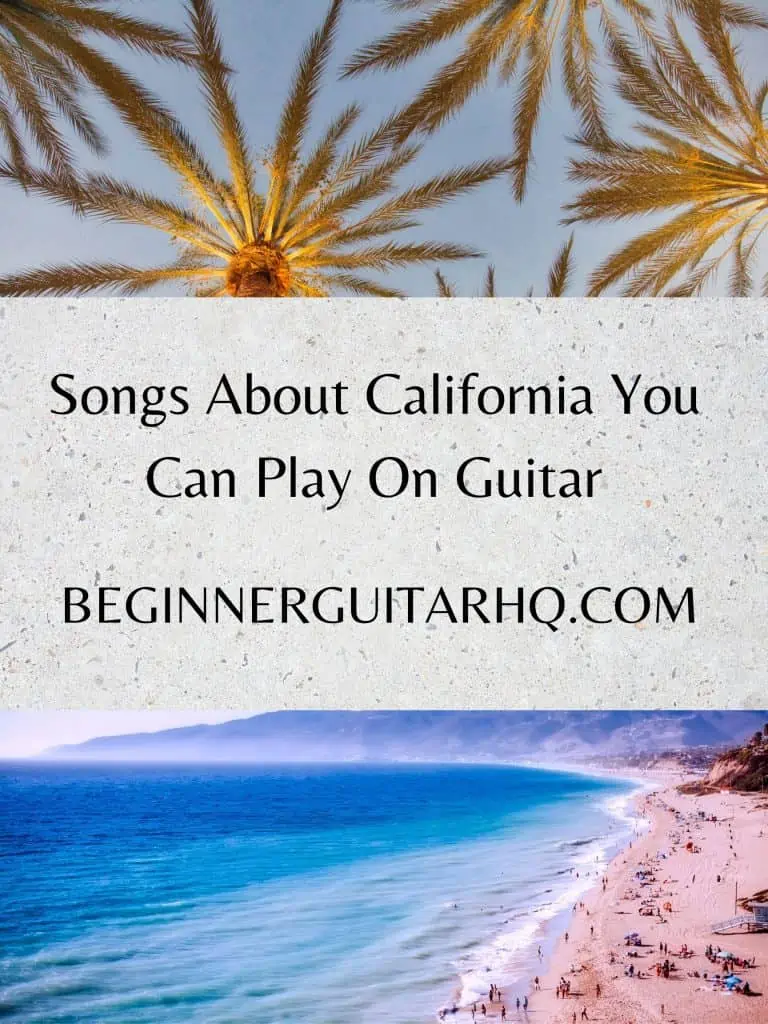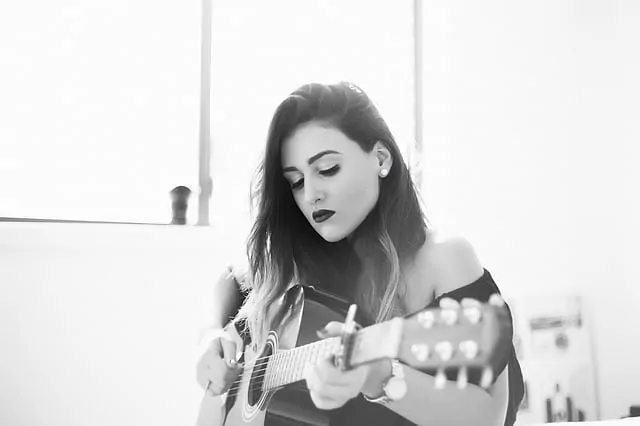 Jen is a guitarist and singer-songwriter who spends much of her time on the road and has lived in 13 cities across 4 continents. She picked up her first guitar at the age of 6 and learned to play by ear shortly after. She received her formal music education at the Berklee College of Music, and currently plays for a few bands in her free time. She has an uncanny ability to improvise creative melodies and harmonies. Her early influences include blues, jazz and rock.