Women have always been a powerful force in rock music, even though they haven't always gotten the appreciation they deserve. So, these 60 women empowerment songs for rock fans span from the 70s, to the riot grrrl movement and to the artists of today. Whether you like punk, metal, glam-rock, or more mellow songs, there's something for everyone.
Vicious – Halestorm
The title track from Halestorm's album, Vicious, is about strength, defiance, and fighting for yourself – a theme which runs strongly' through the record. Frontwoman, Lzzy Hale, once explained, that the world Vicious resonated with her, which is why the song became the title track of their 2018 album.
Let It Go – Cherri Bomb
While the former all-girl teenage rock band, Cherri Bomb, is no more, their song Let It Go (which came out before Frozen did!) is about fighting to make your dreams come through, even if no one believes in you.
Bad Reputation – Joan Jett And The Black Hearts
Bad Reputation is arguably the most well-known track on this list of women empowerment songs for rock fans. After The Runaways disbanded, Jett was still struggling to find acceptance as a woman in rock. After several rejections from major labels, the song was released independently on Blackheart Records – and is about not caring about what others think.
Double Dare Ya – Bikini Kill
Bikini Kill are one of the most renowned bands from the riot grrrl scene in the '90s, a subgenre with an undeniable presence in this roundup of women empowerment songs for rock fans. Double Dare Ya is about empowering other women to stand up and take control of their lives and fight for their rights.
Pink Rover – Scene Queen
Scene Queen's "bimbocore" messaging is about women not sacrificing their femininity in an attempt to get respect in a scene still dominated by men. She proves that you can love pink, be girly, and still be fierce. In Pink Rover, she calls out men who cat-call and harass women.
Her – Poppy
Poppy's Her is speculated to be about the artist taking control of her image and career. She sings about a girl picking herself back up and putting herself back together. The singer once told her fans the track was one of her most important songs.
Black Me Out – Against! Me
Against! Me frontwoman Laura Jane Grace, previously said Black Me Out is about defying negative people. Others feel the song could also be about how trans representation is lacking in mainstream media, after the singer came out as transgender in 2012.
Asking For It – Hole
Asking For It by Hole calls out how women are objectified and taken advantage of. Courtney Love once recalled an instance where she was violated while stage diving, which inspired the song. It calls out the double standards women face.
Just A Girl – No Doubt
Former No Doubt frontwoman, Gwen Stefani, wrote Just A Girl about how people treated her differently because she's a woman. She recalled driving home alone late at night, realizing that she was vulnerable because she is a woman.
Midnight Sky – Miley Cyrus
Miley Cyrus embroiled her edgier side with her album, Plastic Hearts. The record even featured appearances from legends Joan Jett and Stevie Nicks. Midnight Sky is a song about independence, freedom, and feeling confident and secure without having a partner.
Better Without You – Evanescence
Evanescence was one of the most renowned female-fronted rock bands of the early 2000s and proved there were still as relevant as ever with their 2021 album, The Bitter Truth. Frontwoman, Amy Lee, explained the song is about overcoming adversity, holding her own, and not allowing others to hold her down.
Typical Girls – The Slits
The Slits were one of the most influential post-punk bands and were even name-dropped in Le Tigre's song, Hot Topic. Typical Girls by The Slits criticizes gender roles and the restrictions that are put on women.

A woman sitting on a bench alone.
I Am Not A Woman, I'm A God – Halsey
Halsey, who goes by she/they pronouns, explored womanhood and motherhood in her album, If I Can't Have Love I Want Power. I Am Not A Woman, I'm A God, explores themes of how women are either seen as pure or corrupt. The album was produced by Nine Inch Nails' members Trent Reznor and Atticus Ross.
Willow – Female Energy, Part 2
In recent years, Willow Smith has been following in her mother, Jada Pinkett Smith's, footsteps who was the frontwoman of nu metal band Wicked Wisdom, and been taking on an edgier sound. Willow's Female Energy, Part 2, is a follow-up from her 2014 track, Female Energy. The second installment is about growing up and finding her place in the world.
Playing God – Paramore
Paramore was arguably the most popular female-fronted pop-punk band in the early 2000s and 2010s. Playing God is about having enough of others projecting their negative feelings and expectations onto you and calling them out on their hypocrisy.
Dead Horse – Hayley Williams
Paramore singer, Hayley Williams, showed a vulnerable side with her solo album, Petals For Armor. She took a hard look at her failed marriage with Dead Horse. The song is also about taking accountability for being "the other woman."
Witches Burn – The Pretty Reckless
Witches Burn by The Pretty Reckless is another song calling out gender roles, using witches as a metaphor for the double standards women are held to. The band was initially met with skepticism as frontwoman, Taylor Momsen, starred in Gossip Girl, but they've firmly cemented themselves as a vital part of the scene.
I Wanna Be Where The Boys Are – The Runaways
Although The Runaways best-known track is Cherry Bomb, I Wanna Be Where The Boys Are is an underrated women empowerment song. The track is about refusing to conform to the expectations placed on women, and wanting to be treated the way men are.
No Respect – Destroy Boys
The three-piece band considers themselves feminists, but they don't always bring activism into their music. With that said, No Respect is a women's empowerment song demanding respect when people put words in women's mouths or center themselves in their lives.
Roadkill – Starcrawler
Starcrawler frontwoman, Arrow de Wilde, is best known for her commanding stage presence. The band's song, Roadkill, is about powering through when people try to get in your way or tear you down.
IndieEdgyCoolKid – Gayle
Gayle's IndieEdgyCoolKid is a response to people copying her music style after her song ABDEFU went viral earlier this year. In the song, the teen also calls out those who criticize her for her success as an artist.
The Opener – Camp Cope
Camp Cope called out sexism in the music industry with their song The Opener. It highlighted how women do not always receive the same opportunities as their male counterparts and how often times, women are given breadcrumbs, such as opening spots for other bands.
This Is Serious – Lunachicks

A woman standing on a couch holding a bass guitar.
The 1980s punk band has been unstoppable since they reunited in 2019. Lunachicks used This Is Serious to maintain that women deserve to be in the rock scene as much as everyone else.
Bite Me – Avril Lavigne
Avril Lavigne has been returning to her pop-punk roots as of late. Bite Me, featuring drummer Travis Barker from Blink-182, is about knowing your worth and leaving unhealthy situations when they no longer serve you.
Boxes – Grae
Boxes by Grae is about growing up and no longer feeling the need to have heroes. The song is from the alt-pop artist's debut album, Whiplash.
Who Died And Made You King – Jaguar Jonze and Shungudzo
Who Died And Made You King criticizes the patriarchy and abuse within the music industry. The song is about taking power back.
Hey Violet – Fuqboi
Hey Violet was formed by the remaining members of Cherri Bomb, after vocalist and lead guitar player Julia Pierce, exited the band. Fuqboi playfully calls out the type of men who treat women poorly, and vowing not to date a "fuqboi" again.
FLAG (Feel Like A Girl) – Coach Party
FLAG is a cry for justice in the face of harassment. It calls out rape culture, with singer and bassist, Jess Eastwood, once saying the song is for people who have ever felt hurt, objectified or violated.
Seize The Power – Yonaka
Seize The Power by Yonaka is about feeling strong and independent and living your life for yourself.
No One Listened – Starbenders
No One Listened is about advocating for yourself, even if no one believes you or is on your side.
Kill The Girl – RØRY
Kill The Girl by RØRY is about letting go of your old self after a toxic relationship to grow into a better version. The 37-year-old is also proving women do not have an expiration date when it comes to chasing their dreams.
Don't Censor Me – Slant 6
Slant 6 tackled freedom of speech with Don't Censor Me. It is also about not allowing others to define who you are.
Make Me King – The Haunt
Make Me King by The Haunt, formally AnastasiaMax, is about an abusive relationship, as one of the parties involved tries to establish powder.
Brittle – Icon For Hire
Brittle by Icon For Hire is about people passing judgment on the protagonist, who is determined to carry on.
Monroe – Crawlers
Monroe calls out how ageism impacts women in the entertainment industry, who are expected to be washed up by their 30s, and how women's beauty is valued over their other traits.
Wicked – PVRIS ft. Milkblood
In Wicked, PVRIS (pronounced Paris) asserts confidence and power without apology.
The Best Thing (That Never Happened) – We Are The In Crowd
The Best Thing (That Never Happened) by We Are The In Crowd is a song about self-worth. Vocalist Tay Jardine asserts her value and refuses to be treated poorly.
World Away – Tonight Alive
World Away by Tonight Alive contains themes of resilience. Jenna McDougall sings about making the most of her life.
Who Invited You – The Donnas
Who Invited You by The Donnas calls out entitlement from others and is about ignoring criticism.
Battle In Me – Garbage
Battle In Me by Garbage is about shedding your old self and defying pressure to stay the same. Singer Shirley Manson also drew attention to the over-sexualization of women in the music scene and the lack of women playing guitar on mainstream radio.
Man From The Magazine – Haim

A woman playing a black acoustic guitar.
Haim called out misogyny in the music scene with Man From The Magazine. The song was inspired by an incident where a reporter asked bassist, Este Haim, an inappropriate question.
Haven't Seen The Last Of Me – The Interrupters
Haven't Seen The Last Of Me by The Interrpupters is about sticking to your guns and believing things will work out right for you in the end.
Transitions – Youth Code
The lyrics of Transitions by Youth Code detail a need to escape from negative circumstances and embrace change.
Gimmie Brains – Bratmobile
Bratmobile vocalist, Allison Wolfe, once explained Gimmie Brains was about how women date men in bands who treat them poorly, so they shouldn't rely on them. She encouraged other women to make their own dreams come true.
Her Jazz – Huggy Bear
The feminist punk band, Huggy Bear, called out abuse within activist spaces and called for more equality in these scenes in their track. Her Jazz.
Hot Spurr – Autoclave
The short-lived band Autoclave used their song Hot Spurr to tell the story of the protagonist not falling for the charm of a man with the same name.
Nothing Can Stop Me – Heavens To Betsy
Nothing Can Stop Me by Heavens To Betsy is about defiance. Vocalist Corin Tucker sings about being stronger than people give her credit for.
Lethal Lolita – Red Aunts
Lethal Lolita by Red Aunts smashes the lolita stereotype of being soft and sweet. The song tells the story of a girl who is fierce.
Modern Girl – Sleater-Kinney
Sleater-Kinney tackle growing up in Modern Girl. Modern Girl is about the loss of innocence upon entering adulthood and navigating the world without it.
I'd Rather Eat Glass – Excuse 17
Excuse 17 was associated with the riot grrrl and queercore movements. I'd Rather Eat Glass is about refusing to let others put you in your place and deciding to no longer play things safe.
Shooting Star – The Butchies
Shooting Star by The Butchies is about taking control of your future and pursuing your dreams. The all-female punk band was also associated with the riot grrl and queercore movements.
Somebody – Dream Wife
Dream Wife speaks out against the sexualization of women in Somebody. The song asserts that women are more than their bodies.
Everglade – L7
LV tell the story of a girl named Everglade who faces harassment at a rock show and stands her ground.
Don't Mess With Me – Brody Dale
Don't Mess With Me by Broady Dale is about standing up for yourself. Dale presents herself as a force to be reckoned with.
Mistress Of Taboo – Plasmatics
Mistress Of taboo tackles all things taboo. The punk song paints a picture of a powerful woman.
Two Beers Later – Cadallaca
Two Beers Later calls out the disrespect the group faced in the music scene.
Living Like A Runway – Lita Ford
Former lead guitarist for The Runaways, Lita Ford, reminisced about her time in the all-girl rock band in her track Living Like A Runaway. While there are more women in rock these days, it was almost unheard of in the '70s and '80s. She's also hailed as one of the best female guitarists of all time; which is a well-deserved title.
Hot Topic – Le Tigre
Kathleen Hanna, of Le Tigre and Bikini Kill, once explained the song was born of frustration in the late 90s when the Riot Grrrl movement seemed to end. To song was to reignite and reinspire.
Lesson Learned – Gossip
Gossip, sometimes referred to as The Gossip, have been described as a fusion of soul and punk. In Lesson Learned the band is adamant they will not be put down by others.

A child holding an electric guitar.
True North – The Shondes
Louisa Rachel Soloman once explained the song is about imagining a better world. The singer's Jewish faith, as well as feminist themes, are a big facet of this song and other tracks.
Conclusion
While women tend to be overlooked in rock, this list of 60 women empowerment songs for rock fans serves as a reminder that they have always been there and always will be. As someone who has been "the only girl in the band" and also "the only girl playing an instrument" in the band, these songs prove it can be done.
So, whether you dream of being in a band or have other ambitions, these songs will give you strength and allow you to feel heard. Happy listening!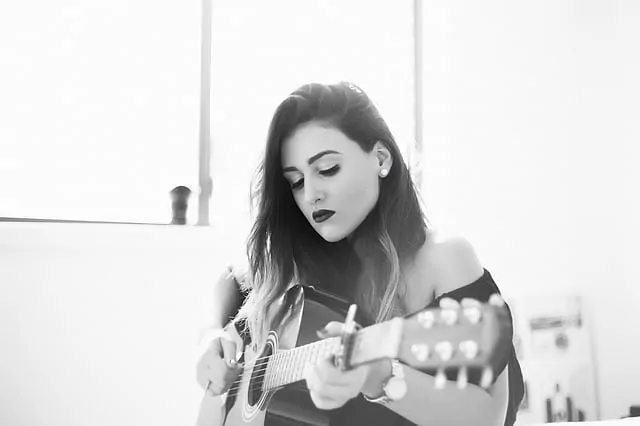 Jen is a guitarist and singer-songwriter who spends much of her time on the road and has lived in 13 cities across 4 continents. She picked up her first guitar at the age of 6 and learned to play by ear shortly after. She received her formal music education at the Berklee College of Music, and currently plays for a few bands in her free time. She has an uncanny ability to improvise creative melodies and harmonies. Her early influences include blues, jazz and rock.