So you're in the market for an electric violin. We at Beginner Guitar looked into the best electric violins for you. While this may not seem like the best place to get that kind of info, we love stringed instruments. Many of us play more stringed instruments than just the guitar. And just like an electric guitar, an electric violin has a host of benefits.
If you've ever had an electric guitar or know someone who has one, you know how great it is to be able to play at any time of the day or night. Just use your headphones or turn the volume down and you won't be bothering any neighbors or the people who may share your home. Love to play with cool effects? Just plug your electric guitar into the amp along with your effects pedal, and voila! You can do the same with an electric violin.
Violins, acoustic ones, anyway, are loud. But drums are louder. Playing with a band and want to be heard over the drums and guitars going all out, not to mention the crowd too? An electric violin is the answer. Then you can crank it up so you can be heard too. And let's be honest, who wants to possibly damage their beautiful acoustic violin? Sometimes playing live can get a little wild and accidents happen. Plus, how much easier is it to record an electric violin? Yip, no need to place mics, just plug it in and there you go.
Without any further ado, let's get into the top electric violins and how to choose the right one for you.
How to Choose an Electric Violin
Just as it goes with selecting an acoustic violin, you need to choose an electric violin with your needs in mind.
Quality
A badly built electric violin very likely won't sound as great as one that's good quality. Sadly, price will usually reflect quality. Poor quality materials will also result in a sub par instrument both in sound and longevity. Having said that, there are okay electric violins that come at a cheaper price point. Best thing to do is check the reviews. We've got you covered there.
The Sound
It's best to try out electric violins before you buy. If not, try to look online for a review where they actually play the violin so you can hear. How it feels and works with your particular body, however, only trying it out can tell. The way they're designed really impacts the sound. And if you find one that's near perfect, do you just need to buy different strings to get it to perfect for you? Bear in mind that the guitar amps are suitable for violins too since there are no actual violin amps.
The sound you want will also be particular to what you want to play. Are you playing classical, Celtic, bluegrass, rock, or pop? Etc. What sounds good in one genre isn't necessarily going to sound good in another.
Ergonomics
Electric instruments are generally heavier than their acoustic counterparts. This has to do with the solid body and type of materials used in the construction of the instrument. Of course, there are plenty of electric violins that don't have solid bodies. Some don't even have bodies per se, at all! So choose wisely when it comes to how the instrument will feel and fit.
Playing violin already puts your body in an unnatural position. If you're going to be playing for long stretches of time, a lighter electric violin will suit you better than something heavier. If you're smaller, a smaller violin may suit you better than one with a bigger body.
Just as with a guitar, you want to make sure you can set your violin up. For example, adjusting the action, which would be adjusting your bridge unlike a guitar where the truss rod is adjusted. Action is how high the strings sit off the fingerboard. It's also how far forward or back the tailpiece sits.
How Many Strings Do You Want?
Standard violins come with four strings. But if you like to play viola sections too, you'll want a 5-string violin. You also get 7-string violins that allow you to play cello parts too.
Frets or Fretless?
Of course standard violins are fretless. It's how we can get those beautiful lilting notes and seamlessly slide into the next note. It's how we get notes in between the usual full notes, sharps, and flats. It's what makes the violin act much like the human voice.
And while I personally wouldn't purchase a fretted electric violin, I can't deny that I've thought more than once in the beginning when I first started lessons, couldn't this instrument just have frets?! If a fretted violin is your thing, you may not find an acoustic with frets, but good news, you can buy an electric with frets.
The Look
If you're like me, this would be at the top of your list. But believe me, just because something is cute or beautiful, doesn't mean it works well. But how it looks is still an important consideration.
Do you like those with the see-through bodies, do you like a solid body, do you like those with just a frame or just essentially the neck? Do you like motifs? What about colors? Your instrument should reflect what you like and goes with your personality. In the words of Marie Kondo, it should spark joy.
At very least, you should feel okay about how it looks, if not ecstatic. Budget can influence what your instrument looks like, but these days, there are plenty of options for every budget.
The Top Electric Violins to Consider
If you want to get a decent quality electric violin, you need to set your sights on $500 and over. But I will include the best options below this price too for if you don't want to spend a lot of money but want something that sounds okay.
Below $500
These are options that will get you by. They aren't pro level, but if you just want something to practice with or if you just want okay violin sound for performances, these will do.
Harley Benton HBV 870 Electric Violin
This violin is a silent violin, so great for practice. Just plug your headphones in. It uses a 3.5mm jack for both the headphones and for the output. It's made from birch and paulownia and comes complete with four fine tuners and strings. You also get a composite bow and a case. You can adjust the volume and tone via the knobs. The tuning pegs are manual. It has a decent sound for small gigs.
Many people are happy with the tone. But it's recommended that you get better quality strings, cable, and bow. There were some complaints about the bow being unbalanced and the tailpiece breaking.
You can purchase it here on Thomann.
Cecilio CVNAE-300
The Cecilio CVN-300 is gorgeous in my opinion. It's their student violin offering and is an acoustic electric, best of both worlds. If you're just starting out, this is the full package. It comes with a Brazilwood bow, adjustable shoulder rest, rosin, bridge, case, and ¼" aux cable. It has a spruce top and maple back with ebony pegs, fingerboard and chin rest.
The bow has genuine horsehair according to the brand.
It comes in eight sizes:
Full size (4/4)
Half size (1/2)
1/4
1/8
1/10
1/16
1/32
The tuning pegs are manual and it comes with four fine tuning pegs installed. You can choose from three colors, metallic black, pearl white, or antique varnish. There is a 1-year warranty against defects.
The violin has a bright warm sound, but if you prefer a much warmer sound, changing the strings it comes with to higher quality strings that are meant to sound warm will help with that. Many people are very happy with the sound quality for beginners, although professional musicians who play smaller gigs are happy with it too. There was also mention of how well the violin stays in tune when the tuning pegs are pushed in properly.
There were a few complaints about the violin not staying in tune. Whether these people just aren't proficient at tuning violin (tip: push the pegs in as you turn them), or whether they got a defective violin is unknown. One customer did say the holes were too big for the pegs on her daughter's violin.
Please note that you can't plug headphones directly into this model. You'll need an amp with a headphone jack to play through headphones. Because it's acoustic electric, you can't play silently.
Kinglos 4/4 Advanced Electric Violin
The Kinglos 4/4 electric violin is a silent violin. Ideal for if you need to practice quietly. You can plug your headphones directly into the violin if you don't want to use an amp. If you prefer a more personalized violin, there are a range of motifs to choose from, including flowers in various colors, zebra print, black grid, and skulls. You also get a bow, bridge, strings, shoulder rest, rosin, cable, a headset, and case with the violin.
The violin is made from spruce with ebony fingerboard, tuning pegs, and chin rest. The tailpiece is carbon fiber. It comes with fine four detachable fine tuners installed. The pickup allows you to adjust your volume and tone.
Many people were happy with the way the violin looks and say that it stays in tune well. But a few people noted that the bow, rosin, case, strings and headset are low quality. Replacing the strings and bow immediately improved the sound, as did playing on a good amp and/or better headphones. Many people also mention that the sound is a bit low when played directly through headphones.
MoonAngel Clear Plastic Electric Violin
This MoonAngel electric violin is a silent violin that is beautifully constructed out of plastic. Having said that, you will do well to adjust the bridge and buy better quality strings for this violin. The fact that it's not made from wood may make it seem more resilient, but be careful not to bump or scratch it if you want to keep it looking good.
The pickup allows you to adjust the volume and tone. You can plug your headphones straight in which is great for quiet practice. You get four fine tuners pre-installed and the tuning pegs are manual. Along with the violin, you'll also get a bow, rosin, cable, headset, and case.
While the ratings are good for this violin, there were some complaints about noise and the shoulder rest not staying on, but getting a better shoulder rest can help with this. There was also mention of the violin playing sharp in third position because of the tension.
Thomann Europe Electric Violin
This violin is an acoustic electric violin. Great for if you want an acoustic with amplification for gigs. One of the things that set this violin apart from the others on the under $500 list is that it has machine head tuning pegs. This means the tuning pegs are more like what you'd find on a guitar which makes tuning it much easier and quicker.
The sides and back are made from maple and the top is spruce with an ebony fingerboard. The jack is 6.3mm and the pickup is a Piezo. You can adjust the volume and tone. The violin comes with Thomastik Dominant strings which aren't top of the range, but are better than a lot of cheaper strings that come with violins. You also get four fine tuners. You will need to get your own case, bow, and cable.
Most people are happy with the tone of this violin, especially as a beginner violin. There are people who love the pegs and those that hate them. It's subjective. It's recommended to use better strings to improve the tone.
You can purchase this violin here from Thomann.
Electric Violins Above $500
Here you will find the quality goes up by quite a bit. You may also find that the longevity of your instrument will be longer too. These violins are typically aimed at professional players and serious amateurs.
Yamaha YEV104 Electric Violin
The Yamaha YEV104 electric violin is a solid body instrument made from a few different types of wood. It produces a rich and warm tone when played through the amp and is fairly quiet when played without an amp. Unlike some of the other violins on our list, you can't use headphones with this violin. The body is made from spruce, maple, and mahogany, the frame from walnut, and the pegs from ebony. The chin rest and fingerboard are composite.
The violin comes with D'Addario Zyex strings, and although they aren't the best, they are much better than the strings the cheaper options come with. They produce a warm sound with middling complexity. There is no case or bow with this violin. You can choose from the black or natural color option.
Most people are happy with the construction, look, and tone of this violin.
Yamaha YSV104 Silent Series Electric Violin
The Yamaha YSV104 is a silent violin. You can plug your headphones straight into the violin or play via an aux cable. This violin was designed to sound just like an acoustic through headphones and speakers. The tone is rich and complex. You're able to adjust your volume and add reverb. It has a piezo pickup, meaning it's placed under bridge and picks up on vibrations. You can also connect an external source to play a backing track or any other music to play along to.
The body is spruce, the neck maple, and the fingerboard is composite. The frame and chin rest are plastic, and the pegs ebony. The tailpiece is resin. You get the violin complete with D'Addario Zyex strings, headphones, the control box, and two cables. Most people are very happy with the tone and quality.
Wood Violins Stingray SVX4 Electric Violin
The name of this violin comes from its shape. If you like stingrays, or just want a differently shaped violin, here you go. Despite its design, this violin is lightweight compared to many other electric violins. It has a warm, clear tone. The body is poplar, and the fingerboard and fittings are ebony. The tailpiece is composite. It has a Tru-Tone pickup. Along with the violin, you get four fine tuners and a case, but no bow or cable.
Because it doesn't resonate so well, the violin is fairly quiet which is good for practice. It's recommended that you change the strings to better quality ones to improve the tone. There have been some complaints that the tailpiece broke. You can choose from candy apple red or metallic black.
If you can't get it from Amazon, check out Fiddlershop.
Cantini Earphonics MIDI Electric Violin
As you guessed by the title, this violin is MIDI compatible, albeit only with the Roland GR-55 synthesizer. If you enjoy making electronic music, this violin's for you. At the price point, which is over $1000, the sound is great. You can choose between a 4-string and a 5-string violin, as well as a fretted or non-fretted option. The ebony tuning pegs are manual. It has an ISSP2 pickup and preamp that are compatible with Roland GK-Ready devices.
You can adjust the volume and tone. There's a range of colors to choose from, including black, white, occhietto natural, occhietto tobacco burst, gold, and the king tobacco burst, plus the shape is quite different. The violin includes four fine tuners and a 13-pin GK cable with locking connector. It would have been awesome if this violin was compatible with more synthesizers.
You need to buy this violin directly from Cantini where you also have the option to customize your violin.
Yamaha Silent Series SV-250 Electric Violin
An upgrade from the lower-end Yamaha silent series violins, this is aimed at professional violinists. You can plug it into an amp to play or record via a ¼" cable or an XLR cable, or you can plug your headphones in directly for practicing. It also has a ground loop switch to cut out annoying hums when using the ¼" jack. It has dual pickups for an acoustic sound with the benefits of electronic capabilities. Plus there's a -26dB button to reduce the input impedance too.
The violin comes with D'Addario Zyex strings and 4 fine tuners. It's constructed from maple, spruce and ebony. You can control the volume, bass and treble. Most people are very happy with the quality and tone of this violin. The main complaints are about the price. It is quite an expensive violin. But like I said, it's aimed at professional players rather than amateurs and beginners. Another plus, it weighs the same as an acoustic.
Mezzo-Forte Carbon Fiber Evo Line Acoustic Electric Violin
Another high-priced violin, this one is different because it's made from carbon fiber. Despite this, it's designed to sound just like a wooden violin. Its sound can be described as complex, and Celtic. It projects well too when played as an acoustic violin.
It's smooth, just like wood is, and lightweight. It has a passive pickup and uses a ¼" jack. It has Pirastro Tonica strings, which are pretty good, a hand-carved Despiau bridge, and Wittner fine tuners. The tuning pegs are manual.
Most people are very happy with the tone of the violin as well as the quality. Though some described the sound as a little harsh for their taste.
You can get it here at Fiddlershop.
NS Design CR4-VN-AM Electric Violin
The most expensive on this list, this violin is for you if you want something that looks a little more rock 'n roll. It's heavier than an acoustic and some of the other violins on this list, but it does come with other exciting features. You can individually boost or cut treble and bass, and the Polar pickup allows this violin to sound great whether playing arco or pizzicato. You can plug it into an amp or use headphones for silent practice.
It comes with an integrated shoulder rest that is fully adjustable for height and angle. The violin also comes standard with D'Addario strings designed specifically for the NS Design violins. Please note that you can't use synthetic core, nylon core (perlon core), or gut strings with this violin. There are four fine tuners included and there are no traditional tuning pegs. The violin is constructed from maple and the fingerboard is ebony. You also get a case when you purchase this violin.
Most people are very happy with the quality and tone, as well as the practicality of this violin. It comes with a three-year warranty from Thomann, but the manufacturing guarantee is five years.
You can buy it here from Thomann.
Conclusion
An Electric violin is a great option for recording, playing live, and silent or quiet practice. They can be quite pricey when you want a good quality violin. If you don't want to get a beginner violin, but are loath to wait until you save up for a good one, you can use a pickup with your acoustic if you have one. Of course, it won't allow you to be quiet, you need a mute for that. But you'll be able to play it live no problem.
Either way, happy violin shopping!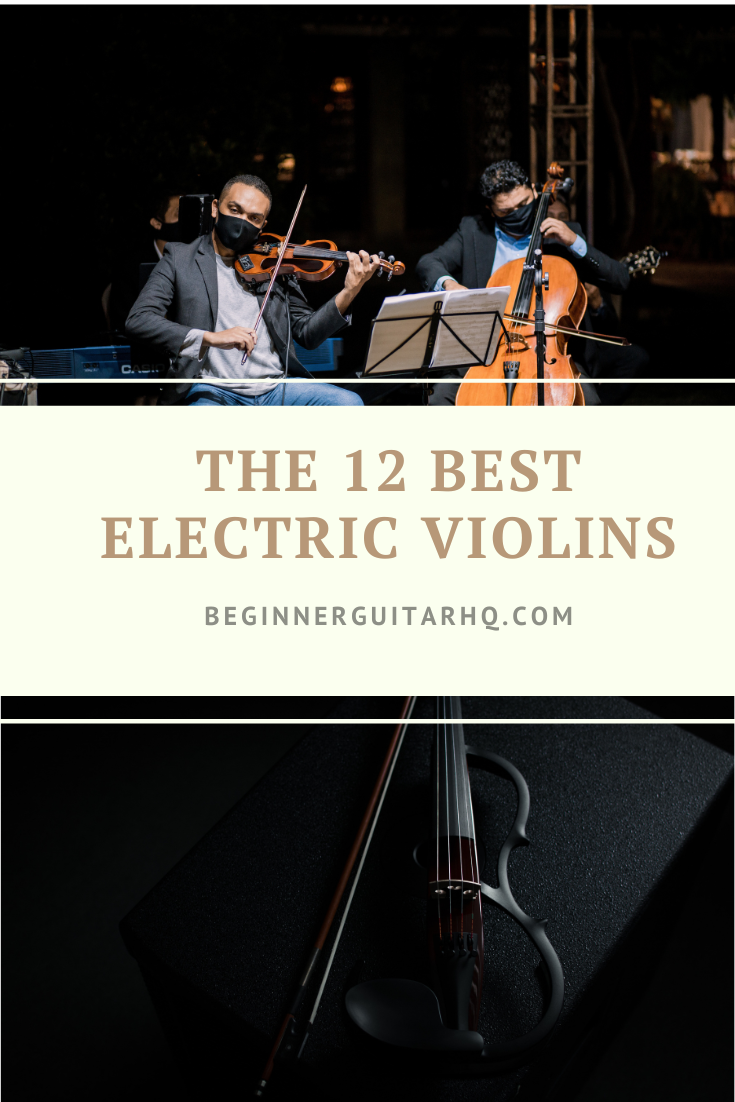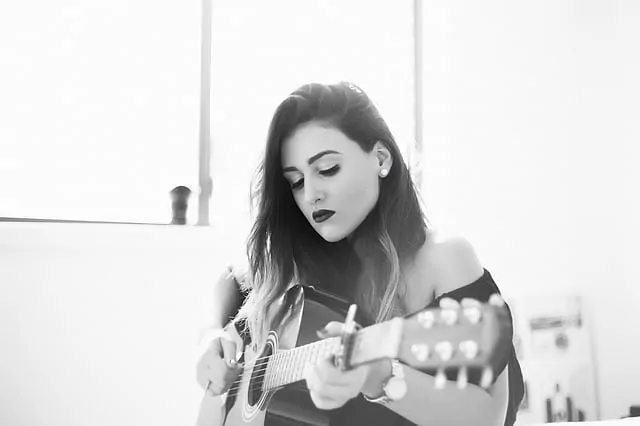 Jen is a guitarist and singer-songwriter who spends much of her time on the road and has lived in 13 cities across 4 continents. She picked up her first guitar at the age of 6 and learned to play by ear shortly after. She received her formal music education at the Berklee College of Music, and currently plays for a few bands in her free time. She has an uncanny ability to improvise creative melodies and harmonies. Her early influences include blues, jazz and rock.