Who doesn't enjoy the piano? Without the piano, we wouldn't have many of the various MIDI devices and controllers you see today. It's become a staple in most music studios, and a huge part of the workflow of many modern music producers and beat-makers. Let's get to know a little more about them!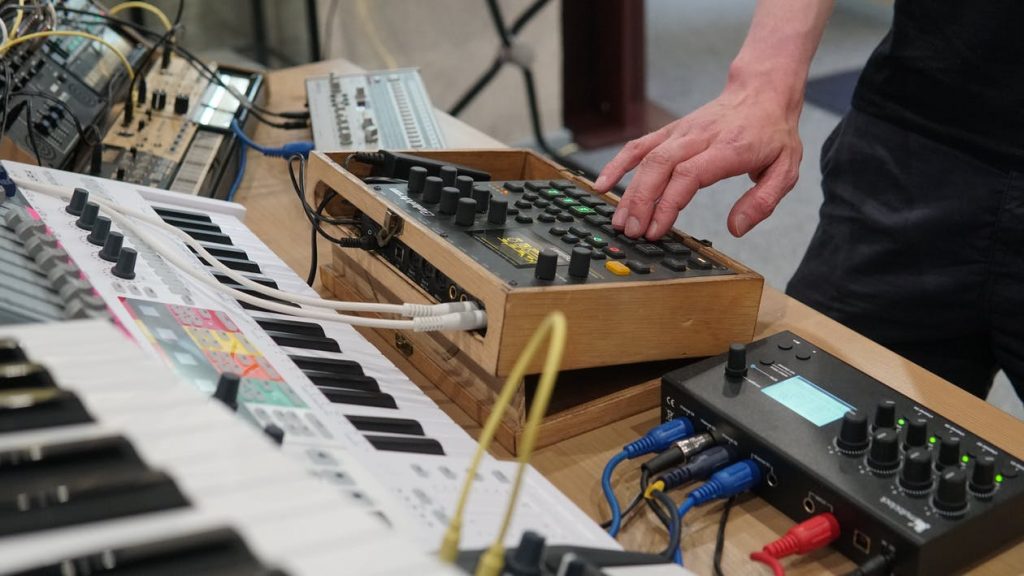 What is a MIDI Controller?
To kick things off, we should have a fair understanding of what a MIDI actually is. MIDI is short for musical instrument data interface, which pertains to the mapping of musical notes as data. MIDI can mostly be found within DAWs (Digital Audio Workstations), or keyboards.
When you hit a key on your electronic keyboard, it sends out a MIDI signal that holds data about whatever key is being pressed, which may include its velocity, panning, vibrato, length, and tempo. The same occurs when you're inside of your DAW mapping notes out across a virtual keyboard, as these notes also hold data too.
A MIDI controller can take MIDI and play it live, which is great for live entertainment, or recording purposes. You may find MIDI controllers in the form of hardware, whether that be as a keyboard, drum pad, guitar, wind instrument, or other unique oddities.
Why Use a MIDI Controller?

A person sitting at their desk using a MIDI controller (keyboard).
A MIDI controller is great for producers and beat makers alike who enjoy the hands-on experience. For instance, if you recorded yourself playing a melody, and something was off, maybe it was a note, or perhaps it was the timing – you have the opportunity to change that from within your DAW and set it right. This eliminates the need to record yourself over and over until it's perfect.
Furthermore, a MIDI controller can add that much-needed "human element" to your production. A common problem for new producers using MIDI is that it often sounds a little robotic. Everything sounds perfectly timed to the beat, whether that pertains to chord progressions, melodies, or percussion, therefore missing that extra layer of human emotion and feeling. Sometimes if you add a little swing, or offset to the notes manually you can achieve this effect, however, there's an authenticity to it when it's played from a recording. It's all about preference.
Lastly, using a controller may improve your workflow. It varies from person to person, and it may take some getting used to. If you have a musical background, you may find that this works for you, as any ideas you have in your head can easily be reproduced in a recording. Effects like automation, pitch bending, and other parameters may be adjusted on the fly which can give you that extra feeling of control over the entirety of the production.
Of course, if you have a guitar, a MIDI controller simulating a guitar typically won't sound as good as the real thing. However, there are excellent plugins for guitars like Guitar Rig by Native Instruments which can be great if you have an audio interface or a USB attachment to plug your guitar into your computer.
What to Consider When Buying
Before we dive into some of the best keyboards on the market for beat-making, it's helpful to "get in the know" about some of the key features to look out for. It always helps to have a pen and paper handy to help you find what keyboards will meet your criteria.
Number of Keys
Keyboards can vary quite a bit when it comes to their size. Normally you can expect a keyboard to have anywhere from 25 keys to 88 keys.
You might consider shopping for a smaller keyboard if you travel a lot, and need one that's easy to bring around with you. However, a bigger keyboard is always nice to invest in if you're looking to add one to your studio space. You may also decide on one or the other based on your piano playing abilities, financial situation, or how much space you have for one. In either case, both should do the job fairly well.
MIDI Compatibility
All of the keyboards we will cover are MIDI compatible, however, should you not decide to go with any from the list, this is still an important thing to factor in. If you're a beginner simply looking to improve your playing ability, this shouldn't matter too much. However, if you think you'll make the jump and include it in your beat-making process, this is something you may want. On this note, you will also want to make sure it has the ability to connect to a computer.
Quality
You want to use a keyboard that will not only work well but feel nice. Things like weighted keys, are a nice touch as it gives you that "authentic piano feeling". You may also want to look out for other elements, like its durability, composition, the sensitivity of the keys, and how they respond. Ultimately, you want something you will enjoy using for hours on end.
Brand
This doesn't matter entirely to some people, but it can matter to others. If you have a trusted few brands you go with, you may have some bias or preference towards how they make their MIDI keyboards.
Additional Features
Keyboards these days come with some pretty neat additions that allow producers and beat-makers alike to get the most out of their MIDI controller. For instance, some keyboards also function with a built-in launchpad, which is great for messing around with chopped samples and making beats. They may also come with a modulation wheel, buttons to change octaves, faders, arpeggiators, and more.
The 10 Best Beat Making Pianos For Producers

Closeup of a MIDI keyboard, showcasing its various knobs and sliders.
Now that we have defined some of the most important features to look out for in a MIDI keyboard, let's go over some of the best MIDI keyboards on the market.
1. Akai Professional MPK Mini MKII
The wildly popular Akai Professional MPK Mini MKII is great for travel, as it's reasonably light in weight, and contains only 25 keys. The built-in drum pads are a nice feature, making it useful for beat-making hands-on. It also has an arpeggiator and note-repeat feature that might be desirable for some. Its endless encoders allow you to jump around and tweak different effects and instruments, as it will always match what's in your DAW. On top of all of that, this keyboard is fairly cheap to buy, giving you a lot for so little, making it excellent for beginner beat-makers and producers.
Now to the negatives, the first being that there is no play/stop and record functionality, which may be a deal-breaker to some. Furthermore, the mod wheel is replaced by a joystick and might feel a little awkward. Another downside involves the keys themselves. Some might find them uncomfortable for long usage, but they aren't too bad in comparison with other MIDI keyboards on the market.
Despite its shortcomings, this keyboard still remains one of the most popular keyboards on the market today.
2. Novation Launchkey Mini MKIII
My first keyboard was a Launchkey Mini, so it carries a soft spot with me. However, to no surprise, many others feel the same way. First off, the Novation Launchkey Mini MKIII has 25 keys, and as in the name, it's sort of a blend between a MIDI keyboard, and a drum pad making it fairly versatile. To the left of it, you'll find that it has a pitch and mod strip. It contains play/stop and record buttons, which may be desirable if the former MIDI in this list didn't quite cut it for you. If you like the idea of having an arpeggiator, it comes with that as well. Finally, it has the functionality to help you build chord shapes up and down the keyboard with ease with its "fixed chord" feature.
Now, a downside to the keyboard is that it's missing an adapter that you'll need to purchase separately. Another downside is that it typically doesn't come with a manual to help you understand how to use it. This may be frustrating for new users who have never owned a MIDI controller before, however, there are a lot of sources online that can help you figure this out. If you're tech-savvy it's fairly simplistic.
Something you can appreciate about this MIDI controller is it's not clunky or overly complex, everything for the most part has its own home and it feels nice to navigate with. This MIDI keyboard was built with the thought of Ableton Live at the forefront, however, it's fully integrated with other DAWs like Logic, Reason, and Cubase. With all of these good qualities in mind, the best part is the price, as it's fairly cheap and reliable.
3. Native Instruments Komplete Kontrol M32
Fully integrated with Native Instruments software, the Native Instruments Komplete Kontrol M32 seems to only get better with each release. It contains 32 keys, making it slightly bigger than the aforementioned models, including a nice pair of pitch and mod strips on the side. It also contains an OLED display, giving additional info when you're turning different knobs, and cycling through presets. You'll also be happy to know that it's compatible with a lot of the more popular DAWs like Logic, Cubase, and Ableton Live.
This keyboard is pretty simplistic, which happens to give it quite a few shortcomings when you compare it to other models. For instance, it's missing arpeggiators, chord building, and scale options. It also doesn't contain any pads, however, you may still use the keys for this, but it might not feel the same. It's also a pretty sizable keyboard, which makes it hard to travel with, but not impossible. Finally, while it might not be overly pricey, much of what you're paying for involves the integration of Native Instruments software, which may cost you a lot more than the keyboard.
4. Akai Professional MPK249
If the Akai Professional Mini sounded somewhat appealing to you, then perhaps this pricier model will be a better fit. The Akai Professional MPK249 contains 49 semi-weighted keys, and 16 velocity-sensitive drum pads, excellent for beat-making. It also contains a control screen, helpful for navigating your way around different settings. As with the formerly mentioned keyboards, it has a pitch bend and a mod-wheel on the side. It also has panning potentiometers (pan pots), displayed right above the faders. Finally, there is an arpeggiation function as well, just as its miniature version had. A bonus feature, something you can typically expect from Akai, is additional software giving you access to new sounds for your use and enjoyment.
The Akai Profesional MPK 249, might feel a little unnecessary to some, as there are many features that help control your DAW which may seem a little redundant. It may be a little more pricy than the other keyboards mentioned prior to this one, however, it offers a lot of bang for your buck.
5. Korg KRONOS2
If you're after something expensive and powerful, then look no further. Many hip-hop producers highly regard this absolute beast of a keyboard. The Korg KRONOS2 contains 88 keys that are weighted and velocity-sensitive. It has a built-in touch screen for recording, sampling, EQ, and navigating different presets, all of which can be edited. It also contains a joystick controlling pitch and modulation, which to some may or may not be enjoyable. Furthermore, it's very durable as its casing is made of steel. And why not? It's very high-quality and expensive, it's better that it stays protected.
There are very few downsides when it comes to this MIDI keyboard, but one glaring issue is its size making it hard to travel with it. The other issue regarding that is that you will likely want to anyways! Other notable downsides of this keyboard involve the touchscreen and things that should be added or improved with the overall built-in software giving the user more customization.
6. Alesis VI61
The Alesis VI61 has 61 semi-weighted pressure-sensitive keys, allowing for a lot of musical expression when played. Furthermore, it includes 16 pressure-sensitive drum pads, 48 buttons, and 16 knobs, all of which are assignable. It also features multicolored LEDs on the pads and backlit buttons and knobs that might help if you're playing in a darker environment. The best part about the MIDI keyboard is it's easy to pick up and surprisingly affordable.
There really isn't much you can say that isn't positive when it comes to the Alesis VI61. You may not be a fan of the modulation and pitch wheel's placement, however, it's a very solid choice as far as keyboards go. You'll want to ensure that you have the space required for it if it's one you're going to buy.
7. Novation SL MKIII 61
The Novation SL MKIII 61 is a very refreshing model within this list. It can be purchased in two forms, 49 keys, and 61 keys, all of which are semi-weighted and pressure-sensitive. What's also great about the keys is that they feel comfortable, which is great for long sessions in the studio. It features an eight-channel sequencer, which allows you to do some really creative stuff. There's also an arpeggiator and scale mode, which guides you to the appropriate notes based on the scale of choice.
This may matter to some, but the keyboard relies on a power adapter plugged in from the back, as it's not USB-powered. Lastly, even though this keyboard holds a lot of potential, it is still fairly expensive.
To see this MIDI keyboard in action, I highly recommend checking out this video review on it:
8. Nektar Impact LX25+
For a very affordable price, the Nektar Impact LX25+ is capable of competing with more recent MIDI keyboards on the market. Of course, it's not as powerful as the KRONOS2, Novation SL MKIII, or the Yamaha Montage 8, which we'll get to soon, but it does its role fairly well.
This keyboard ticks off a lot of the essentials a beat-maker who is starting out would strive for. It features 25 full-size keys, drum pads, 8 knobs, play/stop, and record buttons, an arpeggiator, as well as pitch and modulation wheels. The best part is that it's small, making it great for beat-makers and producers on the go.
The age on the Nektar Impact LX25+ is starting to show as newer models of MIDI keyboards come out. In fact, they made a new and smaller version called Nektar Impact LX Mini that has more options and functionality, which is also worth checking out.
9. Roland FA 08 – Music Workstation
The fully-weighted 88-key Roland FA 08 does it all. Between 6 knobs you have 4 tweakable parameters for your sounds; these can be anywhere from EQ, resonance, cutoff, attack.. etc.
It also features a very powerful 16-track sequencer and a built-in screen for navigational purposes. It has the very desirable drum pad, which has become something of an industry-standard on most MIDI keyboards you see today.
This MIDI keyboard is very expensive, which may be offputting to newcomers. It doesn't include a touchscreen, or use allows the use of a common power supply. Furthermore, the drum pads aren't velocity-sensitive, which may also be a disappointment for beat-makers.
10. Yamaha Montage 8
We have saved the best for last. The Yamaha Montage 8 raises the bar, putting most other MIDI controllers to shame. This 88-key, full-weighted, balanced hammer action keyboard is in a league of its own. It features "motion control", allowing for unique and original sounds to be made. It's not only the feeling that you get when you play it but the wide and full sound it produces, which can satisfy the ear in unbelievable ways.
It may be hard to get your hands on one, given that this is the most expensive MIDI controller on this list, however, here is a video demonstration of the Yamaha Montage 8 in all its glory:
Types of MIDI Controllers

Closeup of a DJ Controller, showcasing all of its different features.
We've covered a ton of excellent MIDI keyboards that can enhance the beat-making process, however, it doesn't just end at keyboards. There are other types of MIDI controllers that are worth looking into depending on your goals.
Drum Pad
Most modern keyboard controllers have a miniature one built-in, but you'll find that many performers, producers, and beatmakers use one as a standalone MIDI controller. These vary in size and shape but are generally compact and easy to take on the road. Most people think of a drum pad as something to hammer out beats with, but they offer so much creative potential, from sequencing to layering samples on the fly.
Faders
These controllers contain a lot of different knobs and sliders to tweak different parameters within your mix. This can also be used to automate different effects such as filtering, reverb, and dynamics bringing another lively element to your mix, or performance.
DJ Controller
The DJ controller may contain encoders, knobs, pots, faders, play/stop buttons, and jog wheels that provide you with a lot of versatility compared to other controllers. They often come with computer software, so you can get started on making music right away.
You may also find some MIDI controllers that are completely unique like Native Instruments Komplete Kontrol, MASCHINE, and MPC that set new standards functioning as hardware and software.
Conclusion
It can be a lot of fun to have a controller at your disposal. What makes this topic very interesting, however, is that there are so many diverse options, ranging from price, quality, make, functionality…etc. The best part is that technology is always advancing, and with that, you can always expect new additions to arrive in the near future. Even some that fall in a unique category of their own, like the Lightpad by ROLI, Alphasphere by Nu Desine, or the EWI USB.
If, however, the idea of a keyboard interests you, but you aren't confident in your playing ability, you'll be happy to hear that there are programs like Melodics that can help you practice on your keyboard. It can be a fun way to learn, achieve daily goals, and witness your own growth.
Whether you're new to music production or experienced, a MIDI controller is always a welcome addition to every studio.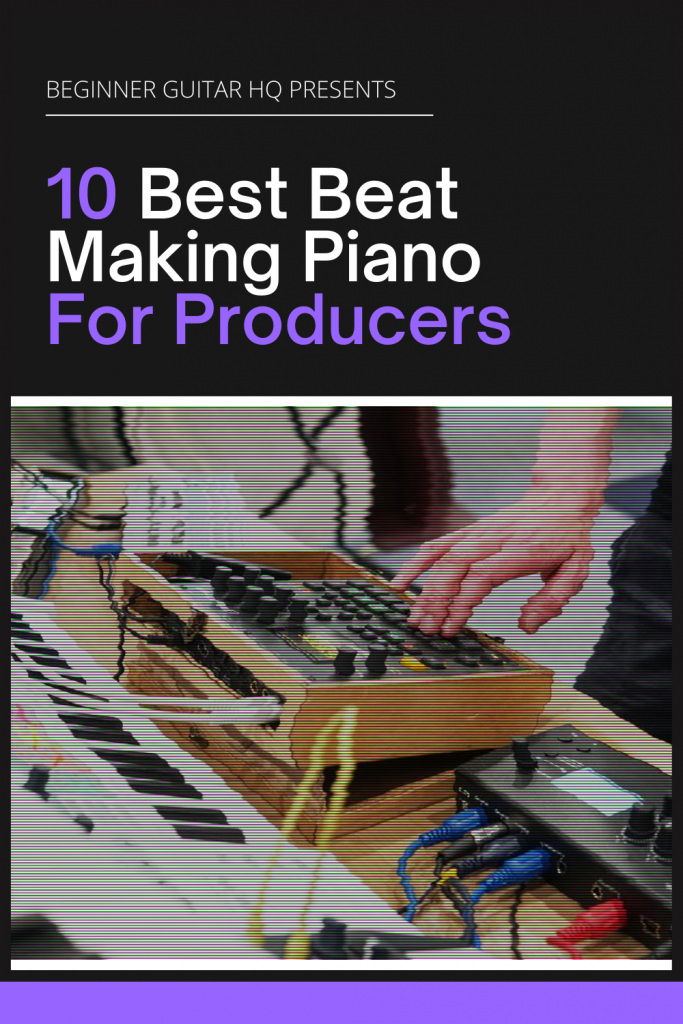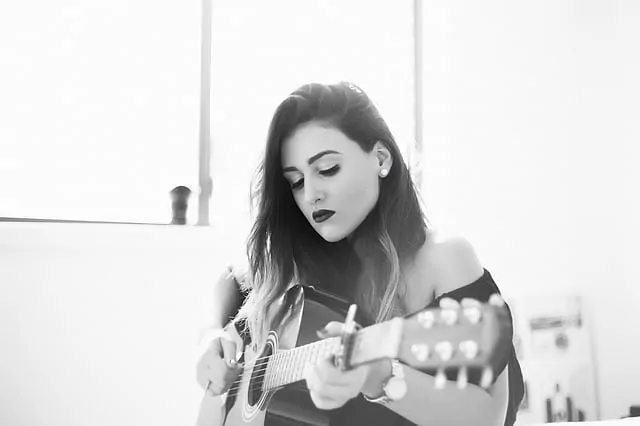 Jen is a guitarist and singer-songwriter who spends much of her time on the road and has lived in 13 cities across 4 continents. She picked up her first guitar at the age of 6 and learned to play by ear shortly after. She received her formal music education at the Berklee College of Music, and currently plays for a few bands in her free time. She has an uncanny ability to improvise creative melodies and harmonies. Her early influences include blues, jazz and rock.