The most beautiful thing about music is that it transcends all boundaries. This is also the case for sex and gender. While you find men and women separated in sports, there is no need for such a distinction when playing an instrument. A man can play a guitar just as well as a woman and vice versa. However, when I, a 14 year old girl at the time, began playing the guitar I had no female idols. All the guitarists I knew about were men. All great of course, but when I put my first all-female rock n roll band together I began to search for someone more like me. Someone I could see myself in. After some research I found several great guitarists and I can truly say that they inspired me to be a better lead guitarist and play guitar at the higher level.
This article will have a look at female guitarists throughout history and hopefully they will inspire you just as they have inspired me.
Mother Maybelle Carter
Mother Maybelle Carter guitar playing her invented form of playing "The Carter Scratch".
If you do not know Mother Maybelle Carter you do now. She was the female guitarist in The Carter Family, a country band. Maybelle is most famous for her guitar skills but also played harp and banjo.
One thing that will set her aside from the rest is that she invented a form of playing the guitar called the Carter Scratch. To mimic her style of playing you use your thumb to play the melody on the top three strings and your index finger to play the rhythm on the lower strings. Her playstyle came to be the inspiration for many lead guitarists as it showed guitar was not simply a rhythm instrument.
Maybelle began playing guitar at the age of 13 at a time where there were few, if any, nationally known female guitarists. Her title as 'Mother Maybelle' came from her influence on country music and taking on the mantel as inspiration for many female guitarists to come. Being the inventor and adapter of different playstyles she sure has inspired me.
Sister Rosetta Tharpe
Sister Rosetta Tharpe playing a guitar solo in front of a gospel choir.
I challenge you to find a cooler lady than sister Rosetta Tharpe. Paving the way for electric blues, she is a female guitarist who played her electric guitar with heavy distortion and was praised with titles such as "the original soul sister" and "Godmother of rock and roll". In 2007, 32 years after her death, she was given a well-deserved place in the Blues Hall of Fame.
Mixing gospel with the electric guitar, she created a distinct sound which transcended boundaries. No matter what venue, Rosetta Tharpe would play her religiously inspired music. She played in both nightclubs and large concert halls bringing her sound to a mainstream audience.
For her heavy distorted gospel sound, sister Rosetta Tharpe has been a source of inspiration for many great artists such as Johnny Cash, Chuck Berry, Elvis Presley, Tina Turner, and Aretha Franklin. Hopefully, her guitar riffs will inspire you too.
Lita Ford
Lita Ford with her band Kiss Me Deadly.
The Runaways was a source of inspiration for me when I began playing in my all-female rock band, and as such by extension Lita Ford became one of my guitar idols. Despite her influence being mostly tied to the sensationalism of the Runaways, Lita managed to stay relevant even after the band's break up. With a solo career and her band Kiss Me Deadly, Lita showed that she was a musical force to be reckoned with, both writing songs and singing on top of playing guitar.
With her rock and roll attitude and playstyle, she has inspired many guitarists in the genre, if not for her skills then for being a female punk and rock icon.
Most recently, Lita Ford created her own brand of guitars called Lita Ford Guitars and as someone who has constantly seen signature guitars made for male guitarists, I am happy, and inspired, to see a whole brand created in her name.
Nancy Wilson
Nancy Wilson playing the song "Dreamboat Annie" with her band Heart.
Together with her sister Ann Wilson, Nancy played guitar in the rock band Heart where she earned recognition for her playstyle which was a mix of hard rock, classic guitar, and flamenco. Ranked as one of the greatest female guitarists of all time by Gibson, Nancy has proven her skills even to her own band members who were at first reluctant to include her in the band due to disbelief in her abilities.
With her band in the Rock and Roll Hall of Fame as well as a star on the Hollywood Walk of Fame, Nancy has been an inspiration to me not only because of her guitar skills but also because of what she provided musically as a guitarist in her band; from songwriting to her incorporation of different genres.
Sharon Isbin
Sharon Isbin performing classical guitar.
So far this list has contained country, gospel, punk, and rock, Sharon Isbin will introduce the classic guitar. Not only has she performed with over 200 orchestras but is also the founder of the Guitar Department at the Julliard School.
As a child, her father told her to practice guitar one hour everyday if she wanted to launch her model rockets. Thanks to this, she is now a winner of several Grammys on top of being a respected classical guitarist.
Inspiring several students at Julliard, she can be a source of inspiration for you too as she has written a book called Classical Guitar Answer Book which will help you become a better classical guitarist. 
Yvette Young
Yvette Young sharing a video of her playing the guitar on her Youtube channel.
This list has been filled with influential female guitarists throughout history, therefore to end it off, I wanted to include a guitarist that is making her history today.
When I first heard a song from her band Covet, I was impressed with the note plucking and tapping of the guitar melody and had to look up the guitarist. Luckily, Yvette Young has her own youtube channel where she shares videos of herself playing guitar alongside videos of her band.
Her style of plucking and tapping is a style shared by many guitarists but her execution and songwriting with this particular playstyle is what at least I consider inspirational.
Finding your inspiration in history
There are many more great female guitarists out there such as Joni Mitchell, Joan Jett, Annie Clark (aka St Vincent), Bonnie Raitt, Kaki King, Ana Popovic, Marnie Stern, Ernie Ball, Carrie Brownstein, Susan Tedeschi and Carlos Santana but these are a few who might provide you with the inspiration you need to stay motivated through the exercises. Know that these women too were once beginners just like you and had to learn the same things as you are learning now. Once they had never held a guitar before, once they struck their first chord, and once they knew nothing of notes and scales. However, today they are all remembered and admired for their tenacity and skill. Some call Sharon Isbin a great talent, but she spent an hour everyday practicing which I think is better called hard work. If you follow in these women's footsteps you too can make a list similar to this in the future.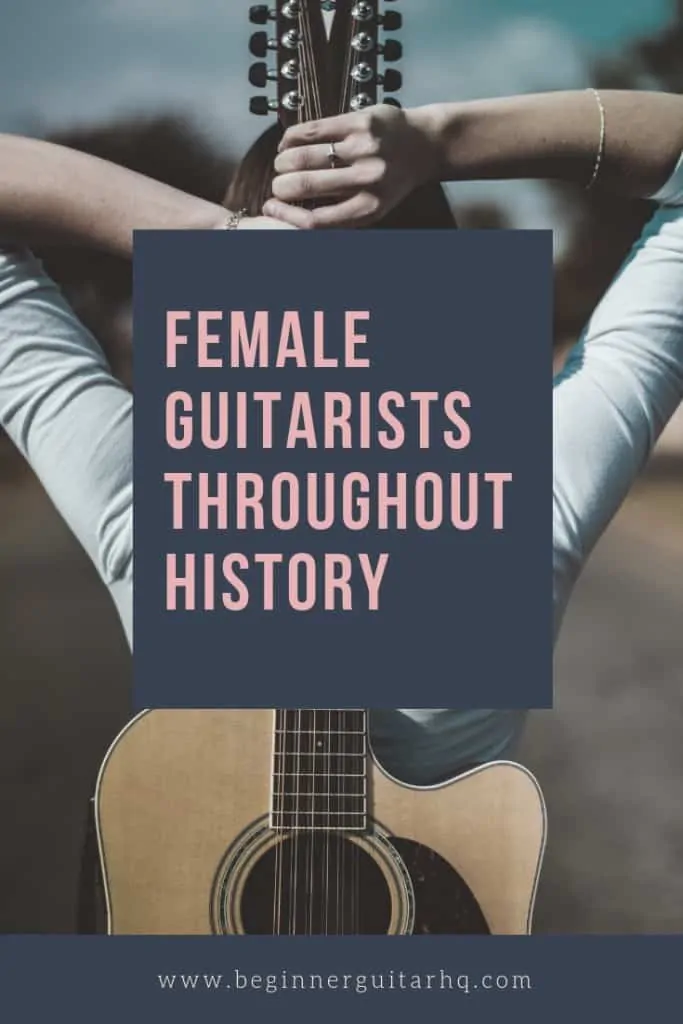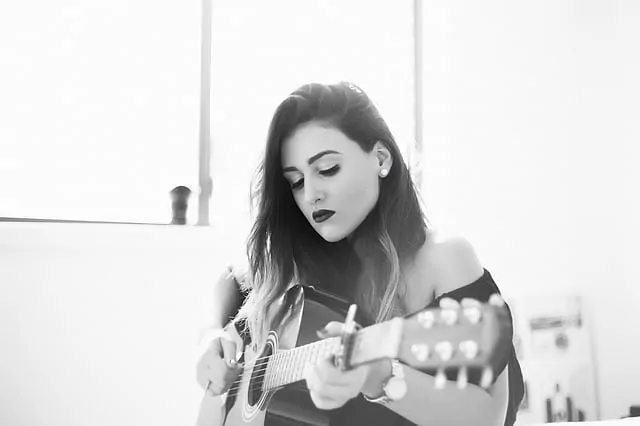 Jen is a guitarist and singer-songwriter who spends much of her time on the road and has lived in 13 cities across 4 continents. She picked up her first guitar at the age of 6 and learned to play by ear shortly after. She received her formal music education at the Berklee College of Music, and currently plays for a few bands in her free time. She has an uncanny ability to improvise creative melodies and harmonies. Her early influences include blues, jazz and rock.