Looking for the best female drummers? Personally, I don't believe a distinction has to be made between genders when it comes to skill levels. But to be fair, drummers of the fairer sex are in the minority and these women are amazing at their craft. I love the drums. I have so much respect for drummers, it takes an immense amount of skill to coordinate all four limbs like that. The few times I've been behind a drum kit have been fun, but very challenging.
So hats off to those women who are kicking butt out there. Of course, there are so many more awesome female drummers, but you'd be reading for a very long time if I put all of them on the list.
So here are the top 26 female drummers, in no particular order, to inspire you. Some of them have played across various genres and for different bands and artists, whilst others play for specific bands and artists.
Cindy Blackman Santana
Playing across genres that include rock, pop, reggae, funk, jazz, and funk, Cindy Blackman Santana has played for the likes of Lenny Kravitz, Joss Stone, Pharoah Sanders, her husband Carlos Santana, and she was a member of the band Spectrum Road. Clearly, she's a very talented drummer with excellent technical skills and a good dose of creativity.
Terri Lyne Carrington
Not only is Terry Lyne Carrington a Grammy Award-winning drummer, but a singer, composer, record producer, entrepreneur, activist and educator too. She originally started on the piano before learning to play the drums too. What's more is that she started playing professionally at 10 years old already. Mostly a jazz drummer, she's played with Clark Terry, Quincy Jones, Herbie Hancock, and on Arsenia Hall Show.
Akane Hirose
Part of the all-girl band, Band-Maid, Arkane Hirose is a highly skilled drummer within the rock genre. While the outfits are all cutsie, that doesn't at all reflect her skills. One of the things she set out to do was to break the stereotype that girls can't play rock or play their instruments. That said, she and her band love to do interesting things that often make Band-Maid sound unique. She also plays trombone and piano too.
Hannah Ford-Welton
Another award-winning drummer with an early start, Hannah Ford-Welton started playing professionally at 12 years old in a blues band along with her father, a trumpeter. Since then she's played across various other genres, spanning from rock to jazz. Most notably, she's been a part of Prince's band, 3rdeyegirl. She's also played for Bellevue Suite and started The Hannah Ford Band.
Sheila E
Starting her professional drumming career at 17 in the 80s with Prince, Sheila E (Sheila Escovedo) has been in the industry for decades. Even earlier than that, at the tender age of 5, she performed in front of 3000 people with her dad, also a percussionist. Wow! No surprise that so many call her the "Queen of the Drums". She's also a singer, songwriter, author, and humanitarian.
Nikkie Glaspie
Yet another lady who played for Prince, Nikkie Glaspie started playing drums at only 2 years old! By 15, she was getting paid to play. She's also played for Beyoncé, Martin Luther, Cee-Lo Greene, Brenda Russell, and Pharoah Monch. With her skills, she plays across genres like rock, fusion jazz, hip hop, R&B, and funk. In addition to being a gigging musician, she also offers lessons.
Anika Nilles
Getting her start to fame on YouTube, Anika Nilles has gained millions of views over the years. Not every skilled musician plays with bands and artists on stages. She's been playing since the age of 9 before finally making her debut in 2013 on YouTube. She also composes and teaches. Keep your eye on this one, she's on a roll.
Senri Kawaguchi
Another up and coming drummer, Senri Kawaguchi is quickly gaining traction in the drumming world. She's played with musicians like David Sanborn, Lee Ritenour, E-girls, and Bootsy Collins. In addition to her solo career, she is also part of the band Triangle.
Dottie Dodgion
Sadly, Dottie Dodgion is no longer with us as of September 2021, but this jazz singer and drummer shared the gift of music since the 60's. She played until the age of 90! Although she was an almost forgotten drummer, many fans will remember her passion for the drums and jazz and as a wonderful performer. She played with artists like Benny Goodman, Ron Carter, Marian McPartland, Jerry Dodgion, and Ruby Braff.
Karen Carpenter
Another drummer that is no longer with us, Karen Carpenter died way too young at only 32. But by then she'd already established herself as a singer and drummer with a lot of talent. She formed part of the group, The Carpenters where she sang and played drums. Although she received more acclaim as a singer, clearly she could hold her own when it came to setting the groove on the drums.
Nandie Bushell
At only 10, Nandie Bushell has garnered the attention of plenty of big names. This prodigy plays a lot of covers on YouTube that have impressed musicians like Flea, Lenny Kravitz, and Metallica. She even had a battle with Dave Grohl of the Foo Fighters and had the privilege of playing the drums for Everlong at one of their concerts. She's also worked with Tom Morello on a song about climate change.
Bobbye Hall
Bobbye Hall is a percussionist that has had a prolific career. She has played with Stevie Nicks, Bill Withers, Marvin Gaye, Carole King, Stevie Wonder, and Pink Floyd. Her speciality is Latin percussion, providing extra flavor to the music. Various songs that she's played on over the years have reached the top 10 in the Billboard Hot 100, including Lean on Me, Me and Bobby McGee, Let's Get it On, and Ain't No Sunshine.
Viola Smith
Viola Smith is thought to be one of the first professional female drummers. So full of life, she passed away at a 107! Her drum kit was large and heavy, and she favored the toms quite a bit which suits that swing style that the Couquettes, an all girl band she was part of during world war two, were famous for. She's played with Ella Fitzgerald, Chick Webb, and the NBC symphony orchestra and at President Truman's inauguration.
Georgia Hubley
One of the founding members of the indie band Yo La Tengo, Georgia Hubley is adept at pounding out energetic rhythms as well as gentle brush work. This band has been around for over 30 years. These years have given her time to develop an interesting style, that is simple yes, but has that little something about it. They've appeared on David Letterman, Conan, and McEnreo among others.
Marilyn Mazur
Marilyn Mazur is a percussionist that plays a variety of percussion instruments, including a conventional drum kit. She is also trained in piano and dance and joined her first band as a pianist and singer. In the 80s she toured with Miles Davis as a drummer and has played in various groups in the US and Scandinavia. More recently, she is part of Shamania, an all-women group of musicians from Scandinavia.
Pauline Braddy
Before Sheila E was the Queen of the Drums, Pauline Braddy held the title. She was one of the first African-American female drummers. Some of her most popular work was in the 40s in the all-female swing band called the International Sweethearts of Rhythm that performed for the troops. After she left the band she played for Two-Plus-One, Vi Burnside All-Stars, and the Edna Smith Trio.
Jess Bowen
Jess Bowen is best known as one of the founding members and drummer of the Summer Set. As part of the band she's played some major gigs and festivals including the Warp Tour, iHeart Radio Music Festival, the Slam Dunk Festival. She's also played for Dia Frampton, 3OH!3, Thomas Ian Nicholas, and Tessa Violet. Check out her podcast, Babes Behind the Beats.
Allison Miller
A three-time jazz ambassador for the U.S. State Department, Allison Miller is certainly well-known in jazz circles. She's an award-winning drummer, composer, and teacher. She was the 2019 Monterey Jazz Festival's in-house musician. Allison has also played for Sara Bareilles, Brandi Carlisle, Toshi Reagon, and for Late Night with Seth Meyers.
Taylor Gordon
Also known as "The Pocket Queen", Taylor Gordon has performed with Stevie Wonder, Beyonce, Michelle Williams, Daya, and on Late Night with Seth Meyers. On her YouTube channel, you can see her technical skills in action as she does covers of popular songs across genres. She also shares tips and tricks to help other drummers along in their musical journey.
Susie Ibarra
A percussionist, Susie Ibarra loves to explore different sounds and ways of producing rhythm. She plays a range of percussion instruments and has a very unique sound. Not just a performing artist, she's also a teacher and involved in raising awareness about nature conservation through music. She's performed with artists like Bridget Kibbey, Brian Chase, and the PRISM Saxophone Quartet.
Emanuelle Caplete
Emanuelle Caplete is an award-winning drummer with a degree in percussion. She's been performing since she was 9 years old starting in the local drum and bugle corps in Quebec. She's played with Circa Zero, Stephane Rousseau, and for composer Michel Cusson in his troop, Cavalia. She also has drum tutorials on her YouTube channel.
Meg White
Many people would argue that Meg White doesn't belong on this list, but honestly, while she didn't play all flashy, and to be fair, just because you don't play flashy, doesn't mean you suck, she could hold her own. Her drumming really drove the music, perfectly complimenting Jack White's singing and guitar playing. Fans of the White Stripes and Meg White will definitely agree.
Moe Tucker
Another minimalist player, Moe (Maureen) Tucker is considered to have been ahead of her time. At the time, her style of drumming was quite unique. She played for the band, The Velvet Underground which many a teen and young adult used to listen to back in the 60s and 70s. She was also a singer and songwriter and is entirely self-taught on the drums.
Camellia Akhami Kies
An military veteran, Camellia Akhami Kies studied in the Navy School of Music and served in the US Navy Fleet Band as a drummer for 6 years. Now she has her own YouTube channel and runs a business called Beach Drum Shed ™. Her sound is unique and she uses a hybrid drum set to achieve it. She not only performs, but teaches on her channel too.
Honey Lantree
Honey Lantree was the drummer for the rock and roll band, The Honeycombs. In that era, it was a rarity. According to her friend, Martin Murray and boss who was a part-time session musician, she asked if she could have a go on the drums which were set up in his rehearsal space and upon his agreement, she played as if she was born to play the drums.
Cora Coleman Dunham
An accomplished percussionist and award-winning drummer, Cora Coleman Dunham has played with artists and bands like Prince, P!nk, Il Divo, and Zac Harmon. She got her start in high school where she played in the marching band and played at church and has moved onto the international scene where she's known as one of the best.
Conclusion
If you're a female drummer, aspiring or well on your way to becoming one of the best, I hope this list has inspired you. As I mentioned before, there are so many talented lady drummers out there, many of whom aren't on this list. But these ladies have either shaped history or are in the process of shaping history with their skills.
To be part of such a huge legacy is a special thing. Even if you aren't a drummer per se, but just like me, you really appreciate a good drummer, it's just awesome to see sisters doing it for themselves! I for one, when we move into a bigger place, want a set of drums and then I too one day hope to be a part of this legacy.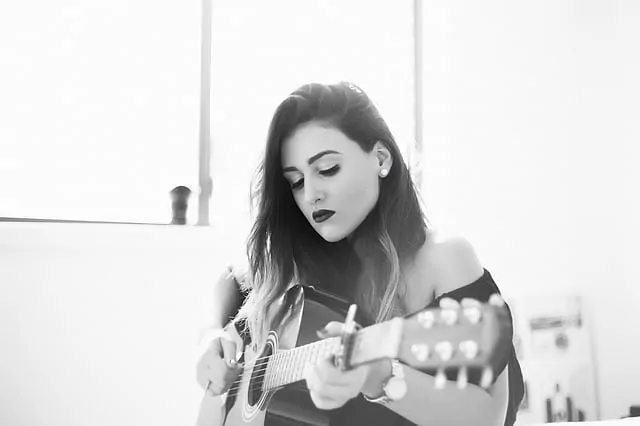 Jen is a guitarist and singer-songwriter who spends much of her time on the road and has lived in 13 cities across 4 continents. She picked up her first guitar at the age of 6 and learned to play by ear shortly after. She received her formal music education at the Berklee College of Music, and currently plays for a few bands in her free time. She has an uncanny ability to improvise creative melodies and harmonies. Her early influences include blues, jazz and rock.