Becoming a parent changes your life forever. It gives you a new reason to live, thrive, fight, and succeed. It shows you another aspect of true love. It forces you to be as responsible, clean, and thoughtful as you've ever been.
The relationship between fathers and sons can also be tough, time-consuming, and, at times, unrewarding. Perhaps you always have the best intentions, but not a clear idea of what you need to do in any particular situation. You can only try your best and guide them through health, happiness, and fulfillment during the stages of their lives when they most need you.
So, for the special bond you have created with your children, we've compiled a list of the best 40 songs about songs. From ballads to bangers, we aim to make you proud of what you are and to help you feel sure that being a parent is one of your most important goals and endeavors.
Best 40 Songs About Sons Across Different Genres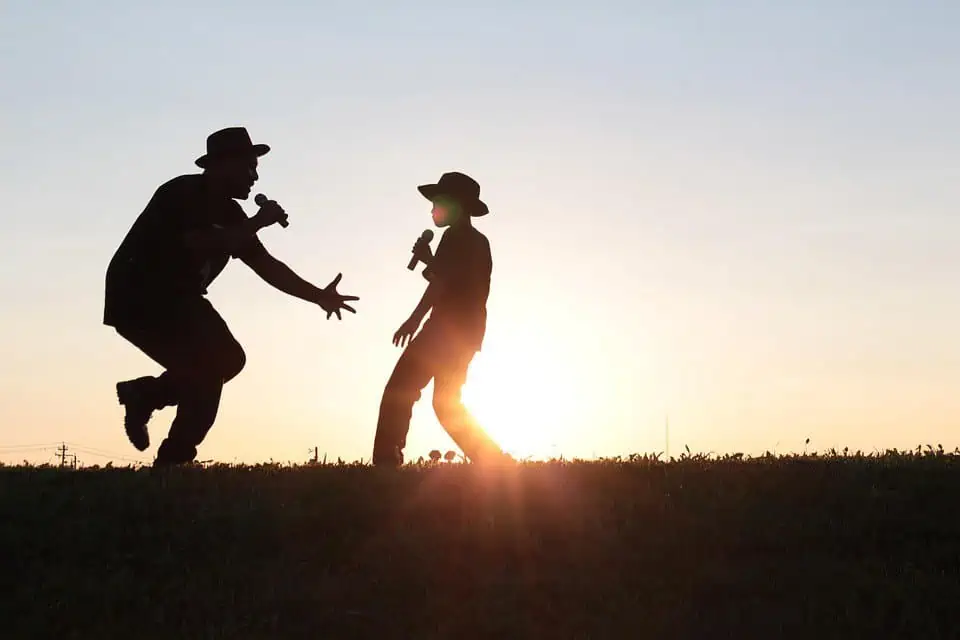 These are the songs you'd want to sing to your children.
We choose the songs by combining the success, emotion, lyrics, and popularity of each. We also added our recommendations to trim down the selection.
Also, we chose hits depicting the relationship between parents and children from the perspective of the adults, as well as the perspective of the kids.
Not all of the songs are going to be positive, though. Some musicians have a darker view of life and difficult upbringing that shapes the lyrics and stories they tell.
Let's also remember a quote from author Mark Twain: "At 15, I realized my father knew nothing. At 21, I was surprised at how much he had picked up over the last few years."
Lastly, if you want to play these songs, we're sharing the tabs for most of the tracks we picked.
Without further ado…
"Isn't She Lovely" – Stevie Wonders
"I can't believe what God has done
Through us, he's given life to one
But isn't she lovely, made from love"
Steve Wonder released "Isn't She Lovely" in 1976. The musician and iconic pianist wrote the hit to commemorate the birth of Aisha, his daughter. The original recording features a recording of baby Aisha's bath time, although the record we shared does not.
The song is part of the Songs in the Key of Life, Wonder's 18th studio album. The studio record had two discs, and each disc had music on its two sides. The song in question was the initial record on side 3
The album debuted at #1 on Billboard Pop Album Charts on October 8, and it won the Album of the Year Grammy Award. It's also Wonder's best-selling and critically acclaimed studio record.
"A New Day Have Come" – Celine Dion
" I was waiting for so long.
For a miracle to come"
Rene-Charles, Celine Dion's first son, was born in 2001. Then, the singer and songwriter released this song to commemorate his child in 2002. It debuted in his 7th studio album, which had the same name as the single ("A New Day Has Come"). The song's composers are Aldo Nova and Stephan Moccio.
As other songs in the album say, a new child gave her a new perspective. She became all too aware of her shortcomings, and she was ready to dedicate her time to helping the boy through the struggles of life.
"With Arms Wide Open" – Creed
"With arms wide open under the sunlight
Welcome to this place, I'll show you everything"
"With Arms Wide Open" was an absolute rock hit. It debuted in the year 2000 as the third single for Creed's second studio album, Human Clay.
The power ballad became the band's first song to top the Billboard Hot 100 charts. It also gave the band a Grammy Award for Best Rock Song. Despite what you may think of Creed (perhaps it's repetitive or cheesy to your taste), it's hard to deny the beauty of this slapper.
Lead singer Scott Stapp wrote the lyrics when he found out he was going to be a father. So, the song is about a father getting ready for a newborn child, ready to receive the baby with "arms wide open." It's quite wholesome.
"Tears in Heaven" – Eric Clapton
"If I saw you in heaven
Would it be the same?"
Legendary musician Eric Clapton recorded the song to honor the death of Conor, Claptop's 4-year-old son. The song debuted in Rush, a 1991 film. In 1992, Clapton played it for an MTV Unplugged concert, so it's part of Clapton's Unplugged album.
The song became a best-selling hit for the artist, and it won three Grammy Awards. Lyrics-wise, it's a song full of pain and sorrow, but it has a glimmer of hope, because, eventually, he could find his son in heaven.
"My Little Love" – Adelle
"I'm holding on (barely)
Mama's got a lot to learn (it's heavy)"
Adele released "My Little Love" on 2021's "30," her fourth and latest studio album. This is an appeasing R&B track featuring a real-life conversation between a mother and a child, and lyrics depicting how Adele feels vulnerable, lost, and in love with her role as a mother.
The song is open to interpretation, though. Others can feel it's a call to your inner child, and you could feel it's an ode to lost family members.
"I Hope You Dance" – Lee Ann Womack
"Promise me that you'll give faith a fighting chance,
And when you get the choice to sit it out or dance."
Mark Sanders and Tia Sillers wrote the song, whereas Lee Ann Womack and Sons of the Desert recorded it. That makes this a "crossover" country-pop hit, and it debuted in 2000.
The song debuted at #1 on the Billboard Hot Country Singles & Tracks, as well as the Hot Adult Contemporary Tracks Billboard chart. You may consider it the most important Womack song.
The lyrics follow a mother talking to her son. The mother hopes the son learns to live with hope, braveness, and righteousness. At the same, "I hope you dance" is the mother hoping for the son to https://beginnerguitarhq.com/happy-birthday-guitar-chords/.
"Watching You" – Rodney Adkins
"He said I've been watching you dad, ain't that cool
I'm your buckaroo, I wanna be like you"
Rodney Atkins released the country-pop song "Watching You" in September 2006. It's a single from "If You're Going Through Hell;" his second studio album. It became a #1 single in US charts.
The song follows a nourishing relationship between a father and a son. The father sets examples for his child as they spend time together.
"Butterfly Kisses" – Bob Carlisle
"There's two things I know for sure
She was sent here from heaven
And she's daddy's little girl"
"Butterfly Kisses" debuted in Carlisle's third studio album, "Butterfly Kisses (Shades of Grace)," in the year 1997. It debuted to great success and won a Grammy award.
This is a sweet song a father sings to a daughter as she grows, becomes an adult, and flies to freedom like a butterfly.
"You're Gonna Miss This" – Trace Adkins
"Before she knows it she's a brand new bride
In her one-bedroom apartment, and her daddy stops by"
Tracy Adkins recorded the song, but songwriter Ashley Gorley composed it. The country star chose to sing it because he felt it resonated with him, as he has five daughters.
The song was released as an original single on the 2008's compilation album "American Man: Greatest Hits Volume II." It became the most successful hit for the artist, as it peaked on Billboard Hot Country Songs, as well as Billboard Hot 100.
"You're Gonna Miss This" talks about a father watching a child grow up and become an adult. It says that, even if kids want to grow up fast after they grow up, they will miss the times they were a baby. At the same time, a parent will always see their child as a baby.
"Simple Man" – Lynyrd Skynyrd
"Oh, take your time, don't live too fast
Troubles will come and they will pass"
Classic rock & roll band Lynyrd Skynyrd also had some slow songs on their repertoire. "Simple Man" is one of these, a song the band wrote to commemorate the death of the singer's grandmother.
The song debuted in 1973 as a single for the band's debut and homonymous album. As for the story, it's a mother talking to a son, and teaching him to become a good man.
"Father and Son" – Cat Stevens (also known as "Yusuf Islam" or "Yusuf")
"I was once like you are now
And I know that it's not easy"
"Father and song" is a classic rock ballad about the relationship between father and son, following dreams, and supporting your family. It debuted in the 1970's "Tea for Tillerman," his fourth studio album.
Cat Stevens wrote it as a tribute to his father, and it works as a conversation. When the artist was young, his family expected him to work at the family restaurant, but he decided to become a musician instead. The father respected and supported his decision, as he had a similar dream when he was young.
"The Mother" – Brandi Carlile
"All my rowdy friends are out accomplishing their dreams
But I am the mother of Evangeline"
Brandi Carlile is a much smaller artist than others on the list, but we still consider this song one of the best of its kind. It's a gorgeous country ballad with lyrics that can tear up your eyes.
It's a motherhood she dedicated to Evangeline, her daughter. It's an honest take where she talks about how she would not trade anything, not even dreams, money, success, or time, for the new love she's found.
"Beautiful Boy (Darling Boy)" – John Lennon
"I can hardly wait
To see you come of age
But I guess we'll both just have to be patient"
John Lennon composed and recorded the song to honor Sean, his second son and only child with Yoko Ono. It's a soothing ballad where the musician described the love he felt for Sean day in and day out.
Celine Dion, Ben Harper, and other artists helped him record the song in 1980. Paul McCartney declared it one of his favorite Lennon songs in 1982.
"Cat's in the Cradle" – Harry Chapin
""When you coming home, dad?" "I don't know when"
But we'll get together then
You know we'll have a good time then"
"Cat's in the Cradle" is a folk rock hit by Harry Chapin. It debuted on his 1974 "Verities & Balderdash" album, his 4th studio record. The song was included in the Grammy Hall of Fame in 2011, despite not winning a Grammy.
The lyrics tell the inevitable story of a child growing up, moving away, and paying no mind to the father. At the same time, it's the story of a dad that never had the time to hang out with his son. Even so, the two feel nothing but pride and love for each other.
"Boy" – Lee Brice
"But boy, you're gonna love seventeen
And boy, you'll do some stupid things"
Jon Nite and Nicolle Galyon wrote "Boy" for country singer Lee Brice. The song debuted in 2017, on Brice's fourth studio album. The song focuses on raising a teenager, with all of the difficulties, learning, and laughter that includes.
"Just the Two of Us" – Will Smith
"Haha, I wanna kiss you all the time
But I will test that butt when you cut outta line, true that"
Will Smith released "Just the Two of Us" in Big Willie Style, his debut solo album. He took inspiration from a song by the same title from Bill Withers and Grover Washington Jr. He even uses sample voices from the original.
The original version focuses on the bond between romantic partners. Smith's song focuses on the bond between father and son. The lyrics are about the learning process and experience of raising a boy. It's a positive tale depicting good values, joy, and authority.
"Love Without End, Amen" – George Strait
"You see daddies don't just love their children every now and then
It's a love without end, amen"
Aaron Barker wrote "Love Without End, Amen," and country musician George Strait recorded it. The song debuted as the first single of the 1990 album "Livin' It Up." It topped the Hot Country Billboard charts for weeks.
The lyrics depict the never-ending loving of a father to a son. It's a type of love the new father inherited from his father, so it's a family legacy.
"Lullabye (Goodnight, My Angel)" – Billy Joel
"No matter where you are
I never will be far away"
Billy Joel premiered "Lullabye" in his 4th and final studio album, 1993's River of Dreams. The song is a prelude to "The River of Dreams" track, and it uses Gregorian chants as inspiration.
The musician dedicated the song to Alexa Ray Joel, the daughter he had with Christie Brinkley. It's about support, protection, and promising endless company.
"He Gets That From Me" – Reba McEntire
"He smiles that little crooked smile,
There's no denying he's your child"
Steven Dale Jones and Phillip White are the composers of "He Gets That from Me." Reba McEntire recorded the country song, and it was released in 2004 on her "Room to Breath " album, to moderate success.
The song talks about her son, Shelby Blackstock, who's a professional American race car driver. The song talks about how she loves her child, and how she sees, in pride, how Shelby is so alike and so successful.
"Mumford & Sons" – Little Lion Man
"And waste it on fixing all the problems
That you made in your own head"
Mumford & Sons' debut single is "Little Lion Men." It was released on the first studio record, 2009's Sigh No More, and it achieved moderate success.
The lyrics depict a difficult relationship between father and son. There's no love, but there's resentment, anger, and a willingness to fix mistakes.
"Sail To The Moon" – Radiohead
"Maybe you'll be president
but know right from wrong
or in the flood
you'll build an ark
and sail us to the moon"
"Sail to the Moon" is a single from 2003's "Hail to the Thief" album by Radiohead. It has an alternative title: "Brush the Cobwebs out of the Sky."
The song is fairly open to interpretation, but it has references to Noah, the first son of lead singer Tom Yorke.
"I Got You" – Ciara
"And if you're feeling down or weak
Momma's gonna give you all the strength you need"
R&B singer Ciara released "I Got You" to honor her new son, Zahid Wildburn (the father is rapper Future). It's a story of boundless love. The song debuted in Jackie (2015), the musician's 6th studio album.
"Mother" – Pink Floyd
"Mama will always find out where you've been
Mama's gonna keep baby healthy and clean"
"Mother" debuted in 1979 as part of Pink Floyd's The Wall double studio album. The Wall is the band's 11th studio album. It's an experimental rock opera that respects a musical theme and a plot throughout the album.
The plot follows "Pink," a rock star with self-imposed isolation (the "Wall") in Britain after World War II. Pink is also an alter ego of former Pink Floyd's bass player and lead singer, Roger Waters. Waters wrote all songs for the Wall and forged all of the concepts and art behind the album.
Mother studies the difficult relationship with an overprotecting mother. It's a conversation between the mother and the song, where the Mother is helping Pink isolate further from the world.
Good Night – The Beatles
"Close your eyes and I'll close mine
Good night sleep tight"
Good Night debuted in "The Beatles" album, also known as "The White Album." The latter is their 9th studio recording, and it's around the time John Lenon left the band. And because "Good Night" is the last track of the album, it works as an official goodbye to the musician.
However, Lennon wrote this song for Julian, his 5-year-old son, whereas Ringo Star (the drummer) sang it. Star was the only band member to be part of the song, though, as it features orchestration arranged by the album's producer, George Martin.
"Monsters" – James Blunt
"I'm not your son, you're not my father
We're just two grown men saying goodbye"
James Blunt's "Monsters" debuted in 2019 on Blunt's 6th studio album, "Once Upon a Mind." It tells the story of Charles, his father, and a former Life Guard in Bosnia. Charles also earned a distinction as a cavalry officer in the country's Royal Hussars, and as a helicopter pilot.
Charles suffered from kidney disease, though, which is the inspiration from a monster. It's a tale of loss with simple production, honest vocals, and a touching video clip. Also, Blunt donated the song's earnings to two British charities that help army veterans.
Another nice part of this story is that Charles is still alive. With the help of his son, he got the kidney transplant he needed. However, the song itself is a heartbreaking goodbye, and a promise to continue the Blunt's family long legacy of serving the army.
"Like Father, Like Son" – The Game
"I hope you grow up to become that everything you can be
That's all I wanted for you young'n, like Father, like Son"
The Game had a difficult childhood. He talks about his upbringing in "Like Father, Like Son," a rap song featuring samples from Buster Rhymes tracks.
The song debuted in 2015's "The Documentary 2.5," The Game's 8th studio record. As for the lyrics, it's about the rapper becoming a dad and trying his best to be better than his father.
"Father, Son" – Peter Gabriel
"I could hold back the tide
With my dad by my side"
In 2012, Peter Gabriel released a beautiful ballad, "Father, Son." It talks about the love and confidence one finds in the other. Particularly, the musician says he had a difficult relationship with his dad, but they became close when he began helping him with health problems.
Peter Gabriel was the lead singer of Genesis until 1975 when Phil Collins took the lead vocals until the present day. As a solo artist, he has not found the same success, and this song was a moderate hit.
"Baby Mine" – Alison Krauss
"All those same people who scold you
What they'd give just for the right to hold you"
Baby Mine debuted in 2007. It's a cover of a song from Dumbo, the 1941 Disney film. The original song plays when Dumbo is a baby when he's visiting his mother while she's chained on a circus cart. Behind her cell bars, Dumbo's mother plays with her baby while the other imprisoned animals share a moment with their children.
The lyrics are about unconditional love from a parent through a child. Similarly, it features a soothing melody, a calming voice, and a nice blend between piano and guitar. Luckily, the cover song is less depressing than what dumbo had to offer.
"Blessed" – Elton John
"I'll pick a star from the sky
Pull your name from a hat"
Blessed is a straightforward ballad about a father promising to be the best for a song -and it comes with a cheesy video full of super-advanced FXs.
The song debuted in 1995's "Made in England" album, and it enjoyed average success. Still, it's a beautiful song to sing to your children. It's a blessing.
"I'll Stand by You" – The Pretenders
"Won't let nobody hurt you
I'll stand by you"
The Pretenders released "I'll Stand by You" on their sixth studio album, "Last of the Independents" (1994). A songwriting team composed the song, though.
The ballad's lyrics are about pledging love and loyalty to a family member. It's not necessarily to a child, but it can be if you interpret it that way.
"You" – Selah Sue
"Stay a little longer
All I need is time in your embrace"
Selah Sue is a Belgian songwriter and singer. "You" is a sweet song she released in 2020, and it's an honest take on how becoming a mother feels.
"When you Need Me" – Bruce Springsteen
"When you need me call my name
'Cause without you my life just isn't the same"
"When you Need Me" debuted in 1994, although Springsteen recorded it in 1987. It's inspired by Irish folk, and it became popular at American weddings. The song is about a parent promising everlasting company, love, and support to a son.
"You Had To Be There" – Tim McGraw
"Can't believe some son of mine
Could do the things I hear you've done"
"You Had To Be There" is not a personal McGraw experience. The 2009 song follows the conversation between a rebellious teenage girl and her father.
"Child of Mine" – Carole King
"Oh, yes, sweet darling
So glad you are a child of mine"
Carole King is an American songwriter and singer. She released "Child of Mine" in 2021. It's a straightforward track about loving and protecting a child.
"Speechless" – Alicia Keys Ft. Eve
"True love finally finds you babe
Life becomes a way"
Alicia Keys released "Speechless" alongside Eve under Swizz Beatz's production. It also features a sample from "Devil in a New Dress" by Kanye West. The song is in honor of Alicia's son Egypt, who was born in 2010.
"Letter To My Son (Call Your Father)" – DMX
"Dear son, I look in your eyes, I see my own
You look in my eyes, you see my throne"
DMX shares the troublesome experience had with his father in this song. At the same time, he sings to his child as a promise to be better, and raise him to be a good man. "Letter to My Son" debuted in 2021's "Exodus," DMX's 8th and final studio album.
"Mama Said" – Metallica
"Yeah, I took your love for granted
And all the things you said to me, yeah
I need your arms to welcome me
But a cold stone's all I see"
"Mama Said" debuted on Metallica's 6th studio album, Reload. It's a country rock ballad presenting a story of a boy learning to live without his mother.
The lead singer, James Hetfield, wrote it to depict the sad relationship he had with his mother. She died of cancer when the musician was 16 years old, six years before Metallica's first album (Search & Destroy).
It's a lesser-known song from the heavy metal band, but I believe it has one of the best lyrics and vocals in the band's catalog. It's a heartbreaking story of a son realizing all too late that he loved his mother.
"Daughter" – Pearl Jam
"She holds the hand that holds her down
She will rise above, ooh, ooh"
"Daughter" debuted on Pearl Jam's second studio album, 1993's "Vs." It topped the US Modern rock and Album Rock Billboard, whilst the album received various Grammy award nominations. Additionally, the hit became the first Pearl Jam song to become a top 40 single in the Hot 100 Airplay.
The lyrics depict the difficult relationship between a daughter with a learning disorder and her parents. Lead singer Eddie Vedder wrote the lyrics and says the song is about an abusive relationship, and that the story ends with the parents beating up the child.
"The Man You've Become" – Molly Pasutti
"I'll be blessed cause you're my son
But I'll always see the boy
In the man you've become"
Molly Pasutti is a small artist that has been active for decades. This particular song is the want you'd want to sing to your son. It features a beautiful melody and words describing how wonderful it is to see your children grow.
"Sweet Child o Mine" – Guns N' Roses
"She's got eyes of the bluest skies
As if they thought of rain
I'd hate to look into those eyes and see an ounce of pain"
One of the biggest rock songs ever is a song that never gets old. The super hit debuted in 1988's "Appetite for Destruction," the band's third studio album. It became the only #1 for the band.
Lead singer Axl Rose wrote the song about Erin, Don Everly's daughter. Don was a famous country musician, and Eri was Axl's wife during the 80s. They had a turbulent relationship, though.
So, the song is not exactly about children, but if you didn't know the story, you could. It's about falling in love with your children, rather than your partner. All in all, we wanted to close the list with a banger.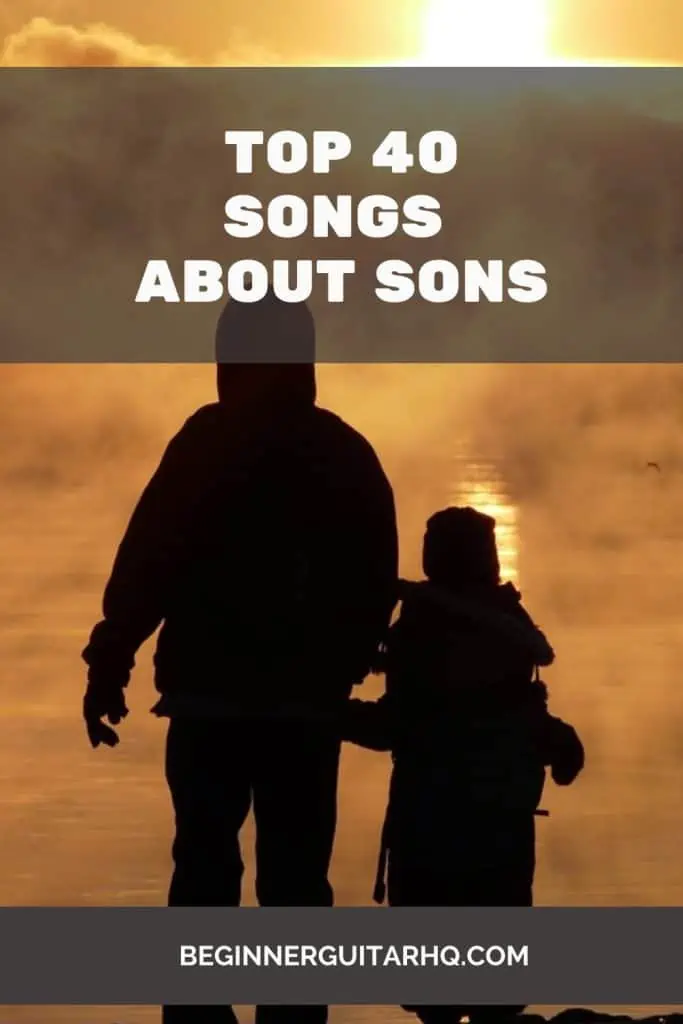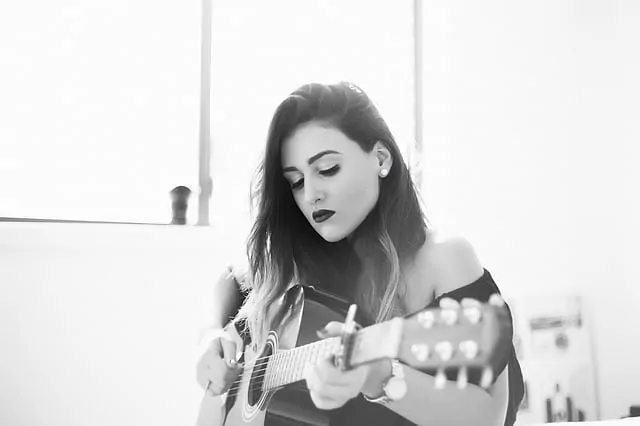 Jen is a guitarist and singer-songwriter who spends much of her time on the road and has lived in 13 cities across 4 continents. She picked up her first guitar at the age of 6 and learned to play by ear shortly after. She received her formal music education at the Berklee College of Music, and currently plays for a few bands in her free time. She has an uncanny ability to improvise creative melodies and harmonies. Her early influences include blues, jazz and rock.