Today's guide reviews the 10 best rock guitars you can buy right now. These are the options you need to try if you're on a rock guitar hero path, and I'll be sure to list models suiting all budgets.
Likewise, we're covering as much ground as we can in our best rock guitars selection. Some guitars pack enough versatility to play everything you'd imagine. Others pack classic sounds made legendary by the likes of Angus Young, Slash, or Tony Iommi. 
Likewise, there're picks for the blues, and, lastly, there're alternatives for heavy metal lovers looking for some shredding axes.
There're even a couple of options for left-handed players.

If you need some extra help on what to look for on electric guitars, please check our previous top 10 best guitars for beginners list. 
The Rock Guitar Gods
Guitar Gods came into existence alongside Eddie Van Halen during the late '70s. EVH played on a cheap Strat copy with an old Gibson humbucker. Such a "sub-par" rig changed the guitar world forever, and suddenly the concept of "Rock Guitar" became a real thing.
Before Van Halen, there were blues, country, and jazz guitars. Metal and rock musicians had to tweak the old-school models and play through tube amps in order to create the early metal and classic rock sounds. 
The thing is instrument manufacturers were not really creating "Rock Guitars" before EVH. But now, most modern rock guitars follow EVH's choices: a super slim-neck, 22 medium jumbo frets, bridge humbuckers, and a Floyd Rose vibrato on the bridge. 
Unsurprisingly, most rock guitars out there are Stratocasters, either by Fender, Squier, or copies. There're also "Superstrat" guitars on the list, which are modified Stratocasters featuring humbuckers, faster necks, or slimmer bodies. 
Gibson Les Paul is not to be forgotten, though. The Nashville-based brand knows all about old school rocker sounds and feels. Musicians like AC/DC's Angus Young or GNR's Slash have always used a Les Paul because Gibson guitars are made for Those About to Rock.
This guide is suited for intermediate and experienced players. That's why we're leaving the technical bits for last.

Rage Against the Machine's Tom Morello says you don't need to play on a premium guitar to sound good. You need to focus on your own skills and rather than your guitar gear.
The Top 7 historic Rock Guitars
Having said that, I want to name you the instruments of choice of our Rock Guitar Gods. Keep in mind most elite players have transitioned from one rock guitar and one particular brand to the next. 
Most notably, Eddie Van Halen also rocked on a white Gibson Les Paul for many years, although he was known as a Stratocaster player.
Each of these models represents a series of sorts. For example, there're more Fender Stratocaster guitars than I care to understand.
The Fender Stratocaster
The Fender Stratocaster is the absolute staple of modern and classic rock music, and it's a thing made for lead guitar players, unlike the Telecaster guitar, usually made for rhythm players.
It was released back in 1954 by Fender and is one of the most copied guitars in the musical world. Most brands (like Dean, Peavey, or Jackson) take "inspiration" from the double-cutaway Strat design.
The Stratocaster was originally intended for country players, though. Strat creator Leo Fender was a huge country fan. 
However, modern Strats are probably the most used guitars and they appear in all musical genres and stages. Moreover, a humbucker-packed Stratocaster is a great choice for hard rock bands.
Legendary players who have used a Strat include Jimmy Hendrix, David Gilmour (Pink Floyd), John Frusciante (Red Hot Chilli Peppers), Billie Joe Armstrong (Green Day), Dan Auerbach (The Black Keys), Paul McCartney, Van Halen, and John Mayer.
Keep in mind that modern single-coils have advanced so much that we've seen the birth of noiseless single-coils that eradicate the classic hum of these tappers. 
Here's one of the most premium Strats you can find right now:
Gibson Les Paul
The Gibson Les Paul was introduced back in 1952. The original models only packed P90 pickups before shipping with humbuckers in 1967. 
Keep in mind Gibson invented both the P90s and the humbuckers. Many modern rock bands still use P90s, though, because of the unique sound these tapers can give.
The Les Paul is an omnipresent guitar in the music stage because of its reliability, durability, versatility, and premium sound. You've probably heard the sound of a Gibson pickup or a Gibson Les Paul many times in your life.
Originally, the Les Paul was made for Jazz, until The Rolling Stones' Keith Richards picked one by the late '60s because of its versatility. Pretty soon, guitar players like Peter Green, Jeff Beck, Jimmy Page, Paul Kossof, and Pete Townshend, Slash, Angus Young, Zakk Wylde, and Randy Rhoads, also gravitated towards Les Paul.
Other great bands rocking on a Les Paul include Stone Temple Pilots, Queens of the StoneAge, Pearl Jam, Metallica (Kirk Hammet), Oasis, AC/DC, Steve Vai, Pearl Jam, Yngwie Malsmteem and much, much more.
Here's a premium Les Paul. Beware, though, these guitars at the top of the price chain.
Fender Jaguar
The eccentric Fender Jaguar was introduced in 1962 and became popular for surf music. It was discontinued in 1975, though, but came back into the punk scene by the '80s.
The likes of Scott Hill, Johnny Mar, John Squier, Kurt Cobain, Black Francis, Thurston Moore, and Black Francis rocked on a Jaguar guitar because of its versatility and eye-catching design.
Jaguar models only have 2 pickups, but they ship with a variety of knobs and switches that turn this guitar into one of the most versatile options out there. 
Likewise, best Jaguar guitars come with a custom hot single-coil Jaguar pickup, the infamous AdjustoMatic bridge with a vintage tremolo, and a tremolo lock button. 
Here's an example of the Fender Player's series, one of Fender's most affordable lineups:
Gibson Flying V
The Gibson Flying V has a striking design. I'm guessing it was completely revolutionary when the brand introduced it back in 1958.
These days, you can see Lenny Kravitz playing on a Gibson Flying V. Most notably, Mastodon's Brent Hinds plays some serious metal riffs with his signature Epiphone Flying V Custom.
All I can say is this is a guitar made for rock and heavy metal. It's a widely aggressive sound and a menacing aesthetic. 
I have to add Epiphone also builds top-quality Flying Vs. Gibson's subsidiary is not taking the affordable route on this one:
Gibson Firebird
The Firebird is another cool-looking guitar carried by Foo Fighters' Dave Grohl, as well as The Rolling Stones' Mick Taylor. 
It came into existence when Gibson president Ted McCarthy hired a famous car designer, Ray Dietrich, to come up with a new style to compete against Fender guitars. That's why the Firebird looks so much like the mid-50s long-tail cars.
Dietrich took the Explorer's design, flipped the headstock upside down, and rounded the edges. Hence, the unofficial name of the Firebird is "Reverse." 
The particularities of this guitar go beyond thanks to a couple of P90 ceramic pickups it carries plus its '60s slim neck profile.
Gibson Explorer
The Explorer debuted in 1958 as a "futuristic" guitar, much like the Flying V. This guitar represents the final development of Gibson's "Futura" prototype.
This is one of the meanest-looking guitars out there. Its aesthetics combine perfectly well with its hot humbuckers plus the fast neck profile it packs.
The explorer is known to be Metallica's James Hetfield's main guitar. More hard rock and metal musicians use it, such as Tom Morello, Brent Hinds, Neil Young, and Joe Walsh.
Gibson SG
Last but not least, the Gibson SG is a thinner, lighter, and faster guitar than the other Gibson models. The upper frets are also more accessible because it has a double-cutaway design plus a contoured body. 
When Gibson introduced it back in 1961 it was known as "Les Paul" because Gibson's creator Les Paul had no idea this guitar was being created. In 1963, the guitar was rebranded as the SG, short for "Solid Body."
The most popular option is the SG series is the Gibson SG Standard carried on by Angus Young, Black Sabbath's Tony Iommy, Derek Trucks, and Frank Zappa.
Notably, Epiphone builds plenty of SG models for beginners. They are known as some of the best entry-level solid-body electric guitars.
The Top 10 Rock Guitar Reviews
I'm reviewing the best 10 rock guitars you can buy right now. The different options are branded for the kind of rock each guitar can play, so each of these guitars are considered to be the best for their intended genres.
That means you can find guitars for classic rock, soft rock, modern rock, heavy metal, and everything in between.
Some of the pricey models I added have a budget alternative as well. Likewise, I reviewed the top value rock guitar (the Gretsch Electromatic Jet) as well as the best entry-level rock guitar (the Ibanez RG41).
Now, we already made a list on the top 15 best metal guitars, and we're not repeating any of those models. Instead, we're updating our selection with top-notch alternatives.
Best Overall Rock Guitar: Gibson SG Standard
The Gibson SG Standard is the greatest rock guitar of all time. Why? Because this is Angus Young's ax. The old guy with the Jimmy Krankie school kit recorded some of the greatest songs in guitar history with this baby. To name a few: "Highway to Hell," "For Those About the Rock," and "Thunderstruck."
There's something great about pairing a pair of Gibson humbuckers to a mahogany body. It gives plenty of sustain and grit to the guitar whilst enhancing clarity, no matter how much distortion you add. That's why mahogany is known as one of the best tonewoods for solid-body guitars.
This is a lightweight guitar, it barely passes the 6 pounds limit. It also features a fast SlimTaper neck profile and an easy to play 12'' radius. If you're a beginner, this is definitely the best guitar for you as well.
Speaking of which, it has a maple neck and a rosewood fingerboard with Pearl Trapezoid dot inlays.
The headstock is angled, which is something Gibson does to some of its guitars, and it's known as an "asymmetrical" neck. The angle is 17 degrees, which increases the pressure on the strings to help them stay in the nut slots. Also, it enhances sustain as the strings vibrate longer.
Now, the pickups are what sets apart the SG Standard from everything else. It has Gibson's 490R and 490T humbuckers. These tapers deliver the ultimate rock tone and plenty of versatility to go from sweet classical stuff to salty surf, fiery blues, and raw metal. Power this with a Marshall amp and you'll be on your way to the School of Rock.
It all comes together with top-notch hardware, Gibson's own Tune-O-Matic bridge plus its Grover Rotomatic tuners.
Unsurprisingly, the SG Standard is the best-selling GIbson guitar. I advise you to read more info on Gibson's legacy archive.
Gibson SG Standard Specs
Tonewoods: mahogany body, mahogany neck, rosewood fretboard
Scale: 24.75'' (long-scale guitar)
Radius 12''
Frets: 22 medium jumbo frets
Pickups: Gibson 490T Bridge Humbucker & Gibson 490R Neck Humbucker
Controls: 2 Individual Volume Knobs, 2 Individual Tone Knobs & 3-wat pickup switch
Bridge: Tune-O-Matic
Tremolo: unavailable
Tuners: Grover Rotomatic Tuners
Budget Alternative: Epiphone  Limited Edition SG 1966
It's not fair to review such an amazing guitar if you can't afford it, which is why I'm giving you the best budget SG alternative. 
The only thing that separates the Epiphone Limited Edition SG from the Gibson SG Standard in terms of built quality is the neck. In order to save some costs, the Epiphone has a bolt-on neck, whereas the Gibson original has a glued-on piece.
Furthermore, this Epiphone version has a larger pickguard to make it look like Gibson's '60s SG.
As for the pickups, this guitar rocks two Alnico Classic Pro Humbuckers, which are similar to Gibson '57s as in old-school gritty sound. Check this demo video if you're interested.
The tone and the versatility are amazing, and although the Gibson alternative feels at a higher level, you can take this beautifully crafted mid-level guitar all the way up by swapping its humbucker pickups.
Beginner alternative: Epiphone SG Special
If you or someone you care about is just starting out, the Epiphone SG Special packs the same levels of playability and ease and sells for an entry-level price.
I'd say this guitar feels as great as top Gibson and Fender instruments. What's different, though, is the pickups and the hardware, which is where Epiphone kept the costs down.
Still, this is an outstanding entry-level rock guitar, it's well above its price point. Its made of mahogany, it has a sturdy fixed bridge, a '60s SlimTaper D-shaped neck, and two Epiphone humbuckers.
Check this Epiphone SG affordable guitar here.
Best Classic Rock Guitar: Fender Vintera '70s Telecaster Custom
The Vintera series reboots Fender-s 70s classics with top built quality. This is such an iconic model because The Rolling Stones' Keith Richards played with a '70s Telecaster Custom guitar.
However, that decade was a so-so era for Fender as its quality control was very poor. Because of that, the iconic-sounding '70s Tele was heavy and hard to play.
The new version improves this old partner and uses the same 7.25'' fingerboard radius. That means this is the best rock guitar for cranking classic rock chords, power chords, and soft guitar solos. It also has a slim C neck profile to make it feel just like Elvis would have loved it.
Likewise, the tone it carries also follows the Rock Era with a Fender '70s Vintage single-coil on the bridge. 
Fender takes the model further with a Fender Wide Range Humbucker at the neck. As the name suggests, the Wide Range taper is very versatile and covers plenty of ground regarding modern genres.
Hence, the sound carries elements from the Old School Guitar Gods as well as the tone modern musicians are looking for.
And as you'd expect, it carries 2 volume controls, 2 tone controls, and a 3-way pickup selector switch.
Lastly, it has the highest hardware vintage Telecaster pack: Fender Vintage tuners and Telecaster Ashtray vintage bridges.
Fender Vintage '70s Telecaster Specs
Tonewoods: alder body, maple neck, Pau Ferro fingerboard.
Scale: 24.75'' (long-scale guitar)
Radius: 7.5''
Frets: 22 medium jumbo frets
Pickups: Gibson 490T Bridge Humbucker & Gibson 490R Neck Humbucker
Controls: 2 Individual Volume Knobs, 2 Individual Tone Knobs & 3-way pickup switch
Bridge: Nickel & chrome 3-saddle Telecaster Vintage Ashtray bridge 
Tuners: Fender Vintage tuners
Budget Alternative: Squier Classic Vibe Telecaster '50s
The Classic Vibe Telecaster '50s is simply an amazing guitar. I already reviewed this beautiful souvenir here, go check that out if you need more info.
All you need to know is this is the best budget guitar if you're looking for the vintage Fender sound. The best thing about it is how it is built exactly like the original Fender Telecaster while packing a friendly price tag.
For example, the body is built on pinewood, which is Leo Fender's original tonewood for Fender guitars. 
Just take a look at this elegant guitar. I bet you can already imagine how it sounds. I can also say it sounds even better than that. 
To be honest, I hardly find any differences between the sound quality Squier guitar and the Vintera series. However, this puppy does lack the same levels of versatility.
Here's a demo video if you're interested. And here is the Amazon link.
Best Premium Rock Guitar: 2019 Gibson Les Paul Standard
There's no way to finish a top rock guitars list without featuring the legendary Les Paul. We chose the 2019 Standard model as it offers a high-end design plus the greatest built quality and tone we would expect from a USA-made Gibson guitar.
Plus, it packs a few surprises…
This is a super premium Les Paul featuring its iconic single-cutaway mahogany body with the added twist of a maple top. It makes this guitar look awesome in any color you choose. And the colors are like anything you've seen.
Another extra is the finish. Every color ships with a sleek high-gloss breathable nitrocellulose lacquer that reduces the weight of the guitar and adds playability to the user. 
Its mahogany neck is just as impressive with its asymmetrical SlimTaper profile that fits your hand like a glove. And just like any other Les Paul, it has a set-through neck housing a top-quality rosewood fretboard with a compound radius.
The sound is where we see the magic happening. It has Gibson's best modern humbuckers, a couple of BusrtBucker Pros. It delivers the truest Slash sound. 
It all comes together with Gibson's special HP-4 High-Performance Circuit. As for controls, it has two-volume knobs that also function as coil taps: they allow you to change the humbuckers into single-coils and vice versa. 
Likewise, it has two individual tone knobs, each one with an extra function: the neck tone knob changes the phase of the pickups. The bridge tone chooses between the outer and inner coils when split. Lastly, there are five dip switches for yet another level of versatility. 
The rest of the components also stand up to the same high standards, such as the Tune-O-Matic bridge, the stop bar tailpiece, and the Grover Locking Rotomatic tuners. There's also a self-lubricating TekToid nut that enhances the rock-solid and tasty sustain even more.
No wonder why this is our premium choice. There's nothing like this in terms of vast flexibility. And there's nothing like this in terms of quality sound.
If you want more info, please go check Gibson's website.
Gibson 2019 Les Paul Standard
Tonewoods: mahogany body with a maple top, maple neck, and rosewood fretboard
Scale: 24.75'' (long-scale guitar)
Frets: 22 medium jumbo frets
Radius: 12'' – 16'' compound radius
Pickups: Gibson Neck Pro BurstBucker 2 Humbucker, Gibson Bridge Pro BurstBucker 2 Humbucker
Controls: HP-4 High-Performance Circuitry; 2 Push/Pull Volume Knobs; 2 Push/Pull Tone Knobs; 3-way Rhythm/Lead Toggle Switch; Internal 5-Position DIP Switch.
Bridge: Tune-O-Matic bridge & stop bar tailpiece
Tuners: Grover Locking Rotomatic tuner 
Classic alternative: Les Paul Standard '50s Gold Top
The real downside here is how difficult it is to find this guitar. Because of that, I must give you another option, the 2019 Les Paul Standard '50s P90 Gold Top. 
Instead of two humbuckers, it features two P It can't get any more classic than this. Bands like The Clash, The Who, and The Sex Pistols created their sounds with P90 Les Pauls.
Still, the P90s have made the sound of plenty of modern rock bands, like Stone Temple Pilots and Pearl Jam.
Check the guitar here, but only after you check how the Les Paul Standard '50s Gold Top sounds here.
Budget alternative: Hamer Monaco Korina
Not exactly budget, but yes exactly a mid-level alternative offering an extremely good setup. The Harmony Korina Les Paul is built with Korina, as the name suggests, which is a rare Japanese tonewood featuring a vibrant, elegant sound. 
Plus, it uses Ebony for the fingerboard, which is a super-smooth and durable material.
This puppy features two P90 pickups to give you the exact Les Paul extra flavor you're looking for. It also packs 2 individual control knobs, a master tone, and a 3-way selector switch.
The Monaco Korina follows the design of the Les Paul Special, and it delivers an excellent sound through its fat-sounding coils. Here's the link, and here's the demo video.
Mid-level alternative: Epiphone Les Paul Standard
Almost any Epiphone Les Paul you pick pack the same feel and comfort as the Gibson version. And although they are a bit lower in terms of built-quality and finish, some Epiphone Les Pauls are definitely up there in terms of sound and versatility.
So, naturally, I choose the 2019 Epiphone Les Paul Standard, which is an incredible guitar. This model features two split-coil ProBuckers pickups with push/pull options, mahogany body, maple neck, rosewood fingerboard, and ebony finish.
Top Value Rock Guitar: Gretsch G5220 Electromatic Jet BT
Gretsch is an often forgotten hero of modern rock guitars. But we must never forget Gretsch is the rhythm guitar of many legendary bands such as AC/DC and Foo Fighters. The late Malcolm Young loved his old Gretsch Jet.
That's why we can't stop thinking the price of this guitar is some kind of joke. The Gretsch G5220 Jet is a super affordable semi-hollow rock guitar.
The "semi-hollow" part is something particularly interesting, which is where the Gretsch G5200 got the "Electromatic" name. The body is chambered and thick, but there is no soundhole insight. That produces a unique rich tone with present mid-tones, accentuated lows, and shimmering highs.
The built quality of this thing is both different and amazing. It features a mahogany body, a mahogany neck, and a Black Walnut fingerboard with a flat 12'' radius. That makes for a guitar that feels soft as a dream.
There's another twist here. The built-in Black Top Broad'Tron humbucker pickups have more power than common vintage Gretsch pups. Semi-hollow guitars with a dual humbucker configuration have plenty of versatility as they can go from soft rock to modern hard rock. 
Add the chambered mahogany body & maple top with the Broad'Tron puppies and you get a thick and aggressive overdrive through a tube amp, a distortion channel, or an overdrive pedal.
I'd say the overall sound is tasty, with a bit of vintage flavor and just a pinch of aggressiveness.
The only downside I see here is on the tuners section, but you could change them for better quality tuners like 
Gretsch 5220 Electromatic Jet BT Specs
Tonewoods: chambered mahogany body, mahogany neck, Black Walnut fingerboard
Scale: 24.6'' (long-scale guitar)
Radius: 12''
Frets: 22 medium jumbo frets
Pickups:2 Gretsch Black Top Broad'Tron Humbucker Pickups
Controls: 2 Individual Volume Knobs, Master Tone Knob & 3-way pickup switch
Bridge: Adjust-O-Matic Bridge & V Stopbar-Tailpiece
Tuners: die-cast tuners

Semi-hollow guitars are partially hollow on their bodies, which is why they -commonly- have an f-shaped whole. The result is a somehow gentler tone with increased sustain, resonance, and richness.
Best Metal Guitar: Sterling By Music Man Majesty X
This is the super-light, super-fast, and vibrant guitar you've been looking for to play metal. The Majesty X is the best shredder guitar out there.
If you're unsure about this monster, consider this modern ax is John Petrucci's signature piece. 
This is a light guitar made to play metal riffs and complex solos. At the same time, this guitar feels solid and adds plenty of sustain to the tone.
It also has a vibrato and a locking vibrato to keep the intonation rock solid. Likewise, it has locking tuners to keep the guitar in tune during a 2-hour long aggressive presentation and beyond. I have to say the vibrato is so good it proves you don't need the super pricey Floyd Rose to whammy up your show.
Everything comes together with the custom X pickups. The sound is metal-fueled and suited for progressive rock, heavy metal, progressive metal, alternative metal, and similar. 
Overall, this is a "majestic" shredding machine designed by the royalty of progressive rock.
Sterling by MusicMan Majesty X Specs
Tonewoods: mahogany body, mahogany neck, rosewood fingerboard.
Scale: 25.5'' (long-scale guitar)
Radius: 17''
Frets: 24 jumbo frets
Pickups: 2 Music Man Custom X Humbucker Pickups
Controls: Master Volume Knob with Push/Push Boost, Master Tone & 3-wat mini-toggle
Bridge & Tremolo: Smoke Chrome Modern Vibrato Bridge
Tuners: Locking Tuners
Best for Soft Rock: Fender Player Stratocaster
This is the best mid-priced Stratocaster you can buy. You don't need to look elsewhere at Fender's many lineups from Japan, China, Korea, or the USA. This Mexican Fender offers top Stratocaster experience and sound.
The Fender Player Strat offers the impeccable Stratocaster sound with a super-easy setup. There're only three knobs pus a 3-way selector switch. It's so easy even total amateurs will love this mid-priced Strat.
Plus, it has three Alnico V single-coils with plenty of versatility. That means you would be able to get a beefy sound with the three pickups sounding together.
Overall, the sound coming from these modern single-coils is punchy and fun. Unsurprisingly, this thing is built for modern rock and pop.
The best thing about this guitar is its vibrato. For such an affordable price, it offers Fender's classic "Synchronized" vibrato unit for a smooth and easy operation. It also offers the common 9.5'' fingerboard radius for easy string bending and slides.
Now, if you're looking for a budget alternative, the Mexican-made Squier Standard Telecaster might be a good choice.
Fender Player Stratocaster Specs
Tonewoods: alder body, maple neck, maple fingerboard
Scale: 25.5'' (long-scale guitar)
Radius: 9.5''
Frets: 22 medium jumbo frets
Pickups: 3 Player Series Alnico V Stratocaster Single-Coils (neck, middle & bridge)
Controls: Master Volume Knob (neck & middle), Tone Knob (bridge pickup only), 3-way selector switch
Bridge & Tremolo: Nickel/Chrome 2-point Synchronized Vibrato Bridge
Tuners: Die-cast tuners
Most Unique Rock Guitar: Danelectro '66T 
The Danelectro '66T semi-hollow guitar is a rock beast that looks like a goddess of old. This semi-hollow guitar packs great playability with its comfortable Danelectro custom neck shape and smooth fingerboard.
Danelectro guitars have something amazing, which is a kind of pickup they originally developed for Silvertone. I'm talking about the brand's original lipstick pickup. A lipstick pickup packs the magnet and the whole electronic setup within an actual lipstick tube. The sound coming from this unlikely enclosure is quite unique.
Another extra by Danelectro is a center block within the soundhole. It prevents feedback and enhances the clarity of this guitar.
Albeit originally built for surf kids and rockabilly back in the '60s, the Danelectro '66T is one of the best rock guitars you can buy right now.
That's because of its superb pickup configuration. The bridge lipstick can split to provide either humbucking or single-coil sounds. Plus, it has a P90 pickup on the neck. The tone these two pickups achieve is definitely something different. And it sounds exciting, like fat jazz filled with adrenaline.
I have to add this is one of my favorite guitars ever. It has supreme playability, it looks awesome, and it offers a signature sound. And built quality-wise, it's nothing but premium.
Remember how I said the sound of a P90 sound is amazing? Well, what do you think about this guitar? And how's this for a sales pitch? Joe Perry of Aerosmith owns a Danelectro '66T. It's actually his main guitar.
Danelectro '66T Specs
Tonewoods: chambered alder body, maple neck, rosewood fingerboard
Scale: 24.5'' (medium-scale guitar)
Frets: 22 medium jumbo frets
Pickups: Lipstick Split-Coil Bridge Humbucker & P90 Neck Single-Coil
Controls: Master Volume Knob, Master Tone Knob with Push/Pull Coil-Split (bridge pickup), 3-way selector switch
Bridge & Tremolo: Nickel Wilkinson bridge & vibrato
Tuners: Vintage-style tuners
Best Hard Rock Guitar: Fender Signature Kurt Cobain Jaguar
Nirvana's late singer needs no extra introduction, and neither does his coveted Jaguar guitar. That's why it was the right step to release this signature model as a tribute to a legendary singer that left such a staple in the world of rock.
This signature model retains the classic style of the Jaguar but shows some unique features in terms of hardware and style.
It has the same alder body, a modern C-shaped maple length, and a shorter 24'' scale. But it packs a few nods to Cobain design-wise, which includes a special Cobain-drawn Fender logo on the neckplate, a Strat headstock, and a '50s Style Spaghetti logo. Moreover, it has white pickup covers plus a white binding for the fretboard.
And then, it comes loaded with two DiMarzio humbuckers. Notably, it has a DP100 Super Distortion at the bridge, plus a top DP103 PAF 36th Anniversary humbucker at the neck.
And as with all Jaguars, the controls are as flexible as overwhelming. There are volume controls for each pickup, a master tone, plus a 3-way selector switch. Then, it has the Jaguar dual-circuit switches that change from lead to rhythm sounds.
Hardware-wise, it features an Adjust-O-Matic bridge, a floating tremolo tailpiece with a lock button, and sealed Goth tuners. 
The sound is what you'd expected. Huge, aggressive, clear, and controlled. It can handle the highest amounts of gain, and it pairs with distortion pedals to play Nirvana, Iron Maiden, Metallica, and everything in-between. 
Plus, the neck PAF delivers a natural, clear, and warm tone instead of a face-melting distortion. The flexibility and the high-end tones are here.
Overall, there's plenty to love here, even if you're not a Cobain fan. It's an easy-playing Fender with plenty of versatility for modern rock and metal genres. Plus, the added design extras are something you'd be proud to wear.
Fender Kurt Cobain Signature Jaguar
Tonewoods: alder body, maple neck, rosewood fretboard
Scale: 24'' (medium-scale guitar)
Frets: 22 medium jumbo frets
Pickups: DiMarzio DP100 Super Distortion Bridge Humbucker & DiMarzio DP103 PAF 36th Anniversary Neck Humbucker.
Controls: 2 Individual Volume Knobs, Master Tone, Dip Switch, 3-way selector switch
Bridge: Adjust-O-Matic Bridge
Tremolo: Floating LockTune Tremolo
Tuners: Goth tuners
Best Beginner Rock Guitar: Ibanez RG421
The Ibanez brand creates amazing metal guitars, but they are also the go-to brand for rock enthusiasts, no matter if they are total beginners or fully-sized professionals.
We already reviewed the top value Ibanez GRX20 and concluded it might very well be the best rock & metal guitar for beginners. But because we didn't want to repeat ourselves, we chose the Ibanez RG421, an affordable solution from the RG collection.
This is a guitar that shows features suited for rock and metal. For example, it has a sleek Superstrat body made of mahogany, and it features a bolt-on Wizard III neck that gives players easier access to the upper frets. 
The 12'' radius fingerboard is pretty fast and smooth. I'd say this is one of the fastest necks out there.
Lastly, it packs Ibanez-designed Quantum hot humbuckers, a couple of bobbins featuring plenty of output, headroom, and aggressiveness.
Overall, this is a solid guitar for beginners and budget players looking for an entry-level rocker sound.
Ibanez RG421 Specs
Tonewoods: mahogany body, maple neck, rosewood fingerboard
Scale: 25.5'' (long-scale guitar)
Radius: 15.7''
Frets: 24  jumbo frets
Pickups: Quantum Neck & Bridge Humbucking Pickups
Controls: Volume Control Knob, Tone Knob, 5-way selector switch
Bridge: Fixed bridge
Tuners: Cosmo Black open-gear tuners
Alternative: Ibanez RG450DX
And now that you're here, you might as well check the Ibanez RG450DX if you can stretch the budget a bit more. This guitar packs an extra middle single-coil pickup, a pickguard, a locking nut, and a locking tremolo bridge. 
If that sounds good to you, go check it out on Amazon.
Likewise, I should link you to the Schecter Omen 6 which we already reviewed here. It's also one of the best, if not the best, entry-level heavy metal guitar.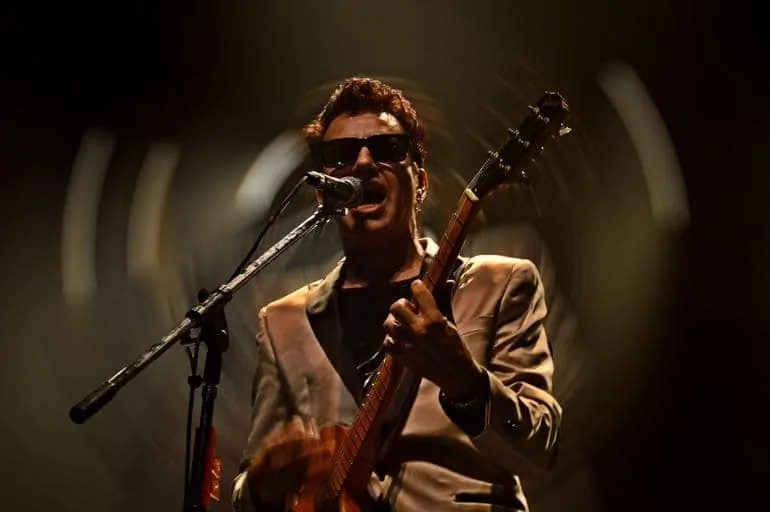 Ibanez's entry-level guitars are mostly Superstrat models.
Best Modern Rock Guitar: Charvel Pro-Mod DK24 HSS
This guitar is all about recreating the '70s Eddie Van Halen Tone. In fact, Charvel is one of those brands that defined the sound of the second coming of rock, the missed '80s music era. And what we've got here is a super Superstrat guitar.
You'll find this is an offset "Dinky" (as in shorter Strat) guitar with an alder body. The front body is sculpted after your right forearm. And the rear is sculpted after your left forearm. If you're a shredder, you'd go very fast on this guitar. 
Likewise, it features a compound neck radius that goes from 12'' to 16'' on the upper frets.
Let's talk about its pickups, because it packs the best of the best: two Seymour Duncan bridge and middle hot pickups screwed straight to the body to maximize the sustain and the tone. 
The DK4 lives up to an HSS format with an SSL-6 Custom Flat Strat Single-Coil at the neck as well. This is a hum-canceling single-coil.
Van Halen, Malmsteen, Wylde, and even Dave Mustain come to mind sound-wise. More than that, it has enough flexibility to go from jangly jazz to wild heavy metal with its control knobs.  
DK24's advanced controls are something to talk about in detail. As I don't want to confuse you, it's better for you to see it on video: 
There's something else extra special with this guitar, an add-on that gives this baby its honey-looking aesthetics. The neck is covered with a caramel gloss, which is a hot spec. The baked and roasted maple caramel removes the moisture, keeps the fretboard naturally oily and smooth, and gives this guitar a golden brown texture. 
That makes the neck of the Pro-Mod Charvel as stable and durable as you can imagine. It's made to outlive you.
Regarding hardware, the DK24 has top choices. It has a Gotoh Custom 510 six-saddle bridge, a set of Charvel die-cast locking tuners, and a Graph Tech TUSQ XL nut. 
Also, instead of having the classic double-locking Floyd-Rose, it has a floating vibrato with locking tuners. This piece sits on twin posts and pivots above the body to wing both ways without messing up the intonation.
Charvel Pro-Mod DK24 HSS Specs
Tonewoods: alder body, caramelized maple neck, caramelized maple fingerboard
Scale: 25.5'' (long-scale guitar)
Radius: 12'' – 16'' compound radius
Frets: 24 medium jumbo frets
Pickups: Seymour Duncan SH1-10B Custom Full Shred Bridge Humbucker; Seymour Duncan SLL-6 Custom Flat Stratocaster Middle Single-Coil; Seymour Duncan SSL-6 Custom Flat Strat RWRP Neck Single-Coil
Controls: 500K EVH Bourns Low Friction Volume Knob, No-Load Tone Knob & 5-way pickup selector blade switch.
Bridge: Gotoh Custom 510 six-saddle Bridge 
Tremolo: Recessed 510 Vibrato
Tuners: Goth tuners
"Charvel's Guitar Repairs" Charvel was founded in the early '70s by a Fender luthier, Wayne Charvel.  The company quickly transitioned from just repairing guitars to creating Superstrats (modified and modern humbucker-filled Strat) that were popular for the '80s metal music. Fender eventually bought the company in 2002.
Bonus Personal Pick: Brent Hinds Signature Epiphone Flying V Custom
I couldn't finish my review without adding something about my favorite metal band. Brent Hinds is Mastodon's main guitar player, and he's an absolute metal master. 
He's also made some interesting researches into the world of metal sound. For example, he's the creator of one of the best metal amps ever, the Brand Hints Mini Terror by Orange.
This is a "shut up and take my money" kind of guitar, especially if you're a Mastodon fan or a heavy metal seeker.
We're looking at a Gibson guitar with a Silverburst finish that packs both Flying V and Les Paul features.
Overall, it has a mahogany body, a maple neck, an ebony fingerboard, and tilted headstock, just like a Les Paul. It also features a V-shaped body plus a slim and fast neck for plenty of shred comfort. 
The neck is made after the 1958's round neck Flying V, which is specifically made for fast rock genres and complex riffs.
Now, the real reason to buy this guitar is its Hammer Claws pickups. These are parts designed by Brend Hints, and they deliver a soulful midrange, a solid bass bump, and a clear treble. The tone is awesome on clean, but it goes straight to oblivion on distortion.
I choose this as a personal bonus because this is a limited edition. The truth is you probably won't be able to find it.
Lastly, you should also know it packs Hind's skull graphic logo stamped in neon green on the headstock.
Brent Hinds Epiphone Signature Flying V Custom Specs
Tonewoods: mahogany body, mahogany neck, ebony fretboard
Scale: 24.75'' (long-scale guitar)
Radius: 12''
Frets: 22 medium jumbo frets
Pickups: 2 Lace USA Brent Hinds Signature Hammer Claws Humbuckers
Controls: 2 Volume Control Knobs, Master Tone Knob, 3-way pickup selector switch
Bridge: Epiphone LockTone Tune-O-Matic Bridge with traditional V tailpiece and classic string-thru-body design
Tuners: Grover Rotomatic 18:1 tuners
I think this is the coolest V-shaped guitar ever created. It's also one of the lightest and easier to carry rock guitars in existence.
How to pick the best rock guitars?
Be honest with yourself: whatever guitar you search for rock has to look business. But you need to hold that thought for a while before you write your address into Amazon for your next dream shredder.
That brings us to an easy conclusion: Gibson guitars look the part. But you know what's the problem? Gibson guitars are as expensive as they are difficult to find, especially online. Because we have to take price and availability into consideration, we left some Gibson models behind.
Lucky for you, there are some other alternatives. First off, Epiphone is Gibson's subsidiary, so they built affordable Gibson models to Gibson's high standards. There are other brands copying these incredible designs to great avail like Hamer Monaco.
Next up, you need to be clear on the kinds of sounds you're looking for. Basically, there're three options:
Single-coil guitars offer the brightness and the hum that made the Jimi Hendrix sound.
Humbucker guitars offer high output distortions brought to you by most rock bands.
P90s offer the in-between, so they pair amazingly with alternative rock, grunge, and punk. 
Keep in mind the design of the guitar (tonewoods, construction, and features) are there to enhance the tonal characteristics of its pickups.
You also have to consider the kind of player you are. Guitars ship with different fingerboard radius. The shorter the radius, the wider the neck's curve. A curved guitar is great to play chords and emotional solos; a flat guitar is great for riffs and note-to-note playing.
Vintage Fenders come with a 7.5'' radius, which is something experienced guitar players could master. On the other hand, Gibson guitars come with a 12'' radius, which falls right in between. Lastly, shred guitars ship with 16'' radius fingerboards.
There're also guitars with a compound radius board, which means the radius is curvier on the first 10 or so frets, whilst flatter on the rest.
Similarly, you have to consider the string action. The lower the strings are, the easier to play the guitar is. The fact being, flatter necks have low-action strings (which means they are gently depressed).
You also have to consider the tonewoods. I'm assuming you already know a thing or two about tonewoods, but, as a general rule of thumb, maple necks, rosewood/maple/ebony fretboards, and mahogany/pinewood/ash/alder bodies are the best choices. If you see the word "Pau Ferro" on the tonewoods section, then you've found a truly premium guitar.
Lastly, the hardware (bridge, tuners, tremolo, and electronics) also influences the tone and the playability of the guitar. Lucky for you, all of the guitars I'm listing have top quality hardware. Oh, don't forget to check if the guitar packs a vibrato…although a budget vibrato is not a thing you would like!
In summary
What's the best rock guitar?
If you're into vintage tones, there's no beating the 2019 Gibson SG Standard. I know this guitar is expensive, but, lucky for you, the Epiphone SG I shared above delivers top value quality for the money.
Both guitars are lightweight, have a huge tone, and offer plenty of sustain. They also look way better than any guitar has the right to look.
Furthermore, SG models feature a slim neck, a flat radius, and low-action strings. They are player-friendly, which is why there're so many entry-level Epiphone SG models for the total beginner.
A close contender, though, is the Fender Vintera Telecaster. However, if you're not needing the extra versatility this puppy has to offer, why not choose the Squier Classic Vibe Telecaster '50s?
If you're a modern player on a budget, though, you could do for the Fender Player Stratocaster. It will give you more than what you need, and it will help you save some money for a good combo amp and a couple of guitar pedals.
But there's always someone who can afford to go for the best. And if you're an '80s rock lover, the trio of Seymour Duncan pickups on the Charvel Pro-Mod will give you a ticket to Black Label Society's dressing room.
That said, I love the Flying V's design. It's fast, it's mean, and it sounds like heavy metal. Moreover, the Brent Hinds signature model comes in a striking Silverburst color. If that's not enough for you, then I don't know what is.
The last thing I can say is this: after reviewing so many premium guitars, I really understood why some models are so expensive. And I don't think Gibson guitars could cost any less. They are worth every penny for those of you who are looking for the best of the best.
What's your favorite rock guitar?