The cost of instruments and lessons are what often holds people back from getting into music. And electric guitars can be especially expensive compared to acoustic guitars. But thankfully, there are cheap guitars and plenty of free online resources here on Beginner Guitar HQ to help you learn to play guitar.
Having said that, you don't want to purchase a rubbish guitar, especially if you mean to keep playing for a long time. You want something decent enough to last you quite a while. Then, if you decide you want to keep playing, you can save up for a better guitar while doing okay with your current one.
Of course, you may just want a cheap guitar to modify in which case the quality might not matter so much. You may make the guitar so much better that the quality and longevity both go up. But the options I'll be giving you will be good for the price.
There are so many brands out there, which ones should you consider? We've got you covered. Let's get into the best cheap electric guitars and how to choose the right one for you.
How to Choose an Electric Guitar
Just like acoustic guitars, electric guitars come in different styles and sizes and some have extra features. Here are four basic things to decide on when choosing a guitar. For more tips, you can check out this article.
Size and Weight
If you're a bigger person, you may want a bigger guitar. Similarly, if you have small hands, you want to pick something with a narrower neck. The same goes for if you're purchasing a guitar for a younger child who may need a mini guitar (scale length less than 24 inches).
How much you play and where is also an important factor for choosing the weight of your guitar. If you play long active gigs where you're standing and moving around the stage, you may want something lighter. But if you play very chilled music where you sit down, or if you're only standing for a half an hour to an hour at a time, a heavier guitar might not be an issue. Naturally, for younger kids, you don't want to get a heavy guitar.
Whammy Bar or Not
If you know you're going to want to rock out with tremolo (and not do it by hand), you need to make sure the guitar you pick has a whammy bar or at least can take one.
Pickups
The number of pickups matters. If you're going to be using distortion, you need a Humbucker pickup, if you aren't, a single coil is fine (single pickup). If there is any doubt, pick a guitar with the Humbucker pickups rather. It's the one with two pickups one on top of the other if the guitar is vertical. It reduces annoying noise like humming, a must with distortion. You get guitars with a combo, so maybe that's the answer for you.
Style
I'm not just talking aesthetics here, although that is important. You want to love the look of your guitar. But I'm talking about features as well as shape. Some of this is going to be influenced by the size and weight you need to get, but you have some leeway too.
You don't necessarily need a specific guitar for a specific genre, but one with the right features can help. Jazz guitars, for example, may have a hollow body for a mellow tone that resonates better. Hollow bodies also work for a vintage tone.
How to Make a Cheap Guitar Sound Better
Cheapies aren't generally going to give you the same quality sound as you would get from the higher priced options. But as long as there isn't a structural problem with the guitar, there are some things you can do to improve the sound. And just so you know, it's the same as you would do for any guitar.
Get better quality strings
Get the type of strings with the tone qualities you want, e.g. warmer or brighter
Play around with the tone knob/s on the guitar to find a better sound
Get a decent amp
Play around with the settings on your amp
Get a better quality cable
The 12 Best Cheap Electric Guitars
Cheap guitars don't necessarily mean bad quality guitars, although there will be a difference in quality between entry level guitars and the best models by the best brands. My acoustic is a cheapy by Stagg, and although they're not known for amazing quality instruments, my guitar does all right. I love it as much as when I first got it 15 years ago. It resonates well and sounds good, but this could just be because of its big dreadnought body.
The point is, you can get some good cheapies out there that will serve you well. Here they are:
Under $200
Stringo Electric Guitar Kit
If you're a beginner and have no gear, this is a good kit to get. It includes the guitar complete with strings, extra strings, bag, strap, 20W amp, three guitar picks, tuner, and Allen wrenches. This sets you up with everything you need for starting out. The pickups are all single coil and so it will be better suited to styles of music where there isn't much distortion. The knobs let you control the mids, highs, lows, gain, and volume. It has a tremolo bridge system.
You can choose from purple, blue, black, or red, all of which look great with the white scratch guard and the darker outer edges of the body and fretboard. This guitar is by no means a top of the range guitar. But if you just want to try out a guitar and aren't sure whether you're going to stick with it, this guitar will get you by without costing the world.
Most people are happy with the guitar and accessories, as well as the way the guitar looks. But there were a few complaints about quality, specifically, the frets being sharp at the edges and the fretboard being warped. Not good structural issues to have, but these may just have been defective guitars.
Donner Mini Electric Guitar Kit
If you're looking for a guitar for kids, this guitar is a great option. It's smaller than a full sized guitar which makes it easier for them to play. Both in weight and in size for their hands and fit under the arm. It weighs only 5.7 lb and is 30-inches long. In terms of pickups, it just has one fixed hardtail saddle bridge for the green and red guitars, but the black and sunburst options have one humbucking bridge. The body is poplar and the neck and fretboard is maple. You can use the knobs to adjust the tone and volume.
This guitar comes with strings on, plus a set of extra strings, a bag, a strap, tuner, amp, picks, cable, and an Allen key. You also get access to free online guitar lessons. Most people are pretty happy with the guitar and the accessories, especially for kids. This is a real guitar, not a toy. But there were a few complaints about the little amp sounding fuzzy and the frets not always being smooth.
Pyle Electric Guitar Kit
Sale
Once again, if you don't have anything guitar related, this guitar kit will sort you out. It comes with the guitar (complete with a whammy bar), extra strings, tuner, amp, strap, bag, picks, and free access for two months to online music lessons. The guitar has dual humbucker pickups and a 3-way pickup selector. The guitar is constructed from paulownia, Canadian maple, and man-made wood. The glossy finish is scratch-resistant. Choose from black, red, green, or blue.
Many people feel this is a good beginner guitar and say the little amp is pretty good too for its size. Overall, people were happy with the quality. However, there were a few complaints about the guitar staying in tune, feel of the frets, and the quality of the strings and finish.
Under $500
These guitars are better quality than the aforementioned guitars. The materials used are better quality and the construction is better quality.
This means your machine head tuners will stay in tune properly for longer (although of course, if you have strings that are sensitive to temperature, which steel strings are, the time your guitar stays in tune may vary). The nut is better quality as is the bridge, all of which affects tone and the ability of the strings to stay in tune. The frets are smoother and stay in place better. There will be less noise, in other words, less buzzing and humming.
But bear in mind, that you will need to purchase things like an amp, guitar bag, strap, tuner, etc, for some of these options. In most cases, these are the entry level offerings from various brands. That's not to say that there aren't a few gems in this category though.
Yamaha Pacifica PAC112JL Electric Guitar
Yamaha is a pretty well-known brand in the instrument world, and generally speaking, even their beginner guitars will be decent quality compared to the very cheap brands. You can get this guitar in either right-handed or left-handed option. It has a humbucker pickup and two single coil pickups, and a vintage-style tremolo bridge. You can control your tone and volume with the knobs and select which pickups you want to use.
The body is alder wood, the neck is maple, and the fretboard is rosewood. Choose from black, yellow natural satin, violin sunburst, natural, metallic red, or lake blue. Most people are very happy with the quality and tone of this beginner guitar. But there were a few people who said that the quality wasn't good compared to Yamaha's better guitars and that their Yamaha Pacifica didn't stay in tune.
Squier Jazzmaster Affinity by Fender
Fender is another giant in the guitar industry, so you can expect quality. This guitar is thin and relatively lightweight and looks great. It has two single coil Squier Jazzmaster pickups and a modern 2-point tremolo bridge with a whammy bar. The knobs allow you to control the tone and volume and there's a 3-way pickup selector. The body is made out of poplar, the neck is maple, and the fretboard is laurel. Choose from lake placid blue and burgundy mist.
Most people are happy with the guitar, some even saying it was perfect straight out of the box. There are no real complaints about this guitar.
Squier Bullet Mustang by Fender
Another Fender makes the list. This guitar is also thin and lightweight for comfort. It has two humbucker pickups and a hardtail bridge. The knobs allow you to adjust tone and volume and there is a 3-way pickup selector. Although this guitar isn't a mini, the scale length is only 24 inches which is a bonus if you have small hands. The guitar is constructed from poplar and laurel. Get it in black, brown sunburst, or imperial blue.
Most people are very happy with this guitar saying it sounds good even on cheap amps. A tip is that if the tension is too low on the strings, buy thicker strings. There are a few complaints about sharp frets and whacky tuners on some of the guitars though.
Ibanez Semi-Hollowbody Electric Guitar
For better sustain that will go well with a range of genres and a beautiful wood look, this Ibanez semi-hollowbody will do well. The dual humbucker pickups provide a warm and balanced tone. You can adjust your volume and tone with the knobs and select which pickups to use with the pickup selector.
The body is made from sapele, the neck from mahogany, and the fretboard is rosewood. Choose from transparent black flat, brown, and transparent red. Most people like the tone and aesthetics too. They feel the neck is comfortable to play on and that the guitar stays in tune very well. In most cases, the few complaints had to do with defects or damage.
Traveler Guitar Ultra-Light Electric
If you want something that is more unconventional looking, this guitar is for you. There is no headstock, the tuning machines are in the body, making this a shorter guitar than regular guitars, great for traveling. The body is a smaller rectangular body making it a lightweight option. There is a removable lap rest so you can play in whichever way you're comfortable.
It has dual rail humbucker pickups. Unlike most guitars, however, this guitar doesn't have controls for the tone and volume, so if you like to tweak those things directly from your guitar, steer clear of this one.The body and neck are made from maple and you can choose between maple, black walnut, or pau ferro for your fretboard. Choose from torino red, maple, matte black, vintage white, or slime green. You can also choose between a left-handed or right-handed guitar. This guitar comes with a guitar bag.
Most people enjoy this guitar for how portable it is. They say it sounds pretty good and plays well, although it can feel a bit strange in the beginning due to its size. However, there were some complaints about the guitar not sitting comfortable against your body because of how the back is designed. It's also better to play with a strap for some people as it might not sit comfortably on your lap even with the lap rest.
Squier by Fender Classic Vibe 50s Stratocaster
Yet another Fender on the list. If you're into vintage looking guitars, here you go. This guitar is modeled after the 50s Strats. It has a vintage tremolo bridge with bent saddles and three Alnico single coil pickups. The tuning machines have a vintage look to them and the tinted gloss on the neck not only adds to the look but makes it smooth for easy playing. You can control the volume and tone with the knobs and there is a pickup selector too.
It's constructed from nato and maple. Choose from black, fiesta red, white blonde, or 2-color sunburst. Most people are happy with the Fender tone and the quality of this guitar. They love the look and finish of the guitar too. Most of the few complaints there were had to do with the need to set the guitar up which is something most if not all new guitars need. There were also complaints about defects and buzzing strings.
Sterling By MusicMan Solid-Body Electric Guitar
A guitar with a classic shape based on the Stingray, the Sterling offers dual humbucker pickups and vintage tremolo bridge. The neck is slim so if you have smaller hands you may find this guitar works for you. It has good tone and sustains well. The body is poplar, neck is maple and the fretboard is laurel. If you purchase it off Amazon from the MusicMan store, your guitar will come already set up. Choose from stealth black or daphne blue.
Most people feel this guitar sounds great at this price point and like the height of the action (the benefits of it coming set up prior to shipping). Some people mention that the tuning machine heads are low quality, despite that it stays in tune fairly long.
Gretsch G2622 Streamliner Center Block
At the higher end of the price range is this Gretsch semi-hollowbody. Great for when you want some extra resonance and a jazzed up look. It's got dual Broad'Tron humbucker pickups, each with their own volume control knob. There is also a Gretsch V stoptail tailpiece, which helps the sustain. In addition to the two volume controls for the pickups, you also get an overall volume control knob and a tone knob.
The body is maple, the neck mahogany, and the fretboard is laurel. Choose from forge glow, midnight sapphire, phantom metallic, single barrel stain, or walnut stain. Most people love the guitar for its tone stating that you can play any genre with it. They also mention that the neck is comfortable and the finish is beautiful. The only negative things mentioned was that it's a bit neck heavy and reaching the higher frets is somewhat difficult despite the cutaway design.
You can purchase it here at Sweetwater.
Epiphone SG Special P-90 Electric Guitar
This Epiphone SG is based on the classic Gibson SG from the 60s. It has dual P-90 Soap Bar single coil pickups that work well for smooth tones as well as distortion. You get two tone knobs and two volume knobs for even better control over the sound you want. There is also a pickup selector. The SlimTaper neck is designed for comfort.
The body and neck are made from mahogany and the fretboard is made from Indian laurel. You can purchase this guitar in sparkling burgundy or faded Pelham blue. Most people love the sound of this guitar and are very happy with the quality. The few complaints there are stem from defects. There is mention that this guitar neck dives since it's neck heavy, so just be aware of that when moving around with it.
You can get it here from Sweetwater.
Conclusion
There you have it, the 12 best cheap electric guitars. Whether you need a whole kit or just a guitar, there is something within your budget. While it's worthwhile to save up a little longer to get a better quality guitar, you can always save up for a better one while you learn on one of the cheapies. The options above $200 will last you into your intermediate days and can even be used in a band. If you love the sound and the way it plays, there's nothing wrong with playing it in your pro days too.
If you ever become pro or just want an awesome guitar to play with at home and your cheapy just isn't doing it for you, save up for one as you learn on one of these in the meantime. Till then, happy jamming!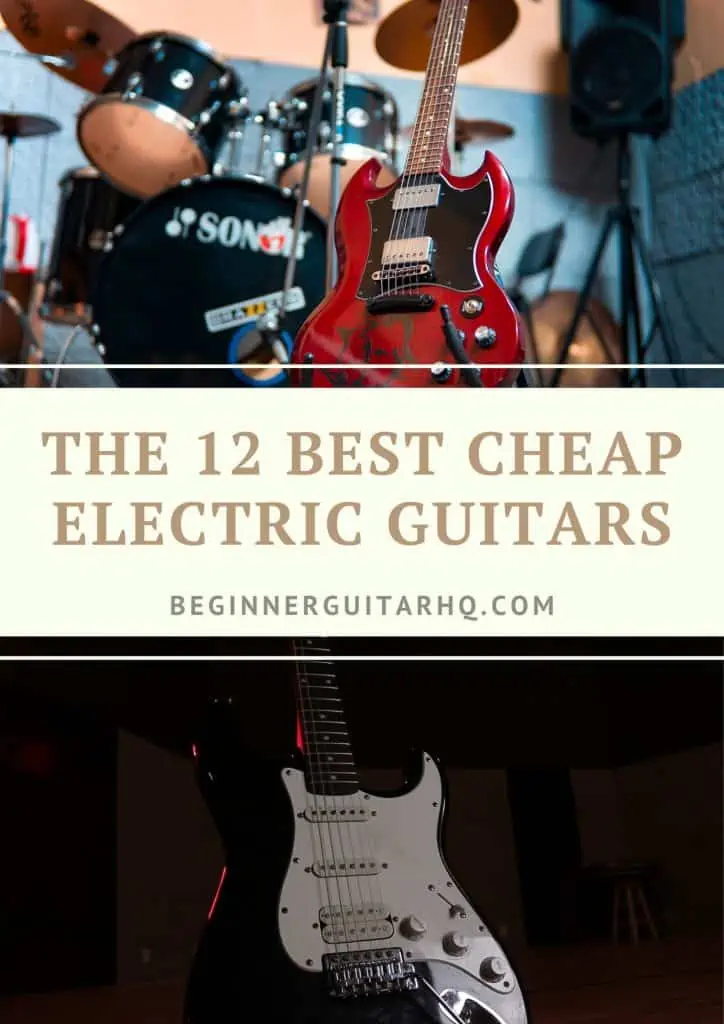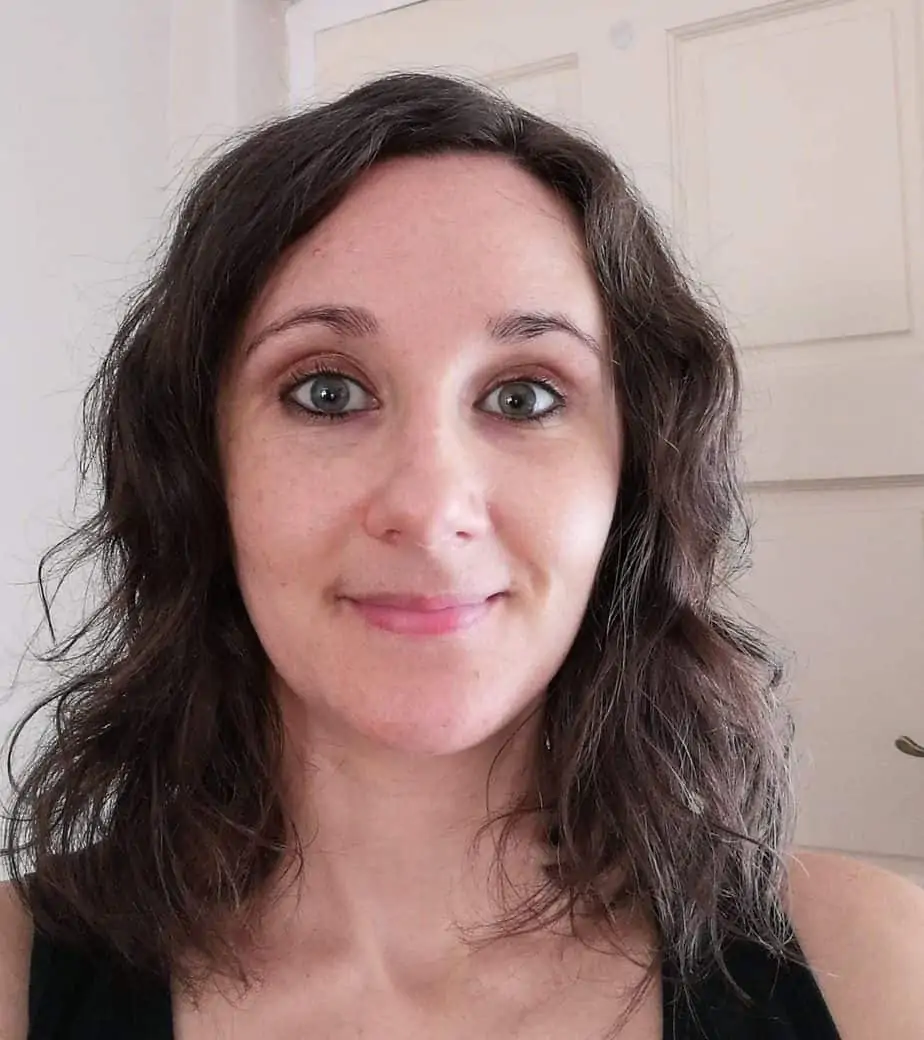 Cheanné Lombard lives in the home of one of the new Seven World Wonders, Cape Town, South Africa. She can't go a day without listening to or making music.
Her love of music started when her grandparents gave her a guitar. It was a smaller version of the full-sized guitars fit for her little hands. Later came a keyboard and a few years after that, a beautiful dreadnought guitar and a violin too. While she is self-taught when it comes to the guitar, she had piano lessons as a child and is now taking violin lessons as an adult.
She has been playing guitar for over 15 years and enjoys a good jam session with her husband, also an avid guitarist. In fact, the way he played those jazzy, bluesy numbers that kindled the fire in her punk rock heart. Now she explores a variety of genres and plays in the church worship group too and with whoever else is up for a jam session.