The world of guitars is vast, and there are a lot of amazing brands out there! Whether you're a new player or a seasoned pro, sometimes it can be difficult to evaluate which of the best guitar brands are great for your style, and which aren't suited as well to your playing. 
While many brands offer a wide variety of models for all kinds of players, usually their guitars will all feature a common theme, or a design ethos. Understanding how these design goals change between different brands can help you figure out which brands to pay attention to and which ones to avoid. 
Ultimately, there's something for everybody on the guitar market — but it can still take some work to find the company that's making just the right thing for you! In this guide, we've broken down the very best guitar brands out there, taking both budget and premium manufacturers.
Whether you're on the hunt for your next guitar or just want to keep an eye on the market, these brands are some of the very best to look out for. Our guide will give you everything you need to follow the market accurately, without getting lost in guitars and brands that you don't enjoy. Let's get right to it and break the brands down!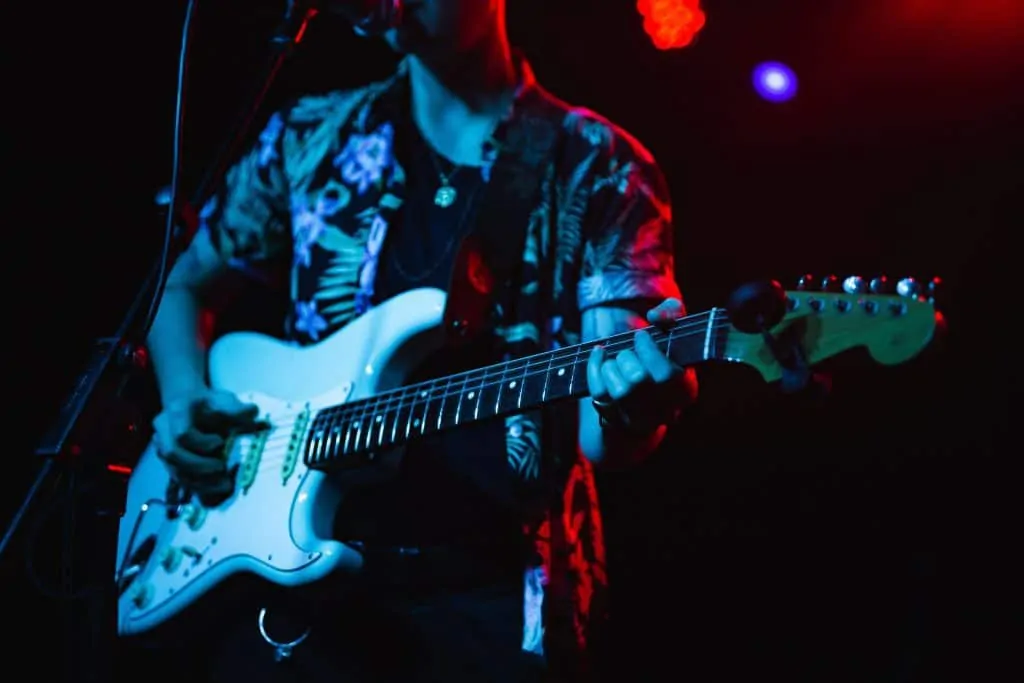 A Fender Stratocaster on stage.
Fender
Over the history of the electric guitar, no company has played such an integral role as Fender. The California company scored the first mass-produced electric guitar in the Esquire (later the Telecaster), and they've been pumping out amazing guitars ever since. Models like the Tele, Stratocaster, and Jazzmaster are all some of the greatest guitars ever designed.
One of the great strengths of Fenders is their amazing flexibility. While they were originally designed for players of the 1940s and 1950s, guitars like the Telecaster and Stratocaster are still the tools of choice for players pushing the boundaries of the instrument today. 
The list of famous players who loved Fenders is too long to count, but includes legends from George Harrison, Keith Richards, and Jimmy Page to Eddie Van Halen, Johnny Marr, Jonny Greenwood, Ed O'Brien, and countless more. And that's not even counting players of the company's legendary bass models, like the Precision Bass and Jazz Bass!
Fender guitars are known for their bright, chimney sound and their clear tonal palette. They perform great whether played clean or overdriven, although "Fender cleans" (both from guitars and from amps) are legendary in some recording circles. 
Fender guitars also use mostly single-coil pickups, which gives the brand a very distinctive sound. In contrast with manufacturers who use humbuckers, single-coil guitars have more top-end headroom, sparkle, and clarity without losing focus or bite! Check out our review of the Fender Johnny Marr Jaguar for a more in-depth look. 
Of course, if you want humbuckers many Tele and Strat models are available with them mounted from the factory.
Fender makes mostly solid-body guitars, although they have produced some semi-hollow and "Thinline" models as well. You can also check out some of their acoustics, like our review of the Fender CD60CE dreadnought. 
If you want cutting, brisk Fender tone but with a bit more acoustic resonance, these are great models to look into. The extra acoustic cavity also reduces the weight of these axes, which is great for younger or older players.
Fenders also offer slightly smaller, more comfortably curved necks on most of their models than their competitors do. This makes them a great fit for young players just picking up a guitar, as well as seasoned pros who want a fast-playing guitar for their gigs. Their Mexican Stratocaster, which we reviewed, offers a great combo of tone and value. 
The company's "modern C" neck profile and 9.5" fretboard radius provide a modern touch without losing their vintage feel.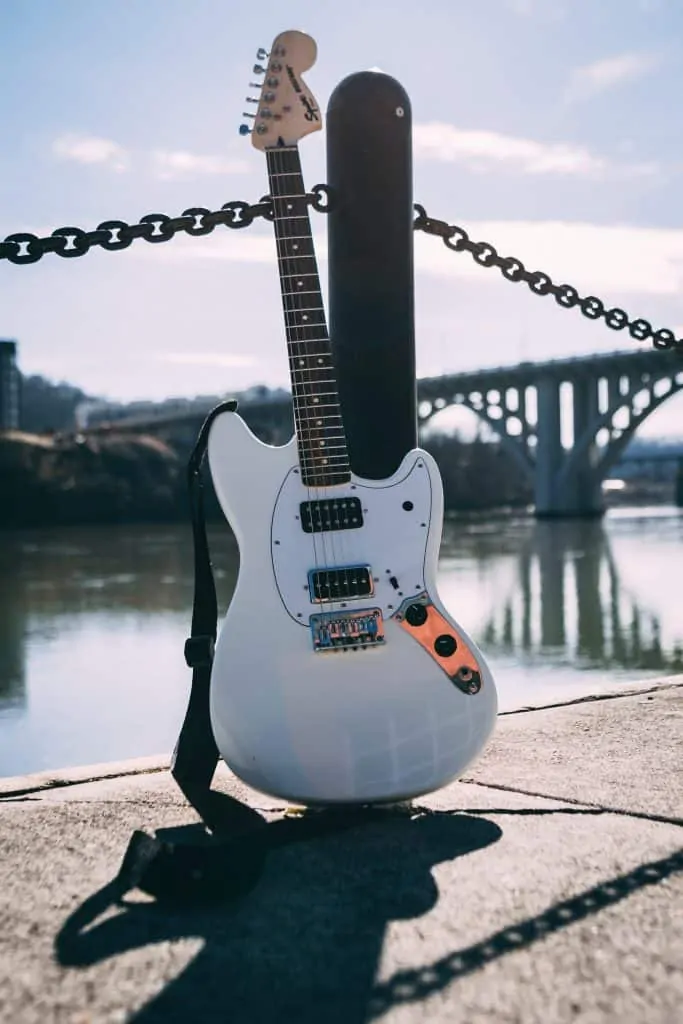 A Fender Duo-Sonic.
Squier
While Squier might be known primarily as "Fender's budget line," the company has gotten out of their owners' shadows in the past couple decades. Nowadays, Squiers are gig-quality instruments that often provide a feature or style that you can't find on Fenders. Whether you're on a tight budget or just want an inventive new guitar, Squier is the right brand to check out. 
Today, Squier is known best for their Affinity Series. These guitars provide the same body shapes and tones as full-fledged Fenders, but cost much less — they're perfect for players on a tight budget or those who just want to check out a new sound without committing to a pricey instrument. The Standard Telecaster and Affinity Stratocaster are some of the most popular axes.
Squier also offers a Classic Vibe Series, which operates today like a scaled-down version of Fender's Vintera lineup. The Classic Vibe Squiers, like the CV Stratocaster and CV Telecaster, take vintage specifications for neck shape, fretboard, pickups, and more and put them into an affordable modern guitar. You can also find Classic Vibe offsets, like the Jazzmasters.
Finally, in recent years Squier has created a roster of interesting signature and special edition models. These guitars sometimes take after Fender designs, but other times they bring back a classic product that you can't find at Fender or alter a Fender Custom Shop design for the mass market. 
Some great examples are the J. Mascis Signature Jazzmaster, Squier Starcaster, and Squier Cabronita Telecaster. All of these models provide a design and sound that you can't get from Fender's standard product line — and they're built well enough to sound great at gigs and jam sessions as well as just in practice rooms!
The Starcaster and Cabronita Tele are two particularly interesting models. The Starcaster brings back a late-70s offset, semi-hollow body design that's completely different from anything else you'll see at Fender. Its Gibson-esque f-holes and humbucking pickups give it a meatier sound than most Fenders, but the wide range pickups and semi-hollow body keep it bright and clear.
The Cabronita Tele is another great Squier specialty. This model was originally debuted at the Fender Custom Shop, but Squier took it to production a few years ago and it's been a massive hit ever since. If you want '50s style tones with a meaner edge than most other Telecaster designs, the Cabronita is a perfect option for you.
The Cabronita combines a jet-black body with a small pickguard and two TV Jones pickups. These exude Gretsch-style tones, with plenty of bell-like clarity and snappy crunch. You also get a Bigsby vibrato arm in the package, which adds wobble to your notes and a lovely vintage look to the guitar. With a maple neck rounding out the package, the Cabronita is a Squier classic. 
Gibson
Apart from Fender, Gibson is arguably the most famous brand in the history of the guitar. Since its founding at the turn of the 20th century, Gibson has become a titan of the guitar industry, in both the electric and acoustic worlds. The brand's models like the Les Paul, ES-335, SG, and J-45 have become some of the most legendary guitars ever made.
If you're thinking of buying a Gibson, it's important to know the brand's ethos, and general style. As one of the oldest guitar manufacturers in the United States, many Gibson models utilize vintage touches like f-holes and semi-hollow or hollow bodies. 
The ES-335, which incorporates f-holes and double horns reminiscent of vintage archtops and violins, is a great example of Gibson's iconic style. Other thinline Gibson models like the ES-330 and fully hollow guitars like the ES-125 or ES-175, also utilize this vintage, archtop aesthetic. If you love this style of guitars, look for the "ES" line, which contains most of these vintage axes.
You'll also find humbuckers or P-90s in almost every Gibson electric guitar. These darker, smoother pickups complement the acoustic, woody tones that semi-hollow and hollow-body guitars excel at. Some vintage Gibsons (like the Melody Maker) series use single-coils, although these guitars were aimed at students and never became a significant part of the product line. 
However, some of the company's electric guitars, like the Les Paul, SG, and Flying V, are much more modern than a lot of the "ES" models. These guitars offer solid bodies, with higher-output humbuckers and faster, smoother necks. While the ES guitars excel at classic rock guitar, blues, and jazz, the solid-body guitars make great instruments for styles with more overdrive and distortion.
Most Gibson electric guitars are built with mahogany and maple, which emphasize bright, direct midrange response and clear articulation across the frequency spectrum (and the top end in particular). 
On the acoustic side of the product line, you'll find a lot of guitars with mahogany as well, although Sitka spruce and rosewood are also common tonewoods. Spruce makes a great top wood, because it provides a bright, clear attack with plenty of articulation and string separation. Rosewood, meanwhile, is smoother and warmer for a classic vintage vibe. 
Out of Gibson's acoustic product line, the J-45 and Super Jumbo series are their most famous models. The J-45 offers a slightly smaller body shape than a dreadnought, which is great for strumming, flatpicking, and singer-songwriter work alike. Super Jumbo Gibsons are even larger than dreadnoughts, and provide exceptional bass projection for the loudest environments. 
Epiphone
Epiphone may be known primarily for producing Gibson's budget line, but the brand has a legendary history of their own as well. Famous models like the Casino, Riviera, Texan, Wildkat, and Emperor make this one of the best guitar brands for any aspiring star to check out.
If you want a guitar that sounds and looks like a Gibson at a more affordable price, Epiphone models like the Epiphone Les Paul, Epiphone SG, and Epiphone 335 are great guitars to check out. Built overseas, these guitars manage to capture a lot of what makes their Gibson counterparts so special at a price that every player can afford.
One major area of improvement for Epiphone has been the fit and finish of the guitars. Some old, cheaper Epiphones suffered from pokey frets and shoddy craftsmanship, forcing players to shell out extra cash for an extensive setup and hardware upgrades. However, in the past decade Epiphone have raised their quality to pro levels. These are extremely giggable guitars!
Along with the greater quality control in overseas Epiphones, the past few decades have also seen the improvement of the pickups in Epiphone models based on Gibson designs. With Epiphone's custom-designed BurstBucker and ProBucker humbuckers, you can get tones with almost all of the articulation and depth of full-fledged Gibsons out of the Epiphone lineup.
If you're looking for a distinctive Epiphone guitar, you should check out their unique models. The Casino, used by players like John Lennon, Paul McCartney, George Harrison, and Keith Richards, is undoubtedly the company's most famous. The Casino blends a fully hollow maple-poplar-maple thinline body with two P-90 pickups and a smooth rosewood fretboard. 
The hollow body makes the guitar sound great unplugged as well as amplified, and accentuates the wide range of the pickups. P-90s can go from airy, breathy clean tones all the way to screaming overdrive, which makes them a great pick for players who need one guitar to cover every job. A Casino is a great pick for jazz, rock, blues, and even country. 
The Riviera is another classic model from Epiphone's history. While it has a similar body to the Casino, it's famous for its trapeze tailpiece and mini humbuckers. These pickups produced heavier tones than single-coils or P-90s, but still provided more top-end and cut than the best standard humbuckers. 
Today, Epiphone manufactures a signature Riviera model for Nick Valensi of the Strokes, and has also reissued a version of the Riviera with three P-90 pickups and a Bigsby (like the Widlkat but with two cutaways instead of one). Either one of these guitars would be a great choice for a player who wants a versatile axe that's not a Telecaster or Strat clone.
On the acoustic side, Epiphone models like the Texan and Olympic are also popular. The Texan is a vintage big-body dreadnought used by players like Paul McCartney, while the Olympic reissue commemorates the acoustic jazz archtops of the company's early years. It's a distinctive, tasteful instrument perfectly suited for swing jazz players. 
PRS
PRS may have begun much later than Fender or Gibson, but in its 30-plus year history the company has quickly grown to become one of the most famous name brands in the guitar world. PRS guitars are known for their thoughtful, tasteful designs which emulate aspects of vintage guitars while always remaining a unique, nuanced style and tone. 
PRS' first breakthrough model was the Custom guitar. Initially made with 24 frets (and called the Custom 24) before being offered in both 24- and 22-fret models, the Custom's popularity has come to represent many people's perceptions of PRS as a guitar brand. 
The modern SE Custom 24 retains the traits that made the original famous, while saving guitarists a lot of cash. It sits well under $1,000, with a pair of outstanding humbuckers, a unique double-cutaway shape, and a beautiful flamed maple top. The body shape and pickups make it one of the best rock guitars, as well as great for jazz and country music.
If you want a twist on the classic sound, PRS also offers designs like a Custom 24 SE semi-hollow, or a Custom 24 SE with a Floyd Rose bridge. You can also purchase different body shapes, like the elongated McCarty models or a single-cut design that more closely resembles a Les Paul. 
No matter what electric you pick, PRS is known for their dedication to sourcing the very best tonewoods and their impeccable attention to detail in all their models. This is a great recipe for a fantastic guitar, but it also ensures that your model will provide you great value on the new and resale market. 
In more recent years, PRS has also branched out into the acoustic guitar world, with a series of thoughtful models that combine value and finish. The P20 SE Parlor is a great example. It's a larger parlor body, which improves sound quality and projection, while it provides an all-mahogany solid construction that gives you the best tone while keeping it comfortable.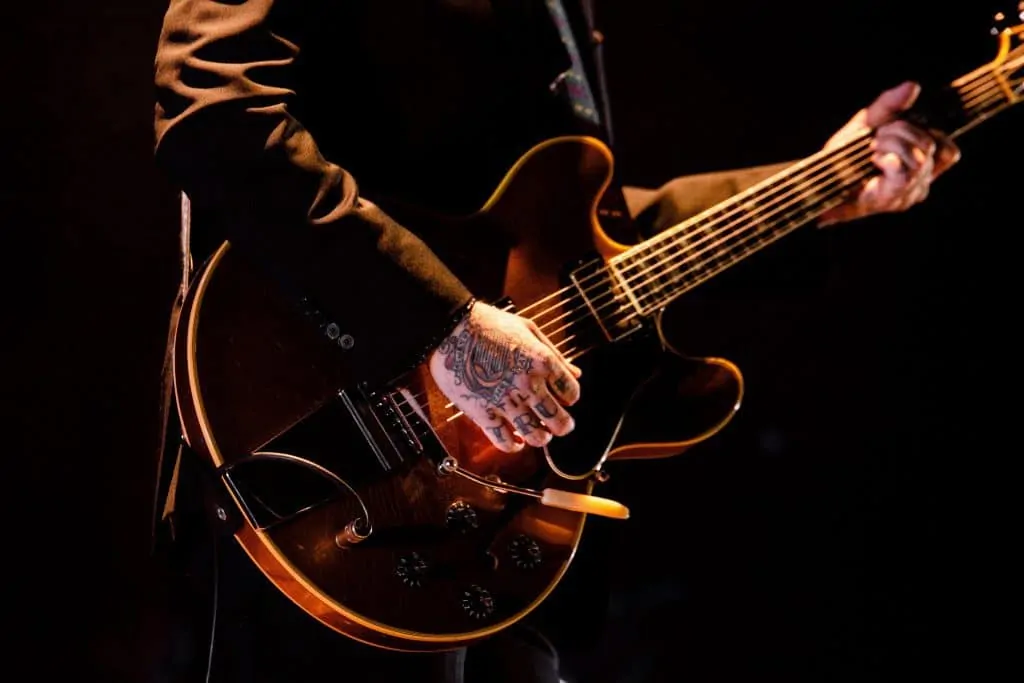 A Gibson or Epiphone 335.
Gretsch
Gretsch first became popular in the 1950s in the country, rockabilly, and rock and roll guitar scenes. However, the brand has experienced a renaissance in the past 20 years, with outstanding quality, vintage tone, and plenty of affordable options available to suit players looking for all types of guitars.
Gretsch is known primarily for their hollow-body guitars, like the 6120. This single-cutaway model provided a woody, smooth sound thanks to its full-depth body. That extra depth sounded great when paired with Gretsch's Filter'Tron humbuckers: brighter and clearer than Gibson P.A.F models, players prized them for their glassy sound that could cut through a mix.
Another famous Gretsch hollow-body is the Country Gentleman. Originally conceived as Chet Atkins' signature model, this guitar offered double cutaways and painted-on f-holes to minimize feedback. Both the 6120 and the Country Gent found famous users like George Harrison, Chet Atkins, Eddie Cochran, Brian Setzer, and others.
The one exception to this most popular vintage Gretsches is the Duo Jet. This solid-body, single-cutaway model with two DeArmond humbuckers became a favorite of George Harrison's during his early days in the Beatles, and survived as a popular solid-body model that offered something different from a Telecaster or Les Paul.
However, Gretsch has also become more popular in recent years for their affordable lines: the Streamliner Series and the Electromatic lineup. With most Streamliner models retailing for under $500, and Electromatics coming in at under $1,000, both of these product lines offer some of the best budget guitars around, with impeccable fit and finish.
Both the Streamliner and Electromatic guitars use vintage Gretsch body shapes, like the 6120 shape, Duo Jet, and Country Gentleman designs. You'll also find newer models that take the double-cutaway feel of the Country Gentleman and add a center block to the middle of the body. This reduces feedback, increases sustain, and focuses the tone for a sharper, edgier sound.
The main differences between the Streamliner and Electromatic Series lie in the pickups. Electromatic guitars include pickups voiced just like vintage Gretsch Filter'Trons, while Streamliner axes use Broad'Tron pickups instead. The Broad'Trons sound like a Gretsch guitar, but also aim to capture more generic Gibson-style humbucker tones for a more versatile axe. 
Along with the pickups, Electromatic guitars also offer better fit and finish, as well as more overall amenities. The fretwork and body are extremely smooth, with crisp detail work and exceptional finishes. 
If you want a guitar that sounds great for the price, the Streamliner Series is the option for you — but if you want an instrument that provides a more accurate representation of Gretsch tone and just sounds great, period, then you might be more satisfied with an Electromatic. Or, if you want an acoustic guitar, check out our review of the Gretsch Jim Dandy Parlor Guitar. 
Martin
Martin guitars are legendary in the acoustic world. The Nazareth, Pennsylvania company has been manufacturing flattops and archtops for over 150 years, and that legacy shines through in their guitars. Many acoustic guitarists consider a Martin the pinnacle of their instrument collection. 
Used by players from Eric Clapton to Johnny Cash, Jonny Greenwood, and Thom Yorke, Martin guitars have found a place in pretty much every genre imaginable. In fact, at this point it might be easier to list the names and genres where Martin has not made a significant impact!
The company is most famous for two product lines: their dreadnoughts, marked with a "D" before the model number, and their signature orchestra model (the "OM" line). These acoustic body shapes are bigger than many other guitar classifications, and they provide superior tone and projection.
Classic Martins are extremely expensive, because they use all solid woods — often Sitka spruce tops with rosewood or mahogany for the back and sides — and are all built by hand at the company's Pennsylvania factory. However, Martin also features some more affordable designs for players who need a less expensive option. 
The Little Martin model is one great example of this. While it was originally conceived as a student model thanks to its smaller body, spruce top, and laminate back and sides, it became a favorite of guitar pop king Ed Sheeran and instantly became famous with him. However, just because Ed Sheeran uses the guitar doesn't mean that you can't!
The Little Martin's ¾ dreadnought shape makes it easy for beginners, younger players, and new guitarists to pluck single notes and fret barre chords without hurting their joints or their hands.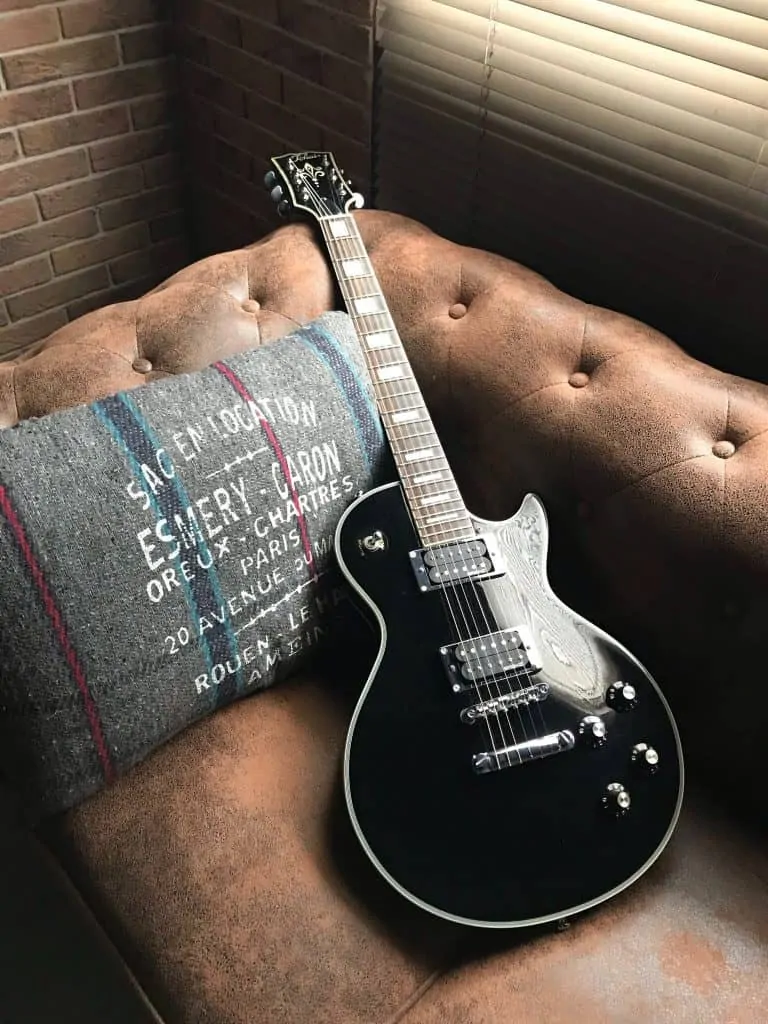 A Gibson Les Paul, similar to some Ibanez models.
Ibanez
Ibanez is one of the most famous Japanese brands in the guitar community, and their impact stretches across the worlds of guitars and effects pedals as well. The company has produced a series of famous models, but the most famous are definitely the JEM and RG. 
The JEM — a signature guitar designed by Steve Vai — and the RG series based off of it have become flagship designs for Ibanez. If you're looking for a guitar that makes it as easy as possible to play any complex style of music (from metal to hard rock, experimental, and even prog), then the JEM and RG models might be the perfect option to check out. 
With the JEM and RG, Ibanez became one of the first builders to popularize the now-ubiquitous "superstrat" body shape. It's similar to a classic Fender Stratocaster, but usually uses a thinner, faster neck, a set of higher-output pickups, and sharper, more dynamic cutaways to make it easier to play faster and louder. 
Guitars like the RG450MB are great picks for beginners who want better build quality than you'd usually find on a cheap guitar. Ibanez is famous for their commitment to playability and attention to detail, which makes them a perfect brand for players who want value without sacrificing quality. Bass players should look at our review of the Ibanez Talman bass as well!
If you need an even more affordable model, their GRGM21 guitar is designed specifically for beginners. It's extremely accessible for players on all budgets, and it features a set of tweaks that make it easier for new players to take advantage of. It also has a 3/4-size scale and body, which makes fretting complex chords and fast solo runs much easier.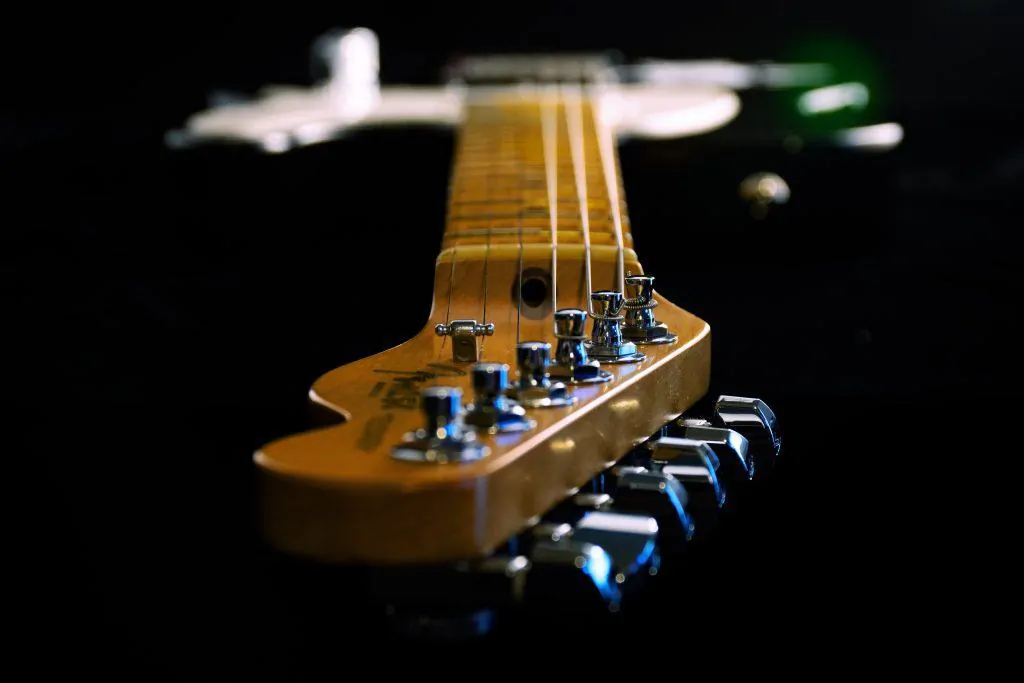 Trying out a new brand can sometimes give you fantastic results.
Other Brands: Guild, Reverend, Seagull
Rounding out our list, we've also got a few honorable mentions: Guild, Reverend, and Seagull guitars. These brands might not all be as famous as some of the names listed above, but they're every bit as interesting. These brands all bring great quality, along with being some of the best on the market at producing affordable, value-packed instruments. 
Guild
Guild is a legacy brand with plenty of history — their archtops and electric guitars were very popular throughout the 1950s and 1960s — but the modern reincarnation of the brand offers affordable archtops and solid-body models that are sure to please players of all stripes.
Check out their Newark St. lineup of electric models for a full collection of guitars that sounds and plays great. In particular, the Starfire line of semi-hollow guitars and the solid-body Thunderbird models are classic brand names that Guild have updated for the 21st century. They're affordable for most players, and they provide great value along with their tone.
Reverend
Reverend is a newer player on the guitar scene, but they're quickly making a name for themselves with their high-quality parts and unique body shapes and pickup configurations. Of course, it doesn't hurt that Reverend instruments are some of the best values in the guitar world today! You can find many models retailing for under $1,000, and used for even cheaper.
The Double Agent is a great example of Reverend's ethos. With a soapbar P90 in the neck and a humbucker in the bridge, it's got a wider tonal palette than most other axes right off the bat. The offset korina body and roasted maple neck only add to the premium feel and versatile DNA. You can also get the same body with two P-90s in the Charger 290.
Guitars like the Charger 390 and Jetstream 390 make further use of P90 pickups, with three P90s in each model. Or, for a semi-hollow tone that's perfect for blues and jazz you can check out the Club King 290. They all feature Reverend's contour tone control, which rolls bass in and out of your sound to give you a broader tonal range than traditional treble pots.
The Chicago company has also partnered with guitarists like Billy Corgan, Reeves Gabrels, and Pete Anderson on a series of intriguing collaborations. Corgan's signature guitar, the Reverend BC-1, and signature terz are particularly fascinating. With a short scale and one bridge humbucker, the terz (tuned in minor thirds) is great for adventurous players. 
Seagull
Finally, Seagull guitars are a force in the acoustic guitar market — and for good reason! Their designs, particularly their affordable S6 lineup, have become classic midrange acoustics for beginners and advanced players alike. Whether you're just picking up the acoustic guitar or you want an axe that can do more without breaking the bank, Seagull is one brand to notice. 
Most Seagull guitars use solid Sitka spruce or solid cedar for the top, which are classic acoustic tonewoods. Spruce is prized for its projection and clarity, while cedar is a bit more unique — it has a warmer, woodier sound with a heavier focus on the midrange. 
Wild cherry is popular as a body wood, which is similar to mahogany and keeps the guitars affordable and sustainable. The S6 Dreadnought is by far the most popular model in the lineup, although the company also manufactures S6 Orchestra guitars and an S6 parlor model. Check all these out to find which one will work the best for you!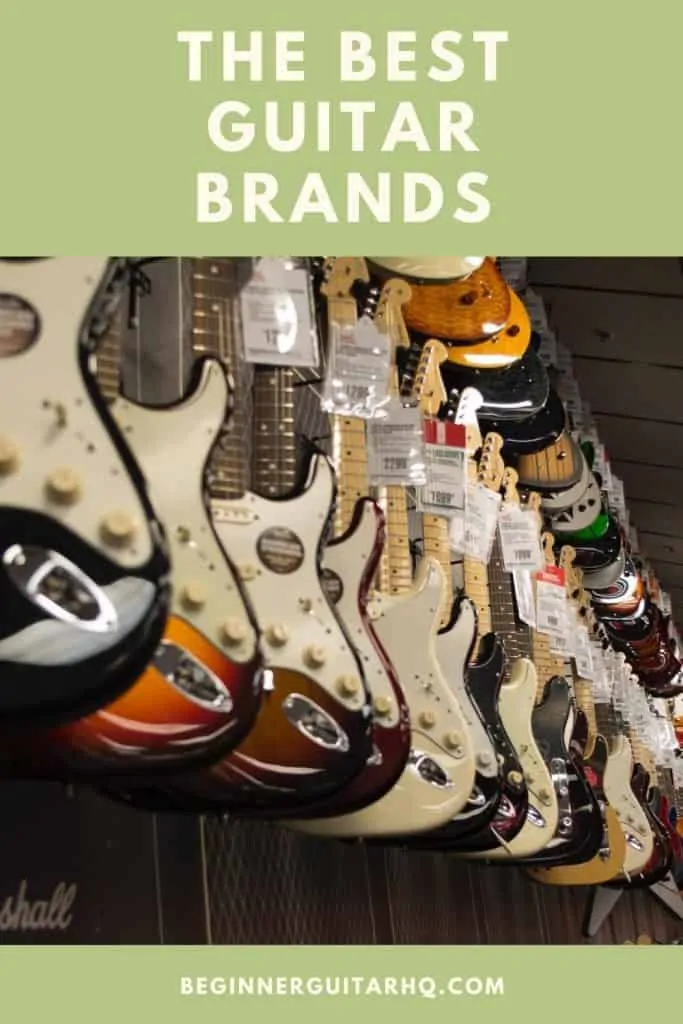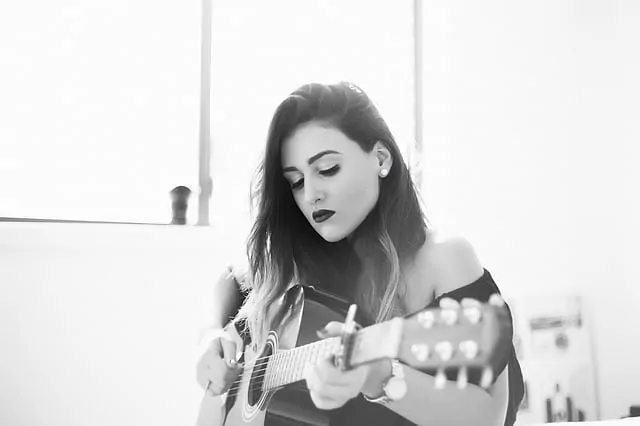 Jen is a guitarist and singer-songwriter who spends much of her time on the road and has lived in 13 cities across 4 continents. She picked up her first guitar at the age of 6 and learned to play by ear shortly after. She received her formal music education at the Berklee College of Music, and currently plays for a few bands in her free time. She has an uncanny ability to improvise creative melodies and harmonies. Her early influences include blues, jazz and rock.