There are no doubts and no second guesses regarding Fender instrument quality. We've already reviewed some of its best bass guitars, like the Fender Precision Deluxe Special, as well as their top value electric guitars, like the Fender Player Strat or the Fender Modern Player Telecaster.
We've also reviewed quite a lot of Squier instruments. Being Fender's subsidiary, Squier builds top-value Fender-designed guitars and bass guitars (albeit with a few twists) and sells for affordable prices. A great example is the Classic Vibe series, which brings forward Leo Fender's original blueprints.
Affordable ranges are not something Fender is known for, because that's what Squier is for…But when it comes to acoustic guitars, Fenders have chosen to market their instruments at honest prices for the amateur and the hardworking musician.
And so,  the Fender CD60CE is an entry-level acoustic-electric guitar for beginners. 
Let's see…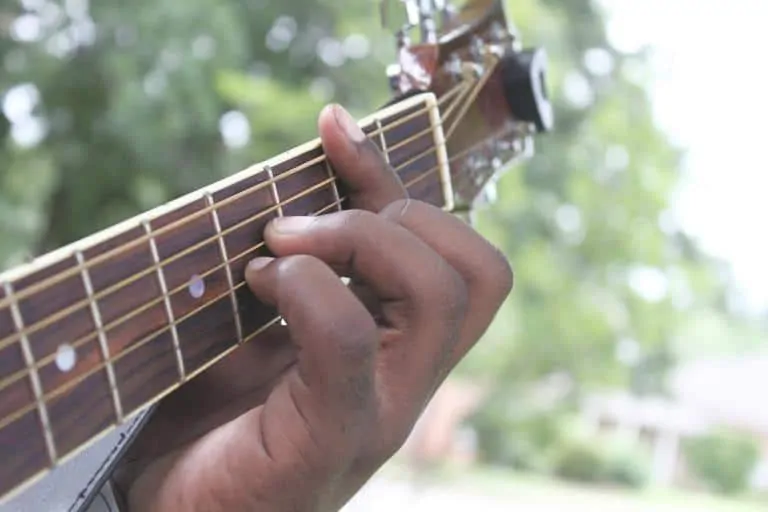 Fender sells acoustic and electroacoustic guitar at entry-level, mid-level, and premium prices alike. 
Fender CD60CE  Acoustic-Electric Guitar Review
The Fender CD60CE is the electroacoustic version of their CD60 pure acoustic guitar.
Whilst Squier dabbles in the affordable range to great results, Fender created the CD60 series as the best of both worlds: cheap dreadnought guitars that pack the Fender logo on the headstock.
This guitar is as simple as it gets. It doesn't shine, and it doesn't pack any surprises for its price. Still, this is a well-made entry-level guitar that fits the beginner bracket just perfectly. 
Overall, the Fender CD60CE is a no thrills electroacoustic guitar that serves as a solid foundation for anyone who wants to learn how to play guitar. Unsurprisingly, this model is amongst the most popular and top value beginner acoustic guitars you can buy right now.
So, because Fender isn't the typical brand selling cheap models but high-end alternatives, the Fender CD60CE is a very special number. It's a sturdy, affordable acoustic-electric string made for the ones who are just starting out their journeys.
Overview
The CD60CE acoustic-electric guitar does have some classic Fender touches, though. For example, the Scalloped X Bracing design plus the Fishman Isys III Pickup System are both impressive. Such a combo produces a nice sound, and whilst is obviously not the best Fender has on its shelves, it's okay, even outstanding for the price range. 
If you compare the sound of the Fender CD60CE against its similarly priced competitors, the sound packs a lot of punch. Plus, the tone is balanced and clear, which helps amateur guitar players sound better.
However, there're some cut-backs on other places, most notably on the built quality and its laminated woods.  
I just listed a bundle that includes:
The Fender CD60CE acoustic-electric guitar

A guitar hard-case

A strap

Guitar picks

Guitar cable

A digital clip-on tuner

A polishing cloth

Guitar strings

String winder

Instructional DVD with Fender guitar lessons.
Keep in mind the price of an entry-level electroacoustic guitar is higher than entry-level acoustic guitars. If you're looking for other options, please check this top 10 budget electro acoustic guitars list. 
Also, you may want to take a look at our selection of the top 10 acoustic guitar amps if you're looking to amplify the CD60CE.

Acoustic-electric guitars include an onboard preamp plus a cavity for a 9V battery, usually located near the neck joint, on the sides, as the image above.
Built quality
The Fender CD-60CE is suited for beginner and intermediate players looking for a versatile, acoustic-electric guitar that squeezes as much quality as it can from its budget.
That said, this is a dreadnought cutaway style body that provides easy access to the lower side of the fretboard.
Body & Design
The Fender CD60CE has a standard dreadnought body with a single-cutaway on its shape. It's a simple design, for sure, but it's effective.
Tonewoods of this model include laminated mahogany all around the body (front, back, and sides). A laminated guitar at this price range is not something to be proud of, to be honest. Solid-wood guitars feature better resonance and better durability than guitars made with laminated pieces of wood.
There's a reason for this, which is of course saving some money to invest instead in quality electronics. 
A good thing about the CD60CE is its scalloped X-bracing design. By "X-bracing" I mean the solid chunks of wood traveling below the soundhole. Their job is keeping the sound clean and balanced.
A scalloped X-bracing is a mid-level and beyond feature that enhances the sound quality, which is a big plus.
So, other than the laminated pieces, the overall body is well crafted, and well put together. 

A scalloped x-bracing design minimizes the shortcomings in terms of sound created by laminated pieces of wood. Such features enhance sound projection and resonance.
Neck & fingerboard 
In a similar fashion, the neck is also made of mahogany, and it houses a pretty smooth and sharp-free rosewood fretboard. Moreover, the neck sports Fender's classic C-shaped profile.
There's a great addition on the neck, which is a compensated bone saddle at the bridge for better intonation. Plus, there's a Graph Tech NuBone nut at the beginning of the fretboard. These two features are a great reason to buy this guitar. We're discussing that in more detail in the hardware section.
Finish
Take a quick look at this guitar and you'll realize the Fender CD60CE is neither shiny nor unique. 
However, it does have a classical glossy finish that makes it look like an expensive guitar both on the body and the neck.
Lastly, there're three color options, which are sunburst, natural brown of the mahogany body, or a tainted-black CD60CE acoustic-electric guitar. There's also a sunburst version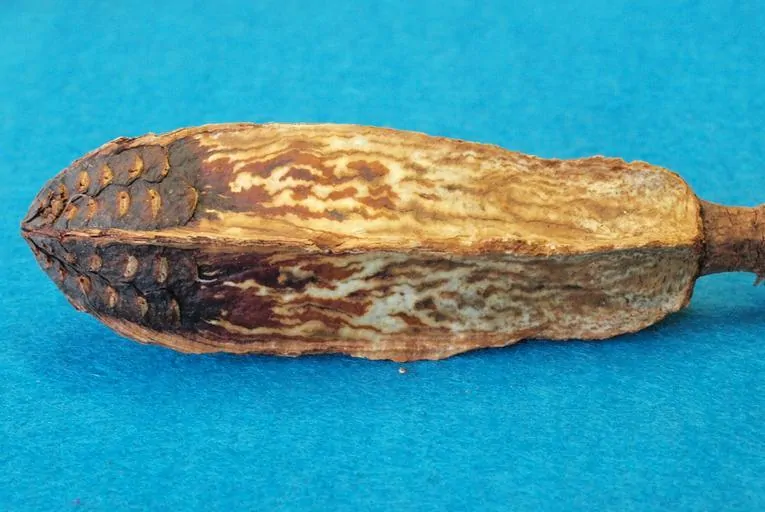 Mahogany is the most popular and overused solid wood on both electric and acoustic guitars. It's durable, economic, and easy to work with. It also delivers a warm and resonant sound. Here's more info about tonewoods.
Sound quality
Here's where we find true Fender quality. For such an affordable price, I must say the sound of the Fender CD60CE is definitely impressive. That's something you would realize as soon as you try it yourself.
Let's break it down and start with the electronics…
Electronics
Budget electric guitars tend to lack on the electronics section. Oftentimes, the sound is imbalanced, as it only sounds good either on clean or through its built-in preamp, but never on both.
The Fender CD60CE features top-notch electrics and circuitry. We're looking at the Fishman Isys III pickup system, and Fishman is one of the best guitar pickup manufacturers.
As a result, the sound of this guitar is similar either unplugged or amplified.
Are you in a rush to find the best electric guitar single-coils? Check here!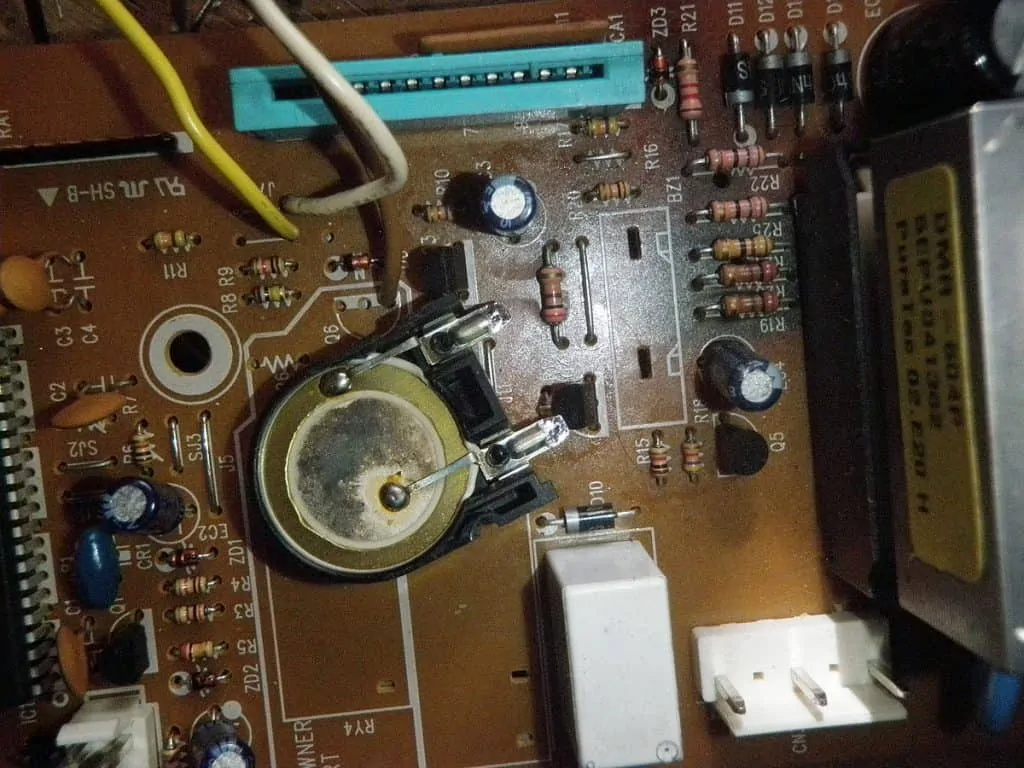 Piezoelectric_crystal_transducer by Jstapko / CC BY 2.0
Acoustic-electric guitars use piezo-electric pickups, which catches the changes in the air pressure around the guitar's soundhole.
The Isys III is a budget Fishman pickup that fits this guitar perfectly. It comes with a 3-band EQ on the preamp, plus the standard volume knob. 
That gives you a decent amount of maneuver. Intermediate and advanced guitar players could even find a way to make a real difference in their tones with this no-nonsense setup.
So, whereas the Isys III is far from spectacular, it does deliver great tonal qualities once you amplify the Fender CD60CE.
Sound
The sound this guitar brings forwards through an acoustic amp is beyond what your typical laminated dreadnought can give. It doesn't lack in any way, it doesn't sound cheap, and it doesn't sound muddy.
It packs quite a punch with a warm, clear, and loud sound. The overall tone is nice and balanced. It's also very focused as it stays steady throughout the whole frequency range.
Overall, the sound is rich, warm, balanced, and decently loud. Those characteristics are there either unplugged or through the amp.
<iframe width="900″ height="506″ src="https://www.youtube.com/embed/DNnTYioq4Sg" frameborder="0″ allow="accelerometer; autoplay; encrypted-media; gyroscope; picture-in-picture" allowfullscreen></iframe>
Feel Quality
This is a guitar that feels great as soon as you pick it up. This is the part where the Fender CD06CE electroacoustic guitar stands out from the crowd in its price range.
Let's see…
Hardware
The hardware is what you'd expect in this price range, although it packs a couple of extras.
First off, we've got a rosewood bridge with a compensated saddle. It does a decent job keeping the strings tight and the intonation steady. Plus, a compensated saddle is a high-quality addition that keeps the string's tension in check. 
On the other side of the guitar, there's a set of die-cast tuning machines that are good enough for your practice sessions but nothing more.  That said, you can't push this guitar too much outside of its comfort zone with this kind of pegs, not even a down-tune.
Now, a good thing about the included hardware is its Graph Tech NuBone nut, which is a quality material usually found on pricy models. This nut delivers crystal clear cleans, enhanced harmonics, and overall increased string longevity. 
I have to add the CD60CE ships with Fender phosphor bronze nickel strings, which are great to start playing right away.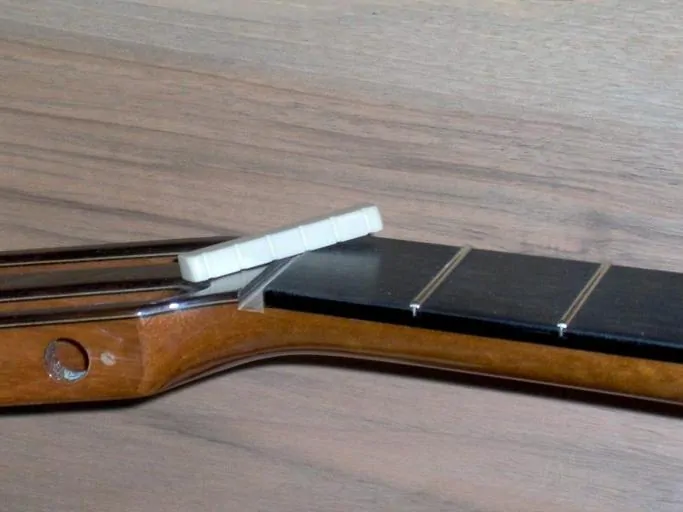 The guitar's nut is at the end of the fingerboard. It controls the space between the strings as well as the fingerboard's length. Like so, it sets the height of the strings above the first fret.
Playability
The playability of the Fender CD06CE acoustic-electric guitar is pretty straightforward. 
It's mostly aimed for beginners, although advanced players could also love this model because of how smooth and easy it feels.
First off, it has a 12" neck radius. That's a flat radius that makes it easy to play chords and solos likewise, which makes it ideal for all-hands guitar players.
Moreover, a 12" neck radius is common on Gibson and Epiphone guitars, which means you could transition from these kinds of electric guitars towards the CD60CE and feel very comfortable.
Another great thing about it is its single-cutaway design, which gives you increased access to the higher frets. That means you would be able to play around the entire fretboard with ease.
And, lastly, this guitar is pretty light. Plus, the rosewood fret feels quite smooth and easy on your hands.

The neck's radius is the curvature's length. Classical guitars commonly feature a flatter radius (12'' and beyond) because playing chords and arpeggios is easier.
Downside & set-up
Honestly, there's not much to complain about the Fender CD60CE acoustic-electric guitar. The quality of this guitar is exactly what you'd get for its price out of Fender. 
However, there's a couple of issues we need to address. For example, the glued-in strap pegs that ship out may come out, which damages the guitar. You need to keep an eye on these components in order to prevent further damages.
Additionally, I recommend shipping this guitar with a proper warranty in order to restore any damages caused by shipping. A proper inspection is also due.
Likewise, the tuning pegs are not up to any task beyond your practice room. If you'd like to grow with this guitar, you'd need to change the tuners in order to take it to better scenarios. 
I'd recommend the YMC TP20 top-value tuning pegs:
Other than that, there's nothing else you'd need to do with this guitar. You could already take it towards moderate stages and pair it with a couple of acoustic pedals.
Alternatives
The Fender family of acoustic-electric guitars has quite a reputation. If you decide this guitar is worth your money, then you'd definitely need to see a couple of beginner bundles selling for similar prices.
For example, the Fender CDS60CE is a lighter, slightly smaller version selling for a smaller price. It's a great choice for children and small players:
You could also check the black CD60CE, different finish options that may suit your rocker's taste.
A similar model is the Fender T-Bucket 300CE. This is also an acoustic-electric guitar featuring the same scalloped X bracing design and the same Fishman pickup system. Plus, it has the same quality nut (Graph Tech NuBone nut).
If you're willing to check other models outside of Fender, I'd advise you to check the Yamaha FGX800. We already reviewed the Yamaha FG800 acoustic version, a guitar we consider as one of the best affordable acoustic guitars in the market. Like so, the FGX800 sports a built and sound quality well above its price range.
Lastly, if you're willing to stretch your budget a bit more, the Yamaha NTX700 is a mid-level acoustic-electric guitar that feels and sounds like a professional instrument thanks to its super-advanced pickup system.
Let me explain. Its "A.R.T." pickup system is able to control the atmospheric influence over the tonewoods of the guitar in order to create the sound possible. Sounds good? Check our Yamaha NTX700 review.
Finally, here's a video comparing the Fender CD60CE against the Yamaha FGX800:
<iframe width="853″ height="480″ src="https://www.youtube.com/embed/I7WhGvwnqIg" frameborder="0″ allow="accelerometer; autoplay; encrypted-media; gyroscope; picture-in-picture" allowfullscreen></iframe>
Fender CD06CE Specs
Single-cutaway dreadnought body shape

Laminated mahogany front, back, and sides

Mahogany neck & rosewood fretboard

C-shaped neck profile, 12''' radius neck 
In summary
Why do I like the Fender CD06CE? 
What do I like about the Fender CD60CE? Well, first and foremost, this is a Fender instrument that doesn't break the bank.  
More so, it fits the skill level of beginner and intermediate players alike. Even pr players could have a decent time with this all-rounder guitar.
For beginners, though, this affordable acoustic-electric is a perfect choice. It's appealing,  easy to play, and clear, and loud enough to get you excited.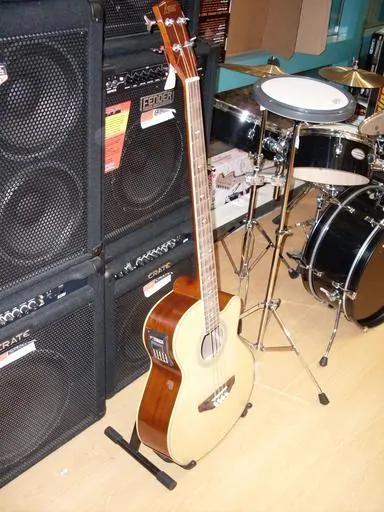 The CD60CE electro-acoustic guitar is a worldwide Fender bestseller.
Another thing I should note is its warm and rich sound, which is quite a feat given the laminated body. That's because Fender invested resources into practical details.
Now, apart from the pickup system, another element that takes the Fender CD60CE above its piers is its scalloped bracing. It's a feature that increases sound projection, resonance, and sustains, which makes this guitar so much better for acoustic pedals and acoustic amps.
Oftentimes, this is a design choice you'd find on higher-end acoustic guitars.
Going for the high-value bundles is a popular choice. They carry everything you'd need t start playing right off the bat but the acoustic guitar amp.
That said the target of this budget acoustic-electric guitar is novice players, although the size might be too much for children. 
Also, if you don't want to spend your month's rent on a hobby, you might want to check the Fender CD60CE out. It will make you happy.
Final Thought
If you're looking for an acoustic-electric guitar at this price range, the Fender CD60CE is definitely a good choice. Only the Yamaga FGX800 can compete against this top-value guitar with its solid body construction.
Any other guitar within the affordable range has a tough time sounding better and feeling better than this one. When you hold it and play it, you'll understand why this is a Fender and not a Squier.
Last words? This is a great deal. The easy performance and rich sound you get for the money is too good to pass out if you're looking for something at this price range.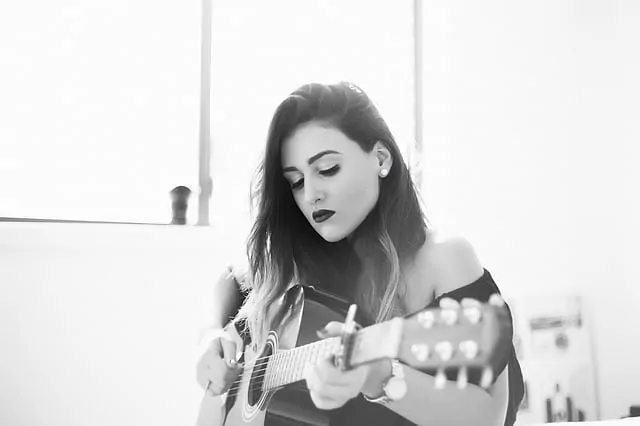 Jen is a guitarist and singer-songwriter who spends much of her time on the road and has lived in 13 cities across 4 continents. She picked up her first guitar at the age of 6 and learned to play by ear shortly after. She received her formal music education at the Berklee College of Music, and currently plays for a few bands in her free time. She has an uncanny ability to improvise creative melodies and harmonies. Her early influences include blues, jazz and rock.