First thing's first: there's a downside with this bass, which is its confusingly long name. The real name is Fender Deluxe Active Precision Bass Special.
This model comes from Fender Mexico, which is cheaper than Fender USA and sometimes it's even better. Because Fender Mexico needs to compete with the high standards of Fender USA components, productions, and processes, the Mexican company adds new twists and turns to their instruments in order to sell odd, unique, and different models.
In particular, the Deluxe Fender Precision Bass Special is an affordable "hybrid" bass for players undecided about the Fender P bass and the Fender J bass. Or, better yet, for players who equally love the Fender P and the Fender J axes.
This mid-level priced P/J model combines the best characteristics of both Fender basses and delivers a unique and elegant instrument. The resulting beast is, as you can imagine, versatile, professional, and sexy.
Overall, this is bass that feels comfortable and offers a potent and flexible sound. It's ready for both the stage and the studio, and it's a great choice for those of you not able or willing to spend over a grand for an American-made Fender bass guitar.
Lastly, as you can tell by its name, this is an active bass. It means the pickups are powered with 9V batteries, so they generally have more output and more tonal shaping options.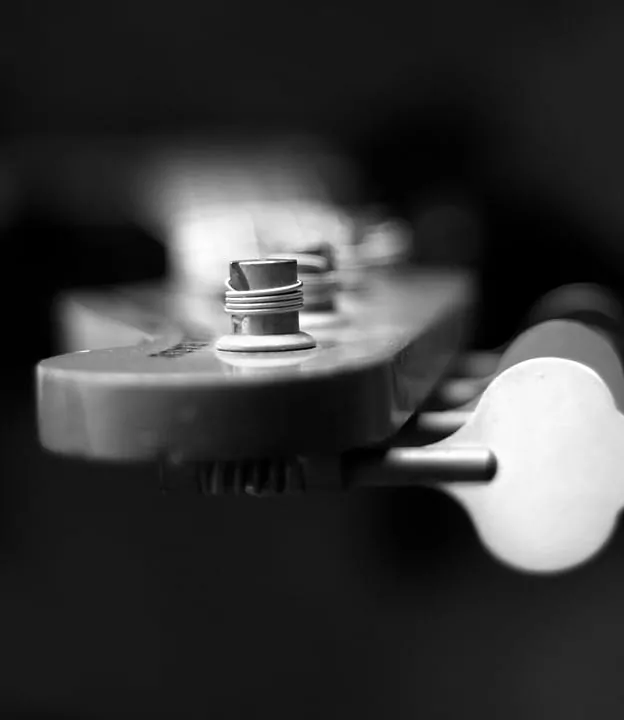 A bass for players looking for musical variety.
Let's see…
Fender Deluxe Active P Bass Special review
This Mexican-made Fender bass follows a very special an unorthodox design not found on the original Leo Fender's blueprints.
It belongs to the Fender Precision family, but it has so many features we consider it one of the top best bass guitars you can buy right now.
The Fender Deluxe Active Precision Bass Special is a bit of an oddity. Its Deluxe name shines nonetheless on the hardware and electronics section, for it incorporates everything a P bass has plus some novelty features.
Here's some extra info you can check on the things you need to look for on bass guitars.
Body & Design
Take a quick look at this model and it looks like any other Fender Precision bass.
It's the standard Precision design head-to-bridge. It even has the signature Fender tuners and pickguard present in most P basses.
Similarly, it has a double-cutaway alder body and a one-piece "C"-shaped maple neck. It has 20 medium jumbo frets on its fine rosewood fingerboard. And it features the classic Fender headstock.
The one-piece neck, by the way, tends to need less adjustment than multi-piece necks. It also delivers a more balanced sound and an overall more sturdy and reliable instrument.
This Deluxe bass has a satin polyurethane finish, whereas the nut material is synthetic bone.
It ships in various colors. A sunburst body plus a black pickguard is the most popular version, but you could also find a cream & black version or the surf-green & black version.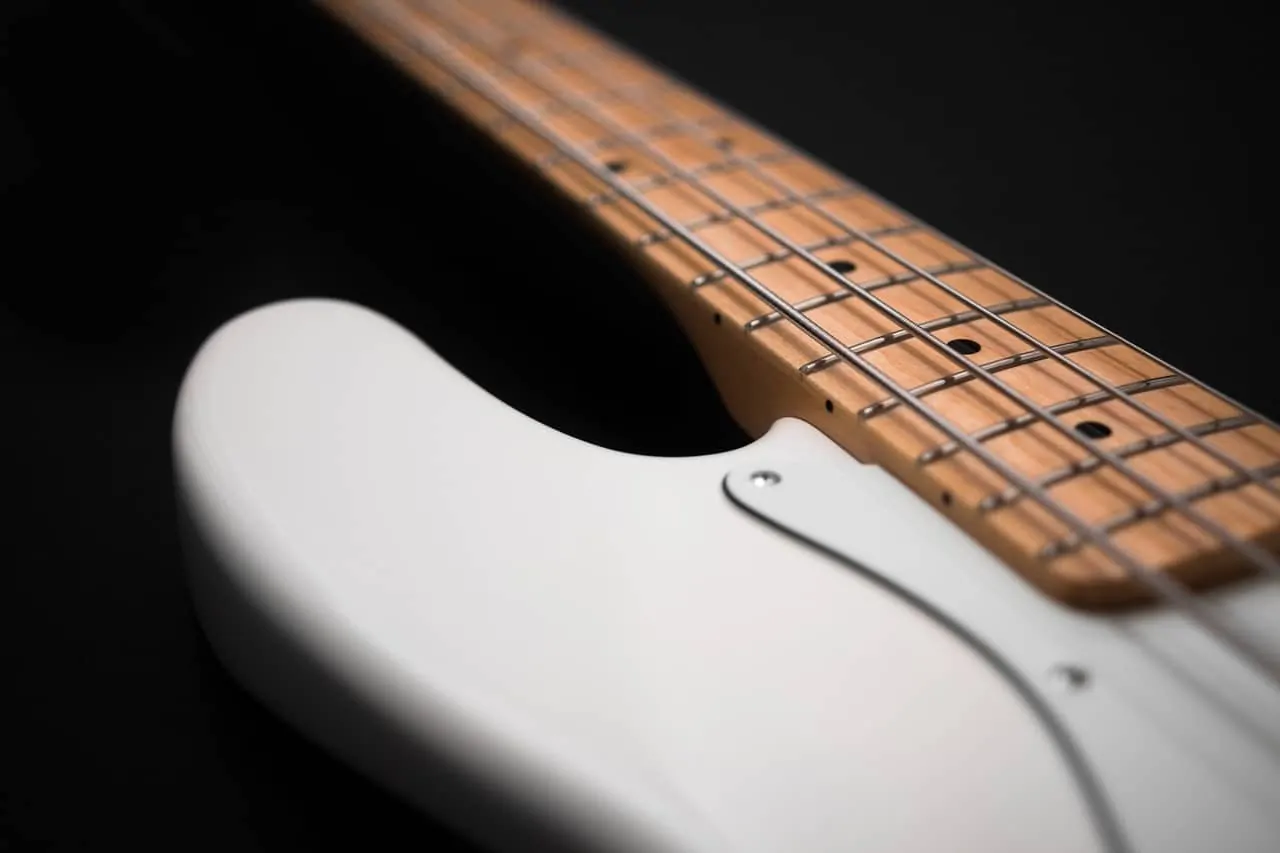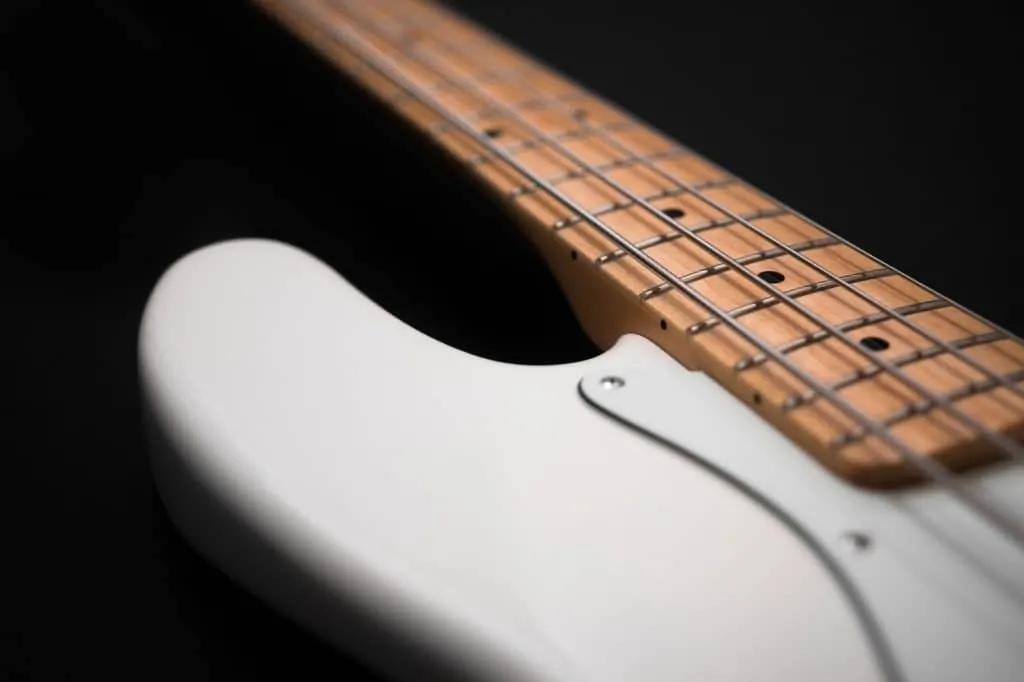 Fender released the first Precision bass in 1952 and revolutionized the world of bass. Before the Fender P, bass players used the heavier and more complex contrabass instruments.
Hardware
Hardware also remains mostly unchanged.
Much like many Fender instruments, this model has a HiMass bridge with four adjustable saddles (one for each string). If you're wondering what a saddle is, I'm talking about little pieces of wood bellow the bridge holding the strings tight.
In particular, HiMass bridges are the most professional and advanced bridges Fender produces. The hardware raises the strings to lower the tension across the fretboard. The result is increased sustain and playability as the strings are easier on the fingers.
The HiMass bridge also gives players tuning stability and precise intonation for it keeps the barrels steady and sturdy. Even if the bass is not on tune right out of the box (because it happens often), it can hold the tune during your heaviest and longest shows, rehearsals, and practice sessions.
Lastly, this design feature can also increase the space between the strings. Keep in mind HiMass bridges are not an exclusive Fender-choice. They are also present in quality Squier models like the Squier Classic Vibe series basses.
Now, let's go to the other side of the bass. On the head, it has Fender's trademark tuning machines plus the coveted Fender logo.
Both hardware pieces belong to Fender's professional standard. And they are proven to work like a charm.
So far, this is a Fender Precision bass selling for a lower price. The only real difference is how the paint job and finish on this Mexican version seems less refined.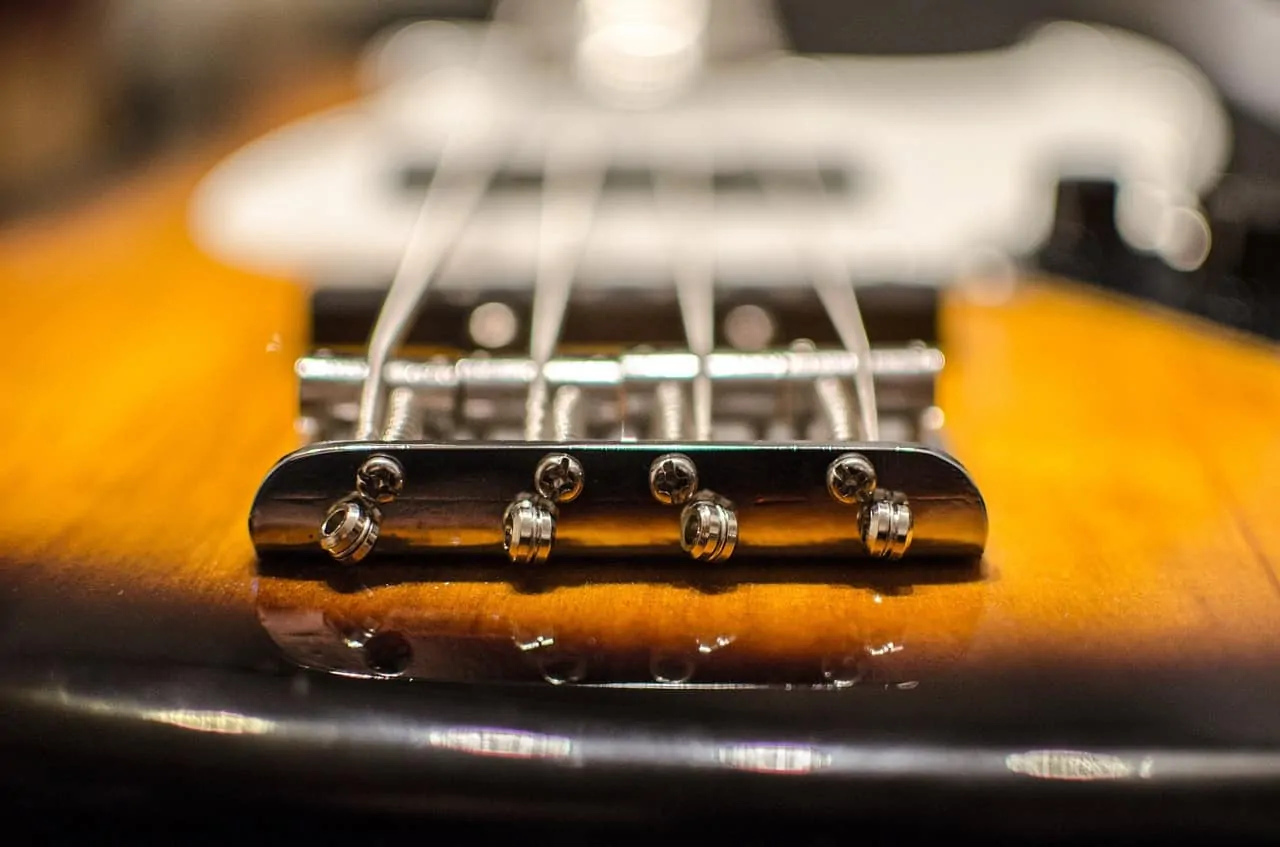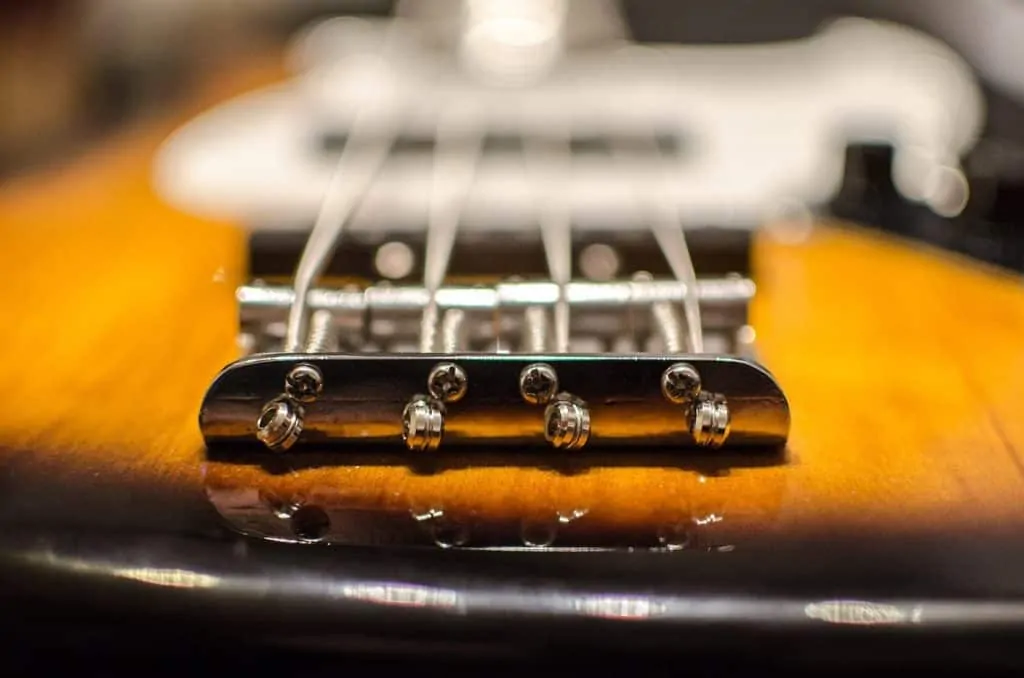 A quality bridge can greatly increase playability, sustain, and intonation.
Now, the things making this bass different and odd are found somewhere else.
Electronics & pickups
Here's where we find a number of upgrades that give sense to the "Deluxe" name of this instrument.
This bass takes off on the electronic's section. The Fender Precision bass is popular because of its single split-coil pickup, which has proven to be more than enough for rock and metal genres.
The Deluxe Special version gives you a more powerful and complex setup made of two active pickups:
Bridge pickup: P-style Vintage Split Single-Coil. This is a lower output (vintage output) single-coil pickup that sounds like a '60s Fender P bass. It has all of the fatness, roundness, and crunch you would expect, plus a bit of a fret noise that comes naturally with single-coil pickups.
Neck pickup: Ceramic Noiseless Single-Coil J-style bridge pickup. These belong to Fender's most advanced pickup family.  Noiseless J pickups are truly silenced and versatile.
The combination offers a beefy sound and remarkable versatility. It also allows you to swap between the traditional sound of a Jazz Bass whenever you need, and then go towards newer and more modern tones for heavier genres. Besides, as you travel the in-betweens, you can make it sound like a true classic P bass.
So when you tweak a smooth sound, it's smooth and pristine as silk. And when you build a fat sound, it's strong and fat as meat. Even better: it never loses clarity or power as the output is always very high.

P/J basses combine Fender P and Fender J pickups.
It takes some time to get used to active pickups, though. See, active pickups are powered with 9V batteries you need to change every 6 months or so. The extra voltage-transfer into extra output and improved tonal shaping options.
The controls of active basses, then, are always more complex.
Regarding controls knobs, we've got:
A 3-band EQ with Treble, Mid, and Bass.
In particular, the Bass knob works like a Bass Boost / Bass Cut option. It can give your sound the extra meat you want, or make your bass more subtle when it needs to give space to the other instruments on the mix. Also, when you cut the bass, you're taming the fat P-bass pickup to take the J-bass pickup front and center.
An Active / Passive switch.
If you engage the Passive feature, the bass will sound like a traditional P bass, with lower output and organic dirt.
As you can imagine, the Active Circuit keeps both pickups on, but the Passive circuit turns off the J bass pickup.
Even though it has no pickup blend option, the four controls give you almost endless sound possibilities.
The pickups also have a very high output, which results in beefy, fat tones with harmonic overtones.
I must give high regard to the 3-band EQ. It allows you to tweak the exact tones you want for any genre you play. There's nothing this bass can't do with its tonal shaping options.
Even better, it can shine everywhere if you use it right.
Whilst many people prefer the vintage Fender basses, these modern designs can give you all of the possibilities you would ever need, from classic blues music to doom metal.
Keep in mind there're two 9V batteries supporting the active electronics. These are mounted in quick access lits on the back of the body. They can be replaced very quickly with the use of a screwdriver.
Sound
Whilst many people prefer the vintage Fender basses, these modern designs can give you al of the possibilities you need, from classic blues music to doom and mean heavy metal.
Not only it's possible to get the most vintage P Bass tones so many musicians adore, but the range and possibilities of this Deluxe version make for a versatile animal.
It's so flexible it excels at both recording studios and stages. It can go anywhere from modern P bass territory to classic Jazz Bass.
Plus, as a P-bass itself, its overall sound is round: fat on the low end, punchy on the mids, and defined on the highs. Even better, put it through a bit of gain and it always sounds like it's about to burst into overdrive.
Musicians looking for flexible setup and with some experience on their hands will appreciate the kind of unorthodox character the Deluxe Fender Precision Bass Special brings to the table.
Additional Info
Tonewoods: alder body, maple neck, and rosewood fret.
Neck: C-shaped neck.
Scale:long-scale bass guitar (34'');
Fingerboard: 21 medium jumbo frets
Nut: 38.1 mm nut radius
Pickup configuration: Single-Coil Ceramic Noiseless Jazz bass (bridge) & Vintage Precision Bass Split Single-Coil (middle).
Controls: Master Volume, Active 3-band EQ & Active / Passive switch.
Tuners & knobs: Nickel/chrome hardware.
Bridge: Fender HiMass bridge.
Strings: Fender Nickel Plated-Steel 7250M (.054 – .105 gauge).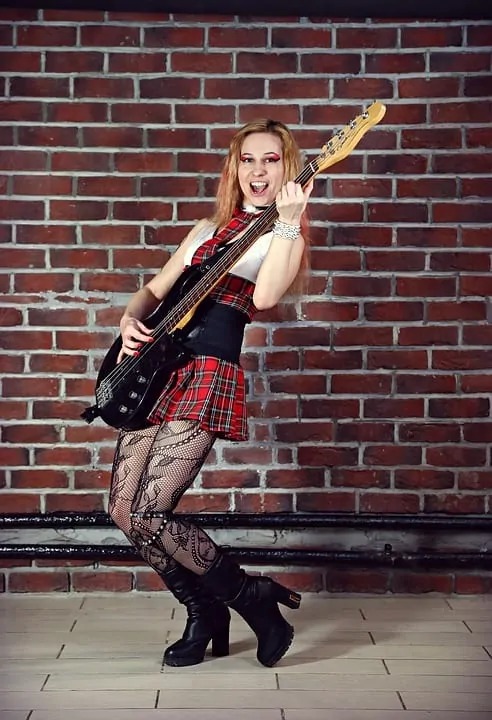 More info on what to look for in a bass guitar here.
In summary
The Deluxe Fender Precision Bass Special is a successful attempt at creating a different Fender bass. The result is outstanding, and although it might lack the elegance and finish of pricier Fender USA basses, this is a professional-sounding bass with an honest price-tag.
And while it's definitely different from other Fender basses, its design took nothing away from its already successful foundation. Rather, it adds something else in the form of a J pickup and active electronics. Meanwhile, it retains the classic look, smooth playability, and classic sound of the P bass family
Modern active electronics can be as juice and refined as the best passive electronics. And because this Fender Mexico did it right, this bass feels like it really hit that sweet spot of balance and power.
It would say this is an affordable all-rounder and your definite choice if you're on a mid-level budget. But if you get fooled by its price, you'll be forgetting that this is one of the best Fender bass models there is.
Keep in mind you won't be getting so much more than this in terms of sound, playability or versatility by paying more on Fender basses.
I find no issues with this bass. I recommend it wholeheartedly. Hard-working musicians need to take a look at this baby.
In summary, if you're able to spend a mid-level budget for an instrument, you'll enter the world of pristine & beefy bass guitars. You'll find no urge to change it or "trade it for something better."
However, this is for experienced musicians who are sure about investing their hard-earned money into an understandable price tag.
Cons
I would say you shouldn't buy this bass if you prefer the simpler and straightforward experience of a P bass.
Classic P bass design carries a single pickup and two knobs (volume and tone). Whilst the versatility is less, the sound can be just as good for the genres the bass is intended.
So, if you don't want or like the versatility that comes in complex setups, you can trade this bass for a simpler alternative.
For example, many musicians prefer to build a single signature tone and simply shape it further with the use of bass pedals.
So, a similarly priced P bass I recommend is the following: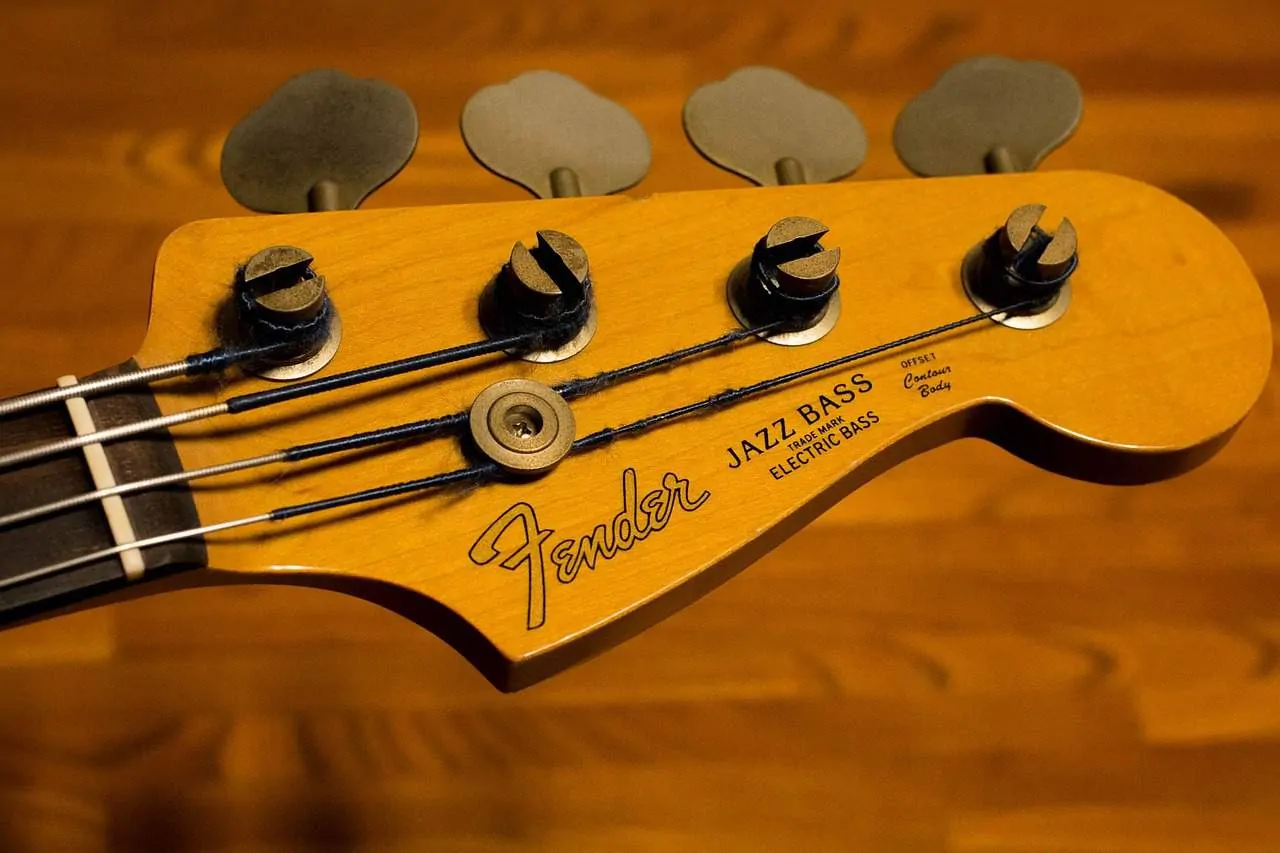 Do you like your bass to be versatile, or do you prefer to stick with a single tone?
Budget Alternative: Squier Affinity P/J Bass
I already listed the Squier Affinity P/J as the best bass for beginners. I'm highlighting this instrument again if you're looking for a budget & versatile Fender bass.
Also, if you've come to understand the advantages of the Fender Precision Bass Special but simply can't afford it, this Squier version is as close as it gets.
This is a well-built solid bass guitar with a considerable sound. The tone is more than enough for beginners and modest players.
Much like the Deluxe P/J I just reviewed, the Affinity P/J is also an all-round great option if you're on a budget.
You must know Squier is a Fender's subsidiary building Fender models in terms of shape, design, and components. You can't go wrong with modern Squier axes as they have become a reliable alternative at the entry-level market of bass guitars and electric guitars
As for tonewoods, it has an alder body, a maple neck, and a rosewood fretboard. It's also equipped with a P-bass split-coil bridge pickup and a J-bass neck pickup.
The combination is decent enough and it's able to obtain specific tones, although with less roundness, precision and power than the Fender P Bass Special.
As for controls, you can dial the tone with individual volume knobs for each pickup plus a master tone knob. It allows you to go to the Fender P's known growing low-end. Or you could craft a crunchy tone with crystal-clear highs and punchy mids.
Regarding hardware, it comes with a standard through-bridge and tunning machines. Although they don't excel in any matter, they can do their jobs and keep the tunning in check for long periods.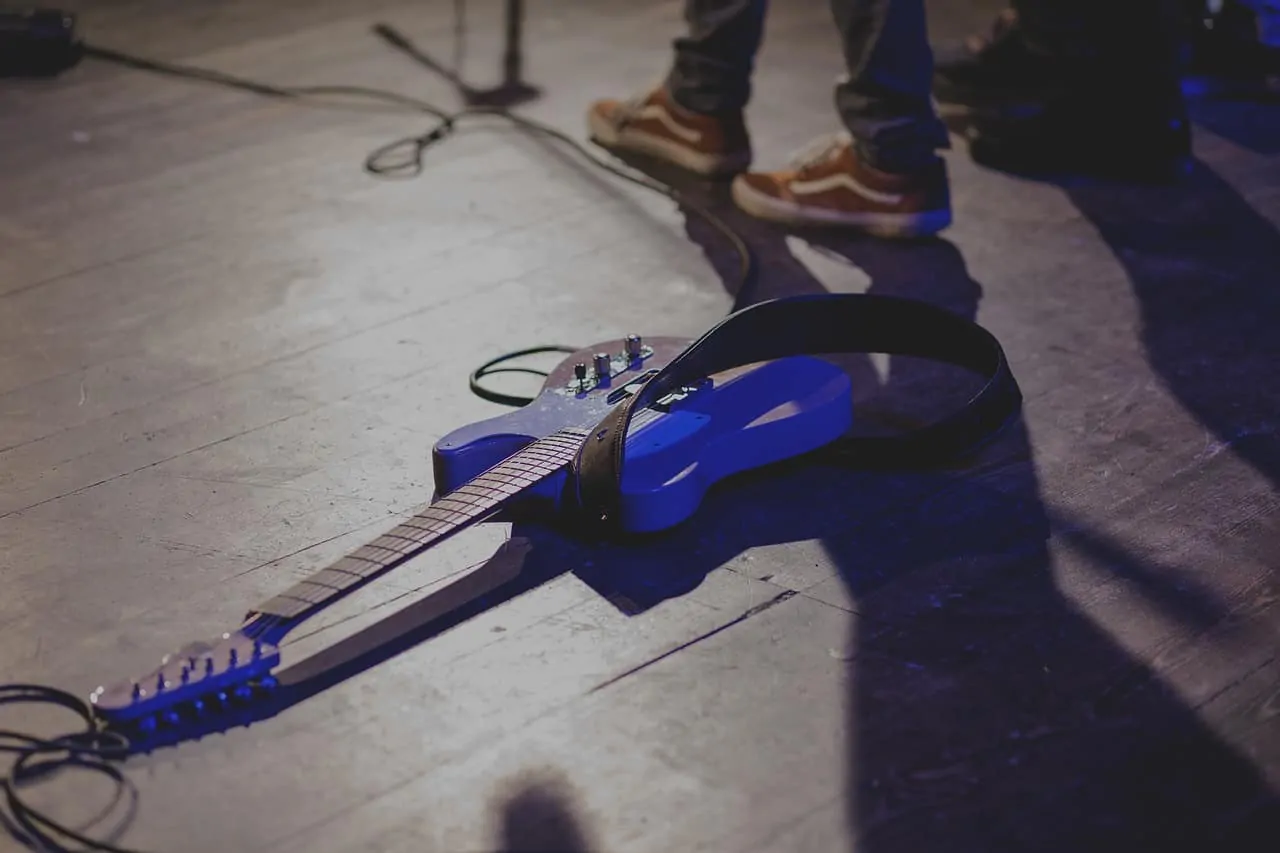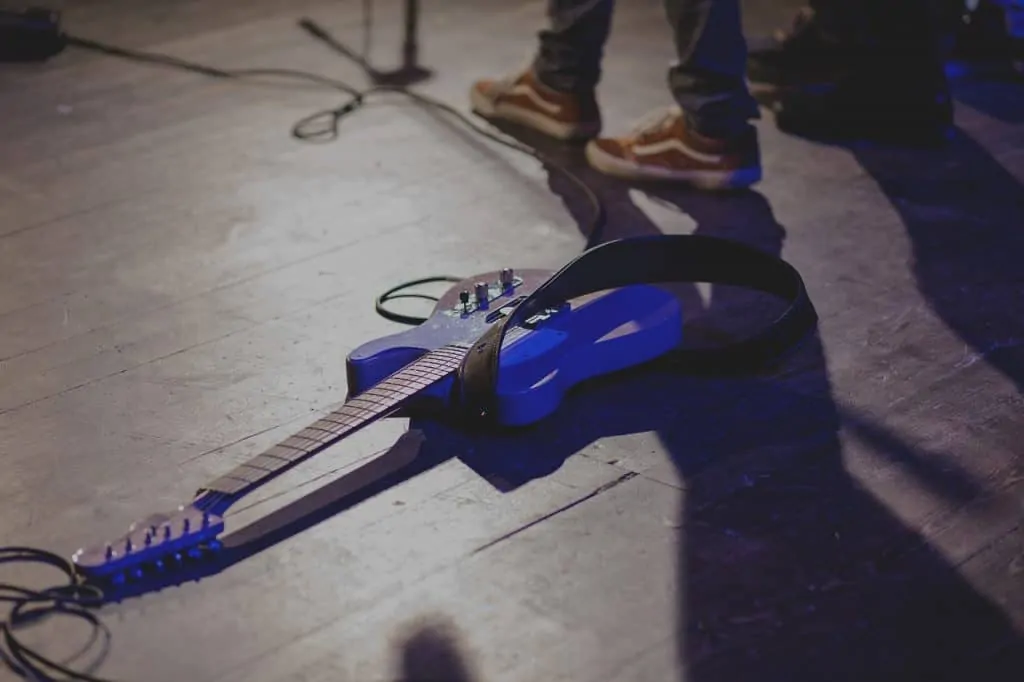 The quality-gap between Squier and Fender is growing thinner by the moment as digital technologies allow for better and better pickups and electronic circuits.
In summary, this is the most affordable P/J configuration there is. It's hard to find anything better or similar in this price range.
I commend this as the best budget bass you can buy right now because of its ease of use, reliable construction, decent sound, versatility, and affordable price.
Feel free to check my prior best Squier basses guide if you're looking for similar options.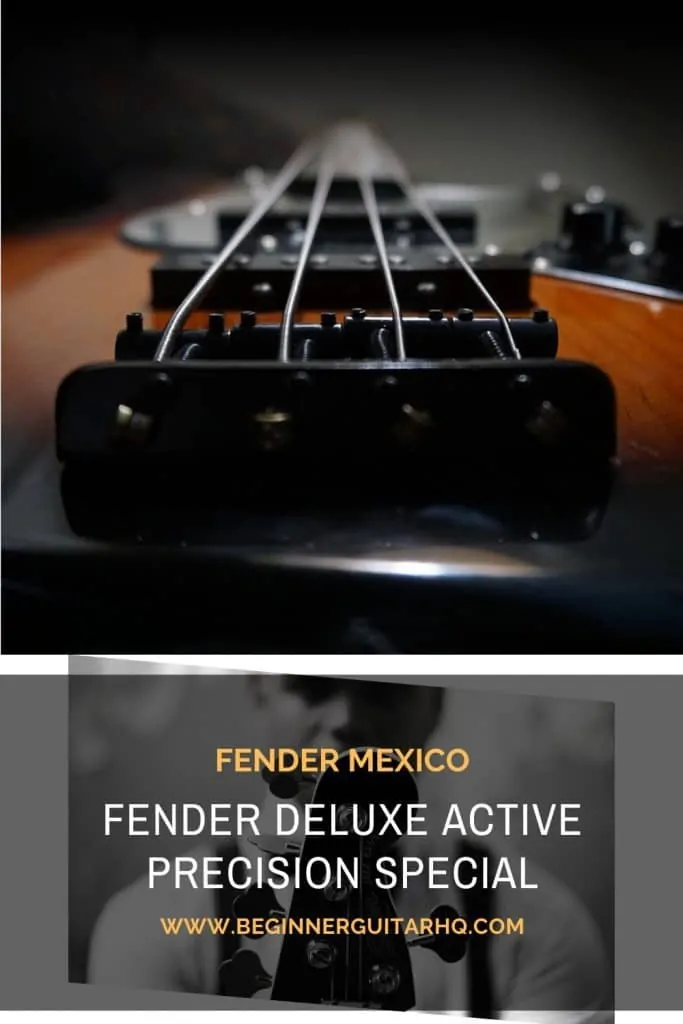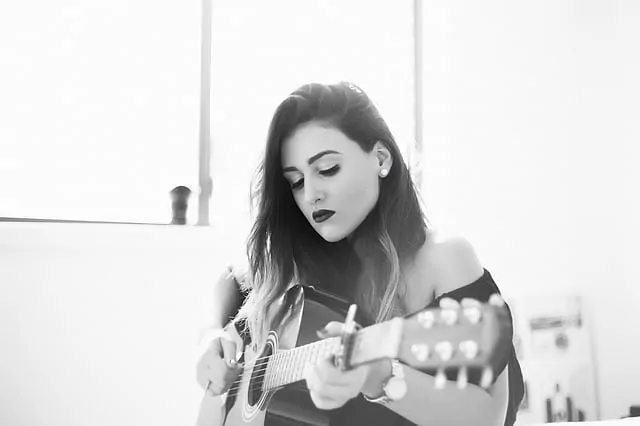 Jen is a guitarist and singer-songwriter who spends much of her time on the road and has lived in 13 cities across 4 continents. She picked up her first guitar at the age of 6 and learned to play by ear shortly after. She received her formal music education at the Berklee College of Music, and currently plays for a few bands in her free time. She has an uncanny ability to improvise creative melodies and harmonies. Her early influences include blues, jazz and rock.