Today, we're reviewing the ESP F-104 model, an active bass guitar of the budget-friendly LTD series. It's an entry-level instrument that aims to deliver a professional experience to intermediate and beginner bass players.
ESP is a Japanese musical instrument company. They produce bass guitar and electric guitars in Japan, as well as in Burbank, California (USA).
The brand started in 1975 in Tokyo, as "Electric Sound Products." Slowly but surely, they grew to become one of the biggest instrument manufacturers in Asia. And even though their instruments are quite expensive to ship to Western markets, their affordable LTD line has made a dent on this side of the pond.
Even so, some of the most iconic rock bands in the world use ESP guitars, which include Metallica, Slayer, and Mastodon. Needless to say, ESP guitars and basses are made for rock and metal music.

ESP non-LTD basses and guitars are top-tier offerings for rock and metal musicians.
We already reviewed two ESP LTD electric guitars. Going from budget to high-end, you can check either the ESP LTD-EC 256 or the ESP LTD-EC 1000.
About the LTD series
In 1996, after years of success, ESP launched the LTD series. LTD instruments are the brand's budget alternatives. They follow the same designs as their other series (like the Original Series or ESP USA) but use cheaper construction materials, mostly.
The LTD is the result of a mass production in South Korea, China, and Indonesia, mostly. Albeit they use affordable materials, they still pack advanced and proprietary ESP hardware.
As the series' goal, LTD wants to offer playability, sound quality and power at lower price ranges.
There's also the LTD Deluxe Series, otherwise known as the "1000 series." It features the best LTD has to offer (like the EC-1000), which equals professional performance and impressive features at fair price points.
Basically, basses and guitars tagged with a 1000 or above number belong to the LTD Deluxe series. For example, here's' an LTD F-104 bass guitar:
Finally, above the LTD Deluxe series comes the LTD Signature series. ESP creates their signature models one at a time, by hand. However, the LTD Signature models are also mass produced in Asia, although following custom shop blueprints.
You can identify an LTD Signature because it wears the "600" number or the "600 Series" tag. They are equal to a high-level LTD Deluxe model so, in every sense of the word, they are excellent.
ESP LTD F-104 Active Bass Guitar Review
Let's start by saying the ESP F-104 is not a very popular bass. First of all, it's hard to find online and, second of all, it's even harder to find any actual info about the instrument.
Either way, the F-104 bass guitar features a modern and aggressive design that deviates from the classic Fender Precision and Jazz blueprints. It also doesn't look like a Gibson Thunderbird or a Rickenbacker 4001. There's nothing like it.
To prove the point, ESP created various F basses featuring solid bodies and massive tones. The 104 is at the bottom of the series as a simple four-string bass with a solid basswood body.
At the top, it also features beveled edges and, then, it delivers basic hardware for a decent performance. For example, it has a classic four-saddle bridge, a pair of active humbuckers, and a fair amount of knobs.
Overview
The LTD F-104 is a rare bass with a mean vibe. More importantly, it doesn't cost much.
With the metal-oriented F Series body, the F-104 has pronounced curves, bevels, and plenty of styles.
As the body suggests, the F-104 plays the kind of music that needs raw and fat power. With a couple of active humbuckers plus a 2-band EQ, it packs a punch.
Built quality
The F-104 active bass has a basswood body, a maple neck, and a rosewood fingerboard with 24 medium jumbo frets.
More interestingly, the body construction features an aggressive style with its pointy curves and dual cutaway construction.
Elsewhere, it features a 38mm nut width plus a 400mm (15.7'') fingerboard radius for the standard bass size. Lastly, it has a bolt-on neck.
Overall, the F-104 looks unique, but still feels standard. As for the construction quality, it's rather decent.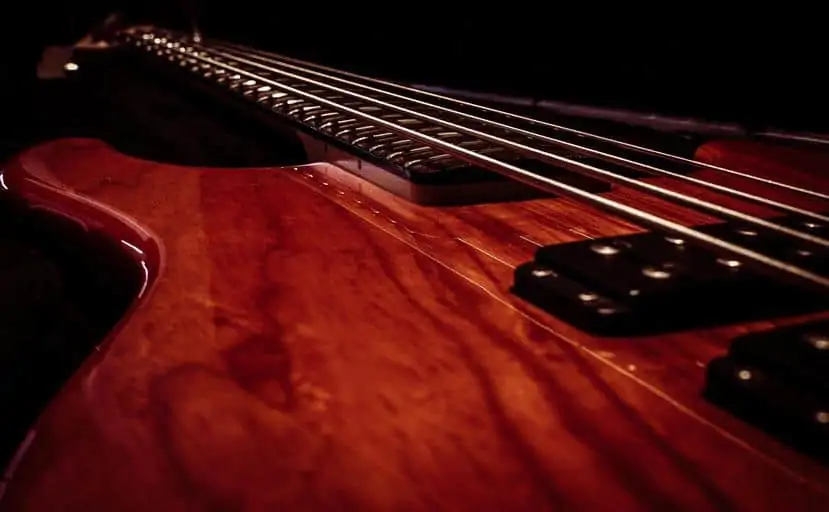 Humbucker pickups are generally stronger than single coils. They are also noiseless, which means they don't introduce unwanted noises into the signal, such as hums, buzzes, or interferences.
Sound quality
The sound punches through the air, easily, and it punches way above its price point. I'd say it's crazy how good it can sound, particularly with a good bass amplifier.
To make it short, the sound is punchy and very strong at the low end. At the same time, it's somehow acid, almost like coming straight from a Queens of The Stoneage song. That means it can sound incredible with bass distortion pedals and many other bass effects.
It also has plenty of definitions. Every note pops, even at the lower end of the neck.
I must also note the sound feels quite smooth. As there's no fret buzz and because the neck enhances playability, you can walk through the notes with ease and blend your basslines as a pro. In the hands of an experienced player, the ESP F-104 sounds expensive.
With its set of knobs, you can also dial different sound signatures. You can be opaque, strong, beefy, punchy, crunchy, mellow, soft, gentle, and more. Setting the sound of a bass guitar is always tricky, which is why I don't recommend active bass guitars for beginners. It can be overwhelming.
As a downside, I'd say it doesn't have as much output as a pricier bass. In particular, playing on the lower side of the scale might fade out the power of the bass. However, that is something we expect from budget bass guitars.
I'm sorry to share a video in Russian, but there's not many demos of this bass online. Either way, the reviewer tests the sound of the bass very clearly.
Electronics
The electronics department features in-house solutions. The ESP F-104 packs a couple of proprietary SB-4 active humbucker pickups.
These bring rich, punchy, and deep tones. Additionally, the bass gets an active ABQ 2-band EQ via two knobs (treble and bass), plus a single gain knob and a single blend knob. In particular, the blend knob grants you the ability to mix the output of the two humbuckers.
All in all, the system can give you plenty of versatility, at least just enough to play any kind of music that needs punchy low-end support.
Here's a showcase:
Feel Quality
The playability of the bass is okay. There's nothing special, and its aggressive looks don't do anything to the overall feel of the instrument.
That said, it has a nice weight and balance, a dual cutaway body for a comfortable experience, easy access to all frets, and a smooth neck.
It's nothing too special, but it's completely solid, exactly the quality you'd expect from a reputed brand.
Hardware
As we've said during the article, the hardware is also solid.
First, it has a set of ESP-branded die-cast tuners capable of holding the tune in modest live situations.
As for the bridge, it's a reliable four-saddle bridge, which means you can adjust the height of the strings to your liking. It also slightly enhances sustain and tuning stability.
Lastly, the hardware and the knobs come painted in matte black.
Downside & set-up
There's not much I would change about the bass. Changing its tuners, bridge, or pickups would yield small results compared to simply buying the next iteration of the F-104 series.
That said, the real downside of the ESP LTD F-104 is its general unavailability. That's why I can recommend you other ESP F basses.
The ESP F-204 represents a vast upgrade over the 104 model. It's a mid-level bass guitar with upgraded ESP pickups, a 3-band EQ, Jatoba neck and fingerboard, and mahogany body.
There's also the ESP F-205 active bass guitar, which is the 5-string version of the 204 model.
Lastly, you may consider changing the active humbuckers on any of these basses for a top-tier sound. We have a list of the best bass pickups.
To make it simpler, I would recommend a pair EMG active pickups like this one:
You could also go for a set. For example, David Effelson's set would pair greatly with an ESP bass. ESP has created signature guitars for Megadeath's frontman Dave Mustaine.
Sale
In summary
Why do I like the ESP LTD F-104 active bass guitar?
ESP is one of the most revered manufacturers of rock and metal basses and guitars. The LTD brand is known as the first stop for heavy music players. Even bass icons like Slayer's Tom Araya or Carcass' Jeff Walker started playing on an LTD bass.
Such is the legacy of the ESP LTD series, and that's what the ESP F-104 stands for. It lives to the brand's reputation and delivers what the brand often delivers.
Naturally, the F-104 delivers construction quality, solid playability, stable hardware, and impressive sound.
Final Say
After 45 years of consistent success, ESP has risen to the top of the market for rock and metal musicians. I wouldn't recommend the F-104 for complete beginners as its dials might be overwhelming. For experienced and intermediate players looking for something affordable but cool, the F-104 is an astonishing option.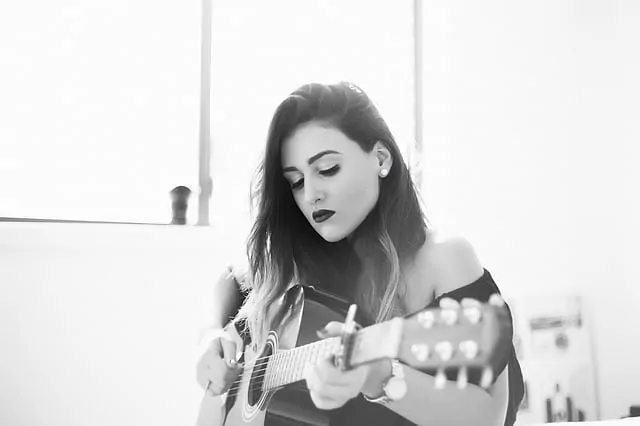 Jen is a guitarist and singer-songwriter who spends much of her time on the road and has lived in 13 cities across 4 continents. She picked up her first guitar at the age of 6 and learned to play by ear shortly after. She received her formal music education at the Berklee College of Music, and currently plays for a few bands in her free time. She has an uncanny ability to improvise creative melodies and harmonies. Her early influences include blues, jazz and rock.