Much has been said about Hofner basses in this site before. However, we've never reviewed a single model of this reputed brand. Alas, today's article is reviewing the violin-like Hofner Ignition Bass Guitar, a unique instrument that looks and sounds like classic rock & roll.
What we've got in our hands is a "viola" bass, which is a unique design commanded by the Hofner brand. It might not be the most flexible, modern, or rocker bass out there. Instead, the Ignition is an affordable Paul McCartney kind of bass.
To be honest, Hofner basses had faded over the past decades. However, recent times have seen a renaissance of the brand's violin basses. With notable heroes like the late Amy Winehouse and Paul Young's bassist player Dale Davis taking Hofner as their flag, the company's virtues are becoming apparent all over again.
That said, it's time to revisit a classic instrument. In particular, the Ignition bass is Hofner's budget solution.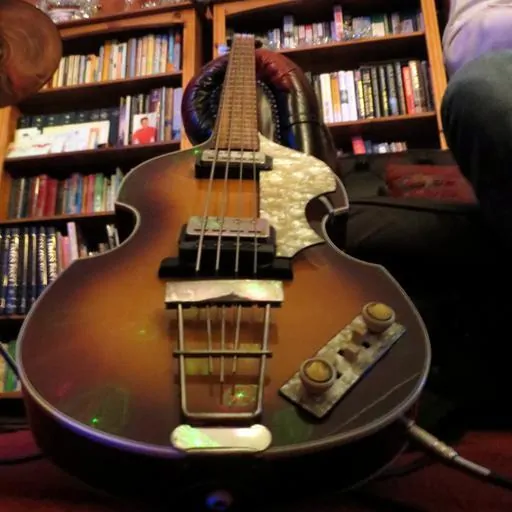 The Beatles' Paul McCartney played on a short-scale Hofner 500/1 Violin Bass Guitar during most of his Beatles career.
Being an affordable version of "The Beatles' Bass," we need to see if the Ignition deserves any recognition.
About the Hofner brand and the 500/1 bass
Hofner solely produces the 500/1 Violin Bass on their 4-strings' department. Better known as the "Paul McCartney bass," it represents a classical era in the rock & roll industry, which is part of the reason most of these models are so expensive.
Over various decades, they have produced the same instrument with various degrees of quality, budgets, and success.
The company started in Frankfurt, Germany, back in 1956, and it has worked non-stop ever since without a single ownership change. In fact, it remains a family company, much like Sennheiser.
Its main bass was designed by Walter Höfner as a variation of the classical upright double-bass. In the process, though, its creator managed so much more than what he originally intended.
That original Violin Bass jumped into worldwide fame when Paul McCartney started playing the bass during The Beatles' concerts in the early '60s. He still plays the same kind of models.
Today, the 500/1 has a wide number of models, from the affordable Ignition bass to handmade German-built special and re-issues of their vintage classics.
Overall, these models keep the same short-scale size (30''), a super lightweight construction, flat-wound strings, and a unique vintage flavor. Plus, they feature the custom Hofner violin shape.
The sound of a Hofner Violin Bass
Because of the particular construction of the Violin Bass, they sound like nothing else.
First off, the flat-wound strings produce a deep and penetrating punch, much like the sound of a double bass. The deeps sound like slightly overdriven '60s pop and rock music. Moreover, the deep thud Hofner basses offer was also a great choice for '80s dance-music basslines.
Nowadays, you can still hear the 500/1 series of bass guitars in reggae, world music, house, and any genre requiring a deep driving bass guitar.
So, despite being one of the lightest and smallest bass guitars available, it easily provides a massive deepness. Like so, it's quite a versatile little instrument.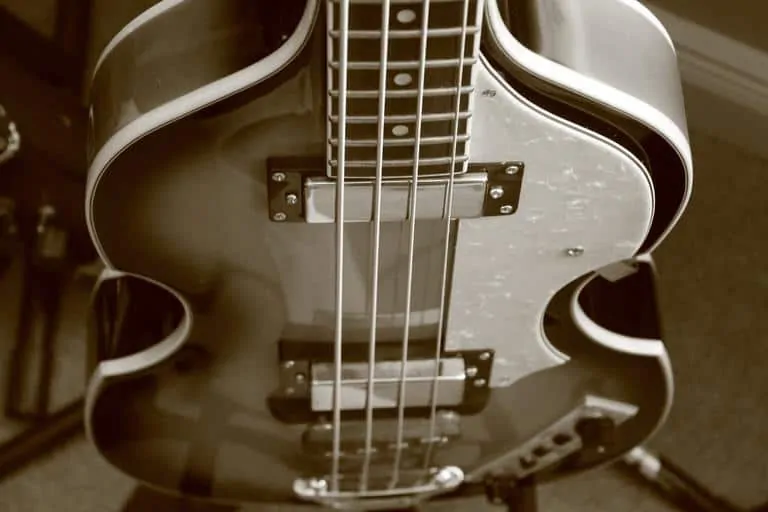 Most notable musicians who have used Hofner bass guitars include Paul McCartney and George Harrison (Iron Maiden). On top of that, many iconic guitar players have used the Hofner Club Series of semi-hollow electric guitars for their shows, which includes Jimmy Hendrix, Eric Clapton, and David Gilmour.
Hofner Ignition Series Violin Bass Guitar Review
The Ignition belongs at the entry-level segment of Hogner bass guitars, but it would be unwise for you to judge this bass guitar by its price tag.
Overview
In essence, the Hofner 500/1 Violin Bass has a place in the hearts of music collectors, vintage seekers, and rock history lovers.
Bassist considers McCartney's violin bass one of the most beautiful instruments ever to reach the stage. It's elegant, it's sleek, it's unique, and it delivers a commanding sound.
The Ignition Series is part of the German brand's shelves, albeit they are built-in China with lower-quality materials and following lower-quality specs.
Still, it packs the same super retro looks and deserves a spot in any best budget basses list. It's also a great bass for beginners.
Let's dig into our review and see why I just said that…
The most interesting thing about the Ignition Series bass is that this is a semi-hollow instrument. That's a unique feature in bass guitars, and it means there's a portion of their body that's hollow, so the sound resonates from within the body before it even goes out to the amp.
However, they don't have the classical f-shaped hollow like semi-hollow and hollow guitars do. So, this feature won't let you play the bass unplugged, but it does add a whole lot of air once you amplify it.
Built quality
For a bass made in China and not in Germany, the quality and the craftsmanship are very surprising. It could even say the Ignition bass is made with the same kind of precision and care you would expect from a German-built musical gear.
On a first look, it looks like a little flimsy bass. But don't worry, though, this bass needs no extra measures and no extreme care. At least nothing more than any other. I have to say, though, that its semi-hollow body is not made for onstage aerobics.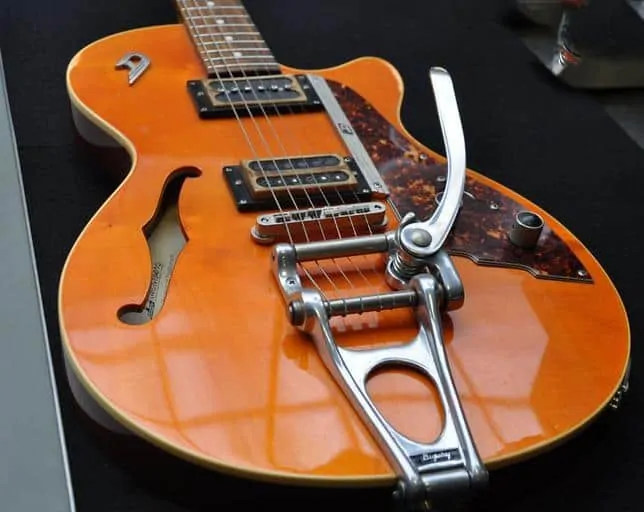 Semi-hollow bass guitar and electric guitar designs are a Hofner signature feature.
Let's see…
Body & Neck
This is a vintage-inspired bass guitar that sports the same Violin body as the original 500/1 Hogner bass.
The Ignition Series model follows the original design very closely, though. That means they have a semi-hollow body made with flamed maple on the back and sides plus spruce on the top.
It also has a nice vintage decoration, which includes a violin sunburst finish, a white plastic pickguard, plus a white binding.
The scale length is quite small. It's only 30'' end to end. In comparison, your typical bass guitar is 34'', so the Ignition is significantly smaller and lighter.
As I said, for a China-built bass, the Ignition has plenty of attention to detail. Its body looks authentic, classic, and sturdy.
Neck 
Right out of the box, the neck's setup is quite perfect.
Just like the body, this is a short and light neck that feels very smooth and suits small bassist players.
Expected on budget basses, we've got a bolt-on neck. In particular, the neck is made with beech and maple, whereas the fretboard is made with rosewood. Then, we've got 22 smooth medium jumbo frets with simple dot inlays.
I must add the string's spacing is very tight and cramped compared to other bass guitars. However, it has an asymmetrical C-shape neck profile with a 42mm nut width.
Lastly, the neck's radius is 12'', so you could consider this as a flat neck.
Finish
The Hofner Ignition Violin Bass comes in vintage sunburst. The sunburst model has a three-ply white Pearloid scratchplate plus classic old-school knobs. The set of tuning pegs, bridge, and saddles also follow the same vintage aesthetics.
Its finish level is very good, and it has a white binding all over the bass that makes it feel smoother and classier.

The finish on the neck has a great influence on how smooth the fingerboard feels.
Sound quality
There's a single word to define the sound of this violin bass guitar, which is "finesse." Unplugged, you'd get a little semi-acoustic resonant sound. Once you plug it in, the bass becomes vibrant and with plenty of character.
Let's see…
Electronics
What we've got here is a pair of passive custom-made Hofner Ignition Staple Nickel Mini Humbuckers.
They are plugged into a rather flexible control layout that consists of two individual volume knobs plus three dim switches. These switches are there to push bass, treble, or rhythm sound settings or presets.
Sound
Much like semi-hollow guitars, the Ignition feels like an instrument that breathes thanks to its semi-hollow compartment. It has a natural stone that's quite pleasing, plus an organic, woody sound that hinges on the mids.
The Ignition series bass does deliver the kind of sound you're looking for on a vintage bass: warm, gritty, classic, and deep. It's also rich in the mids but subdued in the highs.
The overall tone is mellow, albeit you could punch it with a couple of bass pedals.
Also, the 3 dim switches provide a surprising amount of versatility, although you wouldn't use a Hofner bass to play anything outside jazz, blues, classic rock, pop, dance, reggae, and similar genres.
I'd say the tones you can get from the Ignition bass are quite familiar. This is part of the Beatles' bass family, and the sound is exactly what you'd expect.
However, the bridge pickup doesn't have the same kind of power and chunk of a J Pickup, but it doesn't really need it. Furthermore, the Hofner Ignition offers a tight tone on the neck, much tighter than regular single-coils.
Lastly, the treble is far from the biting attack of your typical J Bass. It offers a fair amount of clarity nonetheless.
The delivery of this bass won't break any windows, as the violin bass is not about that. Speaking of which, the bass switch doesn't do a whole lot.
Instead, you could place your attention into the rhythm/solo switch that provides volume boosts for a surprising amount of versatility during your playing sessions.

Are you looking for some extra info on bass pickups?
Feel Quality
Okay, so, this is a light, unique, a classical looking little bass. Nothing to dislike as of yet.
Unfortunately, the feeling of this bass is not quite out there. That's because the hardware is not truly gig-ready.
Hardware
The hardware is not to the same quality standards as the rest of the instrument. Whereas the nickel humbuckers are fantastic at delivering the kind of warm and resonant tones Hofner is known and loved for, the rest of the hardware is not up to playing live.
On the body, we've got a standard rosewood bridge with a nickel trapeze tailpiece holding the gear in place. It looks classic, and it does a fine job of keeping the intonation. However, you can't take this bass too far from its comfort zone.
On the other side, we've got open-gear nickel tuners with Pearloid buttons. They also look nice, but they are definitely flimsy. These pieces won't hold down-tunes. They won't hold your intonation during your live gigs either.
Playability
Now, playing the Ignition series bass feels like a breeze. It's light, balanced, and quite small.
It's suited for beginners, children, and players with small hands alike. For its price, you can't expect anything better regarding playability. A great reason to choose this bass guitar.
It doesn't have any contour on the body, though, which many players would find odd. Most bass guitars have either a single or a double-cutaway body.
But because of its lightweight and slim body, it's quite easy to play. Plus, the neck is short, and the space between the strings and the frets is also very small, so it could help you play faster and easily, once you get used to it. However, if you have sausage fingers, this is definitely not the bass for you.
Finally, it has low action strings with a pretty nice fret treatment plus a nice 12'' neck radius. That means you don't need to press the strings too hard to press the strings. Plus, your hand could probably wrap the whole neck as it's pretty short.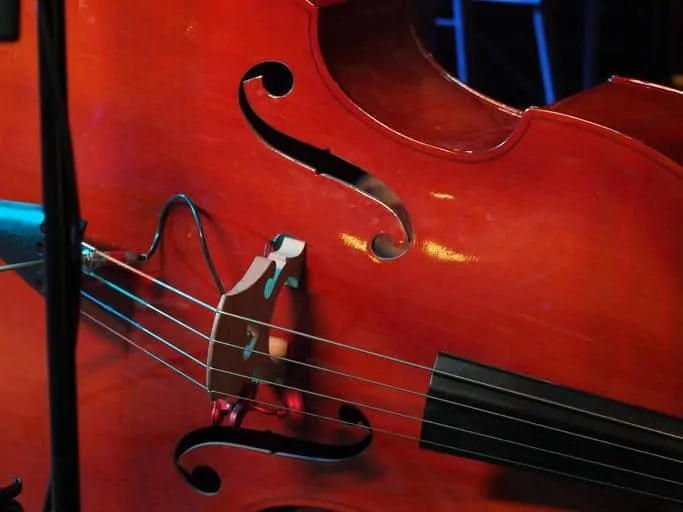 The violin-like body of the Hofner Ignition bass possibly makes it the slimmest and lighter bass in the market
Downside & set-up
Far from perfect but still great for the price, the Hofner Ignition Bass could use some well-placed upgrades.
The neck, the body, and the strings have a great setup right out of the box. The two things I would do to get this bass ready for the stage is a new bridge and a new set of tuners.
Let's start by the latter and go for a quality classic set.
Now, this bass packs a pair of mini-humbucker, but these pickups are on the entry-level side. If you want to take the quality of this bass up a notch, it would be wise to swap these units for quality bass mini-humbuckers.
However, you would have to look further within the Seymour Duncan page as mini buckers are not a common item on Amazon.
Alternatives
Now, if you're interested in the Hofner Violin bass, maybe you need to check higher-priced options.
Unfortunately, though, it's quite hard finding these basses on Amazon, although I can link you to particularly popular model for how it brings the sound of the violin bass up to date
Now, if you're looking for something outside of the Hofner brand, we can link you to other mid-level basses like the Epiphone Thunderbird IV.
If you're looking for vintage basses (with an old-school sound and aesthetics) I can also recommend a bass from the Squier Classic Vibe series. In particular, the Squier Classic Vibe '50s Precision might be what you're looking for with its single gritty pickup, pinewood body, and quality hardware.
Alternatively, you could check the Squier Classic Vibe Vintage Modified series as they combine the best vintage features and aesthetics with modern electronics and other extras.
Hofner Ignition Bass Specs
Design: Hofner 500/1 Violin Bass body
Tonewoods: basswood body, maple neck, maple (or rosewood) fingerboard
Neck: Hofner Violin Bass asymmetrical bolt-on neck
Scale: 30'' small scale
Fingerboard: 21 medium jumbo frets
Pickup configuration: Hofner Ignition Staple Nickel Mini Humbucker (neck) & Hofner Ignition Staple Nickel Humbucker (bridge)
Controls: Individual volume knobs & 3 dim switches (bass boost, treble boost, solo/rhythm toggle).
Tuners: Die-cast tuners
Bridge: Rosewood bridge & trapeze tailpiece
In summary
Who could like the Hofner Ignition Violin bass?
Overall, playing this bass is a very enjoyable experience. The Ignition is an affordable option for those players looking for a vintage and unique experience.
More so, Beatles' fans (and there are plenty out there) could have a blast with this cheap model without breaking the bank, so it could make a great secondary bass guitar for cult followers, collectors, and rock history lovers alike.
I'm also commending this as an interesting beginner's bass. Even when it doesn't feel or looks like your regular Fender bass (or like a Squier P), it could push an amateur player into an original path, an original voice, and an original playstyle.
Final Say
For the price of this bass, you can't really go wrong.
I admit I wouldn't go for this one as I prefer fat, rocker basses like the Ibanez SR250 on that price range. But if you're looking to play some reggae, pop, experimental, alternative, or similar music, the Ignition is a great choice.
If it was good enough for Paul McCarney, it's also good enough for the rest of us.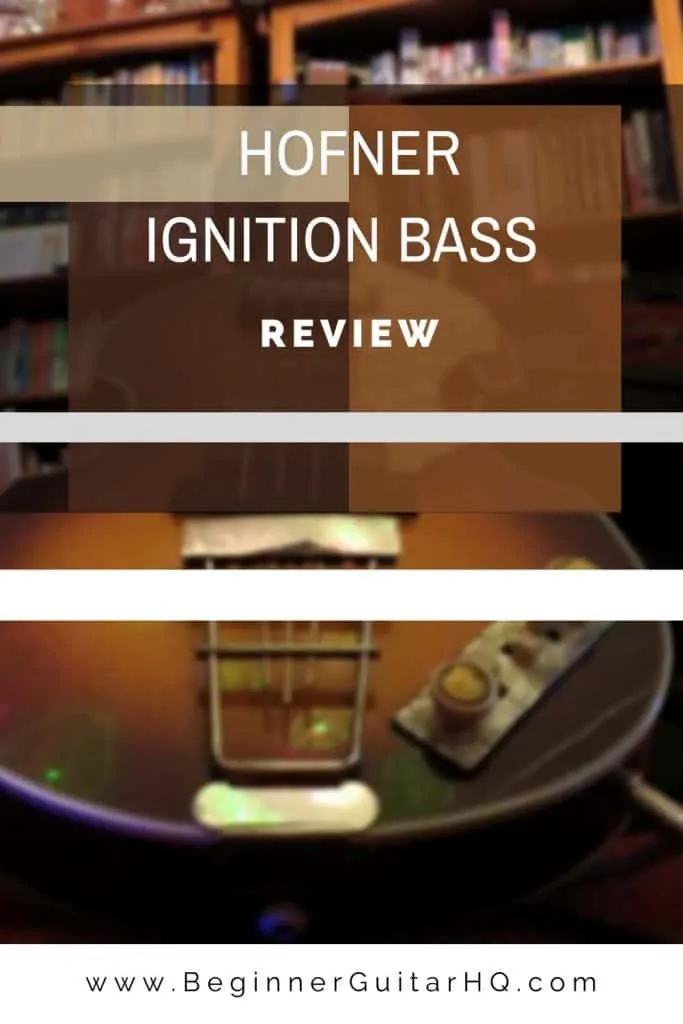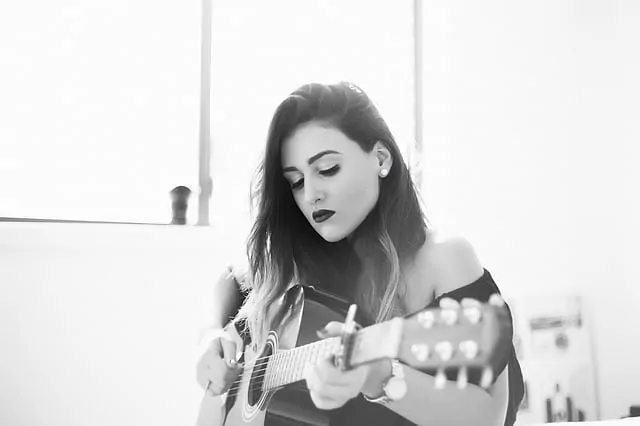 Jen is a guitarist and singer-songwriter who spends much of her time on the road and has lived in 13 cities across 4 continents. She picked up her first guitar at the age of 6 and learned to play by ear shortly after. She received her formal music education at the Berklee College of Music, and currently plays for a few bands in her free time. She has an uncanny ability to improvise creative melodies and harmonies. Her early influences include blues, jazz and rock.